Table Jobs That Pay You Cash Instantly
Want to make money or some extra cash? Under the table jobs are usually a great way to earn cash right away.
There are thousand reasons you want to find under the table jobs that pay cash upfront. Sometimes you just need the extra income!
If you are looking for a full-time job or a side job to make money, you will find this list of under the table jobs extremely helpful!
Let me be honest with you –
Just like any other job, all these under the table jobs also require a lot of effort and consistency. I know people who have turned these under the table jobs into a full time career!
Yes, its true!
So, what are under the table jobs? These are jobs or gigs usually are the ones that are cash paying but not reported to the government.
NOTE – Most of these under the table jobs will treat you as an independent contractor. You should record all your earnings with these gigs especially if you are issued an 1099. Don't hide your earnings from the Government.
Note – This post may contain affiliate links. Please read disclosure policy
32+ Jobs That Pay Under the Table
"Under the table jobs" or "off the books" has a stigma attached to it but it is ONLY ILLEGAL if you DO NOT report it to the government.
So, if you want to avoid any hassle, please report it to the government.
THIS post is not intended to be illegal nor should it be a representation of such.
Again, this post is all about jobs that pay instant cash! So.. let start
How to Find Under the Table Jobs or fast cash paying apps
Like any job hunt, finding an under the table job requires consistent and work.
But, if you know the right place and way, the time is cut short.
1. Craigslist
Wondering how to find under the table jobs on Craigslist?
Craiglist is one of the most popular ways to find under the table jobs online.
Go to Craigslist and you will find a lot of paying jobs that people are offering across the globe.
This is how Craiglists homepage looks like
From there, you can either click on gigs or the category listed below it (like computer, creative, crew, domestic, event, labor etc).
Beware of shady jobs and scams.
If you spend sometime on the platform, you will find hidden gems and jobs that pay quite well.
Ready for Craigslist under the table jobs?
2. Job Websites
What better place to look for under the table jobs near me than job websites themselves?
You can check out websites like NextDoor or Rover.
NextDoor allows you to find under the table jobs in your neighbourhood and Rover lets you find dog walking jobs nearby.
You can check out these 3 –
Care.com
If you're serious about turning this gig into a part-time or even full-time job, then sign up with Care.com.
You will have to pay a small fee for joining but it has LEGIT opportunities on the platform.
This can include the following:
Babysitting or Nanny
Errands and Odd Jobs
Housekeeping
Pet Care
Senior Care
Tutoring
Use care to find under the table caregiving jobs near me.
If you want to take up any of these gigs, I highly recommend you sign up for the website and start sending proposals.
With Care, you can either get paid in cash or get a personal check or direct deposit. All you have to do is fill up your information and select the payment method.
Once you start to gain a reputation and build up your profile, you could soon find yourself with more work than you can handle.
Rover.com
I only recommend Rover.com if you're looking to offer services listed below
Dog Boarding
Drop-in Visits
Doggy Day Care
Dog Walking
You will have to create a detailed profile and be active on the platform to land the first few gigs. Once you start building a clientele, you will get repeat customers and making money gets easier.
As long as you offer a competitive rate, offer a detailed description as to what you offer and include a nice picture, you shouldn't have a hard time finding work.
Nextdoor
If you're not part of Nextdoor, then join it right now — it's 100% free and is great in a lot of ways.
Nextdoor connects you with people who are your neighbours or live in the nearby areas.
People are always posting jobs on NextDoor so you will find one easily. You can find jobs for handyman, painter, lanscaper etc
You can also join TaskRabbit. It is a similar app like that of NextDoor.
3. Facebook groups & Social Media
Facebook is another source of under the table jobs and it is not widely used (not used properly at least).
You can find jobs in the local job groups or groups where people share job leads.
A number of people are looking for freelance services around town via Facebook.
Click here to know how to use Facebook to find clients
4. Direct emailing
If you want to expand your services and make it a full time income, you should learn how to pitch clients your services directly
List of Proven, Easy and Real Jobs That Pay Under the Table
1. Get paid to watch videos
This is one of the easiest under the table jobs available right now. It is also a fun way to make money online!
If you did not know, you can legitimately make money watching movie previews, celebrity videos, news and all sorts of other videos.
You can sign up for the following – these are legit surveys!
Want to make money quickly? Here are a few platforms to earn up to $25 – $50 in a few minutes!
PineCone Research: Earn $3 – $5 per each survey guaranteed .Sign up now
Once you sign up, you will get a bonus for many + they will tell you what to do exactly.
You definitely cannot make a career or a full time income out of it, but it is very easy money for anyone.
When you finish the surveys, you can get paid in cash via Paypal or gift cards. So you can technically make money under the table with this gig.
Following is a list of under the table jobs that can help you earn some quick cash. There is quite a variety, so you will definitely find something well suited for your skills.
Even though under the table term is considered as 'off the books', you can always report it and stay away from any sort of trouble.
2. Babysitting
You will always find babysitting job. It is everywhere and easy to find.
You can either spread the word in the neighbourhood or find for jobs on care.com or Facebook.
Parents are generally never a big fan of Craigslist. Word of mouth is much better option!
So, ask your friends, family, acquaintance and neighbours to start with.
This is one of the under table jobs that can be a one time gig or a regular job – depends on what you want.
To start with, you can charge $10 per hour or more depending on what you are expected to do and how many kids you are looking after.
If you are good with children, this could be the perfect job for you that will get you cash income at the end of the day.
Babysitting Jobs Near Me – Earn $2k+ a month and more
3. Cleaning Jobs under the table
Trust me, a lot of us do not like cleaning our own homes.
And hence, people resort to listings on Craigslist for cleaning. They might also use TaskRabbit for it.
You will most likely need to vacuum, mop, dust, organize stuff, change sheets, etc., the stuff we usually do at our homes all the time.
Easy enough to make some cash, eh?
4. Weightloss
Healthywage is your answer.
They offer people the opportunity to make cash for losing weight.
You will have to bet on yourself and how much weight you can lose. Your winning will depend on these factors – how much you bet and how much can you lose.
There are some people who have won $10000 dollars with them! yes, for reals!
5. Help the Caterer
During the holiday season and the wedding season, caterers are loaded with work.
They have more than they can handle and most of the times, they are hiring help.
Your job would be to set up tables, trays, serving food or delivering to a certain location.
While the job won't pay a ton, it could be a great temporary one-day gig.
6. Gardening
Gardening jobs could be both seasonal and perennial. People are always looking to get some yard work done and willing to pay for it (especially the lazy and elderly)
You could help with tilling the garden, mowing the laws, pulling out the weed etc.
Besides that, you can also target people who want to own a garden but cannot maintain it themselves. These are the kind who will be willling to pay you a lot more money.
and, this definitely, could be your under the table job
7. Sell textbooks
If you have textbooks to sell, it could be your next under the table job.
You can sell items on Facebook groups, Facebook Marketplace, Craigslist, eBay, Amazon, Decluttr and many more.
How to sell old clothes for money? – A beginners guide!
You could also sell other items – like – DVDs, cell phones, electronics, etc.
If you want to sell items online and make it a full time gig, do check out how to flip items for money.
8. Manual Labor
You can find manual labor job where ever you are. Just hop onto Craigslist.
You can help with mowing the lawns, moving stuff around, cutting wood, painting etc.
Considering it demands physical work, it is not an option for anyone and everyone.
This could definitely be your under the table job…sshhh!
9. Micro jobs
Amazon Mechanical Turk (MTurk) operates a marketplace for work that requires human intelligence.
You can pick up various micro tasks that are available on the platform.
Your jobs would include easy tasks like identifying objects in a photo or a vide, selecting the correct spelling for grammar, rating search results. transcribing, data entry etc
Relevant post: Micro Jobs Online – 29 websites to find legitimate gigs & tasks TODAY
10. Sell your own snapshots
You don't need to be a professional photographer to make money these days.
Just pick up a niche, click stock photos that entrepreneur need and sell them on sites like ShutterStock or Pixabay.
It i easy to sign up and every time someone downloads a pictures, you get a commission.
You will get paid cash (via PayPal) so you can technically make money under the table with this gig.
11. Sell feet pics
This could be your under the table gig for sure.
If you have beautiful feet (or don't, does not matter), you can sell feet pics and make money online.
For reals. I have known people to make over $500-1000 selling feet pics online.
If you are interested, check this out.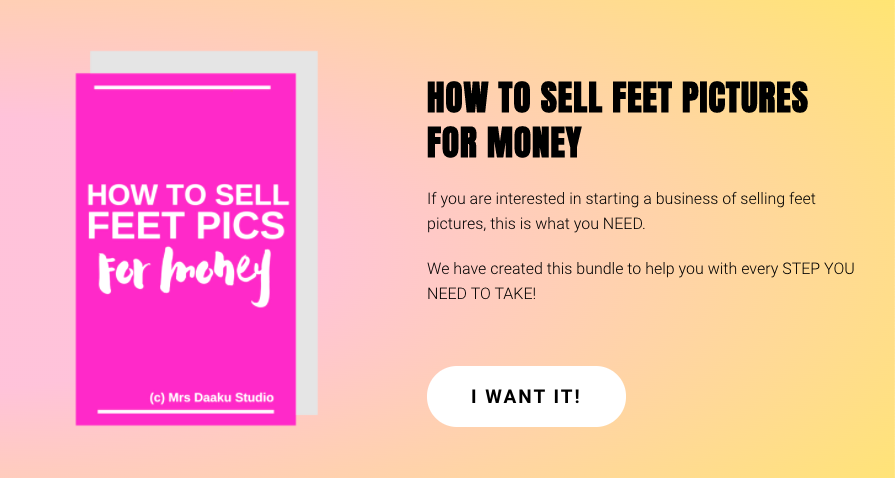 12. Get paid to sext
If you are ok with flirting and chatting with men on the internet, you should check out these platforms that pay you flirt and sext.
It is a legit onlne job and will pay you money.
13. Handyman or other similar tasks
Handyman – If you are good at repairing things, you can earn money fixing things for people. You can start in your neighbourhood or download TaskRabbit to find side gigs.
How else to find these jobs that pay under the table? Target local Facebook groups or list your services there. You can also print out a flyer with your contact details and the services you can offer and distribute around the neighborhood.
Mover: If you are physically strong, you can also get under the table jobs of becoming a mover. It is one of the easiest ways to get paid cash.
You are avoid big jobs all together – the ones that require a lot of work and may be, include stairs.
Instead focus on small gigs that requires you to move smaller objects from one place to another.
You will find hundreds of moving jobs EVERY DAY on Craigslist.
Again, if you don't mind getting your hands dirty and you feel like you can move a few couches and tables, then this is the easiest way to earn $15+ an hour under the table.
Painter: Painting jobs are yet another common and easily available under the table jobs. Homeowners are always looking for help to paint.
You will be helping out the paining crew in prepping, paining or cleaning up a job site.
If you have the talent to paint a mural or picture, you can find gigs on Craigslist for this. These kinds of job pay more than the normal spray painting or painting fences.
Snow Removal: If you live in place where it snows, snow removal is a great way to find a temporary cash paying side gig.
All you need is a simple snowblower or even a snow shovel. You can distribute flyers, check Craigslist, join local Facebook groups or Nextdoor app to increase your chance of landing a few clients.
People need their driveways shoveled and they are willing to pay for it. Of course, you won't be rich doing these jobs.
Want to make an extra $5,000/month in side hustle income?
Want to make a living under the table?
Get the exact steps I used to start a profitable work at home career and quit a high paying contract attorney job.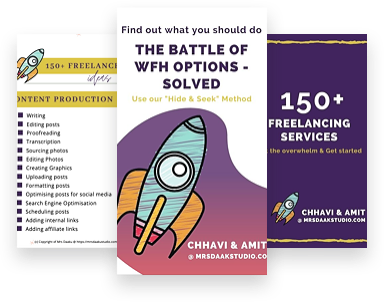 14. Freelancing
Freelancing can be anything. You can –
Build websites.
Design logos
Manage social media accounts.
Create videos for business.
Translate and much more!
You can find more than 50 work at home freelancing jobs easily.
If you are new and want to make some quick bucks, start with Fiverr. A lot of people go on Fiverr and hire people out to do small things.
You can offer your services for as little as $5 and up to thousands of dollars.
The more you sell and the more reviews you get, the higher you can charge.
You can also check out Freelancer or Upwork.
If you want to make $5000 a month with freelancing though, these platforms WILL NOT work.
You should instead focus on job boards, Facebook groups and direct pitches.
15. Blogging
While I am including this in the list of under the table money, it is most certainly not. You cannot hide income from blogging in anyway!
Whether you are looking for full-time income or want to make extra money online, blogging is a great option.
You can work at your schedule and earn at least a $1000 a month. There are bloggers who make $5000-50000+ a month with their blog. You can also check out how I make money blogging and how you can too.
Note: This blogger makes over $100000 a MONTH. Check out her story and how she makes money online blogging.
In fact, you can make a few thousand dollars with CPM ad networks without having to use Google Adsense or affiliate marketing.
The potential is endless!
This is why it had to top the list of the best online jobs at home for moms and housewives. You can start a blog on –
Parenting
Travel
Beauty
Fashion
Health & Wellness
Mind and Body
Yoga
Self-Worth
Productivity
Save Money
Make money
Teaching
Pregnancy
Relationships
Movies/Music
Modeling etc
It is the perfect stay at home mom job because you are in total control of your schedule (and, there are no "deadlines" as such!)
I recently talked to fellow bloggers and they had some amazing tips to share for beginner blogger and for the summer slump
If you are starting out, you SHOULD also check out this roundup on expert tips on driving traffic to a new blog and start with my start a blog series.
Grab this 5 day FREE challenge for beginners & FREE Traffic Transformation Guide today
Recommended tools for blogging for beginner moms wanting to work at home –
Hosting
Blogging Courses
Ready Set Blog for traffic – It is an EXTREMELY underpriced course on how to make money with a blog for beginners. It tells you how to set up your blog, use Pinterest and implement SEO strategies. Using her tips, I have been able to rank on page 1 of Google. You can read my first income report here.
TSA – They are a bunch of resources by the owner of theSheApproach. Her books are amazing and filled with great information. You can get affordable (and, many of them are free as well) on affiliate marketing, boosting traffic, and Pinterest strategies.
Search Engine Optimisation (SEO)
Pinterest (DO NOT MISS THIS!)
Take this FREE Pinterest class by Cate Rosales.
Pinteresting Strategies – This is an affordable course that tells you how to use (and, how NOT to use) Pinterest to drive traffic. Using this, I have been able to get a 200% increase in traffic within 2 months.
PinterestNinja – Well-known bloggers stand by this course, and I am going to be investing in it myself sometime soon. Check it out here
Affiliate Marketing
16. Driving
You can find driving gigs everywhere.
Check out this post with over 10+ platforms with driver delivery jobs.
You can also check out ridesharing section of craigslist online to find these jobs.
Riding and driving are great ways to make a lot of cash quickly.
If you drive a lot and keep going to different cities, it is worth checking on Facebook travel groups as well as Craigslist to find people going in the same direction.
In most cases, you could make enough to cover gas and even more. This could definitely be a legit under the table job!
Note: Check out Doordash, Instacart and GetAround
17. Host guests
If you have extra room in your house, you can make money hosting guests on Airbnb.com.
You can rent out your rooms or house to travellers looking for accommodation.
With AirBnB, you can easily earn extra money that go towards any cause you like.
18. Interpreter
Can you please more than one language? If yes, then you can some money on the side.
Businesses (especially the non native English speaking ones) are looking for interpreters all the time. You can find so many gigs online – on Craigslist, job websites and platforms like LinkedIn.
This job, almost always, pays well unlike any other under the table jobs or gigs we talk about.
19. Pet Sitter
Pet sitting is one of the most common under the table jobs. If you are a pet person, the job is a great option for you.
Pet owners are almost always looking for someone who can walk their dogs or take care of pets while they are gone.
You can easily make $50 in one hour. With 2-3 clients a week, you can make decent amount of extra cash.
You can instantly become a pet sitter by using Rover. You can find more about dog walking apps here.
See Related: How to Make $1,000 Quick & Easy
20. Farmer's Market
You find a farmers market almost everywhere.
It is a great place to find work or sell stuff.
If you want to find work, you can ask around the stall owners who are swamped with work and want help. It would pay well and your job would be to mind the counter or load stuff
If you want to sell, rent out a table and sell something. You can sell homemade sauces or crafts – anything that you can make. May be baked goodies!
If you have a creative side or are into gardening, this could very well be a regular thing.
21. Tutor
If you are a teacher or love to teach children, tutoring is a great job for you.
You can teach maths, history, literature, science or help students learn a language.
There are so many kids who need help outside of the school. You can find these gigs on Facebook parenting groups, Craigslist and in your neighbourhood.
You can also tutor kids extra curricular activities like painting, crafts etc.
Check
VIPKID Review – Is VIPKID legit or scam?
12 apps for odd jobs near me (earn $200+ a day – ALWAYS HIRING)
Online Jobs That Pay Weekly (or daily!) – 48 legitimate work at home options!
22. Music gigs
Are you good with any musical instrument?
You can easily monetise that. Find gigs around the town – in the restaurants, bars, events etc. In fact, you can find gigs in the wedding and birthday parties.
If you cannot find these gigs online, you can personally visit bars, restaurants and event planners.
Before you go, have some samples ready on YouTube.
You can make as much as $100 in just one gig that would last a couple of hours, plus free drinks. Now, who wouldn't want that?
See Related: Best Weekend Jobs to Consider
23.Crafter
Are you creative? Do you love spending time on DIY projects?
Let's put that to good use.
You can buy things off flea markets or thrift stores, add personal touch and sell them for profit.
There is a huge market for this and a lot of people are willing to buy customised products.
You could even look into starting your very own Etsy store if you have something unique to offer to the market.
24. Stylist
Ooo.. this is a lucrative side business or online job from home.
You can become an online personal stylist, travel agent, beauty consultant etc.
If you are interested in becoming a personal stylist, you can try out Stella & Dot. They have a great business model which makes things easier for you!
Alternatively, you could join an existing company, like Stitch Fix, Avon or Jamberry which would help you get started.
25. Cooking
Cooking is lucrative. It WILL earn you money.
You can run a catering service or a baking business from home. If you market yourself properly, you can find work for catering dinner parties, weddings, corporate events, birthday parties etc.
Many people either don't have the time or the skills to cater for their own parties and are looking for someone to do it for them.
Start small and ask friends, family, relatives to spread the word.
Always keep food safety laws in mind, since you don't want a lawsuit on your hands.
Check out this post to know how to monetise your cooking sills.
26. Yoga Classes
Yoga classes are very lucrative right now. You can make serious moolah with it.
You must be wondering how to find under the table jobs as a yoga instructor?
Well, you do not have to find a job, more like find the audience. You can find them on Facebook groups, Craigslist, and by spreading the work through friends,
You will need space to conduct your class. You can do it at your home or a local park.
People can pay cash upfront on a weekly or monthly basis.
It is a perfect way to earn extra cash and stay healthy at the same time.
Conclusion on Under the Table Jobs
You know how to find jobs that pay under the table and get paid regularly or when you need extra income.
Are you ready to bag jobs under the table?
Online jobs that pay through PayPal in 2020
Highest paying apps that pay you money in 2020 (Start TODAY)
16+ apps that pay you to walk: Ready to get paid to walk?
Resources that can help you with land work from home jobs
How to find and pitch clients your freelance services– You can find my strategies to find high-paying freelance writing clients.
Become a work at home mom– A FREE training session that comes along with a workbook and guides you through the entire freelancing journey.
FlexJobs You can find 100% legitimate work from home jobs and freelancing gigs on this platform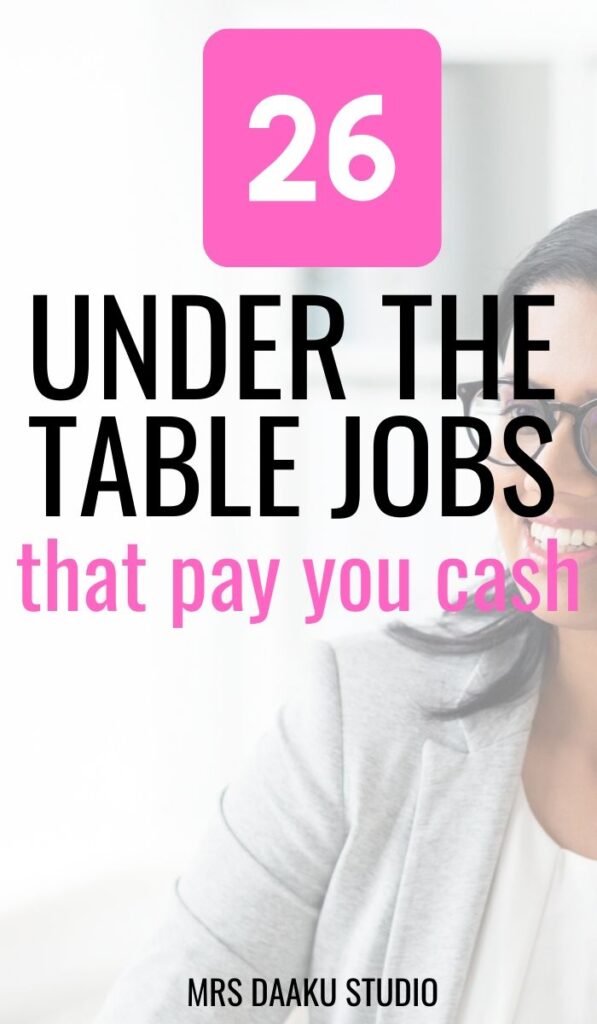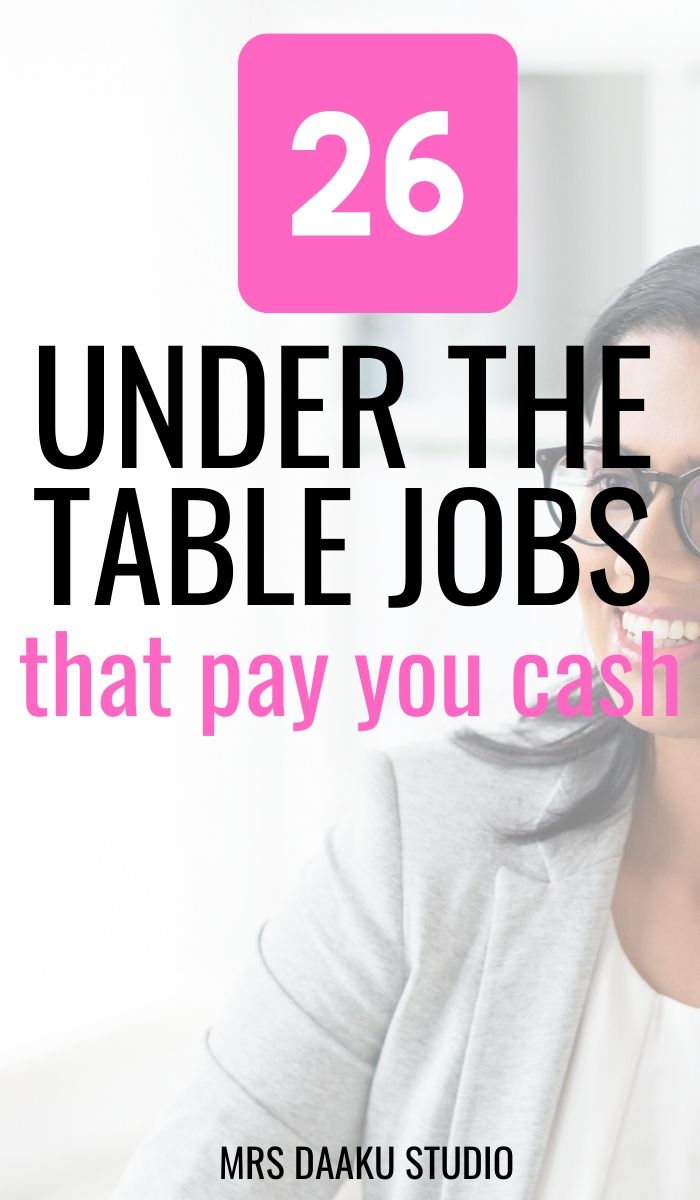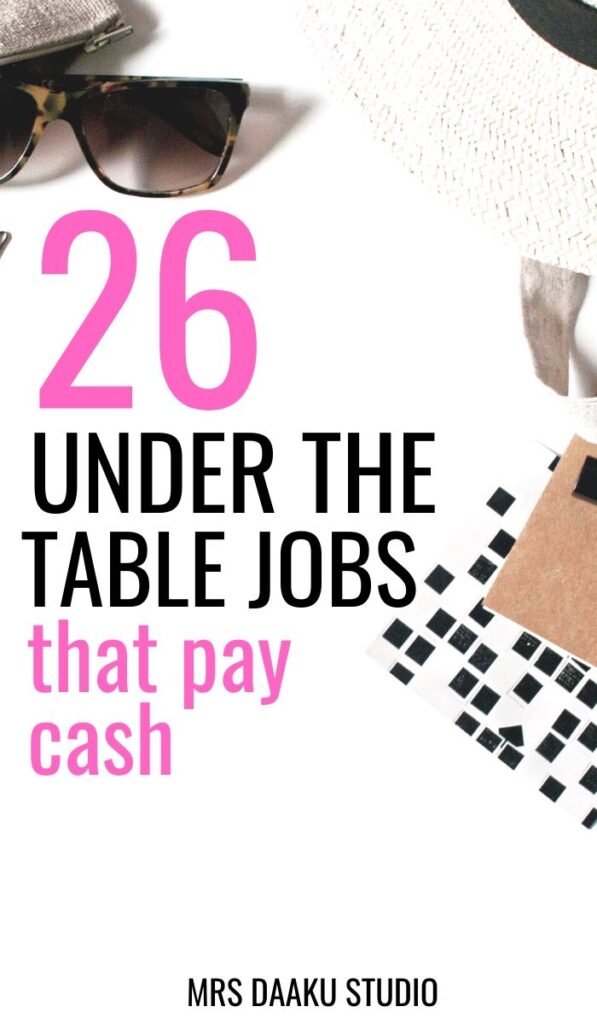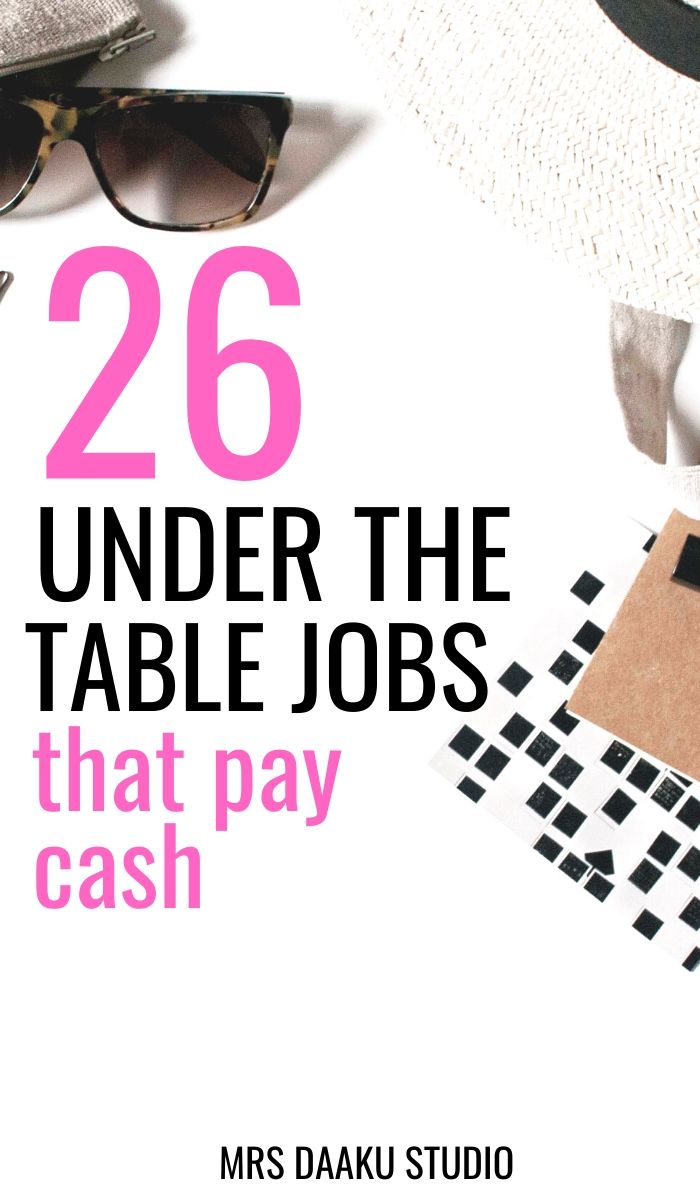 Jobs under the table and jobs on cash