Stupid Simple SEO Review was long overdue!
I bought it almost 6 months back and am so happy with it. It is the best course that I have ever spent my money on!
For those of you who are new –
Stupid Simple SEO is a search engine optimisation course that teaches you how to rank your content on Google.
But, does it fulfil the promises?
Does it really teach you the things you need to know?
Does it provide the support you need?
In this Stupid Simple SEO review, we will talk about everything you need to know before buying it.
Note – This post may contain affiliate links and sponsored listings. Please read disclosure policy.
Stupid Simple SEO Review Summary
Product Name: Stupid Simple SEO
Product Type: SEO course
Creator: Mike Pearson
Price: $297 or $497 (depends on which option you decide to go for)
Best For: Bloggers and website owners who want to drive organic traffic from search engines.
Summary: Stupid Simple SEO, a course by Mike Pearson who is a blogger and SEO expert. He created Stupid Simple SEO to teach other bloggers how to rank on search engines and get more stable traffic. Stupid Simple SEO makes SEO easy to implement.
Recommended: Yes
If you want to drive organic traffic and want to test the waters with Stupid Simple SEO, sign up for this free course by Mike Pearson. It will teach you a few basic SEO concepts and tactics that can start helping you drive traffic right away.
Why You Should Be Focusing on SEO
Stupid Simple SEO is a detailed course on SEO.
So, before we go on with the Stupid Simple SEO review, let's touch a bit on why SEO is so important.
SEO is a way to drive organic traffic back to your website or blog. While it does take time to show results, but once it does, it allows you to capture relevant traffic.
That means, the quality of your traffic is going to be much better than the one you get from social media or Pinterest.
Think about it.
People have put in a search term to get to you. They actually want to know about it and probably, buy some related product.
That means, you can make more sales by targetting buying keywords.
Not only this, the RPMs are much higher for organic traffic as compared to social media. That means, more ad income.
All that said – SEO is something a lot of bloggers ignore because it sounds technical, time consuming and a lot of work.
The thing is – it is time consuming but it is always better to start it out as soon as possible
Note – Take this FREE Pinterest class by Cate Rosales
And, till the time it is not working, you should focus on developing a strong Pinterest Strategy (to get traffic right off the bat).
Just a note of caution – do not put all your eggs in the same basket. Do not EVER rely on only one platform to get you traffic.
It is the combination of search engine traffic and Pinterest that will give you more stability.
Why do I say that?
Sometime this year, my website was blocked and marked spam by Pinterest. [It happens to even legitimate websites and blogs].
I had no organic traffic and all the traffic from Pinterest came to a shocking halt.
I had about a 50 sessions as compared to over 1000 sessions in a day. It was shocking but it made me realise that I made a mistake by ignoring SEO.
This is where Stupid Simple SEO came into the picture.
Before you invest in Stupid Simple SEO (and, till the time it does not open for enrolment, sign up for this free course by Mike Pearson). It will teach you a few basic SEO concepts and tactics that can start helping you drive traffic right away.
I asked in the blogging circle and this course came with glowing reviews and hollywood-style fans!
From small bloggers to known bloggers, everyone recommended it without a doubt!
Literally, NO BAD REVIEWS of Stupid Simple SEO.
But, was I going to spend $497 or $297 just like that?
Of course, not. So, I signed up for his free course and implemented a few ideas.
To my surprise, I saw a bump in organic traffic (WITH HIS FREE TUTORIAL).
So, there was nothing left to ask. The next time the doors opened, I was the first one to buy it.
What results did I see with Stupid Simple SEO?
It is an obvious question that you should be asking.
If I am taking the effort to write a review for Stupid Simple SEO, you need to know how it helped me grow.
So, I invested in Stupid Simple SEO in the mid of May 2019.
TRAFFIC
By June 2019, I was able to grow my organic traffic by a whopping 220%.
Here are a few screenshot for you to check –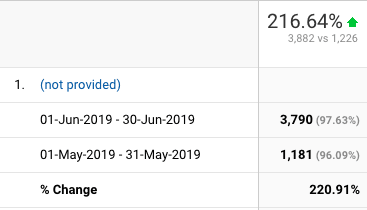 You can see that I was able to grow my organic traffic from 1181 to 3790 sessions in a month.
DOMAIN AUTHORITY
Besides this, when I started Stupid Simple SEO, I was ONLY at a domain authority of 19.
In 7 months, from May – Nov, I was able to increase it to 30. This is all because of the backlink methods that I have been implementing.
In a short span, I was able to get featured on leading publications like
MSN
Yahoo Finance
Go Banking Rates
CEO Blog Nation
Readers Digest
Car Rentals
Fundera
Fit Small Business
Post Bulletin
Student Loan Hero
Score
and, many more.
Thanks to the increase in DA and tactics that Mike teaches in Stupid Simple SEO, I have been able to rank better for a lot of the posts.
I see improvement in rankings every single day.
RPMs – Mediavine
Besides this, I have also noticed an increase in the RPMs. My ad income has considerably increased.
Honestly, I have recovered the cost of the course by the increase in ad income alone (within a month!)
A FEW POSTS FROM THE FACEBOOK GROUP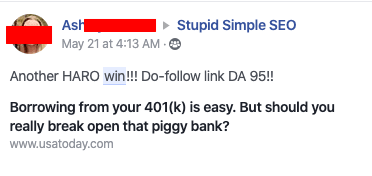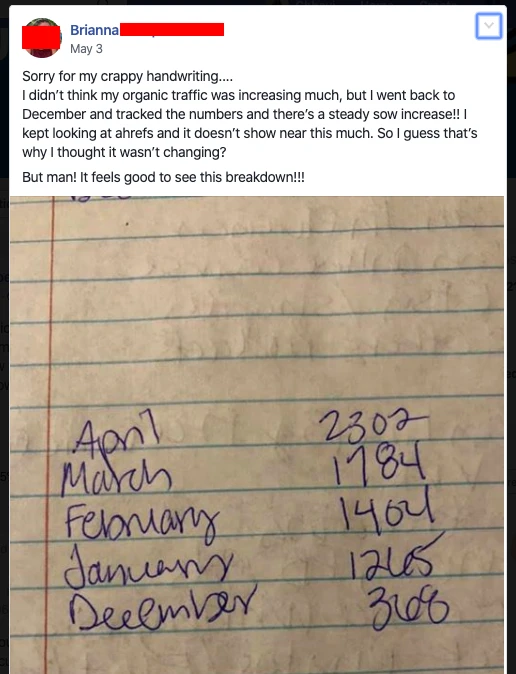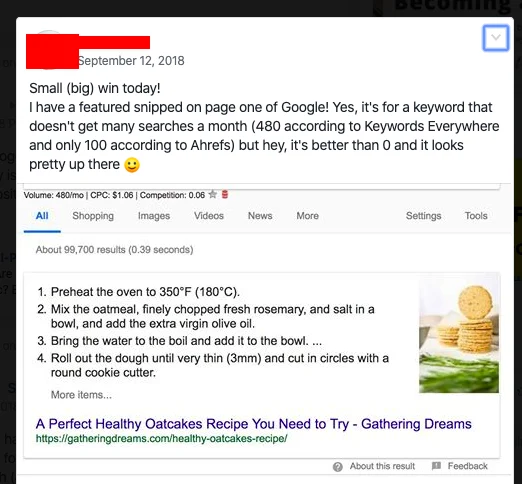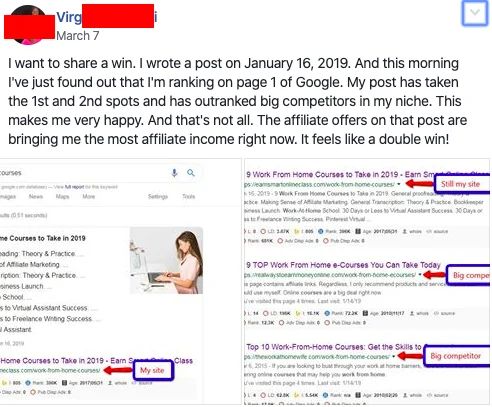 Ok, now let's dive into the details of Stupid Simple SEO.
Ready to make a difference in traffic, grab the FREE course by Mike now.
What is Stupid Simple SEO?
Stupid Simple SEO is an advanced course that helps you decode the important steps you need to take for search engine optimisation.
In short, it makes SEO simple for you.
If you have been wanting to learn SEO (or been avoiding it for sometime now), then Stupid Simple SEO is right for you.
It can help you with –
Keyword research
Increasing your domain authority
Competition analysis
Backlinks etc.
Who is Stupid Simple SEO For?
Stupid Simple SEO is best for bloggers who are looking to rank on Google, drive more relevant traffic and make more money.
The ideal buyer for this course is –
a blogger who is struggling to drive any traffic from search engines and relies on Pinterest or social media entirely

a blogger who wants to learn SEO the right way

a blogger who is new to SEO
Who is Stupid Simple SEO NOT For?
Stupid Simple SEO is not for you if
You are a new blogger and still figuring out how it works. This will work instead!

You already know a lot about SEO and drive substantial amount of traffic.
What You'll Learn in Stupid Simple SEO
Stupid Simple SEO an extensive course that covers
ABCs of SEO
How to track your progress
How to set up your blog for SEO success
Optimal site structure and site design that works for SEO
How to do keyword research the rigth way
How to write epic content that ranks
How to start link building and increase your domain authority
How to master Google's EAT alogirthm
How to do SEO for affiliate marketing
How to do blogger outreach
How to do guest posting for backlinks
How to use HARO to get features on leading publications etc
Lessons you will have if you buy the advanced Stupid Simple SEO course –
How To Go Through This Course
The ABCs of SEO
An Hour Per Day of SEO
Start How Long Does It Take To Rank?
Start Your 7-Day Ahrefs Trials (Lessons To Complete)
Start How To Track Your SEO Progress
Start Trello Course Roadmap
Private Facebook Group
Module 1: Setting Up Your Blog To Be Fast & Mobile-Friendly
Start How to Make Your Blog Secure (SSL)
Start How to Make Your Blog Mobile-Friendly
Start An Introduction to Site Speed
Start Tips for Improving Your Site Speed
Module 2: Site Structure & An Optimal Homepage Design
Start An Introduction To Relevance
How To Rank Even If Your Site Is Very Broad
Start How To Make Your Navigation Google Friendly
Start Re-Imagining Your Category Pages
How To Set Up Custom Category (Silo) Pages In WordPress
Start How To Create An Optimal Homepage Design
Module 3: How to Do Keyword Research the Right Way
Start Your Ahrefs 7-Day Trials (Lessons to Complete)
Start An Intro To Keyword Research: What Makes A Good Keyword?
Start Why Competitor Research Beats Traditional Keyword Research
Start Brainstorming Your Initial Competitors
Start How to Find Your Competitors With Ahrefs
Start Filtering Out High-DR Sites (Batch Analysis)
Start Finalizing Your List of Competitors
Start How To Find Your Competitors' Top Pages & Keywords
Start How To Merge Your Keyword Spreadsheets
Start How To Organize & Sort Your Spreadsheets
Start How To Analyze Keyword Data & Develop A Content Strategy
Start How To Determine Keyword Competitiveness
Start How To Use Ahrefs Content Explorer For More Content Ideas
Start How To Do Keyword Research For Existing Content
Module 4: The Secret To Creating Epic Content That Google Loves
Start Satisfying User Intent
Start Understanding User Satisfaction
Start Pop-Ups, Aggressive Ads, And Bad User Experience
Start Your Goal: Creating EPIC Content
Start How To Research And Outline Your Content
Start How To Find Long Tail & Related Keywords
Start How To Create Epic Content That Ranks
Start How To Set Up Your On-Page SEO
Start How To Use The Yoast SEO Plugin
Start An Introduction To Content Audits
Start How To Do An SEO Content Audit
Module 5: Getting Started With Link Building
Start What Are Links & Why Are They So Important?
Start The 5 Characteristics Of A Great Link
Start Link Building Expectations
Start Getting Into The Outreach Mindset
Start Links You Don't Want Any Part Of
Module 6: How To Swipe Your Competitors' Best Links
Start Understanding Your Competitors' Backlinks
Start How To Spy On Your Competitors' Backlinks
Start How To Merge Your Backlink Spreadsheets
Start How To Organize & Analyze Backlink Data For Link Opportunities
Module 7: How To Build Links With Guest Posting
Start An Introduction To Guest Posting
Start Getting Organized For Your First Guest Post Campaign
Start How To Find Guest Posting Opportunities
Start Sending Your Guest Post Pitches
Start Handling Replies & Writing Your Guest Post
Module 8: How To Create Linkable Assets Other Websites Love Linking To
Start An Introduction To Blogger Outreach & Linkable Assets
Start Three Types Of Linkable Assets: Infographics Guides, & Surveys
Start How To Brainstorm Ideas For Your Linkable Asset
Start How To Create Your Linkable Asset
Start How To Outreach To Bloggers With Linkable Assets
Bonus: How To Master Google's E-A-T Algorithm
Start An Intro to the Search Quality Evaluator Guidelines
Start Content Quality & The QRGs
Start E-A-T and YMYL Pages
Start Why Your "About" Page Matters
Start How To Optimize Your Blog For E-A-T
Bonus: SEO For Affiliate Marketing
Start How To Identify User Intent In The Sales Funnel
Start How To Find Affiliate Keywords
Start How To Create "Best [Product]" Type Content
Start How To Create "Review" Type Content
Bonus: How To Get Your Blog Featured On Huge Websites (HARO)
Start An Introduction To HARO
Start Getting Set Up With HARO
Start How To Respond To HARO Requests
Bonus: Building Powerful "Resource Page" Links
Start An Introduction To Resource Page Link Building
Start How To Find & Filter Resource Page Prospects
Start How To Do Resource Page Outreach
Bonus: The Secrets To A Successful Expert Roundup
Start An Introduction To The GuestoRoundup Technique
Start Using Google Sheets To Get Organized
Start Expert Roundup Overview & Choosing Your Question(s)
Start How To Find Bloggers To Participate In Your Roundup
Start How To Execute The Expert Roundup & Land Your Guest Posts
Bonus: SEMRush Mini-Class
Start Finding More Competitors with SEMRush
Start Swiping Your Competitors' Top Pages & Keywords
Start Spying on Your Competitors' Backlinks
Bonus: Behind The Scenes of Credit Takeoff
Start Niche Selection
Start Setting Up The Site
Start Monetization & Traffic Strategies
Start Mapping Out a Content Strategy
Start Hiring Freelance Writers
Start Managing Freelance Writers
Grab the FREE SEO course by Mike Pearson NOW.
What I Like About Stupid Simple SEO
There are a few things I love about Stupid SImple SEO
Mike has a great teaching style. He has the knack of breaking down complex ideas and concepts into smaller chunks.

The course provides you with a solid and cannot-fail strategy of driving organic traffic

After you have finished a module, you will know EXACTLY what you need to do.

It works! Period.

You get to be a part of Stupid Simple SEO Facebook Group where Mike is always available. Besides that, the entire community is always helping you and encouraging you at every step.
What I Don't Like About Stupid Simple SEO
To my suprise, there is nothing I do not like about Stupid Simple SEO.
The only drawback I could think of is – the entire course is video-based. So, if you are not fond of video learning, it may be difficult for you.
But, for the kind of course Stupid Simple SEO is, it did require a video. So, there is that!
How Much Does Stupid Simple SEO Cost?
There are two options that you can buy
Standard – $297
Advanced – $497
Ready to make a difference in traffic, grab the FREE course by Mike now.
Are There Any Extra Costs?
Yes, there is one very small cost.
The part where STupid SImple SEO deals with keyword research will require you to invest in a tool named Ahrefs.
However, Mike tells you how to do all the research within the 7 day trial period it has for ONLY $7.
It is a one time cost and you can cancel the subscription after that.
To clarify – Ahrefs is not required for the entire course, just a few modules.
Who is the Creator of Stupid Simple SEO?
The creator of Stupid Simple SEO is Mike Pearson.
When you are spending a lot of money and investing in an SEO course, you always want to know more about the person teaching you.
After all, all of us search for credibility.
Mike Pearson is a blogger himself. He has several blogs in different niches including one which is sold for six figures. He has also made over $200k with Amazon Associate Program.
His most recently created site is Credit Takeoff which has already been featured on CreditCards.com, Bankrate, The Simple Dollar, Investopedia, and LendingTree.
Ready to make a difference in traffic, grab the FREE course by Mike now.
Is Stupid Simple SEO a Scam?
No, Stupid Simple SEO is not a scam.
Mike is highly knowledagle and knows what he teaches. In fact, Stupid SImple SEO is the best course I have invested in till date.
All that said, SEO takes time. So, if you are investing in it and want to see results overnight, it is not going to happen.
You have to work through all the steps and wait for the magic to happen. To set your expectations right, you need to give it a years worht of work.
If you understand this and are ready to deep dive, Stupid Simple SEO course is right you
Ready to make a difference in traffic, grab the FREE course by Mike now.
Do I Recommend Stupid Simple SEO?
Yes, Yes and a thousand times Yes.
This is the ONLY course I recommend without any caveat.
How to Enroll in Stupid Simple SEO
Stupid Simple SEO is only open for enrolment a few times a year.
Click here to check if it's currently open.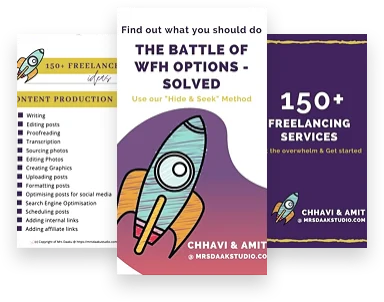 Resources that can help you with land work from home jobs
How to find and pitch clients your freelance services– You can find my strategies to find high-paying freelance writing clients.
Become a work at home mom– A FREE training session that comes along with a workbook and guides you through the entire freelancing journey.
FlexJobs You can find 100% legitimate work from home jobs and freelancing gigs on this platform