how to sell used panties online
Do you want to know how to sell used panties online?
Let's be honest… if you want to boost your income by selling something you already wear every day, consider selling panties online.
It is NOT unusual.. There are so many adult performers, feet pic seller and regular women sell used underwear to make money online.
In fact, you would be surprised by the number of people that enjoy and partake in the fetish (your buyers). Almost all of them are regular people with normal jobs, they merely have a more particular kink.
Note: You can also try selling fetish photos and videos.
To give you some details about the idea of selling used panties online –
Smelling old panties is a kink that originated in Japan, where it's known as 'burusera.' There was a time you could find vending machines for used underwear and panties.
In fact, numerous men and women have the fetish and actively seek out suppliers of used panties or underwear, but at present, that mostly happens online.
While you can't expect to support yourself entirely by selling dirty panties or used panties, it's a nice way to improve your finances and do it fast.
Let's dive into how to sell used panties online.
Looking for other ways? Check out the highest paying apps and how to make money in one day. Besides selling used panties, there are numerous ways you can earn some extra cash on the side.
Note – This post may contain affiliate links. Please read disclosure policy
Want to make money quickly? Here are a few platforms to earn up to $25 – $50 in a few minutes!
PineCone Research: Earn $3 – $5 per each survey guaranteed .Sign up now
What are the platforms to Sell Used Panties?
So, let's talk about how to sell panties online. Of course, we are going to mostly talk about used panties online (because the demand for this kind is much more).
In this section, you will find online platforms where you can start selling used panties and underwear.
Sell Panties online with Pantydeal
Pantydeal is an excellent place to start. It has over 1,000,000 buyers which means you can get exposure on your items easily.
You can set up an account for free. If you want to start selling used panties on this platform, you will need a seller account and pay $19 each month
However, you can set your own prices, and there aren't any transaction fees.
Meaning, you earn 100% of each sale.
Sell used panties online with Snifffr
Snifffr has slightly fewer buyers, but nevertheless it's a good place to sell your used underwear.
It's free to create an account and start selling. If you want extra perks, your first month will cost you $5.95, and after that, you'll pay $9 per month.
The drawback? You'll have to arrange payment processing and shipping by yourself.
Regardless, you earn 100% of each sale.
You can read my detailed review about Sniffr and how to sell on Snifffr here.
Sell underwear online with SofiaGray
SofiaGray is one of the best places to sell your used panties online.
It's surprisingly easy to use, and there are thousands of buyers on this platform each day.
You can also sell internationally, and you keep all the money from each sale.
A seller's subscription will cost you $9.99 for a single month, $3.99 for a four-month package, or $39.99 for a whole year.
Sell used panties online with Scented Pansy
Another one is Scented Pansy. You can buy and sell used panties on this platform.
Other platforms to sell panties online
You can also use the following
Facebook groups
Instagram
Snapchat
OnlyFans
eBay
You can check out this post to find tips on selling on these platforms.
Create Your Own Online Used Underwear Store to sell used panties online.
If you already have a solid customer base ready to buy used panties from you, you can set up your own panty store online.
Before you jump on this, you should understand some legal requirements for your used panty store online.
Just to give you an idea – you will need to make a logo, get a hosting provider and domain, set up shipping and billing, as well as find a good adult SEO company.
Sell Panties Online – FAQs
Why do men buy used panties and underwear?
Most of your buyers are going to be men. But, why are men interested in buying used panties?
It is a fetish. A kink. A liking towards the scent.
It is just like any other fetish.There are millions of men who browse the internet to find used panties.
Is there a market for selling panties online, especially used underwear?
Of course, there is a market for selling panties online.
I landed on this metro article where Miss Mith shares her experience. She has been into selling used panties for over 5 years and in a good month makes over $600 a month.
She also shares some of her best tips and here they are:

How Much Can You Earn by Selling Used Underwear?
The answer is: it depends.
You can expect to get a higher price for underwear that has been worn longer, i.e. more than three days.
If it's uncomfortable for you to wear underwear for that long, you can expect to earn $20 to $50 a piece.
If you manage to grab people's attention with your exquisite taste in underwear and charming personality, you can make more money selling used panties.
There are women who earn around $100 per sale, but they have put in quite a bit of effort to get there.
Also, the platform you sell your used panties on can take a cut of your earnings. You can expect to earn between 40% to 90% per sale, depending on the website you choose.
Is selling panties online safe?
Yes, it is.
The good part about selling panties online is that you're not expected to meet anyone 1:1. In fact, most of these platforms, allow you to be anonymous.
How to ensure privacy while selling used panties?
No, you shouldn't be concerned about privacy while selling panties online through online platforms.
These platforms allow you to be anonymous.
While you will still have to delivery panties to your buyers and use a address, you can always buy PO box number which is about $5-20 a month.
Besides that, if you decide to start your own store to sell panties online, you should be more careful about your privacy online.
A few tips to ensuring privacy while selling used underwear
Do not use your real name. Use an alias
Personalise your profile with fun facts
Add photos of you wearing some of your products
Use a separate email account
Proxy Address or a PO for shipping
Use an anonymous payment method. You can use Amazon gift cards, Google Wallet. Do Not use Paypal or Western Union.
What kind of panties you can sell online and how much to charge?
You can sell –
Normal Underwear ($50-100)
Workout Underwear ($100-200)
Panties you had sex in ($100-300)
Creampie panties ($100-400)
What other things can I sell online and make money?
There are tonnes of things you can sell online and make money.
If you're looking for similar options, you can sell feet pics or sell hand pics or even sell photos of yourself to make money online.
Besides this, you can look into getting paid to sext, becoming a phone actress, becoming a cam girl or selling sex toys online.
That reminds me, if you are looking for business ideas, you can decide to start a beauty products business or sell eye lashes online.
The Pros And Cons of Selling Used Underwear
Like any business venture, you should consider the pros and cons before committing.
Pros for selling used panties online
Flexible: You will have flexible work hours because the majority of your tasks will revolve around packaging and shipping your product.


Easy to do: Selling used panties is super easy. You merely have to wear your panties as usual, make a listing and wait for an order.
Allows you to do anything else: You can do pretty much anything else while you await a purchase.
Cons for selling panties online
Uncomfortable requests: You should consider that some clients might make requests that can make you uncomfortable. That's something you should expect, but remember that you don't have to do anything you don't want to.
Sales are irregular. It's possible you sell ten pairs in a given week but also none in another. That makes the income rather inconsistent, and you can't expect to make a living only from selling your used panties.
Competition: Also, competition can be fierce.
So that's all about pros and cons about how to sell used underwear online.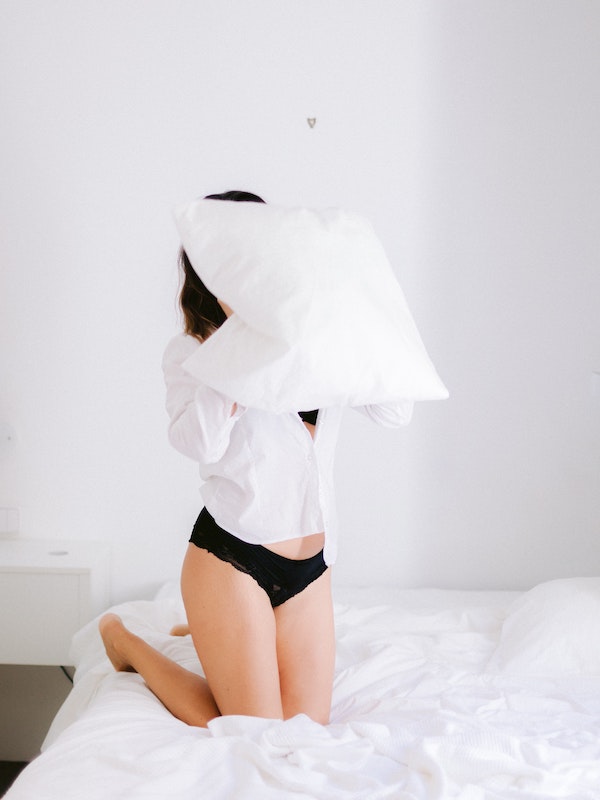 Tips to Get You Started with selling used panties
If you want to earn as much as you can by selling used underwear, you need to put in the effort. You can do that in several ways.
Take professional grade pictures
You can (and should) take professional-grade pictures of you wearing the underwear you're selling.
Get creative. The better your photos are, the more chances of your attracting a buyer on the platforms.
Build relationships with your buyers
You should aim to build a relationship with your existing buyers so they become loyal customers.
Give them discounts or some special pictures if they buy from you.
Make sure your panties are in tip top condition
You have to make sure the panty itself arrives in tip-top shape. It's best if you seal it in a ziplock bag and write a personal note for each one.
If it's wet, make sure to dry it before shipping to avoid moulding.
Remember, the customer wants to smell your scent rather than possess a pair of women's undies.
If you manage to make the person feel special when they get your used panties, more power to your business.
Use more than one platform to sell panties online
You should not use only one platform to sell panties online. Make use of 4-5 online portals to sell used underwear
Sell different kinds of panties online
You can have a variety of underwear. Fancy underwear, daily wear etc.
Besides this, you can have 3 day worn panties for example or workout underwear or panties you had sex in.
Your top choices are
Normal Underwear
Workout Underwear
Panties you had sex in
Creampie panties
Conclusion: How to sell used panties online
You now have the fundamental knowledge to begin selling used panties.
All that's left is for you to put on some cute underwear and soak your scent in them.
Then, bag them, ship them, and enjoy the extra income.
The adult industry is ripe with numerous such opportunities, and you don't even have to show your private parts to anyone.
All you need is a bit of spunk, an entrepreneurial spirit, and a pinch of creativity.
Hope that answered all your questions on ho to sell panties.
Good luck with your panty selling venture!
Related posts to make money online fast
Sell panties online