how to sell used panties online
Wondering how to sell used panties online?
There are numerous ways you can earn some extra cash on the side.
If you want to boost your income by selling something you already wear every day, consider selling your used panties online.
Both adult performers, feet pic seller and regular women make use of their used underwear to increase their earnings.
In fact, you would be surprised by the number of people that enjoy and partake in the fetish.
Almost all of them are regular people with normal jobs, they merely have a more particular kink.
Of course, you can also try selling fetish photos and videos.
Smelling old panties is a kink that originated in Japan, where it's known as 'burusera.'
Most of the transactions there happen in-person, and for a time, you could even find vending machines for used underwear.
In fact, numerous men and women have the fetish and actively seek out suppliers of used panties or underwear, but at present, that mostly happens online.
As such, you have the opportunity to make someone happy while earning some cash on the side.
While you can't expect to support yourself entirely by selling dirty panties or used panties, it's a nice way to improve your finances and do it fast.
Let's dive into how to sell used panties online.
Looking for other ways? Check out the highest paying apps and how to make money in one day.
Note – This post may contain affiliate links. Please read disclosure policy
— QUICK MONEY IDEAS —
Want to make money quickly? Here are a few platforms to earn up to $25 – $50 in a few minutes!
PineCone Research: Earn $3 – $5 per each survey guaranteed .Sign up now
The Pros And Cons of Selling Used Underwear
Like any business venture, you should consider the pros and cons before committing.
The positives are quite a few, so let's list some of them.
You will have flexible work hours because the majority of your tasks will revolve around packaging and shipping your product.
Furthermore, selling used panties is super easy. You merely have to wear your panties as usual, make a listing and wait for an order.
Thus, you can do pretty much anything else while you await a purchase.
Still, you should consider that some clients might make requests that can make you uncomfortable.
That's something you should expect, but remember that you don't have to do anything you don't want to.
Furthermore, sales are irregular. It's possible you sell ten pairs in a given week but also none in another.
That makes the income rather inconsistent, and you can't expect to make a living only from selling your used panties.
Also, competition can be fierce.
So that's all about pros and cons about how to sell used underwear online.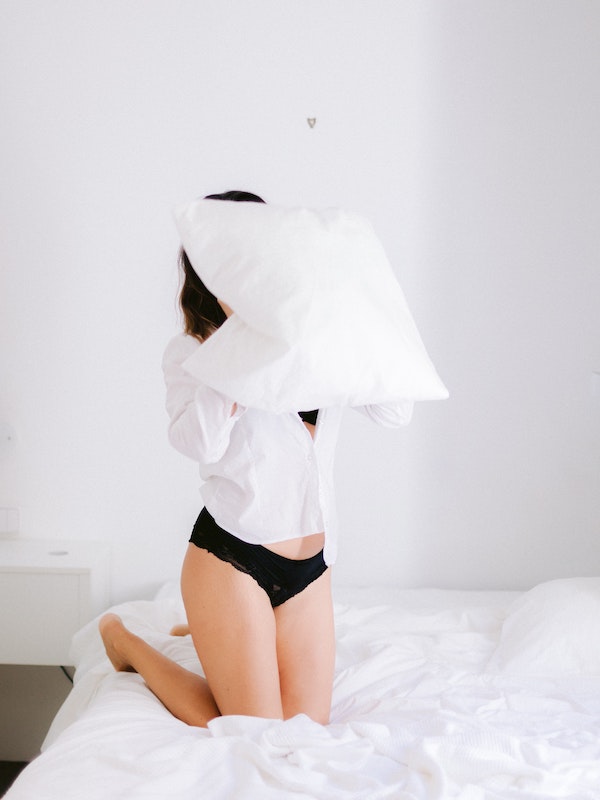 How Much Can You Earn by Selling Used Underwear?
The answer is: it depends.
Often, you can expect to get a higher price for underwear that has been worn longer, i.e. more than three days.
If it's uncomfortable for you to wear underwear for that long, you can expect to earn $20 to $50 a piece.
If you manage to grab people's attention with your exquisite taste in underwear and charming personality, you can make more money selling used panties.
Still, that will take a considerable time to achieve.
There are women who earn around $100 per sale, but they have put in quite a bit of effort to get there.
Also, the platform you sell your used panties on can take a cut of your earnings.
Yet, if you're just a regular girl, you will benefit quite a bit from the traffic these places get.
You can expect to earn between 40% to 90% per sale, depending on the website you choose.
Platforms to Sell Used Panties
When we talk about how to sell used panties, the platforms are the most important part of it.
There's a staggering amount of websites that let you sell used panties, so let's list a few of them.
Pantydeal
Pantydeal is an excellent place to start because it has more than 1,000,000 buyers.
Setting up an account is free, but you need to pay $19 each month to become a seller.
However, you can set your own prices, and there aren't any transaction fees.
Meaning, you earn 100% of each sale.
Snifffr
Snifffr has slightly fewer buyers, but nevertheless it's a good place to sell your used underwear.
It's free to create an account and start selling.
Still, if you want extra perks, your first month will cost you $5.95, and after that, you'll pay $9 per month.
Also, you'll have to arrange payment processing and shipping by yourself.
Regardless, you earn 100% of each sale.
SofiaGray
SofiaGray is one of the best places to sell your used panties.
It's surprisingly easy to use, and there are thousands of buyers.
You can also sell internationally, and you keep all the money from each sale.
A seller's subscription will cost you $9.99 for a single month, $3.99 for a four-month package, or $39.99 for a whole year.
Scented Pansy
Another one is Scented Pansy. You can buy and sell used panties on this platform.
Create Your Own Online Used Underwear Store to sell used panties online.
If you prefer, you can also set up your own online panty store. However, that will take some time.
Also, if you don't know how to do it, you will have to read a couple of guides on how to create a website.
Still, you will find more success going that route if you already have a solid customer base.
The requirements to create a great used panty store are quite a few.
You will need to make a logo, get a hosting provider and domain, set up shipping and billing, as well as find a good adult SEO company.
Tips to Get You Started with selling used panties
If you want to earn as much as you can by selling used underwear, you need to put in the effort.
You can do that in several ways.
On the one hand, you can (and should) take professional-grade pictures of you wearing the underwear you're selling.
The experience a potential customer has before getting the panties is just as important as the actual product.
You should aim to build a relationship with prospects so they become loyal customers.
On the other hand, you have to make sure the panty itself arrives in tip-top shape.
It's best if you seal it in a ziplock bag and write a personal note for each one.
If it's wet, make sure to dry it before shipping to avoid moulding.
Remember, the customer wants to smell your scent rather than possess a pair of women's undies.
If you manage to make the person feel special when they get your used panties, more power to your business.
Conclusion: How to sell used panties online
You now have the fundamental knowledge to begin selling used panties.
All that's left is for you to put on some cute underwear and soak your scent in them.
Then, bag them, ship them, and enjoy the extra income.
The adult industry is ripe with numerous such opportunities, and you don't even have to show your private parts to anyone.
All you need is a bit of spunk, an entrepreneurial spirit, and a pinch of creativity.
Hope that answered all your questions on ho to sell panties.
Good luck with your panty selling venture!
Related posts to make money online fast
Resources that can help you with land work from home jobs
How to find and pitch clients your freelance services– You can find my strategies to find high-paying freelance writing clients.
Become a work at home mom– A FREE training session that comes along with a workbook and guides you through the entire freelancing journey.
FlexJobs You can find 100% legitimate work from home jobs and freelancing gigs on this platform