Instafeet Review | FeetFinder Now!
MAJOR UPDATE ABOUT INSTAFEET:
I was updating the Instafeet Review today (30th December 2022) and I realised that the website for Instafeet redirects to FeetFinder. While I couldn't find anything related to this online, I have a feeling that Instafeet has merged or being acquired by FeetFinder.
That means, for the time being, you should learn using FeetFinder to sell your feet pics and making money online. You can work-from-home and make some extra money sell pics.
---
Do you want to sell feet pics online and make extra money on Instafeet?
You probably came across Instafeet and are now looking for legit Instafeet review that can tell you everything about it. Well, you are in the right place then. In this Instafeet review, we will discuss everything good, bad and the ugly.
Most important we will discuss how to make money online selling pictures of yourself.
Let's begin.
Note: Want to know how to sell feet pics other than on Instafeet? Check here to find everything about getting paid for selling feet pics online.
Note – This post may contain affiliate links and sponsored listings. Please read disclosure policy.
Want to make money quickly? Here are a few platforms to earn up to $25 – $50 in a few minutes!
What is Instafeet?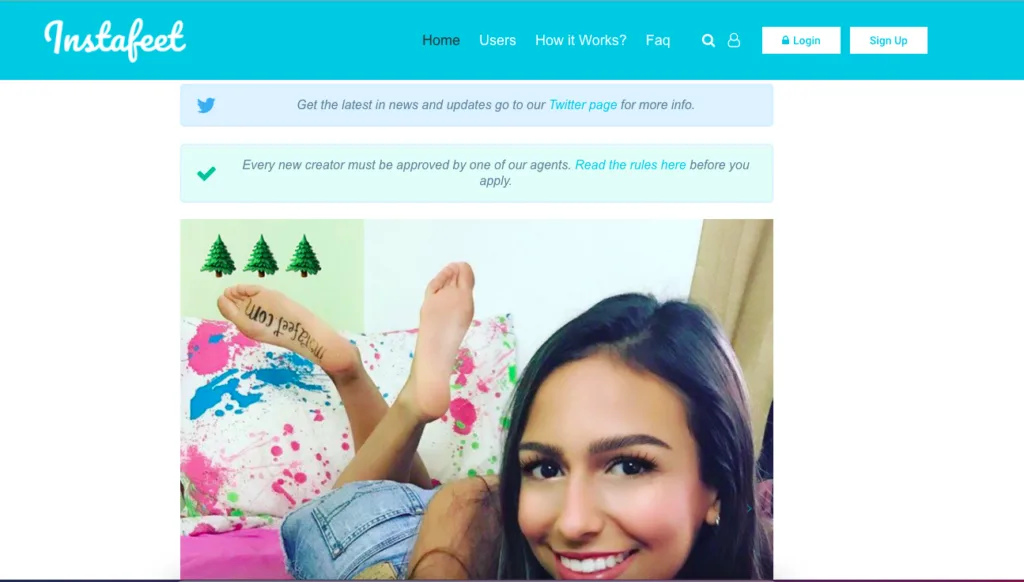 Instafeet is a platform to buy and sell feet pics, videos and media.
If you have a foot fetish, you can register on Instafeet to browse through millions of feet pics and buy the ones you like or follow an account.
If you want to get paid to sell feet pics, you can register as a seller on the platform.
Note: If you want to sell feet pics with Instafeet and make money from home, you have to be at least 18 years old.
Who is behind Instafeet?
We did a little of digging to write this Instafeet review, my friends
The first thing I did was to read their about me page. Instafeet seems to owned by a bunch of girl who found success online selling feet pics using social media platforms.
… But, unfortunately, in a few months their accounts would be suspended and they had to start all over again.
It is then they decided to launch a platform on their own where women interested in selling feet pics can sign up and work without having to worry about account suspensions.
But, then I went ahead and checked linkedin.
Turns out, Instafeet is owned by Fabian Lejsek and is headquartered in Santa Clara. You can check it out here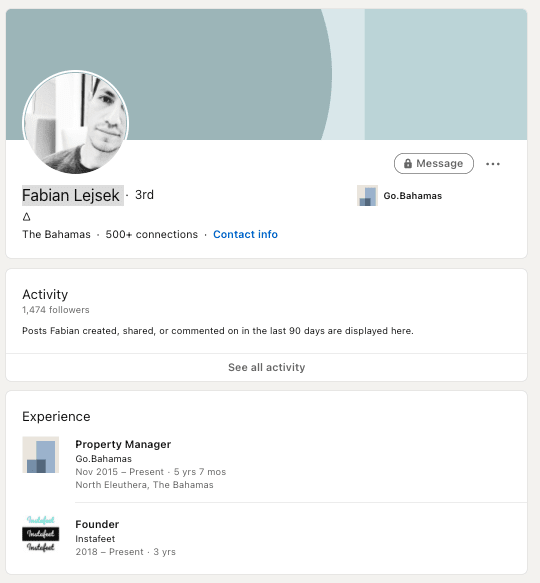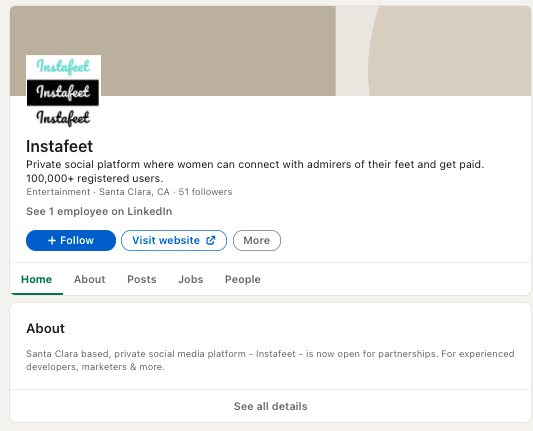 When I check the company details, it says – Private social platform where women can connect with admirers of their feet and get paid. 100,000+ registered users.
but, there is no more information which makes it a little too new or suspicious.
Is Instafeet Legitimate?
Yes, Instafeet is a legitimate platform to sell feet pics for making money online. We will go over some reviews later in this instafeet review so do check them out.
Is instafeet safe?
Ok, this is a valid question. How safe is Instafeet, after all?
Instafeet is a private platform: That means, your account is not public and people can't just find you. They have to be a buyer on the platform to be able to find your profile (but they cannot view the photos).
They have to be paying followers for them to get access to all the feet pics and video you upload.
That said, if there is a creep or stalker in your subscribers, then you have to know how to handle it.
It also allows you to work under alias which means you don't have to worry about your personal identity leaking out.
Do I have to show face on Instafeet?
This is completely your choice. If you are comfortable showing face or other parts of the body, do it.
… and if not, don't do it.
When you are on the internet and dealing with adult content, you are bound to attract weirdos, stalkers or people who make you uncomfortable.
You have to decide whether or not you want to deal with that.
Now, the policy of Instafeet is straightforward. Don't do it if you don't want to. However, their top earners do.
The logic? The feet buyers want to see the pretty face of the feet owner as well. What you can do is to make them available only to your paid members.
How does Instafeet work?
Step 1: Create a seller profile – You cannot just sign up with Instafeet and have an account with them. You need to apply for a profile.
So, the next question is pretty obvious – How do you get approved for Instafeet?
The thing is, my friend –
They do not approve everyone so read the rules carefully. You have to email the approval to join in and they claim to approve only 10% creators.
You will also need to share your valid photo ID for verification
When you're creating the profile, be honest, provide all information and upload some really good feet pics on Instafeet to get approved.
Rules to follow
Do
Valid ID
Moisturize your feet and toes.
Get a pedicure/ color on.
Remove any hairs, plucking is best.
Submit both face and feet photos.
Don't
Register more than once.
Upload blurry or stock photos.
Apply if you are male or ftm trans.
Submit only face or only feet photos.
Extras
Toe rings and ankle bracelets.
Step 2: Post content – Once you have successfuly created a seller account and verified, you can start posting 5-10 feet pics to start off
Add spicy feet pics and videos to make sure your paid members paying you every month.
Step 3: Set a price – Most feet pic sellers charge about $10 a month
Step 4: Get your own unique link.
Step 5: Promote on other social media channels you have.
Can you make money on Instafeet?
Yes, you can earn money on Instafeet by selling feet pics, feet video, hand pics and hand videos. It is definitelt a lucrative side hustle to earn extra cash.
However, it is not a get-rich quick scheme. While some people do make money fast, you should keep your expectations at bay and know that you will eventuall start earning. You need to put some efforts into learning how to start and different ways to make money online with feet pics.
How much can you earn with Instafeet?
How much can you make with Instafeet will depend on how many paid members you have on the platform and if they buy from you.
Basically, on Instafeet, you have two ways to make money
Selling feet pics, videos and other media
Getting people to subscribe to your account
While a single feet pic sell from anywhere between $5-100 per image, followers can pay anywhere from $5-50 each month to access to all the photos that you upload.
Let's say, you have 5 paying members who pays you $10 each. That means, in a month, you are earning $50. Now, if out of these 5 members, someone wants to buy one feet pic you have put up for sale – you can earn $50 straight with it.
Instafeet takes a standard fee (10%) to pay for credit card processing and maintenance. So count that in!
Going by our example, you will earn $45 in both the cases – subscription or selling feet pics.
This is a small example.. in fact, a very small. Instafeet boasts the the top earners make approx $500 a day. That means, you can make at least a couple of hundred dollars per-month.
That's a lot of money on the side right?
How Much Should I Charge For Feet Pictures?
Wondering what is a reasonable price for feet pics??
The minimum you should charge for a feet pic is $5-25. Once you have a base and know how to sell feet pics, you can charge higher. Sky is your limit.
I would recommend you start at $10-15 and rise your rate with every new feet pic buyer.
You can also add in more money if someone asked you to do something more (like a fetish, rubbing mustard sauce on your feet or breaking an egg with it).
Note: If you can find a niche, you can ask for a
Can I sell hand pics on instafeet?
No. Just like the name, InstaFeet is solely for foot fetish and feet pic sellers.
If you want to sell hands pics, you can check out this post.
You can make use of other platforms to sell hands pics
Stock Photo platforms
Social Media
OR work as a hand model with modeling agencies.
Instafeet reviews Online
We are going to look at different Instafeet reviews and see how they are like.
The first one I found is by Racheal Mended on Adopt10plus
She is a web developer by profession and has been selling pictures of feet for the last one month on Instafeet. She has claimed to have earned over $6000 in a month.
… she has gone ahead and shared her Paypal image as well
If you read more reiews on that website, you will find most of them it is a legit website. However, it is a NEW website with not much authority or credibility built out there.
In a lot of Quora and Reddit threads, you will see people claimed identity theft. Basically, they have sent them photo and a valid ID only for Instafeet to never respond.
But, we already know that instafeet doesn't respond or take on everyone. Right?
This is a question on Reddit to which Instafeet responded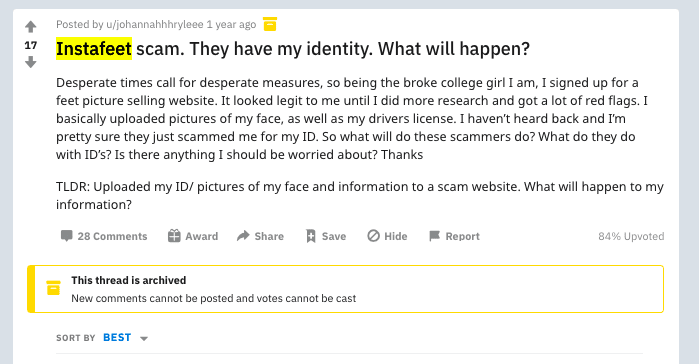 To me, the response makes sense.
This has happened to lot of people but do they state that only 10% creator accounts are accepted on the platform.
This is what I found on Trustpilot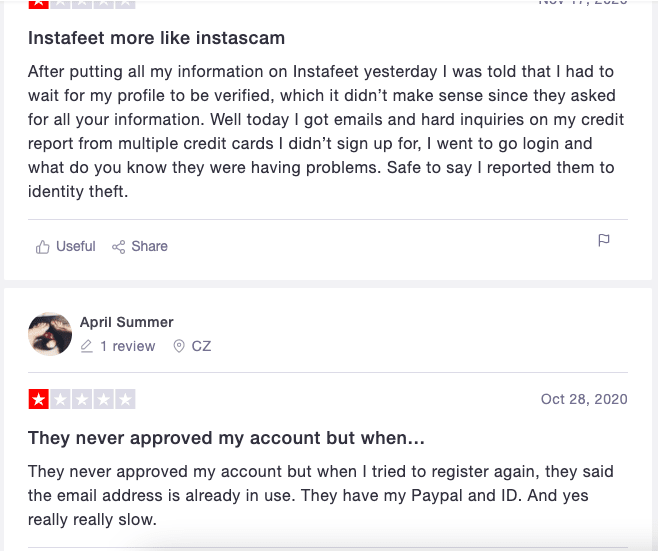 So, to conclude, I think Instafeet is just too new and trying to find a way to serve the feet pic buyers and sellers.
You can definitely try it out.
How to keep yourself safe on Instafeet?
Use alias in your profile name. Do not use your original name in it

Do not give out any personal information while selling feet pics online.

Try to avoid clicking feet pics or videos at a place which is easily recognisable and gives away your location

Make use of secure payment methods

Put a watermark on each of your photos so noone can just download them or click a picture of it without having to pay you each month or sell it for their own benefit.
Selling Feet Pics And Make Money From Home – Other FAQs
Is selling feet pics legal?
Yes, selling feet pictures is legal in most countries like the US, UK, Canada etc.
However, you should check your local laws before engaging into any activity that involves selling feet pics. You have to check whether or not
Selling feet pics comes under pornography
Selling feet pics hurts the sentiments of your religion
Irrespective of where ever you are based, you need to be at least 18 years old.
Why do people buy feet pics?
I am sure, if you are new to feet pic business, you are wondering why do people buy feet pics.
There are numerous reasons for this.
Foot Fetish: This is your biggest market and the market Instafeet caters to. Your buyers are men who love feet and get turned on by it.

Foot fetish is common even in the Hollywood with Britney Spears and Quentin Tarantino openly talking about.


Foot Model Agencies: Your job would be to model for items that involves the feet. For example, foot jewellery, nail paints, etc.


Stock photography sites: They have a collection of photos and feet pics is just a part of it. It is available to anyone who wants to use it commercially.


Artists or painters: These are people who buy feet pics to draw them, paint them and create something beautiful


Magazines, newspaper, agencies: They generally require feet pics when they are writing about something that may need body part pictures
How else can i sell feet pics (besides Instafeet)?
There are a tonne of ways to sell feet pictures online. You can look in
Besides this, you can also look into blogging. Not only can it help you sell pics, but it is also help you earn passive income with affiliate-marketing, Google adsense, etc.
Instafeet alternatives: What apps can I use to sell feet pics other than Instafeet?
There are quite a few platforms other than Instafeet to sell feet pics. To name a few:
FeetFinder:
Another platform which is very similar to Instafeet is FeetFinder. You can sell and buy feet pics on this platform.
The sign up process is simple and requires you to verify your identity. You can read more about FeetFinder here.
Feetify
Feetify is a popular platform similar to Instafeet and FeetFinder. The good part is that have tonnes of active members on their platform – that means, you can buy and sell feet pics easily and earn good money.
Dollarfeet
DollarFeet is a feet picture platform similar to Instafeet. You can also check this out and sign up to a feet pic seller here (besides Instafeet).
Onlyfans
OnlyFans is a great alternative to Instafeet and all other feet pic apps. It is a subscription based service where you can sell photos/videos to your buyers and followers.
That said, OnlyFans ins't exclusive platform for just feets. You can sell all types of photos and videos on this platform. It is an excellent platform to create a recurring revnue streams in your spare-time or otherwise.
Wikifeet
As the name suggests, wikifeet is another extremely popular platform to sell feet pictures to paid members.
Sell feet pics and Instafeet review: Conclusion
I hope this post clarifies on how you can sell feet pics online with instafeet and clears your question about instafeet as well. Instafeet is a particularly new platform trying to establish its dominance in the industry. That is why, you cannot find much about it online.
It is a platform worth trying but if you don't want to, it is fine as well. There are many other platforms like Instafeet that you can use to sell and build a profitable business online.
Note: If you are not comfortable with this, you earn money online with:
In case you are looking for similar but alternate ways to make money, here are some: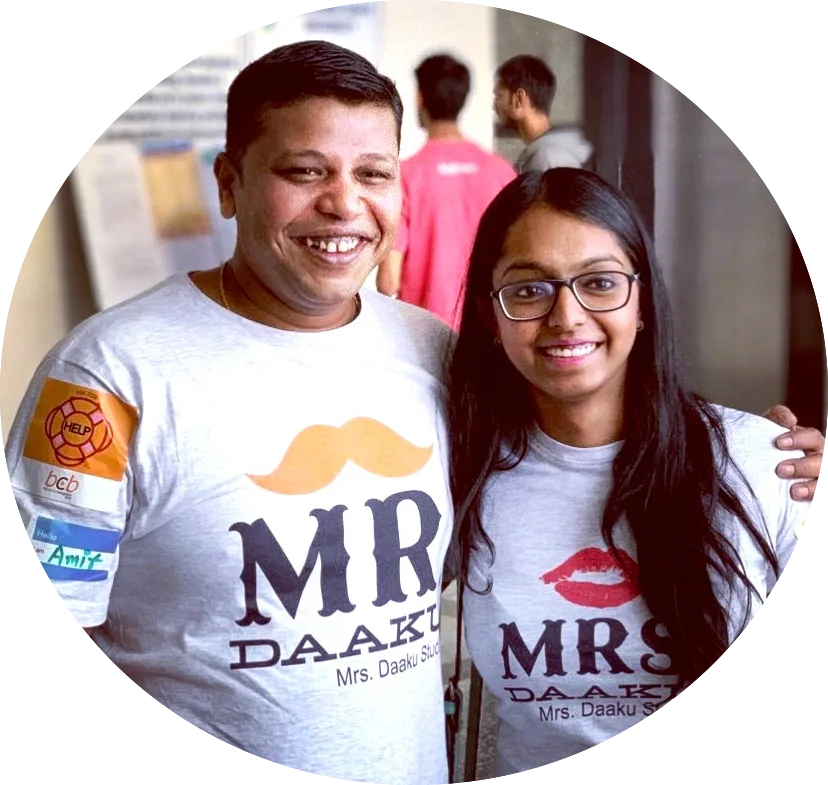 Hi buttercup, thank you for stopping by. We're Chhavi & Amit.
We're a couple who quit our high paying jobs as a lawyer and an engineer to start hustling online. Now we're full time bloggers and YouTubers. We have been featured on Wealth of Geeks, Hello Sensible, Savoteur, Play Louder, A Dime Saved, Forbes, Business Insider, Readers Digest, CEO Blog Nation, Starter Story, Yahoo! Finance, MSN, BankRate and so much more.

MSN Bylined Writer
How to sell feet pics on Instafeet + Instafeet review