Entry level Online Transcription Jobs for beginners
Online Transcription jobs are something you can learn with the right training.
It is one of the best work at home jobs and one of the few that welcomes newcomers with little to no experience!
Though the pay could be less at the beginning, experienced transcriptionist earns a full-time income from home.
This post may contain affiliate links to products I trust. This means if you make a purchase using the links I may receive a small commission at no extra cost to you. Thank you for the support!
You may think that transcriptionist from home jobs are becoming out of fashion, but that is absolutely wrong. The demand for transcriptionists is increasing day by day and so there are many online transcriptions jobs for beginners available today.
There are SO MANY people who are in need of good transcriptionist and there are so many people like YOU who have become successful transcriptionists.
I know of bloggers that hire a transcriptionist to work on their videos and podcasts for use in blog posts or newsletters. With video marketing becoming the #1 marketing channel, expect more and more transcriptionist jobs to line up.
Similarly, court reporters are always on the lookout for good legal transcriptionists. Besides them, there are many online business owners, insurance agents, lawyers, authors, doctors, churches, and others who have a constant need for audio files to be transcribed.
If you are new to transcription, I highly recommend you to check this out (the only FREE resource I recommend)
All you need to do is look at the RIGHT place and this post will help you with that.
Relevant post: How to become a transcriptionist and earn $1000+ per month
There are several platforms to look for well-paying online transcription jobs at home even IF you are a beginner. In this post, we will look at 26 right places to look for transcriptionist jobs.
Transcription sites that pay well
Accutran Global is a trusted website to look for online transcription jobs for beginners and they are "ALWAYS" interested in hearing from newbie transcribers. As of today, they are looking to hire for transcriptionist jobs that start mid-Jan 2019.
The pay rate is low ($0.005 to start), but it is a good place to start and learn the chops. Payments are made 15th of every month.
Of course, you cannot be an absolute "I don't know what is a transcriptionist" beginner. You will have to pass a test before you will be considered for a transcriptionist job.
While everything is good about this place, they expect the job to be finished to ASAP – which makes it an unsuitable for many (especially, moms). That said, you will find good transcriptionist at home jobs on this platform.
At first, the looks of this transcriptionist at home jobs website might fool you.
But, according to many who have tried it, it is a legitimate platform to find transcriptionist jobs. They are into financial, academic, entertainment, and many other types of transcriptionist jobs.
The website is set up purely for the client's purpose so you won't find an application or mention of hiring newbies for transcriptionist jobs. You will have to contact them via the form or email them at [email protected]
Time to monetize your time by taking up transcriptionist at home jobs. The first step is filling out a form and then, you will be required to take a test.
If you pass it, someone from the team will contact you within 48 hours. They have transcriptionist jobs in English and Spanish.
You don't necessarily need the experience to be a part of Transcribe me.
Relevant reads
Timestamping in transcription – All the basic you need to know!
How to become a transcriptionist and earn $1000+ a month
They are currently hiring (only native US residents as of today) and looking to expand their roster of freelance transcriptionists. Ubiqus offers a variety of transcriptionists home jobs (from online medical transcription jobs to legal transcription jobs at home and more, they have all types of work).
Similar to Accutran Global, you are required to submit the work ASAP IF you are looking to get more and more work through this platform.
You have to apply for it on this page and they will get in touch with you by email or telephone.

—- FREEBIE —-
Note: If you are looking for other work at home options as well, do check out these guides on the best online jobs today. You can also check out guides on how to start working from home. 
Download this guide and grab a 5 step plan to launching a profitable online business from home.

Appenscribe is a great place to find transcriptionist jobs if you are fluent in multiple languages. They offer global transcriptionist at home jobs and with the knowledge of languages, you are bound to get more work.
Similar to others, you will need to register an account and pass the transcription test. While how much you get paid depends on the company that hires you; the usual pay is around is $0.005 per word.
Submit the short form available on their website and take the test to get started.
They have a lot of legal and police transcription job online. However, you need to be a US resident and pass a background check.
If you want to look for transcription jobs online on this platform, this is the process
They hire transcriptionist from all over the world and pay approx. $0.40 per audio minute.
While they do not require experience, they only assign work to people who are native speakers of the language we are assigning. You can apply by clicking on the link.
You will find legal, political and general transcription from home jobs online. For general legal, they pay by the page, ranging from .75/page to 1.75/page.
Political hearings (House and Senate) requires to turn around. Legal generally has a 2-5 day turnaround.
They update transcription jobs online every day, hire worldwide and pay up to $0.60 per audio minute. Political hearings (House and Senate) requires a same-day turnaround. Legal generally have a 2-5 day turnaround.
They are currently hiring transcriptionist, and to apply you can drop an email to [email protected] or apply for the form online.
You require to type at least 65 wpm.
They pay anywhere between $.25-$2.50 per minute for transcriptionist at home jobs and is a great way to find well-paying transcription jobs online.
They accept beginners (and have lots of transcription jobs online for beginners), pay decently well for transcriptionist at home jobs and are open to applications now. All you have to do is fill up the form and wait for them to get back to you.
If you want to look out for more opportunities and high paying online transcription jobs, visit Flexjobs. It is one of my favorite online job boards. They have well-researched leads which are always remote.
But, that is not the end of it. I have no personal experience with many of these websites, so it is important we are diligent while applying to transcriptionist jobs online.
How do I know if an online transcription job for beginners is a scam?
Unfortunately, the internet is filled with scams in all fields, especially work from home job opportunities. Transcriptionist at home jobs is no different, especially if they are transcription jobs online for beginners. In order to protect yourself from these scams, I will share a few red flags with you
Asks for pay (instead of them paying you) – This is one of the most common work from home job scam. If the company requires you to pay money to get a job in any form, it is most likely a scam.
Too good to be true – Anything that sounds too good to be true in terms of pay, work, hours and expectation – BEWARE.
Requires too much information – If anyone is asking too many questions and asking for too much personal information, there is a problem.
No virtual identity – If the job description has no company name or no contact information available, it could be a scam.
There you go. If you diligently go through these transcription sites that pay well, you can surely land good gigs. But, if you want to excel and earn a full-time income, I would say – enroll yourself in a training program and sign up for all the free courses you can!
Relevant Reads for beginner transcriptions jobs from home
Timestamping in transcription – All the basic you need to know!
How to become a transcriptionist and earn $1000+ a month
#1 Course Recommendation – Transcribe Anywhere by Janet. Check it out here.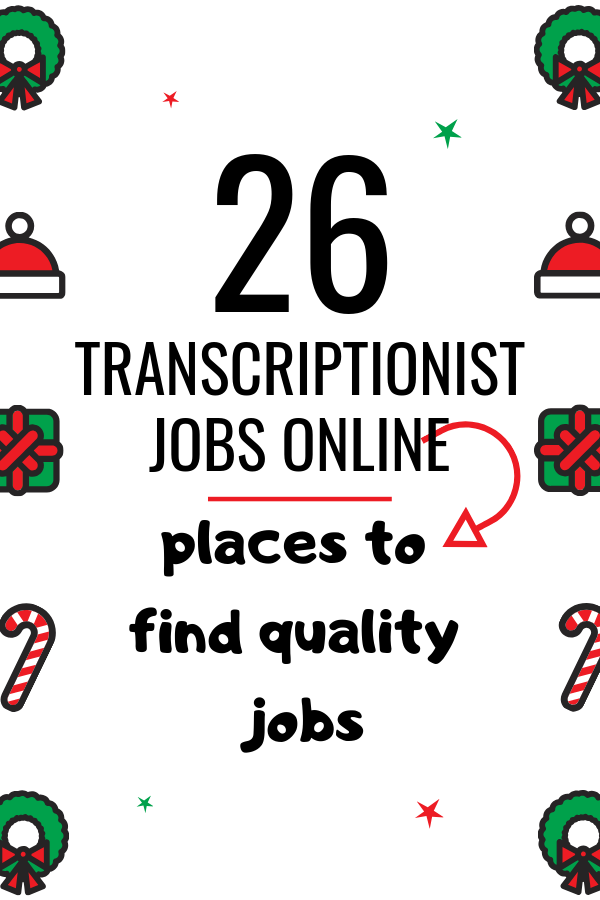 Transcription sites that pay well for entry level transcription jobs