Your first instinct as a newbie freelance writer should be to look for freelance writing jobs on freelance writing job boards.
Pay attention: I am not referring to general job boards (like Indeed) but specific job boards that cover freelance writing work.
But, there are so many available online that analysis paralysis is inevitable.
Questions like,
How do I get a job as a freelance writer with no experience?
How do I become a freelance writer with no experience?
How do I earn money writing online when I don't know about finding clients?
How do I get a freelance writer job as a beginner?
Are so common amongst beginners writers (and, I had them too!)
I get you. I was exactly at the same place a year back.
No experience. No training. No knowledge. *puzzled*
Note – This post may contain affiliate links to products I trust. This means if you make a purchase using the links I may receive a small commission at no extra cost to you. Thank you for the support!
Want to make money quickly? Here are a few platforms to earn up to $25 – $50 in a few minutes!
PineCone Research: Earn $3 – $5 per each survey guaranteed .Sign up now
I soaked in a lot of information from the internet, made a million mistakes and figured out all the important things in time.
One step at a time, my ideology!
In one of the previous posts, I dealt with 10 legit ways to land clients.
However, I am NOT going to dump a truckload of information in this post and stick to one way of landing freelance writing jobs i.e. quality freelance writing job boards
Note: If you are struggling to find and land freelance writing clients, you should check this out.
It is easier to stick to one method, take the necessary actions and grow your freelance writing income.
So, what is the easiest and the obvious method of landing a freelance writing job?
Note: While I will share lots of FREE resources in this article, if you have the budget, I recommend you to invest in Holly's course "Earn More Writing". She has been able to make more than $100000+ a year as a writer and shares all her secrets in the course.
Freelance Writing Job Boards.
It is as simple as that!
A lot of writers are against freelance writing job boards, mostly because the pay is too low or the clients are untrustworthy.
Look – I won't lie. That is true, BUT not entirely.
Job boards are a great way to land freelance writing jobs. In fact, the first few gigs I scored were through freelance writing job boards.
I shot an email response to one the ad and *boom* I get a response in a few hours.
Oh boy! I was on cloud nine. My confidence shot up like the summer temperatures in Delhi!
*happy dance*
While I have a free 7-day email course on growing your freelance writing income for you to learn how to earn your first $1k writing, let us just focus on how to land a freelance writing job quickly.
There are several ways to land a client, but freelance writing job boards are a promising method of landing consistent and good quality work as a beginner writer.
Check out this free training on getting paid to write online by a known writer.
I, personally, recommend using job boards. See, the best parts about job boards are,
They have new freelance writing jobs or ads every hour (or at least new ones every day)

Whether you are a newbie or have some experience, quality job boards can cater to both

You can apply to multiple freelance writing jobs using one freelance writing job board.
However, not all freelance job boards are worth your time.
In this post, I will share 3 of my favorite freelance writing job boards that are FREE to use.
Note: While I do recommend freelance writing job boards to beginner freelance writers, it is NOT sustainable in the future. You will get trapped into feast and famine cycle. Meaning, you will have work some days and won't have any a few days. Instead of this, focus your strategy on how to find and pitch freelance writing services to your potential clients. Check this out –

Let's look at the top 3 freelance writing job boards
Relevant read
How to start freelance writing: List of the must-have resources
What is freelance writing? – An ultimate guide
Building a freelance writing portfolio? Here are 3 ways to kill it!
How to write a pitch that converts into a high-paying freelance writing job?
What to do when freelance writing clients ask for a FREE sample?
10 ways to land freelance writing clients as a beginner

If you are struggling to find freelance writing clients consistently, you are missing one thing in your strategy – PITCHING.
Yes, pitching directly not only helped me land high paying clients but also kept me away from feast and famine cycle.
I have wrapped all the steps, tips and strategy into one affordable ebook here. It has EVERYTHING I wish I knew when I started out.

This is one of the few job boards where you can search for various job types – freelance, contract, internship, full time, part time and temporary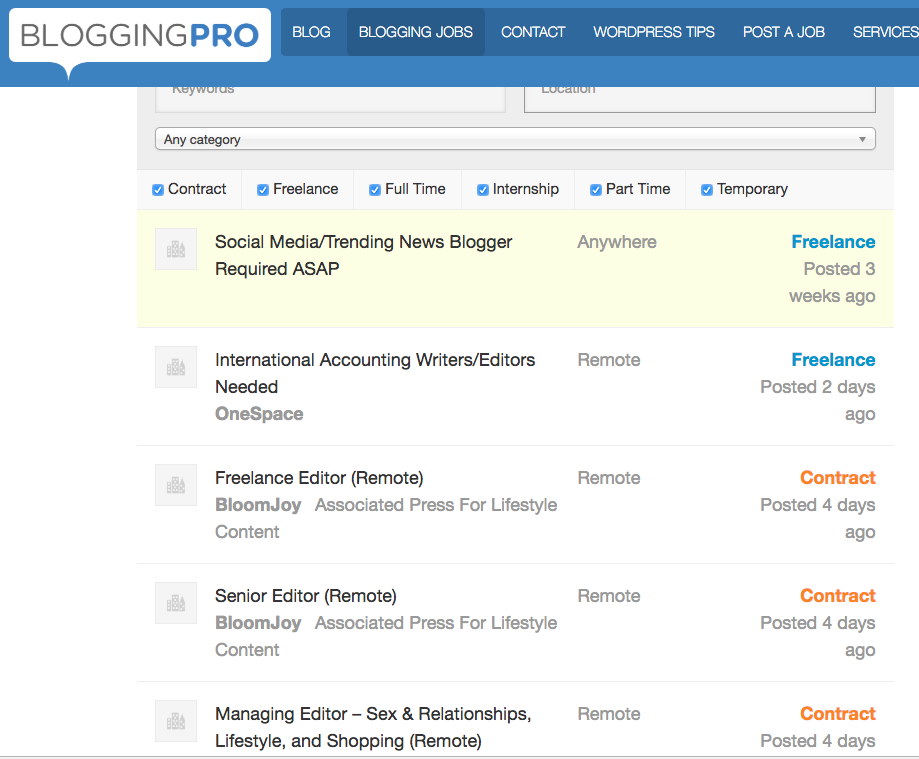 When you begin searching, you need to check only freelance and type "anywhere" or "remote" in the location field.
I have not landed any gig from this freelance writing job board, but many established writers stand by it.
Just to clarify – I have received responses but the gig was not finalized because of multiple reasons (that I don't want to delve into in this post, maybe later?)
This is a culmination of freelance writing jobs from various boards/websites (like craigslist, indeed, BloggingPro etc)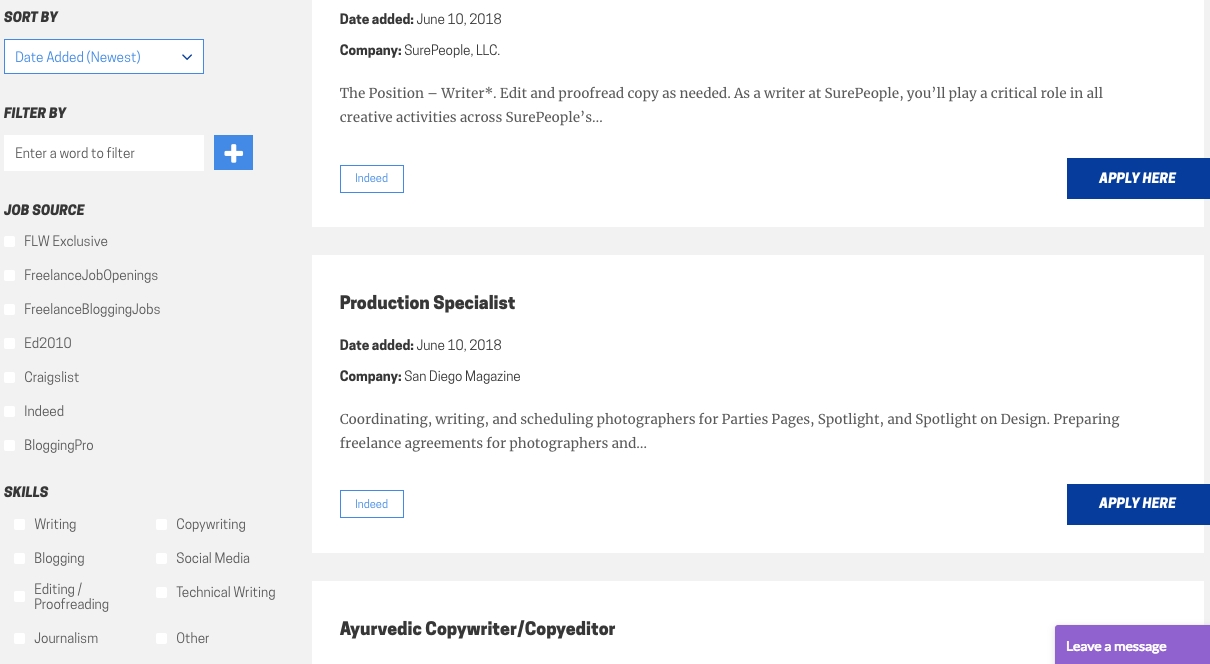 You can filter the results using the fields provided in the left column (make sure you mark "remote" in the location) and sort out the jobs by "Date Added (newest).
I like this freelance writing job board because it saves shit tonnes of time that you will spend browsing through different job boards (especially, craigslist)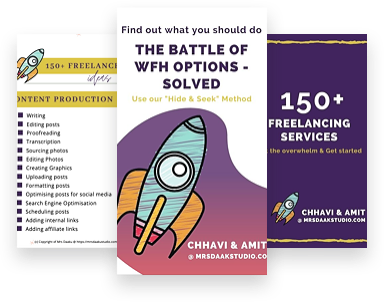 #3 ProBlogger (my favorite freelance writing job board)
This is, no doubt, one of the best freelance writing job boards available online.
I landed my first gig on ProBlogger.
However, a lot (I mean, a LOT) of writers use this platform so it can be super competitive.
You can search using the options above or just look at whats updated according to the dates.
Whether you are new or already into freelance writing, this is a MUST see job board with quite a few high paying gigs
Start Pitching
The more you pitch, the more clients you WILL land. That's how it works! Period.
So, start checking out the job boards, pitch, and hustle.
Good Luck!
Over to you – have you started utilizing freelance job boards to land your clients? Do you have other job boards to recommend?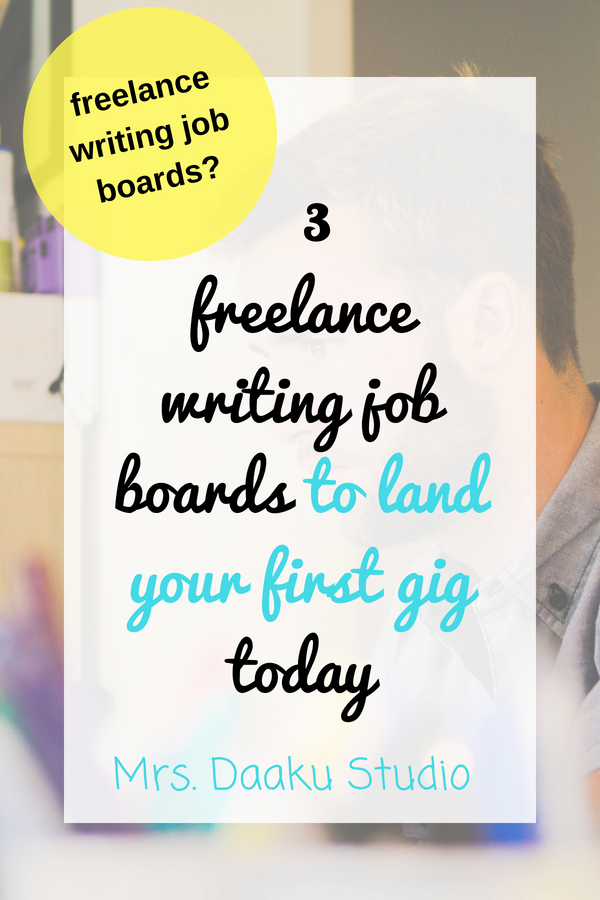 Resources that can help you with land work from home jobs
How to find and pitch clients your freelance services– You can find my strategies to find high-paying freelance writing clients.
Become a work at home mom– A FREE training session that comes along with a workbook and guides you through the entire freelancing journey.
FlexJobs You can find 100% legitimate work from home jobs and freelancing gigs on this platform