LEGIT WORK FROM HOME ONLINE JOBS THAT PAY WEEKLY
Do you want to take up online jobs that pay weekly?
Are you looking to get legitimate weekly pay jobs or weekly payouts to make quick money online?
You be out of work, laid off, quit your job and now looking for a new job or want to enhace your existing income – whatever it may be – there are so many weekly payment or daily payment online jobs available today BUT how do you know which ones to trust.
We make it easier for you.
In this post, we list out all the jobs that pay weekly. These online jobs are totally legitimate and you can work on finding them for yourself.
Note – This post may contain affiliate links and sponsored listings. Please read disclosure policy.
Want to make money quickly? Here are a few platforms to earn up to $25 – $50 in a few minutes!
Weekly payout jobs – Surveys
In this section, we will talk about weekly paying jobs for you –
Short tasks that pay daily or have weekly payouts:
1. Survey Junkie
If you want to earn extra cash by doing daily activities, then Survey Junkie is the best option.
It has over 5 million users and you can complete short or long surveys that pay anywhere from $5 – $75.
Your earnings can only be cashed after you have reached a specific payout threshold but that won't be difficult to achieve.
That means, if you take on adequate number of surveys, you can get weekly pay checks. Check out my survey junkie hacks here.
Start with Survey Junkie here.
2. Opinion Outpost
Just like Respondent.io, Opinion Outpost offers online jobs that pay weekly. You can participate in the market research surveys via email and get paid daily or weekly payouts.
Start with Opinion Outpost
3. Respondent.io
If you like getting paid for your opinion, then Respondent.io is the place to go.
You can participate in surveys and studies that range from focus groups to usability testing. You can get weekly pay checks or they may pay you each time a study is completed.
Start with Respondent.io here
4. Swagbucks
If you are wondering how to make money weekly and get paid through PayPal, Swagbucks is your destination.
You can earn money by doing surveys, watching videos, playing games, and so much more.
You can also redeem your Swagbucks earnings for gift cards too. New users get a $5 welcome bonus on signing up.
Read about other sites like Swagbucks here.
Start with Swagbucks
5. Neilsen Computers:
This app pays you for using the internet.
All you need to do is to register and download their app to mobile or computer.
They will study your internet activity and you can earn up to $50 a year. You can sign up here
Start with Neilsen Computers
5. LifePoints
Lifepoints is one of the largest paid survey panels in the world. They offer gift cards and vouchers from some of the biggest brands around.
Because, you can redeem it on Amazon, that means you can cover your grocery bills and a few other essentials that're available on the platform.
Not bad, in my opinion. Start here.
Start with LifePoints
6. YouGov
If aren't already on YouGov and grabbing all the weekly paying jobs, you're missing out. You can get paid in cash or in reward points which can be redeemed for gift cards.
You require a minimum of 35,000 points in the USA to reedem. In the UK, a £50 minimum account balance is required.
Start with YouGov
7. Toluna Survey
Just like other survey companies on the list, Toluna is also one of the most credible ways to get weekly paying jobs. You can get paid in cash or gift cards, your choice.
Start here with Toluna Survey.
Start with Toluna
8. Paribus
Love shopping online?
Then Paribus is the way to shop.
It keeps track of the prices of the items you buy and gets you a refund in case of a price drop.
9. Pinecone Research
Pinecone Research offers many legit online jobs that pay weekly. They also offer Amazon gift cards, Walmart gift cards as payouts.
They pay up to $7 for product testing and provide bonus earnings through short surveys.
However, the Payments are through PayPal.
Related Post: Pinecone Research Review: Scam or legit
10. Vindale Research
Vindale Research is one of the most popular online jobs that pay through PayPal.
It offers many ways for the user to earn money like taking surveys, reading emails, sending payment receipts, referring friends and so on.
Vindale research is an excellent platform if you are looking to earn some extra cash during your free time.
Related Post: Highest paying apps that pay you money in 2020 (Start TODAY)
All these surveys are a great daily payment online jobs option.
Weekly payout jobs – Odd jobs
There are many side jobs that you can take up which pay weekly
11. Task Rabbit
If you are a skilled handyman who gets things done around the house, then TaskRabbit is the platform for you. You can find paid weekly jobs on this platform.
You can offer your services in areas of plumbing, carpentry, moving, and other odd jobs.
They offer a wide range of jobs where you can make money every week (sometimes $1000 per day) by putting your skills to use.
TaskRabbit also has offer codes that help you save a little extra. These are some of the daily payment online jobs, and now let's look at a few jobs that pay weekly or hourly BUT the pay is good.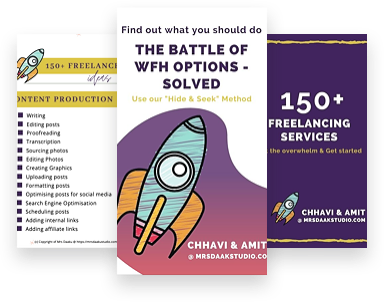 Weekly payout jobs – Personal Shopper
Instacart
Become a shopper with Instacart and deliver groceries at your flexible schedule.
All you need to do is register yourself with the Instacart site and get introduced yourself to the local grocery stores.
You can undertake any number of orders in a week and get paid through PayPal
Shipt
Be a personal shopper by joining the Shipt platform.
They pay up to $22 an hour. You will be picking and delivering the orders of the client through their app and earn money for your efforts.
Weekly Payout Jobs – Care and Sitting
Rover
If you love being around pets, then the Rover gives you plenty of opportunities.
You can earn money as a professional dog or cat sitter. In fact, you can earn money as a dog walker.
If you are wondering how to get weekly paying jobs near me, don't' worry Rover offers a range of payment options for your services.
Care
Become a caregiver by registering on the Care.com website.
You offer your services in the areas of childcare, elderly care, pet care, and housekeeping. It connects with your clients directly in and around your preferred location.
You can get paid weekly for your services through PayPal or any other payment method
Weekly Payout Jobs – Ridesharing
Lyft
If you are wondering where to find weekly paying out, then Lyft is your best choice.
It is ridesharing service that lets you book car rides, scooters, bicycles on sharing basis, and food delivery services
Weekly Payout Jobs – Delivery Jobs
Postmates
Postmates is online delivery and pickup platform that delivers groceries, food, and beverages.
You can join their fleet and start working as their delivery partner. Earn money online by completing deliveries throughout the day.
You can work as per your convenience and earn money
DoorDash
A food delivery app that lets you earn money online as soon as you start registering on the site.
The app lets you know how much you will receive precisely for every delivery. Flexible working hours, more accessible payment options are the added advantages of Door Dash
Weekly Payout Jobs – Micro Jobs
Micro jobs are small and easy tasks that may take a few minutes to an hour. These are great options for online jobs that pay weekly
AmazonTurk
MTurk is Amazon for individuals and businesses looking to outsource their processes.
The tasks range from simple data entry to more complex tasks. They also offer online jobs that pay by PayPal.
Related Posts: Micro Jobs Online (28 platforms) and sites like mTurk
Clickworker
Clickworker is a data processing website.
You can join them either as a copywriter, translator, survey or as an analyst. You can either work through your PC, Laptop or phone. All you need is an active data connection to do the tasks and earn online
Again, clickworker offers you online jobs that pay daily.
Weekly Payout Jobs – Transcription
Click here to Subscribe to our YouTube channel to get more job leads!
Let's look at list of jobs that pay weekly. These companies offer transcription jobs on a regular basis –
GoTranscript
If you are wondering, how can I earn PayPal money writing, then your search has ended.
Even if you have no experience, you can join Go Transcript and start earning.
Payments are paid weekly through PayPal. GoTranscript is a legitimate way to grab online job that pay weekly
Related Posts: GoTranscript Review – Get paid to type or is it a transcribing scam
Rev Transcription
This is another great platform to find online jobs that pay weekly
Rev offers online jobs that pay through PayPal, where you can work with them as transcriptionists, translators and captioners.
Payments are paid weekly through PayPal. Read my detailed Rev Review here.
Related Posts:
AccuTran Global
If you have great listening and typing skills, then AccuTran Global has transcription opportunities that let you earn up to $20 per hour.
BabbleType
Babble Type platform is for translators, transcriptionists, proofreaders, and editors. You can work from any part of the world.
Payments are paid weekly through PayPal
TranscribeMe:
One of the popular transcription sites, Transcribe Me offers legit online jobs that pay weekly. You can earn up to $20 – $50 for an audio hour based on your experience.
Scribie
If you are looking for some extra cash? Then Scribie is the best place to earn some extra cash. You can get paid up to $5 for 3 audio hours.
Janet Shaughnessy, a highly-acclaimed transcriber with more than 10 years of professional experience, recently launched her free mini transcription course to help people learn the basics of transcription. In this course, she provides guides on general transcription as well as legal transcription.

She also provides tips for finding clients and other techniques to become a successful transcriber. The course is completely free and contains no hidden fees.

You can join her free general transcription practice sessions so you have a basic understanding of the craft.

However, if you want to be a legal transcriber, you should also check out her legal transcription practice sessions so you have a good idea of how that works.
Weekly Paying jobs – Online Tutoring
VIPKid
Put your teaching skills to use by joining on VIPKid site. VIPKid is one of the best online job that pay hourly.
You can earn up to $22 hourly by teaching English to the kids in China. You can also teach Korean students online.
Related Posts: VIPKID Review – Is VIPKID legit or scam?
Chegg
If you love imparting knowledge, then Chegg pays you for your tutoring services.
You can earn up to $20 an hour and teach students all over the world.
Weekly Paying jobs – User Testing
UserTesting
User Testing has a wide range of online jobs that pay weekly.
You get paid to test websites and share your experiences regarding an app, website, or any other services.
For the site you evaluate, you get $10.
Payments are through PayPal only.
What Users Do
ormerly What Users Do, now IntelliZoom Panel, this website pays you for sharing your experiences and by testing new sites.
You can earn up to $8 for every task you undertake on the platform.
Weekly Paying jobs – Rent your car
Get Around
Share your car and earn great money online with the GetAround app.
All you need to do is share your car by signing up on the platform.
GetAround will then direct customers to your vehicle by showing its availability, and you start earning
Turo
Earn money by listing your car on Turo, a car rental service that lets its customers hire your vehicles.
You can make money using Paypal $1000 per day by registering them in Turo
Weekly Paying jobs – High Paying Jobs
These are some of the work at home online jobs that pay hourly. That means, you can get paid to work daily or you can get paid every week or month.
It will depend on the client or company you work with.
Flipping items for money
Flipping items on eBay can help you earn some extra income. You can also make it a full time business and get into self employment.
If you have any old books, clothes or gadgets lying around, then you list them eBay and make a decent profit.
You can earn as much as $133K with thrift store flipping.
You can sign up for this FREE webinar to learn how to start flipping
Bookkeeping
You can become a bookkeeper and earn as much as $80/hr with bookkeeping jobs.
While you can be a salaried employee, if you decide to go self-employed, you can earn much more.
To start a successful career in bookkeeping, you should check out Ben's course on bookkeeping.

He has helped over 3000+ bookkeepers make a 6 figure business of it. You can grab his secrets of creating a profitable bookkeeping business here.

Check out this free course here.
Accounting Department:
If you like bookkeeping and have a degree in accounting, then Accounting Department offers virtual accounting jobs that pay weekly.
Bateman and Co:
If you majored in accounts or a CPA, then Bateman and Co offer opportunities to work in accounting part-time and earn weekly.
Proofreading
You can become a proofreader and earn as much as $40,000 a year with proofreading jobs (like, the best amazon proofreading jobs)
Work just a few hours a week and still be able to earn enough.
This 76-minute webinar is jam-packed with valuable information on finding out if proofreading is right for you, attracting your ideal proofreading clients and making money online. Check it out.

If you are looking to upskill yourself as a proofreader, I recommend you check this or this out NOW.
Proofreading Services:
Put your English language skills to use and become a proofreader. This platform has both part-time and full-time proofreading jobs that pay up to $50 an hour.
Proofreading Pal:
Proofreading pal offers legit work from home jobs that pay weekly. You can earn $500- $3000 a month based on your availability to proofread the documents.
FlexJobs:
Flex Jobs is a job-search platrom, with a lot of opportunities with flexible work options, both remote and full-time.

Ranging from data entry to developer jobs, flex jobs has every kind of job listed on their site.
33+ online proofreading jobs for beginners: Make money online TODAY!
Start with Flexjobs here
Virtual Assistant
You can become a virtual assistant and earn as much as $10,000 a month. There are many free ways to take virtual assistant training.
I recommend you check out Abbey Ashley's free course on how to start working as a virtual assistant.

This free webinar will help you understand how to start out as a virtual assistant and become a booked out as quickly as possible.
Fancy Hands:
Looking for a job as a virtual assistant?
Start getting paid for helping businesses and people when you join Fancy Hands. You can work as a virtual assistant for individuals, businesses, or developers
Belay Solutions:
Formerly known as eaHELP, you can work as a virtual assistant. You can earn money by providing administrative, bookkeeping, or web support to their clients.
Virtual Office VA:
From bookkeeping jobs to cold-calling, you can work as a Virtual assistant with Virtual Office Va. They pay up to $10 an hour and the payout is weekly through PayPal.
Virtual Gal Friday:
This platform lets you put your internet and standard assisting skills to good use by providing remote work opportunities. The pay ranges around$5-$20 an hour.
Assistant Match:
If you already working as a virtual assistant or have some prior experience, you can join Assistant Match and start earning. They have two different pay grades where you can $15 for general and up to $25 for technical assisting jobs.
Voice Acting
You can become a voice actor and earn as much as $300 an hour with voice acting jobs.
Sign up for this FREE course to know how voice overs are done and how you can get started
Voices.com
Get paid for your voice in the Voices platform. You can earn money by voice acting for their clients worldwide.
Weekly Paying Jobs – Online Chat Jobs
Looking for work that is easy? Getting into customer services is the best weekly paying jobs.
You can take up email and chat jobs or become a text based chat operator.
Live Chat Jobs:
Work as a chat assistant and get paid for assisting clients in their requirements.
Arise
You can work as an online chat representative for Fortune 500 companies and earn as per your convenience.
Best Buy:
You can work as a remote customer service agent with this electronic giant. Helping a customer with their shopping and queries is the role of the agent.
Weekly Paying Jobs – Data Entry Jobs
Whether or not you have any experience or skills, you can take up data entry jobs and make money.
Axion Data Entry Services:
If you have a background in data entry operations, then Axion has whole lot of opportunities. You can register in their database and work as an independent contractor.
Birch Creek Communications:
Birch Creek post regular openings for data entry on the site. Pay is according to your performance and work assigned.
Smart Crowd:
Formerly known as Virtual Bee, Smart Crowd provides legit online jobs that pay weekly. You can earn up to $5-$6 per hour based on your typing speed.
These are the list of jobs that pay weekly. Pin me for later.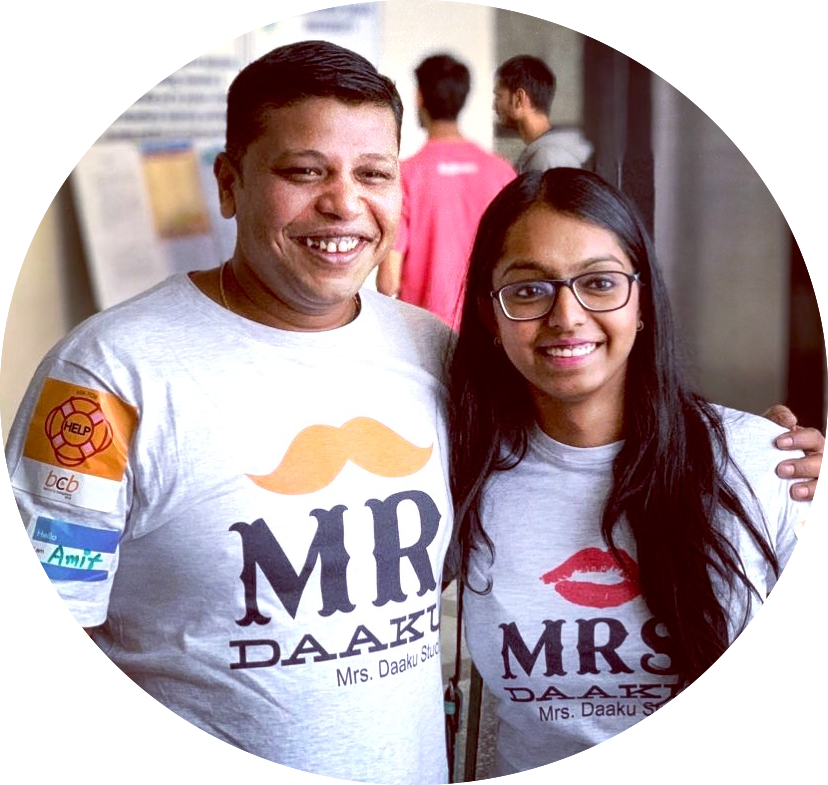 Hi buttercup, thank you for stopping by. We're Chhavi & Amit.
We're a couple who quit our high paying jobs as a lawyer and an engineer to start hustling online. Now we're full time bloggers, YouTubers, work at home expert and Online Business Coaches featured on Forbes, Business Insider, Readers Digest, CEO Blog Nation, Starter Story, Yahoo! Finance, MSN, BankRate and so much more.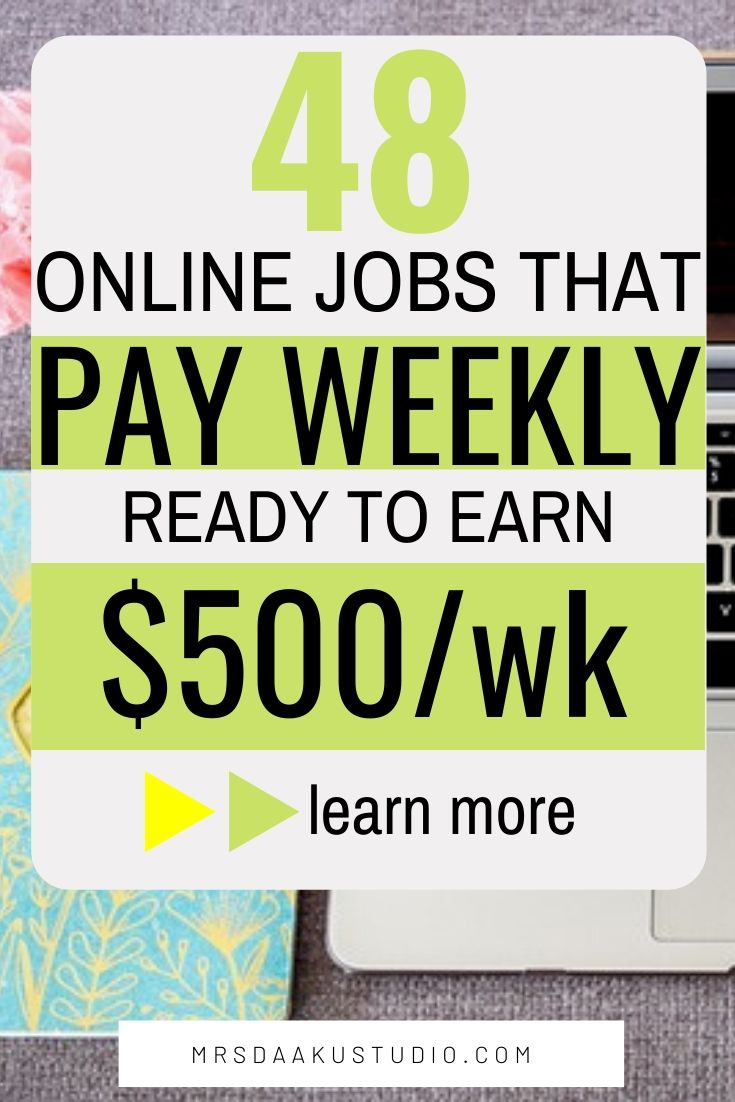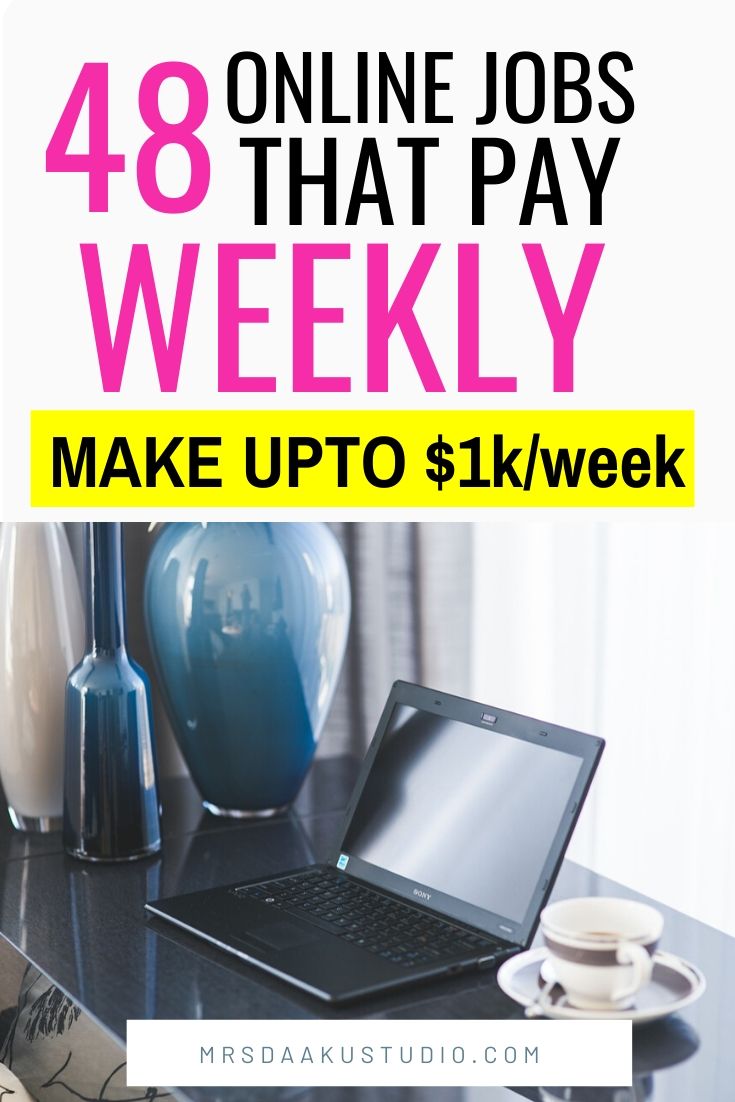 weekly payout jobs