40 ways to make extra 1000 a month from home
What would you do if you had an extra $1000 a month?
Are you looking for ways to make extra 1000 a month from home? Wondering if answers to How to make an extra 1000 a month on the internet are legit?
An extra $1000 a month can be a lifeline for many people. It can –
There are many ways to earn an extra $1000 per month.
Even if you have a job, you can do various things in your spare time to make extra money from home.
In this post, we will look at how to make an extra 1000 a month and 40 different options that offer high-income potential so that you can reach your goal of making $ 1000 a month online or offline.
Read: Find work from home jobs that provide equipment as well
Note – This post may contain affiliate links and sponsored listings. Please read disclosure policy.
Want to make money quickly? Here are a few platforms to earn up to $25 – $50 in a few minutes!
How to make an extra 1000 a month
1. Freelance Writing
If you are a beginner without a client base, making $1000 from freelance writing may seem like a dream.
But writing and earning a living is not as difficult as you think.
Here are some of the ways to make extra money online from writing –
Write for a magazine or website
Ghostwrite blogs or articles
Even if you charge $50 per hour, you can make $1000 per month by working just 20 hours.
You can grab my free course on freelance writing here.
Check out Holly Johnson's course on Earn More Writing where she shares all her secrets to make $200k+ a year writing for others.
2. Become an online tutor
Online tutoring is amongst the most lucrative side-gigs.
Whether you like to teach school children or prefer to tutor college kids, you can easily make an extra 1000 a month by tutoring kids online.
You can also teach English to Korean students.
Here's a list of companies that allow you to make money from home by working on your own schedule-
Chegg – Chegg works with students from middle school through college.

Rates start at $20 an hour, and top tutors can make as much as $1,000 a month.


StudyPool – As an online tutor on this platform, you can set your deadline and prices here.

Students can also pose a question to tutors here, and you will be paid a fixed price ($7) for answering each question.


Tutor.com – This website connects tutors with students of all ages for tutoring sessions on subjects like accounting, economics, and college essay writing.

It is better if you were at least a college sophomore to be a tutor on this website.


VIPKid – VIPKid connects Chinese students (ages 8 to 12)with English language tutors. The pay can be as high as $22 an hour.


Wyzant – To be a tutor with Wyzant, you must complete a profile and take a subject proficiency exam in your subject. Tutors can set their own rates.


Outschool – This platform allows you to teach courses for kids K to 12 on any topic. You also do not need a teaching degree to start here.
3. Take surveys online
Taking surveys is an easy way to make extra money online.
The trick here is to sign up with as many survey sites as you can so that you can receive the most surveys.
Many online survey sites are scams, so you need to choose legit and high-paying survey sites so that you can earn extra income from home.
Sign up with these legit survey sites, and you will also earn their sign-up bonuses –
Opinion Outpost
Qmee
E-poll Surveys
PrizeRebel
Lifepoints
Toluna Influencers
You can also sign up with Survey Club, which is essentially a survey aggregator site.
SurveyClub aggregates the highest-paying surveys from the best survey sites and sends them to your inbox.
This site and apps help you earn more money and saves time.
4. Work as a virtual assistant
A virtual assistant is a worker who specializes in offering administrative services to clients online.
The job involves
Scheduling appointments
Making phone calls
Making travel arrangements
Managing email accounts.
Responding to emails or blog comments
Writing copy for sales brochures or landing pages
Like many other freelance services (find 200+ freelancing services here), working as a VA gives you a flexible schedule.
You need only a few ongoing clients to make $1000 a month as a VA.
Learn how to be booked out as a VA here. It is a FREE webinar by Abby who is a leading coach in the VA industry.
5. Become a virtual bookkeeper
Systematic recording and organizing of the financial activities of a company are known as bookkeeping.
Small businesses hire online bookkeepers to keep the finances in order so that they can focus on their businesses.
You do not need to be a CPA to do bookkeeping. You also do not need any formal certifications or degrees.
If you have an understanding of basic bookkeeping and accounting principles, you can be a virtual bookkeeper.
Knowing your way around accounting software like Quickbooks, Wave, and Xero is also helpful.
You can also take online bookkeeping classes to brush up on your skills. AccountingCoach, LLC, US Career Institute, Udemy, LinkedinLearning offers online bookkeeping classes.
Grab this free training on how to become a bookkeeper to know A LOT about how to get started to whether or not you are cut out for it.
6. Take a transcription job
Transcription involves listening to audio files (podcasts, audio recordings) or videos and typing what you hear.
Transcription jobs are broken into general, legal, and medical categories.
Legal and medical transcription jobs require training and prior work experience. So, if you are a beginner, you can look into general transcription.
The companies that hire transcriptionists usually require a high-quality foot pedal for controlling audio playback and Express Scribe transcription software.
You also need to be proficient in typing, spelling, punctuation, and grammar.
As a beginner, you will be paid around $15 an hour. As you gain skill and experience, you can charge much higher.
Here are some of the companies that hire beginner transcriptionists –
Transcribe Anywhere
TranscribeMe
Quicktate
Tigerfish
Interested in becoming a transcriptionist and make 1000 a month online? Grab this FREE training on General Transcription NOW
7. Become a proofreader
If you are passionate about good writing and have an eye for grammatical errors, this is the job for you.
Proofreading involves scrutinizing a written document to detect and correct mistakes in grammar, punctuation, spelling, and vocabulary.
Several websites hire proofreaders to help them with their client's writing. Becoming a proofreader is an excellent way to make money on the side, and the pay ranges from $ 15 to $50 per hour.
Here are some popular websites where you get paid to proofread text –
Scribendi
Prompt
Scribbr
ProofreadingServices.com
Cactus Global
Jobsforeditors.com
WritingJobz
Reedsy
It is not necessary to have an English degree to become a proofreader.
However, a master's degree in journalism or any field related to editing or proofreading can put you ahead of your competition.
You can also take free online training to be a proofreader.
8. Work as an online scopist
A scopist is a person who creates final transcripts of trials, depositions, and other court proceedings, which are typed by the court reporter onto a steno machine.
After the court proceedings, the court reporter sends a rough draft of the transcripts and the audio recordings to a scopist.
The scopist then listens to the spoken words and polishes the written words to ensure that the final transcript is accurate and has correct spelling, punctuation, and formatting.
If you want to be an online scopist, buying scopist software is a must. It usually costs around $1500. A foot pedal and noise-canceling headphones are also helpful.
You can make $20 to $45 an hour as a scopist.
Want to become a scopist? Find a free training to start with here.
9. Create and sell online courses
The global e-learning market is booming.
If you have an idea, a skill, or some great content that you want to share with other people, you can create an online course.
Creating and selling courses online can be a great way to earn a passive income online.
You can create a self-paced course, list it for sale on a teaching platform, and make extra money from home when people purchase it.
You must keep these aspects in mind while creating your course –
Course topic – Choose a subject in which you have expertise. You can also ask your followers on social media for feedback on the topics they want to learn.


Course length– The course content should be detailed but not overwhelming.


Competition – Is there anyone offering a similar course? Keep your course price low to attract more people to buy your course.


Value of the outcome – Think about what the students will gain when they take your course.


Having an income goal – Be realistic with your expectations and don't undervalue your knowledge.
There are many online platforms where you can sell your online course. These include –
Thinkific
LearnWorlds
Teachable
Click4Course
Zippy Courses
Skillshare
Udemy
Want to start selling your own courses and ebooks? Grab this FREE bootcamp here.
10. Do online research
Being good at online research can be a profitable skill.
Here are a few companies that regularly hire online researchers –
AskWonder – As a Wonder researcher, you will have to search online and find the best resources to answer the questions that are asked by the company's clients.

The Active researchers at Wonder earn $2000 per month.


RWS – According to the RWS website, experienced Researchers who demonstrate consistent, quality performance in their research can earn the "Study Expert" designation and may qualify for other projects with a fixed fee, fixed fee + reward, and hourly fee arrangements.


First Quarter Finance – Sometimes, there is a research analyst position open in this company.

It is ideal for people that are good at academic level research.
11. Read emails to make money
You can also make money online by reading emails.
No, we're not talking about your personal emails; these are the emails sent by certain companies to publicize their products.
The process is straightforward.
When you sign up with a get paid to (GPT) website, they send you emails to offer you a reward for doing something like visiting a website or making a purchase.
You will also get paid to open the email even if you do not click anything or make a purchase.
Though you can earn only a few cents from each email, it is still worth spending a few minutes every day on these websites to earn extra money .
Legit sites that pay for reading emails –
Cash Crate
Unique Rewards
Daily Rewards
Inbox2Cash
QuickRewards
The other way to get paid to read emails is to start an online email decluttering service.
It is similar to being a virtual assistant, but all you do is manage your client's inbox.
If you get enough clients, you can easily make $1000 per month.
12. Start a blog
A blog is a perfect way to make money at home, as the earning potential is unlimited.
Many bloggers are known to earn a very handsome living from their blogs.
You can begin a blog on any topic that interests you. Writing on a topic that interests you will also not feel like work at all.
Blogging also has a few drawbacks.
It may take you several months to start earning from your blog and drive traffic to your blog. You can make money from your blog in the following ways –
Sponsored posts
Affiliate marketing
Selling your own products through your blog
Selling your services through your blog

Blogging resources that I love and recommend
BLOGGING –
Ready Set Blog for traffic – It is an EXTREMELY underpriced course on how to make money with a blog for beginners.

It tells you how to set up your blog, use Pinterest and implement SEO strategies. Using her tips, I have been able to rank on page 1 of Google. You can read my first income report here.

TSA – They are a bunch of resources by the owner of theSheApproach. Her books are amazing and filled with great information.

You can get affordable (and, many of them are free as well) on affiliate marketing, boosting traffic, and Pinterest strategies.
SEO
Pinterest
Pinteresting Strategies – This is an affordable course that tells you how to use (and, how NOT to use) Pinterest to drive traffic. Using this, I have been able to get a 200% increase in traffic within 2 months.

PinterestNinja – Well-known bloggers stand by this course, and I am going to be investing in it myself sometime soon. Check it out here
Affiliate Marketing
Affiliate marketing for bloggers – The ONLY resource I have used, which taught me everything required. I also understood a lot of things that I were doing wrong and could have been dinged by Google. Thank god!
Grab my freebie The Blogging Headway to jumpstart your blog NOW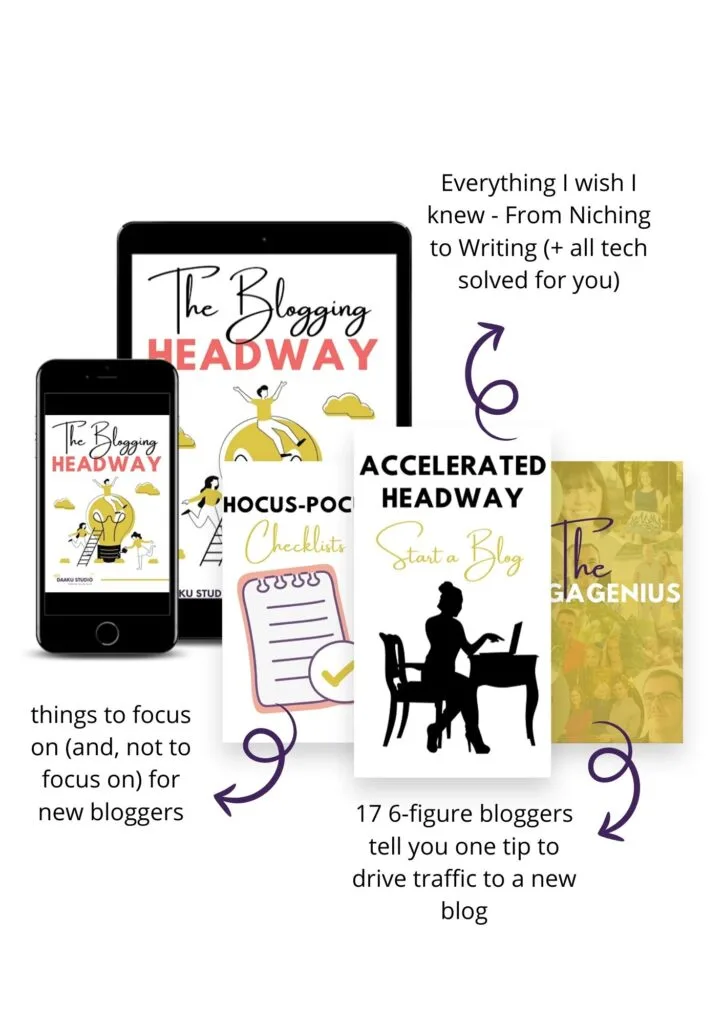 13. Build an app
You don't have to be a developer or need programing skills to build an app.
If you have an excellent idea for an app, you can use different freelance platforms to find developers to create an app for you.
Once your app is ready, you can add it to Google Play and the App Store and earn money.
If you are wondering how to make extra money online with a free app, you should not worry.
Creating a free app is much more profitable than a paid one. A free app attracts a higher volume of people.
You can add advertisements or premium features to your app to help you earn extra income.
14. Write an Ebook
If you have a passion for writing, self-publishing an Ebook can be a great way to make extra money.
The best thing about writing an Ebook is that once you have written the book, you just have to sit back and can earn a passive income from it.
Many writers are doing well by selling their Ebooks on Amazon. However, to make $1000 from a book per month is not easy.
You either need a superhit of a book, which sells very well. Or you need to write a few different books so that you can make more money from them.
You can also sell your Ebook from your own website. Selling Ebooks directly from your own website gives you more control, independence, and profits.
It also builds your audience.
You can create an email list of people who want to hear more from you and send them prompts every time you release a new book.
15. Set up an Etsy Shop
If you are a creative person, you can set up your shop on Etsy and can earn money from home.
For example, you can earn money selling candles online.
Etsy is the go-to shop for handmade stuff online. This site handles all the orders, notifications, and payment processing, making it easy for crafty entrepreneurs to focus on production.
However, setting up your online Etsy shop isn't all that simple.
There are millions of sellers and product listings on Etsy, so you will need to put some extra effort into making sure your items sell well.
A successful business on Etsy takes consistent time and effort.
Here are some steps you must follow to earn consistently on Etsy –
Invest in building a brand and photography skills.
Learn Etsy SEO
Partner with influencers
Hold social media sales
Ensure a great customer experience
16. Create and sell printables online
Printables are documents that can be printed and used by consumers.
They can include project planners, meal planners, educational printables, coloring sheets, stickers, worksheets, spreadsheets, and stationary.
You don't need to be a graphic designer to design and create printables. The tools and resources you need to develop printables include –
Word processor
Spreadsheet
Desktop design software
PDF Creator
Graphics
Graphic Design Software
Cutting machine software
You can sell your printables online on Etsy, Fiverr, or Creative Market.
17. Become a social media manager
Freelance social media managers are in demand these days.
More and more businesses understand that they need a social media presence to make their businesses grow.
As a social media manager for businesses, you can work on your own schedule from your home.
You don't need a marketing degree, and there are plenty of resources available online to learn social media marketing.
As a freelance social media manager, your work will include scheduling social media posts, interacting with customers, answering queries, running advertisements, and providing regular reports to your clients.
It is an excellent position for someone with a creative and analytical mind.
18. Become a Pinterest VA
A Pinterest VA is a virtual assistant who specializes in Pinterest Management.
If you have exceptional organizational and administrative skills, this is the job for you.
The job of a Pinterest Manager includes –
Setting up the Pinterest account for your client's business
Using proper images for pins
Creating different types of pins with different goals
Organizing pins and boards with SEO descriptions for them
Growing the following base
Reading the metrics and making changes accordingly.
As your reputation grows and you are able to get more clients, you can easily make $1000 or more per month. This mom earns $10k+ a month.
Want to become a Pinterest VA and earn 1000 extra per month? grab this free webinar now.
19. Do translation work online
If you are bilingual, you can easily find work online as a translator.
You will need to show some proof of your ability to translate when you apply for a translator's job.
If you have a language degree or have done translating work before, make sure you share your work samples when you apply for a postion.
Most companies also require you to take a translation test before they hire you.
You need to be proficient in the language that you are applying to translate for. Online translation tools will not help you here.
Here are some of the highest paying language pairs –
English to Arabic
English to Chinese
English to Japanese
English to Danish
You can find translation work opportunities at –
Upwork
People Per Hour
SDL
Gengo
Pro Translating
Translators Base
20. Run Facebook ads for local businesses
Facebook boasts 2.27 billion monthly users and accounts for 25% of all online advertisements.
More and more local businesses and bloggers are using Facebook ads to promote their sites.
But, most of them do not have the time or the expertise to design an advertising campaign for themselves.
You can learn Facebook marketing and how to use the Facebook ads Manager effectively and make extra money managing Facebook ads for local businesses.
On average, you can make around $1000 extra per month per client through this online business.
21. Sell extra stuff lying around your home
We all have stuff lying around our homes that we do not use.
Selling these things online is an easy way to make extra money. Though you may not be able to do this every month, it is a quick way to make money.
Here's a list of different sites where you can sell your used goods online –
Sell anything – Amazon, Bonanza, eBay, eBid, Listia, Mercari, Oodle, Varagesale
Used clothes – Poshmark, BagBorrowOrSteal, Fashionphile, thredUp
Collectibles and antiques – RubyLane, The Internet Antique Shop
Used wedding dresses and accessories – NearlyNewlyWed, OnceWed, PreOwnedWeddingDresses.com, StillWhite.com
Used books – BookFinder, BookScouter, Cash4Books, Powell's, Sell Back Your Book
Used DVDs, CDs, and games – Decluttr, SellDVDsOnline
Used Electronics – BuyBackTronics, Exchangemyphone, Gazelle, Glyde, YouRenew
Here are some tips to attract more buyers to your items –
Make sure your item is in the best possible condition.
Take quality pictures of your items.
Be honest about the condition.
Use detailed headlines
Follow the guidelines of the online listing service.
22. Teach kids yoga online
The online yoga space is booming. If you love yoga and would like to teach children, you can easily make $1000 per month.
There are several online teacher training courses available where you can learn to be an online kids yoga instructor.
Pretzel Kids offers an online teacher training course that includes 10 hours of videos, which include instruction on how to create and market your own kids' yoga business, how to run classes successfully, and how to find work.
By completing the course, you become a certified Pretzel Kids instructor, which qualifies you to go out and teach the curriculum.
Cosmic Kids also offers an online program for training kids yoga teachers.
This training is designed to help professional kids yoga teachers increase their revenue and profit by giving them the insight, resources, and steps they need to build a sustainable business.
23. Become a virtual stylist
If you love fashion and enjoy helping other people find their distinctive style, a virtual stylist's job may be the right one for you.
Virtual stylists work with their clients to find clothing that flatters their body type and makes them look good.
Depending on what their client wants, a stylist can design a professional wardrobe, create a look for a special occasion, or help them refine their personal style.
There is more to being a stylist than just being interested in fashion. You need –
Listening skills
Communication skills
Understanding of clothing and body contours
Awareness of latest trends
Stitch Fix is a fashion company that hires at-home stylists.
You can also find full-time or part-time work as a virtual fashion stylist at Trunk Club, Fashion Stork Club, Bombfell, and Keaton Row. You can also become an ambassador with Stella and Dot.
24. Be a customer service agent
With the growth of the service sector in the US, the demand for workers with customer service skills is on the rise.
These jobs are often work-from-home positions. Depending on your skills and preference, here are some of the different at-home customer service jobs that you can choose –
Home call center agent – You need to be fluent in the language of the company's customers and have access to a phone line and high-speed internet.


Chat agent – These customer service professionals may do tech support, answer billing questions, process returns, or sell products via email, text, and chat. Find email chat jobs here.


Travel agent – The job involves booking corporate travel, assisting frequent travelers, and making arrangements for large trips with groups.

A travel agent job requires experience or certification, and many of them offer flexible schedules.


Technical support – You need to have specialized technical and computer skills and communication skills for this job.
25. Sell your photos online
If you have a camera and a passion for photography, you can make money online selling your photos.
Many people need photos for their websites, magazines, and brochures and are willing to pay decent money to photographers for rights to use them.
Some of the best app to sell photos where you can sell your photographs include –
500px
Agora Images
Bylined
Dreamstime
EyeEm
Foap
ScoopShot
Shutterstock Contributor
Snapwire
Stockimo
Adobe Stock
To earn extra cash from your photos, you must also know which pictures sell the best. Here's a list of pictures that sell the best on these apps –
People
People at work
Food
Cities
Travel
Nature
Tools
26. Test websites for a pay
Almost everything is done online these days.
Website designers have to ensure that their website is easy to use for the audience.
They often hire people to test their websites for them. You need to be fluent in English and internet savvy and to be able to qualify for this job. The test usually takes five to 25 minutes.
Here are some sites that pay you to test websites –
UserTesting – When you apply here, you will have to take a sample test before you are selected. You can earn between $10to $15 for 20 minutes of work.


Enroll– You can take the tests on any device of your choice, including phone, tablet, or desktop. Payments depend on the time it takes to complete the test.


TestingTime – Each test is done via Skype and takes between 30 to 90 minutes.


TryMyUI– You need to pass a qualification test when you apply here. You can make $10 in 15 minutes, and payments are made bi-weekly via Paypal.


UserFeel – Take a sample test, pass it, and you can earn $10 per test here.

UserLytics – You can provide feedback on applications, prototypes, concepts, and websites here.


UserZoom– Each test takes between 10 to 20 minutes, and payments arrive after 14 business days.


Validately– You can earn $5 per test for simple tests here. Live tests that involve speaking via phone and sharing a screen with a moderator can help you make $25 per 30 minutes.


What users Do – You can earn 8 British pounds for 20 minutes of work. You will be paid on the 25th of every month.
27. Create your own YouTube videos
If you have a lot of knowledge about one subject or can create instructional videos about a topic (yoga, make-up, fashion, cooking ), or you like to review products, you can become a YouTube influencer.
You can easily record these videos at home using a camera or smartphone. YouTube allows you to earn ad revenue for the videos you upload.
If you are reviewing products, you can work out a deal with the manufacturer and earn a percentage of profit from the products you sell.
Here are some tips to be successful on YouTube –
Write exciting titles to pique the attention of your audience.
Try to collaborate with other YouTube stars in your niche and ride on their coattails to build your follower count.
Create a schedule and stick to it. Success on YouTube comes with perseverance.
Wondering how to monetise it? Find it here
28. Earn with affiliate marketing
If you are wondering how to make an extra 1000 dollars a month, affiliate marketing may be the answer you are looking for.
Affiliate marketing is an easy way to earn extra income.
It involves earning a commission for marketing another company or person's products. Many influencers make a lot of money by promoting products on their blogs and websites.
Depending on your agreement with the affiliate, you are paid monthly or quarterly via check or direct deposit.
Learn how to do affiliate marketing on Pinterest here.
Find best affiliate marketing tips here.
29. Answer trivia to earn cash
Answering trivia is an easy way to earn some extra cash. All you need to do is download an app and answer some questions while listening to the host.
The original trivia game HQ came out in August. The games are played at 3 pm and 9 pm ET. Though most of the time you can earn only a few dollars, some people have won over $25,000 on HQ.
Cash Show – On this app, you start earning money from Q6 onward though the monetary amounts are much smaller.
SwagIQ – You can earn money in the form of Swagbucks, which you can later use to buy gift cards or electronics online.
30. Answer questions to make money online
If you have some extra time and expertise in a particular field, you can make money at home by merely answering people's queries.
On Just Answer.com, you are paid to answer real questions from real people.
You can be hired as a JustAnswer expert if you are a-
Lawyer
Doctor
Veterinarian
Mechanic
Computer tech
Electronic tech
Tax accountant
Electrician plumber
Parenting expert
Relationship expert
Etiquette expert
Entertainment expert
Engineer
Appraiser
Wedding planner
Genealogy expert
Not all opportunities to make money from home require a laptop or a smartphone.
If you are looking for ways to make extra money from home, try these offline side-hustles.
31. Become a babysitter
Babysitting is an excellent way to make extra money from home on your own schedule.
You can start by asking your family and friends and let them know that you are available.
You can also let people know about your availability on social media. Don't forget to mention that you are responsible.
If you know CPR, it can be highly beneficial and may get you more babysitting jobs.
If you do not know any family or friends that need your services, you can connect with websites that can connect you with families that need your services.
These can include full-time nanny positions or weekend babysitting positions.
You can also sign up to be a caregiver for seniors on these sites. In many of these cases, medical expertise is not needed.
Often families need someone who can hang out and provide company to a senior when they are not at home.
32. Dog sitting or walking
If you are a pet person, you can take up the job of pet sitting. A pet sitter takes care of people's pets while they are away.
A pet sitting job can be a good opportunity for you if you don't like your roommate as you will have to live in your client's home while they are away.
You may also be allowed to use their household amenities when they are away.
You can also earn extra money as a dog walker.
You can sign up with an agency around you, and you will be assigned the job of regularly walking pets.
You can also sign up with apps like Wag or Rover.
Rover sitters are known to earn an average of $1000 per month.
33. Rideshare driver
Working as a rideshare driver with companies like Uber and Lyft is an easy way to make money when you have some spare time.
Generally, rideshare drivers can earn between $8 to $11.7 per hour. You can earn significantly more if you drive during peak hours due to surge pricing.
You can make more money if you operate weekend evenings in urban areas.
34. Deliver fast food or groceries
If you like to make money while driving your car but don't want strangers in your car, delivering goods is a good option for you.
You can sign up with Amazon Flex and deliver packages for them.
Companies like DoorDash and GrubHub offer restaurant delivery jobs.
You can also deliver groceries to people's homes through Instacart.
Shipt, Uber Eats, and Postmates are some of the other options that you can try.
You can earn around $20 per hour through these jobs.
35. Rent out your possessions
Renting out the stuff that you own but are not using currently can be a quick way to earn some extra money. You can turn your possessions into income-generating assets, and it doesn't even take much of your time.
Here's a list of things that you can rent out and the companies that you can use –
1. Home – Airbnb, HomeAway, VRBO
2. Home or space for parties, filming, or photoshoots – LocationsHub, SetScouter, Gigster, Peerspace
3. Office space – LiquidSpace, DeskTime, ShareDesk
4. Parking Space –PARQEX, Spot, SpotPog
5. Storage space– STOW IT, Store At My House, Neighbor
6. Car – Getaround, Turo, Riders Share
7. Bike – Splinlister, listnride
8. Clothes – Style Lend, Rent My Wardrobe
9. Baby equipment – BabyQuip
10. Photography gear – ShareGrid, KitSplit
36. Do odd jobs
You can do odd jobs around your neighborhood to earn some extra money.
You don't need special skills to do simple tasks like cutting grass, help people move, help people organize and declutter their homes, etc.
Sites like TaskRabbit and Thumbtack can help you get in touch with people who need help with these tasks.
37. Flip products
Wondering how to make money on the side? Well this option is right for you!
Flipping an item means buying an item at a low cost and then selling it at a higher price and keeping the profit.
You don't need a lot of skill or experience to flip items to make profits.
To be successful as a flipper, you need to know which items have the best chance of reselling for a profit.
Wooden furniture, collectibles, antiques, appliances, photography gear, clothes, shoes, concert t-shirts, sports memorabilia, power tools, and book sets are some of the products that you can flip for a profit.
You can find these products at thrift stores, flea markets, and auctions.
There are a number of websites where you can sell these goods for a profit. These include –
eBay
Craiglist
Poshmark
Facebook Marketplace
How much profit you make from flipping depends on how much you have paid initially for it. You must always start small and then gradually work your way up.
Take good photos of your products when you sell online.
Want to start flipping for money? Grab this free workshop from Rob who earns over $300k a year doing this.
38. Sell unused gift cards
If you've got a lot of gift cards that you don't know what to do with, you can trade them to earn cash.
There are several websites where you can sell your unused gift cards online. Here are some of the best places where you can sell your unused gift cards –
Raise – You do not have to pay any upfront fees to list your cards here. Cards sell within 24 hours here, and Raise takes 15% of the selling price.


GiftCardBin – You can sell gift cards online or in-store for cash by visiting their 400 partner locations in the US and Canada.


Gift Card Granny – You can list the card online for the price you want on this site. You can also exchange your gift card for the one you want.


Card Pool – You can earn up to 92% of your card value in cash here.
39. Advertise on your car
Also known as car wrapping, this is an easy way to earn a few hundred extra dollars.
All you need to do is put ads on your car and then drive around just as you usually do.
Unfortunately, there are a lot of frauds linked to this industry. Here are some of the legit companies that pay you to advertise on your car –
Carvertize – Carvertize operates in seven major cities in the US, including Boston, Chicago, and Dallas. You can earn between $100 and $200 per month here.

Nickelytics – If you clock more than 30 miles per day, you can earn up to $500 per month with Nickelytics.

Wrapify – An average person who does a full wrap on their car can make between $264 and $453 a month.
You can find more ways to advertise and earn money here.
40. Earn money online by giving your opinion
Companies spend a great deal of money to develop new products and services.
Before they put a new product out in the market, they want to make sure that the product is worth it.
They use focus groups to get genuine feedback on their product or service before making it available to the general public.
Some of these focus groups are held in person, where you have to go to the company's office.
Often focus groups are held online as well.
The in-person focus groups are paid more, but the online focus groups give you the comfort of working from home. The pay can range from $50 to $500 per session.
Some of the websites that hire focus groups are –
2020 research
AccuData
Accurate Data Marketing
C2 Research
Consumer Opinion Services
Fieldwork
FocusGroup.com
Google Usability
Savits Research Solutions
I hope this answers your questions on how to make money from home.
Frequently Asked Questions on how to make money from home
How can I make money online without a job?
You really don't need a job to make money online.
You can opt for one of the side hustles mentioned above to earn a steady income for yourself online.
You can start a blog and earn income from ads. You can work as a freelance writer to make money online. Opening an online store or flipping products is also an option for you.
How can I make $1000 a month as a teenager?
As a teenager, you have limited options to earn money online and offline.
Many jobs have age requirements, and you will not qualify.
However, you can do a bunch of odd jobs to make $1000 online. Some of the best jobs for teens are –
Starting a YouTube channel
Mowing lawns
Working in a retail store part-time
Flipping products to make a profit
Dog sitting and dog walking.
Find more teen jobs options here.
How can a college student make money online?
As a college student, you will be able to do most of the jobs mentioned above to make $1000 online.
You can plan your schedule around your classes or during the weekends and earn $1000 easily.
Some of the best ways to make extra money for college students include –
Freelance writing
Becoming an online tutor
Do online research
Take surveys
Babysitting
Dog sitting or dog walking.
How to make extra money from home as a stay at home mom?
Okay.. so you are a stay at home mom looking legit answer to how to make extra money from home.
As a stay at home mom, your free time is limited. However, if you can take out a few extra hours of your time every day, you can earn extra money from home.
Here are some flexible work from home options for you –
Blogging
Freelance writing
Affiliate marketing
Run Facebook ads for local businesses
This is all about how to make an extra 1000 a month
Final thoughts on how to make money from home and earn an extra 1000 a month from home
Making extra money from home is not as difficult as you think. We just discussed over 40 ways to make money from home.
We all have some extra time that we can use productively.
You can choose from the many options mentioned above depending on your skillset. The key here is to believe in yourself.
Whether you are a student, a busy mother, or a teenager looking to make some extra money, there are many ways to make money from home.
How to make an extra 1000 a month