How to get clients from facebook groups for your online freelance job – Get clients or leads FAST!
So, you have started an online job at home (or thinking of!) and looking for ways to land freelance clients FAST.
Great! So, tell me – Do you have questions surrounding –
How to find potential clients on Facebook?
Is there a way to find my niche group on facebook?
How to find clients on Facebook?
How to land local business clients with facebook?
How so many freelancers land clients and build a profitable work at home business using Facebook?
How do I find Facebook clients? How do you effectively use Facebook groups?
If you are nodding (read: screaming YESSSSSS!) and struggling to land freelance clients using Facebook, this post is for you.
Let's begin and know how can you land clients fast.
Note – This post may contain affiliate links to products I trust. This means if you make a purchase using the links I may receive a small commission at no extra cost to you. Thank you for your support!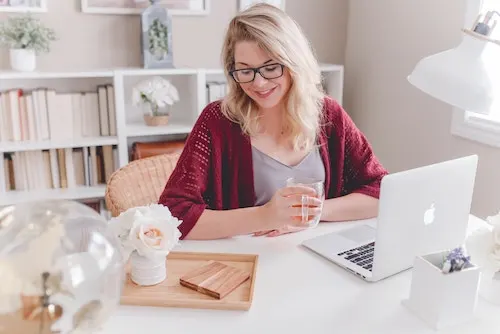 No matter what business you are in, when you first break out into a freelancing career, finding clients is HARD.
For many freelancers, going out and selling themselves is terrifying.
Note: If you are wondering whether or not you are a good fit for working at home, check out this post on should I work from home? and guess, what? – there is a quiz for you to take inside!
When you take the leap and decide to begin working from home, let's be honest, you're not doing it for the vibrant social scene.
Finding clients, luckily, is not as hard as it feels.
Note: Micala has a
FREE course
for those of you who want to start a freelance business from home. Grab the training (comes with a detailed workbook) and learn the 5 essentials to make money from home and start an online job from home.
There are a ton of platforms out there that help connect freelancers with clients, and my favorite is one you're probably already using on some level.
Facebook.
When I first set out to start my content business in 2016, I was so scared of having to network and "sell" my services.
Even though the idea of selling gave me hives, I ended up with my first five clients before I ever launched my website. I found every single one of those clients through Facebook Groups.
Over the years, I've tried a little of everything when it comes to sales,
and I always find myself coming back to Facebook.
It's free and easy to use platform for finding potential clients. You're not bidding on projects and cold pitching people who get 500 proposals for every job.
Using Facebook Groups is a totally different approach to "marketing" yourself, and when you do it right, you build strong relationships with potential clients and other business owners who will consistently throw work your way.
So let's get right into how to do that.
Note: If you are shopping for the best online job from home and looking for other remote job options as well, check out this post on 50 best online jobs to make a full-time income. You can also check out 20 flexible jobs for work at home moms, online jobs for college students and summer jobs for teachers.
Also, grab my freelancing guide to success TODAY and learn everything about freelancing. Not only do I tell you what is freelancing but I giveaway a 5 step strategy to launch a profitable work at home business. You can also check out this post on what is freelance!
#1 Understanding Pitching vs. Networking on Facebook to get clients
Pitching clients – job boards, freelancing platforms, and cold emailing
There are two main ways of attracting business as a freelance writer, editor, proofreader, bookkeeper, virtual assistant or any other category of online jobs.
Pitching is the method you're using when you're applying for jobs through freelance job boards, freelance marketplaces or sending emails directly to the clients.
This strategy has a lot of benefits, and it does work. Pitching can even turn into really valuable contracts for many freelancers.
The downside is, there is a ton of competition out there, and your success of getting potential clients depends on your ability to master the cold pitch.
Note: I was able to land freelance writing jobs worth more than $1000+ using cold emailing and it does work. If you are running on a budget and want to learn everything about cold emailing and pitching clients directly, check out this eBook on How to find and pitch freelance clients
While the ebook gives out examples for freelance writing, ALL the principles work for any kind of freelancing. If you have questions, shoot me an email at [email protected]
Networking on social media platforms like Facebook to land freelancing clients
The second way of building up your client roster is networking.
Networking is not ONLY about attending overpriced brunches where local small business owners try to sweet talk each other into discounts.
Networking is the act of building up a list of business BFFs who know you and your work and refer you to friends and clients that could use your services.
It doesn't happen overnight, and it does take some time invested in building up a strong network, but once it's in place you've got potential clients seeking you out, instead of the other way around.
The most exciting thing about a networking approach is that clients come to you knowing roughly how much you charge, having heard good things about you from someone they trust and are people that operate in "social business circles."
That means that the clients you get from referrals are also the people most likely to refer you to someone else.
And this, for a freelancer, is monaaaay.
So, the biggest question is –
#2 How To Find Potential Clients with Facebook Groups?
So how do you get started building this network? How do you find potential clients with Facebook groups without being sleazy?
The process is pretty simple, but it does take some creativity, and some commitment.
Essentially you're going to join some strong, niche networking groups, participate in some authentic discussions, and be on the lookout for opportunities to add value.
The key to success here, however, hinges on how you participate in those groups. We will be discussing that in a short while.
#3 Which kind of Facebook Groups Turn Leads into Business?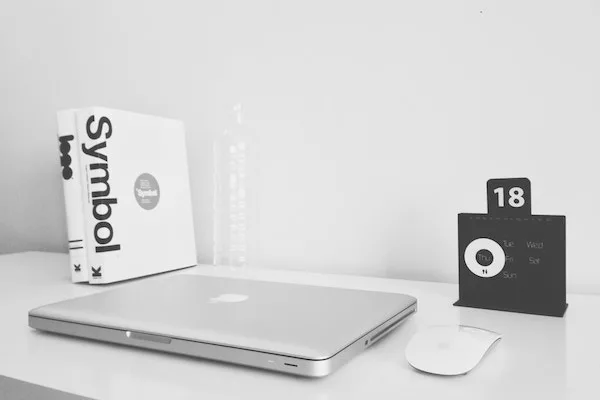 The ultimate goal you're working towards here is to build a reliable network of clients and business owners who know and communicate with you.
Big brands call these people "Brand Ambassadors," the rest of us call them "Business BFFs."
When you aim to foster real friendships and real working relationships with people, the members of your network are not only willing to refer you, but love doing it.
They know your work; they know your communication style; they trust you to deliver stellar work to clients.
An excellent recommendation helps create trust between businesses and customers, so it's a benefit to all parties involved.
Note: Networking can take time. So, meanwhile, do not forget to check out 10 ways to find freelance jobs for a beginner
But which groups work and which are a waste of time? How do I find my niche group on facebook?
Let's start with the second question and then answer the former –
How do I find my niche group on facebook?
When you're searching for niche FB groups to join, start by searching the web and Pinterest with keywords like "best facebook groups for…"
(insert niche here)"

"women entrepreneurs"

"Freelancers"

"freelance writers"

"proofreaders"

"editors in Canada"
Note: Check out this post on 10 best Facebook group for job seekers and freelancers. You can also Join our Facebook community (Be your own boss!) with over 1000 members!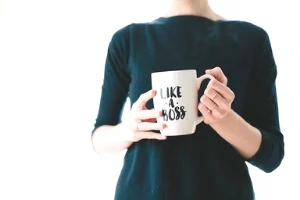 You'll find top 10 lists all over the place. When you find a few that seem like they'll fit, hop on over to Facebook and check them out.
How to land local business clients with facebook
You can also look for Facebook groups where local businesses hang out. Filter the groups with location and see if there is any good fit for your niche. These localized groups will help you and local business clients on Facebook.
Most of these groups are private. You'll have to submit a join request and be accepted to see what's happening in the group.
Pro Tip: Keep track of the groups you've joined, and try to join only 5-10 at a time. You will need to evaluate the group once you've got access to it. Not every group is a good fit, and there are a lot of groups out there that are just not helpful. Stick with the groups that work, leave the ones that don't.
Once you've got access to the group, you can start scrolling through the posts and discussions and decide if it's right for you.
#4 What To Look For In A Facebook Group to land freelance clients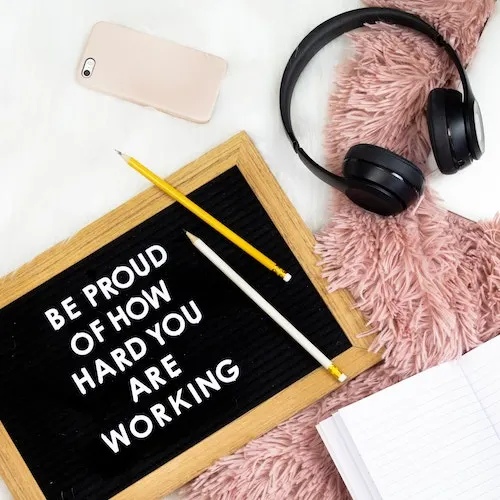 Decide which facebook groups to start investing time in by checking these key indicators.
If you are looking answers to how to get clients from Facebook, it is important that you follow these steps –
1. Is The Facebook Group Active?
It is extremely important for the Facebook group for job seekers and freelancers to be active. For that –
Check that the group is thriving by looking for the last post by a non-admin.
The most valuable Facebook groups have new posts every day, but not hundreds a day.
If a group has a massive number of members and hundreds of new posts a day, it can be hard to form real relationships with people. Look for groups that produce 10-20 new posts from members a day. Everyday.
2. Are other people adding value?
Read through some of the discussions that crop up around posts to find out if people are contributing in meaningful ways to the group.
Are people asking questions and recommending tools and services, or are they throwing around mostly private discussions and opinions?
3. Are the members asking for something you can provide?
While you're browsing through the group wall, be on the lookout for what questions and requests other members are posting.
If the bulk of posts need something you don't do, it's probably not the group for you.
#5 How To Find Leads As A Freelancer in Facebook Groups
Now that you've joined a few good groups, it's time to get to work. Here's how you do it.
Step 1: Find A Business Besty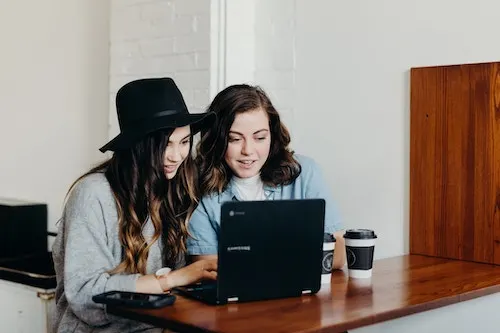 Working Facebook Groups in pairs is the secret to success. Full stop.
Make a friend who works in a complimentary niche and agrees to work together. You'll help each other find great opportunities and support each other while attracting clients.
Cold pitching or networking for freelancers? As a writer, gotta say, Im loving the team approach to FB Groups. #momboss #freelancewriter #socialmedia

— Olivia Derby (@OliviaRDerby) April 27, 2019
Step 2: Introduce Yourself
Make sure to read the group rules and then dive in and introduce yourself.
Use this opportunity to give your perfected pitch (keeping with the rules of the group).
Step 3: Join The Conversation
Here is where the power of Facebook groups comes in. This is what you should do –
Start checking the group regularly and looking for specific types of posts.

Respond to posts that ask a question related to your niche.
Answer the question professionally and knowledgeably without pitching your services.
Include a link to a relevant piece of content on your website whenever you can.
Participating like this builds trust between you and the poster, and begins to establish you as an expert to the group.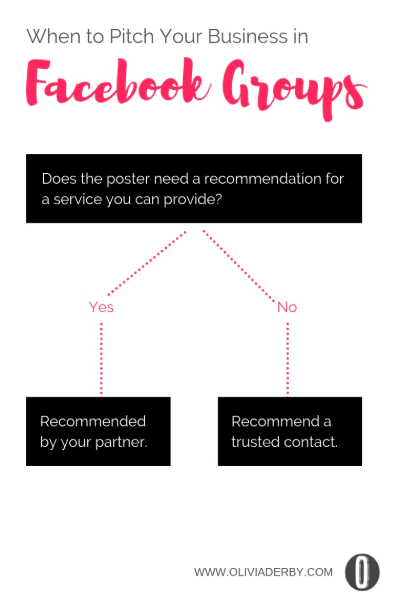 Do this enough, and you'll start getting messages from other group members interested in your services.
The second major post you should be watching for is one asking for recommendations.
Good groups post these almost daily, but the key to turning those people into leads is NOT pitching your own services. Get your business besty to recommend and tag you in the comments.
Whenever you can, suggest other business owners you trust for posts requesting suggestions for services you don't directly address.
Try to avoid responding to recommendations with a pitch for your own service. Posters often get many responses, and it's challenging to tell which of the self-promoters are worth contacting.
I've found that comments which recommend another freelancer get largely more traction.
Step 4: Follow Up
Follow up is just as important here as it is with any other sales channel. Keep track of when you're recommended in response to a post, and follow up with the original poster after a day or two.
Pro Tip: Make sure your potential client sees your DM by responding to the recommendation made by your business besty with a comment like "@businessBesty thanks for the recommendation. @PotentialClient Messaged you!"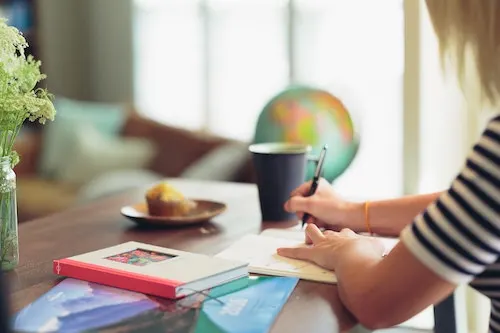 #6 Networking with Potential Clients Is An Investment
Gaining traction from Facebook Groups in this way takes a little bit of time.
Once you get into it though, the effect is impressive.
By dedicating a little bit of time each week to managing relationships through FB Groups, you're investing in your business relationships and creating reliable sources of work.
Relationship building is the foundation of a robust and healthy business. If you can master your professional network, finding work will never be a problem.
Start building your professional network by connecting with other freelancers and entrepreneurs by joining my Facebook Group, Create Kit. Click here to join.
Olivia Derby blogs about the creative, demanding realities of life as a mom and an entrepreneur at www.OliviaDerby.com. As a digital marketer turned blogger, she maps out methods for attracting clients and carving out a solid foundation for your empire. Olivia takes on topics like SEO, social media marketing, e-commerce, and monetization techniques for brands bent on inspiring readers…and romance novels for people bent on happy endings.
If you like this article on how to get clients with Facebook groups and grow your online business from home, you will also like
FAQs on landing freelancing clients using Facebook groups and building a profitable home business right from the start
#1 How to find potential clients on Facebook?
As mentioned in the article and recommended by Olivia, do this –
Find niche Facebook groups along with groups where local business clients hang out
Join them and introduce yourself strategically
Add to conversations and provide help (do not pitch services directly)
Look for posts where potential clients ask for recommendations. Ask business BFF to recommend you.
Create relationships and build a network
#2 How do I find my niche group on facebook?
You can start by searching the web and Pinterest with keywords like "best facebook groups for…"
(insert niche here)"

"women entrepreneurs"

"Freelancers"

"freelance writers"

"proofreaders"

"editors in Canada" etc.
#3 How to find clients on Facebook?
By joining Facebook groups, building relationships, and trust with potential clients. The tips to land clients using Facebook are in the article above.
The only tip I would add is this –
Be a professional. Your profile picture should reflect that. You can add testimonials, reviews, and portfolio to your business and profile page.
#4 How to land local business clients with facebook?
Find Facebook groups where local businesses hang out and add value to the conversations. You can also like the Facebook pages of local businesses. Whenever they post, comment on it, help them and add value.
#5 How so many freelancers land clients and build a profitable work at home business using Facebook. How do I find Facebook clients?
By building a great referral network, being patient and working on the tips in this article consistently.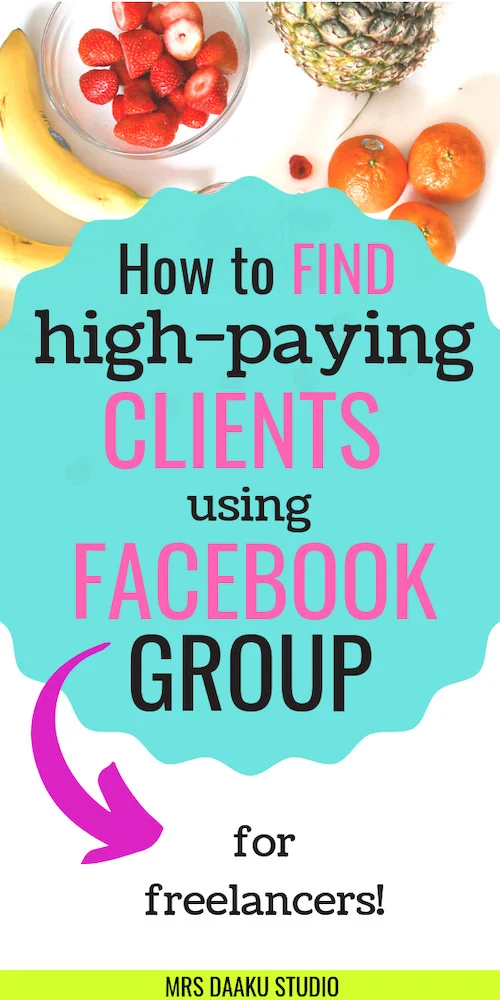 Actionable tips
Check out "Start a blog with ease" series and get started with your blog
Join my Facebook community and post your questions, wins and get the support
Resources that will help you start freelancing and work from home –
50+ work from home options that are high paying
How to be a freelance proofreader and earn $40000 a year
How to be a virtual assistant? Earn $100 an hour!
How to earn a full-time income as a transcriptionist
How to become a Pinterest Manager and earn $2000+ a month
How to become a bookkeeper and earn $80/hour
Resources that that will help you understand and start freelancing
Skillshare – Skillshare is my go-to place to learn a new skill without having to splurge hundreds of dollar. It is an online learning community where you can explore thousands of classes in design, photography, business, and more. You can get started with a free trial using my link and get access to hundreds of courses.
How to find and pitch clients your freelance services – Are you tired of looking for clients on Facebook groups and job boards? Did you land clients but they offered you peanuts? Well, the only thing you are missing in the picture is to learn how to find and pitch clients your services directly. Using the methods in the book, I was able to make $900 in the first month of freelancing and it has only grown from there. Check it out.
Become a work at home mom – A FREE training session that comes along with a workbook and guides you through the entire freelancing journey. Not only it tells you what is freelancing, but it also tells you the various option and how to go about establishing one (without any INVESTMENT cost).
FlexJobs If you are a freelancer, you should sign up with Flexjobs. It will help you go through great flexible job listings from legitimate employers quickly, easily, and safely. Every single job on FlexJobs is hand-screened for legitimacy, with no ads or scams mixed in, and every single job offers work flexibility such as telecommuting, freelance, part-time or other flexible options.
How to find clients on Facebook and use Work from home facebook groups to grow your online business TODAY.