FeetFinder Review: How to make money selling feet pics?
Have you heard about selling feet pics on FeetFinder? Looking for legit FeetFinder review?
It's a new platform that allows users to buy and sell feet pics and videos. The best part is, it's easy as pie!
You can upload your own content or browse through thousands of photos and videos from other members. There are all kinds of categories for every type of foot fetish out there-you name it, they have it!
Plus, the site has over 250,000 active users so you know there will be plenty of people looking at your stuff.
And if you want to make some extra cash on the side with something fun-feet pics are great because they don't take up much space on your phone or computer so they're perfect for selling online!
If this sounds like something that interests you then check out FeetFinder today by clicking here!
Note – This post may contain affiliate links. Please read disclosure policy
Want to make money quickly? Here are a few platforms to earn up to $25 – $50 in a few minutes!
PineCone Research: Earn $3 – $5 per each survey guaranteed .Sign up now
What is FeetFinder?
FeetFinder is an exclusive platform to sell feet pics. It definitely seems to be the safest, easiest, and most secure website for viewing, buying and selling custom feet content.
They already have over 250,000 users uploading and buying content daily.
Patrick Nielson is the founder of FeetFinder and extremely passionate about making it easy for people to buy and sell feet pics online.
The best part about FeetFinder – You can use FeetFinder in almost any country in the world!
So, if you're above 18 years old and comfortable with selling feet pics, FeetFinder is the place to go.
Is there a FeetFinder app?
Unfortunately, no.
It is interesting to know that FeetFinder was going to be an app. However, Apple and Google rejected the app since it was a "fetish app".
The company had to come up with another way to let its users access the site, so they created a web portal for people that wanted to view and sell feet content.
According to the owners, they would be the first ones to launch an app when Apple and Google are comfortable with this segment.
Is FeetFinder legit platform to sell feet pics online?
Yes, FeetFinder is completely legit and works well. FeetFinder has thousands of active verified users.
All you have to do is sign up, upload your feet pics, set a price for each pic and let the magic happen!
You can check out hundreds of reviews here.
In short, FeetFinder has a whopping 92 percent of positive reviews.
Is FeetFinder safe to use for selling feet pics?
Yes, FeetFinder is safe to use. They put privacy at the top and ensure no information is leaked out or is accessible to anyone else.
For example, while they do ask you for your number, ID and address verification they don't share it with anyone else.
It is just to weed out scam feet pic sellers and ensuring the best quality feet pics out there.
Furthermore, the website is kept secure with SSL encryption to ensure that no data thieves or hackers get access to the company's database.
FeetFinder also uses Sitelock to stop traffic from bots and its payment methods are PCI compliant.
So, yes, you're safe to use FeetFinder to sell feet pics.
Who is FeetFinder For?
FeetFinder is for anyone over 18 years old and comfortable with selling feet pics on the internet.
The great thing about FeetFinder is that you can use it in almost every country in the world!
So, if you're living in a conservative country or just don't want to share your face or name on the site, you're free to use any username.
As for the buyers, you get a mix of
People who have foot fetish
Advertising agencies who may hire you for foot modelling
Magazines and Newspapers
Photo collectors
Stock Photography websites
How much does FeetFinder cost?
FeetFinder is free for all Buyers. This is to ensure that FeetFinder gets a huge pool of people interested in buying feet pics from you.
For Sellers, i.e. people interested in selling feet pics online and make money, FeetFinder charge a very small subscription of
$3.99 per month or $14.99 per year
9.99 per month or $29.99 for premium.
These expenses pay for new features, tons of marketing to attract new Buyers for you, and other business expenses.
Is FeetFinder Premium Worth It?
Whether or not FeetFinder is worth it, comes down to how much you value your time and the effort put into uploading feet pics.
If your pictures are good enough and you have dozens of them, you might want to consider paying for premium.
It will open up many features like
Firstly, they promote your profile and feet pics more. This means, you'll get more buyers, faster. In short, they provide worldwide exposure to your content.

Secondly, they buy feet pics, videos from the most active users on FeetFinder premium which will increase your overall earnings.
How much does FeetFinder pay?
Sellers keep 80% of all their earnings, which is huge.
FeetFinder takes a 20% fee per transaction to cover business expenses and ensure the site is free to use for everyone. The put this money towards web security, new features, marketing, and more to ensure Feetfinder continues to improve.
How to Get Started on FeetFinder?
Before you start selling your feet pics, let's just talk about how FeetFinder works.
Buyers on FeetFinder can search Sellers profiles (that is you) by their usernames or filter Sellers by their age, race, gender, categories, and more.
Buyers can also search for phrases and/or keywords to match descriptions of content.
The best way to attract buyers is to post to your profile link to your social media and make sure your album descriptions and titles are as detailed as possible – but we will talk about this little later in the post.
Step 1. Sign up for an account
You just need a verified email to sign up as a seller.
Create a username and password.
Step 2. Verification of ID
Once you have created an account, you will be required to submit an ID for verification.
It is only after this, you can upload content, message Buyers, or edit their profile
Sellers can submit a photo of a government issued ID and a selfie with that ID and be approved before they can access their account.
This is to ensure there are no underage or fake accounts. Your information is used for verification and payout purposes only.
Step 3: Complete your Profile
Complete your profile by uploading photos of your feet and share it with the world!
Remember to include detailed descriptions, tags, titles, and detailed albums.
FeetFinder Login
Now, it is time to login. You can find FeetFinder login here.
How to Make Money on FeetFinder?
Selling feet pictures on FeetFinder
Step 1. Upload your pictures, videos and optimise them
Once you have made your account, it is time to upload your feet pictures and videos.
Include detailed descriptions, titles, tags in all of your album.
Step 2. Considering upgrading to Premium account
Upgrading your account unlocks more features that can increase your revenue.
Make Money on FeetFinder with Referrals
The other way to make money with FeetFinder is referrals.
Users (that would be you) earn 10% of any sale someone makes when they sign up with their referral code and this comes out of our fee, not the Sellers earnings.
Every user gets a referral link/code and can share it where they please. If a user signs up with your link, your code will automatically be entered in the referral part of the signup.
Example: User A shares referral link with User B. User B signs up with User A's link. User B makes a sale for $100. User B makes $80 (80%), User A makes $10 (10%).
So you can earn money passively as well with FeetFinder.
How Much Money Can You Make on FeetFinder?
The sky is the limit on how much money you can make with your feet pics and videos.
Your income depends on your content, listings , and marketing.
Make sure you upload amazing pictures to attract buyers and make your feet look as sexy as possible.
Also, complete your profile completely so that buyers find you easily.
FeetFinder has a lot of traffic which can potentially get your more sales and income.
The average price for a pic goes for $22 and $19 for a video. That's according to this FeetFinder blog post, which also notes some sellers have made over $30k to date!
The lowest rate for selling pretty feet images is $5 but you can raise the price to whatever amount the buyer is willing to pay. For example, a handful of models have been reported to have earned up to $100 dollars per picture.
How Do FeetFinder Handle Sellers' Payouts?
Payouts are different depending on where users are located.
If you are based in the US, payouts are handled by Segpay. For users in countries outside of the US, payouts are done with a Paxum account.
You will be able track your sales and request payouts through FeetFinder dashboard but you will have to create the relevant account for yourself to get paid.
Both Segpay and Paxum are trusted companies and are extremely secure.
Why does FeetFinder not use Paypal or Cashapp?
FeetFinder does not use Paypal/Cashapp to avoid having our account shut down and our users losing money.
What is the refund policy with FeetFinder?
FeetFinder currently has a strict no refund policy unless there was an issue with fraud.
That means, you can be tension-free from any fraudulent refund request by your feet pic buyer.
All transactions are final and users who attempt to chargeback will have their account terminated.
Advantages and Disadvantages of the FeetFinder Website
Pros of FeetFinder
FeetFinder is strictly for feet content only. It is a great way to monetize your feet pics and videos.
Absolutely no nu dity allowed. Suggestive is ok.
You can use FeetFinder in almost any country in the world!
All content is automatically blurred when it is uploaded to our website
Your privacy is protected.
Cons of FeetFinder
Monthly subscriptione xpense even before you make money
No Paypal/Cashapp as a payout option. Only takes Segpay and Paxum as payouts for users
ID verification: Even though the company won't disclose your ID details to anyone, you need to take a selfie holding a government-issued ID.
There is no FeetFinder app.
FeetFinder Seller Reviews
Positive FeetFinder reviews: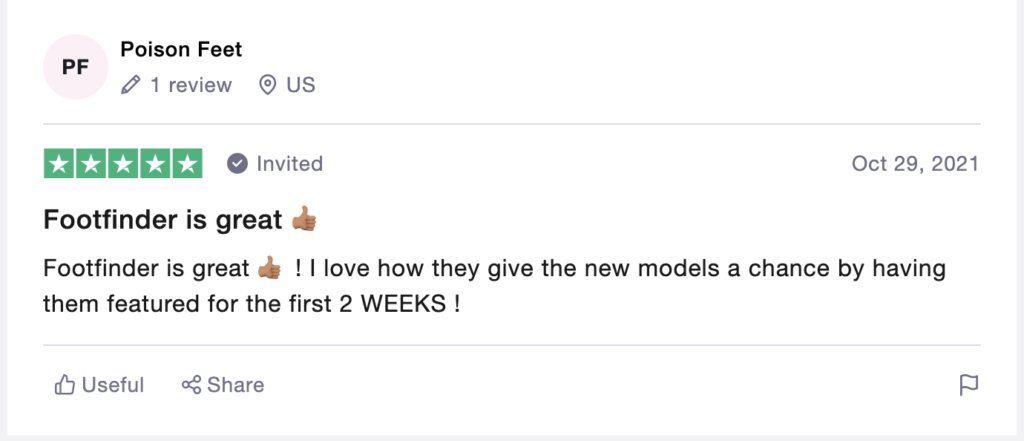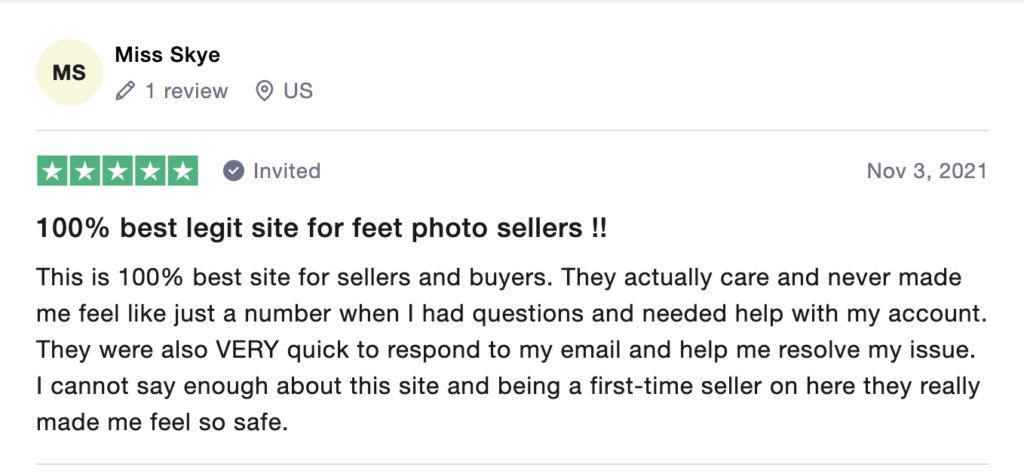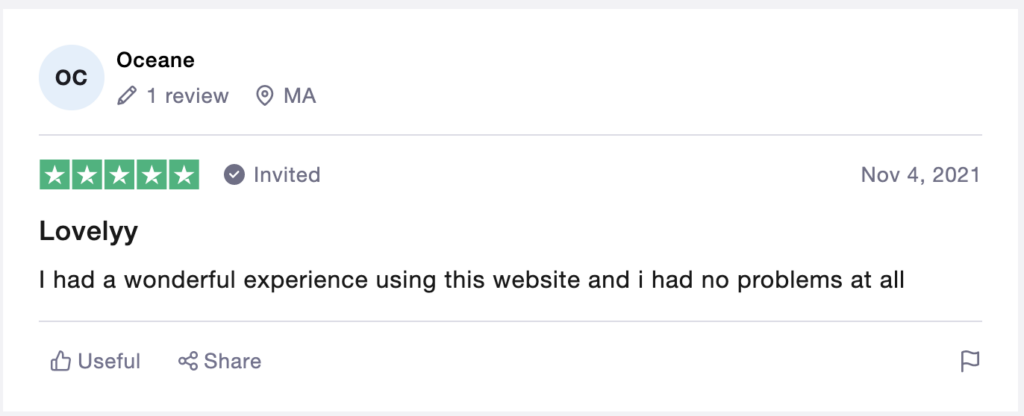 Negative FeetFinder reviews:
I did search for negative FeetFinder reviews and here is what I found: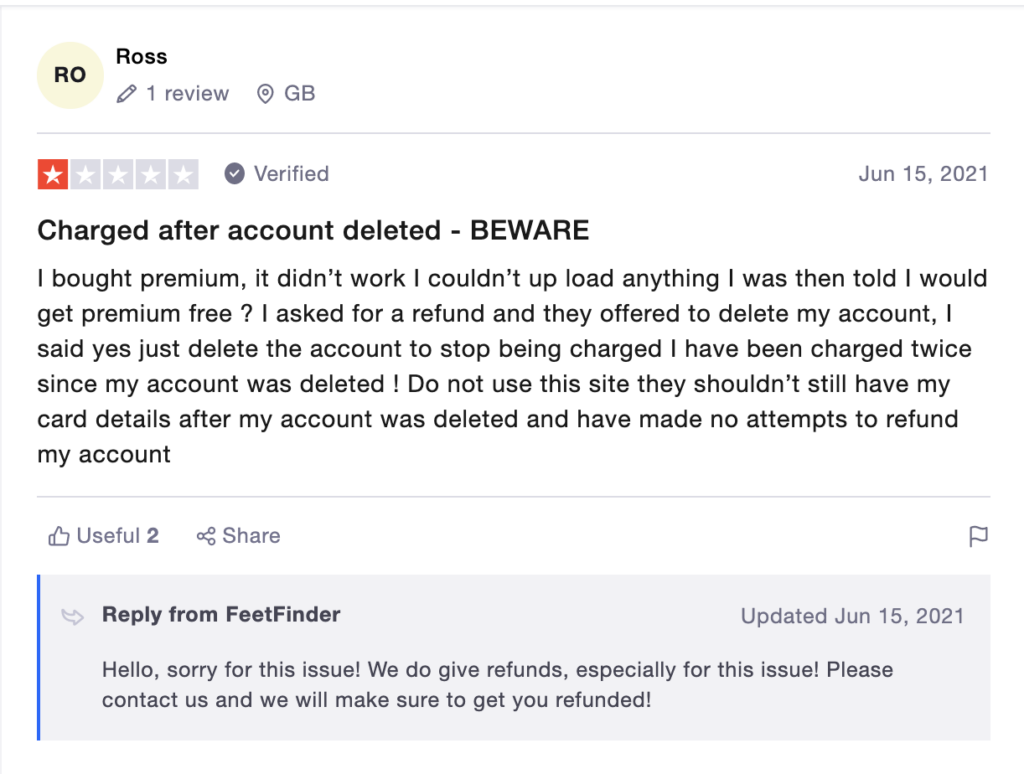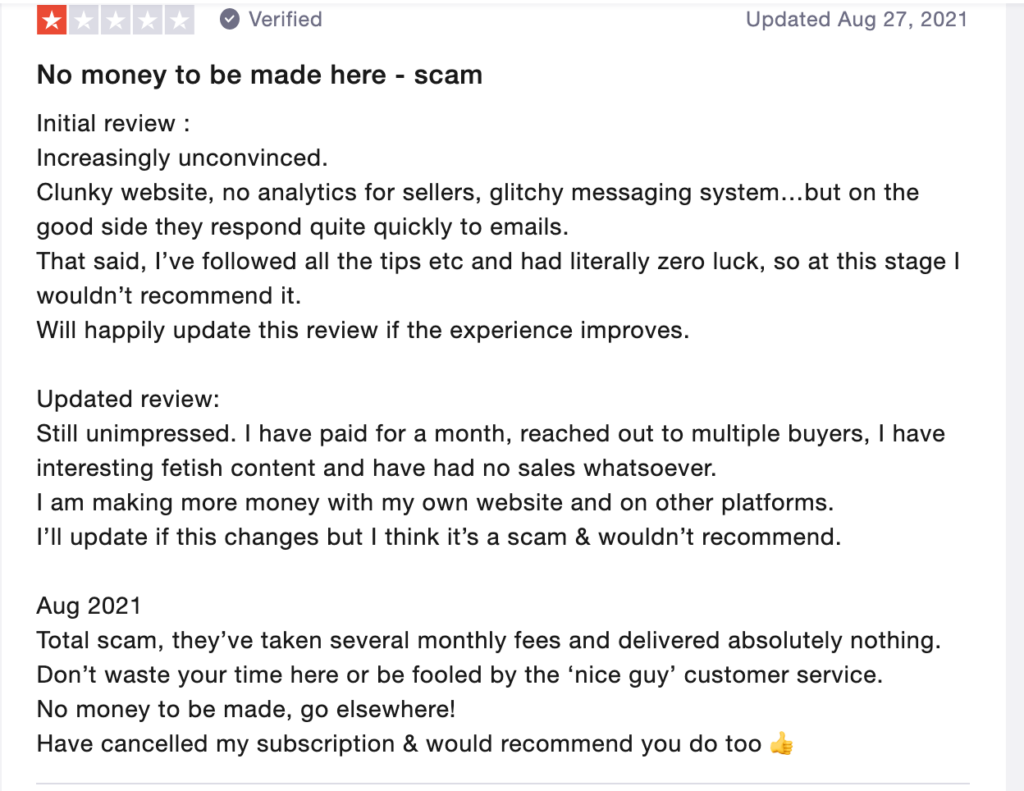 Every website has positive and negative reviews. Same is the case with FeetFinder.
So, why not try it out for yourself? There are tonnes of good reviews and I am sure it is worth a try.
FAQs On FeetFinder and selling feet pics:
1. Is FeetFinder a legit website?
Yes, FeetFinder is a legitimate website to earn selling feet pics and videos online.
2. Does FeetFinder have a Refund policy?
There is currently a strict no refund policy for FeetFinder.
3. How much money can you make with FeetFinder?
The sky is the limit on how much money you can make with your feet pics and videos.
4. How do I get paid from FeetFinder?
You can track your sales and request payouts through FeetFinder Dashboard. If you are based in the US, payouts are handled by Segpay.
For users based outside of the US, payouts are done with a Paxum account.
5. Who are the buyers of feet content?
Generally, buyers are foot enthusiasts who want to enjoy attractive feet images on their devices.
Besides that, you can sell feet pics to
Advertisers
Bloggers
Agencies
Newspapers and magazines
6. Can a guy sell feet pics on FeetFinder
Yes! FeetFinder allows all genders and races to sell their feet pics as long as they are 18 years or older!
7. Do I have to file taxes on income earned with FeetFinder?
Yes, if you are based in the US and make over $600 per year we will send you 1099 forms.
The forms will come from Segpay (our partner bank) and will be discreet. If you are based outside the US, you are responsible for filing your taxes in accordance with your countries tax laws.
8. What are the popular categories on Feetfinder?
High Heels
Soles
Nail Polish
Socks
Lotion
Pedicure
Dirty Feet
Male
9. Can you actually make money on FeetFinder?
Yes, you can make money selling your feet pics on FeetFinder!
At this point, I would really love to tell you that you can also make money selling photos of yourself, selling hand pics and more.
If you're comfortable with these, you may also want to check out cam sites that pay well, becoming a web cam model and selling used panties for money.
and, if all this is TOO MUCH, you can get paid to chat and flirt.
10. How to market your feet pics and get more sales on feetfinder?
There are a few tips you should know to increase your sales:
Check out this blog post on the 5 best platforms to sell feet pics.
In fact, check out this blog post on how to sell feet pics which covers over 20 ways to sell and make money online.
11. Sites Similar to FeetFinder
Besides FeetFinder, you can check out Feetify and Instafeet.
FeetFinder Review: Can you Make Good Money on FeetFinder?
If you're looking for a new way to make money online, look no further. FeetFinder is the perfect platform to start with – it's easy and free to sign up, there are tons of reviews about how great the experience has been so far (92% percent positive!), and they are hassle-free.
Whether you want to upload videos or photos of your feet, this site offers something for everyone!
Get started today by clicking here!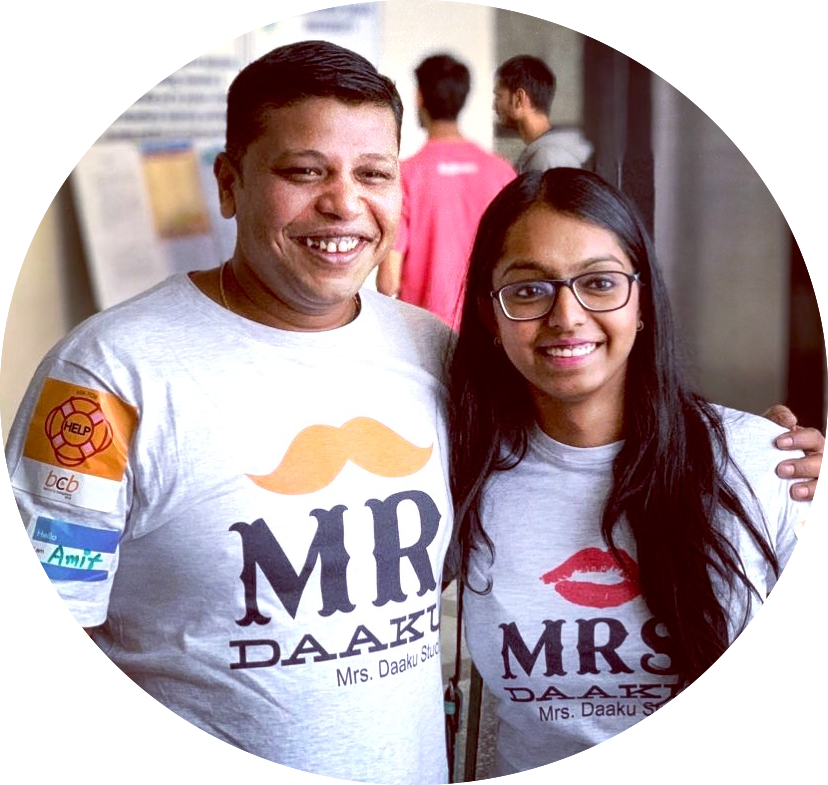 Hi buttercup, thank you for stopping by. We're Chhavi & Amit.
We're a couple who quit our high paying jobs as a lawyer and an engineer to start hustling online. Now we're full time bloggers, YouTubers, work at home expert and Online Business Coaches featured on Forbes, Business Insider, Readers Digest, CEO Blog Nation, Starter Story, Yahoo! Finance, MSN, BankRate and so much more.
FeetFinder Review – Sell Feet Pics