Ho! Ho! Ho! It is the season to shop, shop and shop for a lot of gifts for friends and family.
In 2016, the average American spent $935.58 on holiday gifts.
Wondering how to make extra money before Christmas to buy those amazing gifts?
You have a few months left but with this 15 stupid-ly (is that a word?) simple ways, you can achieve it.
While credit cards may be an option for many of us, I like to be debt free. If you do not understand your credit card policies, you can quickly get caught up in the cycle and pay more than required in interest.
So, I prefer learning new ways on how to make extra money before Christmas to finance my presents.
And, this is what we will talk about in this post.
Don't think you have the required skills to make extra cash before Christmas? I say you DO! With a little effort and spending as much as 10-15 hours a week, you can learn the required abilities and earn your $935 in the coming months.
By the end of this post, you will know exactly how to make extra money before Christmas
Note – This post may contain affiliate links to products I trust. This means if you make a purchase using the links I may receive a small commission at no extra cost to you. Thank you for the support!
1. Sell off unwanted stuff
We all have unwanted things in our house. This is the best time to look through attics, basements, garage and decide on things you need to bid adieu.
If you are lacking time (I get you moms!), you can sell online using platforms like Decluttr. This is available only for the US.
In case you are based out of other countries, you can sell stuff on eBay or the new Facebook Marketplace. You can also join local buy and sell or garage sale groups on Facebook.
Note: I highly recommend reading The Beginners Guide to Selling on eBay as it will help you learn about selling on this platform for profit.
If you have a free weekend or get help from a friend, set up a garage sale. This is the best option if you have quite a lot of objects to sell.
You can easily earn $100-300 by selling off unwanted things.
I recommend you to read 5 Ways to Get FREE Items To Resell for Profit as it will help you learn how to make money by selling items.
2. Swagbucks:
You knew I am going to talk about Swagbucks somewhere on this list, right? Everyone talks about it because it is legit and requires minimal effort.
So, why not spend a few hours each day earning Swagbucks? All you have to do is answer surveys, watch videos, answer a question etc. These are extremely easy tasks against which you get SBs.
These SBs can be redeemed into your Paypal account or a gift card. You can sign up here.
You get $5 on signing up! yay!
3. Drive uber
Just sign up and start driving Uber in your free time.
Try to focus on the surge price times, for example, late in the nights on weekends. According to this, you can log out of the driver app 15 minutes before you anticipate surge pricing and then log back in.
Logging out decreases the cars in the area and pushes surge pricing. You can also read up other hacks in that post (linked above) to boost your earning as an Uber driver.
This is how to make extra money before Christmas 2018 rather quickly!
4. Write for websites that pay
You do not need to have your own blog for this.
Look – content is the king and many websites pay freelance writers to write good quality content for their website.
Just google whatever you are looking to write + guest post. For example, travel + guest post.
You can also check gigs on Craiglist and these 3 recommended job boards.
This post by Saranya of OneFineWallet compiles a list of websites that pay you to write.
5. Start a blog
Many (in fact, many) bloggers make $500-600 by their 5 months of blogging.
If you like writing and marketing, blogging is for you. You can write on a variety of topics like finance, savings, earning cash, freelancing, lifestyle, fashion, beauty, parenting, pregnancy, mom life etc. Select one of them and start creating content
Monetize your blog using affiliate links, ads, or sell your own products/services.
You can start a blog with as little as $3.95 a month or Rs. 276 a month (if you are in India, you can also opt for Hostgator for Rs. 350 a month) or go with the free options.
You can use this step by step tutorial to get your WordPress blog up and running
Related:
I highly recommend using this to build up blog traffic using Pinterest. Carly discusses the strategy that helped her reach 200k from 0 by manually pinning each day.
You can also check out Traffic Transformation Guide, which comes highly recommended by many and is reasonably priced.
Besides this, if you are COMPLETELY new to blogging (and have no idea about what and how it work)), you have to read Ruth Soukup's – How to blog for profit without selling your soul. It gives you all the information you need to know to blog for profit.
6. Teach online
If you have 2-3 hours each day, you can sign up with these websites and teach online.
7. Flip things for profit
Did you know you could sell things lying in your house for a profit?
I recommend you to read 5 Ways to Get FREE Items To Resell for Profit as it will help you learn how to make money by flipping items.
You can also buy things at thrift stores, flea markets, garage sales and flip them for profit. Meaning, sell them online on platforms like eBay, Facebook Marketplace, and Craiglist.
I highly recommend you to read what to sell to make money online and this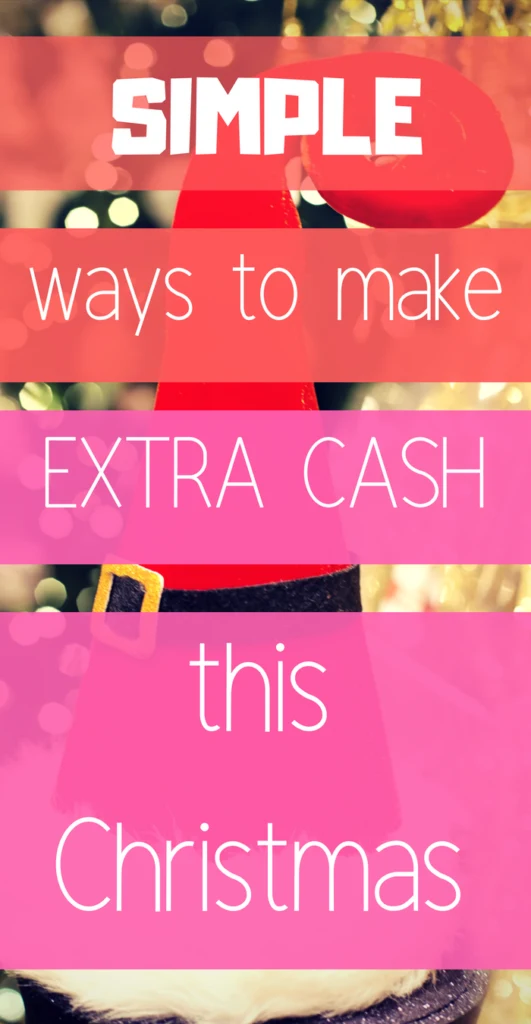 8. Babysit or Housesit
You can babysit as well as house-sit in your area.
Spread the word in your neighborhood and get some extra cash. If you looking for house sitting, you can register yourself on websites. Just Google housesitting websites.
9. Surveys
There are many LEGIT survey companies that pay you to take the survey. You can read this to know about it more.
If you are in the US or Canada, this is your answer to how to make extra money before Christmas
10. Stock music, photos
If you own a decent camera or a phone, start clicking pictures and selling it online. You can read more about it here.
Similarly, if you can create stock music, you can sell it online.
Wondering what is stock music? Just like stock photos, stock music can be used by anyone. You can sell these tunes on multiple platforms. This discussion on Quora can get you started
11. Renting a room
Have a free property or room in your house? Then, you have your answer to how to make extra money before Christmas.
This is the time to rent it out and earn extra cash before Christmas. You can read this post on how to rent a room in your house and earn a full-time income.
12. Rent out clothes
Do you own a lot of amazing clothes that your friends are jealous of?
Well, utilize it then. You can rent out clothes for a while and earn your $935 before Christmas arrives. Just Google "rent out clothes" and explore your options.
No more do you need to think how to make extra money before Christmas!
13. Virtual Assistant
Become a virtual assistant to business or bloggers. You can offer any of these 150+ services and earn $20-50 an hour.
This post will help you in getting started.
14. Freelance writer
I am a freelance writer and a non-native English speaker who totaled at $900 in the first month of freelancing. I share my strategies here which helped me earn $1400+ within first 3-4 months of actively freelancing.
If you want to seriously earn a full-time income becoming a freelance writer and VA are great options.
All you need is a basic website to sell your services and attract clients. This is a step by step guide of creating an SEO friendly website that attracts relevant readers
Related resource:
This can also help you KICKSTART freelance writing and earn your first $1000 as a writer WITHOUT any experience.
If you are looking for a FREE resource, you can sign up for my course where I share the strategies that helped me earn $1000+ every month.
Other courses and groups that I highly recommend are the
Writers Den by Carol Tice: This is a community for freelance writers (whether you are a novice want to grow your business 2X). This is NOT a course, but a paid online community where you get FREE access to bootcamps, live events, support by others and Carol's guidance. Grow your online income…Join freelance writers Den.
30 days or less to freelance writing success by Gina Horkey is an excellent course for starters as well as writers who want to scale their business. I highly recommend reading this before you check out the course.
Killer Cold Emailing by Jorden Roper – Jorden was fired from her job when she decided to be a freelance writer. In over less than 6 months, she started making $5000+ a month and shares all her secrets in this course! If you are a newbie who wants to scale fast, I recommend buying this course. By the way, she is a college DROP OUT!
Freelance writing is an answer to how to make extra money before Christmas as well as how to make a full time income from home!
15. Affiliate marketing on Pinterest
You read it right! You do not need a blog for all affiliate marketing programs.
Use affiliate links on Pinterest and earn money. Before signing up for any program, do check their requirements.
I highly recommend Pinteresting Strategies to drive traffic to the Pinterest account. This is the ONLY course that teaches you to manually pin and specifically tells you to avoid Tailwind like tools in the beginning
This post by Mom Make Cents elaborates on how to use affiliate links on Pinterest
If you are looking for side hustle ideas or other ideas on how to make extra money before Christmas, I recommend you to read
Your turn –
Do you have your answer to "how to make extra money before Christmas?" Which one did you like the most?