If any of you asked me about voice over jobs for beginners from home a few weeks back, I would have known NOTHING. I would have stared blankly at you wondering if this could really be a LEGIT work from home option.
But, over the course of time, I have learned a lot about becoming a voice-over artist, looking for voice over jobs for beginners from home and boost your voice acting career online.
Did I feel there were WAY TOO MANY "voices" in there or they actually were? Anyway!
The question today is – how can you become a voice over online artist? But before that, we have a few things to know about voice over artist jobs from home.
#4 What are the types of Voice Acting or voice over jobs?
Radio and TV commercials – Radios and TV provide a large chunk of voice over jobs. Usually, you get 15, 30 or a 60-second spot and they do not take a lot of time to record. However, commercials require you to understand the copy and give it a relatable character.
Educational E-learning – Any voice over jobs in this category require you to teach a subject you aren't familiar with. Though it can be a challenge, the more you do it and the better you will get at it. You are generally required to deliver in a manner which keeps the audience interested over the period of time.
Audio Books – This is one of the most interesting types of voice over jobs. Audiobooks can take weeks to create and are a great source of constant income. Audiobooks could also be kids storybooks, self-help, romance, fiction etc and the style of voice depends on the subject matter.
Phone Prompts are used to keep your customers entertained when they are put on hold. Businesses uses these to assist callers in finding the right person to speak with. These announcements (when on hold) generally promote services and products provided by the company. All you need is a friendly conversational tone!
Besides that, you will also find voice over artist jobs for beginners from home in these niches
films
dubbed foreign language films
animation shorts or films
tv programs
commercials
radio or audio dramas
video games
audiobooks
live events
awards shows
toys and games
vehicle and transportation
documentaries
phone message and IVR
promos
trailers
training / e-learning
podcasts
#5 What skills do I need for voice over jobs for beginners?
Neither do you need a college degree, nor do you need an academy award for acting skills! However, you do require to work on two important skills –
Ability to Voice Act – You are providing voice over for a character. It is becomes crucial that you understand who is speaking, who is your character speaking to and the emotions your character is experiencing. It is important to be able to interpret the script and give it character.
Basic technical skills – You don't have to be a coder! All you need to know is working with emails and simple audio recording software.
Note: If you want to know more about voice acting, voice over jobs and voice over training, you should
check out this free course
. It will answer all your questions about starting your voice acting career.
#6 What do you require to run a voice over artist business from home?
A quiet place where you can do the recordings. This place should be away from any noise from the outside
A good quality microphone in order to record
A mic stand – Sometimes it becomes uncomfortable to hold your microphone and record the whole time. A mic stand makes it easier for you. However, you can invest in a good mic stand once you start getting better at voice over jobs
Pop filters are put in front of the mic to reduce the noise (especially the "S" and "P" sounds) and transmit the sound evenly.
A computer or a laptop
Fast internet connection
Audio software (like Audacity) to record, edit, and save your audio.
#7 How Much are Voice Actors Paid, especially voice over online artists? How much can you get paid for voice over work?
Like every other work from home option, rates vary based on experience and the job itself. That said, you can expect to make anywhere between $100 – 300 per minute of the audio.
Besides this, Julie Eickhoff has a great course on learning voice over jobs chops. She has been working from home doing voice overs since 2011. She has narrated and produced around 100 audiobooks and is an Audible Approved Producer.
She has worked on a variety of projects including eLearning training modules, web videos, movie theater ads, radio ads, television ads, telephone surveys, corporate videos and has worked with a variety of advertising agencies, production houses and project managers. Her voice has been used by Samsung, Best Western, GE, ING, Prentice Hall, Pearson Learning, Nextiva and Goodwill of the Great Plains.
#11 What you learn in this voice over training online by Julie Eickhoff?
To give you a brief, it includes
Module 1: Choosing and Preparing a Place to Record
Module 2: Recording Equipment [She says, these equipment are extremely inexpensive and recording software is covered by the course]
Module 3: Skills [this includes using microphone, mics along with warming up and protecting your voice. She also covers reading and interpretation of the script]
Module 4: Where to Find Work and how to create demos
Module 5: Running Your Business [We discuss business entities, record keeping, your company name and logo, websites, talent agents and how you get paid]
Module 6: Doing the work and rates
Module 7: Free Voice Review! You receive scripts to record and Julie will give you personalized feedback on your delivery, script reading and interpretation skills and also give you descriptors of your voice. It's like a free coaching session!
PLUS, You'll be invited to her Facebook Group! A great community where you can ask questions, share accomplishments, ask for feedback on demos and learn about audition opportunities.
If you are interested in this course, Julie also has a FREE voice over training course which you can access here.
#12 Is this voice over training course for you?
According to Julie – All voices are needed, from perky young voices to mature and educational voices to character voices.  This course is jam-packed with information on how to get your voice over business up and running.
It has the potential to replace your full-time income. You can also do it part-time.
There you go. Everything you need to know about voice over jobs from home.
If you have any questions about voice over jobs from home, comment below and let me know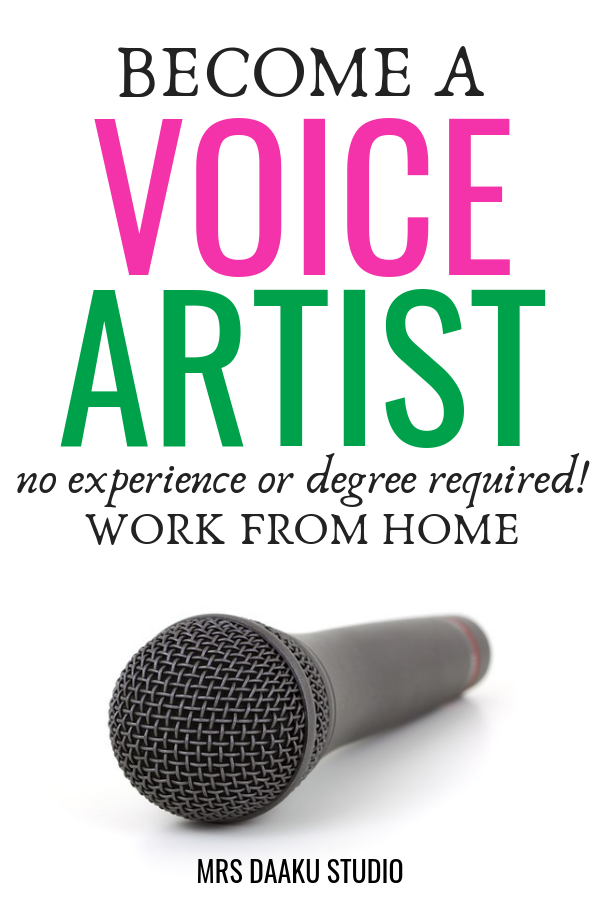 Check out "Start a blog with ease" series and get started with your blog. This has all the information related to blogging and how to make money blogging for beginners.
Resources to help you get started working from home –
50+ work from home options that are high paying
How to be a freelance proofreader and earn $40000 a year
Jumpstart your work from home career: Ready to work at home, make a sizable income, and spend MORE time with your family, but have no idea how to get started?? This is exactly what you need! It helps you with how to start freelance writing the right way!
Also, do NOT forget to check this out if you are overwhelmed with the information and starting to work from home. It is a resource that can get you from being overwhelmed to overbooked with clients! No exaggeration.
Skillshare – Skillshare is my go-to place to learn a new skill without having to splurge hundreds of dollar. It is an online learning community where you can explore thousands of classes in design, photography, business, and more. You can get started with a free trial using my link and get access to hundreds of courses. 
FlexJobs If you are a freelancer, you should sign up with Flexjobs. It will help you go through great flexible job listings from legitimate employers quickly, easily, and safely. Every single job on FlexJobs is hand-screened for legitimacy, with no ads or scams mixed in, and every single job offers work flexibility such as telecommuting, freelance, part-time or other flexible options.
Pinteresting Strategies– If you are interested in making money online (either with blogging, e-commerce store, digital products or anything else like coaching or writing services), let me tell you one thing – You need Pinterest. In any course you may buy for business, they recommend investing in Tailwind app (the only permitted scheduler for Pinterest)
Many of you, on a tight budget, would not be able to (or want to) pay for it. But, Carly Campbell has figured out a way to go from 1 to 300k by manually pinning on Pinterest. She is a Pinterest strategy goddess, grab her book Pinteresting Strategies. Using her tactics, I quickly scaled from 0 to 150k views. You can also signup with my link and get a month of Tailwind plus free (if you want to try it out before investing ANY money into it).