It can be difficult to find remote jobs for beginner freelancers or people seeking work at home jobs, but there are so many work from home or remote job websites that are legit.
When I started out as a freelance writer, I was confused and did not know where to start looking for legit remote jobs. There were so many remote job websites but a lot of them seemed like a scam.
But then, slowly and steadily, I was able to create a list of go-to remote job websites that helped me land freelance gigs.
In this post, I am going to share a lot more websites than I have personally used to land remote jobs. In my research and proofing, these are legit work at home or remote job websites. That said, before using any of them or giving away any personal information, do carry out your due diligence.
So, let's get started.
One of the MOST trusted remote job websites available today. You can sign up here.
Flexjobs might be the only entry here which has a job listing for just about anyone looking to work from home. Whether you are looking for a full-time work from home job, part-time job, tech, non-tech, freelance or you are a homestay mom, military spouse, a caretaker with a health issue, you will find a job at Flexjobs.
While Flexjobs certainly is the best platform to search for legitimate work at home jobs or legit remote jobs, it's not entirely free and does come with a small membership fee. The fee is mere $14.95 per month and it's totally worth it in my honest opinion.
We work remotely claims to be the largest community in the world with over 2,500,000 visitors and 77K plus legit remote jobs posted on the website. It is one of the biggest remote job websites in this post.
They are great remote job websites that list work from home jobs in every field such as marketing & sales, IT, Programming, Design, Business & Management, Legal&Finance etc. These are the categories you can look at remote jobs for –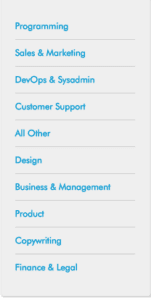 Working nomads is a remote job website that was started by Peter Marcely & Marie Uherkova. They left 9 to 5 jobs to start a new venture which provides freedom from commuting and let employers connect with talents across the world.
Working Nomads curates lists of the most interesting remote job offers in many professional areas. Its completely free for job seekers and has a huge number of job postings.
Here are a few categories you can look for on this remote job website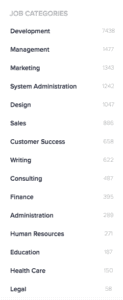 Angel list has revolutionized hiring among startups and one of my personal favorite remote job websites. It is the best place to feed your hunger for knowledge, passion to work remotely in a high paced learning environment and work on cutting edge technology.
Angel list has curated a list of startup jobs who are looking for talent from all around the globe. While not all jobs listed here are work from home jobs but they do have a lot of startup's who are looking to collaborate with people who can work remotely.
All you have to do is select "remote OK" for the location category. I have personally used this platform and love it!
Remote OK has a huge listing of location independent or legit remote jobs. Again, one of my favorite remote job websites.
One can find tech as well as non-tech related jobs here. Each job posting is tagged by date posted, skill tag and clicking on any job posting expands the full job profile view with an "Apply" button next to it.
This is another remote job platform that I have personally used and it has some great job listings.
This post may contain affiliate links to products I trust. This means if you make a purchase using the links I may receive a small commission at no extra cost to you. Thank you for the support!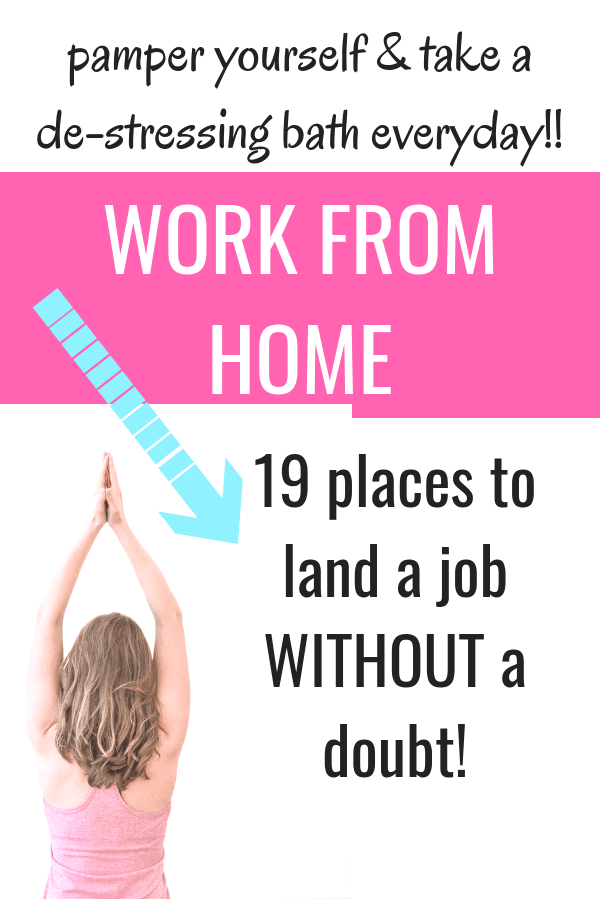 Virtual vocations was founded by Laura with help from her brother Adams. They also have a small team to manage work from job listings.
This work from home job portal curates tech as well as non-tech job listings. Virtualvocations requires users to register first which then provides partial access to their remote job listing database for free users.
The paid version provides full access to the database, receive priority alerts and track job application history among other benefits. While I haven't used it personally, virtual vocation seems like a great remote job website.
Skipthedrive is completely free for users looking for a remote job. One can search for jobs by keywords or various filters. You can also set alerts for jobs.
Jobspresso provides an opportunity to work with tech companies. Jobs listed on Jobspresso are completely remote jobs and location dependent.
It is completely free for job seekers and is a good platform to search for work from home jobs.
Europe Remotely is a unique entry on this list. Europe remotely curates work from home jobs which require you to work in European time zone whether you live in Europe or any other part of the world. Most of the remote jobs posted on Europe remotely is related to tech but it lacks the keyword search feature.
Remotive was founded by Rudolph with an ambition to convince companies to consider remote employees, connect them and give a boost to remote job economy.
It claims to have 25K+ email subscribers from more than 185 countries. Remotive is completely free for job seekers and has a huge listing of different sort of remote jobs.
Stackoverflow is a message board website for software developers to communicate and ask technical questions. Although its just a message board, it has a huge number of following in tech circle.
You can find a lot of work-from-home tech tech-related on stackoverflow.
Powertofly is a special website to look for remote jobs. Powertofly is powered by today's women to help other women elevate their career. It curates jobs that match women's lifestyle needs and provides a platform for them to network and communicate.
Ziprecruiter claims to have posted 8 million remote jobs till date. It is free and easy to join remote job websites.
Once you create the account and upload, its very simple to find your dream job and apply in one click. Apart from hassle-free job search and applying for it, they also keep you posted on your application status. That is definitely a plus!
Authentic jobs are proper resume aggregator website. Its one of the top job portals for developers, designers, and creative engineers. While its mostly know for regular 9-5 jobs, you can find remote jobs with "wireless" logo next to the jobs which indicate that its work-from-home job.
Freelance offers one time gigs as well as fairly complicated jobs for freelancers. Whether you are looking to design a logo, work on WordPress website or you are a mobile app expert, you don't have to look anymore
The Muse believes in connecting emerging talents to employers and in the process paving the path for fulfilled career development. It is free to join and one can easily search and apply from numerous remote jobs in different categories.
The Muse also provides coaching and courses and advice if you need one.
Fiverr is the best place if you are a designer. It focuses on small gis such as editing images, creating Facebook ad'sads logos etc.
Fiverr also has high paying client for serious designers. The Fiverr pro version gets you verified and features you on their pro page
I am pretty sure you have heard about Upwork. It is a totally legit work at home website with legitimate work at home jobs.
It provides all sort of full-time, part-time, work-from-home and freelancing gigs. Once a remote job is posted, you can approach the client with your bid, collaborate and start working once you finalize the deal.
This platform is best when you are starting out and creating a name for yourself. However, it is difficult to land high paying clients on this platform, so my advice – move on from it as soon as possible and explore cold emailing.
Guru is the perfect platform for someone who wants to work as the freelancer.
It was started with an ambition to connect quality freelancers with potential employers to collaborate and work securely. Guru boasts staggering numbers in terms of members worldwide, remote jobs completed and money paid to Guru's
You can sign up for daily, weekly or monthly newsletter update.
99 Designs is the perfect remote job website for you if you have some graphic designing skills. It is a completely legit remote job websites and you can find well paying clients on this portal.
I found this remote job website while researching and was amazed. It is a remote job website for MOMS who want to have a flexible job. Not only can you find freelance jobs on it, but you can also find full-time, part-time and contract based jobs. Sign up if you are mom!
It is one of the rare remote job websites that offers both local, and legit remote jobs. If you are a designer, creative entrepreneur or a hacker, this place is the best to look for a job.
This is one of the few remote job websites that focus on attorneys. They are a digital law firm that hires attorneys locally or in remote positions.
This is one of the trusted remote job websites. All you have to do is create a profile and search for the jobs.
It is a great remote job website for freelancers in the fields of content creation, marketing and social media. You can get a gig between 30-50 USD an hour.
It is a popular remote job website for startups. It also regular full-time jobs, so all you need to do is set up the remote filter.
Hubstaff Talent is a new remote job website. It connects freelancers and businesses. You can find jobs in various fields – tech, development, writing etc.
One of my favorite parts of this remote job website is the fact that it does not list tech-related jobs at all. You find a great combination of different fields like legal, health, youth etc.
It is a remote job website that is ideal for freelancers and people interested in data entry, cleaning, and related jobs.
This is a legit remote job website that is designed for women interested in tech. Once you join the platform, you will go through vetting and matched with a job. You will also be required to go through a test.
This is one of the BEST remote job websites. It has a job board related to writing and social media
It is another remote job website that provides location independent jobs. They also send you a newsletter every two weeks with new job listings.
Fairly new remote job websites that have many options for women. This platform can be used for short term projects as well.
If you speak more than one language or work as a translator, this is a good platform for you.
Most of the jobs that are listed on this remote job website are tech related. It allows you to filter for part-time and freelancer
It is a large translator network. It has good quality translation work for freelancers
There you go. If you try out these 19 work from home websites, you are sure to land a dream remote job.
It is a great place for product and customer service experts. Clients look for remote assistance to help their e-commerce shoppers.
But before that, let me share a secret. Actually, it is not so much a secret. If you want to be successful at work at home or remote jobs, you need to constantly work on your skills.
So, my #1 recommendation is to sign up for Skillshare. It is a platform to learn new skills for free. You can sign up using my link and get 2 months of premium content free. You should totally sign up and start utilizing this limited offer I have for my readers.