How to sell old clothes for money? – A beginners guide!
Are you wondering or spent time looking for answers to these questions –
How can you get money for your old clothes?
Where can you sell old clothes and make money online?
What are the best sites to sell clothes on?
Where can I sell my clothes online?
Where to sell used clothes for cash near me?
If yes, your search is over. In this post, we will talk about 17 different platforms to sell old clothes, shoes, accessories and much more along with giving you some great tips to get the best out of selling online
Note – This post may contain affiliate links to products I trust. This means if you make a purchase using the links I may receive a small commission at no extra cost to you. Thank you for your support!
Download some of the amazing FREE resources on selling on ebay –
Want to make money quickly? Here are a few platforms to earn up to $25 – $50 in a few minutes!
1. DePop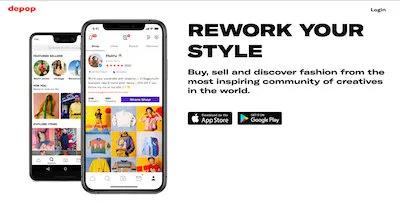 Best for: Selling old Vintage clothes, quirky items. You may sell pretty much sell anything on the platform, including, shoes, jewellery, lifestyle items like posters, books, records etc.
Charges: 10% of each sale + Paypal fees (which changes according to your country)
Pros: It is extremely simple for beginners to use and make their first sale selling old clothes.
Cons: None.
DePop is a great app for buying and selling old clothes. It is designed to work like Instagram – you will have to upload the photos in squares and can have a series if you like with a caption at the bottom with more information.
Besides uploading the photos, you will also be required to set the prices and select the item size.
While you can sell old clothes on this platform, it is best for vintage and quirky items. They tend to sell out fast!
2. Vinted
Best for: Branded products/clothes like Zara, Mango etc are popular on this platform.
Charges: Not for the seller, yay! However, your buyers will be charged a small fee on every purchase.
Pros: You can sell anything on the platform. If you can grab an item that is popular on this platform, you can sell it for twice the price and you will get buyers easily! (Yes!)
Cons: Products/items that are new and less unused tend to do much better on the platform. So if you have a Zara dress that did not fit you, it is much more likely to sell of than a dress from a couple of years ago.
Vinted is quite similar to Depop where you can sell anything including lifesytle items. All you have to do is upload the image, set the price, and package items once they are sold off.
As compared to Depop, Vinted is known for an older audience.
However, in comparison to Depop, Vinted has a slightly older target audience – you're more likely to find your mum on there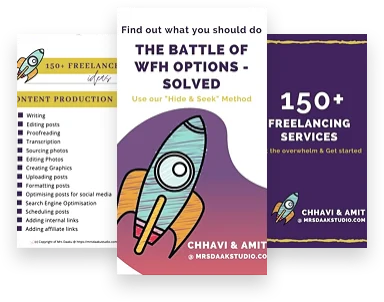 3. Ebay
Best for: Everything. If you are into online shopping, you know that anything and everything sells on eBay.
Charges: 10% charge on all sales
Pros: Not only can you sell old clothes online, but you can also sell shoes, jewellery, quirky and vintage items etc.
Cons: People sell anything and everything on the platform.
Relevant Read: Best items to flip on eBay (+ how to start reselling for profit)
Ebay, as you already know, is widely popular and is a great option for selling clothes online for extra cash.
Before you start selling on eBay, you should always do a little research on
what buyers are searching for
the keywords that they use
niche markets
in-demand products that sell quickly etc
With eBay, you also get two options at the selling point.
First, you can place a buy it now button and a set a non-negotiable price. Just like any other online platform.
Secondly, you can opt for an auction and let the buyers place bid and decide the price. You can always set a minimum bid to cover your expenses and to ensure you are not in loss. Auction is a great way to try your luck for a bumper price.
Selling old clothes on ebay might just be worth it!
4. Preloved
Best for: Selling old clothes, second hand items and much more. It is a classified ads site.
Charges: No charges.
Preloved is a classified ads site that lets you list things in your local area. It is a bit similar to Craiglist.
Not only is Preloved free of charges, but it focuses on local listing which can help you save on postage if you decide to sell on this platform. You are allowed to use 3 pictures per listing!
Always fill up your profile so buyers know you are for real.
5. Facebook Marketplace
Best for: Selling locally
Charges: Free
While Facebook Marketplace isn't the best place to sell old clothes online, it is still a free option and worth a shot.
You are required to upload items in the traditional way. I recommend not using this platform if you have vintage clothes or niche items. However, if you have a bundle of normal clothing, you can give this a try.
6. ThredUp
Best for: Hands free selling and decluttering
Charges: They keep 80-90% of total sales
ThredUp is a consignment shop. So if you were wondering do consignment shop buy clothes, here you go.
You are required to print off a shipping label, tape it to the box and fill it with your old clothes, bags, shoes, accessories, etc.
They will rummage through all of your items and decide what they want to keep and resell. Any item they find not worthy of selling is donated to a charity or shipped back to you at an extra $16 in fees.
The best part is ThredUp has a payout estimator on their website to give you an idea on how much can you sell old clothes for.
While it sounds great, it isn't the best place to sell if you want more control over the items and how much they are sold for. Everything is handled by their teams and when they sell one of your items, they will send you commission
They keep about 80-90% of the sale total. Also, they only accept about 40% of clothing sent in, so don't be surprised if many of your items are not taken.

Photo by Priscilla Du Preez on Unsplash
7. Rebelle
Best for: Designer clothes and bags
Charges: 17% – 33% commission
Want to get rid of some of your designer clothes? If yes, Rebelle is your best option to sell old clothes online.
You will list the items and then send it to Rebelle. They will check the quality and authenticity of the brand before accepting it. Once the item is sold, they will post it to the buyer and send in the commission to you.
8. Mercari
Best for: All types of old clothes, shoes, accessories etc.
Charges: They will take 10% of your earnings
Cons: They are known to deactivate listings with no recent activity.
Mercari is the selling app used to sell your clothes along with others old or second hand items that you might have. All you have to do is snap a picture, upload it, fill the description and you are done!
It is very similar to Vinted (the one we talked about in the beginning).

9. Tradesy
Best for: All types of old clothes, shoes, accessories etc.
Charges: For items sold under $50, Tradesy takes a flat rate of $7.50. A commission rate of 14.9% applies for items above $50. Besides the high fees, it also takes up to 21+ days to receive payment which can get annoying for sellers that need money quick.
Tradesy is a selling app geared towards high end designer items. You can sell high-end old clothes, shoes, bags, accessories and wedding dresses. You will ship the items through a free prepaid and addressed shipping kit. In case of any returns, Tradesy will handle it for you.
The app also prompts the price at which you should try selling the item for.
10. The Real Real
Best for: The Real Real takes a specific list of brands.
Charges: 50%-70% and they decide the selling price. They are known for an evergreen coupon for 20% off. If you have something priced at $100, it will sell for $80 and you will get $40 instead of $50. The discount increases if the product is on shelf for a longer period of time.
The Real Real handles everything for you. Just like ThredUp, all you have to do is pack up the old clothes and send it off to them.
11. LePrix (Formerly SnobSwap)
Best for: All products
Charges: The fees is not upfront and transparent. It starts at 15% but unknown after that.
LePrix has three kinds of services available to sell old clothes and items online
First, you can find a boutique near you to sell the luxury or high-end items.
Second, you can apply to become a boutique partner online. The buyers will make an offer and you will have 48 hours to negotiate it.
Thirdly, they have white glove services. That means, LePrix will handle everything from the beginning till end.
12. Vestiaire Collective
Best for: Luxury items like Chanel, LV, Celine etc.
Charges: Their fees are also higher according to their calculator.
Sign up for an account and submit the item through the account. You will be required to take 3-5 photos of the item and send it to them with all the information including description, measurements, condition and proof of authenticity.
Shipping is prepaid on them. Pay out is on the 1st and 15th of every month.
Their major audience is from the Asia and Europe, so they are not well known in the US.
13. OfferUp
Best for: Selling old clothes locally
Charges: No fees and sells locally
You are required to provide them identification, phone number and TrueYou verification systems.
The app is user friendly and buyers can leave reviews. The best way to get your product selling is to find the time local audience is most active on the app.

Where can I sell my clothes for cash near me?
It is always easier to sell old clothes locally. So, if you were thinking where can I sell my clothes for cash near me, here are a few options –
14. LetGo
Best for: Selling old clothes locally
Charges: No Fees
The sellers rarely fill out the description and give details. So, if you step up the game with details, quality photos, you stand a good chance of selling the items quickly
15. VarageSale
Best for: Selling all types old clothes locally
Charges: A lot of people find their policies rigid and dictated by local moderators who can be discriminator or biased.
The best part of VarageSale is that every seller is confirmed and identified. You can sell anything locally including a range of clothes.
16. Craigslist
Best for: Selling all types old clothes and other items
Charges: Free
Craiglist is a classified ads site that can be used without a fee. You can sell anything locally – old clothes, shoes, electronics etc.
If a product is priced right, it will definitely sell. After all, Craigslist has the require amount of traffic from all corners of the world.
Considering the platform is not invested in weeding out fake profiles or scams, you need to be as detailed as possible. So, you can step up the game with details, description and photos.
Listings expire in only 1 week and you have to manually go in and renew them which is very annoying.
Tips on Selling Your Clothes Online
There you go. Those of some of the best platforms to sell old clothes and other accessories on.
Depending on what you want to do and your inventory, you can pick and choose the right platform for your needs.
1. Brand recognition:
If your buyers know or have heard of a brand, there is trust. There are many brands that will always sell well on a clothing shop depending on where you located.
In case the brand is not globally known, it is always good to give out details of the brand and how it is a known brand locally.
2. Take season into consideration
If you are selling sweaters in summers, you may not be able to sell out quickly. So, be aware of the seasons and your target audience.
3. Do it right away
The older and out of season your clothes get, it become more and more difficult to sell them off. So, take out sometime this weekend to sort out the old clothes and start listing them as soon as possible.
4. Sell locally first
You can save a lot when you decide to sell locally. For heavier items, you do not have to pay shipping costs. For example, if you were to ship a overcoat, it would cost you money. But, if you sell it off locally, you will save all of it.
5. For luxury apparels, go to platforms that are for it
If you have luxury apparels, stick with platforms that specialise for it. They have the right audience for it and your clothes will be able to sell faster on it.
In case, you have fakes or replicas of high end brands, AVOID anywhere that does not specialise in selling counterfeits.
6. Always take quality photos and provide description
Photos are really important when it comes to selling old clothes. Make sure they are clear and taken from different angles. You can also make some wear it and then click the photos. It is easier to do this when it is one-off
If you want to do it professionally and earn money regularly, buy a mannequin. Clothes always look better on mannequins than on hangers.
Once you have taken photos, it is always a good idea to provide measurements of the mannequin itself. Provide the bust and length measurements on clothings. While it may be time consuming and annoying to take this extra step, it will help you sell out faster and easier.
You can also avoid a lot of returns by taking this extra step. Most returns are because of the measurement issues.
7. Don't be rigid with pricing
If a buyer comes to you and negotiates, accept it if they are not lowballing you. The online market is tough and you would rather make a sale than make no sale at all.
A few other tips
If you have lots of views but no sale, you should consider reducing the price.
If there is any item that is not selling, you can try put it up for auction on eBay. Ensure you cover the necessary cost and make it buyer pays for shipping
Print your postage online or through the vendor rather than going to the post office. This will save you more money thanks to exclusive online/vendor discounts with USPS.
Try and find a niche. If you can sell retro, vintage or quirky clothing, you should be able to sell off quickly and make a decent commission. You will also be able to build a loyal customer base.
Be honest about the condition of the clothing. In the description, tell your buyers if it is stained, torn or have any other problem.
Always try to wash and iron the clothes before you send it out. It is always good to make your clothes presentable.
There you go. These are some of the ways to sell used clothes online for cash.
But, there is one more question I want to address. Can you sell clothes to thrift stores?
Guess what, you can! However, they may not take your used clothes. If you have known brands or high-end fashion with tags on, you can easily sell it to thrift stores near you.
Relevant Read: Best items to flip on eBay (+ how to start reselling for profit)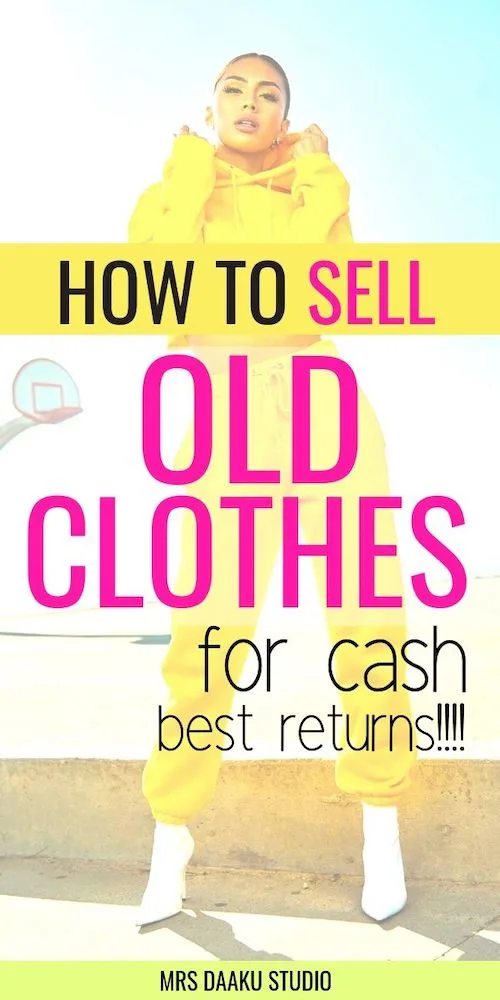 Actionable tips
Join my Facebook community and post your questions, wins and get the support
Resources that can help you with learning new skills and make money online:
Skillshare – Skillshare is my go-to place to learn a new skill without having to splurge hundreds of dollars. It is an online learning community where you can explore thousands of classes in design, photography, business, and more. You can get started with a free trial using my link and get access to hundreds of courses.
How to find and pitch clients your freelance services– Are you tired of looking for clients on Facebook groups and job boards? Did you land clients but they offered you peanuts? Well, the only thing you are missing in the picture is to learn how to find and pitch clients your services directly. Using the methods in the book, I was able to make $900 in the first month of freelancing and it has only grown from there. Check it out.
Become a work at home mom– A FREE training session that comes along with a workbook and guides you through the entire freelancing journey. Not only it tells you what is freelancing, but it also tells you the various option and how to go about establishing one (without any INVESTMENT cost).
FlexJobs If you are a freelancer, you should sign up with Flexjobs. It will help you go through great flexible job listings from legitimate employers quickly, easily, and safely. Every single job on FlexJobs is hand-screened for legitimacy, with no ads or scams mixed in, and every single job offers work flexibility such as telecommuting, freelance, part-time or other flexible options.
where to sell used clothes for cash near me