Recipe writing jobs online – Make money selling recipes from today
So, you are a cooking enthusiast who is wondering how to make money selling recipes.
Do you keep thinking –
How to sell recipes online and make money?
Whether you can sell recipes online AT ALL?
You probably have a lot of recipes already or you love to work on developing new ones.
But, how to make money selling recipes?

How much do recipes sell for?

Can you REALLY sell your recipes online to make enough money?

Are there any food business from home or creative ways to make money with food?
In this post, we will talk about 10 ways of selling recipes online for money and making it your full-time stay at home job.
One word of caution –

Before you sell your recipe online, you need to ensure you own the right.

Under copyright laws, making minor changes to an already existing recipe is not sufficient to avoid infringement charges.

Your recipe needs to be new and not obvious to others. So, fried rice, half fry eggs etc are not earning you any money.
So, let's start on how to make money selling recipes.
Want to make money quickly? Here are a few platforms to earn up to $25 – $50 in a few minutes!
HOW TO SELL RECIPES ONLINE?
1. Sell recipes online on Etsy
One of the outlets for getting paid for recipes online is Etsy.
You can also sell recipes online on eBay, but we won't be talking about it here.
I have seen stores who sell individual recipes, recipe books or a bunch of recipes put together in different styles (for example, this one is a large metal vintage box with a bunch of recipes)
So, how much do recipes sell for? How much are recipes worth? I checked that out too!
The average price of a recipe on Etsy start from $2 and goes up to 32 and more.
It all depends on the form (book, individual piece, etc), value, add-ons etc you are providing along with it. For example, this recipe library is priced at $116.
So, let your creative juices flow, promote the hell out of your Etsy shop and sell recipes for money.
I highly recommend you to read this article on promoting your Etsy shop and boosting your sales using this ONE tool
Recommended classes to sell recipes on Etsy

1. How to create Etsy product listing that gets seen
2. How to set up a profitable Etsy shop
3. How to sell digital product on Etsy today
2. Sell recipes for money to magazines
You can always sell recipes online and physically to food and drinks magazine.
Many a time, lifestyle, health, fashion and kids magazines are also on a lookout for recipes specific to their target audience.
You can submit recipes for money (online) to these magazines that pay for home recipes:
Taste of Home: Holidays are around the corner, and this is the best time to approach them. They have several contests throughout the year (especially this time around) where you can submit recipes and win awesome prices.

Cuisine at Home: If you have a unique way of solving a cooking problem, they pay up to $100 for it. So, submit your recipe or any amazing kitchen tip.

Cooking Light pays $50 and sends you a T-shirt upon publication. The email of their editors is given on the linked page.

EatingWell pays $1/word for articles that meet their publication guidelines

FamilyFun pays up to $1.25 per word for recipes

Healthy Living pays approx. $150 for a 1500 word post
There are many more online magazines that pay $100+ for recipes.
You can check out these blogging sites that pay 100+ for each article.
You can also check out this post on blogging sites that pay you $150+ for each article. You can find more websites to submit recipes for money!
Note – This post may contain affiliate links to products I trust. This means if you make a purchase using the links I may receive a small commission at no extra cost to you. Thank you for your support!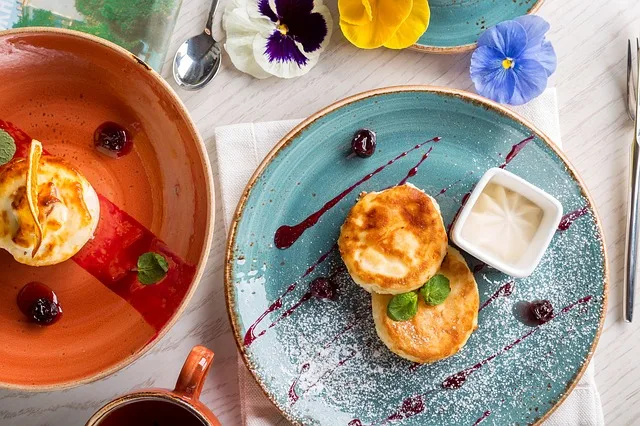 Freelance writing is a lucrative option if you love food. But, how do you make money selling recipes as a freelance writer?
Of course!
There are so many ways you can look for clients in this space. A few of your target clients can include
Check out Holly Johnson's course on Earn More Writing where she shares all her secrets to make $200k+ a year writing for others.
Bloggers & Magazines in these niches

Lifestyle
Health
Cook
Kids and family
Fitness


Food product companies
Health and Fitness related companies
Restaurants and food outlets
Business near you who sell products required to make these recipes
Dietitians
Fitness centers
You can find recipe writer jobs here
Upwork
Problogger
Blogging Pro
Craigslist
Related Articles for if you are interested in freelance writing career (and make money selling recipes)
How to find and pitch clients your freelance writing services
Freelance writing for beginners interview #5: Meet Lisa Tanner
Start a freelance writing business, interview #8 – Meet Kevin
How to start freelance writing: List of the must-have resources
What is freelance writing? – An ultimate guide
Building a freelance writing portfolio? Here are 3 ways to kill it!
3 freelance writing job boards to land your first gig quickly
What to do when freelance writing clients ask for a FREE sample?
10 ways to land freelance writing clients as a beginner
13+ online writing tools all writers and bloggers must-have
Get paid to write: 21 blogging sites that pay $150+
So, you can get paid for recipe writing and related things.
4. Start your own food blog and get paid for recipes
We all go online and search for recipes.
Most of them are food blogs by people like yourself who are cooking enthusiasts. Right?
So, why not capitalize your talent and start a food blog.
Not only can you monetize your blog with ebooks, but you can also earn with ads, sponsored posts (working with brands) and affiliate marketing
Recently, I interviewed this blogger and she makes over $100k a month blogging and YOU CAN too!
You can check out this article where 17 bloggers share how to make your first $500 blogging.
You can also check out my 17 bloggers share how to make your first $500 blogging
You can start by signing up with Bluehost.
Remember, blogging is not only about sharing recipes and it requires persistent efforts to drive traffic (so you can make money!).
Relevant articles to help you set up a blog:
How to start a WordPress blog/website using Bluehost: Step by Step tutorial
How to start a blog series – Understing setting up a blog basics
How to decide which hosting (Bluehost, Hostgator or Siteground) to buy for your mom blog?
How to launch a WordPress blog with Bluehost in 15 minutes?
How to come up with clever blog names?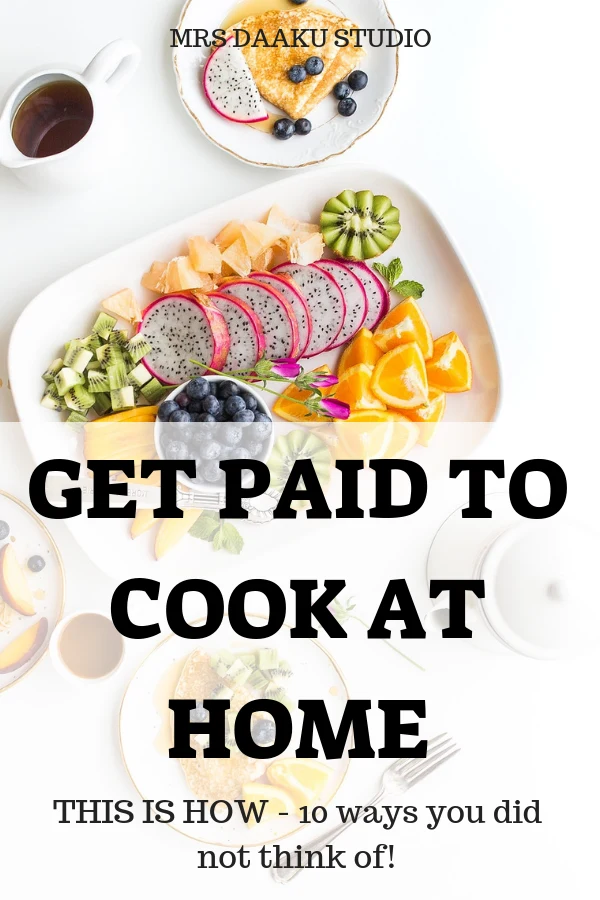 #1 blogging course recommendation (and, the only one you need for the food blog)
If you just starting out and want to do everything right in the first go Ready Set Blog for traffic IS IT.
Do you want to hear from a mommy directly on how she manages 3 money making blogs?
Do you want to start a successful blog without going crazy?
Do you already have a blog but aren't sure how to do drive traffic and make money?
If so, Ready Set Blog for Traffic is it.

This course builds up a strong foundation for your blog and tells you exactly how to get thousands of views quickly and make money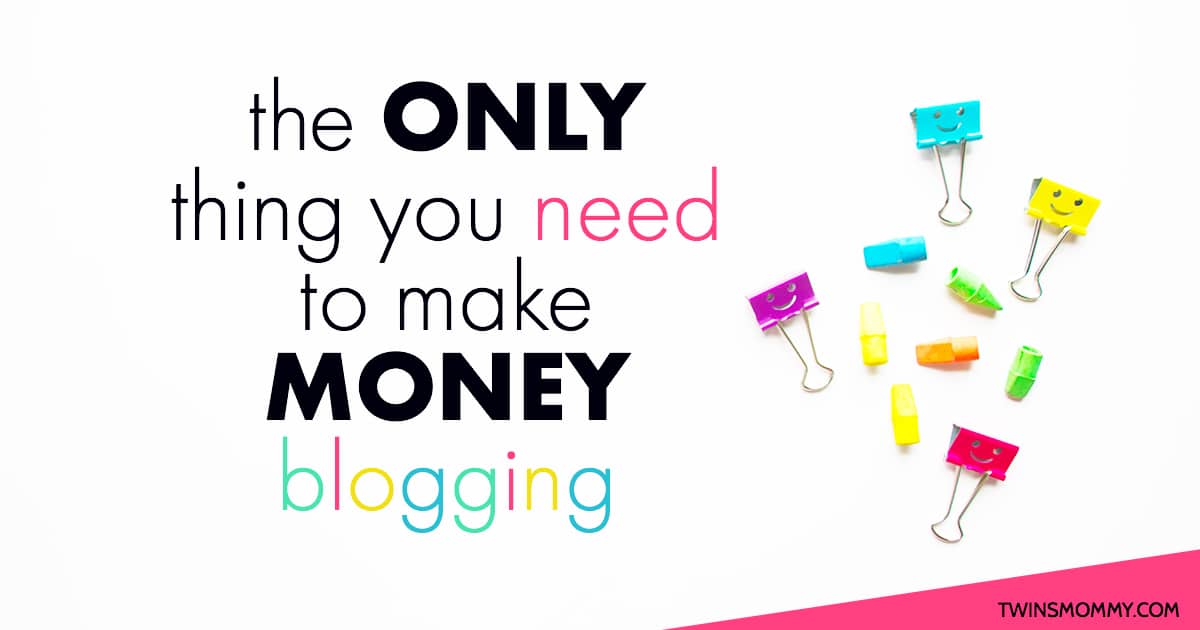 Brooke Allen (one of her students who I chatted with) has to say this –
I LOVE it. It helped me out a ton. I'm still working through the class but went from 1700 page views in July to over 35k in August using many of the techniques she teaches.
Here is what you will get (and more)
A plan for launching and growing your blog while mommy-ing full-time
Learn how to manage your time, mind and productivity (all VERY important for a mommy with kids at home)
Learn how to explode your traffic with 3 detailed tactics
How to write blog posts that attract your target audience
Sooo much more + tons of bonuses.
Click here to know more.
5. Write an ebook and sell recipes for money
We already saw how much do recipes sell for? What we might not know is –
Recipe books do extremely well on Kindle, so you should totally go for it. Learn how to publish your own ebook on Kindle and start selling recipes online.

This is definitely one of the best ways to sell your recipes online.
Put your recipes together, proofread the document (or hire a proofreader on Fiverr), upload it on Kindle and wait for it to be approved.
And, boom. You are selling recipes online for profit.
A few things to remember
Once you have published an ebook and earned money from it, you can write another ebook on how to make selling recipes *winks* or how to get paid for recipes.
6. Start a YouTube Channel
A lot of people, nowadays, find cookbooks old school and prefer watching videos or reading a blog post instead.

So, if you are thinking how much do recipes sell for nowadays; this is a great option for you.
If you have a decent camera, you can start creating your own recipe videos. Post them on YouTube and start your own channel.
Try different types of videos and see which one resonates with your audience. A few ideas
Filming yourself making the recipe as you provide commentary

Focusing on ingredients only (with only hands showing) as you provide commentary
Check out different channels on YouTube and take inspiration before you start your own.
7. Revenue Sharing
Companies like RecipeYum and Hubpages allow writers to submit recipes.
If your recipe is selected, you get paid on a revenue sharing basis (depending on the number of views it gets, etc)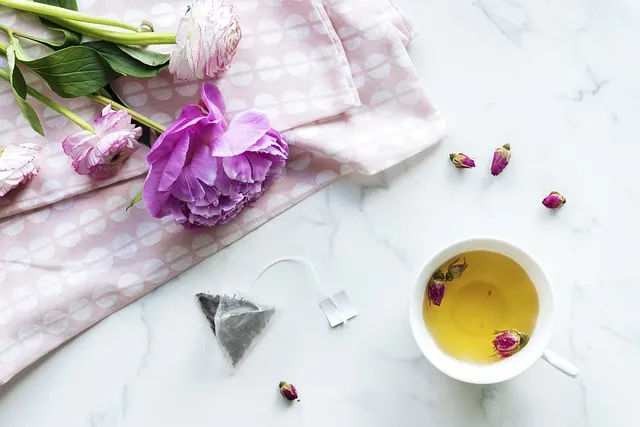 8. Sell recipes online to bloggers
If you ask me how to make money selling recipes, the first thing I would say is to market them to food bloggers.
Professional bloggers are extremely caught up with work, so buying recipes save a lot of time and stress.
You can start with Cooking for Engineers where you can submit any recipe for publication on their blog.
If your post is chosen, you get anywhere between $10 to $20 per recipe. You can also check out Crafty Morning.
However, they accept blog posts only if they have amazing photos.
If you want to earn more money selling recipes online and entice the more authoritative bloggers, work on a finished article.
Meaning, have an introduction, conclusion, top notch photos, ingredient lists, instructions, tips, and keywords.
Bloggers will ALWAYS come back and buy from you if all they have to do is hit publish.
8. Selling recipes to restaurants, companies and stores
Restaurant and many food companies are always on the lookout for new recipes. How much do recipes sell for in such places?
Sky is your limit!
Create a media kit which showcases testimonials, bloggers/companies you have worked with, kinds of recipes you have etc.
You can use PicMonkey or DesignWizard to create this PDF.
Start approaching and cold emailing companies and restaurants.
That said, be careful not to reveal too much about the recipe. You do not want anyone to be able to make it.
Check out this video on how to sell your recipe to Wallmart. It is extremely insightful and will help you sell recipes and make money
9. Freelance recipe developer
Brands, businesses, and restaurants are always on a lookout for recipe developer (and, they pay good money for it as well).
The best way of doing this is to pitch them directly. However, you may find some jobs online.
Before you develop any recipe or pitch any brand, study them carefully and understand their values.
For example, are they gluten free or are they specific to a diet (like Paleo or Keto).
Do good work, and make sure there is no copyright infringement.
This increases the likelihood of referral sales and working with the same company again.
10. Sell recipes on Facebook groups
Facebook groups are a great way to connect people all around the globe and sell your recipes online.
There are many groups that bring virtual assistants, freelance writers, bloggers, and other content creators together.
A few private Facebook groups to join
These groups have people who are interested in showcasing their work available for others to purchase.
So, submit a request to join the groups and get started.
That said, do follow the best practices and rules set by the group owner.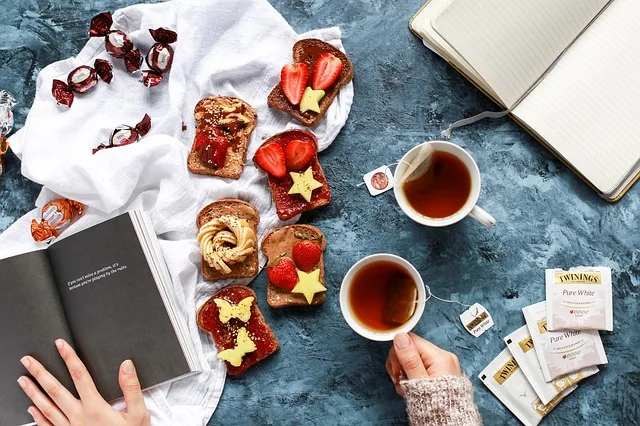 There you go –
You know everything about how to make money selling recipes.
Oh, one more thing. Before you sell a recipe, ensure you have a contract that covers all the important specifics.

It is necessary to protect your valuable recipes.

A few things to work on – whether you can continue promoting the recipe, who owns the copyright, payment terms and whether or not you'll receive credit for your recipe.
Now, OVER TO YOU.
Do you have secret grandma recipes you are proud of? Do you think you can make recipe selling your new work at home job? Do you have other ideas on how to make money selling recipes?
Pin me and let me know if you have questions on how to sell a recipe.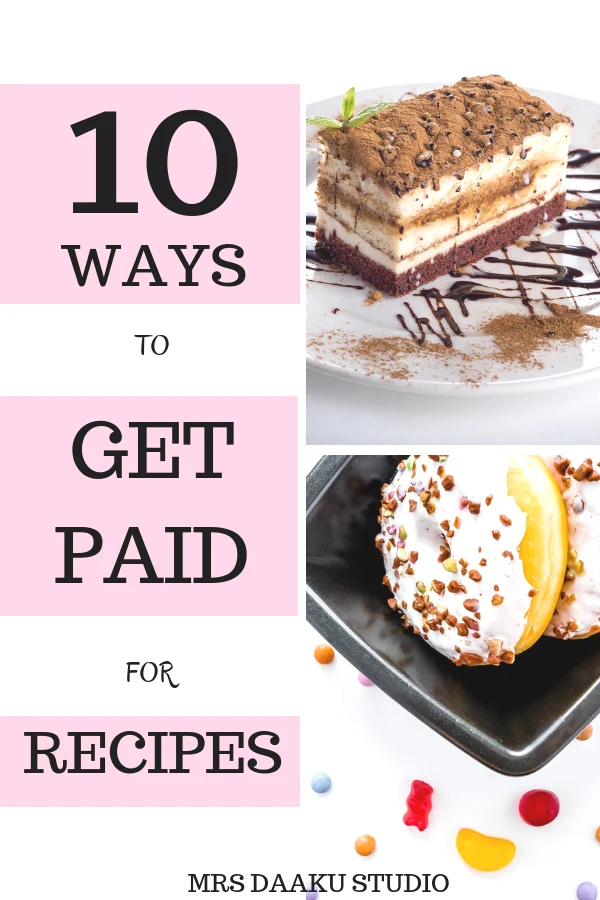 Food business from home – selling recipes online for money