Stella and Dot stylist review
Do you love accessorising and have a great sense of fashion, style?
Do you every think about becoming an independent stylist and make money working from home or online?
Would you call yourself compelling when it comes to selling anything (even a point, ;))?
If yes, this post can help you out.
We will be looking at a commission-based work at home stylist job with a well-known accessory brand named Stella and Dot.
This Stella and Dot stylist review post is a little long because it demands explanations at many points. But, if you stick by it and read through it, you will have all the necessary information.
Note: If you want to make quick money, check out Survey Junkie and Pinecone Research – the only survey company that I highly recommend for you!
So, let's start.
Note – This post may contain affiliate links to products I trust. This means if you make a purchase using the links I may receive a small commission at no extra cost to you. Thank you for your support!
I. What is Stella & Dot?
Stella and Dot is a well known jewellery brand that was started in 2003 by Jessica and has been featured in known lifestyle magazines like Gossip Girls and In Style.
However, as of today, it is a direct sales company that sell lot more than just jewels.
They are into selling boutique style jewellery, watches, handbags, sunglasses, clothes and much more through Stella and Dot independent stylists.
At this moment, they are a $300 mn direct sales company.
A large part of their success can be attributed to the massive network of independent stylists who sell their products and recruit other stylists!
They have successfully created what people call a MLM (multi level marketing).
While I do not have much love for it as an option to make money online, they have truly built it well and we will see why I say that. We will talk about this in detail later in the post.
If you decide to join Stella and Dot as an independent personal stylist, remember, you can do really well with them.
Click here to read more about becoming an independent stylist with Stella & Dot.
II. Who owns Stella & Dot?
Jessica Herrin, is the owner of Stella & Dot.
Before she started out with Stella and Dot, she had co-found the weddingchannel.com (now known by theknot.com) at 24 years.
She continued her entrepreneurial spirit and decided to start designing her own jewellery.
Together with Blythe Harris, a jewellery designer from Banana Republic, they started Stella and Dot (which are actually the names of their grandmothers).
Check out this video of Jessica on the Today's Show
III. The Stella and Dot Business Model
As you would have already realised, Stella & Dot works on a multi-level marketing model (popularly know as MLM).
But, when it comes to MLM, everyones thinks of scams and pyramid schemes. So, I really want to deal with this question at this point.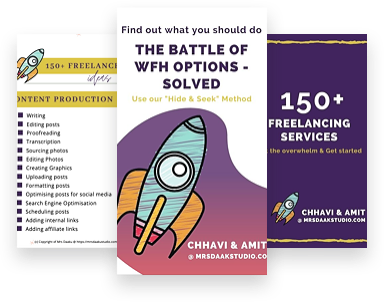 I want to make one thing clear from the start. While Stella and Dot is not a scam at all, their representatives are independent individuals who may try to mislead you (which is not necessarily spam).
For example, if they are trying for you to recruit you as an independent stylist with the company by exaggerating how much can they earn or how little time it takes to make a living with this network.
But, things like this happen everywhere. There are so many companies online that promise work from home opportunities and exaggerate the outcome.
As consumers, you need to be careful and do your research at all times.
If you decide to ask for opinion from people, you will get variety of arguments depending on their experience, but to repeat – Stella and Dot is legit and it is NOT a scam.
Besides that there is another important point I want to cover –
Click here to become an independent stylist with Stella & Dot.
MLMs are referred to as pyramid schemes but Stella and Dot is a company that recruits independent individuals to work with them, and them recruiting more people and so on.
They sell legitimate products and work within leal boundaries. The structure, overall, is pyramid shaped because the money flows to the top but I would never call it a "scheme".
If MLMs are not your thing (i.e. selling to people directly), there are so many other ways to make money online today.
You can check out this post on how to make free money and 50 work from home jobs to earn full-time income.
IV. How Much Does it Cost Get Started with Stella & Dot?
If you are interested in working from home with Stella and Dot, you will need a starters kit. There are 2 options (below) and each one includes,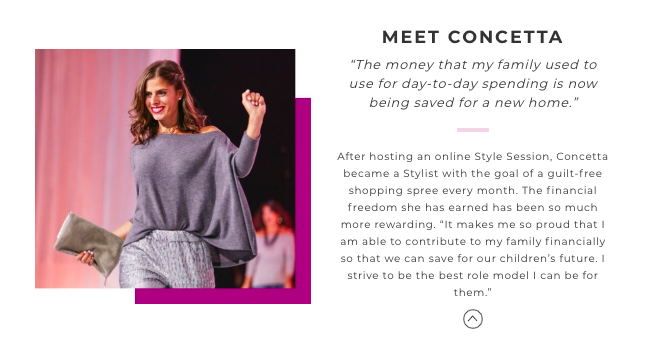 50% off for the first 30 days (25% afterwards)
A personal website
24/7 access to digital training
Free 60-Day trial to S&D Digital Marketing Tools
Dottie, an easy-to-use business app
Mimi, their mobile digital assistant
Online and in-person training
Trunk Show display tools
New Stylist Workbook and launch guides
Click here to become an independent stylist with Stella & Dot.
Let's look at 2 options –
Option 1 – Basic Kit ($149)
Includes everything from above, plus $350 in jewelry and accessories.
Option 2 – Next Level ($299)
Includes everything from above, plus $1000 in jewelry and accessories
V. Stella and Dot Compensation Plan
With a lot of MLMs and direct sale companies, you are required to buy products at wholesale price, sell at retail and keep the profit.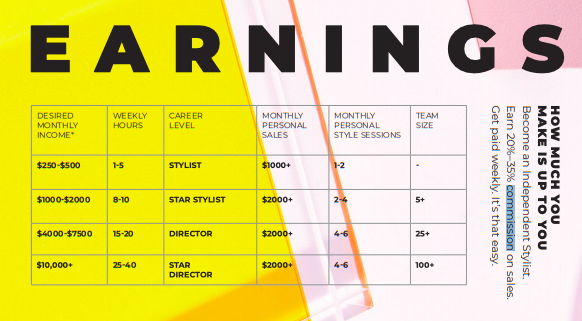 Stella and Dot, however, pay you in commissions – which is a great thing!
You can earn up to 20-35% commission from the sales.
VI. How Much Can You Earn as a Stella & Dot Stylist?
According to Stella and Dot's 2018 IDS (income disclosure statement), the highest amount paid to a stylist was $36,400. The top 25% were paid $1500 and the bottom 25% were at $200.
On an average, the Stella and Dot stylists made $1200 which is a decent amount for anyone working at home.
When we get to the higher position, starting director, the average is as high as $38,500 and the highest is $132200.
Take a look at the screenshot below for further information –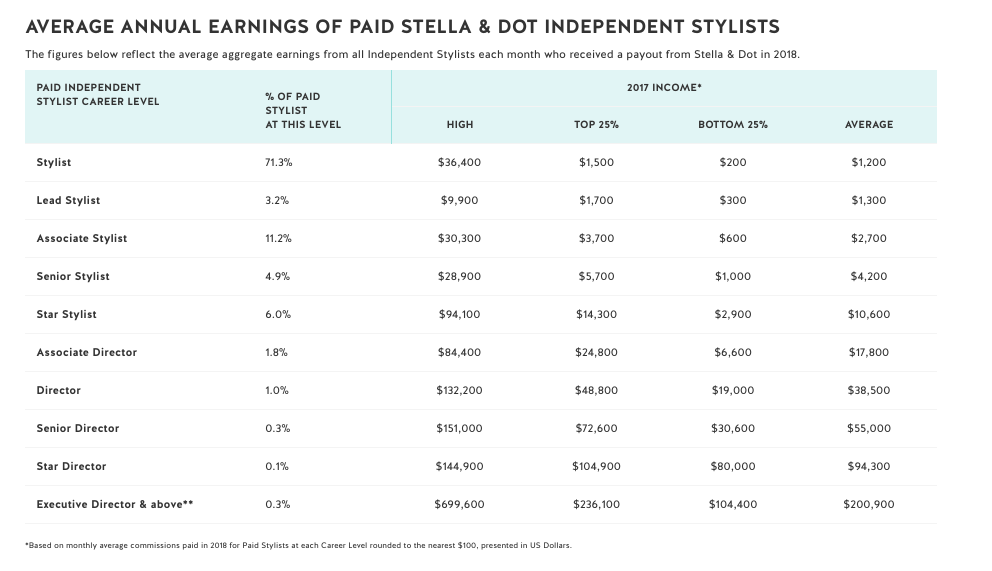 This highlights the total income and expenses are not accounted for. Also, it is safe to assume that the numbers here reflect the actively earning stylists with them and many of them may not have earned a single penny.
Click here to read more about becoming an independent stylist with Stella & Dot.
But, as usual, you will always hear about the success stories.
VII. Is Stella & Dot a Scam?
Definitely, not. Stella and Dot is NOT a scam.
It is a multi level marketing opportunity that was started by a work at home mom. They have an A+ rating with the Better Business Bureau which speaks for their credibility.
VIII. Where did you find your first sales and recruits?
You can sell it online or in person – or both. Get creative!
To find the first few sales and recruits, you can also look at throwing a launch party. You will meet a lot of new people and expand your social circle.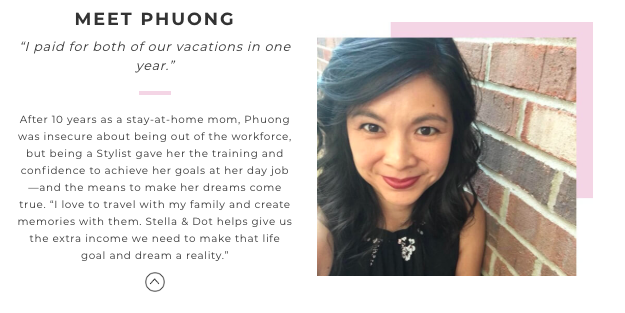 IX. Do you have to have home parties with Stella and Dot?
In Stella and Dot terms, they are trunk shows. They are a good place to start with your styling business from home.
While you may not want to host a home party or spend on hosting somewhere else, you can definitely have them on Facebook.
There is an entire thing called Facebook Parties and people have made money hosting them.
You can start reading what they are, here. This is a great idea to build audience – you invite friends and they invite theirs and the cycle goes on.
That is not the end of the incentives. Stella an Dot provides an added bonus to the hostesses – You can get 25% in your total sales in free products.
X. How many hours per week do you work your Stella & Dot business to meet your income goals?
Every stylist has different goals. So, the number of hours would also differ.
You can work 2 hours a week or 40 hours a week. On average, you should aim to spend at least 15-20 hours in a week.
Click here to become an independent stylist with Stella & Dot.
XI. Is there a minimum sales amount to remain active with Stella and Dot?
No, there are no minimums to remain active. However, you do have to meet sales requirements to keep earning from referrals.
XII. Do you get your own website with Stella and Dot?
Yes, you do.
As a Stella & Dot stylist, you can see the products online and earn commission. However, there is a website renewal fee each year (approx. $100).
For those of you who are new to this industry, it is a standard payment and most direct sales companies would charge for providing website services.
XIII. What Are My Thoughts on the Stella & Dot Career Opportunity?
What I Like About Stella and Dot
There are definitely a lot of things I like about them (which is why I am making an effort to write this post and do all the research)
So, let's look at the positives –
While it is not the cheapest to start and does call for investment, the rate for starter kits are reasonable. It will not put in debt and allows you the flexibility to work at your own hours
They have a commission based model which is way better than you having to stock inventory and deal with returns. Your referrals will have to simply order online for you to make commission money
They provide guides as well as trainings to make you a better stylist and make more sales.
What I Don't Like
Well, it is an MLM, after all. It is not your business and you are working for someone else at the end of the day. Everything that you do belongs to Stella and Dot.
If you fear "selling" and do not enjoy it, you won't be able to make money. In fact, the constant rejections will only irritate you and make you miserable.
XIV. Final Thoughts
Despite being a direct sales company and an MLM, it is a great opportunity to work from home and earn some money.
However, I would recommend you take this up, if you like selling or are ready to learn the art of selling.
If you want to join them, make sure you love their products and what they are asking you to do. It is always easier to succeed at work that you enjoy and like anyway.
Click here to become an independent stylist with Stella & Dot.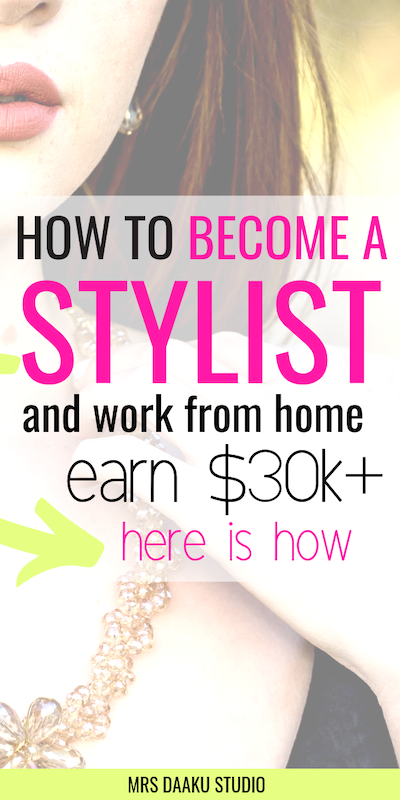 Actionable tips
Join my Facebook community and post your questions, wins and get the support
Resources that can help you with learning new skills and make money online:
Skillshare – Skillshare is my go-to place to learn a new skill without having to splurge hundreds of dollars. It is an online learning community where you can explore thousands of classes in design, photography, business, and more. You can get started with a free trial using my link and get access to hundreds of courses.
How to find and pitch clients your freelance services– Are you tired of looking for clients on Facebook groups and job boards? Did you land clients but they offered you peanuts? Well, the only thing you are missing in the picture is to learn how to find and pitch clients your services directly. Using the methods in the book, I was able to make $900 in the first month of freelancing and it has only grown from there. Check it out.
Become a work at home mom– A FREE training session that comes along with a workbook and guides you through the entire freelancing journey. Not only it tells you what is freelancing, but it also tells you the various option and how to go about establishing one (without any INVESTMENT cost).
FlexJobs If you are a freelancer, you should sign up with Flexjobs. It will help you go through great flexible job listings from legitimate employers quickly, easily, and safely. Every single job on FlexJobs is hand-screened for legitimacy, with no ads or scams mixed in, and every single job offers work flexibility such as telecommuting, freelance, part-time or other flexible options.
Become a virtual stylist with Stella and Dot