Rev Transcription Test and Working with Rev: A full Rev Transcription review
First off, congrats for taking the first step towards working from home.
You have decided to try out transcribing with Rev and this post on Rev Transcription review will help you out in all ways.
Transcribing audios and videos to text has been one of the top work at home jobs for anyone looking to make money online – especially – stay at home moms, college students and teachers.
Note – This post may contain affiliate links. Please read disclosure policy
You can become a transcriptionist and earn more than $2000+ a month easily.
While you can find a lot of transcriptionist jobs online, it is always better to venture out on your own
Whether you are looking for transcription jobs or want to start an online transcription business, I highly recommend you to check this out (the only FREE resource I recommend)
The problem arises when you want to take up transcription as a part-time job but have NO time or idea on how to find clients and start making real cash
This is where Rev can help!
All you have to do is sign up with them, take the Rev transcription test and start working with the clients.
But, if you do have the time to work independently and get your own clients, you can make 500%+ more than what you would with Rev. Check out this highly FREE training to get started.
Getting back to Rev Trascription –
We are going to cover the basics
What is Rev
Is Rev a scam
Rev transcription test
How much can you earn with Rev
The pros and cons of working with Rev
If you prefer getting a detailed Rev Transcription Review on a video, here it is.
Do not forget to subscribe to our channel.
Are you ready to make money online and start working from home?
I am not a member of Rev and this post is based on my research
Note: If you think transcription is a difficult for you right now, I strong recommend you become a proofreader.

Start with this FREE 45-min extensive training to know everything about proofreading jobs.
Want to make money quickly? Here are a few platforms to earn up to $25 – $50 in a few minutes!
PineCone Research: Earn $3 – $5 per each survey guaranteed .Sign up now
#1 What is Rev.com?
The best place to begin our Rev Transcription review is to know a little bit more about the company that you may know.
It was founded in 2010 with a focus on providing transcription, translation and captioning services to companies like Comcast.
Rev successfully built a marketplace offering remote speech-to-text (online transcribing) jobs that provided both customers and freelancers a better experience.
If you are looking for other platforms as well check out these online transcription jobs
They have both – in house and work at home freelancers that help Rev grow.

#2 Is Rev.com a Scam? Is Rev Transcription legit?
In short, no.
Rev.com is NOT a scam and Rev Transcription is legit work at home option.
Okay.. now we get into why I say Rev is not a scam.
If you were wondering is Rev Transcription legit or if Rev is a scam, you need to know that they have been awarded PC Mag's Editor choice Award for transcribing audio and video files along with features on leading websites like Tech Crunch and The Wall Street Journal.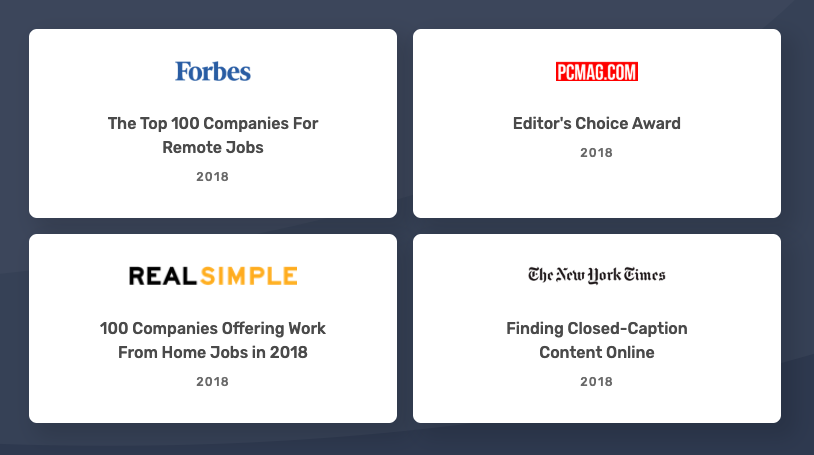 Giving Rev's feature and association with known brands like Forbes, The New York Times, Real Simple etc, it can be safely assumed they are not a scam
But, is that enough of an evidence? Well, if I were you, I would say no.
I searched for a few reviews to share with you and came across these on Glassdoor. You can check out more reviews here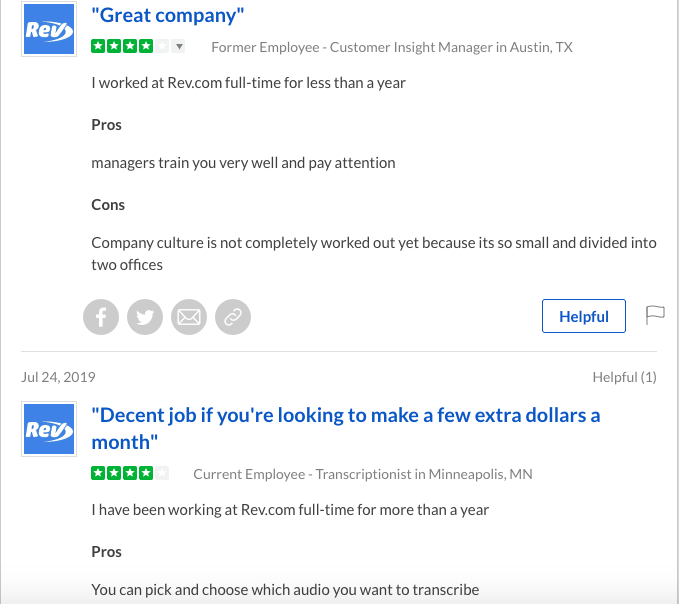 I also found a few reviews on Indeed that were worth sharing –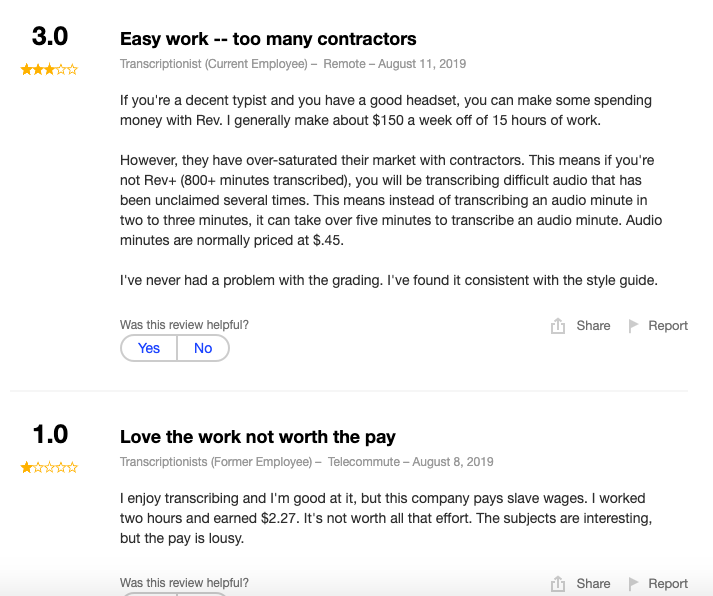 All the reviews, good or bad, point towards one direction – Rev is not a scam.
While Rev Transcription pay rate may be on the lower side as many reviews claim, they are definitely a legitimate company to work with.
You can find EVERYTHING about Rev online.
They have a Facebook page with 11,000 followers as well as staff pictures and posts.
They share the exact address on their website
If a company is a scam, they do not have so much information about them floating around on the internet.
Wondering, how do you avoid online scams? How to know if a company is legitimate?
Download my checklist and stay away from all remote job scams online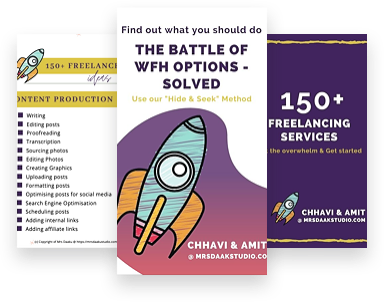 #3 What are Rev Work from Home Jobs Options?
While Rev is popular for transcribing jobs, you can find the following freelance gigs with them:
Transcriptionist – Converting audio or video into written document

Captioner – Adding captions to videos

Subtitler – Adding text on videos

Translator – Converting a document from one language to another (not necessarily subtitles, captions, videos or audios)
Once you sign up with Rev, you will need to pass the Rev transcription test and they will start assigning you files for transcribing.
#4 How Do You Apply at Rev.com?
First and foremost, Rev hires across the globe.
So, whether you are basic in US, Canada, India or anywhere else – you can apply with this transcription company.
You will need the following –
Computer
Good headsets
Internet connection
Rev's application process is strict and a lot of people get rejected. Don't feel dejected reading this and it may be different for you.
If you never try, you will not know. So, you can start your application process here. Remember, it takes about an hour to complete it
The Rev Transcription test is designed to analyse your
a. Typing Skills
It is important to be able to type accurately and type fast.
For this purpose, they are going to let you type as much as you want in the time allotted in the test i.e. 60 seconds.
b. Grammar
If you are going to be responsible for converting video or audio to text, you need to be able to able to write in correct grammar.
You'll be tested on punctuation and other grammar skills.
If you are new to transcription, I highly recommend you to check this out (the only FREE resource I recommend)
c. Rev Transcription Test
You are required to finish an audio test using Rev transcription editor.
There is no time limit on the test but I recommend you finish it as fast as you can.
The audio tends to have more than two speakers. It is to ensure that you can distinguish between speakers properly and decipher what they are saying correctly
Once you submit the application, you will receive a thank you email. In 1-3 days, they should get back to you on whether you pass the test or not.
The good thing is they don't leave you dangling. If you failed the test, they will inform you and you can retake the test after 45 days.
If you are accepted, you will need to complete registration on the Rev's workplace platform.
Take this FREE course before taking the Rev Transcription Test.
How To Clear The Rev Transcription Test
I will suggest you three ways:
YouTube
Speech to Text
Try Yourself
YouTube
Step 1 – Start by downloading the test audio
Step 2 – Use any basic movie maker software to create a video. You will be required to put any static image and insert the audio file below it.

Do not think too much! You don't have to actually post it!
Step 3 – Once the video is created, upload it on YouTube Channel and enable auto-captions and subtitles
Step 4 – Wait for 15 minutes. YouTube generates basic quality captions and subtitles automatically.
Step 5 – Put all of that into one file and start working from there. You will need to listen to the audio again and correct the errors, punctuations, identify speakers etc.
Step 6 – Lastly, follow the transcription guidelines of that company.
Speech to Text
Go to Speech to Text

Uncheck the Detect Multiple Speakers.

Click the Upload Audio File.

You can find it transcribed in the box. Copy it from there into another document.
Again, follow the same process we talked in the trick above (Step 5 and 6)
Try Yourself
Finally, try it out yourself. If you video is a little technical, these tricks won't work.
While transcribing yourself will slow down the process, the more you do it, the better you will get at it.
Some Important Tips to pass Rev Transcription Test
Follow the guidelines to the T. If you are being rejected again and again, there is only one explanation. You are missing something!

Go through the rules again!

Note that the transcription needs to be in full verbatim or clean verbatim etc.

In a clean verbatim, we omit many words. For example, so, but, you know, hmmm, I mean, aaah, etc.
Hope these rules will help you clear the Rev Transcription Test.

#5 How much does Rev.com pay?
---
The most important question! How much does rev.com pay to its freelancers?
While you may love to hear an exact figure, it really depends on the job you do, how good you are at it and how much time you can devote.
If you're a transcriptionist or a captioner, the Rev transcription pay rates vary from $.40 per audio or video minute, to $.75 per audio or video minute.
In an hour, you can do 15-20 minutes of audio or video hours. That means, you can earn between $8-15 per hour.
You may feel it is not a lot, but you get to stay at home, work around your time, cook for yourself and not spend a lot of dressing to office – you will save a lot of what you earn.
Rev reports average earnings of about $240 per month with top earners making about $1500 (per month).
If you know multiple languages and work as a captioner with them, you can earn between $5 to 8 per video minute. This can accumulate faster and increase your overall earning.
Translators are paid $.05 to $.07 per word.
Precautionary note: Rev is more of a side hustle option, it cannot replace your full-time income. If you are looking to replace a full time income and work from home, you can start here.
Read: Entry level work from home jobs – No experience! (+ companies that hire)
You will read as many negative views of Rev as positive.
Remember, you can earn big amounts only after gaining some experience and if you are being fast at what you do!
Take this FREE course to earn as much as $5000 a month
#6 A few things you should know about Rev Transcription
You can listen to a file before you decide to work on it. If you find it challenging or do not want to work on it for whatsoever reason, you have one hour to un-claim it.
You need to submit the transcript in the given time.

If you don't, it is forcefully taken from you and lowers your commitment ratio. That means, you can lose your tier (we will talk about this) or even kicked out of Rev.
The Rev editor will have a countdown timer to tell you exactly how much time is left.

It also has helpful features like text expander and auto correct that helps you go faster.
If you are new to transcription, I highly recommend you to check this out (the only FREE resource I recommend)
Levels – Rookie, Revver and Reverr+ Levels
So, based on your performance and delivery, Rev came up with a classification system
a. Rookie
Once you apply and start working with Rev Transcription, you will be a Rookie.
You are only allowed to work on shorter projects (max up to 30 minutes) and will get detailed feedback on your work done.
Once a Rookie has completed 60 minutes of work that meets our grading standards, they will be promoted to official Revver status.
b. Revver
Gaining Revver status unlocks a higher pay rate of 25% more per audio minute, and also the ability to claim projects of any length.
c. Reverr+
After completing the Revver+ requirements, including 1,200 minutes captured with accuracy and on-time submission, a Revver is promoted to Revver+ Level.
The top-tier Revvers receive all the benefits of Revvers, *plus* they gain early access to new transcription projects.
Revver+ agents gain 90-minute priority access to all new jobs appearing in the workspace.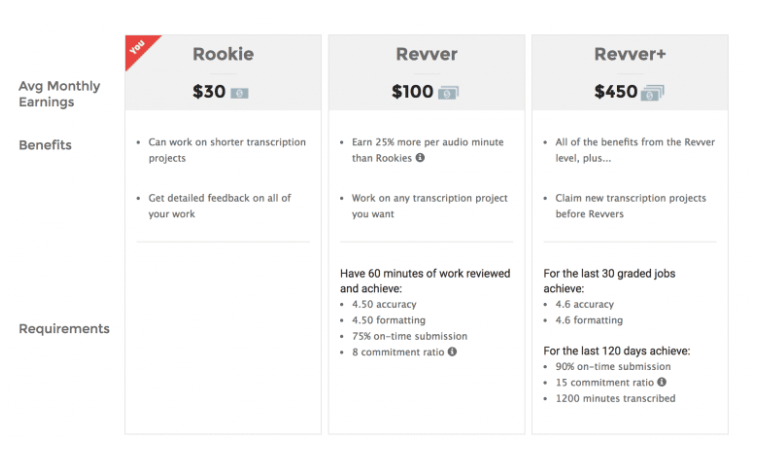 #7 Final Thoughts on Rev Transcription Review
What I Like
Good pay if you are fluent with languages
Rev let's you pick what you are comfortable with
What I Don't Like
Significant negative reviews
You are rated on speed and accuracy only.
Next Steps…
So, the final conclusion has come.
Rev is a legit way for you to make money online as a transcriptionist, translator, captioner or subtitler (or all).
It is definitely a good place to start and experience life working at home.
That said, if you are aiming to make a full-time income working with Rev, that is not going to happen. You need other sources of income – for example – having clients independent of Rev.
For this, you will need to build your brand and sell yourself. Do you know you can easily make $1000+ as a transcriptionist without any transcription company like Rev?
Imagine what you could earn if you did BOTH!
I hope this review was helpful and to get started you can apply for work at Rev here.
Over to you now. Do you have experience transcribing or translating? Have you worked with Rev before?
Please share in the comments section below.
Relevant Reads: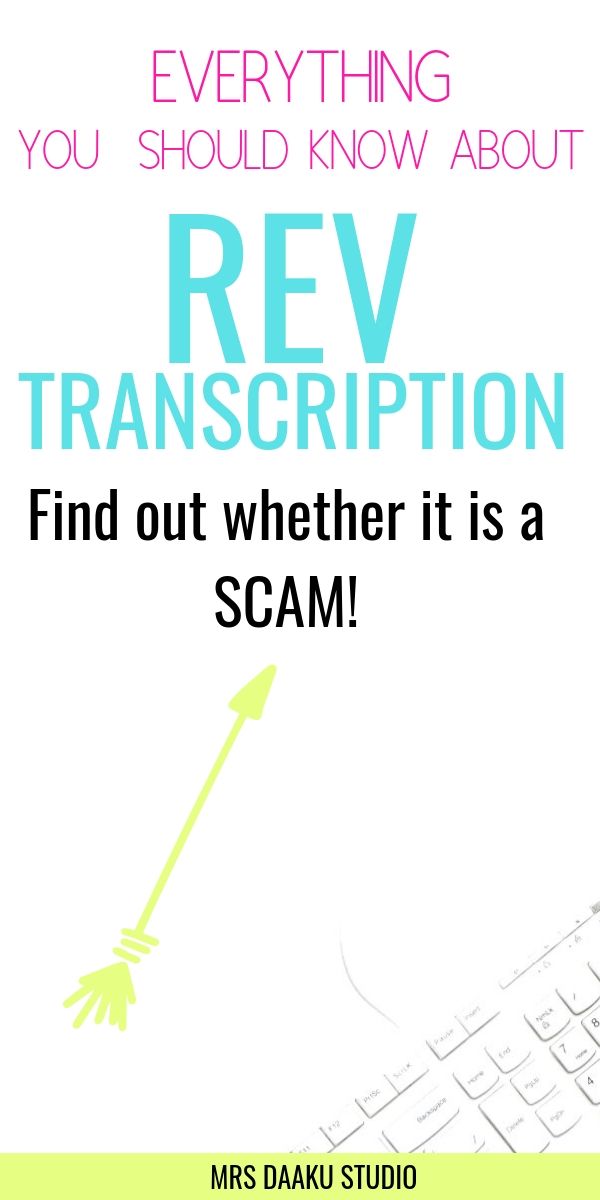 Actionable tips
Join my Facebook community and post your questions, wins and get the support
Resources that can help you with land work from home jobs
How to find and pitch clients your freelance services– You can find my strategies to find high-paying freelance writing clients.
Become a work at home mom– A FREE training session that comes along with a workbook and guides you through the entire freelancing journey.
FlexJobs You can find 100% legitimate work from home jobs and freelancing gigs on this platform
All about Rev Transcription Test – A detailed Rev Transcription Review