Rakuten Review: Is Rakuten safe?
Cashback websites have existed for years.
However, whenever we read the words 'free cash,' a red flag goes up in our minds.
Are these websites safe? Are the claims true? Can you earn money just by shopping online? … are some of the legit thoughts that cross our minds.
This Rakuten review will take a closer look at Rakuten, one of the most popular cashback websites.
Note – This post may contain affiliate links and sponsored listings. Please read disclosure policy.
Want to make money quickly? Here are a few platforms to earn up to $25 – $50 in a few minutes!
What is Rakuten?

Rakuten is an affiliate marketing company that helps you to earn cash by shopping through their site.
This e-commerce and online retailing company is based in Tokyo and was founded by Japanese businessman Hiroshi Mikitani in 1997.
We must also mention here that Rakuten acquired eBates, a popular cashback portal, in 2014. In 2019, eBates finally changed its name to Rakuten.
Rakuten offers cashback and other deals on a large selection of products and services when you make purchases through their website or use their browser extension service. Rakuten also gives you're the option of online or in-store shopping.
Consumers can earn anywhere between 1% and 40% cashback on anything purchased through Rakuten.
Rakuten has partnerships with over 2,500 retailers, including big names like Nordstorm, Walmart, Amazon, Sephora, and Target.
They also work with several travel sites like Qatar Airlines, Expedia, Air France, British Airways, Marriot Hotels and Resorts, Booking.com, and TripAdvisor Hotels.
Anyone who is 18 or older can use Rakuten.
It is totally legit and safe to use.
How does Rakuten work?
When you shop via a link through Rakuten.com, you get to earn a cashback.
Each link shows you how much cashback you can earn after you make the purchase.
The percentage of cashback varies depending on the store and the products you buy. The cashback deals from the same store also change from time to time. Sometimes, you may even get double cashback.
Now you may wonder, how does Rakuten make money this way?
Well, Rakuten is an affiliate marketing company. This means companies reward Rakuten for directing consumers their way.
Companies pay Rakuten a commission for when a consumer buys their goods through Rakuten. Rakuten chooses to share this commission with the consumer.
This is the ultimate win-win situation for all.
How do you get paid on Rakuten?
Once you accrue cashback, Rakuten pays you via check or sends the amount to your PayPal account.
You can also choose to get your cashback payment in the form of an electronic gift Amazon card.
The catch here is that you are paid only once a quarter.
For purchases made between January 1 and March 31, you will be paid on May 15.


For purchases made between April 1 and June 30, you will be paid on August 15.


For purchases made between July 1 and September 30, you will be paid on November 15.


For purchases made between October 1 and December, you will be paid on February 15.
Another way to make money through Rakuten is by using their referral program.
If someone you refer signs up for Rakuten and makes a qualifying purchase, you will also earn a reward.
The reward amounts can vary as there are extra bonuses on offer. Instead of earning the usual $5 per referral, you can get $10 to $25 for every friend that joins using your referral code.
Getting started with Rakuten
The first thing you need to do is create an account with Rakuten. Visit their website and click the join now button.
You then need to provide your email and create a password. The other option is to sign up using your Facebook or Google account.
After this, all you have to do is agree to their terms and conditions, and you are a part of their team.
When you sign up with Rakuten, you get a sign-up cash bonus of $10. You need to make a minimum purchase of $25 within 90 days of joining Rakuten to qualify for this bonus.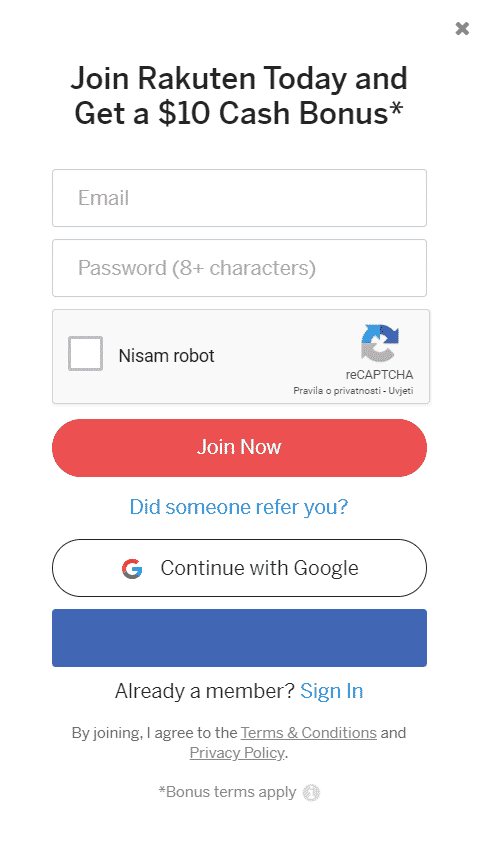 Features of Rakuten
Once you are a Rakuten member, you can search their website to find the best cashback offers.
They have a user-friendly website which makes online shopping a breeze.
Besides using their website, you can use the other features of Rakuten to earn cashback while shopping. These include –
1. Cashback button
One of the best features of Rakuten is their browser extension for Google Chrome called Cashback Button.
When you download this browser extension, Rakuten can track that you are on their retail partner's website.
They create a popup in the right-hand corner of the screen at checkout to indicate that you are eligible for cashback.
It also sends you an alert if it finds discounts or available coupon codes.
This browser extension inserts cashback percentages into your Google search results.
This feature helps you to know which stores offer the best cashback. If a particular store does not provide a cashback, Rakuten also directs you to a similar one that provides a cashback.
2. Rakuten App
Another convenient way to use Rakuten is to download their app. It is available for both Android and iPhone.
Their newly redesigned app has a slew of cool features that makes earning cashback easy.
You can click a retailer to see the available offers. You can also access mobile-exclusive sales and coupons with top stores every week.
3. In-store cashback
For people who prefer to shop in stores, Rakuten has created an In-Store Cash Back option.
You have to log in to your Rakuten account on the website or download their app to use this option. After you have logged in, click on the In-Store Cash Back button, and you can choose from various options.
You can choose the store that you are interested in and select 'Get Deal.'
Now add your debit or credit card and link the available In-Store Cash Back offers to your card. You can now automatically receive cashback when your purchase something in your local store.
You will also receive notifications if you are within walking distance of a store offering In-Store Cash Back.
Is Rakuten free?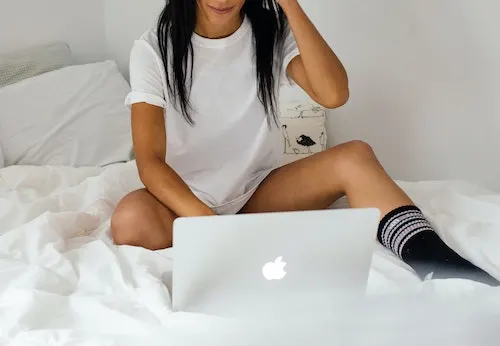 Yes, Rakuten is free to use. They do not charge any fee, and there are no hidden costs.
Is Rakuten a scam, or is it safe?
Rakuten promotes its services as safe.
Their website has TRUSTe certification, as well as an A+ rating from Better Business Bureau. The Rakuten site is tested daily by McAfee security.
Rakuten does not require you to enter any payment information, which is a good thing. You only need an active email account to sign up.
When it comes to adding your credit or debit card to Rakuten, all the information you provide is safe and secure.
Rakuten is certified compliant by the Payment Card Industry Standards Council (PCI). The PCI is a governing body that ensures sites sufficiently encrypt sensitive data like your credit card information.
Rakuten is also very open about how they use your information. They admit to using location tracking to accumulate marketing data that they sell to a third party. You can choose to opt out of location tracking.
What I like about Rakuten
1. Creating an account with Rakuten is easy. Anyone above the age of 18 can join the website.

2. Rakuten is easy to use. You can choose between the website, the browser extension, or the app.

3. Rakuten is free. You can create an account here free of charge, and there are no hidden costs.

4. With Rakuten, you can save money. The site has various cashback offers at many different stores. You can get from 1% to 40% cashback here.

5. Rakuten has partnerships with over 2,500 retailers. So the chances that you will find a store where you already shop here is pretty high.

6. This site is safe and secure. Rakuten takes reasonable steps to prevent unauthorized access to personal information provided to the site.

7. The buyer's credit card information is not provided to the seller to protect the buyer from identity theft or fraudulent charges.

8. Rakuten provides good customer service. You can communicate with them through a service ticket. They will get in touch with you after you fill out a form and submit your electronic receipt.
What I don't like about Rakuten
1. Rakuten sends out payments only four times a year. You cannot choose when you get your cashback.

2. Almost every store featured on Rakuten has some excluded products. These can include smartphones, gift cards, or financial center transactions. You cannot get cashback on these products.

3. You cannot purchase or sell products without creating an account with Rakuten. However, a created account can be disabled permanently without any prior notice.

4. Use of Rakuten is limited to Japan and the US. Corporations, legal entities, or partnerships are not allowed to make a purchase.

5. The orders may take longer to get delivered if the buyer is not from Japan.

6. Orders placed by the buyer cannot be canceled or changed.
Alternatives to Rakuten
If you do not find good deals on products you plan to buy on Rakuten, you can look for bargains on similar sites.
Here are some other cashback or discount code sites that you can use –
Capital One Shopping
Capital One Shopping is a free browser tool that searches for online coupons, better prices, and rewards at over 30,000 online retailers. This free browser tool makes it easy to save money while you shop online.
Swagbucks
Swagbucks is another popular cashback site.
They pay you in points that you can redeem for gift cards. You can also do other tasks like take surveys and watch videos to earn points here.
I personally use and love it. Sign up here
Final thoughts: Is Rakuten worth it?
Yes, Rakuten is definitely worth it.
It is easy to sign up for, and it's easy to use. It has partnerships with over 2,500 retailers, which means it is easy to get deals on products that you were planning to buy anyways.
Other than cashback, you can also earn money through referral bonuses, coupons, and promo codes.
This site is legit and safe. This website has TRUSTe certification, as well as an A+ rating from Better Business Bureau.
Rakuten Review: Is Rakuten safe? Is Rakuten legit? – YES