Get paid to give advice online
So, you want to get paid to give advice online.
To be honest, until a few days back, I had no idea it was possible make money by giving advice online or make money chatting online.
But, after some research and reading online, I realised giving advice for money has a wide scope and is one of the best ways to make money online.
It is easy to start, requires little to no capital investment, and gives recurring revenue in different forms
In this post, we will discuss how you can get paid to give advice online.
A few topics
Can you get paid for giving advice?
How do I sell advice for money?
Want to make money quickly? Here are a few platforms to earn up to $25 – $50 in a few minutes!
What is giving advice online?
Tell me one thing – What do you do when you have no answer to a question?
My guess – check on the internet.
In fact, the internet is the first place that we look when we want to know about any topic.
… From politics to plants, crafts to cooking, the internet is our go-to place for advice and information.
So, if you have some knowledge you like to share, you can also get paid to give advice on the internet and answer other people's questions.
You can make money giving advice online if there is a specific topic you love to talk about and know more about than an average person.
How do I sell advice for money?
There are many ways to get paid to give advice but in this post, we will talk about –
Joining a company that pays to give advice online
Becoming an online coach
Creating an online course
Writing an e-book
Advice on YouTube
Starting an advice blog
Starting a podcast channel
Writing an advice column in your newspaper/magazine
Becoming a freelance counselor at schools, colleges, or companies
Companies that pay for giving advice online
Several websites and apps offer opportunities where you get paid to give advice.
Here are 10 of the most popular websites that pay you to give advice –
1. Just answer
What you do: Answer peoples question
What you get paid: $5 – 25 per answer
Availability: Worldwide
Just Answer has a user base of more than 20 million people all over the world.
You can earn between $5 to $25, depending on the difficulty of the question you answer. The payout are made via Paypal.
All you have to is sign up here, post which, there will be a background check and then you can start making money online.
The application process usually takes less than two weeks in the USA/Canada and less than three weeks elsewhere
2. Live Advice
What you do: Give expert advice
What you get paid: You can fix your rate
Availability: Worldwide
If you are an expert coach in your chosen niche, Live Advice is a good option for you.
You will need to set up your free account and fix your hourly rate.
You will need a phone to be able to connect with your customers.
3. Askables
What you do: Give expert advice in writing
What you get paid: $15 per answer
Availability: Worldwide
If you are not comfortable talking to people on the phone, Askables is the right choice for you.
On this website, you can answer the questions by writing down your answers and submitting them.
There are four different levels of expertise contributor, helper, expert, and top expert.
You can earn $15 per answer here and payout is via paypal.
4. Keen
What you do: Give expert advice
What you get paid: You can fix your rate
Availability: Worldwide
Keen pays you to provide psychic advice, but you don't necessarily have to be a psychic to advise here.
So, if you were wondering how do you get paid for giving relationship advice, this is it.
If you are an expert at love and relationships, life questions, and financial outlook, you can earn money answering people's questions on Keen.
You can offer telephonic advice here and set your rate per minute.
If your per-minute fee is $2.00 and you receive a call that lasts 10 minutes, first we'll collect $20 from the customer who called you. Then we'll deduct the 40 cents per minute platform fee for those 10 minutes, or $4.00. You'll receive 49% of the remaining $16.00, or $7.84 for that call.
5. Bit Wine
What you do: Give expert advice on text or video chats
What you get paid: You can fix your rate
Availability: Worldwide
If you have expertise in astrology, palmistry, Reiki, parapsychology, tarot card reading, you can become an advice giver with Bit Wine and earn some money.
You can choose your hourly rate and advise text messages or video chats.
6. Expert 123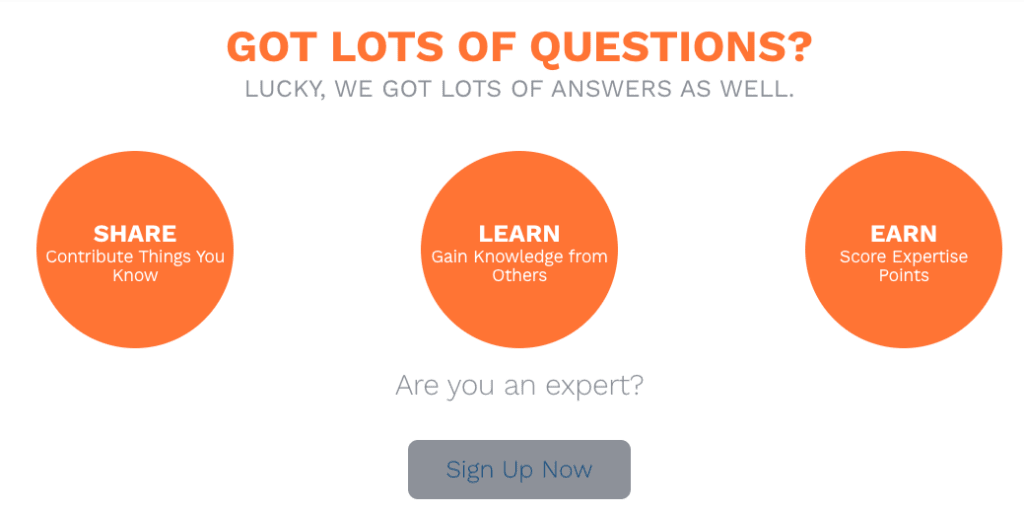 What you do: Give expert advice
What you get paid: $20 per response
Availability: Worldwide
At Expert123, you can answer questions from people and earn money. Each response needs to be between 350 to 600 words.
If your answer is approved, you can make up to $20 per response.
7. Square
What you do: Give expert advice by answering questions
What you get paid: $17 per hour
Availability: Worldwide
On Square (formerly Weebly), you get paid to answer other people's questions via email.
To get a job with them, however, you need to be based near Arizona. This is only because they provide an on site training which is mandatory to attend.
They also offer different means of communication if the client prefers that. You are paid $17 per hour.
8. Help Owl
What you do: Give expert advice
What you get paid: You are rewarded points
Availability: Worldwide
Help Owl receives a wide variety of questions from their vast user base. All you need to do is search for queries related to your expertise and answer those questions.
The company rewards you with points for each correct answer, which you can later redeem for cash rewards.
If your answers are marked "not helpful", you can also lose points. This is to ensure there are only genuine people out there giving advice for money and points.
9. Needle
What you do: Give expert advice
What you get paid: You are awarded points
Availability: Worldwide

If you love shopping, Needle is for you.
This job involves advising potential buyers to get the right product that they are looking for.
You need to answer specific queries through online chat. You may also need to guide shoppers in real-time.
You are compensation in point which you can redeem for cool products.
10. Site staff chat
What you do: Give expert advice to customers
What you get paid: $10/hr
Availability: US
You can become a chat assistant with Site Staff Chat and deal with customer queries online. You can make as much as $10 per hour here or more.
If you are interested in that, you can also check out text chat operator jobs from home and email chat support jobs.
Your basic job would be to answer customer queries and advice them on the best solution possible.
Get paid to give advice – Other ways to make money
Get paid to give advice – How to get started?
Identify your expertise
Before you think of getting paid to give advice in any of the ways we discuss in the post, you need to ensure that you can provide quality advice.
This means you should be an expert in the topic that you intend to advise on.
If you pick any random niche and start giving advice, your lack of knowledge will be spotted pretty quickly, and you will not make any money.
So, pick a topic in which you have substantial knowledge.
Note: You only need to know more than 10% than your target audience to be called an expert.
Besides the knowledge, your niche should also be profitable one. That means, people should be ready to pay for it.
If you are not sure that your chosen niche is profitable or not, search using Google Trends or on platforms like Reddit or Quora.
If you find that many people are giving advice in the same niche as you decided, that should tell you that this niche is pretty sought after.
Find who your target audience is
Your next step should be finding your target audience.
Let us assume you are an expert at plants and gardening. Your target audience cannot be just everyone.
Think about whether you want to advise new gardeners who are just starting with this hobby, or are you looking to teach some gardening tricks to experienced gardeners.
Identify your audience and advise accordingly.
It is always a good idea to pick something specific as it will help you stand out in your audience.
Design a solution to the problem
Once you have decided a niche and target audience, research on their pain points and see how you can come up with a solution for them.
Design a solution to relive their main pain points.
Decide on delivery
Once you have figured out your niche and your target audience, it is time to decide the delivery mechanism
Think about how you want to deliver your advice.
Do you want to start a blog
Do you want to write an e-book, or
Is selling an online course a better choice for you?
Where do I start giving advice online?
Become an online coach
There is potential for coaching in almost all industries, be it business, health, fitness, real estate, or online marketing.
After you have picked a niche, you need to focus on creating high-quality content.
Coaching can be an excellent way of making money online, but you will need to set up a system first.
These steps will help you establish yourself as a coach in any industry –
Establish yourself as an expert
Start putting out content through social media channels, a blog, videos, or podcasts.
Publish high-quality content. This will help you establish yourself as a coach.
If your content is helpful, people will want to hire you.
Craft your offer
Once you understand what your followers want, it is time to craft your offer. Find out what your followers like and give it to them.
Begin offering to coach
Once you're clear on your niche, audience and offers, it is time to set up a website and offer your services as a coach.
Start promoting
Once you have set everything up, you need to start promoting your services. A few ways you can do so are –
Creating an online presence on social media channels and being active every single day

Asking testimonials from happy clients and share them publicly on social media channels, website etc.

Offering a free 'mini-session' coaching session for new clients

Designing an SEO optimised website for a few industry-relevant terms

Try paid advertising to promote a free webinar or workshop

Advertise with Google Adwords for low hanging keywords
Create an online course
If you do not want to coach 1 on 1, you can think about creating an online courses.
This could be completely text based or video based. It could also be a mix of both.
A few steps to take initially –
Choose your niche
E-learning has increased dramatically during this crisis, and many experts expect it to improve further.
You can earn well if you create a good digital course in your field of expertise.
You can learn to make and sell an online course here.
… But, whatever you do, you need expertise in a subject and the ability to speak passionately about it.
Create quality content
Once you have chosen your niche, you need to create the content.
If you want people to pay good money for your course, your production values should be high.
You will need a good HD camera, a studio lighting kit, editing software, a green screen, and a script.
Choose where you will host your course
Choose where you should host and sell your course.
Skillshare, Coursera, Udemy, and Masterclass are some of the popular options.
Some of the options have restrictive rules and may charge up to 50 percent of your revenue.
Price your e-course
Pricing your online course can be tricky.
When trying to determine the price, consider how much you have spent creating and marketing the course.
You should also consider your audience's income level and also what the competition is charging.
Market your course
Once you have created a course, try out different ways to market it.
You can –
Start a blog around the same thing. For example, Abbey has a blog where she talks about virtual assistance and Caitlin has a blog that talks about proofreading.


Engage with your audience on social media.


Build an email list by creating a form on your website and through social media.


Reach out to existing online entrepreneurs and partner with them to sell your course.


Try paid advertising
Write and sell an e-book
Creating and selling an e-book is a great way to sell your advice online.
Though you can set up your own website and market your e-book directly online, selling your e-book through a third-party website like Amazon is much easier.
Amazon Kindle Direct Publishing has a massive reach, so you have the opportunity to reach out to a much bigger audience right from the start
You must also use a multichannel approach to marketing your e-book. Leverage your Facebook, Twitter, and LinkedIn contacts to get the word out.
Just sending out one announcement is not enough. Create buzz around your book by getting your friends to spread the word. Create contests, do giveaways, offer a free chapter of your book.
Nathan Barry is a web designer who quit his job to work for himself. In his first year of being self-employed, he earned $85,000 from the sales of his two e-books – App Design Handbook and Designing Web Applications.
Read about such stories and understand what worked for them.
Check this out if you are interested in selling ebook.
Sell advice on YouTube
You can create a YouTube channel to give advice online. Make sure the name of your channel is easily recognizable and easy to remember.
Create a video with the equipment you have lying around. Remember to look confident and have good energy while making the video.
If you do not have video editing software, you can use the built-in editing tools from YouTube after uploading your video.
After you have created a few videos, group them into playlists on your channel. The title you choose for your playlist also helps you rank higher in Google search results.
While you will get some traffic through organic search, you should also promote it on their online channels such as Facebook, Twitter, Linked In, Instagram and Pinterest.
A lot of people are earning a lot of money by selling advice online. For example, Kevin, a 29-year-old real estate and construction expert, uses his YouTube channel, Meet Kevin, to drive viewers towards his online training programs that teach people how to invest and make money in real estate.
You too can make money by advising on YouTube by –
Putting course links in your video descriptions
Refer to your course in your videos once in a while
Use YouTube cards to push people to your course.
Start an advice blog
Starting a blog is easy, but becoming good at it and making money from it will take a lot of effort and time.
On this blog, for example, I mak a full-time income advising people on how to money while working from home. You can find good advice on
Freelancing
Work at home options, like VA, proofreading, bookkeeping, etc
How to stay productive
Finding time as a mom
Promoting your online business
You can choose any niche that you like. For example, if you know a lot about gardening, you can start an indoor plant blog or a blog about gardening.
You, too, can create valuable content on your blog and give advice on your chosen niche. This will help you get a lot of organic traffic. You can monetize this traffic with affiliate marketing or having paid ads run on your blog.
These are the three main ways to make money from your blog –
Affiliate marketing – You sell products related to the topic you are discussing and earn a commission every time someone makes a purchase.


Banner ads – You will earn money every time someone looks at the ad or clicks on it.


Consultations – You can provide one-on-one consultation through Zoom to whoever is willing to pay for it.
Make money giving advice on Podcast
Podcasts are a great way to leverage yourself as an expert in the field and give advice.
A lot of people are successfully podcasting now and earning extra income through them.
For example, Joe Rogan, an American comedian, hosts an entertaining Podcast called The Joe Rogan Experience, in which he discusses various topics and interviews public figures.
He is known to make around $30,000 per episode. So, if he produces five episodes per week, his estimated monthly income from his podcast is $600,000.
While not all podcasters make this kind of money, it is possible to earn a fair amount by advising via podcasts.
Podcasters make their money through two sources –
Podcast sponsorships
The amount of money you earn depends on how many listeners tune into your show.
The amount of money a podcast can charge for sponsorships depends on the CPM(cost per impression) model. The rates can range from $18 CPM to $100 CPM.
You can start charging for advertising space in your show once you reach a subscriber number of at least 5000.
Affiliate sales
You can mention a few products during your show. If these products are purchased via your unique URL, you get a percentage of the sale amount.
Start an advice column in a newspaper/magazine
If you already have a dedicated website and followers on social media, you can also start an advice column in a newspaper or magazine.
Make sure your column is descriptive and specific to your particular niche.
Answer all the questions that are asked in detail, and make sure you reach out to each one of your readers who sends you a query. This will ensure you not only gain more readers but also potential clients.
Be a freelance counselor for schools, colleges, and companies
You can work as a freelance counselor for schools, colleges, and companies. Counseling is often undertaken on a one-to-one basis, but it can involve working with groups and families.
You can provide your counseling services online through Skype, Zoom, or via phone.
Although you do not need any training to become a counselor, most employers expect you to have undertaken specific professional training and become a member of a relevant professional body.
This will enhance your reputation and give you access to a range of additional training and networking opportunities.
Can you get paid for giving advice?
Yes, you can get paid for giving advice. There are several ways to get paid for selling advice including companies that hire you to starting a blog, youtube channel or podcast.
How much can you get paid for giving advice online?
The potential for earning by giving advice online is unlimited.
It depends on your levels of expertise, your chosen niche, and how you choose to share your expertise.
If you decide to become an online coach, a blogger, or create an online course or podcast, your earning may be slow initially, but you will gradually earn more and even make a full-time income from giving advice online.
Some well-known podcasters are known to earn up to $30,000 per episode.
Some writers also earn $10,000 a year or more by selling their e-books.
If you choose to join a website as an expert advice-giver, you can earn between $5 to $25 per answer.
Sky is your limit when it comes to earning by giving advice.
Is giving advice online as easy as it sounds?
Even though you may be an expert on a subject, giving advice is not always easy.
If you provide advice incorrectly, you run the risk of ruining your reputation.
Also, you must remember, you do not have all the wisdom in the world. Keeping your ego in check when you give advice will help improve the quality of your advice.
Here are some tips to giving advice –
Bundle your advice with a story
You may have all the information and statistics, but people will not listen to you or make changes.
To make your advice more relatable, you need to bundle your advice with a story.
You must also keep your story short and to the point.
Keep it simple
A long and complicated piece of advice will not be absorbed by your audience well.
Keep your advice simple and break it down into smaller steps.
Structure your advice well
Like a piece of well-written speech, our advice should have an introduction, a body, and a conclusion.
This process makes your advice easy to follow and be retained in your brain.
Don't talk down
You should never talk down to your audience. Appreciate their situation and concentrate on making it better.
Your audience will respect you only if you respect them first.
Use your own experience
We all have experiences that are worth sharing. Your personal experience is more valuable than you think.
Your experiences make your advice unique.
Add emotions to your advice
Emotions tend to unite us. Adding emotions to your advice can influence your audience better.
Why is giving advice the best option?
Giving advice online is a great way to earn money. Here are some of the reasons why you should consider selling advice online –
You already know the subject
Since you already know the subject well, you don't have to put in a lot of effort to gather content.
If it is a subject you like, you will love to talk about it and explain it to others.
It does not require a lot of investment
An investment of $100 is enough to start this business. Within a year, you will earn enough to cover this expense. Over a period of time, you will be able to make a substantial income from this business.
If you do not want to spend any money, you can sign up with other websites and earn money giving advice online. We have listed the best companies to work with for getting paid for giving advice.
Your potential for earning is unlimited
Once you have established yourself as an expert in a field, there is no limit to what you can earn. People charge in the range of $20,000 to $30,000 at the highest levels of consulting business.
Now, I am not saying you should charge your clients an exorbitant fee, but you can charge a substantial sum for the quality advice that you offer them.
Consistent money
Giving advice for money is not a one-time gig. Once you have established yourself in your niche, nothing stops you from replicating the process all over again.
People are always on the lookout to improve their skills and are willing to pay for quality advice.
This will help your business grow, and you will earn more money as time goes by.
Get paid to give advice: Final words
If you want to earn money by giving online advice, there are many ways to do so.
You can work with companies like Live Advice and Just Answer or work independently by setting up an e-course, blogging, writing an e-book. The options are endless.
If you have expertise in a field, you can share your knowledge and make money.
It is easy as you already know the subject, does not require any investment, and has unlimited earning potential.
Are you ready to sell your advice online?
Get paid to give advice