Is Upwork legit and safe?
Can you actually find clients on UpWork and earn some money?
Can you get scammed on Upwork?
Can you make money on Upwork?
Does Upwork really work?
We will answer everything in this post on Is Upwork Legit. So stay with me till the end to grab lots of information and tips to earn money on this platform
Note – This post may contain affiliate links. Please read disclosure policy
Want to make money quickly? Here are a few platforms to earn up to $25 – $50 in a few minutes!
PineCone Research: Earn $3 – $5 per each survey guaranteed .Sign up now
What is UpWork?
Upwork is a freelancing marketplace (or a platform) where clients and freelancers (like you) meet.
Clients use it to hire skilled individuals (freelancers) for contract work and freelancers use it to find work and earn money online.
You can select the how many hours you work with, what work to take on and who you work with. It provides you a flexible work at home opportunity.
If you are a beginner on the platform, you have to actively pitch clients (or bid on their job postings) but once you have gain experience, clients may also find you depending how good your profile is.
Your pay will depend on the kind of work and skills you have.
This is the process in short –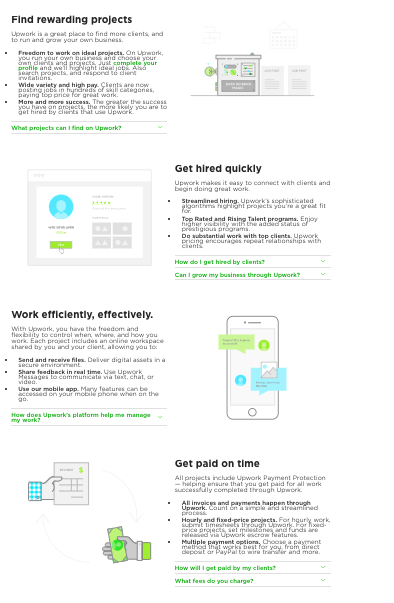 If you are looking for similar platforms, check out Freelancer as well.
Can You Earn Money on Upwork?
As with any other work from home options, it depends.
BUT
With freelancing marketplaces, like Upwork, it depends BIG TIME. It takes it a lot of your time and effort to constantly earn an income from them.
You will also need to understand the platform and create personalised strategies that work.
I have known people who earn $2000-4000 a month and I know who people who are struggling.
You definitely cannot make a 6 figure income or more with them
Read: Weekend Jobs
So, I hate to say this – Try and see if it works for you!
A lot of your income will also depend on
What service you offer?
The average price range for that service
Competition on the platform (for example, how many freelancers offer the same service and at what price)
Where you live in the world and what is the cost of living?
For example, if you live in New York city or LA, the money you will earn with Upwork will not suffice BUT if you live in India (or somewhere else in Asia), you will do just fine with it.
SOME OF THE HIGHLY PAID FREELANCE JOBS ON UPWORK (and OUTSIDE)
Is UpWork Legit?
Yes, Upwork is legit.
UpWork is not a scam and it has been in business since 2003 and has an A+ BBB rating
That said, you may find scammers on the platform – both, as a client and as a freelancer.
You will need to be a little careful as a newbie freelancer but once you have settled and understood the platform, you will know how to avoid these scams.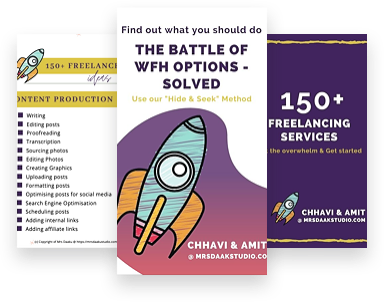 All this said, the platform is highly trusted by many businesses and freelancers. It is possible to make a full time income working on Upwork.
Just a pro tip – Be easy on yourself as you start something new. It takes time!
Reviews and feedback are crucial on UpWork. Try to get them as early as possible.
Keep at it and you will find hiring managers willing to make a risk hiring a newbie.
Then there's the flipside.
When a hiring manager has taken the risk to hire you, you should ALWAYS do your part.
Deliver.
How you can start on UpWork
Your Upwork profile will do the work of selling you and your services. So be detailed and careful with how you write everything.
Take your time to complete the profile.
You can start out at $15 – 25 per hour (or more – depending on the service and skills).
That is pretty amazing especially for college students looking for jobs.
Step 1: Select the main service you will be offering clients. You can choose any of the following –
Web, Mobile & Software Development
IT & Networking
Data Science & Analytics
Engineering & Architecture
Design & Creative
Writing
Translation
Legal
Admin Support
Customer Service
Sales & Marketing
Accounting & Consulting
Step 2: Select your level of work experience.
On Upwork, you can select any of these three levels
Entry Level
Intermediate and
Expert.
The higher your level of experience, the higher your pay will be.
Step 3: Complete your profile. The information you will have to provide include
A professional title,
Your profile photo,
Your professional overview,
Education,
Employment history,
Level of proficiency in the language you speak,
Desired hourly rate,
Availability (hours of the day) and your physical location address
Step 4: Submit your profile for review.
It can take upto 12 hours to get a response from them. So be patient!
Step 5: Build a portfolio.
When you are bidding on any job, you will have to submit a proposal. A proposal basically includes a portfolio, cover letter and resume.
A well thought out cover letter and portfolio can help you land clients quickly
Step 6: Set up your payment method and put in all the necessary details.
⭐ Recommended Reads:
CAUTION: It will be a slow start
There are thousands of freelancers on Upwork and it gets competitive!
The first few times on Upwork
You may be rejected
May face lowball offers from clients
May never receive a response from a client for the first 10-20 proposals.
On top of that, you only get a limited number of proposals (bids) as a new freelancer.
The point being –
Freelancing is hard. You will have to admit that first and move along.
You have to be ready to face these challenges and work through it. This is the time when most freelancers quit (unfortunately!)
But that's a common freelance mistake.
The only reason things are going to seem difficult is because you are NEW. To everything. To the platform.
If you have no feedback or official job score rating, hiring managers won't take a chance.
That is why starting on UpWork is hard.
To expedite the process, grab a few these how to make UpWork work for you trainings.
Upwork Payment & Fees
Is Upwork legit? Yes.
Do I like UpWork? Ummm, yeah. To some extend. We will talk about it in just a bit.
While UpWork is free to sign up and find freelancing gigs, they take a percentage of your payments.
The fee for freelancers is 20% if you and your client transacted less than $500 (USD).
The fee drops down to a more agreeable 10% once you cross over that $500 (USD) mark until $10,000 as long as it is with the same client.
In short, you need to target clients who offer long term contracts that will hopefully spend more than $500.
After $10,000 (USD) for a single client, the fee goes down again to 5%.
⭐ Recommended Reads:
How Do I Get Paid with Upwork?
Upwork has a lot of payment options and how you get paid depends on your payment system for a particular job.
Upwork provides you 3 ways to bill a client
Hourly Billing: You are billed for every hour you have worked on the project.

According to Upwork, Hourly Time and Weekly Payments are based on the weekly billing cycle


Fixed-price billing: You get paid once the work is done and approved by the client.


Pre-funded milestone payment: You are paid when certain parts of the work are completed. For instance, you can choose to be paid a certain percentage of the total amount once you submit a draft and the rest after you send the complete project.
The payments are made by UpWork through a third part escrow account. Basically, they hold payments for both parties until client reviews the work and releases it.
If you have worked and delivered satisfactorily, you will be paid.
All the payments are managed by Upwork's Payment Management System.
Upwork offers the following payment methods:
Direct to U.S. Bank (ACH) – Free
Direct to Local Bank – $0.99 per transfer
U.S. Dollar Wire Transfer – $30 per transfer
And these third party payment vendors:
M-Pesa (Kenya only)

Skrill
⭐ Recommended Reads:
How do I get hired at Upwork with no experience?
A million dollar question!
Generally, a profile that shows experience, success rate, job score and overall a good progress report will get work on UpWork.
But, as a beginner with no experience, it can be difficult.
Follow these tips to land work on UpWork as a newbie
Use "no experience required" filter while looking for jobs instead of endlessly trying to compete with experienced freelancers.


Set competitive rates. Even if it means a little lower than normal. Remember your aim is to get clients, finish work and get ratings and feedback.


Finish your profile with all details. Do not skip over any field.

Take the inbuilt proficiency tests. If you pass the tests, you will improve your chances of landing quality jobs.


Make your profile as authentic as you possibly can. Do not lie.
Tips on Working for UpWork
Here comes my favorite part.
There are some smart ways to make your life easier and some tricks to boost the interest of potential clients.
The UpWork Basics
12 hour wait – Once you have signed up with UpWork, it can take as long as 12 hours to be approved. You will need ID or passport.


Give away work for free – Initially, you can think about working for free for positive feedback and ratings (which is crucial on UpWork). When writing the proposal, stress on it. Tell the hiring manager that you are new and willing to work for free for an hours worth of work (or something similar).


Among other things, remember to update the following details on your profile:

Which service/niche you know
Professional title
Your profile photo
Education level
Employment history
Level of language proficiency
Work samples
Desired hourly rate
Availability and general physical location + time zone.
Be Keyword RICH on UpWork.
Keywords are important everywhere!
Hiring managers, as usual, use keywords to find you. They type the most obvious words into the search to look for suitable freelancers.
For example, logo designer, content writer or if they are looking for a topic, search for paleo, wordpress etc
When you are filling out the profile as well as the proposal, be as thorough as possible.
Give them keywords they want to see!
Pro Tip – Fill out all sections of the UpWork profile. No section is useless! If it pertains to hobby, just fill it out. You never know what the hiring manager is looking for!
Job Score
You will get the Job Score ONLY when you are not considered a new member of the community.
Job Score represents how well you are doing on UpWork based on different variables.
Do not get obsessed with the number. It keeps fluctuating every two weeks and it will go up and down like a maniac
Make An Extra Effort
Just like any other freelancing work, you will have to make an extra effort.
Trying = Money.
Start by taking advantage of all your bids and focus on getting feedback/ratings.
Again: Trying = Money.
For starters –
Get perfect scores on language
Get a good score on typing
While you don't have to lose your sleep over it (because you can always take them over and over), it is a good practice to give your best. It shows the client you are serious about working!
Spend time writing proposals. They are like job interviews that makes first impression.
You should always provide sample work. While you should always try to share relevant and related work, it does not hurt to share unrelated work till the time they're good.
Once you are confident in the work, you can bill a little higher and put out better work. If your client asks for 500 words, do 600 words.
When the work is great, strong non-cheap clients will come back.
Always Be Polite
Spend sometime writing effective proposals.
Be polite, ask questions and convince hiring manager on hiring you or that you have required skills and knowledge.
Once you are hired and the project is completed,
remind them to think about you for future projects
thank them for the experience and
Ask for a feedback, testimonial or rating.
Play Psychology
You will find many people bidding on jobs and gigs which is at a ridiculously lower rate
But, don't be disappointed or try to compete with them. You can command your rate and still get hired.
If you are confident that your skill and work are upto the mark and you can deliver better than others, stick to your rates and explain how you are the right fit for the job.
Clients are always willing to pay a little extra for premium services.
The price is not the only factor in hiring clients.
If that is the case, you are better off without such clients. Freelancers have all seen this before: the cheaper the hire, the more they demand.
⭐ Recommended Reads:
Offer Add Ons
You can always offer add – ons in your proposal to attract the client. Doing this will also allow you to charge a little higher!
Let's understand this with examples.
If the client wants articles for a blog, say you can also do basic SEO optimisation. Learn how to do basic SEO here.

If you know the client is a blogger and have a Pinterest account, offer to make one pin or a social graphic. You can use Canva to make these – its free.
Other Upwork hacks, tips and tricks
Mind your time zone. If you want to get clients in another time zone or work with clients in another timezone, adjust your work time to match their daily routine.

For example, most clients in the US will post jobs in the morning and before retiring for the night.

Avoid back and forth with clients. While you should be actively communicating with clients, no one likes to be questioned again and again.

In the first go, ask as many questions and be clear before you start working


Don't come across as desperate. Do not beg and stick to your rates.


Always be prompt to reply to clients messages.


Don't wait for work to come to you. Be reasonably motivated and aggressive while looking for work.

For instance, send as many proposals as possible in the beginning. Don't send a few and give up.

What we like about Upwork
Payment protection
UpWork's payment systems are designed to protect your interests from dishonest clients.
They ensure you are paid. ifthe work was done according to the set guidelines.
Efficient Customer Support
If you need any help, their customer service team will be quick to answer.
It is Worldwide
The platform is open to clients and freelancers worldwide.
Positive BBB
An A+ rating is something worth smiling about for people who value a company's BBB status.
Upwork Complaints
It takes time to start earning
You cannot start earning right off the bat. We already discussed how you should expect a slow start and how the platform does not work for all.
At the end of the day, you will just have to choose whether your time is a worthy price to pay.
Poor Pay
Not all clients are willing to pay high on UpWork. So, if you are skilled and experienced, I recommend starting out independently.
Horrible Clients
Lowball offers are common. Clients also drop you after hours of negotiations.
Besides these, I personally do not like the following things about UpWork
Takes away a percentage of the fee EVERY TIME
You have to bid on projects – a process that basically undermines your value
Is Upwork A Scam?
Again, no. Upwork is legitimate work from home freelancing platform.
Is Upwork free?
Yes. UpWork is free for lifetime.
Conclusion – Is Upwork Legit?
So, is Upwork worth it? It depends on you!
UpWork is a decent platform to start with. If you want to test the wters and see if freelancing is your cup of tea, go ahead.
But, if you are already clear about wanting to freelance, I say learn how to pitch and go independent.
UpWork is NEVER going to be your dream job or a long term plan, but it will serve the purpose. of making some money.
⭐ Recommended Reads:
Resources that can help you with land work from home jobs
How to find and pitch clients your freelance services– You can find my strategies to find high-paying freelance writing clients.
Become a work at home mom– A FREE training session that comes along with a workbook and guides you through the entire freelancing journey.
FlexJobs You can find 100% legitimate work from home jobs and freelancing gigs on this platform
PIN ME!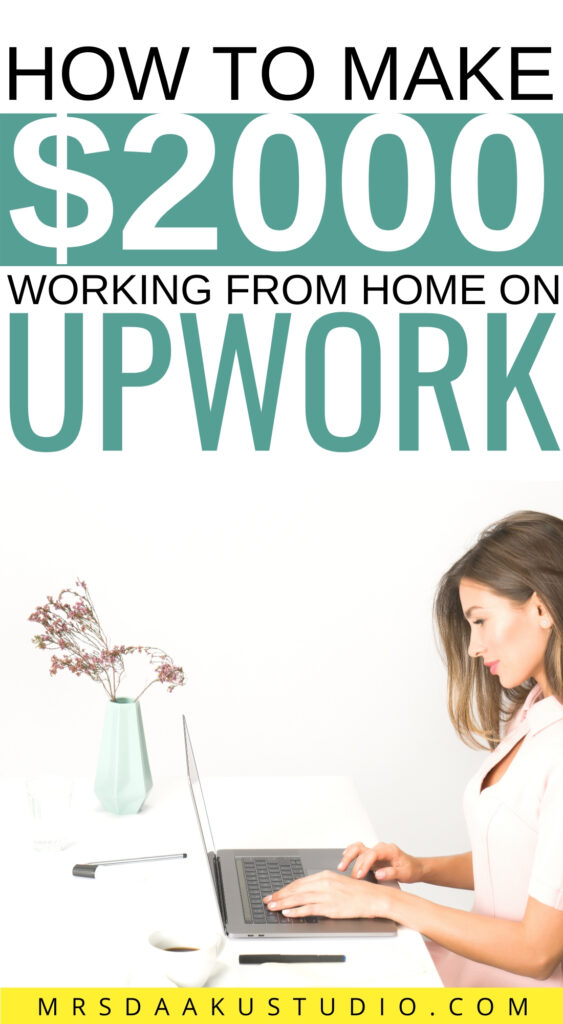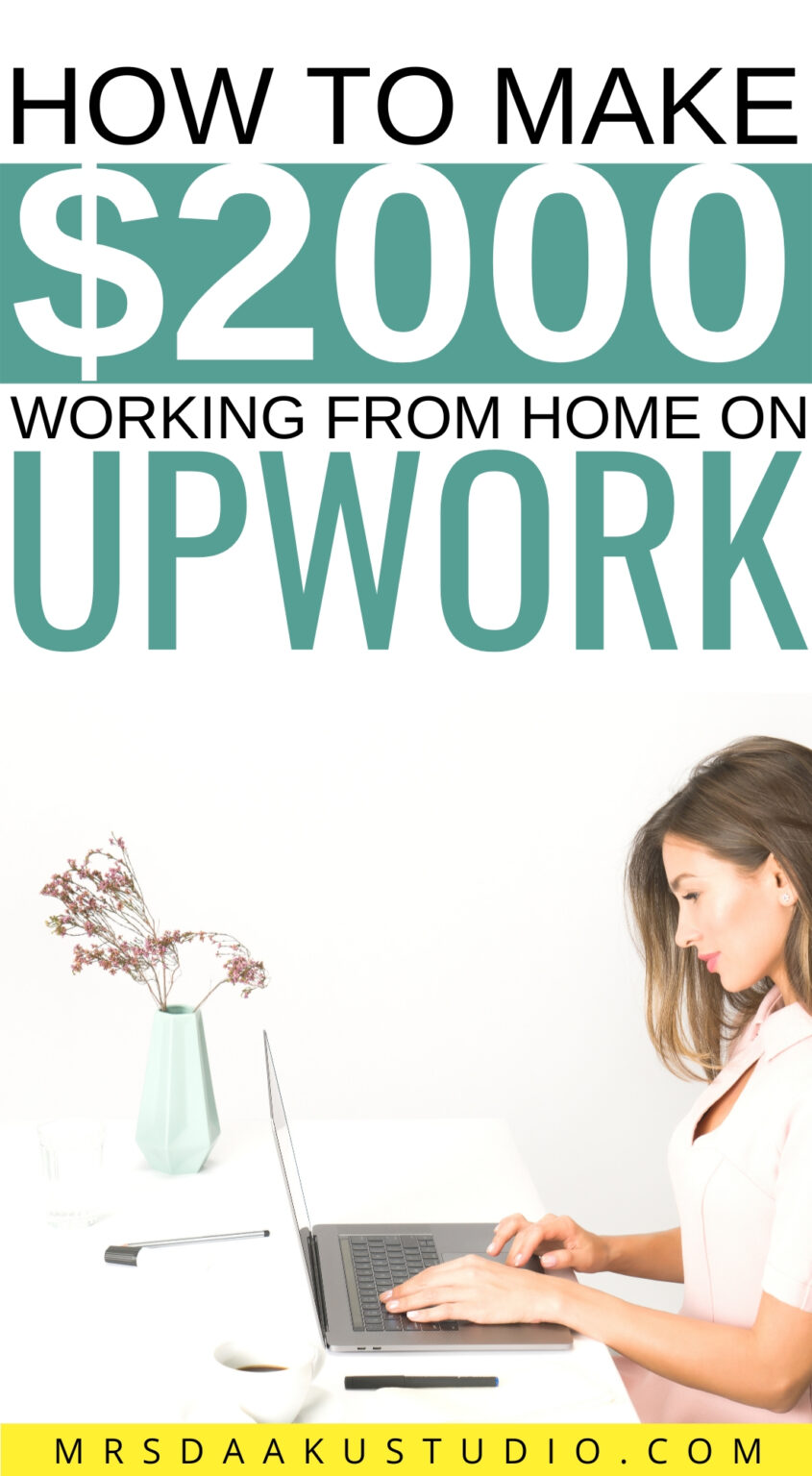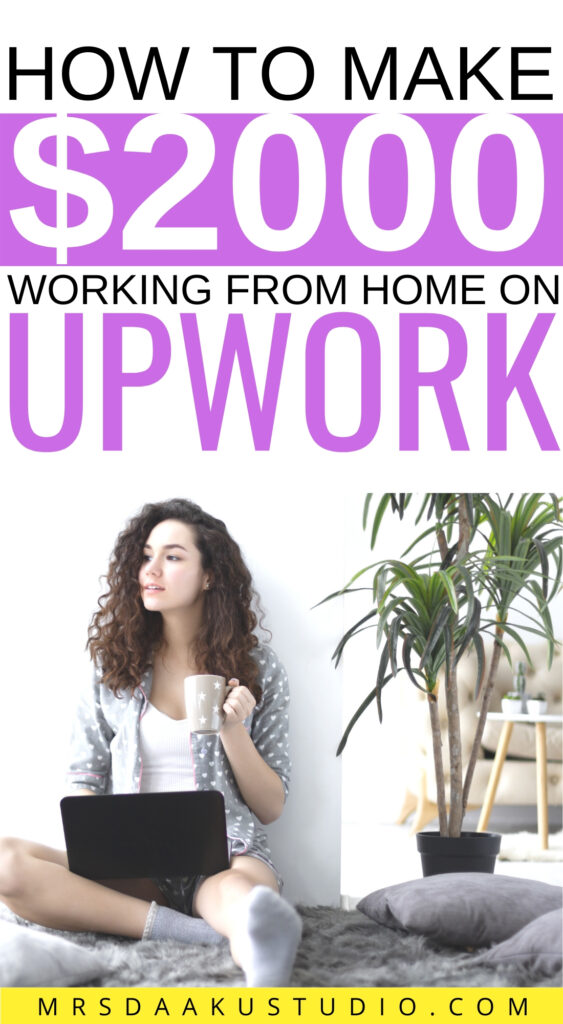 Is Upwork Legit?