If you are new to freelance writing, you are AT LEAST making one of these rookie freelance writer mistakes I am going to discuss in the post.
Look,
Nothing can be more exciting than earning big bucks working at home in your pajamas (or spending time with your kiddos!). With no Mondays, no bosses to sneer around and no despising colleagues, I love freelance writing. I mean, who won't!
But…earning a full-time income as a freelance writer does NOT come that easy for anyone. With the gradual climb in my freelancing career, I made tons of rookie freelance writer mistakes – some were silly and some, serious.
If you want to establish a strong foundation for your freelancing career, read along to know the top freelance writing mistakes I did that you MUST avoid at all costs.
#1 Writing for peanuts
Initially, I started with $1-5 for 500 words. I also wrote a couple of samples absolutely free of cost that was intended to prove "my worth." You know what was the worst part of it – the client didn't even revert with feedback. He took the content and went invisible. This is one of my biggest rookie freelance writer mistakes.
It can be quite tempting to feel that you're a newbie, so you don't deserve "higher" rates. But, trust me, if you know how to write content that can capture the audience's interest, you deserve the standard industry rates.
DO NOT write for insulting prices and don't ever write for free. There are numerous high paying markets and content writing farms that actually pay well. Before selling your services, try them out.
I highly recommend you to read "what to do when clients ask for a free sample and turn it to your advantage"
Relevant reads
What I did to earn $900 as a freelance writer and a non-native English speaker?
How I got "$250 for ONE blog post" client as a new freelance writer in India?
3 freelance writing job boards to land your first gig quickly
What to do when freelance writing clients ask for a FREE sample?
10 ways to land freelance writing clients as a beginner
#2 Not Taking Deadlines Seriously
Deadlines are important. Period!
You see the core relationship between you and your client is that of trust.
And, the biggest proof of trust is the submission of content on time and communication. You don't procrastinate and sit back lazing on the weekend when your client is waiting for your content for the past 24 hrs. It's not cool and it can never be.
When it comes to adhering to the deadlines, here's a tip. If you get some project that might require three days, ask for a minimum of 5 days. I mean let's admit it, unexpected issues can crop up any time. Prepare yourself for it.
If you feel you might not be able to finish a task on time, DO NOT take that project or be open about flexible deadlines. It's better to refuse than regret later.
Trust me, taking deadlines lightly can actually lead you to lose a genuine client. Please don't do that!
Relevant reads
If you want to make your $1000 quickly, you can sign up for Chhavi's course here. In this, she shares all the strategies that helped her make a full-time income writing online
#3 Not taking instructions seriously
Not following instructions are by far one of the most important reasons that several freelance writers lose their clients.
You see, in this industry, your primary goal as a freelance writer is to make your client's life easy. If you're handed down with a couple of submission instructions and if you don't follow that, it portrays you as unprofessional and lazy. Your client may eventually feel that you're not taking him seriously and cancel the contract.
Always ensure that you read the provided instructions thoroughly and in case, you have any doubts, feel free to get it clarified from your client.
Communication is the key!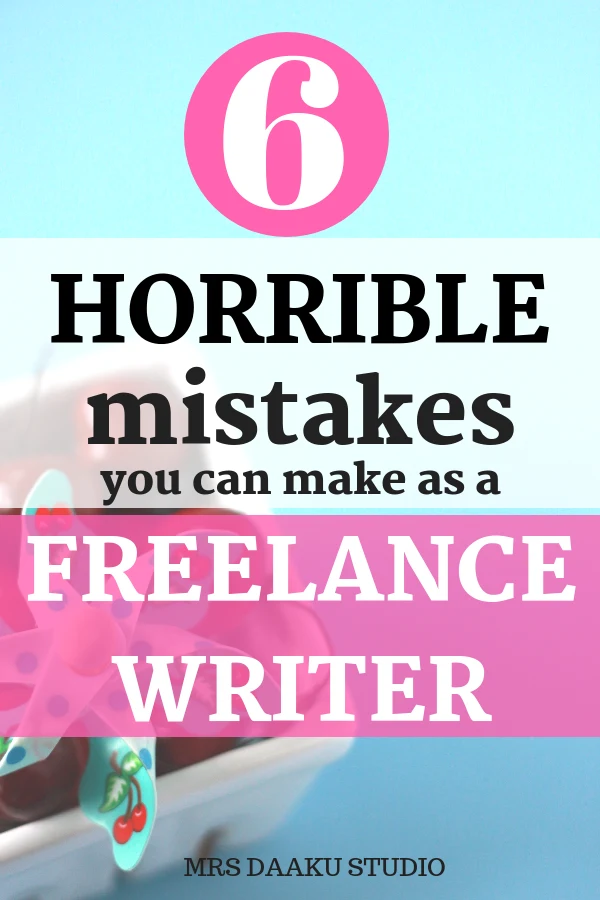 #4 Having no niche
When I started a freelance writing career, I wrote in almost every niche existing under the sun. I was never passionate about tech, but I wrote on Android and iPhone jailbreak. I didn't know about beauty pageants but I submitted content for the same.
The core to being an outstanding freelance writer is to choose the niche in which you're comfortable.
If you don't yet know your niche, here are some tips.
Sit down and start jotting down things that you are passionate about like the latest fashion, beauty products, cooking meals, reading funny articles and so on.

When you're done with the list, narrow them under a couple of niches. For example, if you love taking care of skin, love crop tops and lipsticks, you can bring them under the bracket of beauty and fashion.
#5 Not researching enough
I still remember one of my first write-ups was an "about us" page.
And believe it or not, I wrote what came to my mind with the little information I had from talking to the client.
Result- Poor Content!
Never ever think to do hours of research is a sheer waste of time. Research not only helps you provide awesome output but also lets you stay updated.
Before submitting any content, make sure you know the client. For example, if he wants you to write a blog post, you should know their target audience, pain points and the tone of the articles.
This post may contain affiliate links to products I trust. This means if you make a purchase using the links I may receive a small commission at no extra cost to you. Thank you for the support!
#6 Being overconfident and taking criticisms lightly
Being a freelance writer is definitely not only about writing and getting paid. It's also about learning in the process and evolving as a writer. However, everything can fail if you don't know your mistakes or rather don't WANT to know about them.
As I started my freelancing journey, I was often criticized for few but fatal rookie freelance writer mistakes that I did while crafting the content. But overconfidence often dominated me and I ignored my client's criticisms. It was only after getting rejected by several start-ups and clients that I realized what I had done.
All this while when I was not taking these criticisms seriously, I was losing every possible golden opportunity to evolve as a writer. Understand your mistakes, work on them and accept that you're not perfect.
#7 Using Google images
Okay, this might sound pretty simple, but I made this rookie freelance writer mistake which you should definitely avoid at all costs. When my project called for providing images, I took high-quality images from Google results.
What is the big deal? I was not sure if the images were allowed to be used without a license or not
Don't use any random image that you get on Google. Go to websites like Pixabay, Pexels, and Unsplash that offer free stock photos which can be used without any attribution. Remember, any kind of copyright issue can land you up in a big trouble.
Stay persistent and keep up with professionalism, dedication, and loyalty. Freelance writing is worth a career!
Which rookie freelance writer mistake have you been making? Let me know in the comments section, I would love to know about it.
This is a guest post by Nazia Afreen, an editor at Blooming Pen.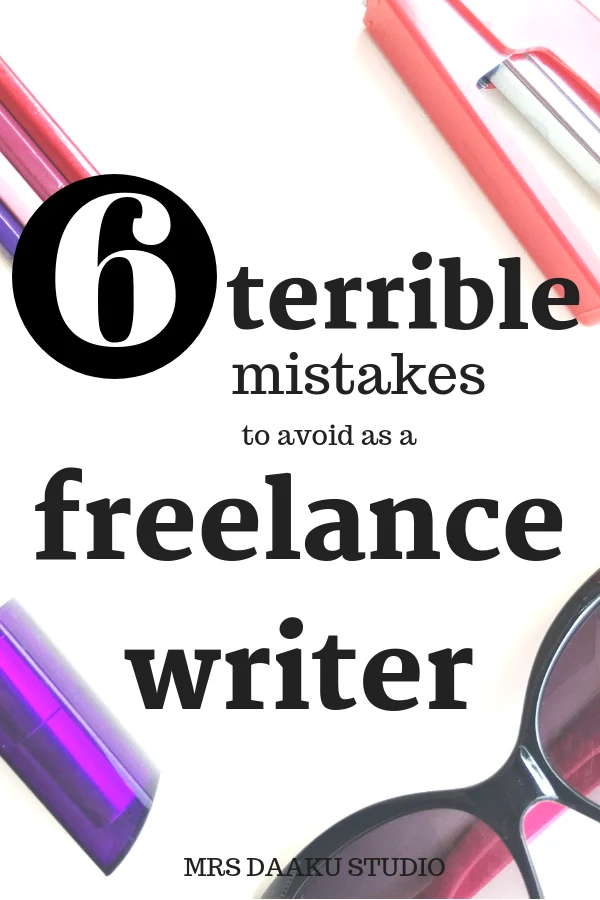 #Top recommendation for a freelance writing course
Wirteto1K by Elna Cain: The best part about Elna Cain's course is that she holds your hand through the process and helps you in every possible way. From what is freelance writing to the things you need to do after you score a client, she touches upon everything. She understands the problems as a stay at home mom with kids and helps you with that as well. Her course is also decently priced for the tonnes (and tonnes) of value it provides. You can sign up for her FREE course, Get paid to write online – This is a FREE email course by Elna Cain where she talks about her strategies, tips, and trick to make your first $1000 by writing for businesses. Using this course, I built a successful writing business and earned $1000 in the first month of writing.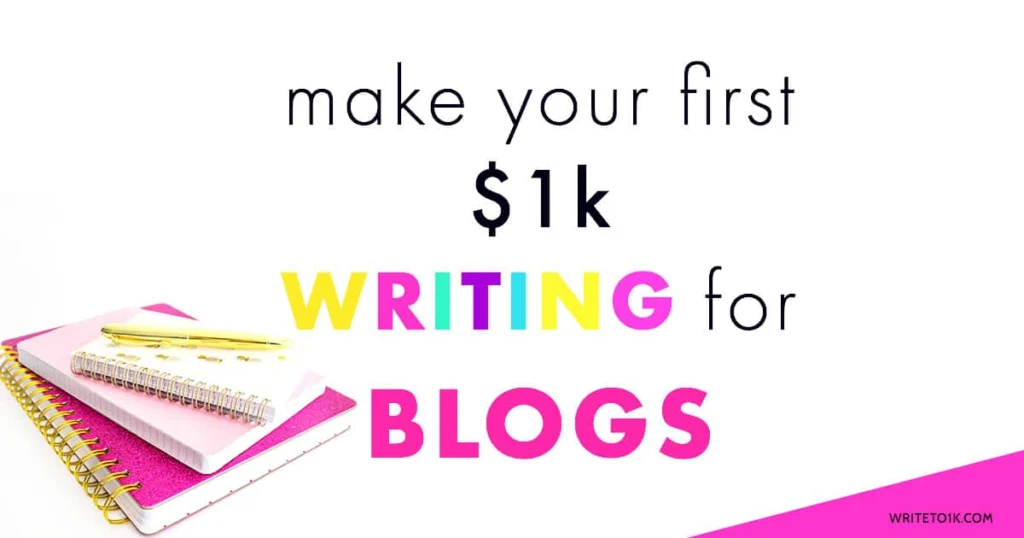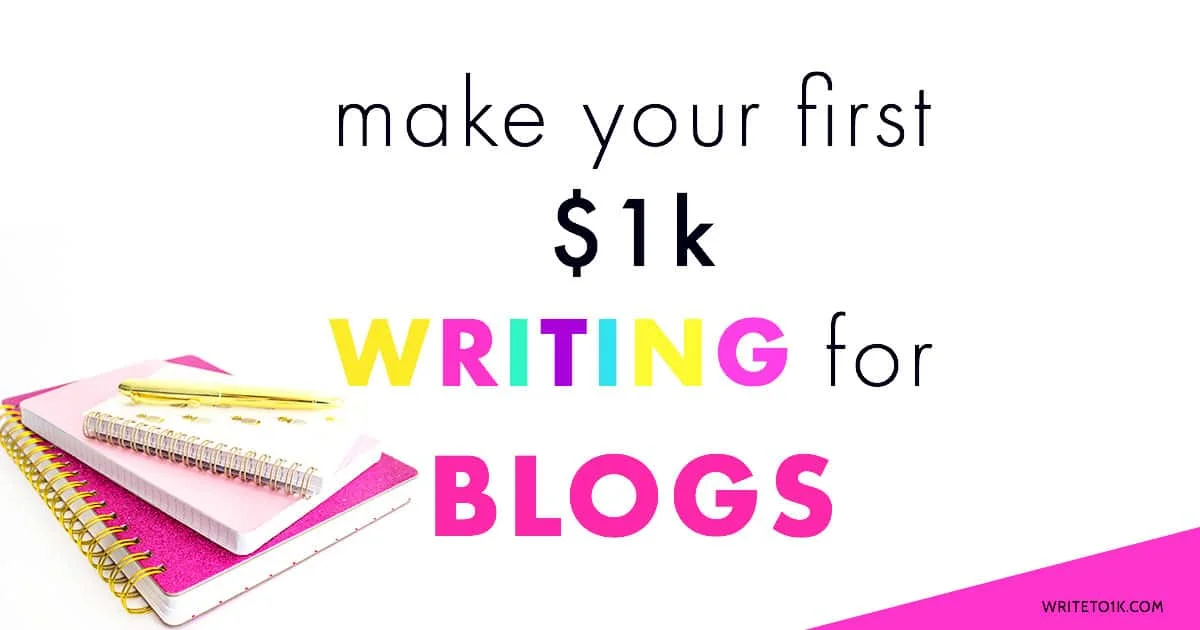 30 days to freelance writing by Gina Horkey: If you know the work from home domain, you have heard about Gina Horkey. I will let this post by her on what is freelance writing do the talking. You can access her course here.
Writers Den by Carol Tice – This is not a course, but a Facebook group where you have access to everything (including Carol). The value she provides inside of Den is more than any course can ever provide at that price.