How to make 500 Dollars fast?
Have you ever found yourself in a situation where you have bills to pay but not enough cash to clear them?
You may find yourselves in a sticky situation when your car demands repairs or you have a loan to repay, and payday is weeks away.
Well, you are not alone. According to a survey of 2000 U.S adults by information technology company Highland Solutions, nearly 63% of adults say they have seen living paycheck to paycheck since Covid hit the U.S.
Instead of getting stuck in credit card debt, I would suggest that you find legitimate ways to make 500 dollars fast.
Check out our list of 32 different ways to make $500 fast. This may just change your life
Note – This post may contain affiliate links and sponsored listings. Please read disclosure policy.
Want to make money quickly? Here are a few platforms to earn up to $25 – $50 in a few minutes!
1. Take surveys to make 500 fast
Many market research companies pay you to share your opinion about specific products.
After you sign up with these companies, you get access to some of the top paying survey opportunities to make money fast.
Here are some of the top paying survey sites that can help you earn 500 dollars fast –
Related: $100 per survey? 10+ HIGH PAYING survey sites to use
Swagbucks
Swagbucks rewards its users for participating in surveys, watching videos, or searching the web. You earn loyalty points for every survey that you take.
Later you can redeem these for gift cards or cash via PayPal. You need 500 points to make $5.
Related: 10 Best Survey Apps that pay real cash in 2020
Survey Junkie
Survey Junkie has a 4.5 star BBB rating and a 4-star rating on Trustpilot.
You can choose between taking short surveys that take five minutes or opt for longer surveys that may take 15 to 20 minutes.
You can earn between $3 and $ 75 per survey here.
Opinion Inn
You can take short and easy surveys here and make between $1 and$100 per survey.
You also earn a sign-up bonus of $ 10 on Opinion Inn.
Survey Club
Survey Club is one of the highest-paying survey sites.
You can earn up to $115 per survey on some of the studies here. It is available to people living in U.S., U.K., and Canada.
Vindale
Vindale Research pays up to $50 per survey. The majority of surveys here take between 5 to 15 minutes to complete and pay$.50 to $2 each.
You can earn a referral bonus when you refer other members to the site.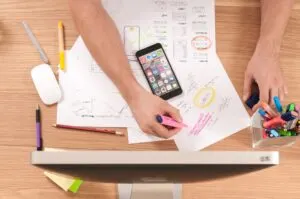 2. Get paid to watch videos
We all spend plenty of time watching video clips on YouTube or reels on Instagram.
Some of us even spend hours playing games online. Why not get paid for doing the same.
Swagbucks
You can watch short ad clips, news content, and viral videos on Swagbucks to earn rewards.
Swagbucks pays you for playing games as well. Every time you complete a task, you earn Swagbucks.
A hundred Swagbucks are equal to $1.
Perk TV
On Perk TV, you can watch ads, videos, search the internet, and play games to earn Paypal money, points, and gift cards.
You can use the gift card in Walmart, Target and redeem the cash in Paypal.
QuickRewards
On QuickRewards, you can make money watching videos and by solving captchas.
You can make around $20 each month, but it is available for people living in U.S. and Canada only.
Inbox Dollars
In Inbox Dollars, you can earn money by watching videos, playing games, and shopping.
You can earn vouchers and scratch cards. You also get a $5 bonus for signing up.
3. Use cashback apps
If you are looking for options to make 500 dollars fast, downloading cashback apps is a great option.
Using these apps is really simple. All you have to do is use these apps to scan your receipt after shopping to get your cashback.
Here are some popular cashback apps that you can use –
Dosh
You can just download this app and link your debit card to your dosh account.
You will get a cashback percentage for every purchase that you make on your card at a participating store.
Rakuten
You can earn up to 20p cashback through Rakuten.
The money that you receive is dispatched to your bank account or your PayPal account every quarter.
Fetch Rewards
To receive cashback on Fetch Rewards, you need to scan your receipt.
You get five points for every successful upload. You can earn additional points for every referral.
GetUpside
GetUpside partners with restaurants, grocery stores, and gas stations for cashback.
When you subscribe to GetUpside, you get a map of the different participating stores in our area.
You can redeem points totaling to 1 dollar or above on your PayPal account.
Some of the other popular cashback apps include -•
Capital one shopping
Drop
Shopkick
Earny
4. Sell data for cash
We often hear news of search engines, websites, and apps selling our data at exorbitant rates.
We, the users, never get a penny of this money. So, why not sell your own data and pocket some cash.
Here are some of the apps that pay for your data-
Neilson Mobile Panel
All you need to do is install this app on your desktop or mobile.
You can make $50 per year just for installing this app.
Data Coup
You can use this app to connect to different social media platforms like Facebook, Twitter, Linked In, Instagram, and Tumblr.
You can also link your debit or credit card to monitor your spending habits.
You can redeem your earnings when you have accrued up to $5.
MobileXpression
This app collects data from your mobile device. Once you download and sign up for this app, you are eligible for weekly credits that you can redeem for gift cards.
To start, you need to play an instant rewards game for a week.
5. Get paid to read emails
There are many apps and websites online that pay you to read their emails.
When you sign up with them, you will receive special emails from advertisers. You get paid once you click on these emails.
Here are some great companies that pay you to read emails –
You can also check out The Profit Plan – a course cum coaching program which helps you monetise skills. It is a definite check out for the amount of value it provides at the price point.
InboxDollars
When you sign up with InboxDollars, you will receive emails with special offers in your inbox.
You will earn money when you click on them and read them.
Cash4Offers
You can sign up with Cash4Offers and get paid to read emails. The platform offers a low payment payout and fast payments.
You automatically become a gold member and receive payments in less than 72 hours.
InboxPays
InboxPays sends emails to your inbox daily. You then need to open and read them.
Once you have received $50 or more in your account, you can redeem it through PayPal.
Paid to Read Email
Paid to Read Email is another website that pays its members to read emails.
You can earn additional money by referring your friends or taking surveys.
They have a low payout limit of $5, and your payment is processed in 24 hours.
Related: Get paid to give advice: 20+ NEW ways to sell advice online (latest update!)
6. Get paid to walk
There are several platforms online that conduct exercise surveys and are willing to pay you to walk.
You have to sign up with these sites, and they will track the distance you have walked and award you with points.
You can later redeem these points for cash or gift vouchers.
Here are some of the best apps that pay you to walk –
Related:20 worst jobs for introverts to have (+ what jobs to get instead)
Sweatcoin
This app counts all kinds of steps, including outdoor, mountain, treadmill, or just walking around the house.
On this website, 1000 steps will get you .95 Sweatcoins. You can redeem them for different products.
The rewards change daily.
Optimity
On Optimity (previously known as Carrot Rewards), you can get paid to hit your daily goals.
You earn gems when you hit your goal and a bonus if you do this for days in a row.
Ninety gems are equal to one cent.
Runtopia
Runtopia helps you improve your fitness and gives rewards as a bonus.
They allow you to set exercise goals for running, walking and cycling, and you can even have an audio coach play during your workouts.
As you exercise with Runtopia, complete daily tasks within the app, and participate in the community, you'll earn Sports Coins.
You can redeem your Sports Coins for products, free memberships, coupons, and even PayPal cash.
There are many more apps that pay you to walk, including –
Lifecoin
Achievement
Step Bet
Charity Miles
Lympo
PK Rewards
7. Rent out your car
If you own a vehicle, renting it out can be an easy way to make 500 dollars fast.
You can do this over the weekends, during holidays or any other time when you know you will not need your car.
You can register your vehicle on these apps and make a passive income.
Related:
12 Car advertising companies (+ how to get paid for car advertising)
Poshmark vs. Mercari vs. eBay –Which is the best place to sell online?
Turo
It's free to list on this app, and you can set your own price and rules like mileage restrictions. Turo screens all drivers before they start renting.
You can also leave reviews for the renter and the car owner. Your car should not be older than 12 years; it should have fewer than 130,000 miles and a clean title.
You get to keep 65 to85% of the rental cost, depending on the vehicle protection plan you choose.
Getaround
Getaround is similar to Turo, but it isn't available nationwide. Users can rent your car by the hour here.
You will also need to install the Getaround Connect hardware, allowing renters to locate and unlock your vehicle.
The app sets the price for your rental, and all potential renters are screened. The app is free for the first 90 days, and then you are charged $20 monthly.
A one-time payment of $99 is required for the installation of the hardware.
HyreCar
Only Uber and Lyft rideshare and delivery service drivers like DoorDash and Postmates can hire your car through this app.
It is free to create a listing on HyreCar, and you can set your own rate, but Uber and Lyft need to inspect and approve your car first.
All renters are screened before they can rent through this app. You get to keep 85% of the rental cost.
8. Teach kids online
If you are an educator and love teaching, there are plenty of opportunities for you online to make 500 dollars fast.
Here are some of the best options to help you get started –
Related: Teaching English Online to Korean Students Online – 18 Do's and Don'ts
VIP Kid
VIP Kid is a tutoring service that caters to students in China. This platform connects English teachers with Chinese students in the age group of 4 –15.
Teachers are paid per class, and they can make between $700 and $2000 per month.
Tutor.com
This platform offers tutoring for various subjects, including maths, science, English, social studies, and foreign languages.
To become a tutor here, you need to have a college degree or be at least a sophomore college student.
The pay depends on your qualifications.
Enroll
To be hired as a tutor with Enroll, you need to be at least 15 years old and be well-versed in the subject you want to teach.
You must also have at least two years of prior teaching experience.
You should be a resident of the U.S. and should have a valid social security number.
The base pay rate is $14 per hour, though you can earn extra money through bonuses and incentives.
Some of the other tutoring companies where you can enroll as a tutor include –
Chegg
Tutapoint.com
Education first
9. Get paid to play games
Many apps reward you for playing games. Some of these even pay real money.
You can even answer trivia questions, scratch digital scratch-off cards on these apps, and make money.
Here are some such reputable apps –
Related: How to Make Money on Mixer (latest update)
Mistplay
Mistplay has a decent mix of games in genres like strategy, puzzles, survival games, card games, and simulation games.
On Mistplay, you earn points for playing games and leveling up your account.
Mistplay also tracks your playtime to ensure that you earn points.
The more games you play on MistPlay, the more points you make. You can redeem these points for gift cards.
Gamehag
Gamehag has an impressive selection of games, including War Thunder, Warframe, Magic: The Gathering Arena, Guild Wars 2, Rise of Kingdoms, and more.
You can earn rewards for playing your favorite game.
The prizes include free gift cards, free steam games, counter strike skins, and prepaid visa cards.
Flash Rewards
Flash Rewards pays you with coins for every minute that you spend playing a game.
Coins come out slowly over time. You will earn more rewards if you are willing to try out new games.
You can cash out through gift cards starting at $5 from retailers like Nike, Amazon, prepaid Visa cards, and Nintendo.
10. Do deliveries
If you own a vehicle, you can make 500 dollars fast doing deliveries.
You can sign up with different companies, provide your car details, give a valid driver's license, and you are good to go.
Here are a few services that you can sign up with for deliveries –
Ubereats
Uber Eats drivers earn between$8 to $12 per hour after accounting for vehicle expenses.
Uber pays its drivers weekly.
Related: Drive for Uber Eats – Make Money delivering food TODAY
Postmates
You can join the Postmates fleet and start delivering all kinds of goods, including food, groceries, and retail purchases.
An average Postmates delivery driver earns $11 per hour.
Amazon Flex
Amazon Flex allows you to have flexible hours and pays you $18 to $25 per hour for deliveries.
Shipt
As a Shipt shopper and driver, you will need to shop for the groceries that the user has ordered and then deliver them to their home.
Shipt pays on a per-order basis, and you can earn up to $22 per order.
The payments are made weekly via direct deposit.
11. Make money to walk pets
Rover
Rover is a famous dog walking app. It is available in over 10,000 cities and boats of over 85,000 per sitters.
You get paid $10 an hour on average.
Wag!
Wag is another popular dog walking platform. You can get paid $15 per hour here. In addition, Wag also offers free dog training.
Once you get your certification, you will get liability insurance as well.
Petsitter.com
PettSitter.com is a platform specifically catering to dog walkers who are looking for work.
It allows pet sitters to contact families and businesses who want to hire someone to walk their dog.
The average pay here is $15 per hour.
You can find all about getting paid to walk dogs and becoming a dog walker here.
13. Sell things you don't use
Do you have many things lying around the house that you don't use anymore? Many sites will buy your old unused stuff with an instant cash quote.
Here's are some websites that accept second-hand items in return for cash-
Related: Online Yard Sale: A Simple Guide to Sell Stuff Online
eBay
eBay is a massive platform for selling all kinds of items ranging from electronics, clothing, collectibles, and almost anything in existence out there.
Poshmark
Poshmark is the best platform for selling designer apparel, accessories, and even certain home goods.
ThredUp
If you have clothes, shoes, and accessories but don't want to be involved in the selling process, ThredUp is the site for you.
From determining the value of your items, taking the photos, and penning descriptions, ThredUp does it all for you.
14. Sell your photos online
If you love clicking photos, you can turn your passion into a successful side hustle.
Many businesses, bloggers, graphic designers, and marketers often buy images online.
Here are some sites where you can sell your photos online and earn money –
Related:
APPS TO SELL PHOTOS: 10+ photo apps + tips to make more money
How to Make Money Selling Photos of Yourself
500px Prime
You can sign up for a free account on 500px Prime. You will get 70% net for every license sold (standard licenses are $250).
If you submit your images for commercial licensing, your pictures may appear for big-name ad campaigns.
Shutterstock
As a contributor, you can make between 20% and 30% of whatever your image sells for, which Shutterstock pays out monthly.
Shutterstock allows you to protect your copyrights. It is up to you to set the rights on your photos.
Alamy
Alamy is another excellent platform where you can sell your photos.
This platform pays photographers 50% of each sale if they exceed the $25,000 limit per year, 40% for each sale if their annual sales are less than $25,000 but higher than 250 dollars.
They pay 20% to contributors whose annual sales are under $250.
15. Test websites to earn money
You don't have to be a computer expert to be a website tester. Websites and app developers want to create a seamless app or website, and they want the users' inputs.
As a user tester, you will test the website or app's functionality.
Here are some of the best websites that pay users to test websites and apps –
User Testing
You first need to take a practice test. If you are approved, you will start receiving paid tests in your dashboard.
You get $10 for each test that you get and are paid via PayPal.
UTest
After you register with UTest, you will get a Sandbox test, which is a practice test.
Here your work involves looking for bugs in the software. You are paid $5 for every bug that you find.
User Test
User Test is an invite-only site, and they accept only 5% of the submissions.
You are paid $10 for every test completed, and the payment is sent within two days of finishing the test.
UserFeel
On UserFeel, each test takes around 20 minutes to complete, and you are paid $10 for every test.
You can take the tests on your computer or your smartphone.
16. Get paid to chat online
If you love to chat and don't mind texting for long hours, why not make money out of it?
Companies often hire chat support representatives to engage with their clients and keep them busy.
Amazon Chat Support Representative, LiveWorld, The Chat Shop, Accolade Support, and JustAnswer are a few such companies.
Many companies pay you to chat and flirt online. Remember, you're in control of how you want to communicate, whether via live chat, phone, webcam, or all of the above.
Chat Recruit, Phrendly, FlirtBucks are a few such companies that pay you to talk and flirt with strangers.
Related:
Text Chat Operator Jobs from home 2021: 28 companies that will hire you.
Phrendly Review: Flirt and make money online with Phrendly
Get paid sexting (flirting), texting & Chatting online – 9 legit phone sexting companies ($120/hr)

17. Make money by blogging
Blogging is a good option if you want to make 500 dollars fast.
Several people who start blogging as a side hustle end up making it their primary source of income.
You can start blogging from a free platform like Blogger or WordPress. The first step you need to do is zero onto a niche that you are comfortable writing about.
You will also have to buy a domain address and hosting
Note – How to create a WordPress blog with Bluehost in under 15 minutes?
Most bloggers earn money through display ads, affiliate marketing, online courses, and sponsored posts.
If you work hard and are consistent with your blogs, you can start making money within six to eight months.
Related:
How to make money blogging for beginners: Income Report [Sept-Dec 2018]
Get paid to write: 21 blogging sites that pay $150+
7+ best blogging tips for beginners: Interview 11 with Arfa, SheMeansBlogging
18. Try your hand at proofreading
If you are passionate about writing well and have an excellent eye for grammatical errors, you can make money proofreading articles.
Proofreading is a critical component of any writing process.
It involves scrutinizing a written document to detect and correct mistakes in grammar, punctuation, spelling, and vocabulary.
Several websites pay you to proofread articles. These include –
But before you proceed, I want you to sign up for this FREE training on how to become a proofreader and what it entails.
Scribendi
Scribendi provides proofreading services for essays, thesis, and resumes. You can join their team of expert proofreaders and make money.
To join Scribendi, you should be able to proofread 1000 to 1500 words per hour.
You can earn between $15 and $20 per hour.
ProofreadingServices.com
To become a proofreader at ProofreadingServices.com, you have to take their preliminary test to test your language aptitude.
Once you become a part of their proofreading team, you can earn between $19 and $46 with flexible working hours.
Cactus global
The proofreading projects on this site range from science and engineering to healthcare and business.
Your task consists of editing and formatting manuscripts. Cactus Global pays around $15 per hour.
Related:
Online proofreading jobs for beginners (Earn $40k+ with no experience)
Proofreading Test: The best ones to test your proofreading skills?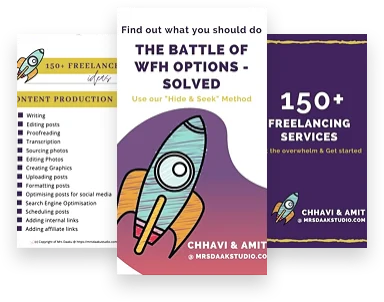 19. Do online research
If you are an expert at digging around for information online, then this is the job for you.
An online researcher's job gives you the flexibility to work at home and at your own pace. You can earn up to $10 an hour if you are doing more generic research.
If you have a master's or higher degree and advanced or even expert-level knowledge on in-demand subjects such as law, science, or finance, you can potentially earn $50 to $80 per hour.
Here are a few sites that provide online researcher jobs –
Wonder
When you become a part of the Wonder team, you will receive questions directly from the customers.
Your job as a researcher will be to find the information available on the topic.
The pay ranges from $15 to $25 per hour, depending on your speed and expertise.
JustAnswer
JustAnswer offers subject matter expert jobs in medicine, law, veterinary, and science.
To become a subject matter expert on this site, you must show proof of a degree in the field or professional experience.
StudyPool
Studypool invites students from around the world to submit questions about every type of subject imaginable.
Online researchers (or so-called microactuators) then see these questions, bid on them, and answer them.
You get paid when your answer is accepted.
20. Sell your idea to companies
If you have loads of innovative ideas, you can make money by selling these ideas to companies.
There are several companies out there that are willing to pay you for your idea.
Some companies pay you to invent products.
They can belong to a whole variety of industries including, pet care, outdoors, medical and household products.
These include companies like –
Henkel
Sharper image
3M
BD
Dorman Products
Coastal Pet Products
The mobile app industry is growing, and app insiders are constantly looking for unique app ideas.
If you think you have an app idea that can make millions, you can pitch your ideas to these companies
Google
Mobile App Fund
FundedApp
GungHo Online
Supercell
Related:31 companies that pay for ideas (+ companies that buy ideas)
21. Work as a virtual assistant
Businesses have tons of work, but not all companies can afford to hire full-time employees for every task.
These companies outsource their work to virtual assistants.
A VA's job involves helping people and businesses with data entry, social media management, website maintenance, research, customer service, and more.
Here are some popular sites where you can find clients –
Upwork
TaskRabbit
Craigslist
VANetworking.com
PeoplePerHour
You will be able to make money, work flexible hours and work from anywhere in the world as a VA.
You can also check out The Profit Plan – a course cum coaching program which helps you monetise skills. It is a definite check out for the amount of value it provides at the price point.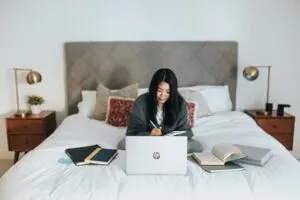 Related:
How to Become a Real Estate Virtual Assistant in 2020
Pinterest Virtual Assistant Interview #6 – Meet Yi Ming Lai
How to become a virtual assistant: The ONLY guide you need to have
22. Make money through affiliate marketing
Affiliate Marketing is marketing for some other person's product and, in return earning commission for every sale through your referral link.
Many online companies sell their products or services through an affiliate program.
You can sign up for the program and get your unique tracking link. You can use this link whenever you write about their product or service.
Different affiliate programs use different methods to pay.
Pay per click
You make money based on the number of visitors redirected by your affiliate site to the advertiser's website.
Pay per sale
You make money when the purchase is complete. The advertiser pays you a pre-decided percentage of the sale.
Pay per lead
You earn money when the visitor provides their contact info on the advertiser's website.
Although affiliate marketing is not very difficult, you need marketing skills and inside strategy to excel in this field.
You can join platforms like ShareASale, ClickBank, Amazon associate as per the niche and earn 500 dollars fast by promoting products.
23. Make money through freelance writing
If you love to write and have a unique writing style, you can make money online through freelance writing.
Many websites like Fiverr, Upwork, iWriter, FlexJobs, Guru, Freelancer.com offer freelance working opportunities.
You can easily earn$15 to $30 per article as a beginner and then eventually make $100 to $300 per article as a freelance writer. Check how to make $1k with writing
There are several magazines online that also pay you to write for them. You can choose among one of these depending on the niche of your interest.
Chicago Health -Medicine and health ($150 per story)
The A.V. Club -T.V., movies and entertainment ($ 0.21 per word)
Bustle -entertainment and lifestyle ($ .25 per word)
Dollar Stretcher -how to save time and money ($ 0.1 per word)
Check out this course by Holly Johnson on how to earn more travel writing for digital nomad blogs. She is rockstar who makes over $200,000 a year writing for digital nomad blogs and other known publications online.
You can also check out The Profit Plan – a course cum coaching program which helps you monetise skills. It is a definite check out for the amount of value it provides at the price point.
Related:
13+ online writing tools all writers and bloggers must-have
Win Freelance Writing Clients
How to become a medical writer? An intro to medical writing as a career
24. Start Amazon FBA business
Amazon FBA business is a setup where the seller chooses what product they want to sell, find a supplier, order the products, package, and ship them.
Everything is stored in one of Amazon's many Fulfillment Centers, and then they take care of the rest.
This can be highly profitable, but you need to follow a few basic rules to make your business a success.
Do proper market research before you choose the product that you want to sell.
Avoid competing with brand names or established products.
Price your product well.•Optimize your product description.
Related: Amazon Direct Ship Freebies 2021 – Detailed Guide 101
25. Sell unused gift cards
We all have unused gift cards lying at home. It may be a gift card for a hardware store or a sports store, but you may not be interested in them.
Why let these cards go to waste when you can sell them online.
Many of these sites also let you trade your gift card for a gift card for one that you can actually use.
Several websites like Raise, Cardpool, CardCash, and Gift Card Granny buy your gift cards for close to their face value.
You can compare the offer price of different sites to ensure that you get the best price for your card.
Also check – Amazon Direct Ship
26. Check for unclaimed money
There is a good chance that there may be some unclaimed funds held by the government that may be owed to you.
This may include tax refunds that were never cashed, back wages, unclaimed pensions, or insurance payouts that were not cashed.
When such money is unclaimed, it is held by the government till you present yourself. But how can you check for unclaimed money?
Check out these sites to find out if you have unclaimed money –
MissingMoney.com
Unclaimed.org
27. Get free stock
Investing may sound daunting to you, but it is a great way to earn money and build wealth.
Since there is so much competition when it comes to investing apps, many of them offer free stock to their new users.
Here are some of the companies that are offering free stock just by creating an account.
M1 Finance ($50 Bonus)
Robinhood (1 Free Stock)
Public ($10 Bonus)
Dough (1 Free Stock)
Acorns ($10 Bonus)
This stock will increase in value over time, and you can make more money in the long run.
28. Get paid to open a checking account
Chase is the commercial banking division of JP Morgan Chase &Co. If you open a new checking account with Chase, they will give you $150 just like that.
If you need cash fast, this is an excellent way to get money quickly.
The process is quite simple, and it involves four simple steps -Gather all the items required, like social security numbers, driver's licenses, and contact information.
Choose the checking account option. Fill out the application and submit it.
Chase does not require you to fund your account at the time of opening, but you may need to fund it later.
29. Do odd jobs in your neighborhood
Doing odd jobs in your neighborhood is an excellent way to make some extra money.
You can call your neighbors to drum up business. You can check your local newspapers for ads or use apps like TaskRabbit to get you started.
Here are some options of jobs that you can do in your neighborhood –
Yard maintenance
Pet care
Household chores
Painting
Handyman jobs
Moving and packing
30. Lose weight to earn money
Losing weight isn't easy. You need a lot of motivation to lose weight. There are be no better motivation than earning money for losing weight. Here are some apps that help you to make money for losing weight –
Healthy wage
This app allows people to bet on themselves to lose weight.
You can decide how much weight you want to lose and how much time you will give yourself.
You win cash if you reach your goal in time; if you don't, you lose money. Sign up here.
Achievement
On Achievement, you can win rewards for doing tasks like exercising, counting your steps, eating right, and losing weight. You can earn 80 points per day for exercising.
You can redeem your points once you reach 10,000 points ($10).
31.Donate plasma to earn $500 fast
Blood plasma is the clear part of your blood that is made up of water, enzymes, antibodies, and proteins.
It is used to treat patients with trauma or burn injuries, severe liver disease, immune diseases, and hemophilia.
You can earn between $50 to $75 for donating plasma. The money you receive also depends on how much you weigh, as larger people have more plasma to give.
Related: HOW TO MAKE 200 DOLLARS FAST? (2020 update)

32. Rent unused space in your home
Most people do not think about the unused spaces in their homes as a way to generate extra income.
Here are some of the ways you can earn money from your unused spaces –
If you have a basement or spare rooms lying vacant, you can rent them out as storage spaces.
If you live near a metro station or a public transport hub, you can rent out your parking space.
Final thoughts on how to make 500 dollars fast
When it comes to making 500 dollars fast, there is no shortage of ideas.
Go through our list of ideas and choose the one that suits you the best.
Don't be disheartened if you fail in your first attempt; you can opt for another idea.
The aim is never to give up and be consistent.
How to make $500 fast