In this post, I will teach you how to create a WordPress blog with Bluehost.
WordPress is the best available platform for bloggers to start blogging. It has many benefits. Check out these WordPress stats
You must be wondering "NOT AGAIN. This must be just another blog post that talks about setting up WordPress blog with Bluehost but of no use".
But, NO. Trust me, I know how painful it is to start a blog if you have no idea about WordPress or other technical things like hosting.
This isn't a bullshit post which tells you bits and part of creating a blog but a STEP by STEP process (including screenshots to guide you through it) that tells you exactly how to set up a WordPress blog with Bluehost.
Look –
I cannot emphasize the importance of having a WordPress blog with Bluehost enough! If you want to be a successful writer or blogger, you need to have a professional website or a blog.
I knew it will cost me money at the beginning, but I also knew I will recover it fast.
And, guess what? I did.
Think about it. You are running a freelance writing business. If you don't have a portfolio, guest posts or a blog; no brand/business is going to take you seriously!
You can have chhavi.wordpress.com, freelancewriter.wordpress.com or beautifulworld.wordpress.com. None of them will land you a high paying freelance writing client!
You need to have a professional presence online and there is nothing better than having a WordPress blog with Bluehost.
Publish your writing and use it as samples (this, by the way, landed me a travel column in Karnataka Today magazine!), sell your services and monetize your blog.
There are a hell lot of benefits (which isn't available with free versions of WordPress, Blogger or Wix!) with a self-hosted WordPress blog with Bluehost
Investing your money in a custom domain/hosting and a good content management system (like WordPress) is 100% essential.
No brand or business will take you seriously if you don't have a professional looking website today.
Oh god! I don't understand this. Is there a tutorial? I don't understand technology very well. Do I need to spend money on hiring developers?
If you are not using this tutorial right now, you should pin it for future reference.
I know it is overwhelming but you can do it. It will cost you a few dollars each month but it is affordable, easy to manage and efficient.
It will take you 15 mins with this tutorial.
This post contains affiliate links. Meaning, I receive a commission when you sign up using my link but it does NOT cost you anything. I recommend Bluehost because I had a great experience with them and I wouldn't recommend anything I haven't used!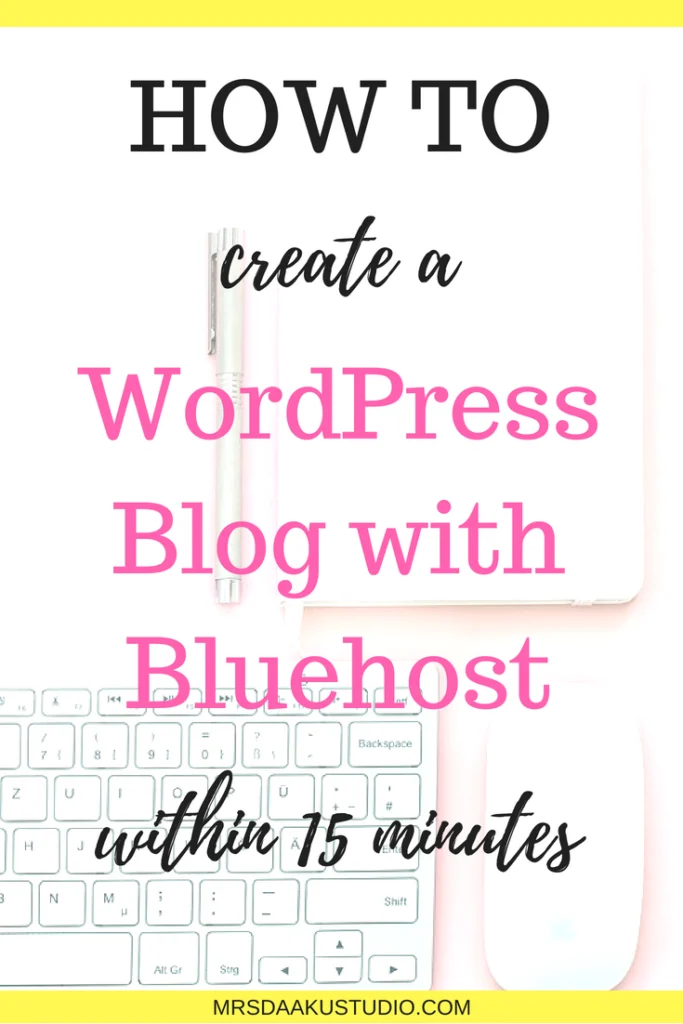 So, let's start.
Click here to start. Keep this tutorial opened in another tab for ready reference. I will take you through the procedure step by step and you will have a WordPress blog with Bluehost within 15 mins.
If you are still wondering whether you should be opting Bluehost for your WordPress blog, these 5 reasons that convinced me –
FREE domain name:

Yes, you get a FREE domain name (which averages around INR 1000 every year or $10-15 a year) if you take a subscription for 12 months or more. When you start out your own WordPress blog with Bluehost, you may be tempted to pick up a subscription which is lesser than 12 months, but DON'T. If possible take a subscription for at least 24-36 months. It will be a lot cheaper for you.
REFUND: If you are in two minds or decide that blogging is not for you within 30 days of subscription, Bluehost refunds your money completely. There is absolutely nothing to lose! It is a win-win situation.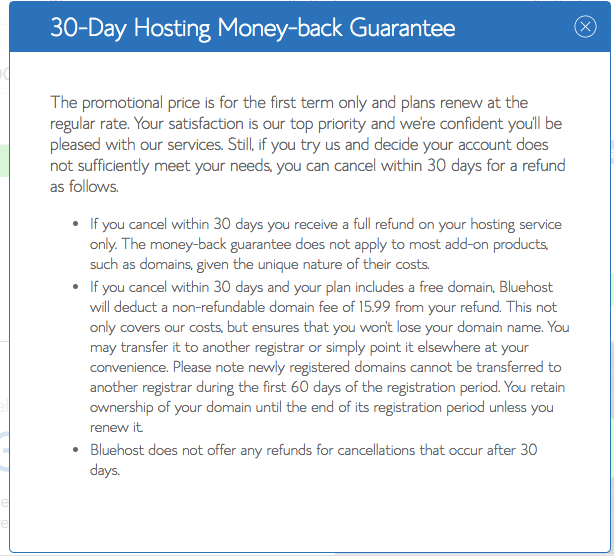 Most brands use it: There is a reason why most bloggers and writers prefer having a WordPress blog with Bluehost. You can run advertisements, sponsored posts, provide freelancing services, use affiliate links etc. This is not possible with free blogging versions and who doesn't like to have passive income opportunities?
User-friendly: Setting up a WordPress blog with Bluehost is extremely simple with the help of this guide. When I set up my first blog, I was a newbie and did not know a single thing about hosting, blogs, websites etc. So, I understand if you are overwhelmed. But, this guide makes it easier for newbies to set up a blog.
Technical support: If you have any issue with the hosting services, Bluehost provides free technical support. They are quick at responding and solving your glitch.
These are pretty strong reasons to remain loyal to Bluehost. Shoot me an email at [email protected] in case you face a problem.
Go to Bluehost:

Go to Bluehost, by clicking here.
Select your plan:
Don't go all fancy at this moment. Select the basic plan. It will give you enough space, customized emails, subdomains and email storage.
Also, Bluehost give you unmetered bandwidth in the basic plan (which no other hosting does!). Is that a great incentive?
The total cost of hosting is inversely proportional to the number of months you are taking it for. So, if you are subscribing for 36 months, you will be charged $3.95 per month. If you are subscribing for 24 months, it will cost you $4.95 per month and if you are subscribing for 12 months, it will cost you $5.45 per month.
To sum it up, if you are subscribing to a 12-month plan it will cost you $65.40, which is a great deal and worth every penny.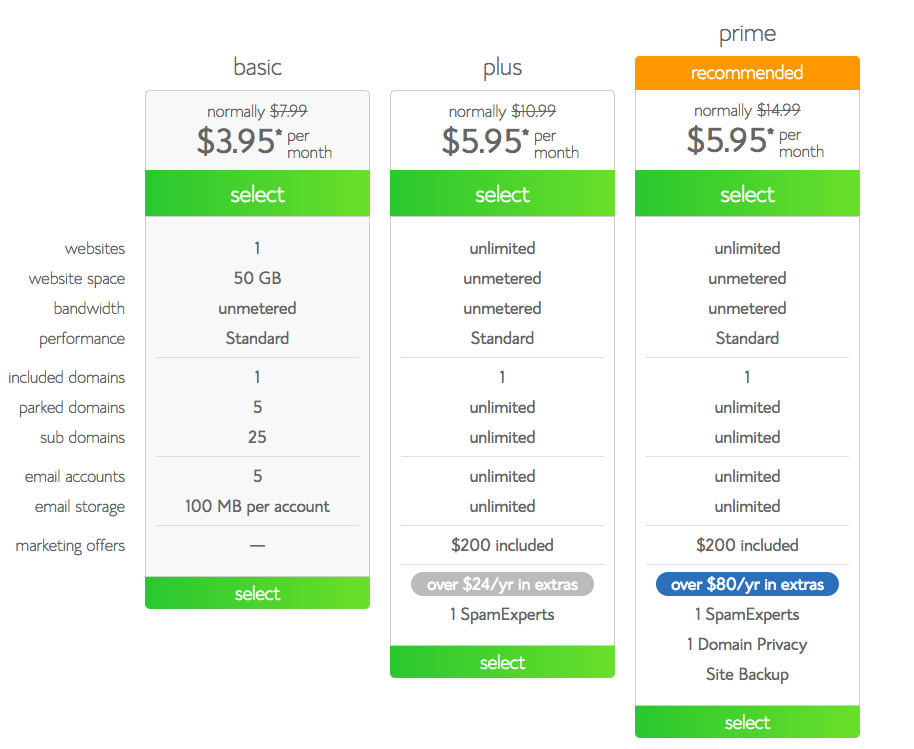 The only other service which you may buy is Domain Privacy Protection. It is meager $0.99 a month and increases the cost to $71.28. Domain Privacy Protection keeps your contact details private. If you are ok with messages and emails from web hosting or designing companies, you can skip buying the protection. I did skip this protection, by the way!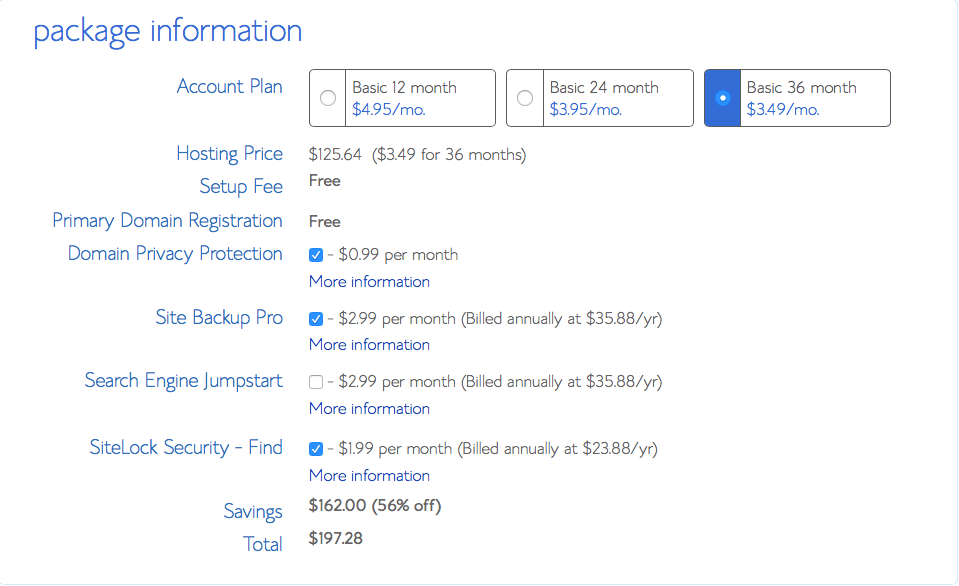 Ignore all other add-ons. If you want to buy any of these, later on, you can always buy it.
If you were my little sister or brother, I would say this (read, enforce this!). Buy a subscription for at least 12 months. Not only does it come cheaper, but you will not need to look at renewing it every month.
I cannot think of a situation wherein I end up losing my website just because I failed to renew my subscription. So, subscribe for at least 1 year. If you can for more, do it.
Stop looking at it as an "expense" and start looking at it as an "investment" you make to grow yourself
Again, I know it may sound intimidating to sign up for 24 months but, Bluehost understands your problem. You get a full refund on cancelation before 30 days.
Let me summarize the process in steps
Click here to begin
Step 1: Choose the plan you want to buy. Again, if you are starting out, go for the basic plan. You have the option to upgrade it further.
Step 2: The second step towards creating your own WordPress blog with Bluehost is to get a domain name. Decide on a couple of names. You may not get what you want!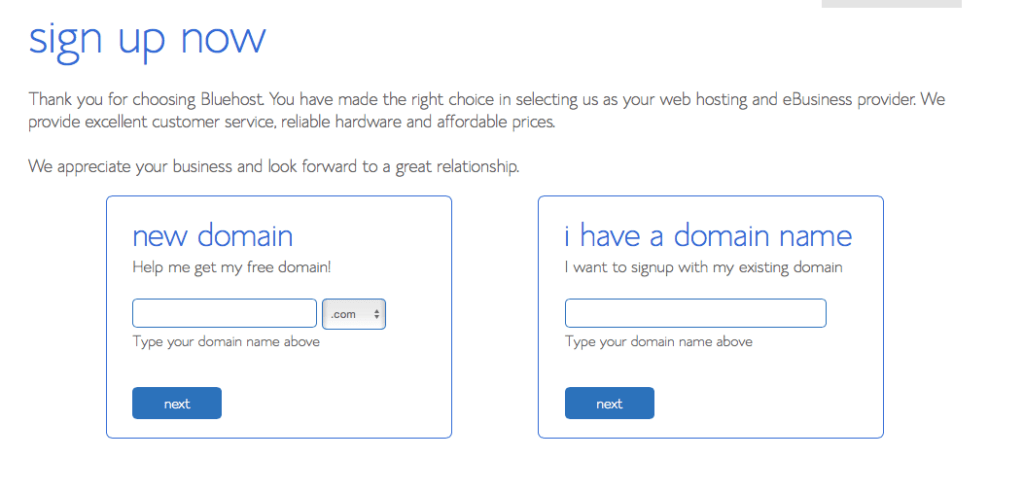 Your domain name could fall into any of these categories –
Personal Brand: The domain name will be your name or virtual name. For example, you can have yourname.com.
Just another name: Show some creativity here. You can name your website anything. Look at – justagirlandherblog.com or beautythroughimperfection.com etc.
Relationship with your services: I have another website (for my services) and it is named after the services I offer – contentwriterguru.com.
This post can help you brainstorm clever names for your blogs or freelance writing business
Bluehost provides your domain names for free for the first year, if you are buying a subscription for a year or more.
I do not need to reiterate the other incentives attached to Bluehost but let me (sorry guys, just so excited that you are just another 15 minutes away from having your own self-hosted WordPress blog!), you will save a good amount of money this way – cheaper monthly price, free domain, free technical support and cash back if you decide that blogging isn't for you.
Search for your domain name and proceed to buy web hosting from Bluehost.
Step 3: Enter your personal information. Again, the only other service you may buy is domain privacy. If not, you can uncheck everything and proceed to payment.
Guess, what? There is an off going on Bluehost right now which you can claim. Hurry up!
You will need to enter a password. The domain name will get connected to your hosting automatically. You don't need to worry about the technical parts.
Step 4: Log in to your Cpanel and install WordPress:
Yay! You are there. Just 5 more minutes.
I use WordPress for all my blogs and websites. It's super customizable, easily manageable and has tons of plugins for everything you want to do on your website.
Installing WordPress on Bluehost cannot get simpler than this. Bluehost has made it a cakewalk. Just click and it will install. This is a free installation, by the way!
Check your email. You would have received an email from Bluehost to access your cPanel. Log in to your cPanel.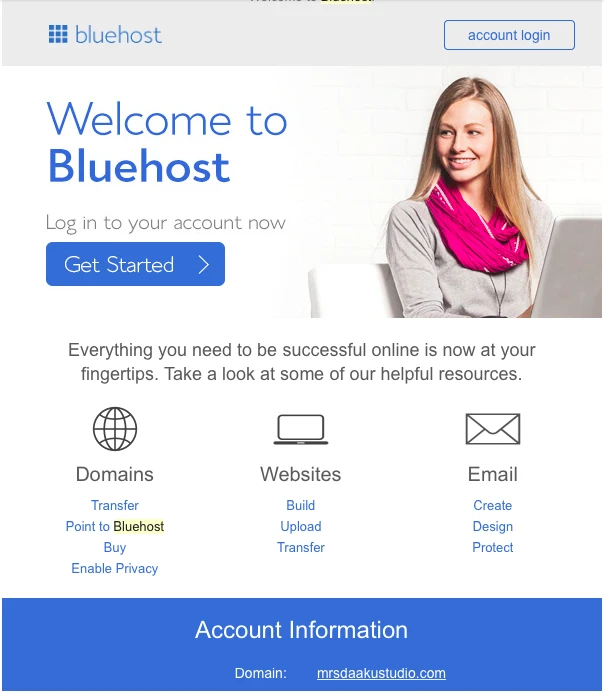 Go to the website section and click on "Install WordPress". Ctrl + F for "Wordpress" if you are unable to find it.
You will be taken to mojomarketplace.com and receive a message like this: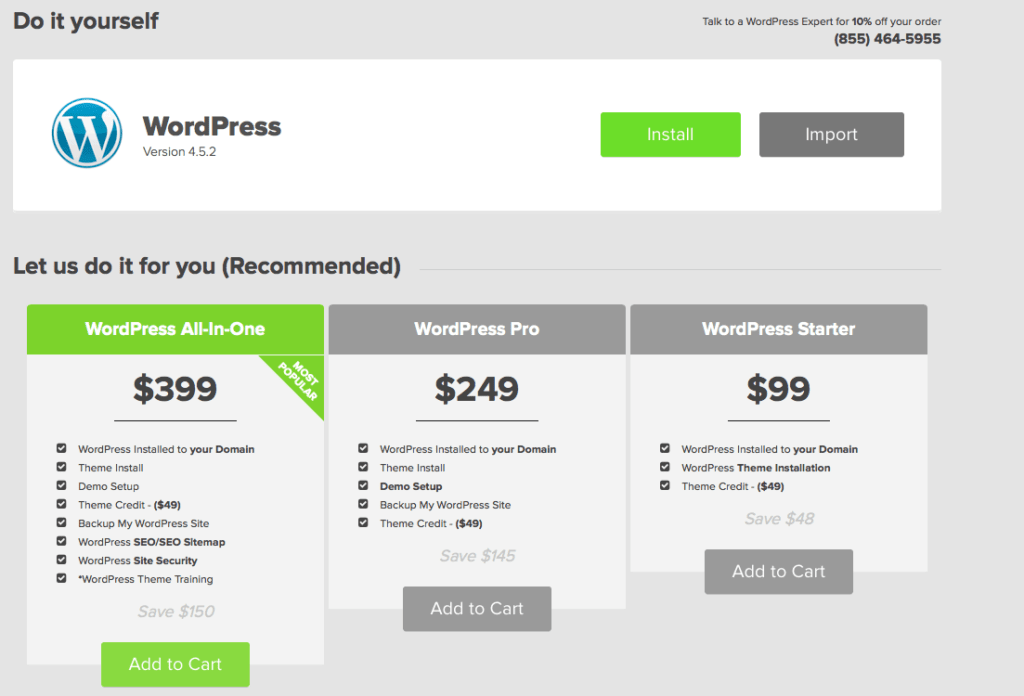 It doesn't cost you anything. Just ignore the three options below. They are for availing Bluehost's service to create a WordPress blog. You don't need it!
Click on Install button at the top. Select the domain name from the drop-down menu for which you want to install WordPress. This ensures that the domain is assigned to your account.
In the "Advanced Options", you can set up username and password for your WordPress blog. Don't keep a silly password, ensure you have a strong password with a combination of numbers, characters and capitalized letters.
Check "Automatically create a new database for this installation". You will not need to check this if you already have a different database. If you are a new blogger, just go ahead by checking the box.
Click Install. Final.
Guess what?
You have a WordPress blog with Bluehost! Start blogging right away and land clients on autopilot!
At any moment if you are confused, shoot an email to me right away or just tweet me @mrs_daaku. I will reply to you within a couple of hours. Happy blogging!
Unsure about what to do next? Read how I landed $250 per blog piece client and made approx. Rs. 82000 in a month from freelance writing in India.
[mc4wp_form id="2262″]