10 ways to find remote freelance writing jobs for beginners from home for new writers 
Freelance writing is a great way to make money online.
It allows you to have an EXTREMELY flexible schedule and write about topics you are interested in.
But, how to find the best paying freelance writing jobs?  
If you are a beginner freelance writer, finding online writing jobs can be REALLY difficult. It was for me too!
It is easy to find remote freelance jobs that pay peanuts (they tend to be everywhere, even if you have a great freelance writing portfolio!), but if you are thinking of a career change, this is NOT the sort of writing work you want to do.
You want to be paid well and be able to earn a full-time income writing online.
I have been a freelance writer and blogger for two years and the one question I get asked a lot is –
Where do you find freelance writing clients that pay well?
How to get freelance writing clients that pay well for writing content and allow working from home? 
And, to answer this, I decided to write this post on how to find online writing work for a beginner freelance writer and land quality freelance writing jobs.
In this post, we will talk about how to find remote freelance writing jobs from home that pays well.
Check out on how in my first month of freelance writing, I made $500+ and got paid at least 10 cents a word for article writing.
When I started out, I had NO idea about this as well. I stalked other writers, was overwhelmed by the information available on the internet and made a zillion mistakes on the way.
But, you don't have to go through this.
I will show you legitimate ways I landed freelance writing clients (that paid well!) for the last two years.
Just do NOT make these 7 rookie mistakes that most newbie freelance writers with no experience tend to make.
If you are just considering freelance writing as an option, pin this post to your Pinterest account or bookmark it for your future reference.
You can check out other flexible work at home options, ways to make money online as a college student and part-time jobs for teachers
In case you are stuck and wondering if freelance writing is for you, take this 6-day free course before taking any further step.
Before we dive into how to find clients for content writing, let's take a quick look at a few basics.
Note – This post may contain affiliate links to products I trust. This means if you make a purchase using the links I may receive a small commission at no extra cost to you. Thank you for the support! 
Note: While I will share lots of FREE resources in this article, if you have the budget, I recommend you to invest in Holly's course "Earn More Writing". She has been able to make more than $100000+ a year as a writer and shares all her secrets in the course. 
As the name suggests, you will be writing content for the money.
A freelance writer is an independent contractor (not an employee) who get paid for their expertise in writing content and engaging audience.
You will NOT be working for one company or have a boss. You will have MULTIPLE clients with whom you will be entering into a contract to provide writing services and deciding the method of payments.
 You're not an employee and you're an equal partner to your client. 
This is extremely important for you to understand, remember and implement if you want a profitable freelancing career. 

—- FREEBIE —-
Note: If you are looking for other work at home options as well, do check out these guides on the best online jobs today. You can also check out guides on how to start working from home. 
Download this guide and grab a 5 step plan to launching a profitable online business from home along with several other BONUSES

— WHY BECOME A FREELANCE WRITER? —
According to NASDAQ, 43% of the U.S. workforce will be freelancers by 2020 (i.e. next year!) and according to Freelancers Union, 36% of the US workers (57.3 million) are freelancers who work from home.
They collectively contribute $1.4 trillion to the economy every year. It's a 30% increase since 2016.
There is no better time than NOW to start your freelancing career. 
And, freelance writing is a great work at home job for moms, college students, women, dads or anyone wanting to escape 9-5 job.
It allows you to live a location independent life, spend more time with kids and family and do what you have always wanted to do (but found no time for it)
That said, freelance writing can be challenging and finding the best freelance writing jobs that pay well can get difficult at the start. The challenges you can face are –
Find your own clients
Motivate yourself
Do your own taxes
Learn extra skills etc
 — WHAT YOU NEED TO BE A FREELANCE WRITER —
There are a few essentials you'll need before you get started. These are basic requirements and you cannot do without it –
A laptop or a computer
Stable internet connection
Email address
Google doc
Contently (for portfolios), if you are not going to have a services website just yet.
Paypal account (to get paid)
That's really all there is. You do not require any college degree or qualification to land freelance writing clients and get paid to write.
In case you want to accelerate your growth and start making $5000+ a month within 6 months of freelancing, follow the step of writers who have already done it.
Meaning, invest in yourself and buy a course. I recommend only TWO courses that I know and trust are good
While I do not say a course is important in landing high paying and the best freelance writing jobs and clients, it is definitely helpful and does accelerate the process.
You can reach there without any help or course, but IT WILL take longer!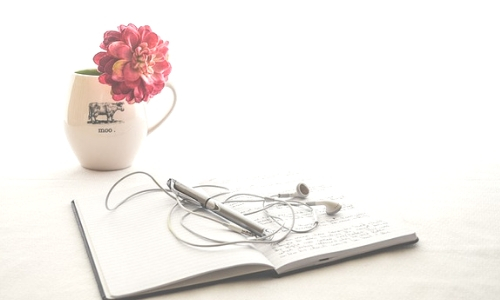 HOW DO FREELANCE WRITERS GET CLIENTS, GIGS AND MAKE MONEY?
1. Start cold pitching to land your freelance writing clients
The best way to land freelance writing jobs for beginners is to learn how to find and pitch clients directly.
All the successful writers standby cold pitching to land high-paying freelance writing clients for beginners as well as experts.
For those of you who are unaware of this, cold pitching is a strategy where you email potential freelance writing clients (this is your ideal client) and tell them how you – a freelance writer – can help grow their online presence or meet business goals.
When I started out, I was skeptical about sending emails to strangers. Also, I did not know what to write. Sounds familiar?
But, trust me, it is much easier than you think. Start by shortlisting brands or businesses you want to work it.
They can be a blogger, magazine, news site, business or a startup.
For sending an effective cold email, you should
Personalize it and no, I am not talking about sharing your personal lives. Go to their website, look around and tell them specifically how you can help. For example, you noticed that they don't have a blog but should.
Make it about them – Instead of writing about what you do (and your experience), focus on how your services can help their business.
Send your email to a personal ID – If you are targetting a blogger or a small business, it is best to send the email to the founder, owner or CEO. For big businesses, you can target the content head or digital marketing managers. Avoid generic email addresses like info@xyz.com or marketing@xyz.com.
Don't forget to share relevant samples
I highly recommend you to read this detailed tutorial on writing client winning cold emails.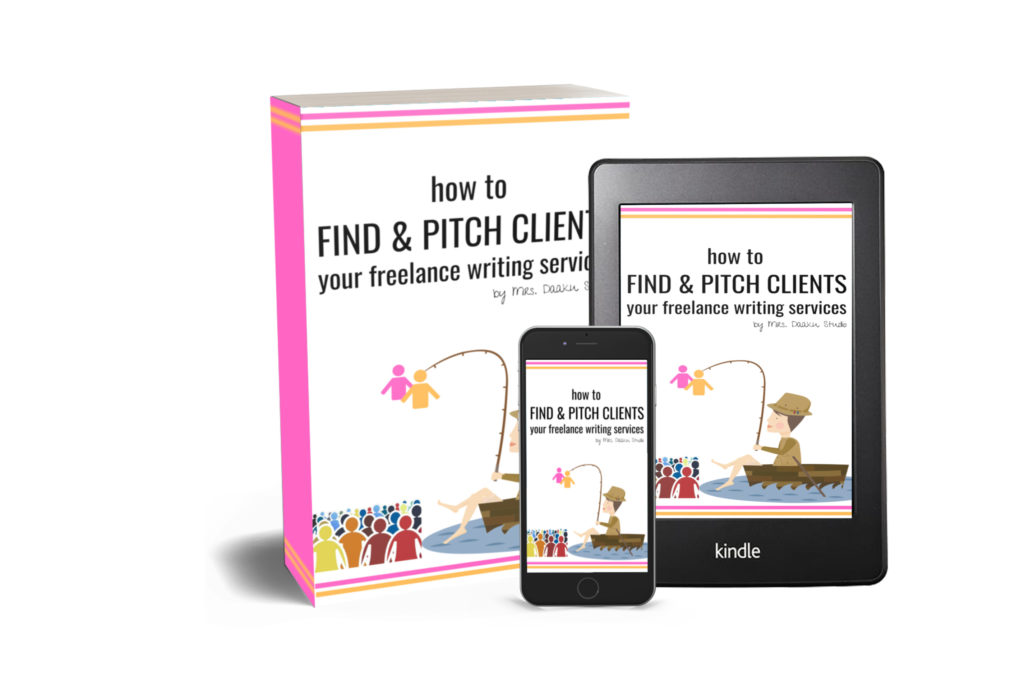 "Chhavi's ebook is a blessing in disguise not only does it teach you step by step how to find clients but it actually starts at the very beginning to help you understand and choose the best niche to focus on for you at the writer.  It also helps you set up your portfolio for success.  Although the ebook is just over 50 pages in length it is jam-packed with tons of tips and tools to find, pitch and track all of your client interaction.  It is well worth the price you pay for the ebook.  It also helps you find clients in places that you never thought of looking."
– Alvern Bullard
2. Network with potential freelance writing clients before pitching
It may sound contradictory to what I just said. But, you cannot wait to nurture a lead when you are starting out.
You will need a mix of both the strategies – Cold Pitching and Warm Pitching.
Just as above, make a list of businesses you want to work. Add them to your social media channels, including, Twitter or LinkedIn. Engage with them.
I know you must be thinking easier said than done. In fact, it can be easily done.
Keep an eye out for content they share and comment on it. If you can, add some value to it.
You can also share their content, tag them and tell them how it was useful to you.
Simple enough? Your aim is to get on their radar!
Once you do, you can email them asking if they hire freelance writers and *boom* – you may just end up landing the best paying freelance writing jobs.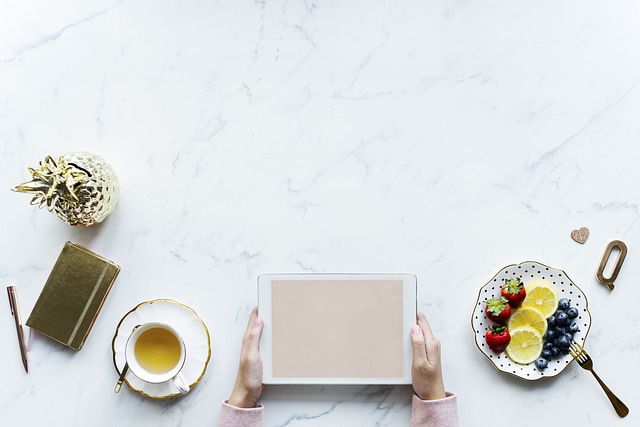 3. Network with other writers and land freelance writing jobs as a beginner
This is the fastest way to land freelance writing jobs for beginners.
In fact, if you network well, you will be able to land best paying freelance writing jobs ever after.
A lot of writers think it is NOT important to connect with fellow writers.
But, you cannot be farther away from reality.
I have connected with writers in my journey who willingly passed on freelance writing clients to me (especially, when they were swamped with work or it wasn't their niche).
Look at this –
Not only that, there have been many times I have passed on clients to my freelance writer friends or shared it in my group because of the same reason.
Just like this one –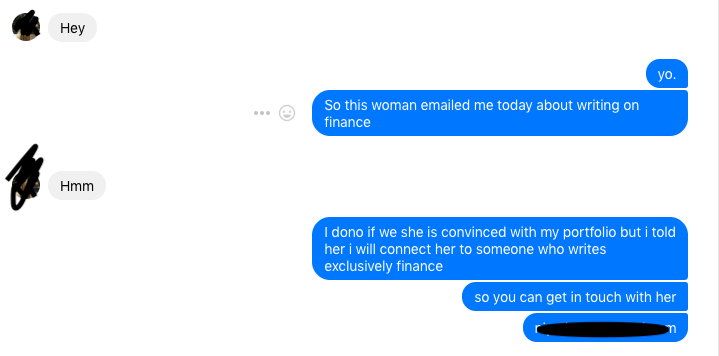 How cool is that?
Start networking and land paid online writing jobs quickly.
4. Facebook Groups (fastest way to land writing work for beginners)
Facebook groups are a great way to network with potential freelance writing clients.
If you are a part of the right community, you can land a freelance writing job rather quickly.
Many business owners and bloggers do not have an idea about job boards or where to find good freelance writers.
They prefer posting on Facebook groups!
Try to be active, put in questions to understand the problems of your freelance writing clients and pitch in conversations.
Some good facebook groups are
Look at this.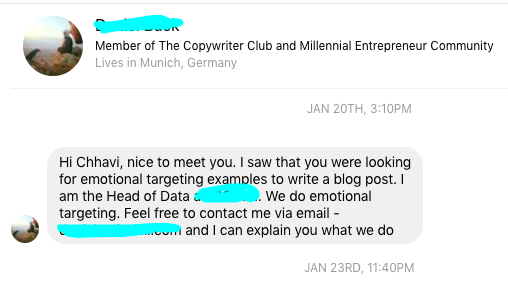 Women Writers Guild [This is my facebook group and I regularly share freelance writing jobs with my community. Also – the group isn't restricted to Women]
5. Job boards for easy freelance writing jobs
Jobs boards are the easiest way to land a writing client because they are already on a lookout for a writer.
Plus, you don't have to bid to get a freelance writing job (which you end up doing on platforms like Upwork).
Try to go through the free job boards once a day for over a week or two.
Once you realize which ones are the most useful to your niche, stick to them and check them every few hours.
If you don't have a niche or wondering how to select a niche, you can download my FREE guide to selecting a profitable freelance writing niche, by clicking below.
Getting back to job boards –
While a few platforms are paid, you should stick by the free ones initially.
In the second month of freelance writing, Daaku and I landed a freelance writing job from a free job board.
The client paid us USD 16 cents a word!

A few good job boards are
You can also check out these 37 remote job websites to find your next freelance writing job that pays well.
If you are considering Contena, do check out this Contena review I wrote recently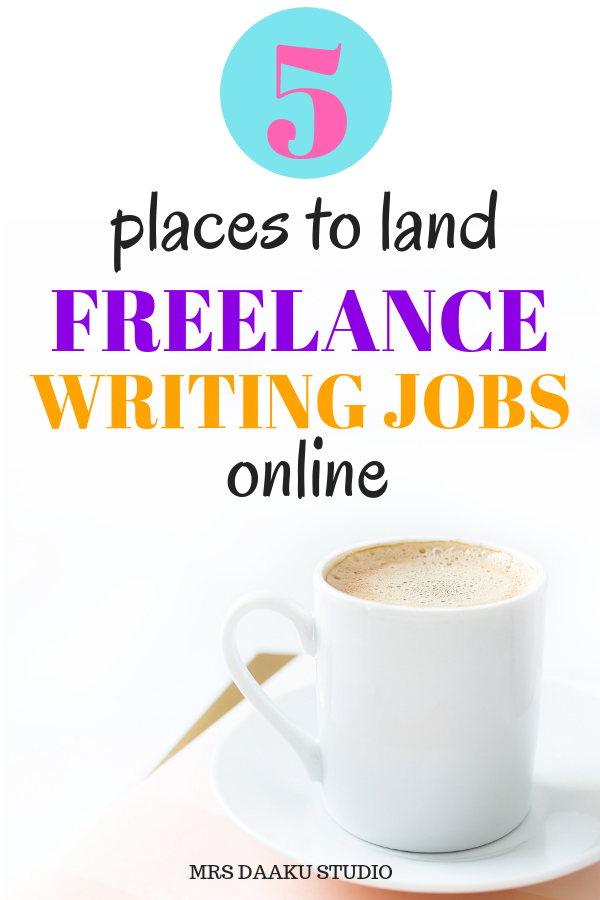 6. Twitter (to find and land freelance writing gigs)
Twitter is a great place to land a freelance writing job. Just like you have websites for job boards, you also have Twitter handles for such boards
Want to know which job boards I follow:
I just searched Twitter while writing this post and landed on this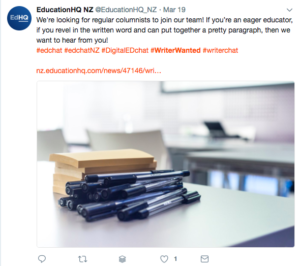 That said, Twitter is messy and disorganized. So, why not use a free tool to handle it?
Check out this video to know the tool and how to use it (trust me it will make finding freelance writing jobs online so much easier)
7. LinkedIn for finding writing clients
This has always been my go-to platform for a freelance writing job.
I have landed some of my best clients on this platform and every time that happened, I quite literally looked like this
Go to the LinkedIn job and look for companies looking for a writer.
From here, you can decide whether you want to go for cold pitch or warm pitch.
While you keep your cold pitching game on, let me also tell you that LinkedIn is the best platform for warm pitching.
Add a bunch of relevant connections (like content heads, content manager etc).
If they have an immediate requirement, they might send you a message asking you to share your details.
Even if they don't (and most of the times they won't), you should engage with them for some time (by commenting on their activities and sharing their posts/articles) before you decide to pitch your services to them.
8. Use your services website to land writing clients that pay well
The best way to attract clients is to have a professional self-hosted website.
If you are a beginner freelance writer, that is the only cost you should bear.
If you have a personal blog, you can use that to offer your writing services initially and attract freelance writing clients.
However, if you want to climb up the ladder and earn a full-time income from freelance writing jobs, you NEED to invest in a self-hosted website.
Check out my super simple, step by step process to set up a WordPress blog/website with Bluehost.
A lot of beginners do not understand the value of this investment. But, look around for the best writers and they will all have a self-hosted website for selling their services!
If you think you cannot do it or you don't have the technical chops for it, trust Google.
There are so many tutorials and lessons to set up a basic website after you have bought a reliable hosting.
You can also look into this great resource created by Elna Cain.
It is a step by step guide of creating an SEO friendly website that attracts relevant readers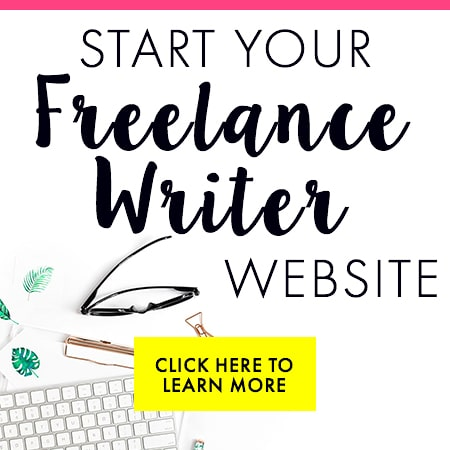 9. Guest post
Start writing for other blogs for free. Sorry, what?
I am not talking about a random blog which has a following of 100 people but blogs that have thousands/millions of readers.
This will put your writing in front of a potential freelance writing client base.
I wrote a guest post on YourStory on how I earned Rs. 82000 a month by freelance writing in India and I have already received two gigs.
This has another advantage. You will have live samples to show your clients as you grow.
Sometimes freelance writing clients are adamant about reading live samples and guest posts come in handy.
How to know where to post?
Search for "your niche + write for us" and look at the top 10-15 results.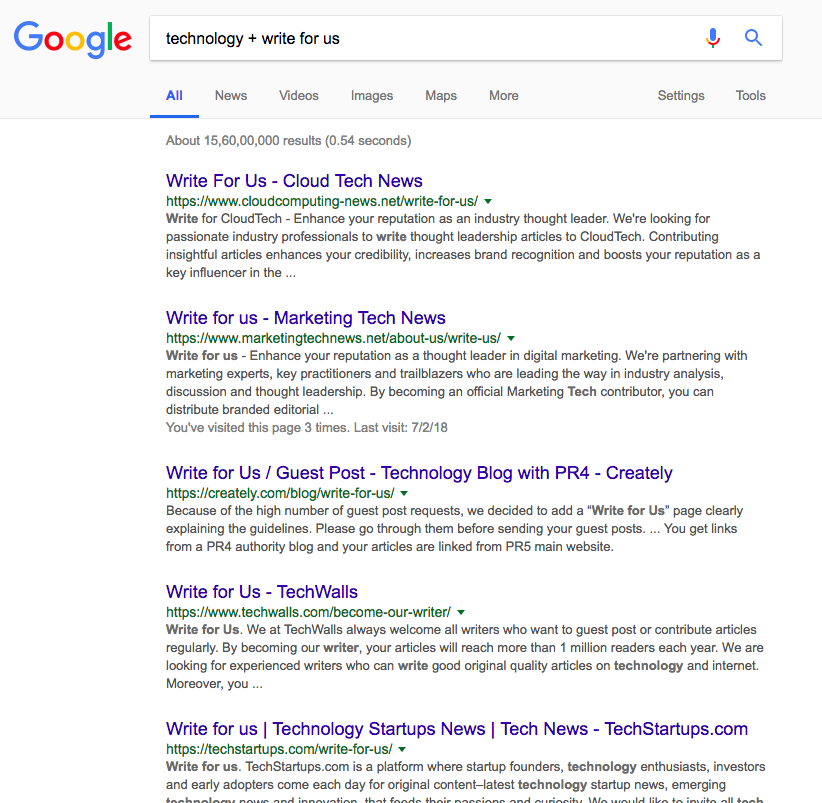 When you are submitting a guest post, spend considerable time to write your author bio.
That's one chance you have to convince people to visit or hire you.
10.Asking friends, relatives, and previous employers
Last but not least, you need to let your friends, relatives, and previous employers know that you are running a freelance writing business.
If they are aware of what you do, they will refer you in case they find any freelance writing jobs.
It is also possible that one of them might need content for their brochure or a new website.
Taking up a few freelance writing jobs like this will help you create samples and receive real testimonials for your work
Many writers shrug it off as a meh tactic, but you never know until you try.
I just showed you 10 legit ways to find high-paying freelance writing jobs.
No more of "How to get clients for content writing as a beginner" "How do I land freelance writing clients who pay well. I am just a beginner" or "I don't ever land the best freelance writing client".
Get ready to kick some butt!
If you enjoyed this post and found it super helpful, please share it on Facebook or Twitter (I have a pre-written tweet for you as well) and Pin it. 🙂
In case you aren't a part of my FREE FB community, click here to join.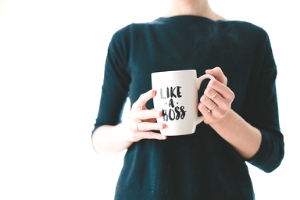 Your turn to share – tell me which ways you're going to start finding freelance writing jobs!
Let's talk about it in the comments section
Note: While I will share lots of FREE resources in this article, if you have the budget, I recommend you to invest in Holly's course "Earn More Writing". She has been able to make more than $100000+ a year as a writer and shares all her secrets in the course. 
#11 Freelance marketplace to land gigs right now
Before we move on to this post, I want to make one thing very clear.
While this is a way to land easy freelance writing jobs for beginners, I DO NOT recommend spending a lot of time on these platforms.
Instead, focus your efforts and time in creating a profitable cold emailing strategy.
Here is the list of freelance marketplaces you can use to get freelance writing clients –
You can also check out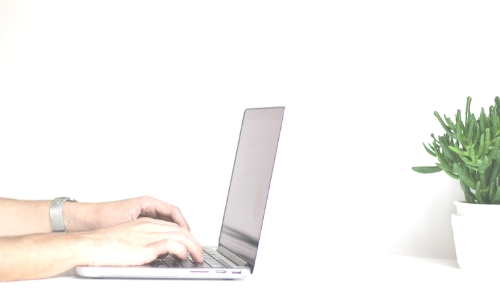 #12 Websites or blogging sites that pay you to write
There are many websites that pay you to write articles online. The pay differs according to the publication.
Check out websites that pay $100 to submit an article and blogging sites that pay $150+ for an article
#13 Content mill jobs (should be last resort to landing freelance writing jobs for beginners)
I simply HATE content mill jobs. They are easy freelance writing jobs that pay you lesser than peanuts.
That said, you may find a few good gigs and it could help you build a portfolio in the beginning.
But again, there are better ways and this should be your last resort.
#Top 3 recommendations for a freelance writing course
Writeto1K by Elna Cain: The best part about Elna Cain's course is that she holds your hand through the process and helps you in every possible way. From what is freelance writing to the things you need to do after you score a client, she touches upon everything. She understands the problems as a stay at home mom with kids and helps you with that as well. Her course is also decently priced for the tonnes (and tonnes) of value it provides.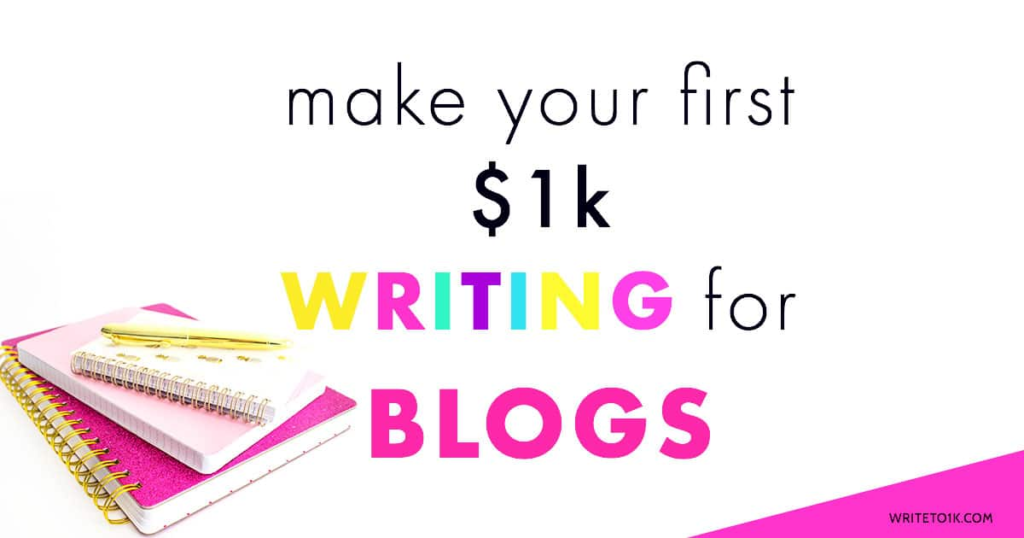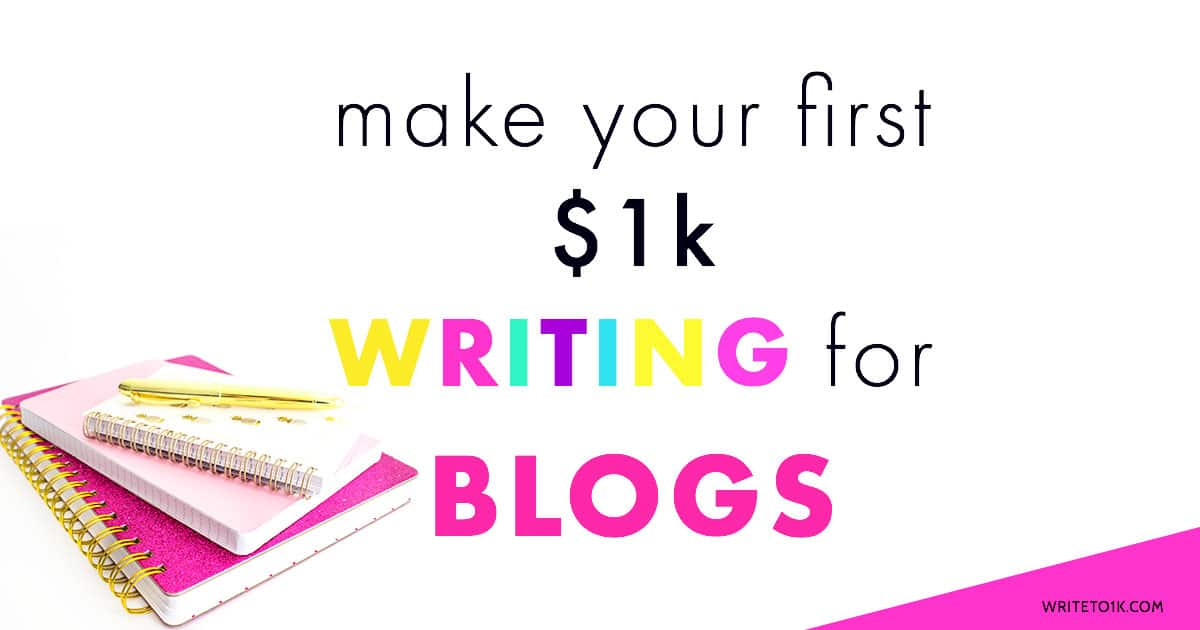 30 days to freelance writing by Gina Horkey: If you know the work from home domain, you have heard about Gina Horkey. I will let this post by her on what is freelance writing do the talking. You can access her course here.
Writers Den by Carol Tice – This is not a course, but a Facebook group where you have access to everything (including Carol). The value she provides inside of Den is more than any course can ever provide at that price.
FAQs on freelance writing jobs from home & landing freelance writing jobs for beginner writers with no experience
How do I get a writing job with no experience?
Try out the 12 methods we discussed in this post to land best paying freelance writing jobs and land quality writing clients.
In my opinion, try out cold emailing. It is the BEST approach to get a writing job with no experience
How do I start a freelance writing career without a degree?
Get a laptop, internet connection and begin your freelancing career. You do not need any degree. Some of the best writers I know are college dropouts.
High paying freelance writing clients do not care about a degree, all they care about is – quality writing and domain expertise (both of which you will gain with time and experience). 
How do freelance writers get paid?
Paypal. So, do set up an account.
How do I become a freelance writer online?
Check out this post on what is freelance writing and this free course.
Is content writing a good career?
Of course. I am a non-native English speaker and I was able to charge $250 for a single article. It is a good career if you are ready to put in work (just like you do when your boss is on your head!)
How much does a content writer make?
According to Payscale, The average hourly pay for a Freelance Writer is $23.85
— Final thoughts on how to find clients for content writing —
How to find and pitch clients your freelance writing services
3 freelance writing job boards to land your first gig quickly
What to do when freelance writing clients ask for a FREE sample?
Get paid to write: 21 blogging sites that pay $150+
Pin it for later!!!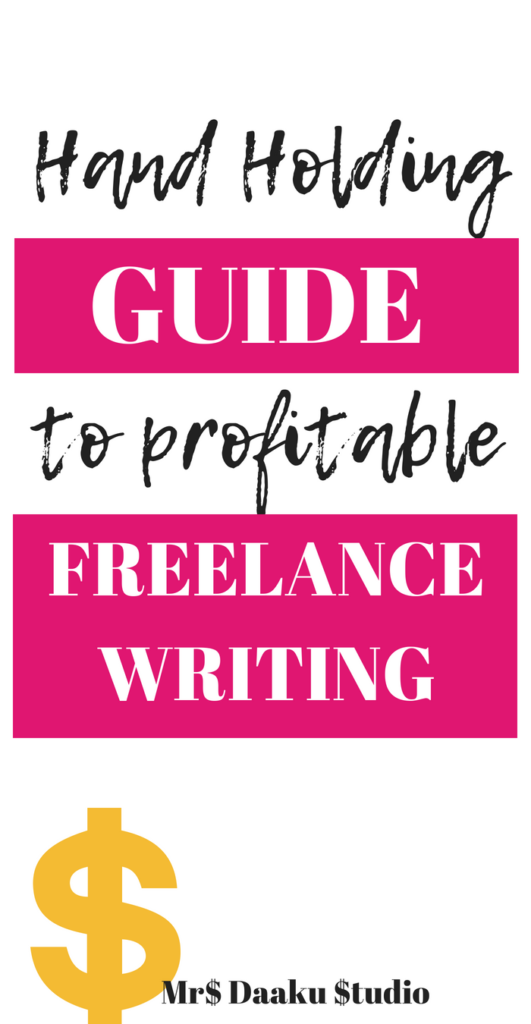 Actionable tips
Check out "Start a blog with ease" and get started with your mom blog
Join my Facebook community and post your questions, wins and get the support
Resources that I love and can help you land remote freelance writing for beginners: 
Skillshare – Skillshare is my go-to place to learn a new skill without having to splurge hundreds of dollar. It is an online learning community where you can explore thousands of classes in design, photography, business, and more. You can get started with a free trial using my link and get access to hundreds of courses. 
How to find and pitch clients your freelance services – Are you tired of looking for clients on Facebook groups and job boards? Did you land clients but they offered you peanuts? Well, the only thing you are missing in the picture is to learn how to find and pitch clients your services directly. Using the methods in the book, I was able to make $900 in the first month of freelancing and it has only grown from there. Check it out.
Become a work at home mom – A FREE training session that comes along with a workbook and guides you through the entire freelancing journey. Not only it tells you what is freelancing, but it also tells you the various option and how to go about establishing one (without any INVESTMENT cost).
FlexJobs If you are a freelancer, you should sign up with Flexjobs. It will help you go through great flexible job listings from legitimate employers quickly, easily, and safely. Every single job on FlexJobs is hand-screened for legitimacy, with no ads or scams mixed in, and every single job offers work flexibility such as telecommuting, freelance, part-time or other flexible options.
13 ways to land remote freelance writing clients and landing freelance writing jobs from home