An honest Contena review – Is it worth your money or not?
Are you looking to read an honest Contena review online?
I know there are so many reviews for Contena written by affiliates that it is confusing. You just do not know who to believe and whether to invest your money in Contena.
If you are wondering,
Is Contena a scam?
Is the Contena review real and not driven by affiliate commissions?
Is Contena worth the money?
then, you should read this brutally honest Contena review.
Before we move forward, I have a disclosure to make. I am not an affiliate for Contena – I could be but I do not recommend products/services on this blog that are not required to make money online.
In short, Contena is not a scam but I will not recommend it to anyone and we will talk about the reasons in detail. We will also be talking of some great Contena alternatives to boost your freelance writing income.
Let's get started by reviewing the pros and cons of Contena for freelance writers.
Note – This post may contain affiliate links and sponsored listings. Please read disclosure policy.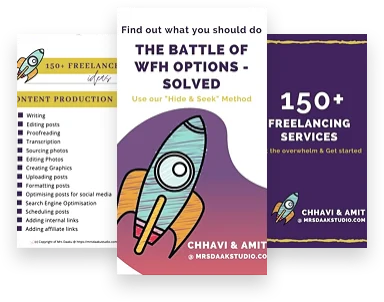 What is Contena?
Contena focuses on helping you find location independent jobs ONLY (which makes it a great resource to look for work from home jobs).
To be specific – it is a known platform to find the best freelance writing and editing jobs online along with a few other perks.
In short, the idea behind Contena is to help people find writing jobs a lot faster (without having to distinguish between the scam and the real work from home opportunities)
Check out this course by Holly Johnson on how to earn more travel writing for digital nomad blogs. She is rockstar who makes over $200,000 a year writing for digital nomad blogs and other known publications online
Why do freelance writers and bloggers recommend Contena?
This freelance gigs website not only collates the best online jobs but also assigns you a coach and provides multiple features that save time
If you are a beginner freelance writer and editor, Contena resources can help you to build a writing business quickly.
They have lots of valuable information and the coaches are good at guiding you with pitches. They will also teach you how to write for an online audience.
If you are an experienced writer, you will still find useful and new information on their resource list.
We will talk about all of this later in this post on contena reviews.
Who is behind Contena? Who is Kevin Fleming?
Contena is founded by Kevin Fleming.
If we are to invest time and money in a freelance writing job website, we might as well look into the founder of the site.
Why?
Because it gives you a sense of credibility. You should know if the mentor/founder is qualified enough to help you out. After all, there are so many work from home scams on the internet.
Getting back to Contena's founder – Kevin Fleming is real.
While I have not personally interacted with him, a lot of freelance writers have seen him online on forums and answering questions (especially on any negative reviews of Contena).
How Does Contena Work?
When you sign up, you may be waitlisted. Contena is not always open for sign-ups and you will have to wait for Kevin's emails for when it is open.
Once it opens up, you will be required to sign in and buy the Contena membership to get access to all the resources (coach, academy, and job boards).
Contena updates the job board daily and you will find hundreds of jobs listed at any given time.
They save your time by listing the writing jobs within appropriate categories. You can filter it accordingly and apply for the most suited jobs
Some popular categories include:
Finance
Entertainment
Education
Tech
Health
Lifestyle
And loads more
Note: You are NOT working for Contena at any point in time. They just share the job details and you will be working with another client directly.
Check out this course by Holly Johnson on how to earn more travel writing for digital nomad blogs. She is rockstar who makes over $200,000 a year writing for digital nomad blogs and other known publications online
How Much Does Contena Cost?
The one and only thing that keeps freelance writers (and, me) away from recommending this platform is Contena's pricing.
While lots of people are ready to pay to get access to worthy resources, Contena is a little expensive.
According to many, the jobs that they share on the board can be found online (for free) with a little research and the money can be invested in a course or a coach.
In my opinion, Contena cannot be free because they do give out a lot of value but the existing pricing is a bit much for freelancer writers.
Why do I say its expensive? –
Contena offers two kinds of memberships and payments plans to the members –
The gold membership = $500 a year
The Platinum membership = $800 a year
You can pay the gold membership in 5 monthly payments of $129 and the platinum membership in 5 payments of $199/month.
If you find it expensive and want to try Contena first, there is a monthly membership which costs around $100-$179 per month! (Personally, this is super expensive especially if you are not making any money)
Ok, I know what you are thinking – That is a LOT (indeed!).
Yes, it is a lot of money to join Contena and the refund policy is said to come with its own set of difficulty. While they promote it as a 30-day money back guarantee, it is not as easy as it may sound.
You will need to prove that you completed all the Contena Academy exercises. It is only if the contena staff is convinced about completing the course that they have the right to give you a refund. If not, you DO NOT get it!
Considering you pay over $500 for the membership, it is reasonable to expect a free trial or a no question asked money back guarantee for a few days.
A lot of freelance writers or members have talked openly about how the complicated refund policy of Contena. Kevin should really work on improving this aspect of Contena
Check out this course by Holly Johnson on how to earn more travel writing for digital nomad blogs. She is rockstar who makes over $200,000 a year writing for digital nomad blogs and other known publications online
How Much Money Can You Make with Contena?
That is a million dollar question. If you are ready to invest $100+ a month on Contena, what is your return? How much money can you make with the freelance writing gigs they collate?
Unfortunately, it depends. I know my answer is far from satisfying but that is the truth.
The money you make with the writing gig depends on what the employer (or advertiser) is willing to pay. The rates vary a lot in the gig economy.
You may find a job that pays $20 for 500 words and another one which pays $300 for 1000 words.
Besides that, the rates also depend on the freelance writing niche. If you are into technology or medical writing that requires a lot of research, the pay tends to be higher. Similarly, a white paper or case study will generally attract a higher rate than a simple blogging task.
Whatever you make through Contena, remember that you have to pay Contena fees every month. The return has to justify the fee.
Relevant Read
What are some Contena Alternatives?
Job Boards
Regarding the alternatives, here are some good resources where you can find freelance writing jobs for free:
You can also check out this list of remote job websites
Paid –
FlexJobs (This is a great and cheap alternative to Contena. FlexJobs filter out the jobs and provide a list of legitimate work at home jobs for you)
Contena Academy alternatives
Paid
Check out this course by Holly Johnson on how to earn more travel writing for digital nomad blogs. She is rockstar who makes over $200,000 a year writing for digital nomad blogs and other known publications online
Other
Google Alert for freelance writing jobs
IFTTT (If this then that)
Who would benefit from Contena?
In my opinion, if you are trying to build a side income while working a full-time income, you can think about Contena.
In other words, if you are so busy in life that you cannot take out a few hours to search the net for jobs, write pitches, analyze how you have grown etc – you can consider Contena.
That said, I will never recommend to Contena for anyone who has to think twice before investing $100 a month.
There are cheaper alternatives to Contena, and we will talk about in a while. If you have $100 to spend in a month, I will share 3-4 resources that you should buy
According to Oana Muresan, a writer who was willing to give me her comments on Contena said
I took the plunge and joined a few months ago. There's good and bad.

There's a training that you can go through and although I thought that there wouldn't be much for me to learn I got some good tips.

The assistant is actually pretty helpful and knowledgeable and will help with formulating pitches and cover letters.

Yes, the bad is that all the jobs they list are public and can be seen by anyone BUT Contena does take the time to find any possible personal emails for the company, salary ranges, etc.

There's also a pretty big list of companies that don't have current openings but that you can cold pitch to and magazines that take submissions, with their rates, emails for editors.

Overall, I would say it's overly priced (around $500-750 would have been better) but it can be career changing for beginners or even someone (like me) that's only been writing professionally a few years.
Let's talk about the positives and negatives of Contena. The meaty part of this Contena review begins now –
Contena Review: The Positives
Training material for beginner freelance writers (Contena Academy)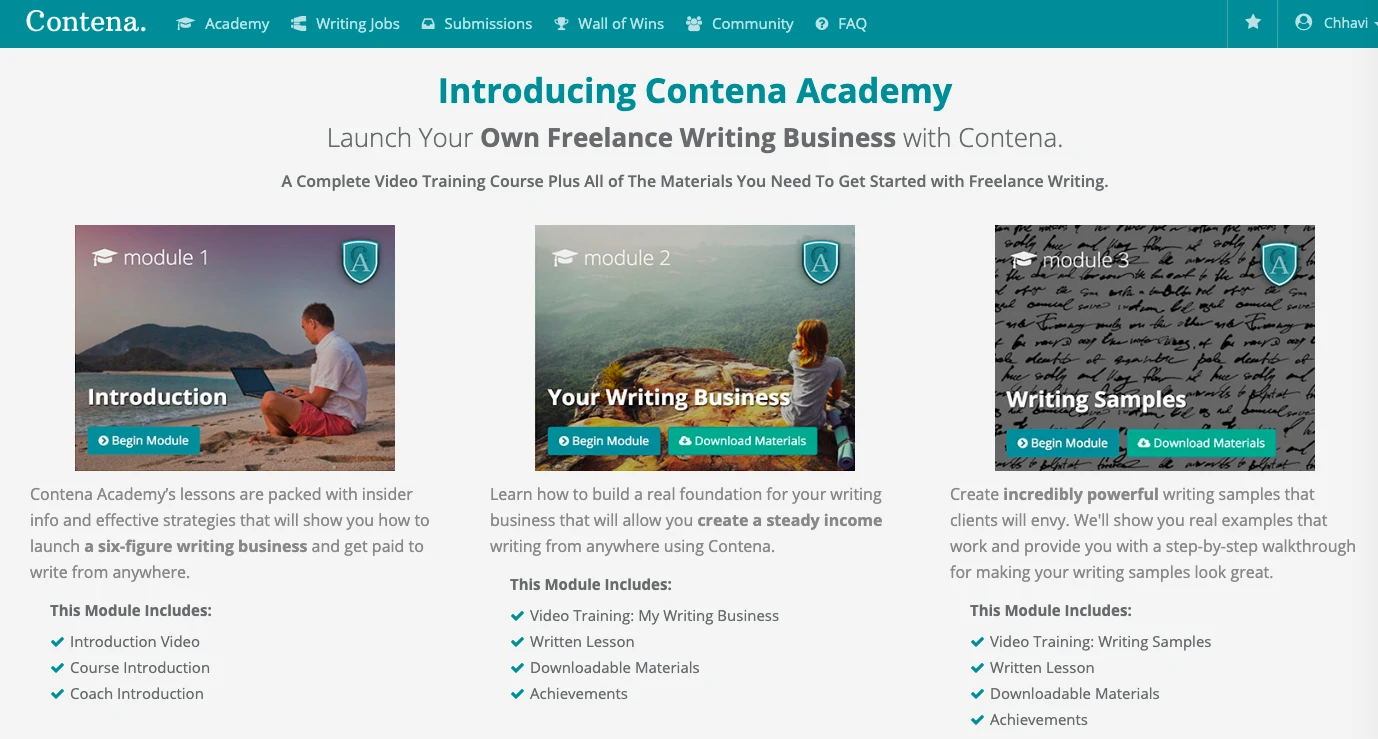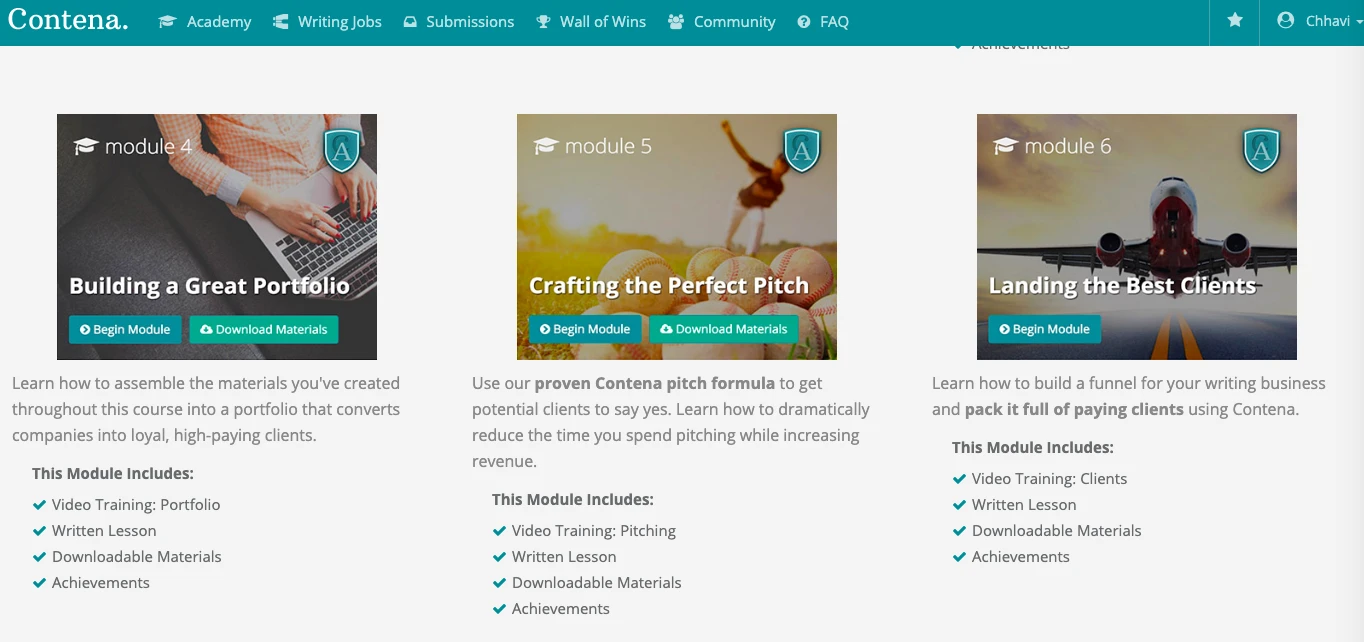 I signed up to see what Contena had to offer.
In my opinion, Contena Academy is a great place to get started as a freelance writer. It is designed for beginner freelance writers and helps them get started with their own freelance writing business.
Relevant Read
Not only does the Contena Academy teaches you to promote yourself, but it also shows you how to get more clients and become a better writer.
All of the courses come with exercises to complete, video lessons and templates.
That said, it DOES NOT focus on making you a better writer. It has no lessons on how to write for your audience or how to write in a manner that drives leads (or results) for your client. You will have to learn this by yourself.
Is Contena Academy a good course?
Kinda.
What I like about the course is the logical division. It starts with an introduction and then moves on to the steps in line – learning about writing business, creating samples, portfolio, crafting the perfect pitch and landing clients.
Most of the training will focus on how to use Contena to land the highest paying writing gigs, pitching clients, improving your writing style and freelancing tools to use. You can also check out this post on 20 blogging tools for writers
That said, there are cheaper alternatives with better content and mentors to learn from.
Check out this course by Holly Johnson on how to earn more travel writing for digital nomad blogs. She is rockstar who makes over $200,000 a year writing for digital nomad blogs and other known publications online
Relevant Read:
What I did to earn $900 as a freelance writer and a non-native English speaker?
The Contena Mediation (Escrow)
Hands down, this has to be the best feature of Contena. If there had to be a complete positive in this contena review, then this is it.
As a freelance writer, you meet different types of clients. A lot of them will take your work and disappear into the wild. You will have no resort to get the money you deserve.
This is the truth of the freelancing business.
Even though you will take hours to research and write an article, there are people who will either reject it or run away with your work (never paying you!).
This problem is taken care of by Contena. The money owed by the client is put into an escrow account by Contena and it is released to you when both parties are satisfied with the work done.
You can continue to focus on what you do best – write and will never have to worry about getting paid or dealing with shady clients online.
The Customer Support (24/7)
If you were to invest in a platform which costs you more than $100 a month, there is no way you will do without customer support.
In fact, I do not recommend buying a course that comes with no support group. As you work through the course, you need someone to help you out when you are stuck.
Contena has good customer support and I have not heard negative about this aspect.
If you are reading this and have a comment on Contena, please do share your experience in the comments section.
I am being fair with this review for anyone wanting to invest in Contena. Your experience will only help add value. So, do comment below on what you have experienced or heard about contena.
The Contena Scout
If you work online as a freelancer, you know how difficult it is to find legitimate work at home jobs. The internet is full of shady ads and scams in the name of online jobs from home.
You always want to avoid scams and contena scouts help with that. They make sure only legit writing gigs are shown.
Not only does Contena scout saves you a lot of time and money, but they also go one step ahead to get direct emails of the people posting the jobs. You do not have to worry about being scammed or your pitch falling on deaf ears.
And yeah most of the links can be found online for free but the benefit here is saving time and finding the good opportunities only.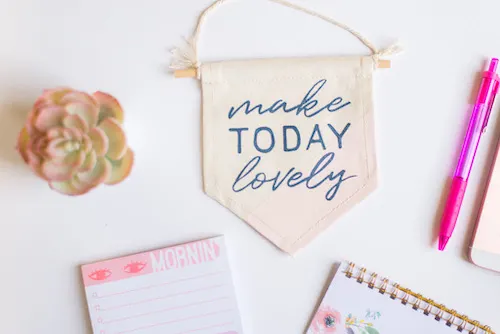 The Contena Community
Contena community is a place to learn about freelancing business and network with other professional writers.
This community will help you learn the tricks of the trade on a regular basis.
Contena Alerts
Using Contena alerts, you can set up custom alerts about new work from home jobs.
You can set up alerts from your account and get an email about new work at home jobs that meet your criteria.
While this is not a unique feature and there are a thousand ways to get notified, they allow you to customize it without taking the trouble of learning other ways.
I highly recommend you check out FlexJobs for legitimate freelance writing gigs
Contena Submissions
Contena monitors hundreds of websites and companies that are currently paying for content submissions.
All you have to do is write a pitch and if it gets accepted, you get paid to write. There is no lengthy process of searching for guest post opportunities or places who pay you to write.
Relevant read on getting paid to write –
Get paid to write: 21 blogging sites that pay $150+
Write and get paid instantly: 25 websites to get paid to write online
Contena Coaches
If you sign up with Contena, you get a coach of your own. They will walk you through every feature and help you when you are stuck.
Contena coach comes along with platinum membership only. They will help you
Create an effective pitch
Refine your samples,
Improve portfolio
Review pitches
Provides feedback etc
Check out this course by Holly Johnson on how to earn more travel writing for digital nomad blogs. She is rockstar who makes over $200,000 a year writing for digital nomad blogs and other known publications online
Contena Rates
This is a great feature.
If you have been working as a freelance writer, you know this happens a lot. You pitch a client, and they come back only to pay peanuts.
This is where Contena helps you out. If you find a freelance writing gig, contena will tell you how much the company is willing to pay for it.
Before applying, you will know the rates and how much you will earn.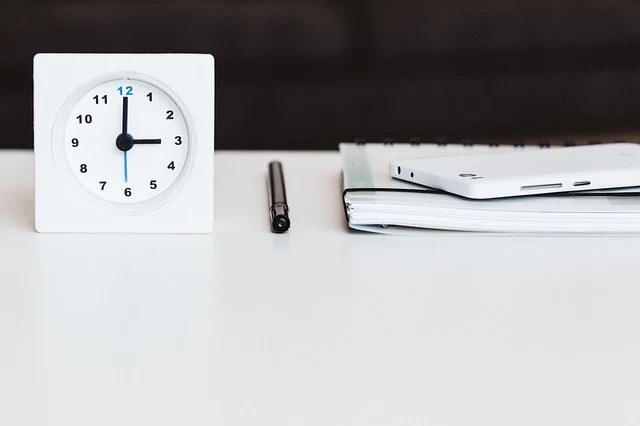 Contena Review: The Negatives
Why So Expensive?
There you see. Contena does provide a lot of great features and they charge for it.
But, in my opinion, the price is a bit much.
There are tonnes of free alternatives to each feature they provide. While you do save time with the Contena, you will save a lot more money with the alternatives which you can invest in a course or a mentor.
Contena is good but heavily overpriced. I will share cheaper alternatives to Contena at the end of the article. So, keep reading.
There is one more drawback of Contena.
It's HARD to get a Refund!
As I mentioned before, it is hard to get a refund with Contena. You need to prove that you have completed all the Contena Academy exercises.
Even if you complete all the exercises and the Contena team is not convinced they are not going to refund you.
This info can be found on their Refund policy page.
If you are to invest in a course or tool for 12 – 24 months, you do expect it to have "no question asked refund policy" or a free trial.
So Many Negative Reviews!
This is a big one.
While a few find it useful, a lot more of writers are against contena. I asked in one of the best writing groups, and this is what is received –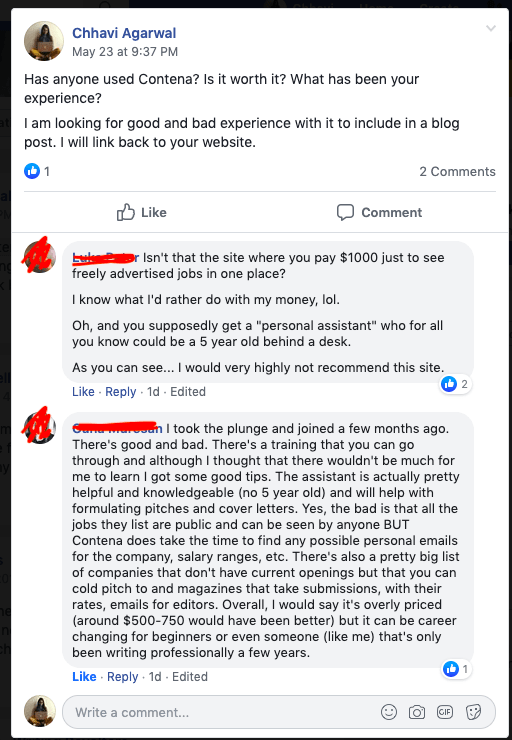 You can also check out the reviews on other writing groups and none of them say great things about Contena.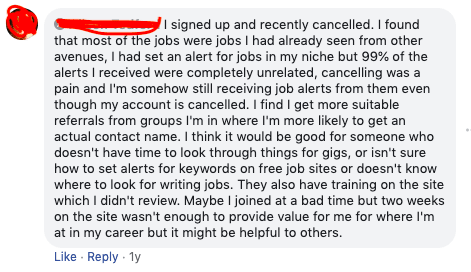 Contena Review – Is Contena A Scam?
No, it is definitely not a scam. It is far away from being a scam.
Contena is NOT a scam, it is actually a great platform for freelance writers. It is just overpriced for the features it provides.
I hope this Contena review was helpful and that you will share it with others as well. Do not forget to comment below and let me know what you think about Contena.
It always seems to be helpful to summarize for people who cannot read the detailed Contena review –
What I Like
They have lots of legitimate writing, editing and blogging gigs at one time
They offer extensive training and coaching to beginner freelance writers
You can make decent money if you find high paying jobs
Ensures that you are paid
Saves you time
What I Don't Like
The cost of membership is excruciatingly painful
The training is beginner focused and can be found online
There are so many free job boards available and you can find all the jobs listed on COntena online for free.
There is no guarantee you will land. job or you can cover the costs with gigs you find on Contena
The refund policy is bad
Check out this course by Holly Johnson on how to earn more travel writing for digital nomad blogs. She is rockstar who makes over $200,000 a year writing for digital nomad blogs and other known publications online
You will also like to read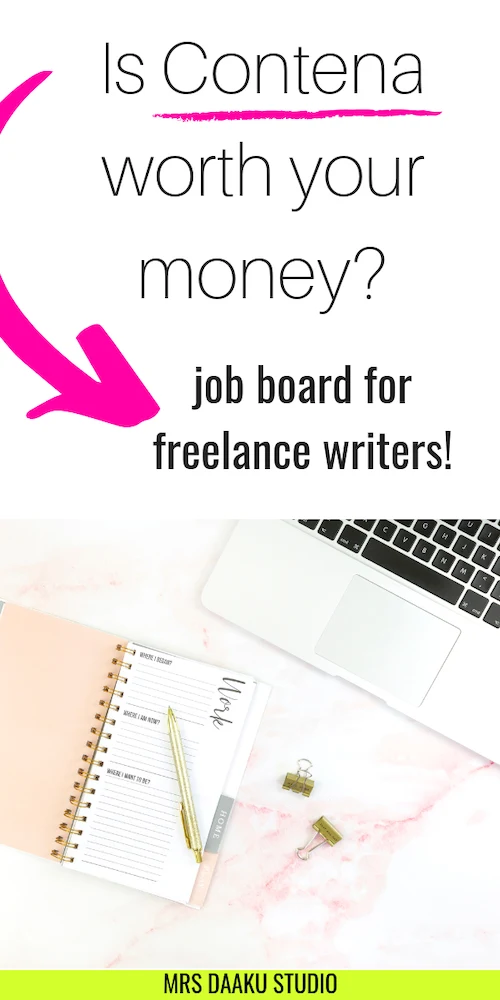 Contena freelance writing reviews – is it worth it or is it a scam?