The best way to build a freelance writing portfolio
Okay, so you have decided to work from home as a freelance writer and looking to create writing samples for potential clients. You are on the right path!
But, if you are here, you have one of these questions –
How Do I start a writing portfolio?
How do I make a content writing portfolio?
How do you write a writing sample?
How do you write a good portfolio?
See, you cannot land a high paying writing client (or freelance writing jobs) without having an impressive freelance writing portfolio. So, you need to start building a writing portfolio as soon as possible.
As simple as that!
But, when I started out, I had no writing samples whatsoever. The thought of building a freelance writing portfolio from scratch was scary! Biggest question – how do I start creating a decent freelance writing portfolio?
I had experience in academic writing (thanks to the law school!), but absolutely no experience in writing conversational and no-fluff online writing.
I brainstormed on how to create an online freelance writing portfolio quickly but without having to lose my sleep (or peace!)
And, thankfully, it hit me. 3 simple ways to build a killer freelance and online writing portfolio that sells and convinces the clients that I am the right-er (did you catch that?!) for them.
In this post, I will tell you 3 absolutely simple ways to create an online writing portfolio even if you have NO experience.
What is a freelance writing portfolio or a creative writing portfolio?
When you approach potential clients for freelance writing jobs, they will almost always ask you for a writing sample which is relevant to them. Meaning, if you are approaching a client who is a social media management company, they would expect to see some writing on using social media for businesses.
In one sentence, you need a freelance writing portfolio in the niche you want to get paid for. If you haven't picked up a niche or wondering if a niche is necessary (or what is a freelance writing niche), click on the image below and download a detailed PDF guide that will help you with it.
But, to answer the latter part is, NO. A niche is not necessary but it helps in landing freelance writing jobs much faster (because clients are already reading what they want you to write).
Building a freelance writing portfolio can make or break your writing career. So, it is absolutely imperative that you have the best samples in your writing portfolio (along with having the best writing portfolio format!). In this post, we will tell you how to create writing samples or freelance writing examples that attract clients
Note: If you are struggling to find and land freelance writing clients, check out this post on how to find and pitch clients your writing services.
While you can learn the skills to be a successful freelance writer online and build a freelance writing portfolio, if you want to scale quickly and earn $3000+ a month before 2019 ends, I highly recommend you to invest in these courses and get yourself an experienced mentor.
Both of them are moms who took up the best stay at home mom jobs, earn over $300-400 a post and show you exactly how you can do it too.
In case you are not ready to spend on courses yet, sign up for Skillshare here. Skillshare is my go-to place to learn a new skill without having to splurge hundreds of dollar or for FREE. It is an online learning community where you can explore thousands of classes in design, photography, business, and more. You can get started with a free trial using my link and get access to hundreds of courses and 2 months of premium membership FREE.
Few resources that may help you
How does a freelance writing portfolio look like? What are the options for the format of the writing portfolio?
There are different ways to display your freelance writing portfolio.
One of them (and, the most recommended one) is to have a portfolio page on your website.
I strongly recommend you to get a website if you don't have one. It not only shows how professional you are, but it automates client acquisition once you start getting organic traffic.

You can use this step by step guide to set up your WordPress website with Bluehost in under 15 minutes. If you do not have the budget to splurge on a developer (like me!), just pick up a free theme on WordPress and build a basic website to start with.
Resources that may help
It is simple and you can easily DIY. WordPress is very user-friendly.
If you do not understand technical stuff, this can help you in building a freelance writer's website in a weekend. It is a great resource for writers who are struggling to make sense of WordPress, hosting, domain, etc and I highly recommend it. It contains 26 detailed step by step videos for setting up your writer's website.
If you already have a website, you can set up a writing portfolio page. Instead of inserting links, I recommend using apps or images to display your portfolio.
A freelance writer site can display a portfolio like this –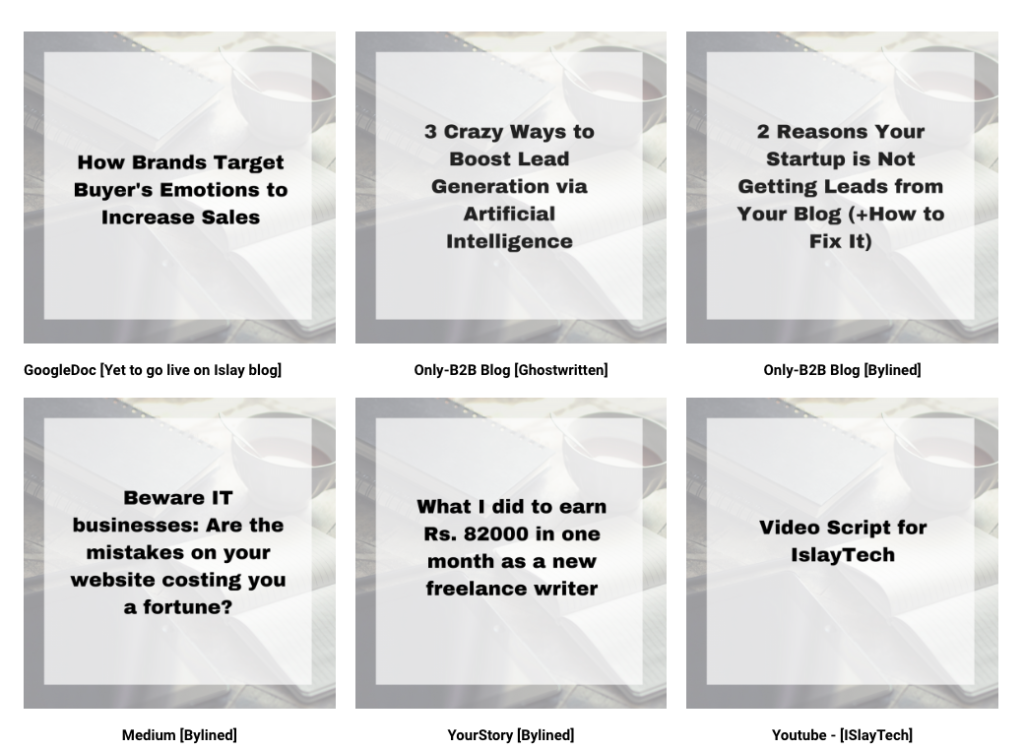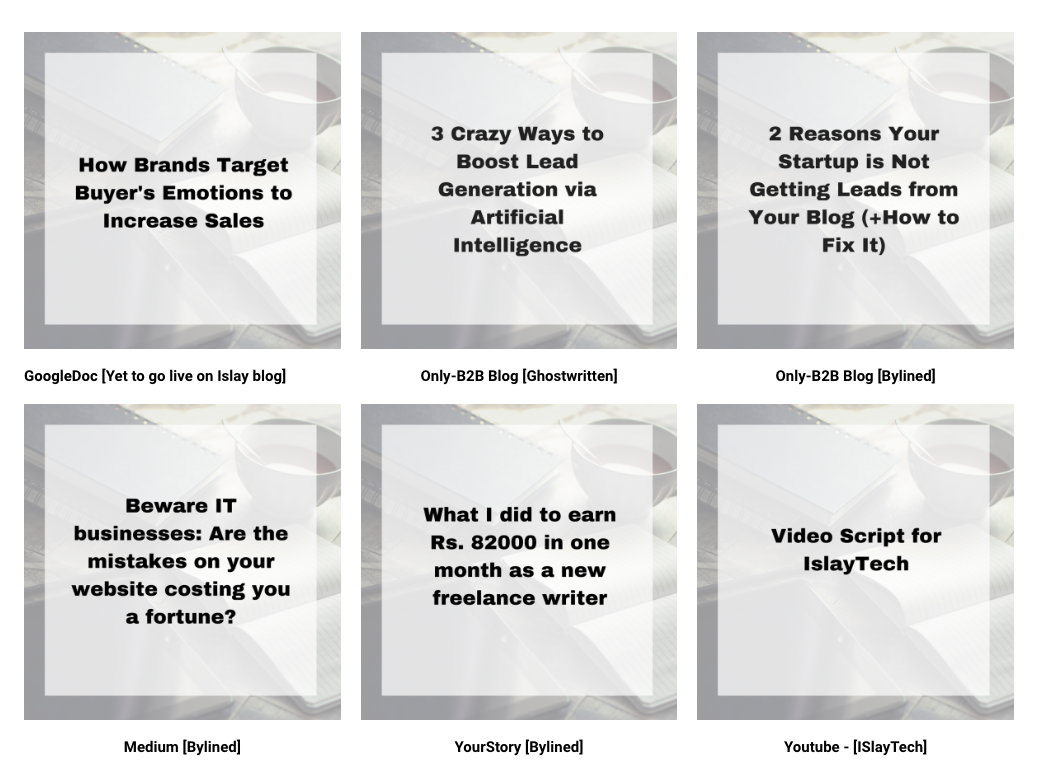 I have inserted images I create using Canva and linked them to the source. It is extremely easy to set up a writing portfolio on your freelance writer website
Or, like Elna Cain has done it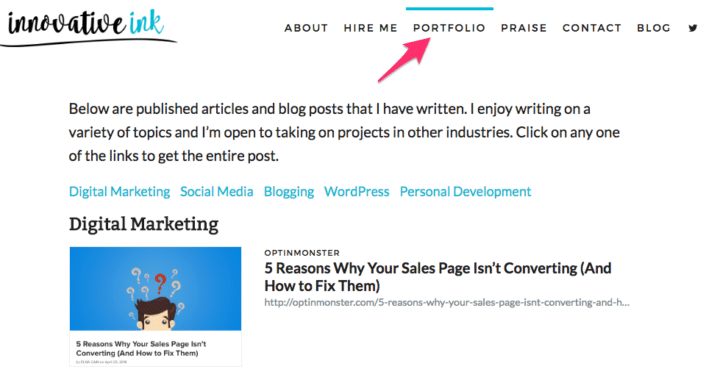 By the way, she teaches you how to set it up an attractive writing portfolio page on your website as well.
How to create an online portfolio as a freelance writer? How to build a freelance writing portfolio? How do I create a writing portfolio?
#1 Create samples, self-publish and include them in your freelance writing portfolio
If you are starting out, self-publishing can the easiest way to build a freelance writing portfolio. There are many websites and blogs that allow you to publish content on them.
A lot of your clients may ask for a live sample, and having self-published links come handy.
Note: If you are struggling to find and land freelance writing clients, you should check this out.

That said, keep working towards getting your writing published on reputed blogs and websites. I will not recommend using this strategy for a long time, it is best for beginner freelance writers with no experience!
The next question is inevitable: How do I decide what to write about?
Good, you asked.
How to choose a topic to write on for your freelance writing portfolio?
This is where having a freelance writing niche makes it super easy. Let's say you have decided to write for marketing companies.
Go to buzzsumo.com and write in the broad topic you have in mind. I put in "Twitter for business" and sorted the results with total engagements. You can filter it further using the options on the left.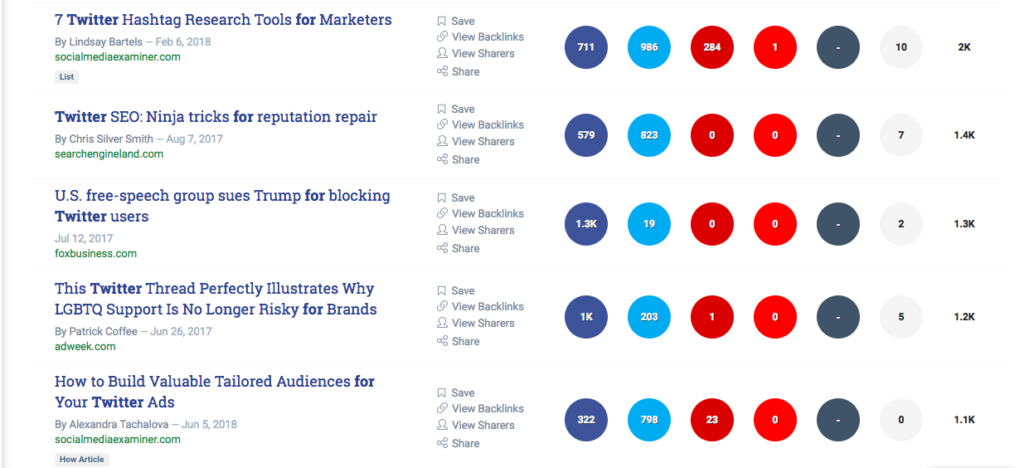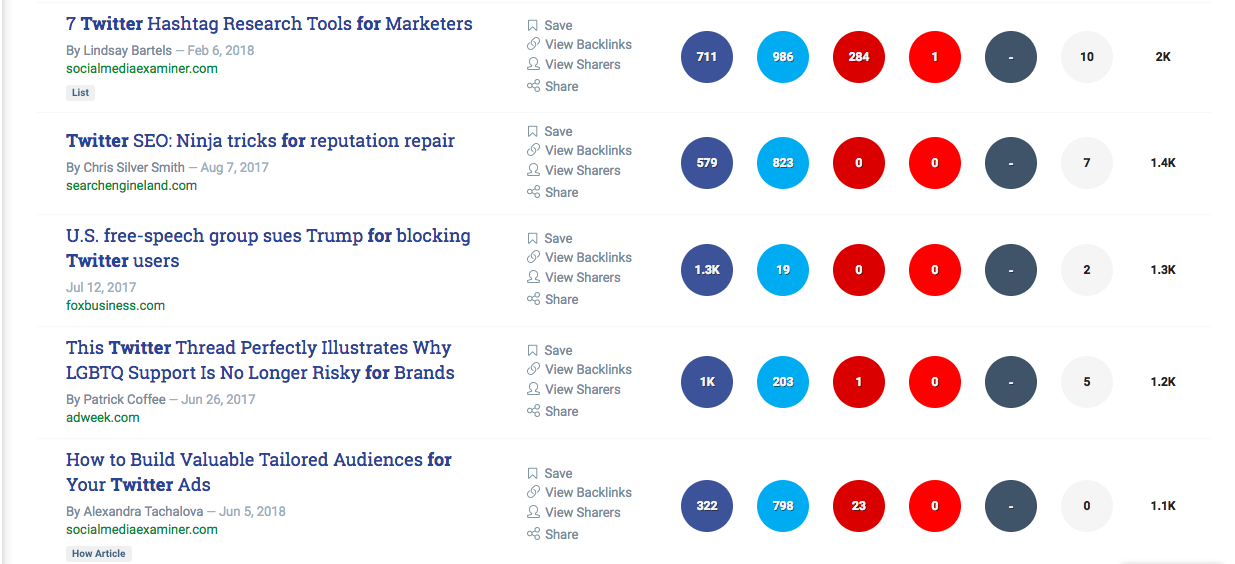 In this list, you will find multiple ideas to write a blog post. Pick up any 1 or 2 topics that will be relevant to your target client and start writing.
There you go! You have sample articles that can be showcased as your freelance writing portfolio. It is time to publish them.
If you are looking to work at home (other than freelance writing), I highly recommend you to go through these resources as well
What are your options to self-publish a post
LinkedIn Publisher
If you are a B2B writer, you cannot ignore LinkedIn. It has several thousands of professionals and businesses sharing relevant opportunities, resources, and information. Linkedin is on the easiest and the best ways for building up a writing portfolio.
In my previous posts, I have told you to connect and engage with your potential client.
If you decide to use the LinkedIn publisher, your article is likely to show up in your potential clients feed and they might get in touch with you.
Another advantage of publishing on Linkedin is that sometimes your article is picked by LinkedIn Pulse. This means, your content will be read by a lot more of your potential clients.
Click on "Write an article" and get started.

Medium
Medium is a blessing for newbie freelance writers trying to set up a writing portfolio. Sign up, create an account and start writing.
You can create 2-3 articles that can serve as your freelance writing portfolio. Not only does it give you live links, Medium promotes it too.
Freelance writing portfolio on your own website
That is another benefit of having a writer's website. You can start a blog and write about things your potential clients will be interested in reading. For example, 6 content marketing mistakes that are costing you leads or 6 SEO tips to rank on page 1 of Google etc.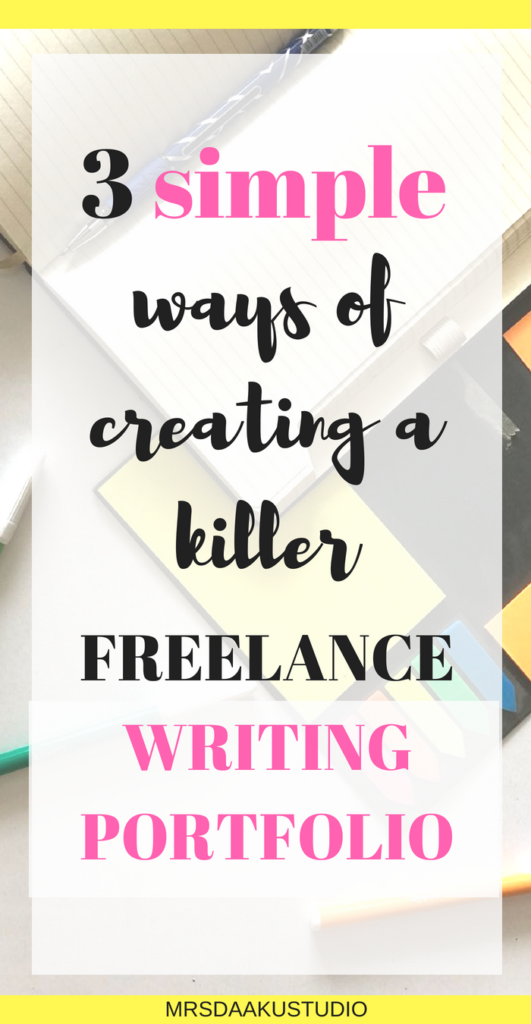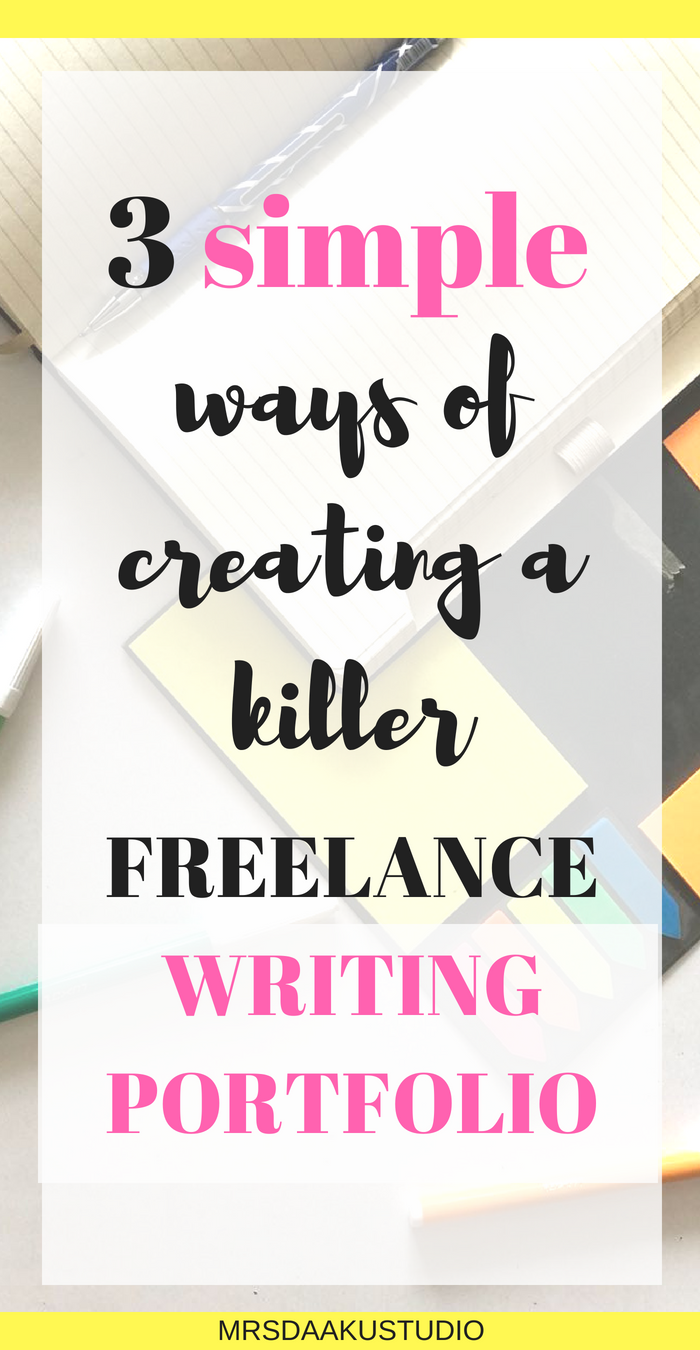 ———–
#2 Guest post, #1 method of building up a freelance writing portfolio
Once you have created a few samples using the free platforms, it is time to start focusing on building an impressive writing portfolio.
It is only with a good freelance writing portfolio can you demand more $$$$ per post.
Run a google search and make notes
When I started out, I was focusing on IT and technology businesses. So, I typed in "technology + write for us" on Google and went through the first 10 results.
You can also check out websites that pay you to write for them. Here is a list of blogging sites that pay above $150 and blogs that pay up to $100 for writing articles online.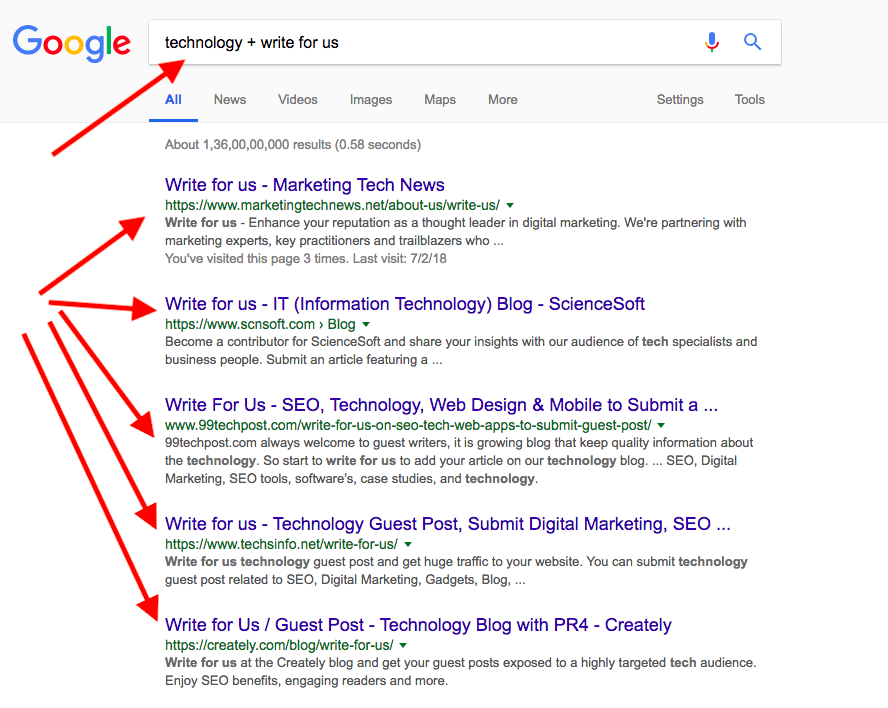 I made a note of a few things from each link
Name of the blog

Email address of the editor or the process to pitch

Kinds of topics they cover

Their headlines

Tone of content and their highest sharing blog posts etc.
You will be tempted to skip the step of making notes. But, take it from someone who has done it, it will waste a lot of your time. You will have to keep going back to the link to check on details before sending in your pitch
Time to pitch the editors
Your notes will come in handy now.
You will notice that blogs have different guidelines for guest posting. Some will ask for 3-4 topics and some will ask for a short outline of the topics.
This is my pitch to creately (one of the earliest emails I wrote, which got me a response in 30 minutes!):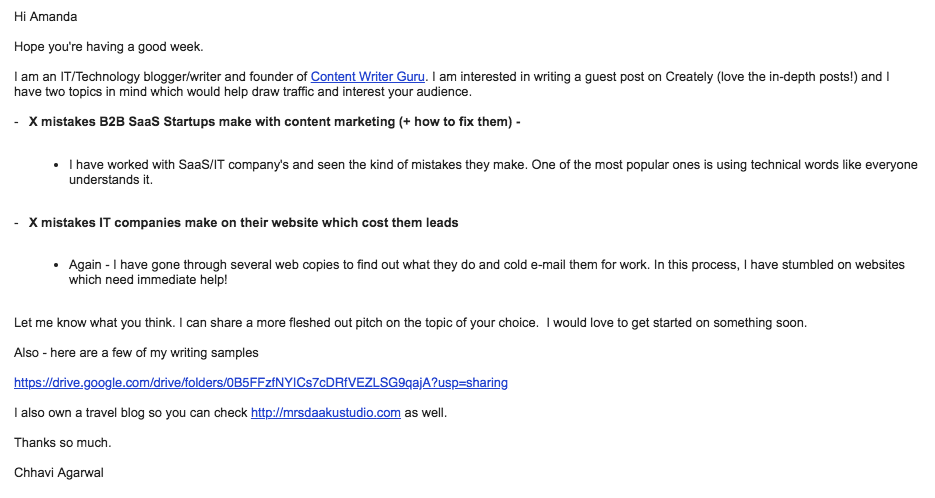 I suggest you read this post on how to pitch as a freelance writer. While this post deals with emailing potential clients, but there are a lot of things you can use to craft a compelling pitch to the editor.
Do not pitch the same topic to multiple blogs. If they both accept it, you will be in a soup!
Instead, you can modify the headlines (but keep the essential elements same). For example, these could be two topics for the same post
How to create an online portfolio as a freelance writer
3 simple ways of creating a killer freelance writing portfolio
Check out this video for the best pitching tips
Write your best content
A lot of time, as a writer, we do not want to share our best tips or hacks with the readers of someone else's blog. Other times we are too lazy to put in the best efforts to write content (for someone else, or for free)
But this is a BIG mistake.
These blogs have a large audience (and maybe a lot of your potential clients are reading this). So don't mess around and get shit serious about writing this post.
This is a part of your freelance writing portfolio and it needs to be as awesome as it can possibly get. You can use these tools to increase your speed of writing a post.
Author bio
Take some time to craft your author bio. This is your chance to market yourself and increase the possibility of landing clients – a place where you are allowed to share about yourself and link back to your website
Try to include
What you offer (the type of content, for example)

What is your expertise

How to reach you

A bit of your personality
Once you have sent this to the editor, wait for the confirmation. They might ask you to make a few edits before it goes live.
During this time you can pitch for more guest spots, work on your writer website and start pitching to job boards.
#3 Ask your existing clients to let you have a bylined article
Another method (which I have used and hardly see anyone else talking about it) is to simply ask your existing clients if they would like to have a guest post on their blog.
Most of them will be happy to have a free post from you. After all, they are already paying you money for it and it will be a simple addition to your freelance writing portfolio.
You can also find a few tips for live links in this article.
This is the email I wrote to a client asking for this


Along with building your writing portfolio, start working on other aspects of your business that can help you land high paying clients and earn your first $1000.
You can also sign up for my FREE 7-day email course where I share all the strategies I used to land high paying clients and earn a full-time income writing
Phew. Monologue over!
Final thoughts on building a freelance writing portfolio
Your turn now – have you started your freelance writing portfolio? Do you need help building a writing portfolio? Let me know in the comments!
If you want to explore other options and resources, I highly recommend you read these –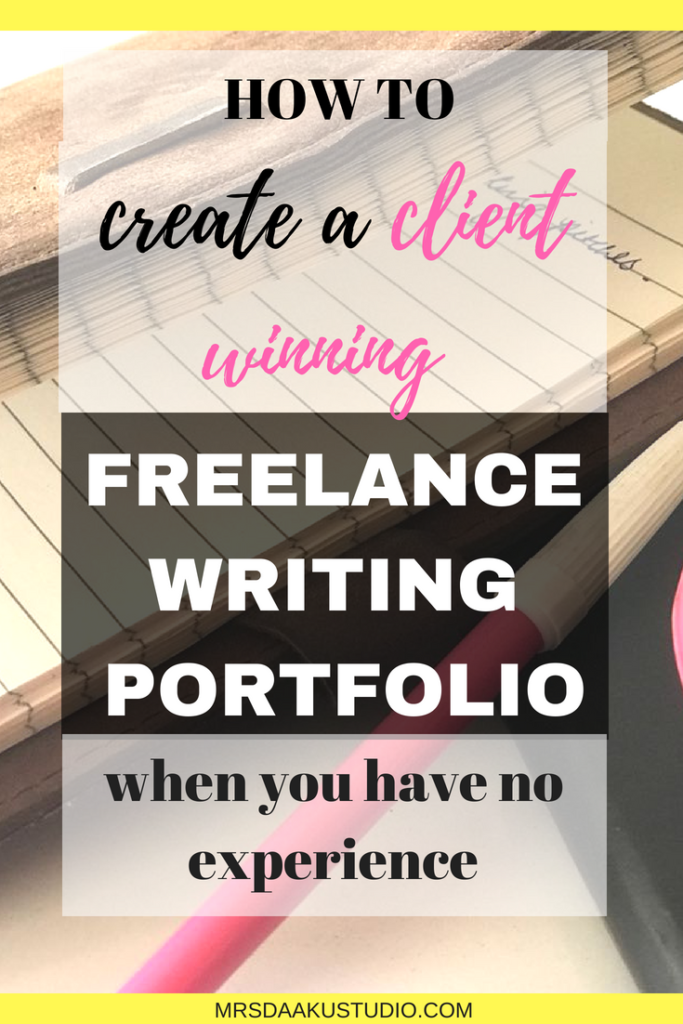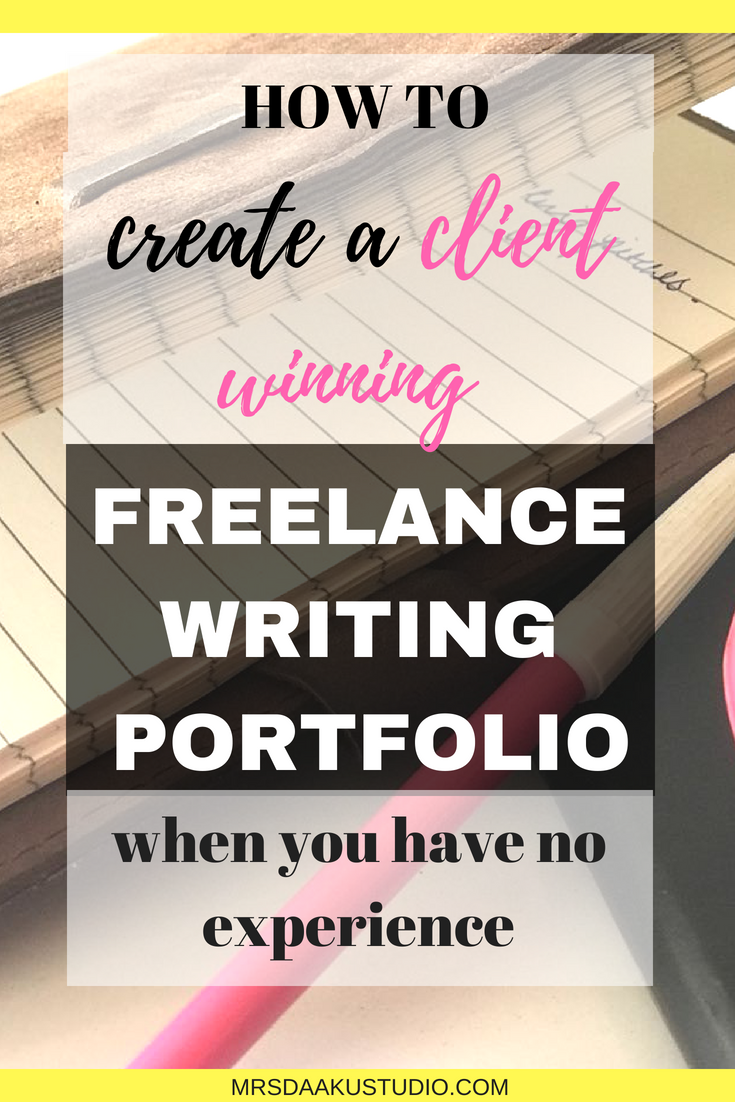 Now, you know how to create writing samples and make a freelance writing portfolio with no experience! If we missed out a way to build up a portfolio, comment below
The best way to create a writing portfolio with no experience