In this post, I will share 6 tools for freelance writers that I use, trust and recommend strongly.
Look,
Every freelance writer has a set of tools that help them in writing and growing their freelance writing income.
And, you and I are no different. We need freelance writing tools to increase our efficiency and accuracy.
I am assuming you have either decided to launch your freelance writing business or looking to improve your work with several tools available online. Either way, congrats and welcome to the freelance writing world.
And, I am right here to help you select the best tools (of course, I am not talking about needing a laptop).
Let's look at 6 tools for freelance writers that will help you land clients and grow your freelance writing income quickly.
In case you are stuck and wondering if freelance writing is for you, take this 6-day free course before taking any further step.
A website or a blog
I have told you this before and cannot emphasize more on having a self-hosted website or a blog. In fact, I talked about how having a website landed me a $250 for one post gig in my first month as a freelance writer.
If you are looking to earn a full-time income as a freelance writer, it is darn important to have a professional website to sell your services. It screams out loud that you know your shit and you are not just any other freelance writer.
Hands down, this is #1 important tool for freelance writers, especially you!
I have one contentwriterguru.com and over the past year, it has contributed a fair share in finding high paying clients. I can always direct my clients to my website and the portfolio page for details about me. You do not have to rework on introduction for every email and it saves tonnes of time this way!
This is one of the first (and, the ONLY!) investments you will need in your business (if you are starting out as a freelance writer!) and will not cost you more than Rs. 5000-6000.
Believe me, it is worth your time and investment. How many 6-figure writers or freelancers do you know who work without a website?
I know, NONE!
If you are clueless about how to start your own website or blog, you can refer to my blog post on how to start a WordPress blog with Bluehost, a step by step guide to starting your own website in 15 mins.
You can also use this guide to come up with a clever blog name.
Not everyone can afford an editor and even if they did, an editing tool goes a long way towards helping you in content creation.
This is, no doubt, number #1 editing tool for freelance writers.
I never (like, never!) send any content to the client without running it through an editing app. Not only does it point out errors, it also tells you several alternatives to that.
You know what is else so great about Grammarly?
Not only does it detect errors in the content you write inside of the app, it will help you correct emails and blogs. Look at this –
Grammarly correcting inside the tool –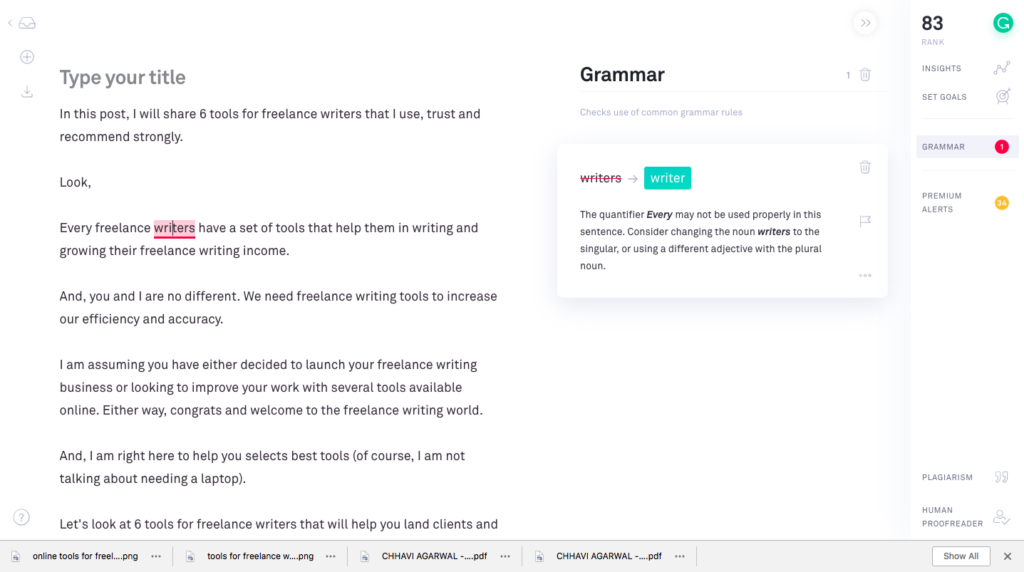 Grammarly correcting outside the tool [inside gmail] –

Hemingway is another recommended editing tool.
While Grammarly focuses on (evidently!) grammar, Hemingway helps you increase the readability score of your content. Meaning, it will point out difficult and long sentences, use of passive voice, difficult phrases which have simpler alternatives etc.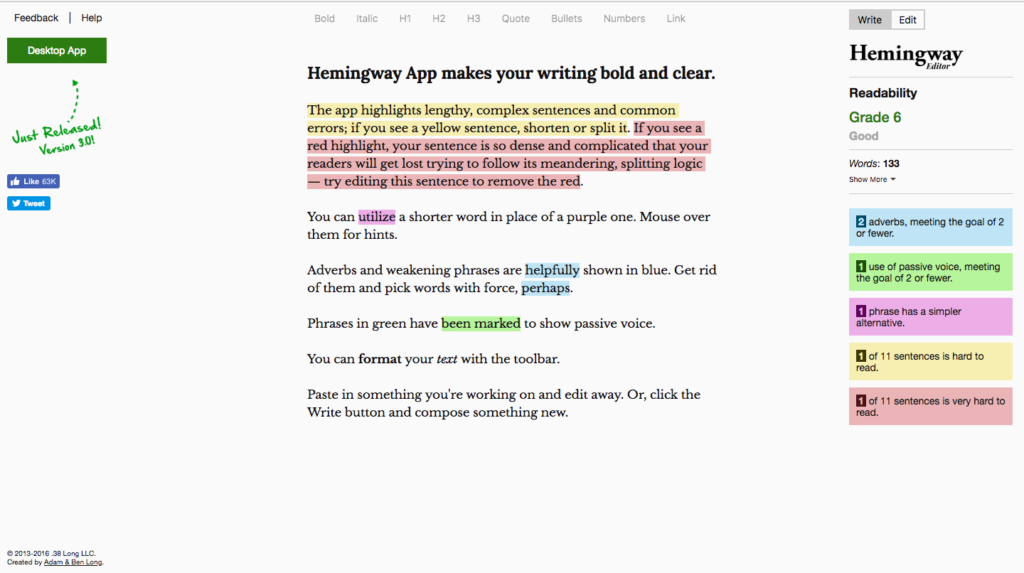 Don't get confused while using it. The lesser the score, the better your content is! Meaning, 3 is better than 6.
If you are finding this post useful, you can bookmark it or pin it for future reference.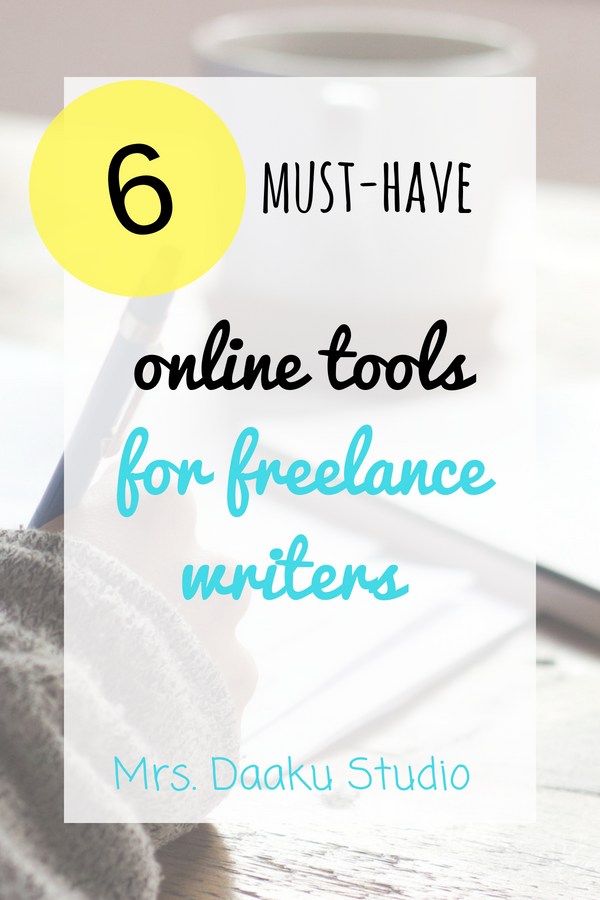 Google Docs
Google docs is an excellent cloud storage tool! You can access docs, sheets, and slides all at one place.
A lot of clients prefer shared folders in Google Drive. For those who don't have a preference, Google drive is any way your best way out!
I have been using Google doc from day 1. It is easy to share, comment and give/receive feedback.
If you are tired of sharing and saving multiple versions in docs or pages, then Google Doc is the answer!
[bctt tweet="6 must-have tools for freelance writers! No. 4 is definitely a given." username="mrs_daaku"]
If you wondering how bloggers and business owners DIY logos, feature images, Pinterest images and all other super awesome graphics, it is Canva.
It is a tool which lets you create, edit and download graphics easily.
MailChimp is an email service provider for bloggers and business owners. If you are looking to grow your freelance writing income and look for more clients, you should have an email list.
You can create a resource for potential clients who land on your website and automate the entire process easily using MailChimp.
I personally use MailChimp for this blog and it works great. However, there are a few things like automation of course etc, that cannot be easily done with MailChimp free version.
If you are looking for a paid tool, ConvertKit comes highly recommended from all the known bloggers and freelance writers.
There you go! 6 must-have tools for freelance writers.
If you are brand new to freelance writing, these tools can help you get started. However, you DO NOT need all them from the start.
I started with a website, Grammarly, Hemmingway and google drive. Once you start building your freelance writing business, start using other tools.
Do you need all these tools right away? Some you do.
I feel having a website, a Grammar tool and Google drive important for your biz in the beginning.
Do you want to add any other tools for freelance writers? Which is your favorite or recommended tools for freelance writers? and, why? Tell me in the comments below
Other resources that can help you get started as a freelance writer
Grow your freelance writing income – A FREE 7-day e-course that will take you through each and every step that helped me make $1000 in less than 3 months

How I got "$250 for ONE blog post" client as a new freelance writer in India? [Bonus inside – detailed PDF on how to decide a niche]

—- FREEBIE —-
Note: If you are looking for other work at home options as well, do check out these guides on the best online jobs today. You can also check out guides on how to start working from home. 
Download this guide and grab a 5 step plan to launching a profitable online business from home along with several other BONUSES