Find and Make Money with the Best Scrap Yards Near Me
Do you want to earn money for your scrap metal or old cars?
Are you searching for "scrap yard near me" on search engines and how to make money with them?
You are at the right place then. In this post, we will take you over how to find the best scrap yards near you and how to make money with them.
How to find Scrap Yards Nearby
You can use our zip code search on Google Maps to locate the nearest best paying local scrap yard near you.
Click here to find nearest scrap yards near you.
It is definitely the easiest to find a place to sell scrap metal for me and you!
Note: You can also learn how to flip thrift store items for money and earn $133k+ a year. Check this out.
Note – This post may contain affiliate links and sponsored listings. Please read disclosure policy.
Find all details about making money selling metal scraps to scrap yards and recycling yards.
Want to make money quickly? Here are a few platforms to earn up to $25 – $50 in a few minutes!
Beginner's guide to Scrap Yard: scrapping for Money 101
What is a Scrap Yard?
A scrap yard (also known as a wrecking yard, scrapyard, recycling yard or junkyard) is a place to find scrap metals and a place you can get paid money for scrap metal.
Just like many other ways to make quick money, free money or flipping items for money, scrapping metal is also a profitable side hustle with a lot of money-making potential.
Once you get good at it, you can think about starting a business collecting metals and then selling it.
Note: Check this out, if you are looking for online work from home business
How does Scrap Yards Work?
Before we go on to talk about how to make money with scrap yards and find best scrap yards near me, it is important to know how do they work.
Note: Check out best items to flip on ebay and make money
These are yards are visited by businesses as well as individuals who work with metals, such as –
Electricians
Plumbers
Construction companies
Contractors
Demolition Business
Recycling Companies
Home Owners
You need to understand that scrap metal yards near you are not just for wrecked metals but also for appliances, wires, pipes and other kind of material that contains metals.
A list of common metal types most scrap metal yards or plants will accept:
aluminum
Brass
copper
Iron
stainless steel,
steel
and more
While I am not going to go into technical details of scrap yards, you should know that all items are categorised into
Ferrous (steels, cast iron and iron – basically – anything that sticks to a magnet)

Non-Ferrous (anything that is not ferrous. It includes copper, aluminium, stainless steel, brass and bronze)

Electronic or e-scrap metals (found inside of electronics like silver, gold, and platinum). These materials can be found in hard drives, power supplies, and circuit boards.
If you let scrappers collect the small loads from you, they won't pay you money for it. You can make money selling metal scraps to scrap yards ONLY IF you
Have a lot of scrap metals and,
Can haul the load to them
Related posts: How to sell old clothes for money? – A beginners guide!
How do Scrap Yards benefit from scrap metals?
Okay.. I had this question.
If scrap yards are buying metal scraps you and other businesses, how do they benefit? How to they make money paying you?
Scrap yards near me purchase metals from private players, government, contractors and many more businesses only to melt them and reproduce into new materials.
These new materials are in turn sold to businesses who need them.
If you understand this, you will also know that the profit margins then depend on what you sell to them and the market price of the metal
How to know whether or not a scrapyard is good enough
The general rule is –
Ferrous metals bring in the least profit

Non ferrous gets your higher profit

Electronics or e-scraps can get you the most profit BUT you need to have a huge volume (which is generally not possible).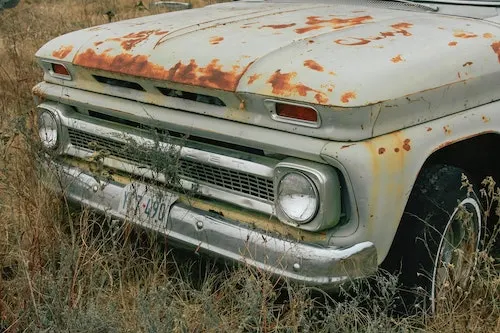 How do you get started scrapping?
There are thousands of odd jobs to make money and making money with local scrap yards is another side hustle.
While some people haul scrap full time, a lot many do it on the side or just when they have scrap metal lying around and want to earn some extra cash.
If you want to get started scrapping, you will need to invest some time understand
How scrap yards work
What metals you have
How much are those metals worth in the market
We will deal with everything in this post on scrapyards and make money scrapping
Related: 20+ best weekend jobs from home – Earn $1000+ monthly!
How to find local scrap yards?
You can use
Your local phone book

Google – using terms like "metal scrap yard near me", "local scrap yards" 'scrap yard near me open today', 'metal recycling near me', and 'junkyard near me' to find a location near you

Use the iScrap app to find local metal scrap yards
Can you make a living selling scrap metal?
Yes, you can.
If you are willing to make an effort, it is possible to make part time money selling scrap metal to junkyards.
While I know some people earn hundreds of dollars selling scrap to scrapyards, for most, it is NOT going to replace a day job.
It can, however, be a great way to make quick money in one day or make a thousand dollars quickly.
Related: How to make $1000 fast (10+ legit ways to make money in a few days)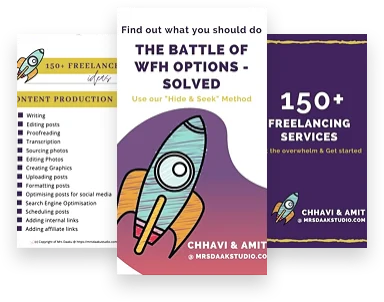 What can I sell at a junk yard?
We dealt with this question earlier in brief.
Once you have found a scrap yard drop off facility near you, you need to start finding metals.
Scrap Metals for Scrap Yards
Typical metals that most scrap yards accept are:
Iron
Steel
Stainless steel
Brass
Copper
Aluminum
Zinc
Nickel
Lead
Common household items that can be scrapped
Stainless Steel Sink
Brass Faucets
Copper Pipe or Tubing
Aluminum Pots & Pans
Ceiling Fan Motors
Copper Yokes from TV's
Power Outlets
Mini-Transformers
Backup Batteries & Surge Protectors
Laptops
Desktop Towers
Aluminum Lawn Chair
Popular items to bring
Cars
Appliances
Motorcycles
Copper Pipe or tubing
Bicycles
Boats
Airplanes
Stainless steel sinks
What Are The Current Scrap Metal Prices?
| Scrap Metal | Scrap Price | Updated Price Date |
| --- | --- | --- |
| Copper National Average | $1.61/lb | Updated 05/10/2020 |
| Steel National Average | $83.00/ton | Updated 05/10/2020 |
| Aluminum National Average | $0.21/lb | Updated 05/10/2020 |
Pro-Tip: You can find national scrap metal prices that are updated daily here.
Average scrap prices for common items
Washing machine $18-$22 average weight of 200 lbs.

Dryer $8-$10 average weight of 100 lbs.

Ovens and ranges $11-$18 average weight of 125 lbs.

Full-size Gas BBQ $16-20 average weight of 180 lbs.
Related posts: Online jobs that pay through PayPal in 2020
Where Can I Find Scrap Metal To Sell?
If you do not know where to find scrap metals to sell, try out these 7 places to start
Construction Sites are a great place to find metal scraps. That said, you cannot remove anything without permission.

You should talk to the contractor or company to get a steady supply of metal scraps.

More often than not, they are always ready to help since you are helping them remove junk of the property.


Starting your own business and checking local businesses are a good place to locate scrap metal near you.

You can find thrown away refrigerators, metal office chairs, tables, and other office equipment to sell to scrap yards. All you have to do is pick up the phone and contact them.

You can also think about starting your own business of collecting metal scraps. Promote them to businesses, construction sites and your local area.

People will be happy to send their metal scraps your way

Craigslist – Go to the free section of your local Craigslist marketplace to find scrap metals and items that people are wanting to get rid of.

You can also think about placing an ad for free to see if anyone wants their scrap metal removed.

Ranches – There are many farms and ranches wanting to get rid off their old machinery and other items that they don't want.

They will be happy to let you remove the junk from their place and then, you can turn around and sell the junk for money!


Shooting Ranges – Brass shells fetch a hefty price and you can find them everywhere on shooting ranges.


Medical Establishments – Hospitals and other care centers always have wheelchairs, walkers, fixtures, and appliances to get rid off.


Garage sales, Flea Markets
Note: You can also learn how to flip thrift store items for money and earn $133k+ a year. Check this out.
8 Steps to Get the Most Money at a Scrap Yard
Selling metal at local scrap yards is a profitable side hustle, especially, if you know what you're doing.
Here are the 8 steps to get the most money for your metal scraps at a scrapyard.
STEP 1 – Save your trash and collect items with valuable metals
I never imagined I would say this! Save your trash.
If you have an old car in your garage or an old microwave that no longer works, why let it occupy space in your house?
Take it out, sort the metals and head to the scrap year near me.
Collect items that contain metals – Scrap Yard Near Me
One of the major skills you need for selling scrap metals for money is to understand the value of metals and knowing which product/item has which metal
For example, broken appliances or your old Christmas lightings have metals even though they are useless. These are opportunities to sell scrap metal.
If I take these to the closest scrap metal yard near me, I would make money for the copper wiring inside of these appliances and lights.
Why? Because they are be repurposed and recycled.
So, if you offer to take broken items from your locality, most people would be happy to let you do so for free.
Who does not want someone cleaning up without taking a penny? I won't, and this is what you need to take advantage of.
Related post: Overnight work from home jobs (or night jobs) to earn money TODAY!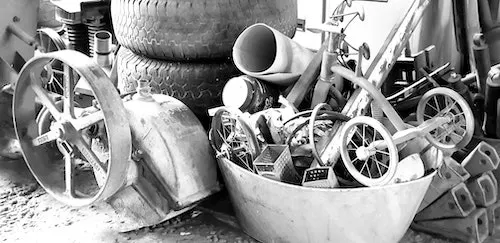 A list Scrap Metal Items To Look For
Electronics – desktop computer towers, computer or TV monitors

Appliances (especially non-functioning appliances that contain electric motors) – toasters, refrigerators, dishwashers, microwaves, kitchen range, washers, dryers, AC units, or heaters

Wiring – electrical wiring, copper wiring, or power cords

The Little Pieces – screws, nuts, or bolts

Bathroom & Light fixtures – pipes, faucets, drains, or pieces of metal from light fixtures

Doors – doorknobs, door handles, or door frames

Vehicles (a.k.a. Things That Move) – cars, bicycles, boats, or airplane parts. These are generally sold at salvage auto scrap yards

Yard Sale Finds – Find items for almost nothing that you can take apart for the scrap metal.
Note: While you can sell the entire item, you will make more money by taking them apart and sorting the metals.
STEP 2 Sort the metals before going to the scrap yard
By now, you know how to collect metal scraps. Now, it is time to understand that sorting the scrap metals can fetch you more money.
The metals that are inside of the scrap items will sell for higher value if the they are sorted and cleaned up.
When I say cleaned up, I mean separating non metal materials from scrap metals (scrap metal world lingo, you know).
Let's understand this with an example –
Say you have an old microwave. You can sell it as is for a low price. The scrap yard owner does not know how much metal it has.
If you take the time to sort the metals and clean it up, you know exactly
What metal you have
What is the going price and
How many tonnes/pounds of metals you have
In turn, you get a better quote from a scrap yard.
Scrap yards price metal per pound, so you'll have a lot more to offer by taking items apart and seeing what's really in there.
Note: You can also learn how to flip thrift store items for money and earn $133k+ a year. Check this out.
STEP 3 Sort and organize the metals by type
While you sorted metals from scrap in the step above, you will now have. to sort and organize the metals by type.
Do not ever take your metals to the scrap yard without organizing them first.
We already discussed that the scrap yard prices metal per the pound so if your metal scraps are organized (and isn't mixed in with other metals and non metals) then you can get higher price per pound.
Get a Magnet [Pro Tip]
The easiest way to sort your metals is using a magnet.
Remember, I told you before that scrap metals fall in two categories
Ferrous (magnetic and sells at lower prices)
Non Ferrous (non magnetic and sells at higher value)
Use a magnet to pull ferrous metals away from non ferrous metals.
Once you have separated ferrous from non ferrous metals, it is time to sort specific type of metals.
You'll need an organization system to keep everything tidy and separated for hauling it to the scrap yard. For this purpose, you can use boxes and buckets and label them.
You want everything clear, precise and organized when you drive. to the scrap yard for selling.
Specific Scrap Metals
First and foremost comes copper.
Copper is a non-ferrous metal in red and most priced scrap metal. That means, you make the most money with copper.
You can remove copper from Christmas lights, appliances like AC parts, electrical wiring, circuits, pipes etc. Make sure you store copper in one container until you have collected enough for a big haul.
Other Types of Scrap Metal to make money
Aluminum (non-ferrous) is soft and generally, silver or white. It is your second most price and valuable metal you can scrap.

Find aluminium in cans, bicycles, roofing materials, motorcycles and window frames.

Brass (non-ferrous) is a red or yellow (sometimes green if left outside) color scrap metal which is a combination of copper and zinc and it is heavy.

Find brass in faucets, light fixtures, and keys.

Lead (non-ferrous) is a soft metal which is heavy and toxic. YOu have to be careful when dealing with lead. Read about lead poisoning.

Find lead in pipes

Iron (ferrous) – Find iron in washing machines, yard furniture, or lawn mowers


Stainless steel (ferrous and NOT magnetic) is one of the lower scrap price metals.

Find steel in cars and appliances
Your job is to put the items into clean and dirty containers.
By clean, we mean valuable metals are separated from non metals and other scrap materials.
High quality metals that are clean will get you a higher quote on the price.
Note: You can also learn how to flip thrift store items for money and earn $133k+ a year. Check this out.
STEP 4 Find the best paying scrap yard near me
Do not every rush to your nearest scrap yard. Take sometime to find the best paying scrap yard near me
You want to make the most money for your metals and hardwork put in to it.
Your job now is to call metal yards near you and ask how much thet pay for each type of metal you have.
Don't just search Scrap Yard Near Me and rush off!
Also investigate what type of metals you have in hand and how much they are worth on the market before you head to the scrap yard.
Don't go to a scrap yard until you know the price of your metal.
Click here to view the current prices of scrap metal!
Metals are always priced per the point and prices vary all the time. It depends on the demand as well as your geographic location.
Scrap yards do not generally benefit from smaller amounts of scrap metals. So, if you want to make big money, wait until you have collected enough metal (especially cleaner metals)
STEP 5 Borrow a truck
If you don't have a truck or a way to transport all your scrap metals to the scrap yard, borrow a truck from a friend or use U-Haul.
Related post: 12 Car advertising companies (+ how to get paid get paid for car advertising)
STEP 6 Get dressed
First, take your ID with you. Most scrap yards will check for it.
Second, for safety purposes, take a phone and a first aid kit handy.
Third, dress smart. Wear gloves, boots, long sleeves and pants to protect yourself from metal.
STEP 7: Save a history of the scrap metal you have sold, and start developing good working relationships with local scrap metal yards near me
If you are serious about making money with scrap metas and scrapyards, it is time to develop good working relationships with –
Local metal scrapyards near me
Businesses and individuals that can provide you with scrap metals
Once you have a working relationship in place, the metal yards wil start quoting you better prices for all the collected metals.
All scrap yard or metal yard guys like someone who brings in tonnes of separated and clean metals. So do it!
Also, keep a paper trail or documentation for sales. Include details on what sells, what is in demand, where you get paid more for specific metals etc.
Step 8: Start Your Own Scrap Metal Business
If you own a scrap metal business, it shows you are serious about this business and reflects professionalism.

Scrap yards are more likely to deal with you if you have a business.
You can also write off expenses and save more money during tax season. For example, expenses like renting a truck, buying gloves, filling up gas etc can be written off.
Note: You can also learn how to flip thrift store items for money and earn $133k+ a year. Check this out.
Tips to make money selling scrap metals to scrap yards
Find out what scrap metals (or items) are worth
Before you head to the scrap yard, you SHOULD KNOW what metals are worth.
You do not need to know the exact figure but enough to avoid getting cheated.
Just go online and look for how much is scrap metals worth.
For example, if you have an old washing machine you want to sell, you can simply search for "scrap washing machine value," or something similar to see several results.
Do not stop at first few results. Go through at least 10-15 search results before you make up your mind.
You can also consult the Institute of Scrap Metal Recycling Industries, Inc. (ISRI) to learn more about recycling scrap metal and how it works.
Collect MORE.
You do not want to head to the scrapyard with a little amount of scrap metals.
Scrap Yards do not have any limits on how much you can take so the more the merrier.
So – it is ALWAYS better to take all that you have in one trip when you decided to take your scrap metal to a scrap yard.
When you bring a lot of scrap at one time, you can get better deal and negotiate higher prices.
In fact, if you have another batch of scrap, let the scrap dealer know. It could help you get even more money.
Note: Scrap dealer buy scrap metals in bulk because it is easier for them to resell it.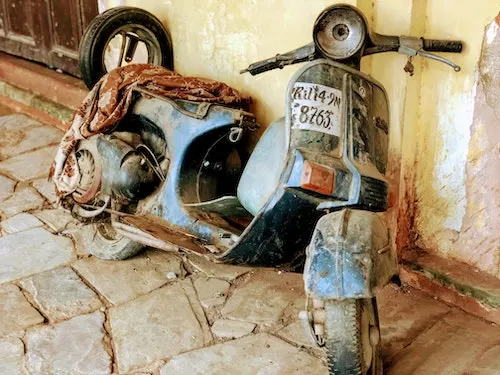 Separate scrap metals and clean them
Most scrap dealers like you will deal in different metals. It is important that you know the different metals and separate them first.
For example, if you have casting over copper wires, remove them first before you sell it to a scrap yard.
Think about it – a scrap dealer or owner of scrap yard has to take extra time to separate metals. This could be a BIG excuse for paying you less money.
As a rule of thumb – the more work scrap yard owners (scrap dealers) have to do, the lesser money you will make selling scrap metals.
Check for prices
If you live near an area with several scrap yards and scrap dealers, do not rush to the nearest ones.
Take time to call around and check prices first.
If you don't know any scrap dealers located in your area, run internet search for "metal scrap yard near me" to find out all the options.
While a scrap dealer will never give you an exact quote, you can always know the going prices for the metal (basically, a ballpark figure).
When take out the time to investigate the prices and rates, you will know where you will make the most money with your scrap metal.
Also, a bigger scrap yard does not mean you will make more money. Sometimes a smaller scrap yard may give you more money.
Negotiate
Lastly, do not forget to negotiate when you are selling scrap.
Scrap yard owners will always try to low ball you first. Instead of accepting any price they offer you, ask for a little more (this is where your research will help you).
This is especially true if you have a lot of metal to sell.
We cannot guarantee you will be offered a better price (like with all negotiations), but it never hurts to ask.
Watch out for Scammers
Just like with any business, not all scrap yard dealers are going to be legitimate, honest and trustworthy.
There are so many who want to cheat you for money.
On the other side, there are many honest and nice scrap yard owners.
Watch out for these things before you start selling scrap metal to scrap yard.
1. Operating Without a License
A scrap yard is regulated by the law and it changes from state to state.
While there are so many laws that regulate a scrap yard, the least they should have is a business license.
In most cases, it is the same license every business needs to operate. However, it is possible that a scrap metal license is required in your area.
If you are unsure whether or not a special license is required, check with your state to find out.
2. Confuse, ignore and rip off
If you come across a scrap dealer who
Is trying to intentionally confuse you in order to avoid paying you as little as possible for the metal scrap

seems to rush you through the deal and brush off any questions saying "this is the best we can do" without further explanations
Then, the dealer is trying to scam you.
An honest scrap dealer or scrap yard owner will always have clear answers to all your question.
3. Unscrupulous Tow Truck Operators
There are two most common tow truck scams
In the first scenario, the scrap yard owner agrees to pay you x amount over the phone but when the tow truck operator shows up to pick up scrap metal, he claims the items to be worth much less than you were quoted
Remember, most scrap yard owners hire independent truck operators to pick up. So, if this happens to you, the truck operator is trying to pocket the difference.
In the second scenario, the truck operator demands that you owe them money for the transportation (even though the scrap yard owners agreed to cover the charge)
In either case, pick up the phone and call your scrap yard owner right away.
4. Not Including the Towing Cost in Quotes
Basically, you need to wary of hidden costs.
Whenever an honest dealers provides you with a quote, it includes towing costs for vehicles.
There are many scrap yard owners who will not include it in the quote and you will later find it does not include the fee to have the vehicle towed.
If there is a specific towing cost included, make sure there are no additional charges.
This goes for everything. It is always a good habit to ask the scrap yard owner and confirm there are no hidden costs.
5. No Title Transfer
If you are dealing in vehicles, remember that you will have to transfer the title over to the scrap yard owner.
You will need to contact your local department of motor vehicles (DMV) and cancel the registration.
If the proper documentation is not done on the sale of the vehicle, you could still be liable for it.
So, before you load up the vehicle and ship it to the scrap yard, ensure you have no rights on it and no liabilities occurring from it
The transfer of title is generally to be started by you (not the scrap metal dealer).
Be wary of any scrap dealer who says he will take care of all of the paperwork for you.
This could be a scam where they send you a bill for storing your car and you cannot refuse to pay. If you do, they send it to a collections agency which damages your credit score.
It isn't worth taking any risks. Make sure titles are transferred.
6. Being Told Your Car or metal scraps Is Worthless
This is a very common scam in the scrap yard industry.
The scrap dealer basically tells you that your things are not worth anything. The dealer will go on to suggest leaving everything there as though it is a favor.
Remember – metal scraps have value.
The scrap yard owner will go ahead and make money off it. This scam mostly occurs when you are out to sell your car.
This is why I keep telling you that it is important for you to know what you are dealing in. Knw your things, know your metals and their prices!
If a scrap dealer ever tells you something doesn't have any value, tell him you will get the quotes from other dealers as well.
You will be surprised how many scrap dealers offer you money at this point.
Note: You can also learn how to flip thrift store items for money and earn $133k+ a year. Check this out.
Scrap Yard Near Me – Final Thoughts
There it is.
Now you can start selling scrap metal at scrap yards near you.
Recycling existing metals means lesser harm to the planet and materials will be reused. Be proud of your metal recycling efforts.
You can also watch this to get some tips on how to make money selling scrap metals to scrap yard owners.
Related posts for making quick money
Resources that can help you with land work from home jobs
How to find and pitch clients your freelance services– You can find my strategies to find high-paying freelance writing clients.
Become a work at home mom– A FREE training session that comes along with a workbook and guides you through the entire freelancing journey.
FlexJobs You can find 100% legitimate work from home jobs and freelancing gigs on this platform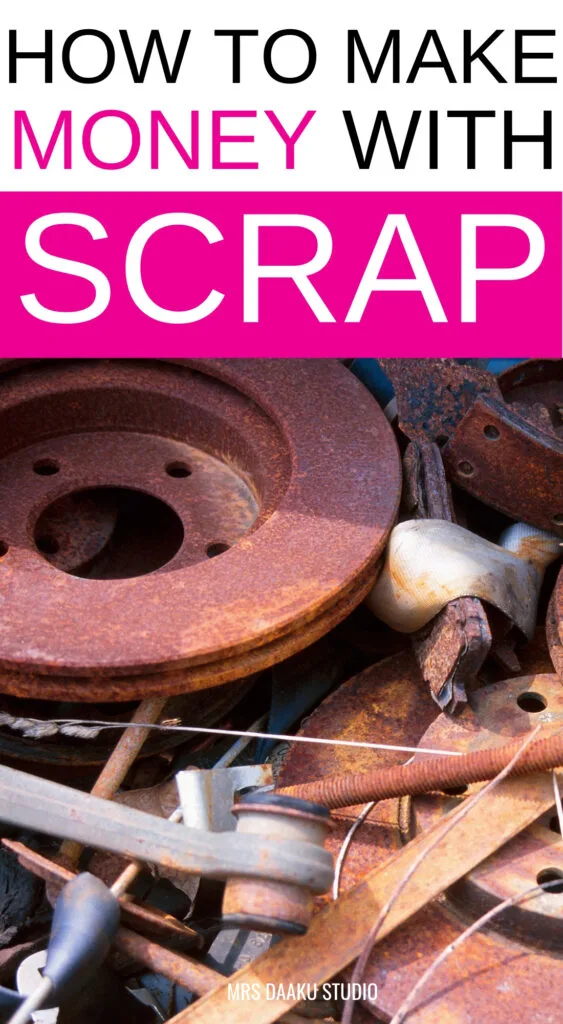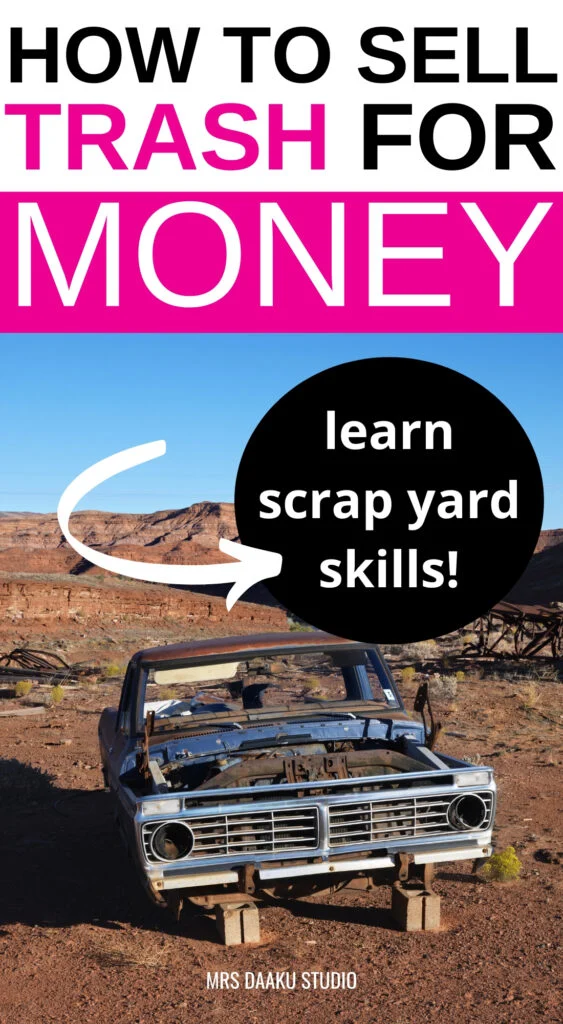 Best Scrap Yard Near Me