Do you have a freelance business plan for this holiday season?
If not, you might be in a soup. (and, not the tasty kinds!).
Holiday season = slowdown = lack of work for freelancers (just trying to avoid saying no work)
If you are a new to freelancing, this might scare you. And, if you are experience, you should have a freelance business plan to deal with this situation.
In either cases, in this post we will talk about exactly what to include in your freelance business plan to combat the slowdown, boost your income, spending your holidays worry-free and emerge as the king of the iron throne (yes, it does feel like being worthy of iron throne).
By the end of this post, you will have a bucket full of ideas.
Without wasting any more our time (because I can go on blab blab blab), let's look at what you can do with your existing freelance business plans
Note – This post may contain affiliate links to products I trust. This means if you make a purchase using the links I may receive a small commission at no extra cost to you. Thank you for the support!
Create a lead magnet
I am ready to go bonkers repeating the importance of including a writer's website in your freelance business plan. It shows that you are a professional and knows exactly what you are doing.
If you haven't created a writer's website yet, then I suggest the upcoming holiday season is a good time to work on it. You will have the time to write interesting copy and create design that attracts prospective client. This tutorial will have you set up a WordPress website using Bluehost
Relevant reads
13 work from home Facebook groups to join today
6 free tools all freelancers must have
How to come up with clever blog names
You can start a blog with as little as $3.95 a month or Rs. 276 a month (if you are in India, you can also opt for Hostgator for Rs. 350 a month) or go with the free options.

Now, that you have a website, start creating a lead magnet. For those of you who are unsure about what that is; a lead magnet is a downloadable resource that you provide to your audience once they share their email address.
I preferred to have a course for beginner writers to reach their first $1000 because it allowed me to share tonnes of relevant information (which is compelling in itself) with my target audience. By the way, you can access it here
A successful lead magnet has certain elements, like
It solves a real problem for your client

It should promise at least 1 thing they will learn

Address something super specific (not general topics which are otherwise available widely)

Quick to digest

Demonstrates your expertise (this is your best chance to impress your client if you don't have an impressive freelance writing portfolio)
These posts by
OptinMonster
and
Hubspot
will give you great ideas on what you can do and include in your freelance business plans for the upcoming holidays
Once you have created an opt in, focus on building your list. Email list is an absolute essential to every freelancer.
You can make use Mailchimp, MailerLite or ConvertKit. These are great tools and comes highly recommended.
Because, your clients need to come in contact with you an average of 7 times before buying or reaching out.
So before the holiday seasons, you can reconnect with them. This is a great way to land urgent work (when other freelancers are also vacationing) and clients don't want to really spend time looking for candidate.
You will be surprised with the results! Sometimes, you will close end up closing the deal that starts after the season.
It is win-win!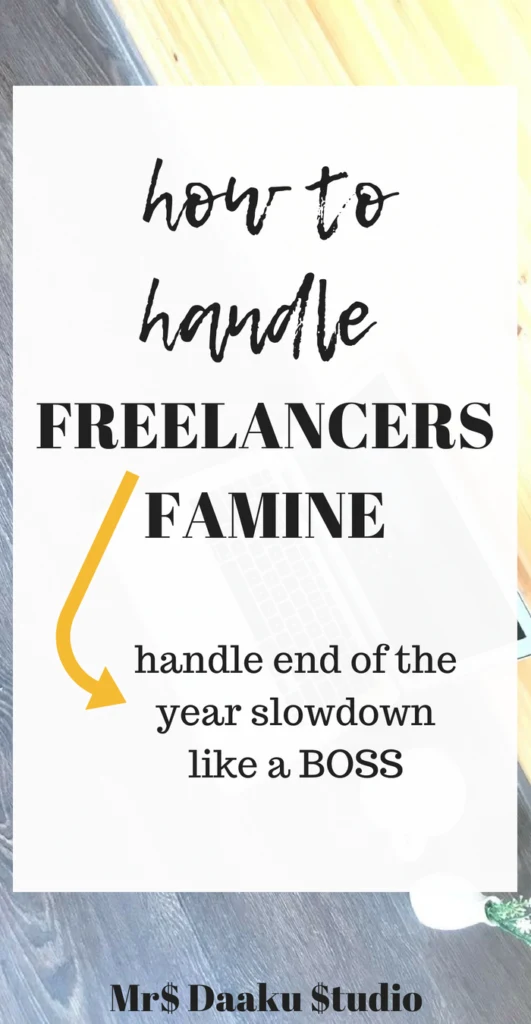 2. Contact previous clients
If you have been freelancing for sometime (even for a year or so), you will have a list of clients. This list basically contains everyone who you contacted throughout the year that fit your expectations.
Holiday season is the best time to reconnect with everyone and reminding them about yourself. (Also see point no. 5 for a template and ideas on what you can send)
You can use this template for your clients, just remember to personalize it
Dear |name|:
How are you doing today?
It was fun working with you last time. Hopefully the results were everything that you had expected and more.
I wanted to send you a brief note to discuss another service which I have recently started offering. In addition to content creation, I am also managing social media campaigns for my present clients. This is a great way to build online authority and widen your presence.
Do you currently have someone working on this side of your business?
Let me know your thoughts. I would love to talk more!
Thanks,
|your name|
So, do not forget to include that in your freelance business plan.
If you are looking to be a freelance writer, these resources will help
10 ways to land freelance writing clients as a beginner
3 freelance writing job boards to land your first gig quickly
3 simple ways to create a killer freelance writing portfolio
What I did to earn $900 as a freelance writer and a non-native English speaker?
Earn your first $1000 as a writer WITHOUT any experience.
3. Revamp your brand
We create a website and don't keep changing it very often.
But, this is the time.
Work on your website, update your portfolio, include new clients and those impressive testimonials you received.
A few things that you should consider –
Do you want to change your invoice or visiting card designs? Does it accurately reflect what you do?

Does your website create the right impression?

Do you need to spruce up the colors, fonts and design?

Is the content up to date?

Can you find the time to start a blog?

Does your logo fit your brand now? Do you need change?
There is always something new to do with your brand, business and website. So, get on it and woo your clients just as holidays end.
If you want to explore other options and resources, I highly recommend you read these resources –
4. Learn new skills and adding it to your freelance business plan
If you are a freelancer, you cannot avoid learning new skills. Everything depends on that!
Holiday slump is the best time to take out time to learn a new skill. It could be anything – social media, writing, bookkeeping, proofreading, blogging etc.
If you are a freelance writer, you can also offer CMS operations, editing or proofreading.
Virtual assistants offering admin services, can now offer social media management services
If you are a WordPress developer, you can start offer designing on other platforms
As a freelancer, you always need to keep updating your skills and what could be better than this?
As soon as the slump ends, offer new and advanced packages. If you were making $$ during the holidays, now you will make up for it by charging $$$ for advanced skills.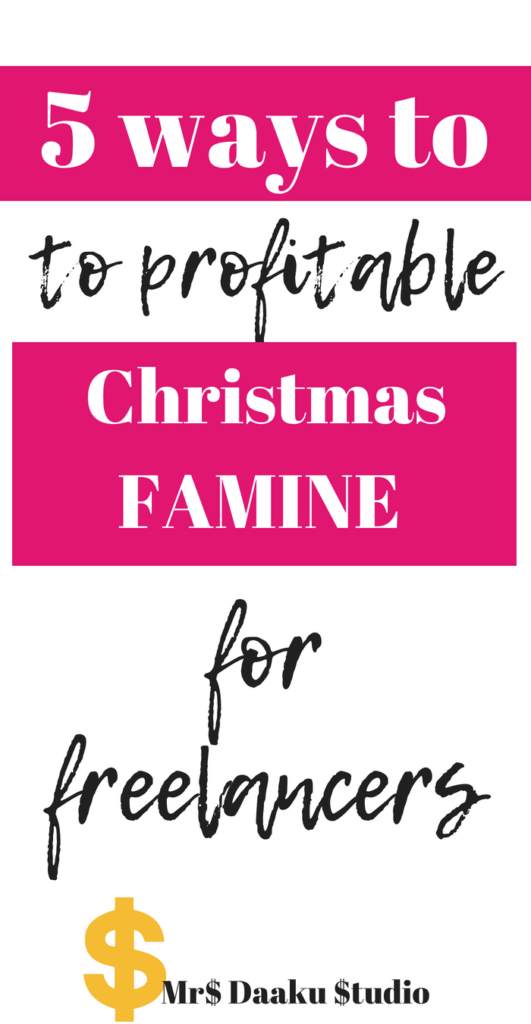 This gets me to the next point –
5. Christmas offers for existing clients
A lot of B2C businesses are swamped with work during the holiday season. If you have work with eCommerce companies, it is a different ballgame all together. They have a lot going on that time – marketing offers, handling the influx of traffic efficiently, wanting best of ads and copy.
So, start working on creating custom packages specifically for the holiday time. Instead of usual working relationship, help them in tackling the holiday traffic. You can help them with promotions, designs, marketing, content, site development and maintanence, server upgrades, on-call solutions etc.
Relevant read
How to write a pitch that converts into a high-paying freelance writing job?
Custom packages will help you anticipate clients need, upsell services, drum up business and makes it super easy for you to relax and chill during the season. It can be an on-call service, certain add-ons or a discounted rate.
But, how will you approach clients?
The simplest way is to send personalized pitches. This is also the best approach if you offer multiple (and different types) services. A simple –
Hey
I wanted to let you know that I am offering [put in the change of plan] for my clients between [dates]. This will allow you to [whats in it for your client. For example, you can call me 24/7 even on holidays and last minute requests will not have rush fee].
The cost for this support is $$$. If you are looking for something specific to add on, do let me know that. If you are interested, we can quickly get on a call. Thanks.
If you have a lot of clients, you can send them a one pager explaining all your offers. While this approach is a little less personal, it still gets the message out.
There is also another angle to this. You can utilize holidays to sign new contracts and have a peaceful holiday season. Work on new offers, give discounts or add add-ons for clients that sign you up for the next season before the holiday begins.
There you go!
5 things to include in your freelance business plan to tackle the holiday slowdown and still drum up your business.
What changes do you make in your freelance business plan during the holiday? Are you ready?