Do you want to know the secret of getting FREE Christmas gifts for your loved ones?
Christmas is around the corner and we will go bonkers buying gifts for our loved ones. A few FREE Christmas gifts could be just what we all wish for.
Because holiday shopping can be really expensive. Not only do you need to be thoughtful, but you have to be financially careful when buying Christmas gifts on a budget. I love to indulge in gifts but my generosity has constraints.
In this post, I will tell you 6 super simple ways of getting FREE gifts for Christmas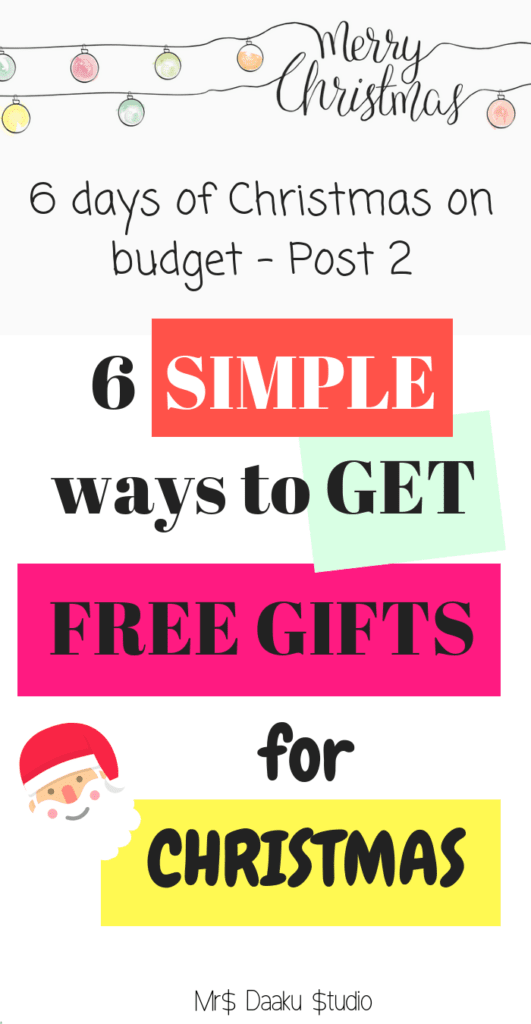 1. Use credit cards rewards to buy FREE Christmas gifts
If you haven't used credit cards for a while, now is a good time to start paying your bills with it and gather reward points.
Most rewards credit card let you redeem points for gift cards. All you have to do is log in to your credit card account and find the option to "use your points". From there, you can look at the various options you have – the best ones are the gift cards.
While you can send a gift card to friends and family, you should instead spend the time to buy the right gift with that card.
Many rewards credit card also have the option to redeem points for merchandise. So, depending on the options, you can buy your mom a blender or your daughter a tablet.
But, the list does not end here.
A couple of rewards credit card also let you redeem points on airline booking or experiences like snorkeling and scuba diving. If you are planning a vacation for your family, this could be the best way to save money!
You can also read this to know more about gift cards.
Note – This post may contain affiliate links to products I trust. This means if you make a purchase using the links I may receive a small commission at no extra cost to you. Thank you for your support!
You knew this would pop up somewhere in the list, right?
For those of you, who do not know what Swagbucks is – it is a website where you can collect points by doing simplified tasks (like, survey, playing games, review product samples, shopping from a retail partner and watching videos) to earn SBs. Once you have collected enough, you can pick up gift cards or transfer money via paypal. Click here to sign up.
Swagbucks will take less than 30 mins of your time each day, and by the time the holidays arrive you could easily rack up $150-200 worth Amazon gift cards. With great deals that go on Amazon, you could easily get loaded with presents for your family and kids.
Sign up here today.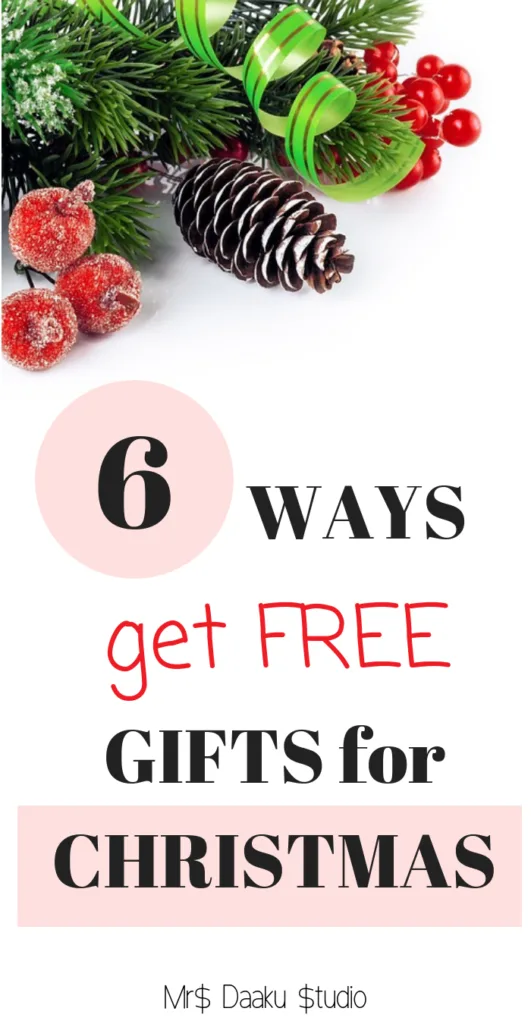 3. Use Instagram to find giveaways
This might use up sometime in your day but it is well worth it.
Type #giveaway on Instagram and look for giveaway contests. Participate in the ones you will love to win and go for it.
You will be surprised at the number of giveaways that happen for Christmas.
4. Ask for free gifts
This is one of my favorites because it is the easiest and fastest way to buy free Christmas gifts.
All you have to do is ask. When it's gift giving season or your birthday and people ask you what you want, you are doing them a favor when you say gift card.
Look, if you are not going to let them know, they will still buy a gift and it might find its place in the garage (never to be ACTUALLY used by you!).
Friends and family spend time thinking about a gift that would mean something to you. And, if you just tell them, they would be happy to buy you that.
So, why not just let them know?
If you shop a lot online, you SHOULD sign up with Ebates. It allows you to earn cashback on a purchase with their retail partner. This cashback is paid out to you via mail or Paypal.
Start shopping for items on Ebates throughout the year and earn cash back to fund your holiday presents.
6. DIY gifts
Homemade christmas gifts are personalized, thoughtful and budget friendly. If you are slightly creative and have the time to work with crafty items, this is definitely for you.
Photo candle, calendar or magnets are quick, easy and inexpensive. This video can show you how to do it easily
The second option is to make caramel apple butter in your pot and pour it in a designer container you buy off a thrift store. You can also make scrubs or facepacks if you like. Just like how Astha shows in these two videos
You can wrap empty cans and fill them with assorted cookies. If you are planning to bake treats, buy all the ingredients at once and try to group gifts so that you can buy in bulk.
This video shows super simple ways to pack gifts
So, do you like the tips on getting free Christmas gifts? Which ones are you most excited about?
Resources that will help you get free money or earn quick cash –
Get free money right now in 2019? (#2 is SO fast and easy!)
10 online portals that pay you to test websites – no degree required!
The ultimate guide to renting a room in your house for extra cash
How to sell feet pics and make money online
Resources that can help you with land work from jobs
Skillshare – Skillshare is my go-to place to learn a new skill without having to splurge hundreds of dollars. It is an online learning community where you can explore thousands of classes in design, photography, business, and more. You can get started with a free trial using my link and get access to hundreds of courses.
Start work at home (a beginners guide) – A FREE training session that comes along with a workbook and guides you through the entire freelancing journey. Not only it tells you what is freelancing, but it also tells you the various option and how to go about establishing one (without any INVESTMENT cost).
FlexJobs If you are a freelancer, you should sign up with Flexjobs. It will help you go through great flexible job listings from legitimate employers quickly, easily, and safely. Every single job on FlexJobs is hand-screened for legitimacy, with no ads or scams mixed in, and every single job offers work flexibility such as telecommuting, freelance, part-time or other flexible options.
Also, grab this list if you are looking for other online and offline work at home jobs