Fansly – Best Alternative to OnlyFans? (Review)
Fansly is a social media platform that allows users to connect with each other and share content. It is similar to OnlyFans because it will enable creators to earn money from their content.
Still, it has a few key differences that make it unique. We will discuss it later in the post.
For those of you who are wondering why are you hearing so much about Fansly, you need to know this – Since OnlyFans announced that they would ban all sexually explicit content from October 1, 2022, there was a frenzy among influencers and creators to look for other platforms to house their content.
and, Fansly, a site that boasts 4000 applications an hour, was one of the most popular choices. This post will discuss Fansly, how to use it, whether or not it is worth it, user reviews and how to make money quickly.
Note: OnlyFans retracted that announcement soon after, but it was a much-needed shock for creators to not rely on one platform.
Want to make money quickly? Here are a few platforms to earn up to $25 – $50 in a few minutes!
What is Fansly?
Lik we said, Fansly is a platform that allows users to connect with each other and share content. It is similar to OnlyFans because it will enable creators to earn money from their content.
Primarily, it is a platform for creators who want to share NSFW content and engage with their fans. It is also an excellent place for other creators in different niches to earn money.
You can either share free content or get paid in the form of subscriptions to access your content. We will discuss Fansly features in detail.
How Do I Sign Up for Fansly?
Fansly is open to anyone 18 years of age or older. All you need to do is create an account, provide a valid identification card, and verify your account details.
Once your account is verified, you can set up your profile, including a nickname, profile image, and description.
Remember, it can take from 24 hours to 48 hours to approve your account. Once you're approved, it is time to set up your subscriptions and price them.
To sign up, start here.
How to make money on Fansly?
Unlike OnlyFans, Fansly is a platform open to all types of content. This means that you can share anything from SFW content to NSFW content without worrying about being banned.
You have two options to make money online:
Public Posts can be seen by anyone, even if they're not subscribed to you. Creators can use this feature to promote their accounts and get more subscribers.
Premium Content: You can charge for premium content, which is only available to paying subscribers. This could be anything from exclusive videos and pictures.
Under premium content, you get paid to:
Offer a Paid Subscription: You can offer your fans a paid subscription so they can access all your content. The price of the subscription will be up to you. You can charge as less as $4.99 per month or as high as $19.99 or 100 per month.
Fansly also allows you to have tiered subscriptions. This means that you can offer different levels of content for different prices. For example, you could have a $4.99 subscription that gives access to SFW content and a $9.99 subscription that provides access to SFW and NSFW content.
On-demand or custom content: Your fans can also request custom content from you. Remember, you can only charge them in the form of tips
Paid Messaging – Your fans can contact you directly on the platform for a price.
Peel Off the Emoji: Fansly allows you to charge fans for peeling off the emoji off a content piece. This is a great way to get your fans interactive and engaged with your content.
Live Stream, where fans can tip you.
What are other good features of Fansly?
Fansly is an excellent alternative to OnlyFans because it offers various features that benefit content creators and subscribers alike.
A few noticeable ones are:
Watermarks: The ability to automatically insert watermarks on videos and photos can help prevent internet theft or copyright issues. It can be easy to steal photos and videos from the internet. Still, Fansly takes care of this by automatically inserting watermarks on all content. This helps to protect the content creator's work and prevents others from stealing it without permission.
Tiered subscriptions: It gives subscribers the option to pay more for access to exclusive content. Having tiered subscriptions can be a great way to offer exclusive content to those willing to pay more. This allows the content creator to make more money from their work while providing extra value and incentives for those who subscribe. It can also help build a community of dedicated fans willing to invest in what the creator is doing.
Geoblocking allows creators to restrict their content to specific regions. Creators can use Fansly's geoblocking feature to limit their content to particular parts. This can be helpful in cases where the creator wants to target a specific area with their content or to ensure that their content is nly available in certain countries. This can be a helpful way to control who can access the creator's content and helps to ensure that it is being seen by the right people.
An explore page that helps users find new and exciting content. It enables you to get users and fans organically from the platform.
A phone app (both for iOS and Android), which makes it easy to access content on the go.
Chargebacks are covered by Fansly. However, their written terms and conditions only state that partially.
Is it Free to Use Fansly?
Yes, Fansly is free to use. There are no hidden fees or charges, and all of the features mentioned above are included in the free plan.
Fansly charges you only a 20% commission on every sale, which is standard. If you earn $100 per month, you will take home $80 after Fansly's cut of 20%. They offer to pay via Bank Transfer (ACH/SEPA), Skrill, and Paxum.
How Much Money Can You Make With Fansly?
This depends on a few factors, such as how much content you have, how often you post, and how many subscribers you have. However, it is possible to make a full-time income with Fansly if you can build up a large enough following.
Let's say you already have a fan base on a website like LoyalFans or OnlyFans. It will be easier for you to start generating income. In an interview, Amouranth claims to have made over $17000 a month with Fansly. However, please note that she has a huge fan base and earns over a million monthly.
On the other hand, Laura started three years back on Fansly when she was forced to look for alternative employment during the pandemic. She charges 80 euros for a basic membership to her content and earns over $100k a year through her niche club, The Loser Club. That's a lot of money!
How Do Payments Work With Fansly?
You can request payouts above $100 as often as you want.
Besides, you should know that your fans can only use credit cards to make purchases or pay you. This arrangement makes it susceptible to credit card companies deciding not to be associated with any adult content website. If that happens, fans won't have a way to pay you.
How Does the Referral Program Work?
For every referred customer that spends money on Fansly within the first 90 days, you will earn a 1% commission.
For every model, you refer that signs up, you will earn a 5% commission for an entire year. Afterward, the commissions are reduced to 1.5%, but this still lasts for their lifetime.
How Can You Get More Fans and Make More Money?
Fansly has an explore page that gives you organic reach. Use that to your advantage. Use hastags like #FYP #TagsonFansly and #Fanslybabe on your posts.
What do users have to say?
If you have made it here, you're excited to use Fansly. However, we have found mixed reviews online.
When you check out Trustpilot, we find 21% positive reviews but a whopping 79% negative reviews. You can read a few of them below: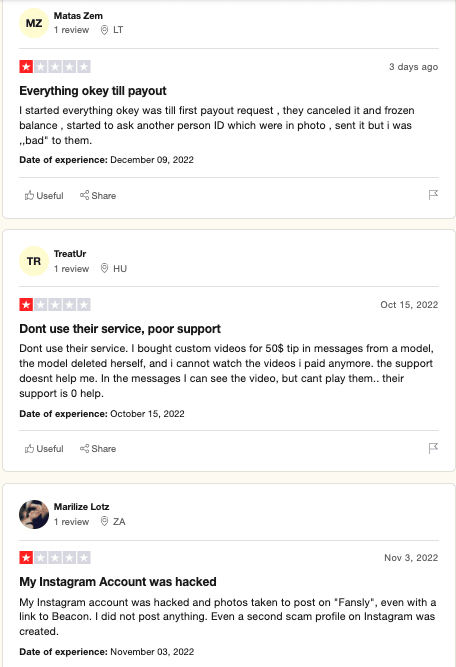 While these seems user reviews, there are also creator reviews on Trustpilot: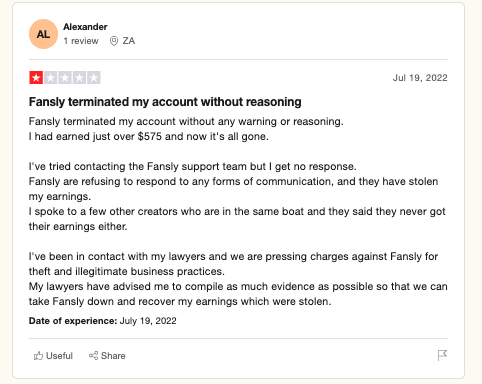 and a good one too. However, there were more bad Fansly reviews than good ones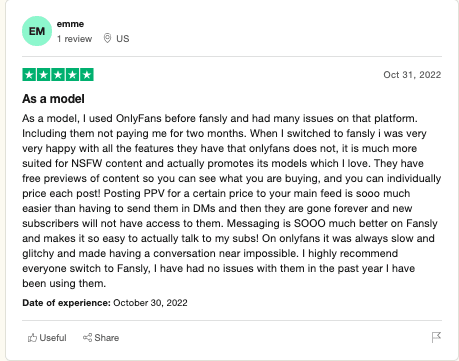 On the other hand, we found this Reddit feed where users cannot stop bragging about how great Fansly is. Here are a few for you to read: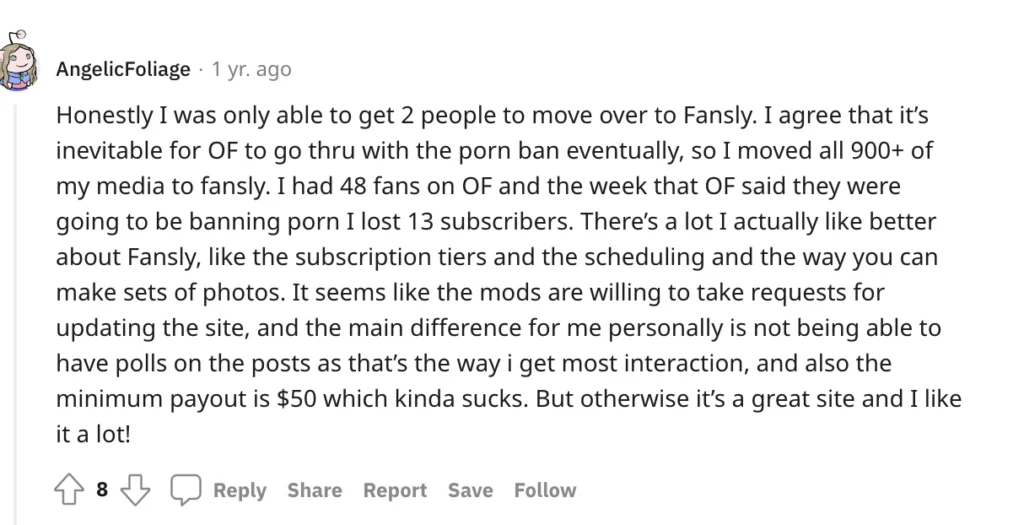 [Reddit 1]


Frequently Asked Questions – Fansly Review
Can you make money on Fansly?
Yes, it is possible to make money with Fansly. There are many different ways you can monetize your content such as subscriptions, memberships, and tips.
What percentage does Fansly take?
Fansly takes 20% of all earnings, which is pretty standard for adult content websites. It also offers a referral program that gives you an additional 1-5% commission depending on the type of referral.
What makes the most money on OnlyFans?
The most successful models on OnlyFans are those who produce high-quality content regularly, market themselves well, and have a large following. For example, Amouranth earns over $17000 per month with fansly.
How do you get popular on Fansly?
The key to getting popular on Fansly is marketing. You should promote yourself on social media platforms, interact with your fans, and be consistent in producing content.
Additionally, you can also look into starting your own website, blog, YouTube channel and accounts on platforms like Snapchat, Tinder etc. This will help you build a larger following and increase your chances of success on Fansly.
Building your audience on other platforms will help you earn extra money on the side through brand collaborations or ads (if you are into a passive income side hustle like blogging).
If you want to get popular on Fansly, focus on building your audience on different platforms and drive them back to your creator account. Spend sometime learning social media marketing.
What are other ways to make extra money fast?
Fansly vs OnlyFans: Which One Is Better?
Saturation: OnlyFans has been there for a while, Fansly is new. That means, it is easier to gain attention from your targetted audience.
Reliability: It is always better to not have all of your eggs in one basket. Diversify when you have a good option like Fansly.
Fansly provide you many more monetisation options and an organic way to find more followers which is absent on OnlyFans
OnlyFans has been there for a longer period of time. If you have a user base, you know the loyalty to the platform is much more than what you find on Fansly right now. Once it grows and people know it for the quality, the loyalty would certain increase but till then, its dicey.
Conclusion:
Fansly is an excellent platform for content creators who want to make money from their content and be working from home.
It has a wide range of features, is easy to use, and has a good referral program. However, the platform has some negative reviews online, so do your research before signing up.
If you are looking for ways to earn money online, check this and this.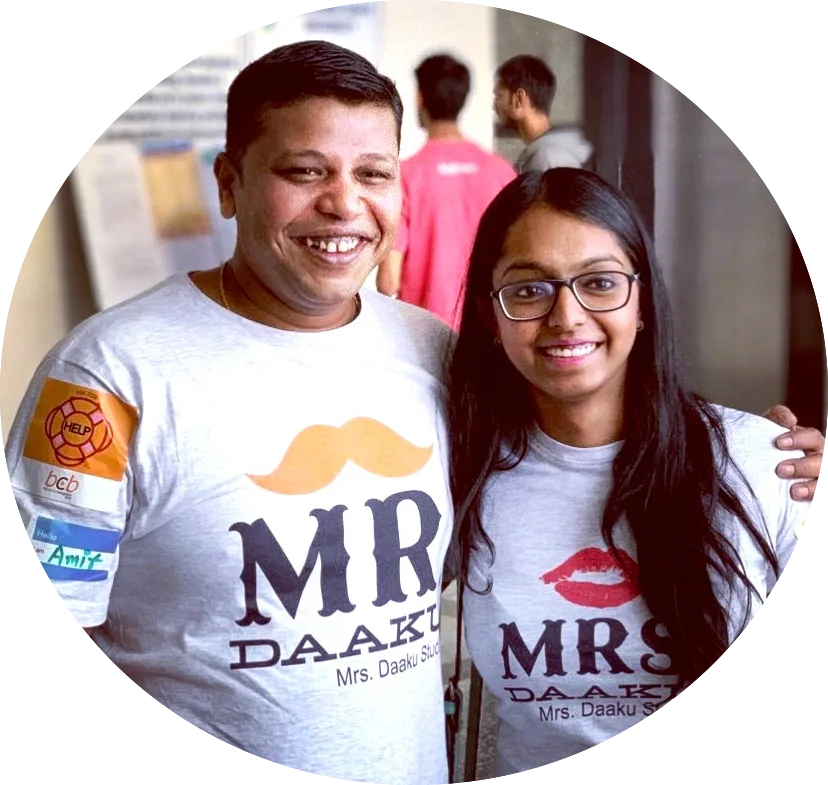 Hi buttercup, thank you for stopping by. We're Chhavi & Amit.
We're a couple who quit our high paying jobs as a lawyer and an engineer to start hustling online. Now we're full time bloggers and YouTubers. We have been featured on Wealth of Geeks, Hello Sensible, Savoteur, Play Louder, A Dime Saved, Forbes, Business Insider, Readers Digest, CEO Blog Nation, Starter Story, Yahoo! Finance, MSN, BankRate and so much more.

MSN Bylined Writer
Fansly – Best Alternative to OnlyFans? (Review)