How to become a sugar baby online
So, you are looking to become a sugar baby online. That's great!
Becoming a sugar baby is profitable and you can get all your financial needs met with your sugar daddy. Whether you want to start out as a sugar baby online or just want to know more about how to become a sugar baby online, you're in the right place.
In this post, we will answer all your questions from basics of starting out to how to get your sugar daddy online.
Are you ready? let's start
Note – This post may contain affiliate links. Please read disclosure policy
Want to make money quickly? Here are a few platforms to earn up to $25 – $50 in a few minutes!
PineCone Research: Earn $3 – $5 per each survey guaranteed .Sign up now
What is a sugar baby?
If you actually google out "how to be a sugar baby online", you already know what a sugar baby is. If you stumbled upon this on social media, well, let me just explain what it is –
A sugar baby is a woman who is attractive and is financially supported by a sugar daddy. Usually, it would mean young and attractive women dating 40+ year old rich and elite men.
It might spark different kinds of reactions in your. You might be comfortable with or you might find it hedious.
But, what matters is, your comfort level in becoming a sugar baby online. You are ok with it, the world is ok with it. Remember that!
A lot of women and men also see this as a simple business transaction which it is. Sugar daddies want young women and initmacy; and the sugar babies need financial support. It is a win win for both parties.
What does a sugar baby do?
It is important to understand that sugar baby is not an escort or a prostitute. They are women who are looking to gain financial help in exchange of compansionship, dating, etc.
While your relationship with sugar daddy will depend on how you want to take it forward, a lot of times these relationship are not sexual. In fact, I have heard about becoming sugar baby online with no meeting whatsoever (strictly online).
So, sex – may or may not – be involved.
How much do sugar babies make?
The whole point of getting into sugaring and becoming a sugar baby online is to make money.
According to Seeking Arrangement's stats, the average sugar daddy is 38 and makes $250,000 annually, while the average sugar baby is 25 and makes $2,800 monthly from their daddies.
In this article on Money, it says "That adds up to a minimum of $4,900 a month in income with 3 sugar daddies. Jessica estimates that between the time she spends on self-promotion, messaging new potential Sugar Daddies, first dates, and maintaining her standing arrangements, she's working full-time hours. Of the three men who pay Jessica for her company, she has sex with only one.?
Which website should I use to become a sugar baby?
The best sugar daddy sites to become a sugar baby online are:
It is one of the most popular sites for serious sugar babies online looking for legitimate sugar daddies. You can quickly set up your account here.
The only drawback – you have access to limited features only on the free plan. You will need to buy a paid subscription for you to actually message.
According to my research, the site gets over 3 million hits each month making it one of the most lucrative options to sign up on.
The pricing starts at $33.99 for 1 month and goes upto $203 for a 12-month package.
The one good thing about this sugar daddy site is it is paid. That means, only the most serious men and women get on this website which makes everything more legitimate.
2. Elite Meets Beauty
Elite Meets Beauty is one of the most secure sugar daddy website out there. They get over 15000 new members in a month with 85% of their members being highly educated.
They have active moderators and you're allowed to browsw anonymous.
The one con to using this sugar daddy website? They do not have a system to check the income, that means, someone could just be fooling around. However, to keep this in check, the membership is made expensive (that means, you must really be earning well).
Pricing start at $69.99 for a month and goes upto $479.88 for a yearly deal

3. WhatsYourPrice
They are free to use and easy to register with. It boasts over 4 million users and to ensure safety, there is a verification process.
The only con is that they do not have a mobile app. Other than that, it looks like a safe sugar daddy site.
Instead of the hi and hellos, this sugar daddy site follows a bidding process. That means, whoever bids the highest, takes the sugar baby home.
They don't work on subscription models but they do have a credit system.
100 credits at $50 (tier 1)
450 credits at $150 (tier 2)
1000 credits at $250 (tier 3)
4. SugarDaddyMeet
They are a luxurious sugar daddy site with a very strict verification process and a feature to block people you don't to chat with.
They have over 5 million+ members on their site.
If you are a sugar daddy, you need to shell out $50 for 1 month BUT if you want to become a sugar baby online with them, $35 for 1 month.
5. Miss Travel
It is a sugar daddy site that is dedicated to travel dates. You have a lot of features even in the free version like you can join other peoples trips.
It is also extremely simple and quick to sign up for. Unlike Seeking, Miss Travel lacks a smartphone app as well as video chat feature.
They have over 1 million+ registered users and costs $59.99 for 1 month.
6. Ashely Madison
Ashely Madison is for all those people who love privacy, and may want to have discreet affairs. The best feature?
Auto chat delete. That means, after sometime, the chats are deleted automatically. They have a credit based system and a 1000 credit will cost you $249
7. EstablishedMen
They have a million people on their platform with active moderators to keep a check on quality.
This platform is a bit more expensive than others, starting at $79 for 1 month.
8. EliteSingles
It is focused on elite singles who are professionals and have over 2 million members on their platform.
The pricing start at $57.95/month for a 3-month package.
It is not the best if you are looking for a short term fling or a one time sugar daddy.
9. Seeking
Seeking is free for women to sign and become a sugar baby online. They have a strong verification process and especially for income verification – it takes a lot of time
It operates in over 139+ countries with over 20 million users.
It is based on a paid subscription model –
$19.99 for a 30-day subscription
$15 per month for a 90-day package
That said, you can opt for the free version and still send out 10 messages.
A few great features
Video chat
Sugar dating blog
Diamond membership that you can land after 2 months of active membership
10. AdultFriendFinder
As the name suggest, adultfriendfinder is for casual sugar daddy site. It is easy to use and have a million users on their platform.
The one quirky thing about this? It is know for accomdating a lot of fetishes. Yes, you read it right.
It is also a paid site and it is pretty expensive. 1-month subscription starts at – Gold $39.95, Standard $24.95
Which are the Dating Sites That Are Good For Meeting Sugar Daddies?
We have already covered them up when we spoke about how to become a sugar baby online. To rename, you can use Ashley Madison
How to find a sugar daddy on instagram?
Instagram can be a great way to become a sugar baby online and attract sugar daddies. However, do understand that there is no verification process on instagram which means you need to check for the authencity yourself.
Your sugar daddy might be a salt daddy in reality.
A few tips to get started as a sugar baby online on Instagram:
Create a separate profile, with a different name and email address
Choose and post the most attractive photo of yours
Follow potential sugar daddies online
DM then and start a conversation
Follow and use relevant hashtags
Fill in your bio appropriately (people should know what you're looking for)
What are some of the real life places to meet sugar daddies
If you want to meet sugar daddies in real life, you can try
Exclusive clubs
Golf Clubs
High-end pubs and bars
High-end hotels
Lounge on airports
Yacth clubs
How to start as a sugar baby online? – Tips
If you are looking to become a sugar baby online, here are a few tips to get started
Step 1 – Understand the sugar baby industry. Just go online and read about experiences of sugar babies. You should also read reviews of each of the apps listed above before you decide to start with any of the sugar daddy sites
Step 2 – Start creating your profile on these sugar daddy sites. Don't do too many at one go, start slow and start with 1-2 sites at first
Before you narrow down a list, ask yourself
Whether you want to try or free sites
Are you comfortable with fewer security and privacy rules in place if you decide to go with the free ones
Are you ready to identify and spot scams on free sites
Does your budget allow you to be on these sugar daddy sites for at least 3-6 months? I recommend this because I want you to first get acquainted with the site before you start doing anything on it
Step 3 – Create a realistic profile.
Step 4 – Take your conversations slow and set boundaries from the start. Don't agree to anything you're uncomfortable with.
Step 5 – Always be on alert. There is a lot of catfishing and scams online.
Frequently Asked Questions – How to be a sugar baby online
Which is the best site to meet a sugar daddy online?
Sugar Daddy Meet and Seeking are the two best sites for you to become a sugar baby online.
Are sugar babies legal?
Yes, the act of becoming a sugar baby is legal. What might be illegal is the act of taking money to provide sex.
Do sugar babies pay taxes?
You will pay income tax as well as self-employment tax on the income that you earn as a sugar baby online
How to be safe as a sugar baby online?
Just like any other way to make money with your body or anything similar (even selling feet pics or selling hands pics), you shoud not divulge
Any personal information, address, contact information, etc
Bank account details
Besides this, you should also
Meet sugar daddies in public places for your safety
Stop chatting or entertaining sugar daddies who try to exploit you or force you to do things that are not comfortable with you
Can you be a sugar baby online and meet your sugar daddies online only?
Yes, it is definitely possible to be a sugar baby online without meeting your sugar daddy. You can look into an online-only relationships (which are more normal than you know).
Now, wondering Where can I find a sugar daddy to send money without meeting? Here is something you should try –
How do I get started as a sugar baby?
Once you have decided you want to become a sugar baby, you can start by signing up with 1-2 sugar daddy sites that we have listed above.
Is there an age limit to becoming a sugar baby online?
Usually, sugar babies online are between the age 22-30 years old. However, that is NOT the bar.
You can become a sugar baby online at any age but remember that the older you're, the older your sugar daddy is. Normally, sugar daddies look for someone at least 10-20 years younger than them.
Just ensure that you're not underage. Not even 18. I recommend you're at least 22 years old so you understand the situation and gauge it right.
Can you be a sugar baby without meeting up?
Yes, you can be a sugar baby without meeting up. But, if you want to continue with the relationship and get financial help, your sugar daddy would most likely want to meet you up.
How do sugar daddies usually pay?
They can pay in cash, venmo, wallet – anyway you prefer. Remember, a lot of times, sugar daddies DON'T pay you, they give you gifts 🙂
Are there sugar daddies that just want to talk?
Yes, there are sugar daddies that just want to talk to you, spend time with you and take you around.
Which are the sugar daddy apps that send money without meeting?
Now, wondering Where can I find a sugar daddy to send money without meeting? Here is something you should try –
Conclusion – How to become a sugar baby online
There you go. This is all about how to become a sugar baby online and make money.
It is a great way to start making online and there is no harm in doing that.
If you are comfortable, you can also
In fact, if you just want to test waters in this industry, I recommend you can start by selling feet pics. You can start with Instafeet or FeetFinder.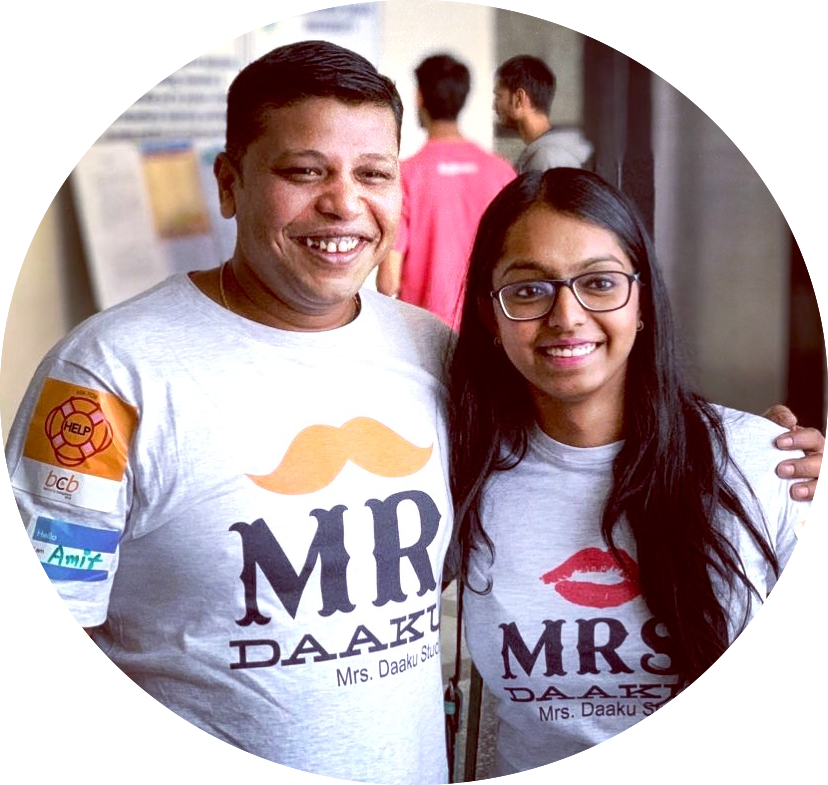 Hi buttercup, thank you for stopping by. We're Chhavi & Amit.
We're a couple who quit our high paying jobs as a lawyer and an engineer to start hustling online. Now we're full time bloggers, YouTubers, work at home expert and Online Business Coaches featured on Forbes, Business Insider, Readers Digest, CEO Blog Nation, Starter Story, Yahoo! Finance, MSN, BankRate and so much more.
How to become a sugar baby online