3hourjob.com review – Is it legit or a scam?
Welcome to our review series. In today's post, we are doing 3hourjob.com review in detail.
Today, more and more people are searching for work from home jobs.
But an increase in demand has not increased the supply of legit high paying online jobs.
….What has increased, unfortunately, are scam websites that offer huge payments for just a few hours of work online.
and one of these websites is 3hourjob.com.
The site also has a similar clone URL such as
threehourjob.com
22minutejob.com
In this article we will look into:
What is 3hourjob. com
Is 3hourjob.com a scam or legit?
Review and complaints
Pro and cons about 3hourjobs.com
Companies that legitimate hire for data entry jobs
Note – This post may contain affiliate links and sponsored listings. Please read disclosure policy.
Want to make money quickly? Here are a few platforms to earn up to $25 – $50 in a few minutes!
What is 3hourjob. com?
Try to search for 3hourjob.com online, and you will be directed to another site depending on your location.
….We got directed to a website that said that this domain name is for sale.
People have reported the site to be re-directed to websites such as Cmsystemsmz.Pro and http://www.cashsniper.co
You may also be redirected to other pages that offer opportunities to earn $500 by working for just a few hours or $3500 in commissions etc.
… in short, get rick quick schemes.
You will be asked to sign up with this website and give a lot of information about yourself.
The site may also ask you to buy something called a Website ATM for $47.
Even if you don't pay this money, but have registered with this website, you will get overseas calls offering you various data entry jobs.
You are told that you will be paid after you finish and submit the work.
Unfortunately, you will never get to see this money. There is also a good chance that your personal information may be used without your permission.
Relevant post to help you make money online –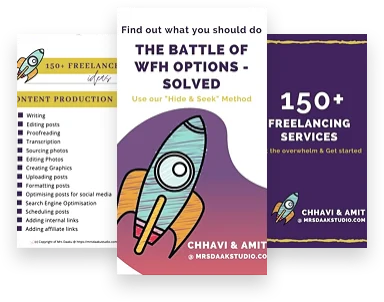 Is 3hourjob.com a scam?
Yes, it is a scam. I think you've realised that already.
All the reviews of this site online will tell you that, 3hourjob.com, is not just a fake work-from-home scam but it also a redirect site that aims to take all your personal information.
According to one 3hourjob.com review on Reddit –
Beware of 3hourjob.com. It's a get rich quick scheme that claims it has job openings for Data Entry positions. They have called me multiple times and always leave the same message. The website seems very unorganized and fraudulent.
Another reviewer said –
I got a voicemail from 3hourjob.com. Since I hadn't applied to any data entry job, I knew it was a scam. The website is blocked on my network for being questionable.
Nine Red flags that tell you 3hourjob.com is a scam
Scammers are smart people who continually refine their strategies and techniques to trick new people.
The people running 3hourjon.com are no different.
However, you must also watch out for warning signs that you come across on this site.
Read on as we list out nine red flags that indicate that this site is a scam.
1. Sounds too good to be true
Like most get-rich-quick scams, this site also offers to eliminate all your financial worries quickly.
Sounds too good to be true- it probably is.
No legit company will make a bold claim like this.
2. Not secure and inaccessible website
The website does not have an SSL certificate and is not using an https protocol.
3. No 'About Us' page
Any legitimate business should have an 'About Us' page on their website.
There is no information about who owns the site or where it is located.
4. No 'Contact us' page
The 'Contact Us' page is essential for any business.
This way, you can find out if the address and telephone numbers actually exist, and the company is legitimate.
This website provides no information other than an email and a small support link at the bottom of the page.
5. Low trust score
According to Scamdoc.com, 3hourjobs.com has a trust score of just 11%.
The domain name is new and was registered on 2nd May 2019.
6. 'F' rating on BBB for 3hourjob.com
According to the Better Business Bureau, 3hourjob.com has an 'F' rating.
The website is not accredited by BBB and 3hourjob.com has been in business for only one year.
7. Require you to pay for access
Legitimate work-from-home websites do not need the jobseekers to make any payment.
If you need to pay to get access to a particular site or platform, it is probably a fake.
When to go to 3hourjob.com, you are redirected to a page that promises you access to a job site for $9.
This is deficiently a red flag, stay away from such scams.
8. Fake claims
This website claims that they have been seen on CNN, MSNBC, USAToday, and ABC.
This is a blatant lie.
There are no articles or any other references about 3hourjob.com and their 'wonderful' work-from-home opportunities on these websites.
9. Pressurising tactics
The site has been designed to pressurize people into signing up and paying up as soon as possible.
The site has countdown timers or a graphic that shows the number of available jobs going down.
This tactic may scare you into signing up quickly before the jobs run out.
10. Negative Reviews
You can find too many complaints on 3hourjob .com. They are known to send voicemail messages, phone calls, emails and more.
Read such complaints against 3hourjob.com here.
Quora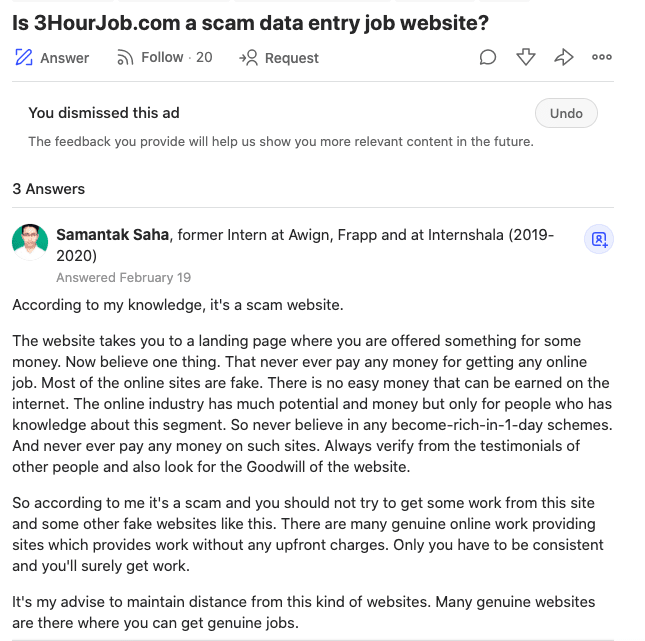 Reddit
Better Business Bureau
The verdict: 3hourjob.com review: Scam or not?
Pros about 3 hour job
Frankly, there are none.
This website is a total and complete fake. 3hourjob.com is a scam.
It is full of false promises and fake videos. Don't share any of your personal information on this website.
Don't pay any money. You may never see your money again if you do.
Thankfully, it seems very few people have fallen for this scam.
Most reviews posted online say they had got calls from many scam recruiters even when they did not apply for any job.
Cons about 3hourjob
3hourjob.com is a scam operating as an online work-from-home opportunity.
It functions as a multi-faceted redirection portal.
Most people received calls from 3hourjobs after posting their resumes on job-seeking websites like indeed.com.

During the call, people are not given any information of much value about what the job opportunity is.

When you visit 3hourjob.com, the page that you are finally redirected to is full of videos with false earning claims.

There is no real training offered to job seekers.

There is no customer support
3hourjob.com was shut down for a while and it does come back with new quick rich schemes – from 3hourjob data entry jobs to affiliate marketing and so on.
So – beware of such work from home scams
Are there any legit companies that offer data entry work-from-home jobs?
There are plenty of job opportunities to work from home, especially in the field of data entry.
You don't have to rely on 3hourjob.com data entry scam or similar scams.
Here are some legitimate companies that offer work from home data entry jobs to people with basic computer skills –
Related – IS UPWORK LEGIT? IS UPWORK SCAM? FIND OUT.
1. Fiverr
2. Clickworker
3.SmartCrowd
4. SmartLocating
5. Great American Opportunities
6. Xerox
7. SigTrack
8. TDEC
9. Microworkers
I recommend flexjobs to find legitimate work from home jobs.
Frequently Asked Questions
What is 3hourjob.com?
3HourJob is a get quick rich money scheme website that is fraudulent.
The site is known to make fake claims and fake information to make people trust them.
Is 3HourJob.com scam?
Yes. 3HourJob.com is a scam.
The website is not legit and has no real contact or owner information. A
Final thoughts – 3hourjob.com review
3hourjob.com is a scam operating as an online work-from-home opportunity.
You should never register yourself with websites that help you make hundreds of dollars daily while working just a few hours from home.
These sites aim to take your personal information and your money.
Opt for legit companies that offer data entry jobs like Fiverr and SigTrack.
Related posts to work from home
Resources that can help you with land work from home jobs
How to find and pitch clients your freelance services– You can find my strategies to find high-paying freelance writing clients.
Become a work at home mom– A FREE training session that comes along with a workbook and guides you through the entire freelancing journey.
FlexJobs You can find 100% legitimate work from home jobs and freelancing gigs on this platform
3hourjob.com scam – A detailed review