AOJ Online Jobs Review – is AOJ work from home legit?
So… in this post, we will do a AOJ Online Jobs Review or AOJ work from home reviews – whatever you call it.
We will clear your doubts for once – Is AOJ work from home legit or scam?
You know..
Working from home is steadily gaining popularity as more and more people realize the advantage of not having to commute long distances to earn money or spend 12 hours in a cubicle.
….Unfortunately, working from home has its own set of problems. The first one is how to find a legit work-from-home opportunity.
When you search online for opportunities to work from home, nine out of ten times, you come across scams.
…and, in this post, we will talk about something similar.
Is American Online Jobs a scam company or is it a legit way to make money online?
Read this AOJ Online Jobs Review to find out –
What is AOJ (American Online Jobs)?
Is AOJ Online Jobs a Scam?
How does AOJ work?
Who created AOJ?
Members area training module
Application process
Can you make money with AOJ?
Is AOJ work from home legit?
So.. lets just start with our AOJ work from home reviews.
Note – This post may contain affiliate links. Please read disclosure policy
— QUICK MONEY IDEAS —
Want to make money quickly? Here are a few platforms to earn up to $25 – $50 in a few minutes!
PineCone Research: Earn $3 – $5 per each survey guaranteed .Sign up now
AOJ ONLINE REVIEW
We will go over basics and then delve deep in our AOJ Online review.
Okay?
What is AOJ (American Online Jobs)?
American online jobs (AOJ) is an online job company that offers work from home opportunities.
It was founded in 2018, and it has many similar clone URLs such as –
AOJ.com
AOJOnlineJobs.com
AOJOnlineJobs.net
AOJWorkFromHomeJobs.com
All these sites are the same and function in the same way.
When you visit any of these sites, the first impression you will get is that it is a genuine job site.
….But you will come across many red flags as soon as you probe a little further.
For one, the website does not have any contact information other than an email – [email protected].
There is no information about what American Online Jobs is all about. They don't even have an 'About Us' page.
When you go through this website in a little more detail, you will realize that the real purpose behind AOJ is to get you to join their recommended paid survey sites.
….When you join one of their paid survey sites during the application process, they earn a referral commission.
You are not connected to any work from home jobs through American Online Jobs.
This site has more to do with affiliate marketing. Through affiliate marketing, you can earn commissions when you generate leads and sales for other companies.
It can help you make decent money if you put enough time into it.
But, if you are interested in affiliate marketing, AOJ is not the place to be.
American Online Jobs also provides some basic training on how to promote survey sites as an affiliate – which is absurd.
Is AOJ Online Jobs a Scam?
According to our research, AOJ Online Jobs is a scam.
There are a lot of red flags that indicate that this site is not legit.
However, in my opinion, you cannot say AOJ is a scam. BUT, they're definitely using deceitful tricks to make money.
On one hand they promise you work from home jobs and seem to upload many jobs on different websites, and on the other hand, they're fake jobs to lure you to the application process (which basically is full of their affiliate links)
…. in this process, AOJ (American Online Jobs) are the ones making money. Not YOU.
So – for the purpose of finding a legit at home job, AOJ is a scam.
Red flag #1 – Big promises
AOJ markets their services by telling people that they can earn between $700 and $1600 per week.
Now, according to my experience, it is impossible to make this kind of money from an entry-level work from home job.
Red flag #2 – No SSL certificate
The American Online Jobs website is not secure.
It is strange that a two-year-old company does not have an SSL certificate.
All legit sites have SSL features for security and credibility.
Red flag #3 –No home page
There is no home page on the website.
The first page that opens when you open the AOJ site is a pre-screening questions page.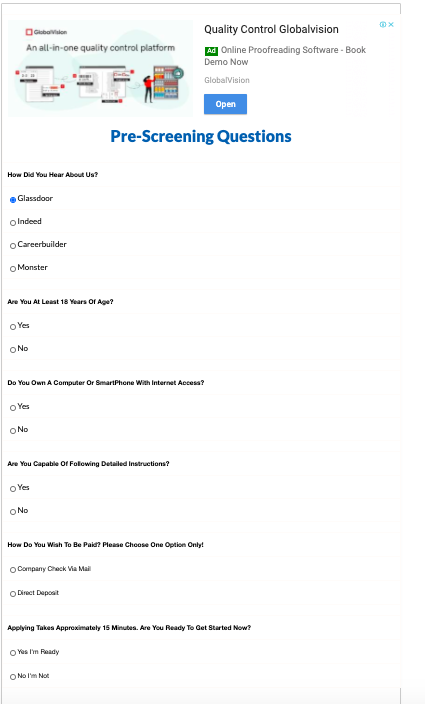 Red flag #4 – No review in Glassdoor or Indeed
Websites like Glassdoor or Indeed do not have any reviews of AOJ.
It is also not accepted by BBB ratings.
Red flag #5 – Pre-screening questions
All of the AOJ sites have a series of pre-screening questions, which is supposed to be the first step to apply for a job here.
These questions appear to have been put there just to make the site look legit.
You can answer all the questions correctly or incorrectly (as yes or no) or can even leave them blank, and you will still pass the screening process.
We pressed 'No' for the question – Are you at least 18 years old? We could move on to the next step without any problem.
Interestingly, even when we pressed 'No' for the question – 'Are you ready for the next step?' we could move on to the next step.
You can even check out the second step even without finishing up the first one.
Red flag #6 – Strange application process
The next step to applying for a job on AOJ online jobs is, interestingly, creating accounts on survey sites.
There are eight survey companies on this page, where you are urged to open your account to 'significantly increase your earnings.' You are also asked to complete surveys so that you can understand everything about these companies.
When you click on step 2, you are taken to a page where you are taught how to create accounts on survey sites.
There is nothing wrong with filling out surveys to make money online.
This step is a red flag for AOJ because this is not what this company promises.
After all, you have opened this site thinking AOJ work from home is legit and will provide you job opportunities.
Here's a list of all the paid survey sites that the ask you to join-
Survey Club
Product Report Card
Survey Voices
e-Poll
VIP Voice
Toluna
Vindale
Red flag #7 – Questionable training
When you click on the 'Click here to access the training/members area' button, you will be asked for your name and a valid email address.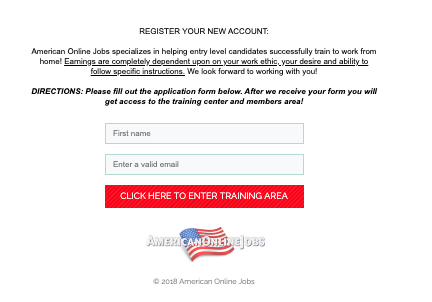 You will then be given access to some videos that train you for referral marketing.
Let us first consider the point that referral marketing is not what you signed up for.
When you opened the site AOL online jobs, you were looking for an online job.
The training videos provided on the site do not have much value.
If you do want to train for affiliate marketing, you can do much better by searching online for better training modules.
Red flag #8- No fixed domain name or logo
Any legit company should have a fixed domain name and logo.
American Online Jobs has two logos and many variations of its business name and website address.
AOJWorkFromHomeJobs.com, AOJ.com, AOJOnlineJobs.com, AOJOnlineJobs.net, are the clone sites of American Online Jobs and they work in the same way.
So, is aoj work from home legit? Considering all the points mentioned above, it certainly doesn't seem to be so.
How Does AOJ Work?
Here is now AOJ Online Jobs works –
1. AOJ posts fake job ads
AOJ Work from home is supposed to provide you with opportunities to work from home.
They use real job search sites to post fake job ads to lure people.
We found an advertisement on the Career Builder site offering a Data Entry Clerk job that pays $12.56 to $25.45 per hour.
On another site called Job.net, they have posted over 363 job ads. These ads are all fake.
2. AOJ makes money from you
AOJ doesn't have any job offers.
Instead, they have links to survey sites and get-paid-to sites. You will join these sites through an affiliate link, and AOJ will earn a commission.
While there is nothing wrong with making money through affiliate marketing, the deceptive manner in which AOJ goes about this process is the main issue.
AOJ Online Jobs also trains you on how to make similar sites, so that you can also earn money like them.
3. Worthless free training by AOJ
Don't get too excited thinking, at least the training is free.
Unfortunately, these videos are a waste of time. These videos give you a brief overview of how to market online but have very little substance.
….You can get better information and learn much more if you simply search for 'how to do affiliate marketing' on YouTube.
The methods that they teach you here can also lead to account closure and may even cost you money.
So – is aoj work from home legit? Till now, No.
Who created AOJ?
There is no information on the American Online Jobs website about who created AOJ.
There is also no information on the job ads as well. All the domains that they use have been registered anonymously.
Since the owner of the website is not disclosed, we are assuming that Brenda from the training videos is the creator of the website.
There may be another guy involved who has done some of the earlier videos.
During our research for AOJ Online Jobs review, we did come across a review in Steemit. According to the reviewer, he got a mail from AOJ signed by Brenda Rosenberg.
This secrecy shows that whoever is behind this website doesn't want to reveal their identity.
Members area training module
The training module of American online jobs consists of nine lessons that teach you how to post ads and get paid.
While watching these videos, you will be taught several unethical tactics, which may be a huge turn off for someone who is looking for legit ways to earn money.
You must sign up with your name and email address to see the videos.
Video #1 – The first video is a worthless orientation video. It will give you an introduction to marketing and will inform you how the other videos will go.
Video #2 – This video tells you to join certain Facebook groups, and post spam ads asking people to join certain survey companies.
You are taught how to use misleading words and headlines. It is quite similar to what they do.
AOJ also advertises itself as a work-from-home legit company that offers jobs, but they have no jobs to offer.
Video#3 – The third video tells you how to do affiliate marketing on Craigslist. You will learn how to create eye-catching fake ads to get clicks on Craigslist.
Video #4 – The fourth video gives you a basic overview of referral and CPA marketing.
Video #5 –This is a short video (less than three minutes) on how to market on YouTube. You will get a link to buy YouTube training.
Video #6 – There is no video here. There are just a few paragraphs teaching you how to do Instagram marketing. You have also been given a link to a blog post on Instagram marketing.
Video #7 – There is again no video in lesson number 7. There are just a few words on ways to use Pinterest for marketing. You will be given a link to a blog post on Pinterest Marketing.
There is also a bonus link to Survey Junkie here. The referral name mentioned here is Brenda Aaron instead of Rosenburg.
Video #8 – This is again a short 2-minute video about how to use GetResponse, email marketing software. There is also an affiliate link below the video.
Video # 9 – This module teaches you how to create a website so that people can join your AOJ program. You will learn how to create a fake job website and lure people to sign up for surveys and paid-to-do tasks.
Video #10 – This video teaches you how to make money on your affiliate site.
This lesson continues with the same information. You are also asked to buy professionally-prepared lessons linked to the videos mentioned above.
You are also told that there is an email address to contact at the bottom of lesson 9, but there's nothing there.
Our thoughts on the training videos –
The training videos provide general information on affiliate marketing and referral marketing.
It shows you how to get your own AOJ website and begin promoting your link and start making money.
At no time do any of the videos give any information on jobs, job descriptions, or any area of expertise needed to perform the job.
AOJ Application process – Is AOJ work from home legit?
Once you open the AOJ Online Jobs website, a few easy pre-screening questions greet you.
Answered the questions, and you will be transferred to another site where you will be asked to sign up for an account.
This site Life Point Panel is totally unrelated to AOJ Online Jobs. There is no explanation given as to why one needs to sign up with a survey site to apply for a job.
The next step is to sign up with Online Flex jobs for taking up more surveys. This again does not have any online jobs to offer.
They want your details to get you to buy and download some "anti-virus" software (via MaxBounty). This way, they can earn an affiliate commission from your purchase.
AOJ also suggests that you sign up with other survey sites on this page like InboxDollars and Toluna, but this is not mandatory.
After this, you move on to the next page where you must register for training. On the application form, you are required to fill out your first name and a valid email address.
This training, as mentioned earlier, covers general information on referral marketing and how to make your own AOJ website.
At no point will you ever be directed to a list of jobs.
Can you make money with AOJ?
All the jobs listed on AOJ are fake, and there is no way to make money through them.
You can make some money on AOJ through two other ways –
Surveys
You can join sites like Online Flex jobs and earn some money by completing surveys.
You will be paid for every survey that you complete, but the payout is minimal compared to the time and energy that you put in.
In some cases, you also have to give your credit card details to enter specific sites.
This can again be a problem as you don't know how much will be deducted and how much you will actually be paid.
— QUICK MONEY IDEAS —
Want to make money quickly? Here are a few platforms to earn up to $25 – $50 in a few minutes!
PineCone Research: Earn $3 – $5 per each survey guaranteed .Sign up now
Promotion of sites
You can also earn money by promoting survey sites as an affiliate.
You can promote these sites and make money through referrals.
You will have to post ads about these sites on social media platforms, and when someone clicks on the link, the money will be added to your account.
The training provided for affiliate marketing on AOJ is elementary. You should find some other avenues for affiliate marketing training.
Pros – AOJ online jobs review
1. It is easy to enter the AOJ website, and there is no fee required.
2. If you want to earn some money (not too much) sitting at home and completing surveys, you can do that here.
Cons – AOJ Online Jobs Review
1. There are no job listings on AOJ. It guides you towards a completely different way of making money.
2. Even though you get paid for completing surveys and affiliate marketing, the earning potential is meager.
3. The site is full of ads that many users click while looking for online jobs.
4. The site has no details about the owners and their office address.
5. The training videos are of poor quality and a complete waste of time.
6. AOJ posts fake and misleading ads to entice people. Their ads say they have jobs that offer $25 to $45 per hour, which is far from the truth.
7. You also have to spend money before you earn anything. You have to buy anti-virus for $25 to prevent spams and trafficking on your site.
AOJ Alternative is freelancing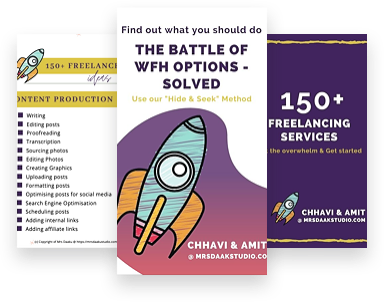 Final thoughts – Is aoj work from home legit?
Frankly, this AOJ online review made me go bonkers. It is like a rabbit hole – it goes round and round and round.
Phew.
It is tough to find a decent and well-paying online job.
Sites like AOJ Online Jobs, however, take deception to another level.
You can try your level best to look for a job here, but all you will find are survey sites, get paid to sites, and affiliate marketing opportunities.
AOJ Online Jobs is not an online job site. It is a scam and a waste of time because of how they present themselves.
If you advertise job opportunities, then provide those to the people who visit your website.
If you want to offer other money-making opportunities, then advertise that. AOJ should advertise what they actually offer.
This is all about AOJ online jobs review and if you have questions, comment and let me know.
Resources that can help you with land work from home jobs
How to find and pitch clients your freelance services– You can find my strategies to find high-paying freelance writing clients.
Become a work at home mom– A FREE training session that comes along with a workbook and guides you through the entire freelancing journey.
FlexJobs You can find 100% legitimate work from home jobs and freelancing gigs on this platform
is aoj work from home legit