Trimming on decor is the easiest task and that is why we bring to you – 5 super simple ways to save money on Christmas decors
An average adult who purchased Christmas decorations last year in the U.S. paid approximately $55 for them, according to a survey from the National Retail Federation.
But savvy shoppers (like you, by the end of this post!) can trim that budget and save money on Christmas decors significantly.
Let's not lie to ourselves – decorating for Christmas is one of the things we all love to do. Many of us cannot imagine the holidays without decorations, lights, greenery, trees, and more.
Again, all of this comes at a VERY steep price. Since the purpose of this 6 days series on Christmas is to save and earn more in the next 3 months, it only seems obvious that we talk about inexpensive Christmas decors options without compromising on the grandeur.
Note – This post may contain affiliate links to products I trust. This means if you make a purchase using the links I may receive a small commission at no extra cost to you. Thank you for the support! 
Note: This is part of a series "6 days of Christmas on a budget". So, come back tomorrow for the next post and check out the previous post on
6 ways to save money on Christmas
6 simple ways to get FREE Christmas gifts  
7 ways to make quick cash for the holidays
Believe me, it IS possible! In this post, we will share 4 ways to save money on Christmas decors EASILY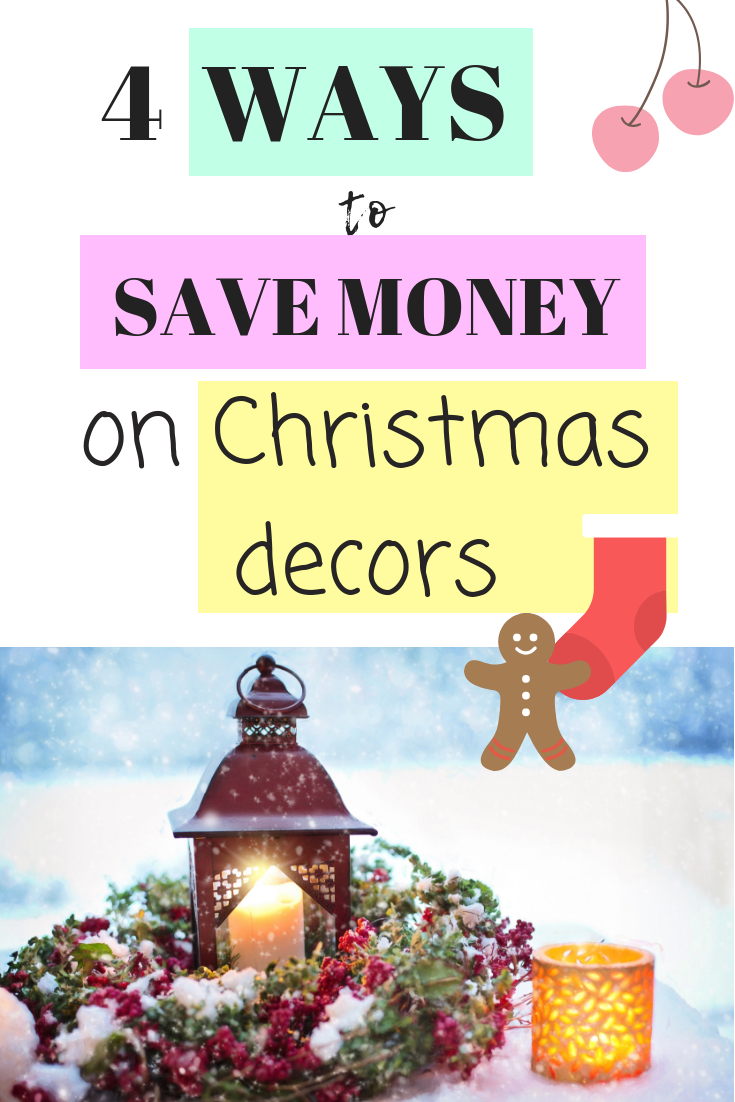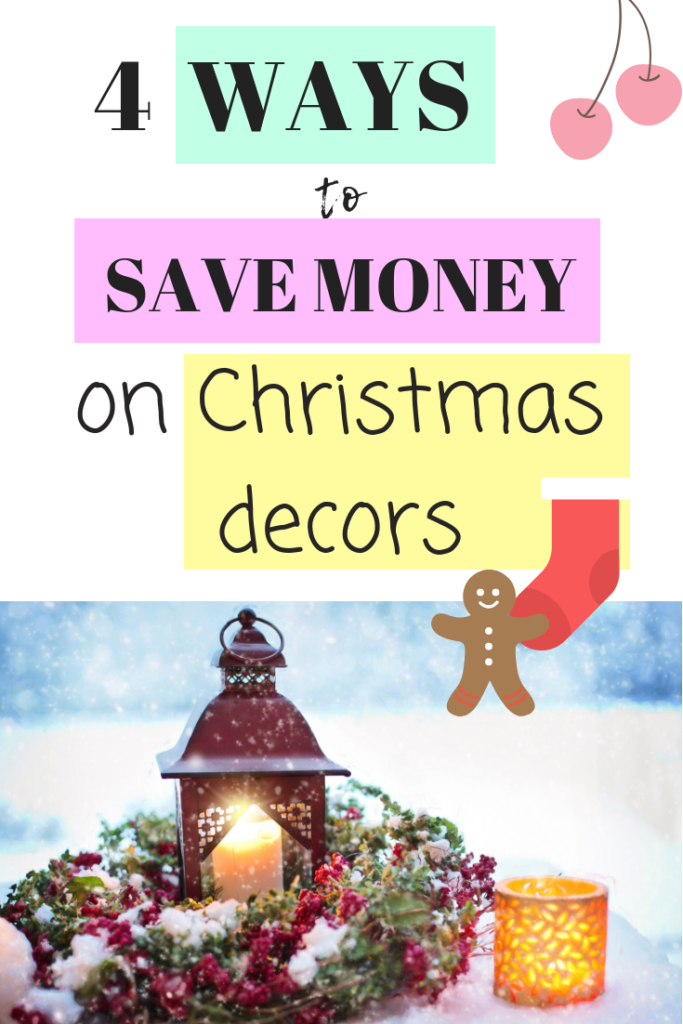 1.Buy from thrift stores, Facebook groups or garage sales
Thrift stores are a gem of a place when it comes to decors. This time around the year, you can grab tabletop decors like stockings, socks, wrapping papers etc for insanely cheap prices.
And, if you are stuck at buying from Macy's, you have to sign up at Ebates at avail the cash back on the store. If you sign up using this link, you get $10 bonus. By the way, if you do not know, Ebates sends you this cashback through mail or Paypal. So, yay!
Similarly, garage sales (online and offline) and Facebook buy and sell groups are brilliant places to shop for cheap decor. Most people are desperate to sell and most people don't think to look for those items there. 
2. Shop before Thanksgiving and just after Christmas
The biggest mistake we all make is to wait for the season to arrive. But, when the season arrives the prices shoot up and everything becomes expensive.
So, go on a shopping spree now. The time before Thanksgiving and just after Christmas is the best to grab what you love at the best price!
Why?
Because most of these items are leftover stock from last year and need to be cleared out. It is HEAVILY discounted, sometimes, up to 75% off and you can save a lot of money on decors. While the selection is quite limited, but the savings are great and it is worth your time to check the deals.
Even if you do not like specific decor items, you can always pick up the commonly used decor at mind-boggling prices.
3. DIY
You may be completely convinced to reject the idea of DIY-ing but it is worth a thought (even if you SUCK at this!). The posts below gives you a few brilliant ideas to turn around everyday objects in decor.
Glittered Pincones by Carrie
Rustic twig Christmas ornaments by Christine
Coastal branch tree by Amanda
Mini pinecone kissing ball by Trish
Rustic tabletop by Marty
Christmas wreath with Pinecone by Vanessa
Christmas ribbon ornament by Melissa
Ornament wreath by Rachael
Now I'm not saying you need to set out to make all of your decorations from scratch, but there are many cute and SIMPLE ideas in these posts as well as on Pinterest for making your own decorations. 
You can make Christmas flower arrangements from flowers purchased at the trift store (or a dollar store). You can also modify doll sized toys into ornaments. That's a couple of examples. 
4. Store last years safely and repurpose
It is completely ok to reuse some of your decors again. You can also repurpose your last years Christmas decor and buy a few new ones. This will save you at least $20-30.
For example, use the Christmas cards you rhave received to decorate your home. If you Google this there are TONS of ideas on how to use those Christmas cards to decorate your home. A few of them include
Stringing them in the doorways as a garland.

Taping them on to your windows.

Nestle them in the branches of your Christmas tree

Making a wreath with the Christmas cards you received last year and this year.

Place them on your mantle.
Hop onto Pinterest and check out more ideas.
Here are just a few ways to save money on Christmas decors this holiday season! Don't worry, you don't need to go broke being festive    
Other parts of the series include –