You haven't figured anything of the city if you haven't figured where to eat the local cuisine. Isn't it? Gwalior offers a range of cuisine which is a reflection of its glorious past. While the vada pav, poha and dabeli carts showcase the Maratha influence over the city; gathering of localities in the morning to feast on Bedai, kachori and laddus smells of its geography. But, this isn't it. Dining out in Gwalior would be completely different experience as it offers you kebabs and Korma giving you a whiff of the rich and royal Mughal period. Isn't this enough for packing your bags to Gwalior and experience the richest and finest eating experiences in the country?
If you haven't read my previous posts on Gwalior on what to do and where to stay, you can read them here and here.
Today, I am making an effort to ease your planning by listing out places to try for gastronomic delights not only basing on my personal pursuits but also of other known bloggers. So, lets start.
1. Street food at Naya Bazaar
There is no better way to explore a city except being on foot. Walking around experiencing the bustle of the city, the grandeur of the old  buildings which surround you and savouring the aroma of the extra ordinary foods and tea leaves on the streets makes a perfect start to any exploration. Naya Bazaar is indeed the place to go! We parked our car at a certain place and began the padyatra (journey on foot) to achieve the well awaited gastronomic bliss.
Naya Bazar will give you a feel of the old parts of the city with narrow lanes, commotion, paddlers calling people to buy from them and shops lined up. However, the lanes here are not narrow at all. So, phew! Sigh of relief.
Poha delight: While I had no time personally to go and explore this place right in the morning (remember, I was savouring a feast at Hotel Adityaz which is roughly 10 kms from this place, read here about it), I found a lot of bloggers praising Agarwal Poha Bandaar for the mouth-watering and yummy poha. It is easy to spot in the morning which a huge tawa laden with aromatic bright yellow coloured poha garnished with green coriander and chillies. I am already hungry, guys! The poha is totally fresh and served with toasted peanuts, diced tomatoes and onions, sev, dash of lime and chilly pickle.
Oh god, why! My mouth is already watering while writing this.
FACT: It is available only from 8 to 11 AM. Yes, that fast! It lasts for only 3 hours each day.
Boondi Ladoos: You haven't eaten anything until you have not topped it with sweets. Whoever said it, said it perfect. Its me, by the way! Haha. Your next stop should be Bahadura Sweets. The tasty boondi ladoo will steal your heart (and literally your tongue!) by melting effortlessly in your mouth. You will crave for one more each time the previous "one more" is over! You will forget about being health conscious and be surprised at your gluttony. The ladoos are made up of pure besan, ghee and cane sugar. Served in the dona, it definitely makes up for a traditionally cherishing moment.
Bahadura sweets could be difficult to find if you are deceived by what I wrote and expect a Haldiram sort of showroom. So, look for a kadai (a pot similar to a wok) filled with chasni or bubbling ghee and sight of saffron coloured balls being kept in big plates.  It is an extremely normal shop which sells sweet, popular referred to as halwai ki dukan. A pocket-sized powerhouse! Bahadura sweets reminded me of the street of Benares adorned with sweet shops offering you plates of yumminess.
Lambi panipuri – While you would have relished normal round pani puri which fills your mouth, you wouldn't have tried the ship or bullet shaped sooji puris. Yes, they are long and only the big mouths can probably fit it in. Just kidding! I am not a big fan of sooji puris but I had to try this out. To my surprise, they were softer and thinner than usual. Crispiness was intact, perfectly well-preserved.
I asked the panipuri wala to give me a plate of the delicacy and he quickly started to  juggle between giving his customers  a dona, mixing mashed potatoes, onions, green chillies and spices, deftly piercing the lambi puris with his thumb, filling the mix into it and scooping through the masala pani. He took care of the needs of each one standing there with their own preferences of wanting to eat spicier or sweeter ones. Multi-dextrous, eh! Who had the time to take pictures in between the super pani puris?!
Kachoris, Samosa and Gulab Jamuns: My next stop was S.S Kachoriwala. I was delighted to spot the shop and quickly went to order my plate of kachori. I somehow managed a way out to reach the shopkeeper from the intense crowd wanting to get their plates and the people who were already relishing the food with a unmissable bliss on their face.
When I asked for kachori, I was disappointed. It was over! He quickly took the last piece of kachori, pierced it and filled it with aloo matar and garnished with onions, chillies and coriander. I could see the bliss pass by me to this man who was successful in reaching the shopkeeper before I could. Damn! Instead of kachoris now, I ordered for samosas and gulab jamuns. He quickly gave me both of them and I couldn't stop relishing the flavours. I instaneously asked him for two more of the gulab jamuns. Later, I was surprised at my sweet tooth which wasn't satisfied with gulping down couple of boondi ladoos at Bahadura sweets as well.
As for the samosa, they were perfectly cooked. The filling was fresh and the outer crust was crispy. Just how I like it!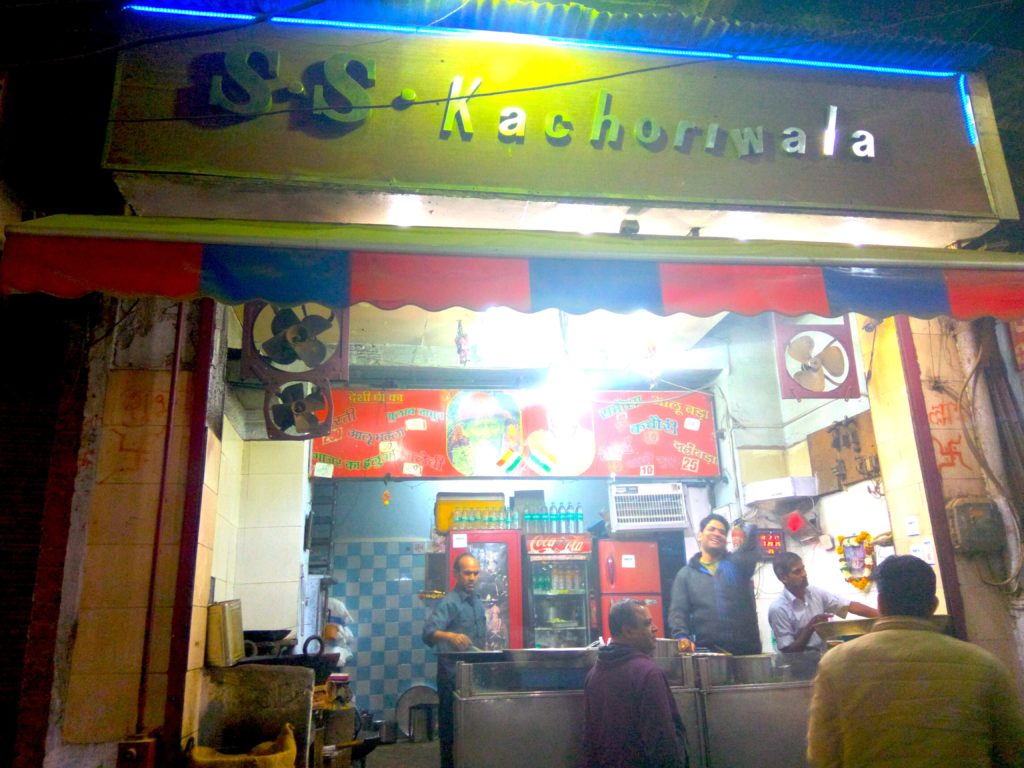 2. Mansingh Restaurant
Finally, on our last day in the city we went for dinner at the Mansingh restaurant. It is named appropriately after the fortress of the hind, Mansingh palace of the fearless Tomars. The restaurant is located inside of the Deen Dayal Mall. The lcoation can be a turn off for local culture lovers, but once you step in you will see the grandeur of the place. The setting, ambiance and food gives you a perfect experience of the Mughal influence.
We ordered mutton raan and tandoori rotis, along with kebabs and korma. The sound of the evergreen ghazals, the melodious voice, the grand tabla along with chilled beer made my night. It was perfect ending to my trip. We sat down somewhere close to the performers (Rehan Khan and Joshi) and at an angle where we could see them. They sing on demand, so hooray. If you have a liking for ghazals and have your list of favourites, they will play it for you. Daaku and I made them play all of our favourites. Initially, there weren't many people for dining but by the mid of the session the restaurant was full.  At this time, he started to sing more known ghazals and songs to cater to everyone.
The service is really good and efficient.  No complaints at all! While the food could be better, the overall ambiance and live ghazal more than makes up for it. I would say it a must visit if you like ghazals while relishing some Mughal delicacies!
Below is a small clip of their performance, you will prolly have to see it on your cellphone. I don't know how it is not working on desktop version of Insta.
Guys, I am already hungry so I will go and eat something. Meanwhile, why don't you share your experience of local cuisine by commenting below?
Tansen or Mian Tansen, a Vaishnava and one of the most renowned and prominent Hindustani classical singer perfected his art under Ram Chand  at Gwalior. While Tansen wanted to retire to solitude, Ram Chand encouraged him to gain wider audience at Akbar's court (Akbar had requested Tansen to join his court time and again!). You cannot miss out on some ghazals in a city with such a symbolic unity amongst religion and music! Below is the another clip for you from Mansingh. Hope you like it!
[bctt tweet="You cannot miss out on some ghazals in a city with such a symbolic unity amongst religion and music!" username="mrs_daaku"]
Did you enjoy the post? Let me know in the comments or by sharing it on social media. I'd love to share travel hacks & tips, planners & checklists with you  so feel free to subscribe for my free resource library.