Finding a good budget hotel (and, which fits your liking!) is always a fuss. If you aren't a "planner" it can definitely be a tedious job. We had to plan a two-day stay at Gwalior for a meeting and we wanted to be somewhere close by the venue. When we started searching we had only one option. Now, I was in a fix. This can be an equally good or bad news. So I crossed my fingers and an eye to look at the reviews expecting it to be good (so my search gets over with one click). And, hooray! The reviews were up to the mark.
1. Booking using makemytrip.com
We used makemytrip.com to book the hotel. It is one of the trustworthy websites you can use in India to book flight tickets as well as stays. They have a new feature of reserving the room and paying at arrival. So, that was a fantastic upgrade to the services provided by them! I could see the hotel and the rooms before deciding if I really want to stay there. Isn't that very convenient?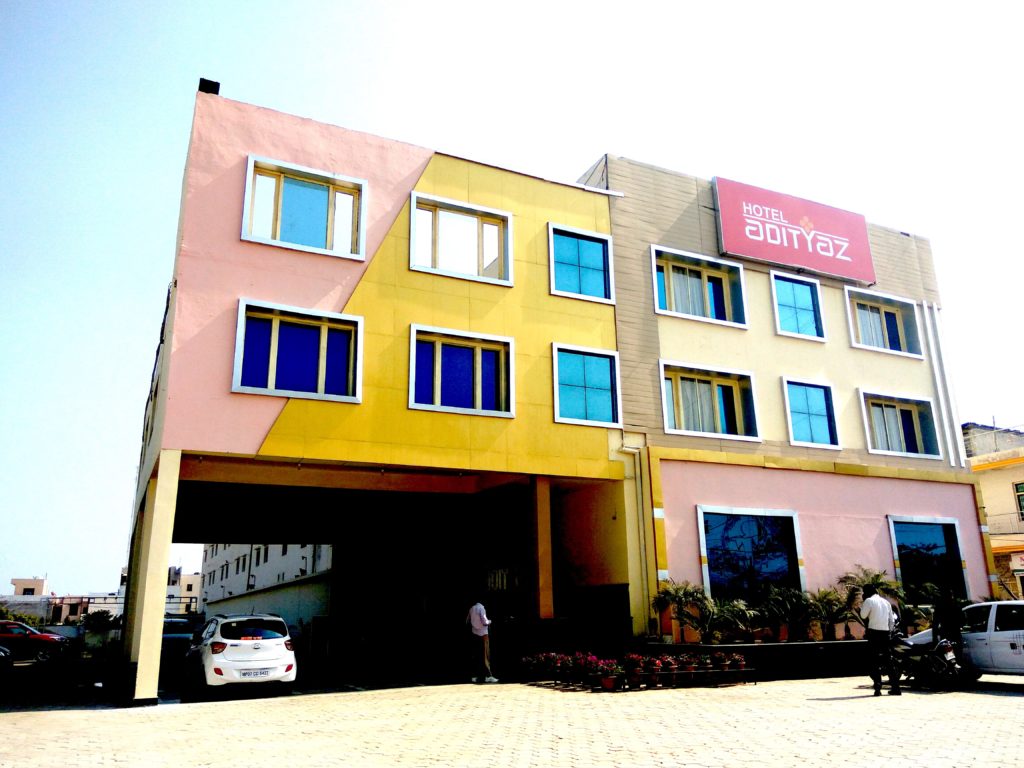 2. Location
We got onto driving from Delhi via Yamuna Expressway and reached Gwalior. It was easy to find Adityaz hotel due to its very convenient location, totally unmissable.
One drawback I could realise while exploring the city is its distance from the centre. Daaku and I had to drive for at least 8 km before we could reach any spot (except our workplace, which was almost walking distance). So, if you do not have a car this can definitely be a deal breaker. However, the hotel does provide pick up and drop facilities. You can also book cabs or tours in order to go around the city.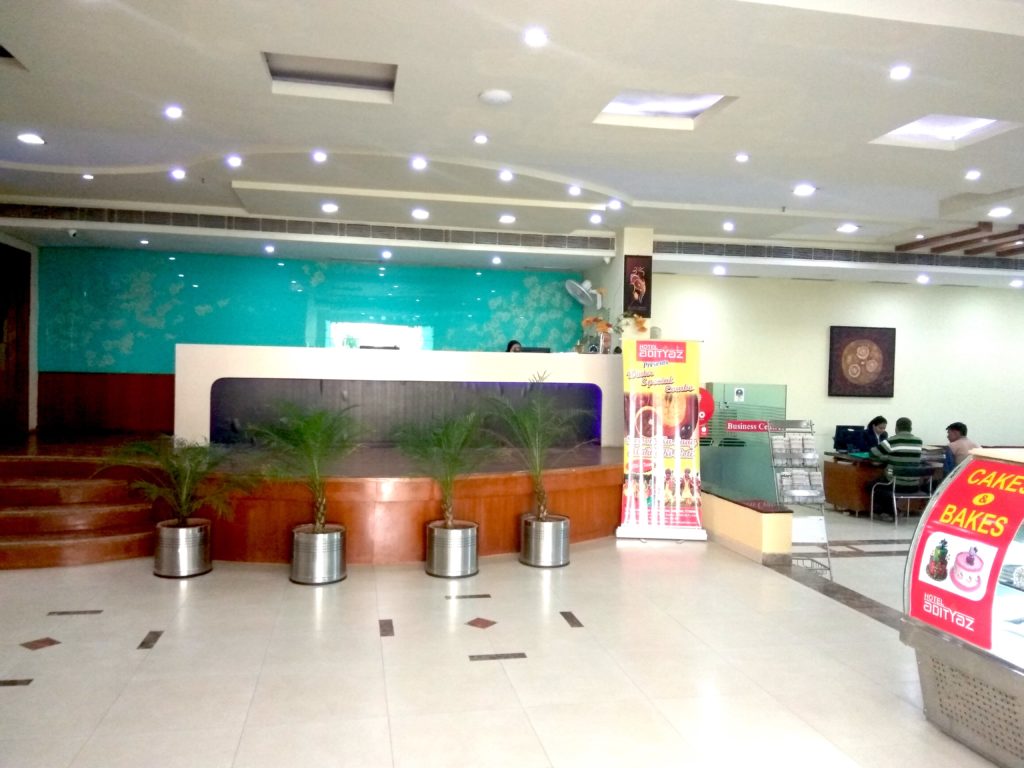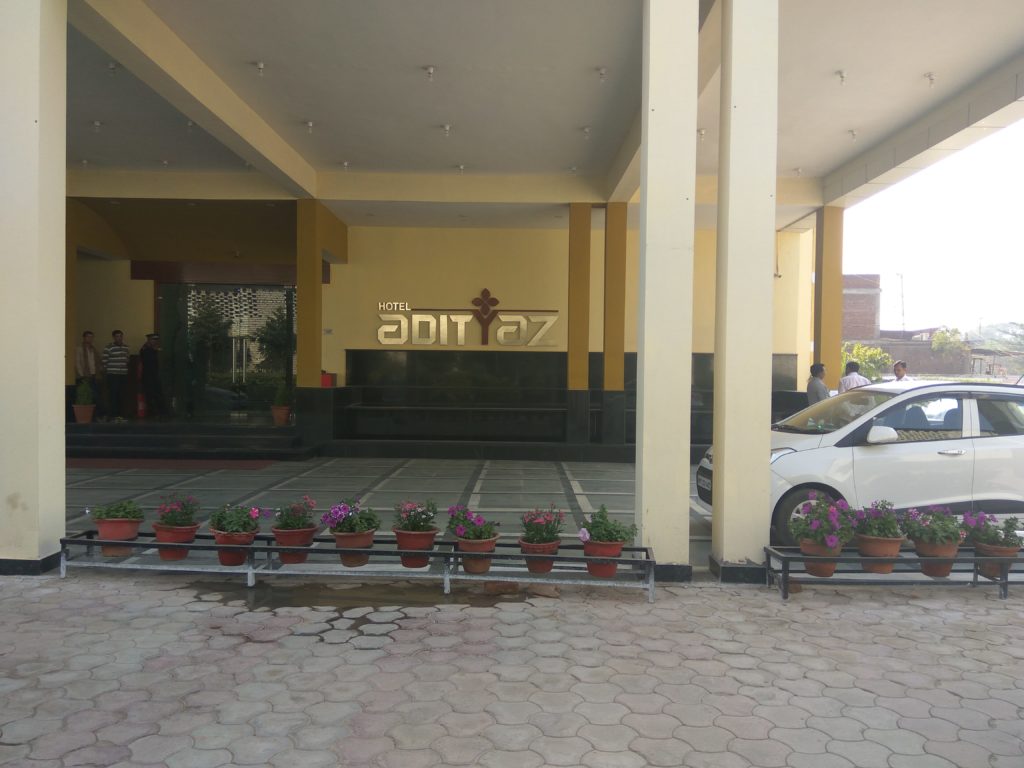 3. Services offered 
The reception is really friendly, efficient and fulfilled all the booking requirements quickly. They have a 24-hour front desk to welcome and assist their guests.
Initially, the room allotted to us was an executive. The room was clean, spacious, airy and naturally lit. It was equipped with a TV, aircon, kettle with coffee and tea, toiletries, water bottle and the bonus was the bathtub! Yes, a bath tub. Yey!  They also provide free wi-fi to their guests which works really fast (another yaayyy!) along with services like laundry and dry cleaning at your doorstep. Other facilities offered at the property include tour desk and luggage storage.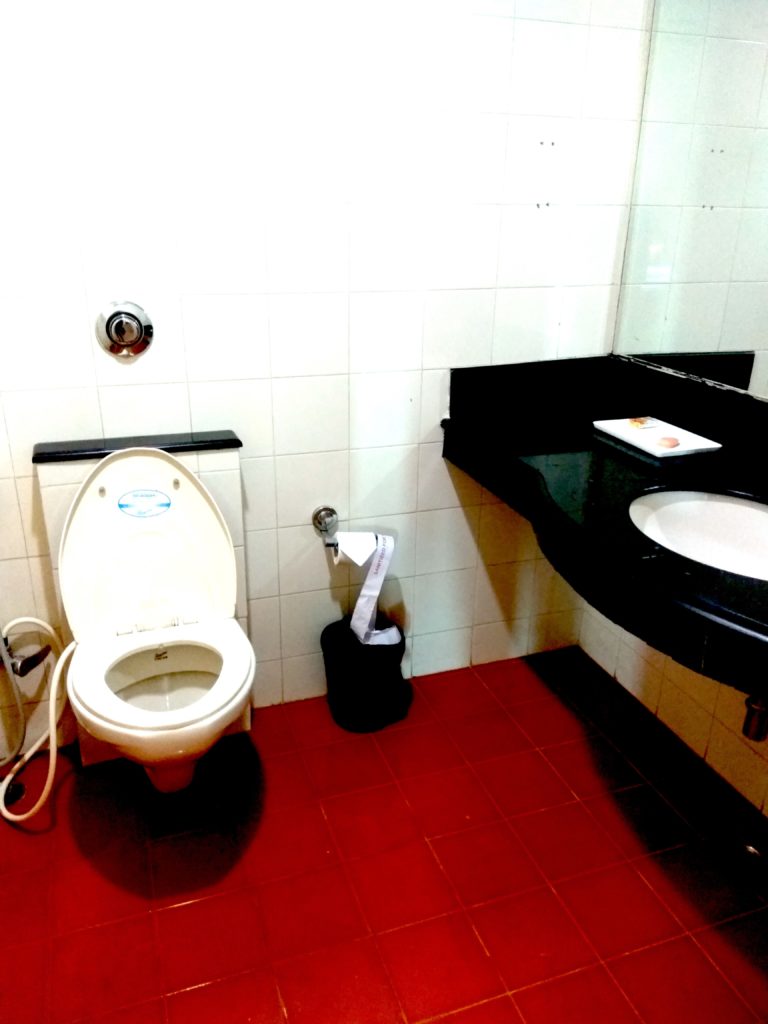 We checked out of the hotel only to realise that we have to stay in Gwalior for a day more. Initially, we thought to stay at other places but we couldn't get a decent hotel nearby our workplace. So, we booked Adityaz again!
This time we were promoted to a crowne room and it was a fantastic. It was a very spacious with two beds (each of them is enough for  two actually!). Initially we were put off with two beds (nayy!), but it was okay because the room had a lot better facilities. The room offers a sitting area along with a work desk, a dressing table with a hair dryer and bathroom with a tub and fancy mirrors. They also have a suite available in case you are looking for luxury in budget.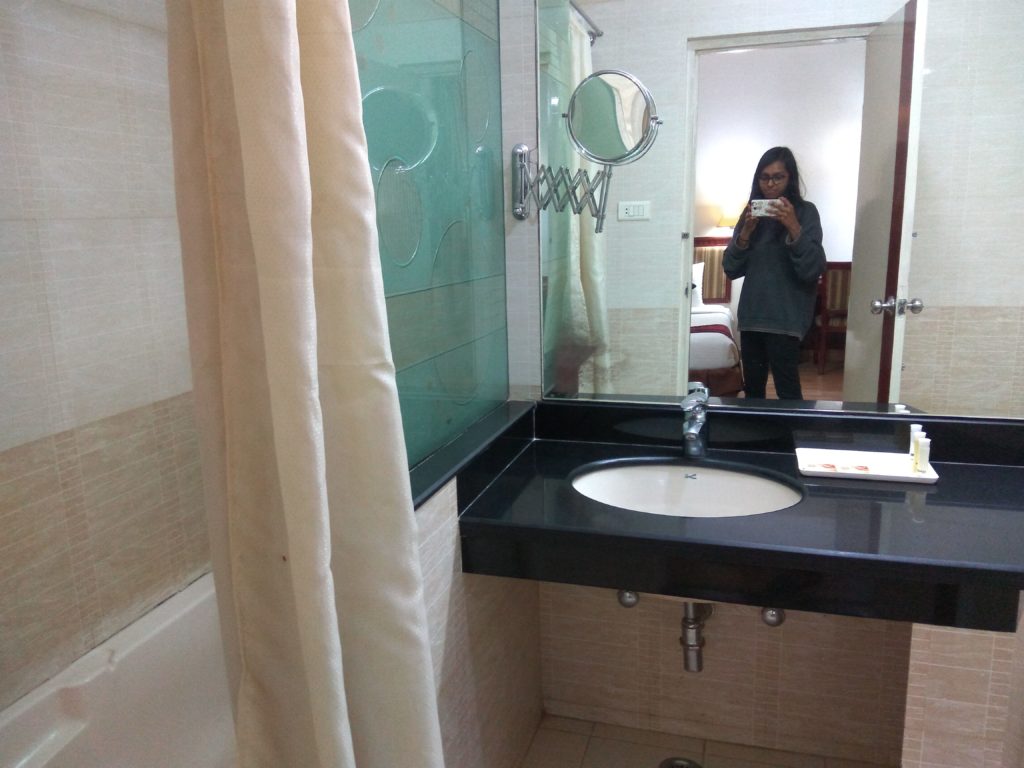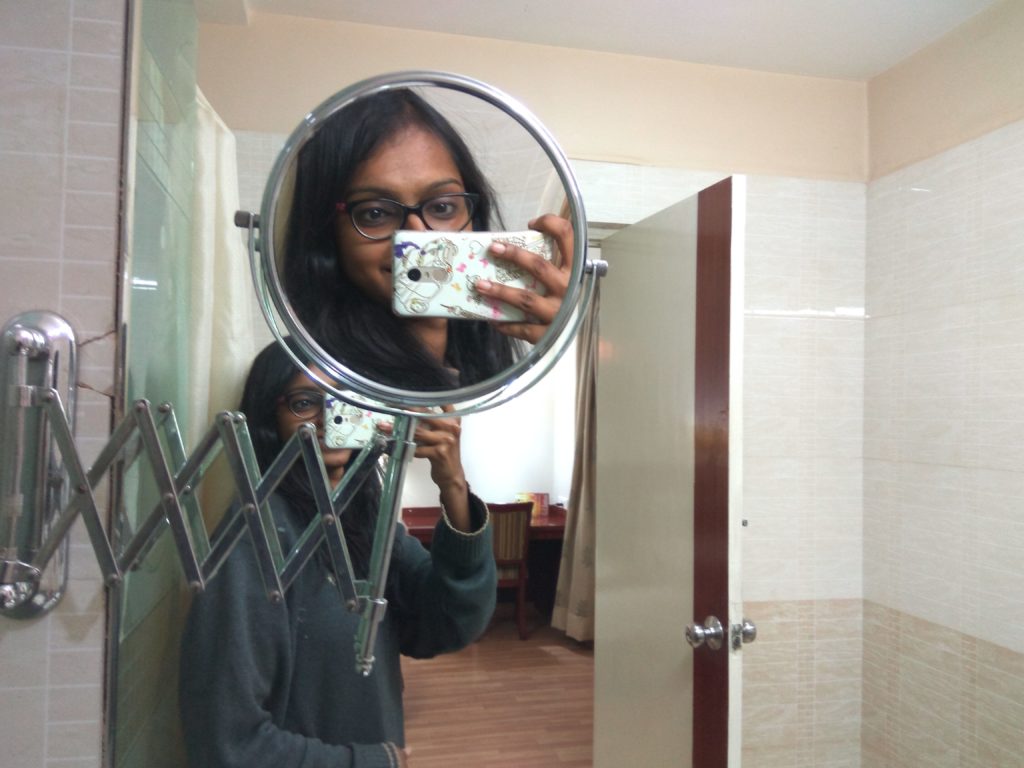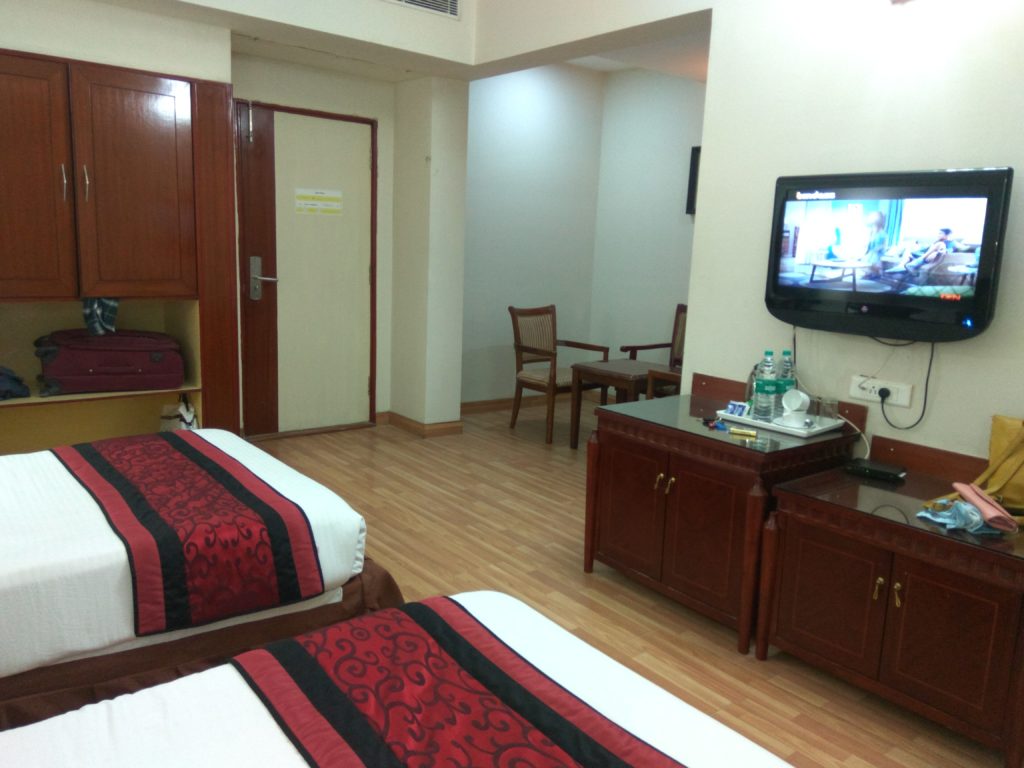 4. Restaurants, bars and bakery
They have one restaurant named Golden Leaf. It serves Indian, Chinese, continental and regional cuisines along with providing a 24-hour room service for private dining. If you are taking the reservations with breakfast, you will have a wide variety to eat everyday. The food is yum and they have variety so your tummy is going to like the place.
Although, if you are going for an ala carte dinner/lunch, their prices are tad bit expensive for a budget hotel but the food served makes up for it. However, they do use quite a bit of oil for Indian cuisines. But, everything I ate in Gwalior had more oil than I would use. So, you can skip Indian cuisines if you are extremely health conscious or simply cant deal with oils and spices. They also host Ghazal nights at their restaurant. However, we weren't able to attend any of it. So, no reviews on that!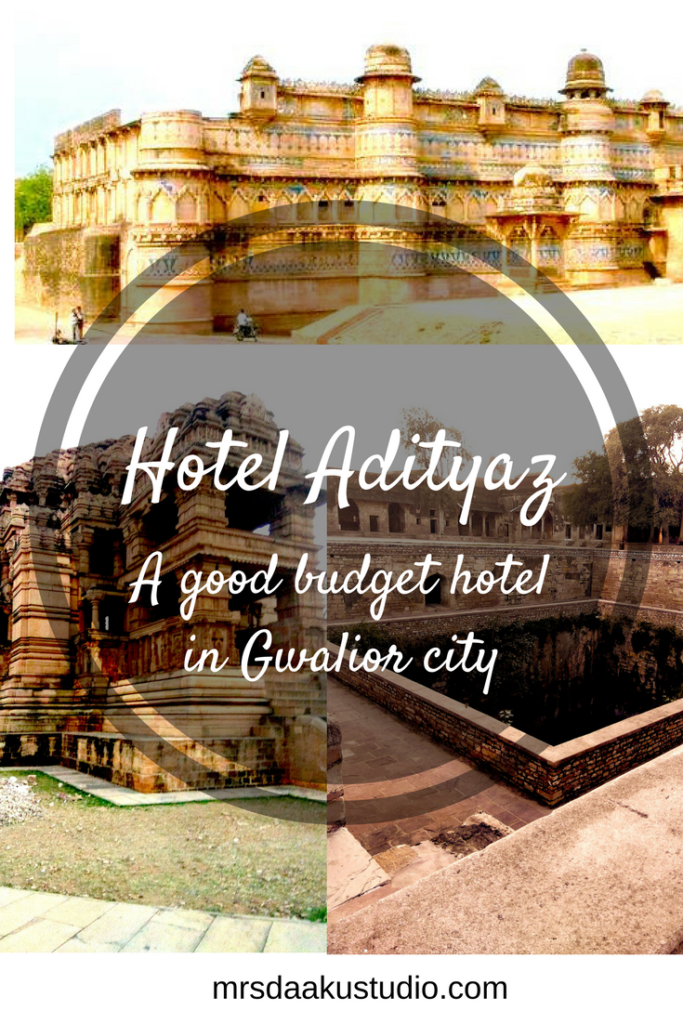 For sweet tooth like me, they have a bakery in the lounge named cakes & bakes. They display multiple variety of cakes including a few being theme cakes. They also have a bar named Sapphire which has perfect ambiance for enjoying a lazy night and sipping on your favourite drink. But let me warn you, you need to be patient. They have poor service in terms off the delivering time. For serving you one dish they can take up to 20-30 minutes!
One more thing (nayy!), a swimming pool would have been nice! But, that dint hamper my spirits because I visited Gwalior in winters! Taadaan!
Adityaz is definitely worth the money and good for family and couples. While it is slightly far away from the railway station, it is well-connected to the airport. So, if you are flying to Gwalior – this is the nearest budget hotel for you.
Do let me know by commenting below if this was useful. Also, if you have been to Adityaz or Gwalior please do leave a comment mentioning your experience and if you recommend a place to stay (preferably a budget hotel).
[bctt tweet="Adityaz hotel – A good budget hotel in Gwalior" username="mrs_daaku"]
Now that you have decided where to live, visit my previous post on Gwalior on "what to do" or "things to do" right here.
Did you enjoy the post? Let me know in the comments or by sharing it on social media. I'd love to share travel hacks & tips, planners & checklists with you  so feel free to subscribe for my free resource library.