Recently, Mr Daaku and I made a road trip to Gwalior (I shared lots of pictures of Gwalior fort on insta, click here to see a few) and I have been wanting to write about it since. Frankly speaking, we had no plans to roam around the city when we left Delhi. Precisely why, I did not carry cameras and had to make do with iPhone 6 plus. We had planned out a 2 day stay, out of which one day was booked for a day long meeting. Howeverrrr *pauses*, there was an unexpected delay in the work (read, the excitement in between the lines) and we had to reschedule our stay for two more days! Guess, who said voila and started dancing? Of course, ME!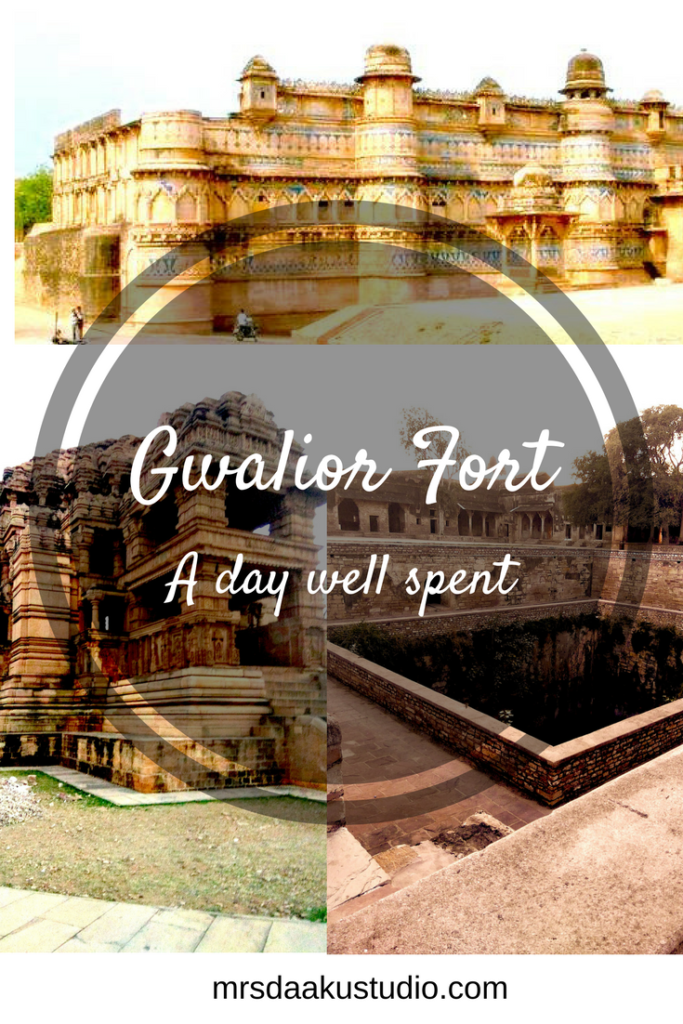 I had exactly one and a half day to explore the city of historic events. I felt like the stopwatch is on and I have to make every second count. Have you ever felt  the adrenaline rushing through your body because you have so much to do? So, I researched a bit and quickly finalised a checklist, a rather short one for Gwalior. Although it encompassed a terrific experience, it definitely did not entail all that Gwalior has to offer. Heads up, you know!
A lover of history and a sucker for thrill will quickly remember the importance of Gwalior in the history of India. Not only was it a historic seat of the Scindias for over decades, Babur named it as the pearl of Indian fortresses and most fascinating is its involvement in the 1857 revolt. Have you heard of Rani laxmibai? Tantia Tope? No? It is worth a read before you visit a place with such an endless historical significance to India. May be I will write a post on this sometime soon. What say? But, this isn't a history class so I won't go into all this. However, do expect some history facts here and there, you know 😉
Mr. Daaku and I jumped into the car and zoomed away to Gwalior fort. The fencing is visible from miles away. It is surely majestic, definitely unmissable and is stretched to a 3 km long hill overlooking the city. While I was excited witnessing the fencing of such a great fort, I was disappointed when I arrived there. It is one of the monumental walls, not preserved well. Besides that – if you aren't a lover of history and do not enjoy not-so-well-preserved-monuments, you really don't have a lot to admire here. This is exactly why I said, read up a little. I thoroughly enjoyed myself as I walked down the historical lanes, imagining all of it happening in and around. It felt I lived that time of the century.
In the campus of the Gwalior fort, you have multiple monuments. You can visit the following:
Man Singh palace with a light/sound show
Sas-bahu or shahastrabahu temple
Daata Bandi Chhod (Gurudwara)
Teli ka Mandir
You can find a couple of other palaces behind the main Man Singh palace – Vikram Mahal, Karan Mahal and other dilapidated palaces grouped under "State Protected Monuments" namely Jahangeer mahal, Shahjahan Mahal, Cenotoph Bhimsinghrana, Johar kund, Dhondapur Gate and Hamamkhana fort bastion
A small Archaeological Survey of India museum. It houses an exotic collection of antiquities and unfortunately, I couldn't visit the mueseum as it was a friday, the only day is it closed. My luck, you see.
While you can walk up the hill to reach Gwalior fort (which is worth the walk because of the view it provides), we really did not have the time for it. We skipped this part and took the Urvai gate. You can take your car until the parking in front of the palace. Wohooo! While the walk-way provides a formidable view, the drive-way isn't anything less scenic with rock sculptures.
For Indians, the cost of entry for Mansign palace, Sas Bahu temple and Teli ka Mandir is Rs. 15 per person and for foreigners is Rs. 200 (approx. $2-3). For other monuments, the cost of entry is Rs 10 for Indians and Rs 250 for foreigners. For photography and videography, you have to pay Rs 25 and Rs 100 respectively. The ticket counter for the latter is opposite the canon right at the entrance of Man Singh palace. You can also hire official guides here for ₹470 for up to four hours. You should definitely hire a guide to ensure that you enjoy your trip and return with mind full of information.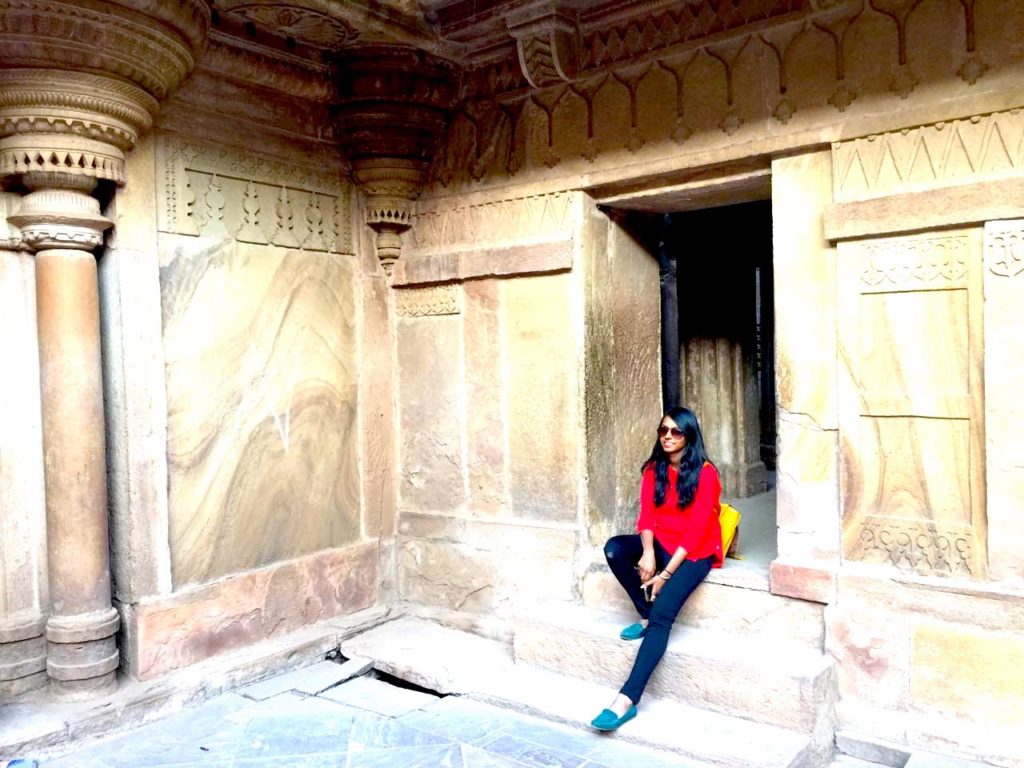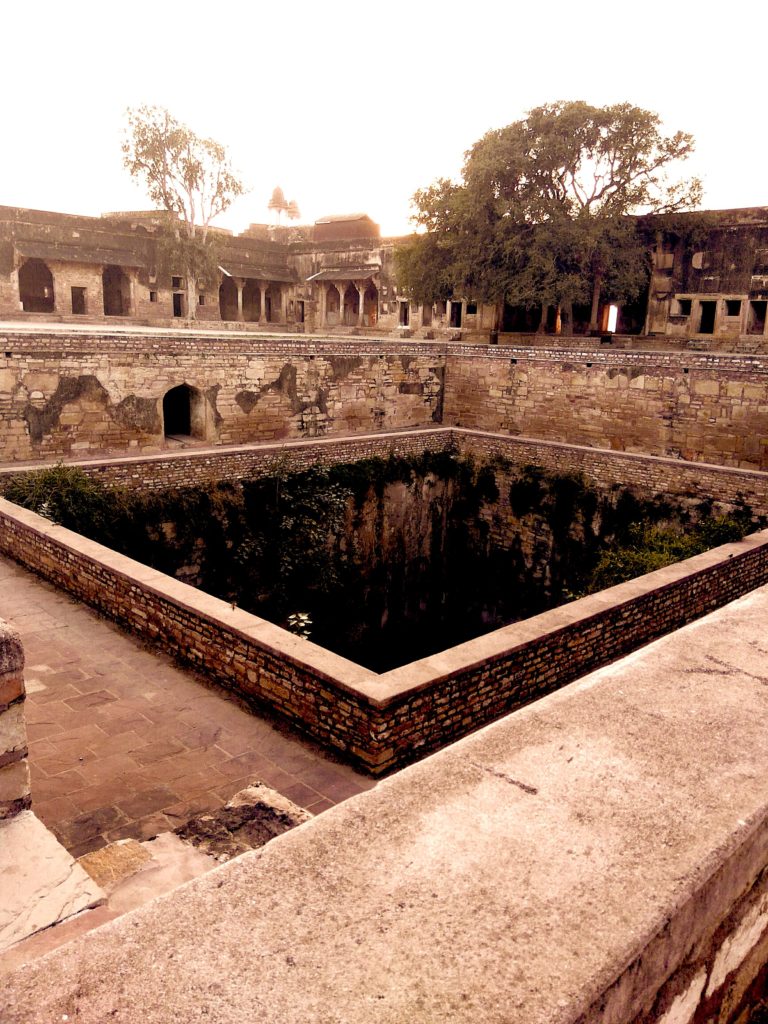 I. Data Bandi Chhod (Literally, Daata = God; Bandi = prisoner, chhod = release)
Our first stop was the Gurudwara at Gwalior fort. There is nothing extraordinary in the architecture of the gurudwara. It is the legend behind it which makes it worth a visit.  If you haven't been to a gurudwara ever, add it to a must visit place.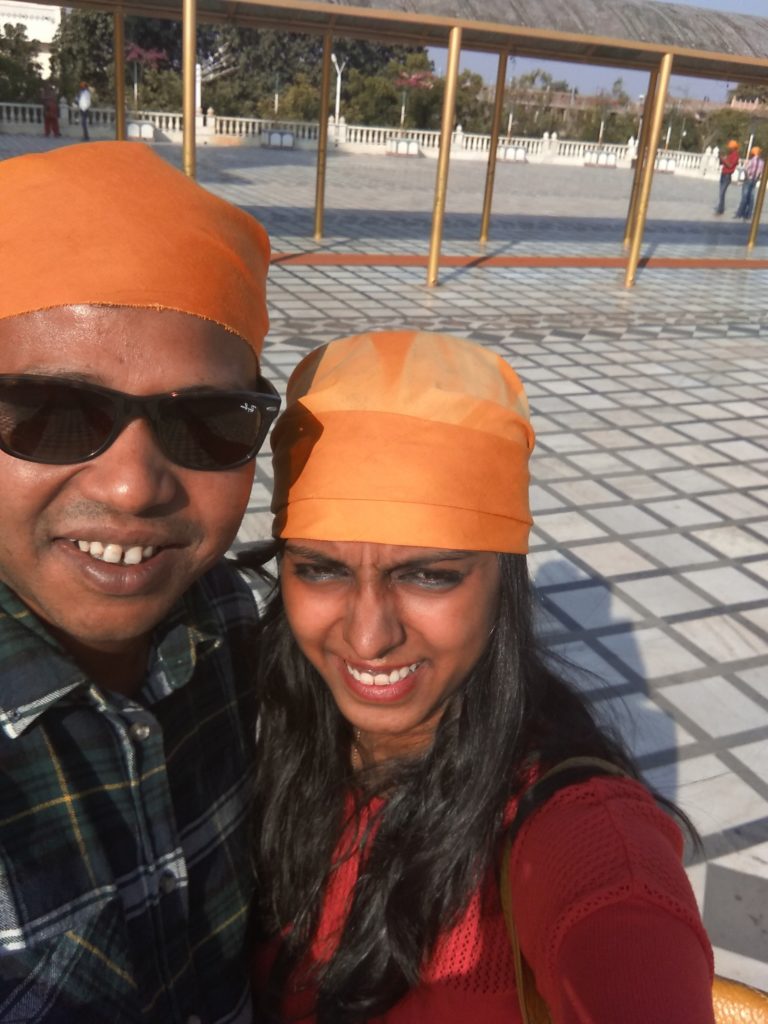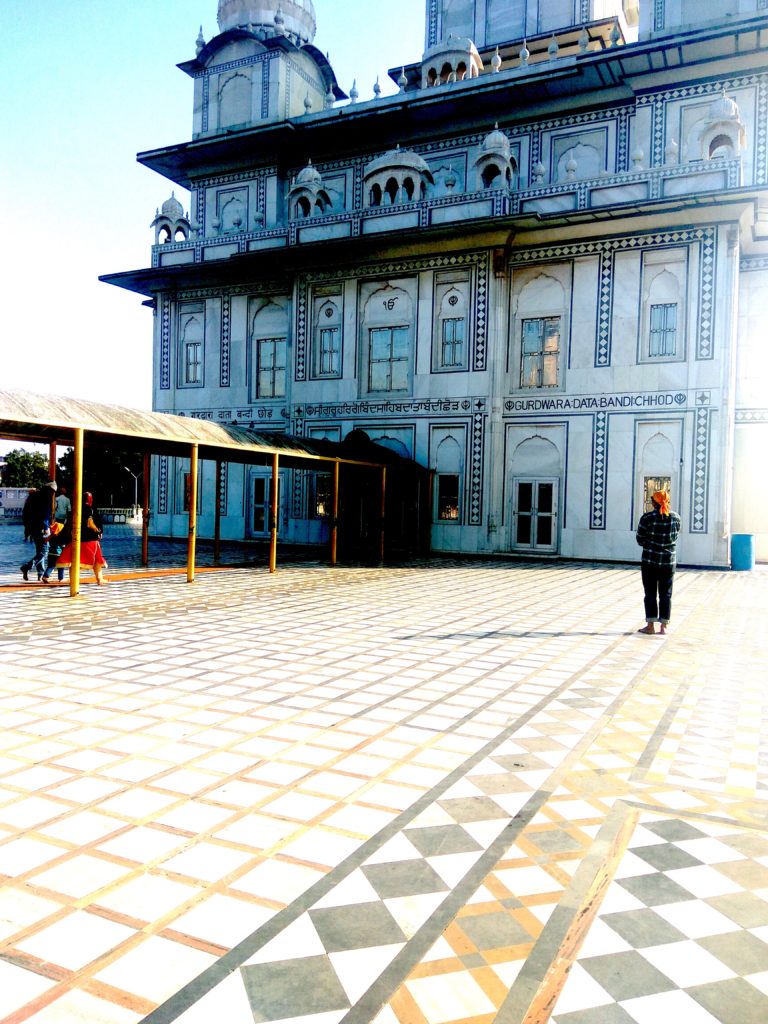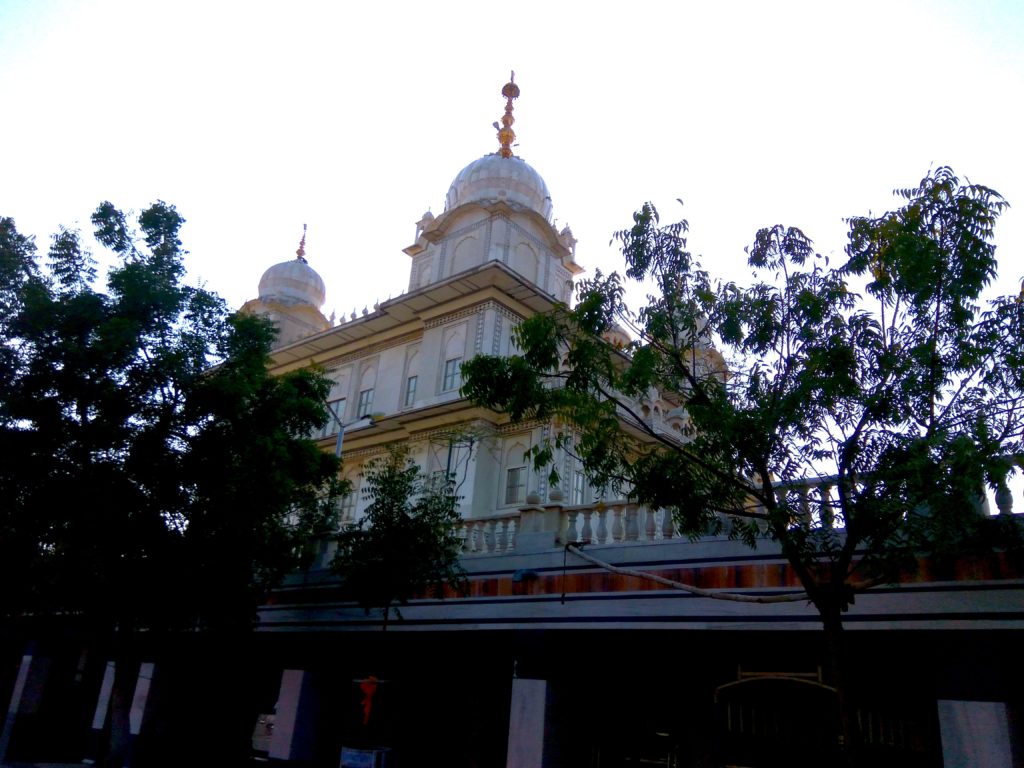 They say that Guru Hargobind was a prisoner in the palace turned prison (Mansigh Palace or Manmandir). However, he was released by the mughals and was allowed to take a few prisoners along with him. He asked his mates to hold his shirt and how many ever could, would go free with him. This way he managed to release over 50 prisoners. While I know this seems slightly unbelievable and exaggerated, there is definitely some element of truth in the story. Although, you can find multiple stories if you search the web. Mysteries make it more interesting and conspiracy theories even more, isn't it?
If you are hungry or even if you are not, you should definitely try the langar at the gurudwara. No one goes hungry from the doors of a gurudwara, it is said. Forget all the worries in the world, sit down and experience the calmness that surrounds this place. It is really peaceful.
On the way back, there are small shops to buy souvenirs where you can stop by. We stopped by to buy a kada and a sticker for Mr. Daaku. See here,
II. Sas Bahu (daughter-in-law and mother-in-law's temple) or Sahastrabahu temple
It is definitely one of the structural marvels and shows the expertise of the architects in that age. The temple is covered with carvings of Brahma, Vishnu and Saraswati. Soothing to the eyes, it also provides a scenic view of the city Gwalior.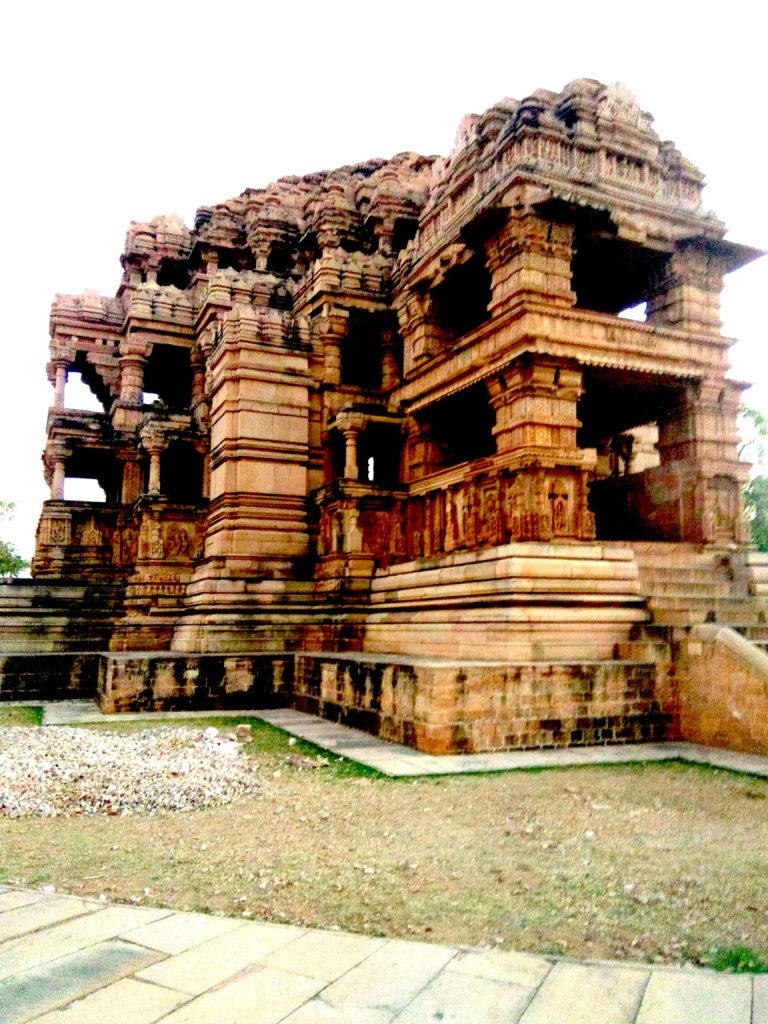 While no one knows exactly why it is called Sas Bahu temple, I feel it is mostly because of the similarity of the architectures and designs. The guide gave us an explanation to the conundrum which coincides with this theory. Initially, it was named SahastraBahu which depicted Lord Vishnu. Lord Vishnu was worshiped by the wife of Kachchhapaghata's king. However, his son's wife was a devotee of Lord Shiva and hence, another temple was built besides the original one.
Definitely, a bonus for photography enthusiasts.
III. Teli ka Mandir
The name of the temple is attributed to one of the queens who hailed from Telangana or to the oil (Tel) merchants, one of them or may be both. No-one is really sure. Teli ka mandir, a temple with approx. 80 ft shikara – is a structural delight as it combines Nagara and Dravidian styles of architecture with buddhist influence. It is both the loftiest and oldest surviving structure within the fort. And hence, a must visit.
We couldn't get adequate time to admire the beauty of this temple as we reached there only by sunset. But, make sometime for this. You will enjoy it.
IV. Mansingh Palace (also, called Man Mandir)
The palace was built by Raja Mansign for his favourite queen, Mrignayni. Legend has it that the king spotted her fighting with two buffaloes single handedly and was thoroughly impressed by her fearlessness. He asked her to be his wife but she put forth three conditions – to have equal status, to accompany him everywhere even in the battlefield and to get waters from her native. You can see the Gurjari mahal built for her at the foot of the hills, so she could have unlimited access to her native water.
The Mansingh palace, built by Tomar ruler Man Singh in 1486 – 1516 is definitely one of the most enticing and decorated monuments I have seen. Also, known as Chit mandir (painted palace) – the walls of the mandir is decorated with colourful exterior tile work in blue, yellow and green. It is a technologically advanced design to beat the heat, connected by speaking tubes built into the wall to communicate at different levels, and later used by the mughals as cells for prisoners.
You will be mesmerised with the lovely carvings, beautiful colours, atheistic shades, the romantic and intricate jali work inside of the Man Mandir but all you can feel with the stories narrated is the horror of death and torture.
Along with sightseeing, there is a light and sound show at the Mansign Palace which showcases the story of the legendary gwalior fort. It is conducted in both, in hindi and english. The light/sound show is a musical narration of the story of the Gwalior fort. The fort is illuminated in different colours to depict the circumstances of the history and is a perfect way of experiencing the history taking place right in front of you. Your travel to Gwalior fort is incomplete without watching this. One additional incentive is that it is narrated by superstar Amitabh Bachchan!
V. Other Mahals at Gwalior fort
Vikram mahal, Karan mahal, Jahangeer mahal, Shahjahan Mahal, Cenotoph Bhimsinghrana, Johar kund, Dhondapur Gate and Hamamkhana fort bastion are the other monuments in the Gwalior fort campus. The guide would tell you stories of these Mahals at length, and it would all be very enticing – ranging from the arms and ammunition factory at the gwalior fort to the johar kund where the queens voluntarily embraced death or the resting place of the Mughals to the place where Rani Laxmibai jumped off the Gwalior fort fence. What would remain for you if I tell you everything here?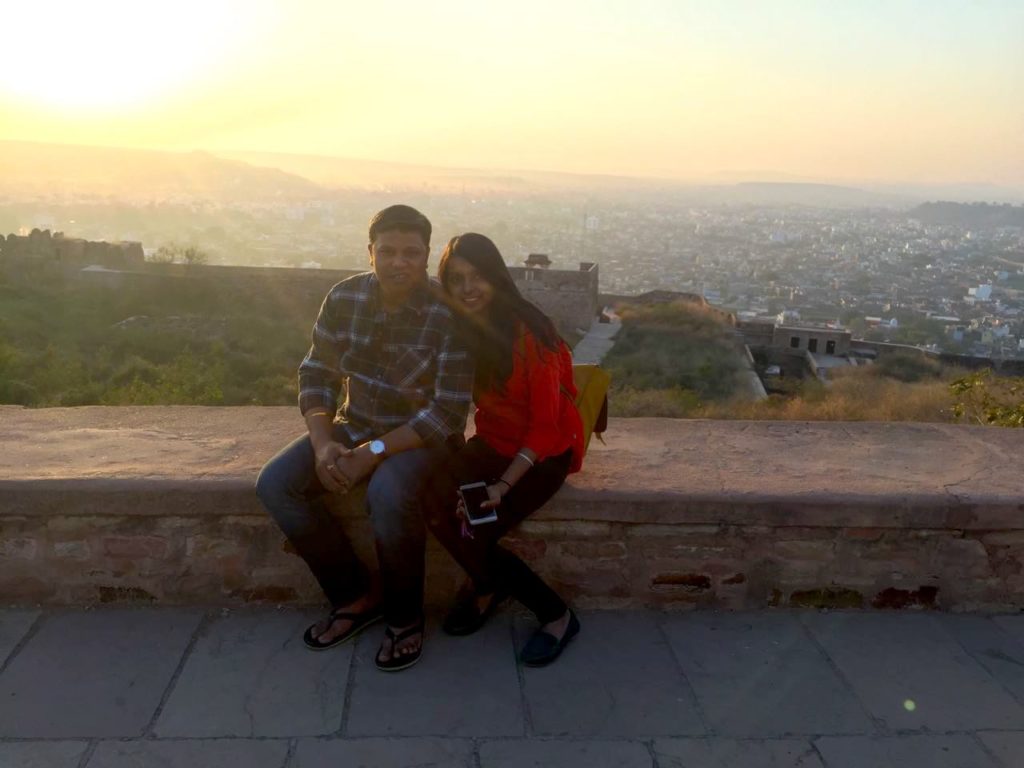 One more interesting stop in Gwalior is the Jai Vilas palace, a home of the Scindias. It is the royal residence turned museum and an evidence of their lifestyle. It also hosts the most beautiful chandeliers of India (almost 43 ft high) along with the famous silver toy train used to serve liquor. I regret missing this due to lack of time, but if you have gone there please do comment below and let me know of your experience.
PS: I would definitely write about the driving experience, roads and tolls in detail in the next post. For now, I am sticking around my experience with exploring Gwalior.
[bctt tweet="Why you should visit Gwalior fort atleast once?" username="mrs_daaku"]
Did you enjoy the post? Let me know in the comments or by sharing it on social media. I'd love to share travel hacks & tips, planners & checklists with you  so feel free to subscribe for my free resource library.