The place Murudeshwar does not ring a bell in your head instantaneously. You probably are still thinking which state is this place in and if you are not, you are definitely a staunch Hindu or a Shiva devotee. But that isn't the end, it is also known for offering a wide variety of travel experience. It has hills, beaches, corals, temples, fort, trekking, waterfall and phew – literally everything! Isn't that surprising?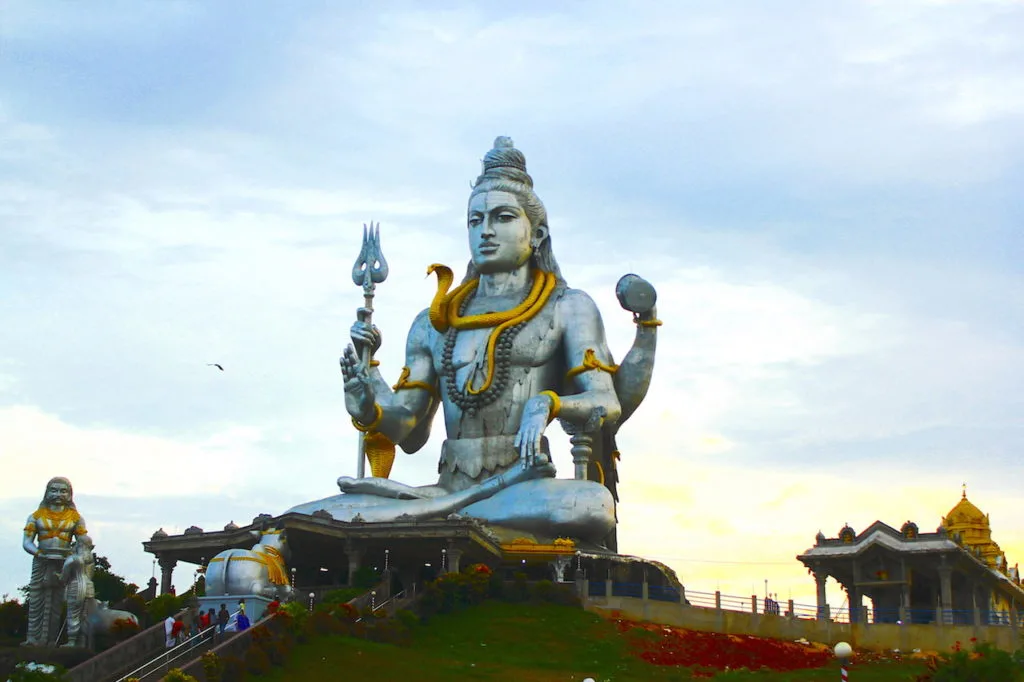 I. Getting there
Murudeshwar is a holy place in north Karnataka district of south India. Majestic and magical are two words which defines it perfectly and you will soon know why.
It is nearest to Managlore-Murudeshwar Konkan railway route and is closest to Mangalore airport. You can also take a bus and reach Murudeshwar as well or drive yourself. It is a well-connected place. After all, it hosts the second largest Shiva statute in the world (first being Nepal) and in a country with maximum Hindu population. It has to be easily accessible!
The peak season is November to February, so plan a 1-2 day trip around that.
II. Who made it?
Initially just a small temple on a rock besides a sea-shore and later constructed by R.N Shetty, a renowned business man in India, Murudeshwar is definitely a must see for everyone despite being of any religion. A structural beauty adorned by the Arabian sea on three side, Murudeshwar offers you a journey towards calmness.
III. What to do?
It contains a temple, the 123 feet statue of Shiva and Raja Gopura within its complex. The temple is built on Kanduka Hill and is protected by two life-sized concrete elephants. This is the place where people offer their prayers.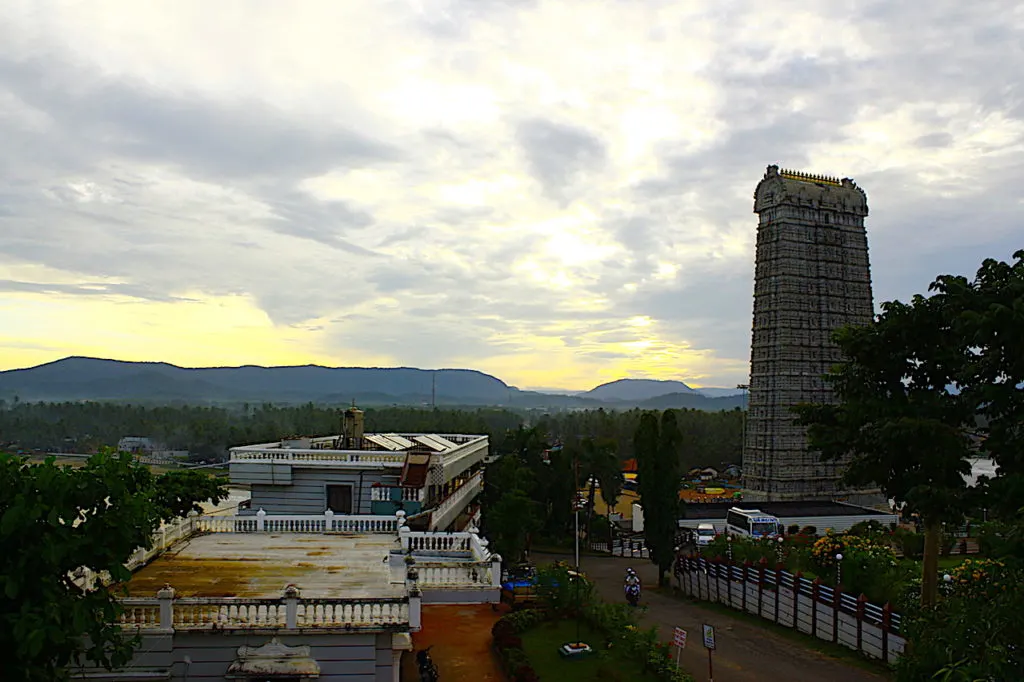 The 237 ft high Gopura has a lift inside to get a view of the statute from the top. We quickly went towards it and boarded the lift with immense excitement. The moment we stepped outside, I was hit by the cool breeze and on opening my eyes I was spellbound. It is indescribable (if that's a word!). I could feel the divinity and the calmness, the excitement and the surprise, the reason why people recommend this place once.
The statue of Shiva is designed so that the sun would fall directly on the statute making the gold paint sparkle. You will also find larger than life details painted over the walls inside of the cave of the 123 foot high Shiva statue. It is a photographers paradise!
Also, do look at the Gopura very closely. It is engraved with eye-catching carvings which shows the glory of the past.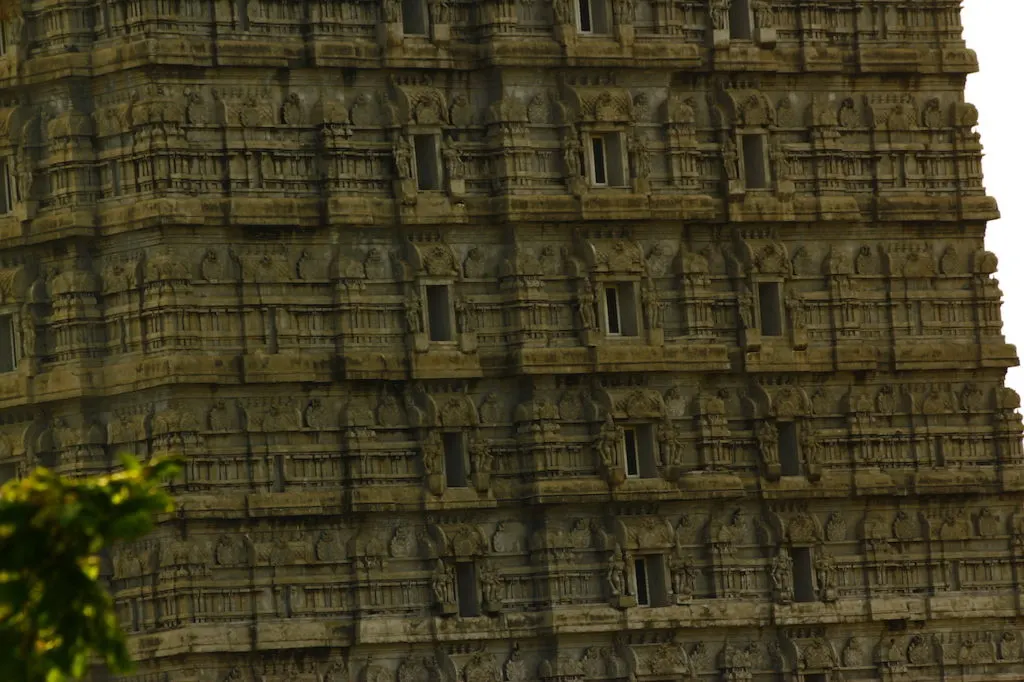 Besides this, you have Netrani islands for scuba diving and Murudeshwar fort near by.
IV. Legends of Murudeshwar
There are of course legends around the temple and I am going to share it with you. The origin of the temple goes back to the period of Ramayana. Ravana (the villain of the epic), a half brahmin and a half rakshas. He was a staunch devotee of Lord Shiva. Constant tap or tapasya (penance) offered him a chance to meet the Lord and when he did all he had to ask for was devotion (bhakti).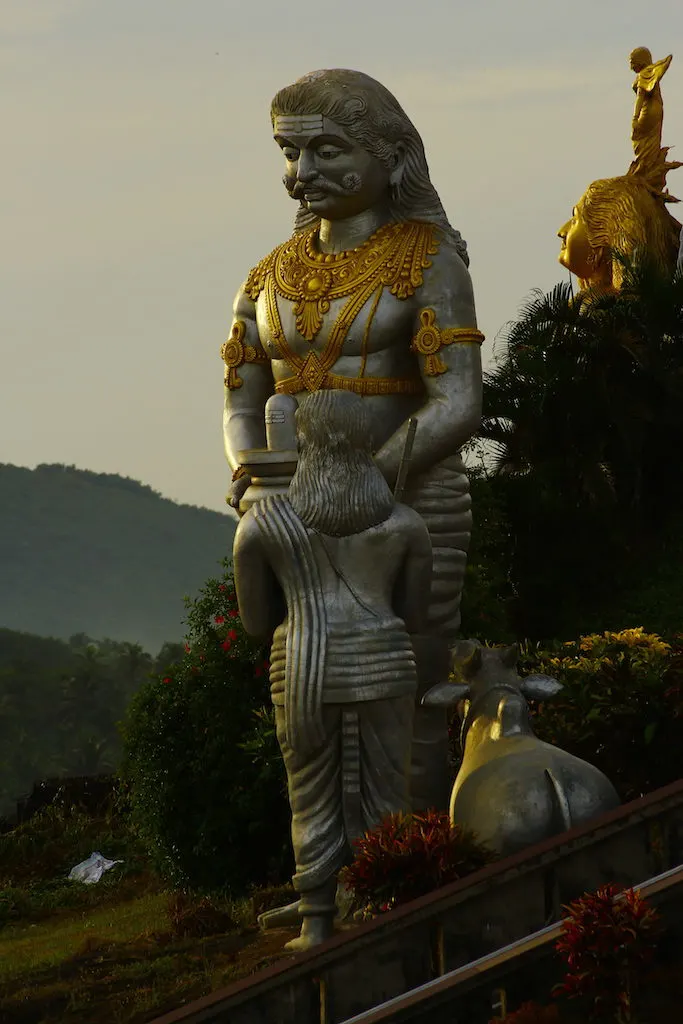 When he shared the experience at his home, his maternal uncle ridiculed him for asking devotion and advised him to go back to penance. This time, to ask him for atma linga (a reflection of the paramatma). As advised, Ravana went for a penance again and succeeded. When Ravana asked for atma linga, it was given to him at once but on a simple condition that he had to carry it to the place he wants to establish it without putting it down even once. Considering Ravana was a rakshas, this did not go down well with the Gods. Narad, one of the celestial gurus requested the Lord to claim it back but only to be denied. He then requested Mother Parvathi, Lord Vishnu and Ganesh for a solution. Ganesha agreed.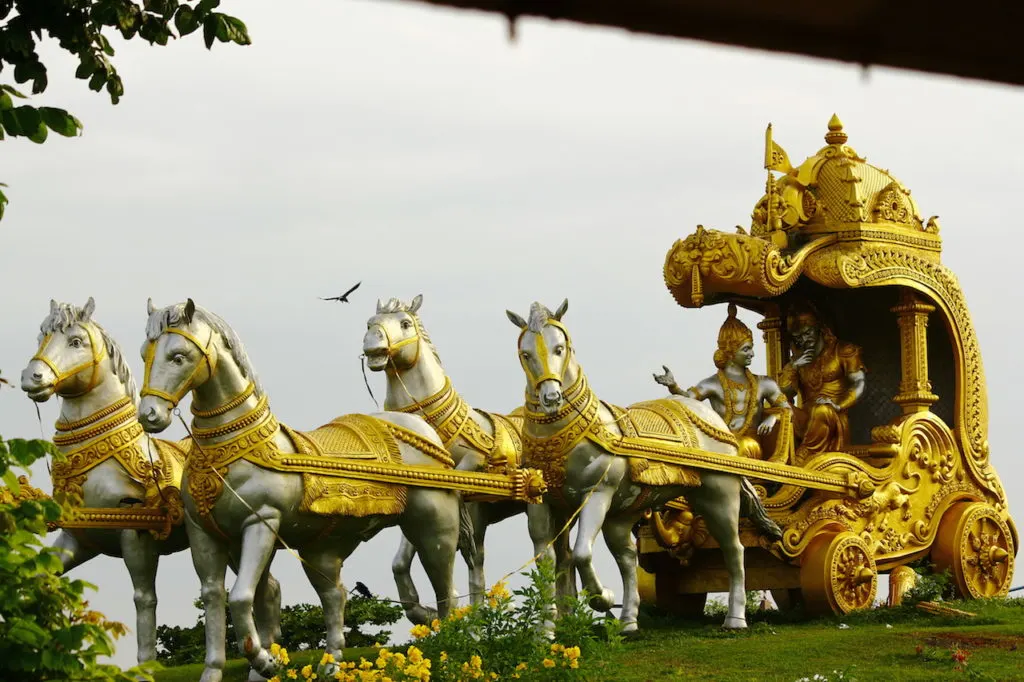 Ravan (being a brahmin) always took shower before evening prayer but this time – he had the atma linga with him. Ganesha appeared there in the form of kid. Ravana requested him to hold the atma linga until he finishes his prayer. The kid agreed to hold it but with a time limit. By the time Ravan finished his prayer, Ganesha had already kept it down.
Enraged by this, Ravana gave a strong blow on Ganesh's head. He tried lifting the atma linga off the floor and failed miserably. He was so frustrated that he gave a blow to the atma linga. This blow broke the atma linga into 5 pieces and he threw the 4 pieces in four different directions. The remaining part of atma linga stuck to the ground marking his failure.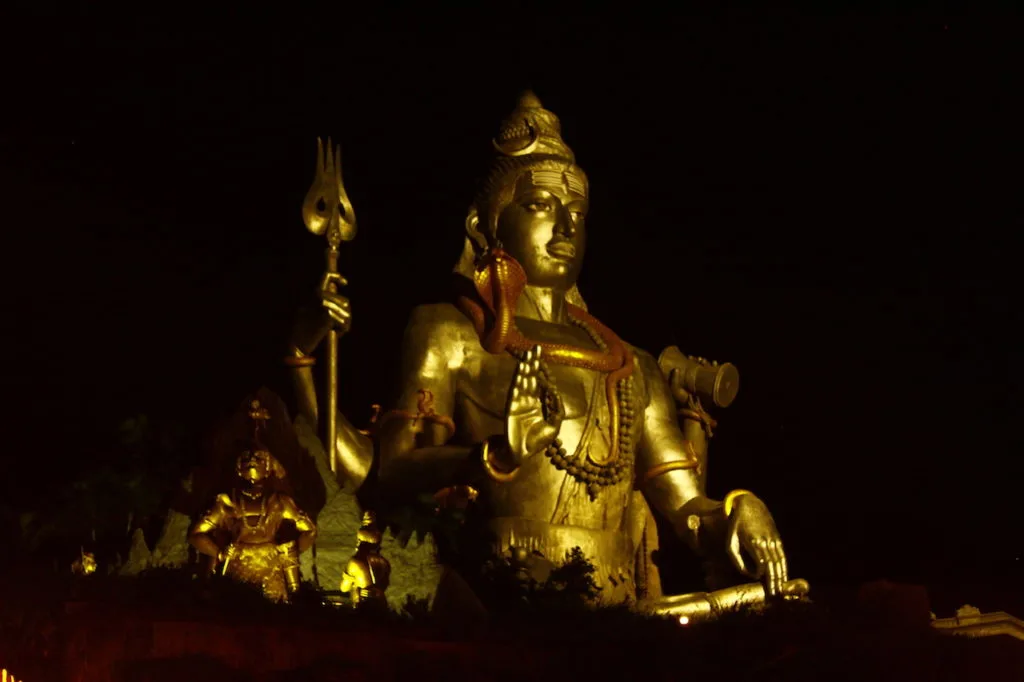 He tried to push it under the ground. One of the pieces that fell from this act of his, fell at Murudeshwara. The part that he stamped can still be visited in the same taluka at a place called Gokarna. It looks like an ear of a cow. Narad constructed a temple for the sacrifice made by Ganesha. You can visit the temple which adores the idol with a dent on the head at Idagunji in the same taluka.
Is that a wonderful legend behind a wonderful place?
VI. What not to do?
It is a holy place, so naturally it is sensitive. While you have a gorgeous beach at your arms length, it is not the type for sunbathing. Please keep in mind you should be very respectful here and cover up your body.
VII. What you can do instead?
If you really want to enjoy the beach and see this, travel a little more and go to Gokarna. Absolutely lovely, beachy and sunbath-y place! I will write about it soon enough.
Till then, quickly save this post to your pinterest for later reference.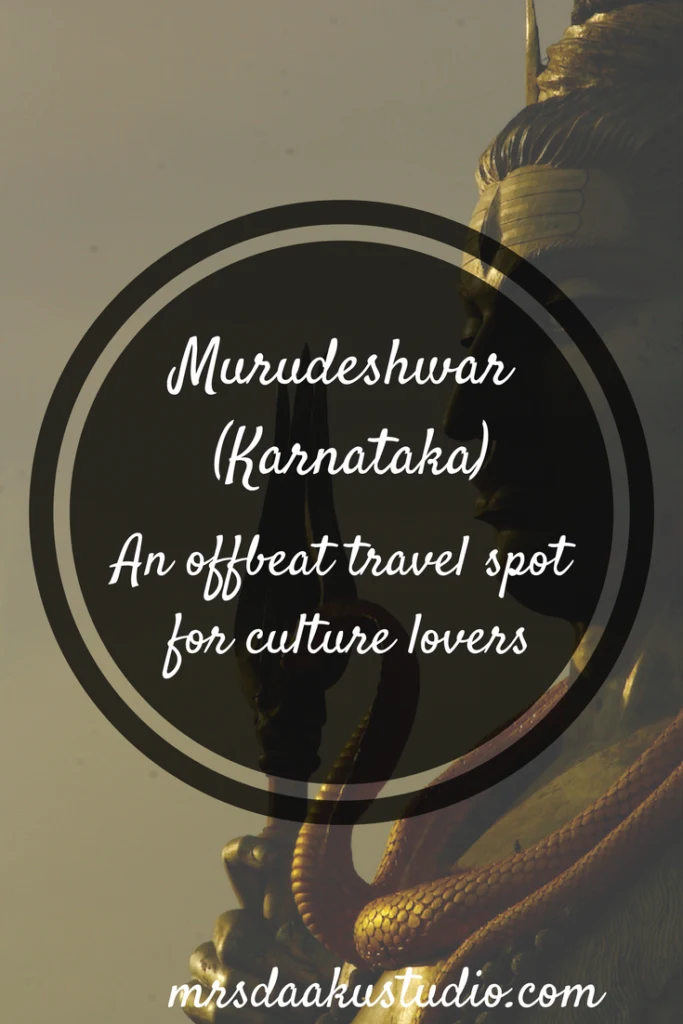 VIII: What to take?
You are in the lands of Shiva and blessed by the most powerful God of the Hindus. Take a Shiva idol as a souvenir.
If you cannot decide where to take your next vacation to, Murudeshwar can be a good choice. As I said earlier, it provides you with a range of experiences and hence, makes a perfect holiday destination.
If you like travelling to places full of culture and traditions, do read my post on
Varanasi
.
This post was co-authored with Vinayak Nayak and all the photos are clicked by him. You can find his guest post on photography, here.
Did you enjoy the post? Let me know in the comments or by sharing it on social media. I'd love to share travel hacks & tips, planners & checklists with you so feel free to subscribe for my free resource library.