There are over hundreds of places which can potentially find a place in your itinerary, and confusion is normal. This post will help you decide on which places to visit in Varanasi. If you want a quick guide to Varanasi, then you can pin our infographic from my previous post, here. It lists down all the places to visit in Varanasi along with various other things necessary to travel like a local in this city.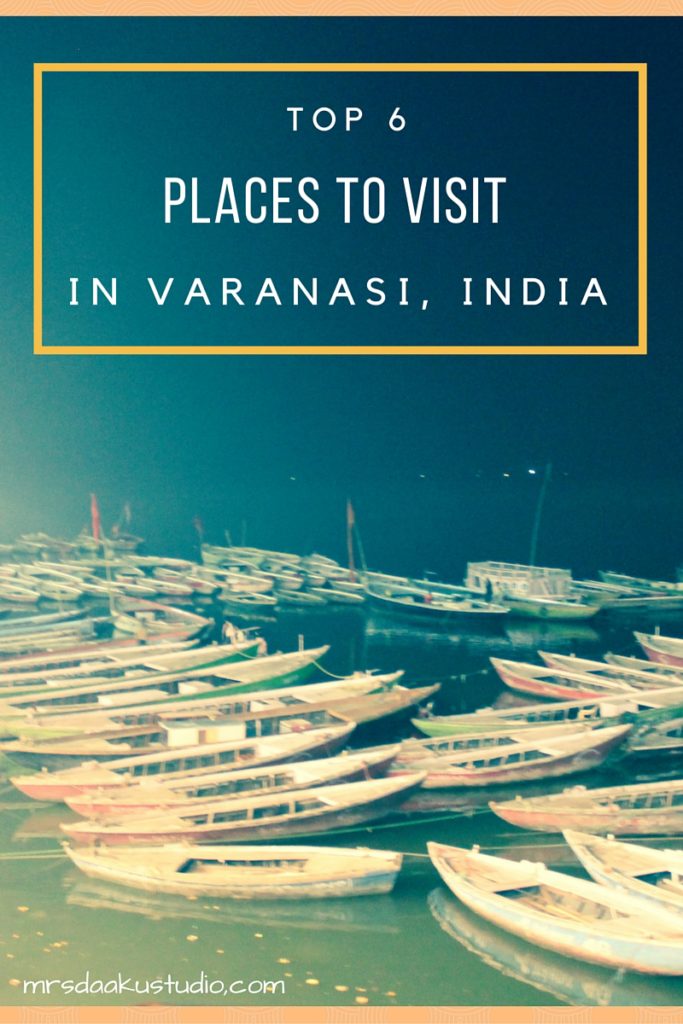 Varanasi (also known as Kashi, the city of lights) is the cultural capital of India and is no doubt a city which should find a place in your travel itinerary. The city found its name from the two rivers which flow in the north and the south of the city – Varuna and Assi. But, both of them do not find a place in the tourist attractions of Varanasi. Sad, enough! Varanasi is also situated on the banks of river Ganga. Or, shall I say Holy Ganges?
I told you Varanasi is also called the city of lights. Does that mean that the city is always be brightly lit? Yes, but that's not it. The city is not only embellished with lights, lamps, diyas but also (and mainly) the beliefs and faith of the millions of Hindus. So, let me tell you one interesting and really old story this city embodies. While Ganga naturally flows from the north to south, it changes its course in Varanasi and flows from south to north. While there is a scientific explanation to this (it forms a natural slope from south to north in a crescent shape), there is definitely a religious belief behind this. The crescent shape of Ganges near Varanasi is considered a symbol of the moon which finds a place on the head of Lord Shiva.
It is a well accepted belief that Ganga changed its course to pay respect to Lord Shiva. But, why? They say, Lord Brahma ordered Ganga to flow down to the Earth so that the ancestors can attain salvation. It is believed that if you take a dip in Ganga you will attain salvation.
Ganga found this entire scenario of ordering insulting so she decided to fall on earth with full force and sweep everything away. All the ancestors started praying to Lord Shiva to control the descent of Ganga. So, in order to avoid the destruction which Ganga would have caused, Lord Shiva decided to trap the river in his hair and let it out only in streams. The touch of Lord Shiva further sanctified the river. Consequently, it is considered to have flown from the heaven. It is believed to wash away the sins of the mortals.
You can also read my first experience at Varanasi which provides a sneak peak into the city life.
[bctt tweet="Read about the top 6 things to do in Varanasi, right here. " username="mrs_daaku"]
So, the top 6 places to visit in Varanasi are:
Ghats (or stairs to the banks):

Varanasi (or Benaras) has 84 ghats in total. Woah! But, don't worry. You do not have to visit all of them, because I am here to tell you exactly what to visit and what not to.First off, every ghat has its own significance. Some are reserved for washing clothes while others are reserved for worshipping. Out of all the ghats, you should visit Dasashwamedh Ghat and Assi Ghat. You can take a stroll along the ghats or sit somewhere to enjoy the cool breeze. You should most certainly taste the local food in order to enjoy the city in full essence. If you are wondering where should be eating the local food, check out the travellers guide to Varanasi.

If you are looking for a completely offbeat experience (rather dark) you can visit Makikarnika Ghat (also known as Jalasen ghat). You can witness various rituals relating to burning of dead bodies (and other rituals attached to someones demise). I saw a dead body floating on the banks of Ganga, the last time I decided to make a visit there. According to my husband, its not a normal occurrence to see dead bodies floating around but it is highly possible to have a similar experience. So, I would not recommend everyone to visit this place, it is not for the weak.

Instead of going to the ghat, you can go on a boat ride and look at it from the far. Jump to point number 2 to know more about the boat ride. Now, if you are thinking of the stink around this place due to dead bodies, there is none. There are houses in and around this Ghat but it never smells bad. That's considered Lord Shiva's blessing.

Boat ride along Ganga:

Boat rides are my favourite and when the boat ride is on the most holy river of India, then the experience automatically becomes surreal. You will pass through numerous ghats which will give you an extensive view of the life there. I recommend you to take this boat ride early in the morning. Don't worry, you won't find any of the places deserted. The city is wide awake as early as 5 AM and you will witness the faith of the people in Ganga.

You will see thousands of men and women, piligrims, saints and sadhus taking a bath in Ganga. So, do not forget to take a dip in Ganga. But, I forgot and so can you. The water of Ganga has become really dirty, so I decided to just touch the water instead. But, you will see a lot of kids as well as adults swimming in the river all the time. While there are ghats (stairs) on one side, the other side of the banks is sand. So, you can crossover and go on the other side to take a dip if you prefer sands over stairs. I do, because stairs are most often slippery due to constantly being in touch with water.

By the way, you can get tons of planners and checklists for your travel for free. Are you thinking "where"? Then, the answer is right here! Sign up for my FREE resource library and get access immediately.

Ganga Aarti:

Ganga aarti takes place on Dashaswadedh Ghat and the ghat right next to it (forgot the name). We took a boat and decided a spot where we could watch both the aarti's. Both of them are equally grand, but I personally enjoyed the one on the Dashashwamedh Ghat. Its more elaborate and always starts on time. The grandeur of Ganga aarti will astonish you. Lamps, chants, lights, fire & flowers are used during the event.Usual time for this aarti is 6:45 pm (basically, when the sun sets). While you can stand on the ghats and be a part of this event, I would advice taking the boat as it will give you a panoramic view of the entire event.

Temples

The temples of Varanasi are the icons of the Hindu beliefs. There are 4 temples which are a must visit – Kashi Vishwanath temple, Durga temple, Tulsi Manas Mandir & Sankat mochan. My personal favourite is Tulsi Manas mandir because its amazing to read the entire Ramayana on the walls of the temple. Tulsi Manasi Mandir also have a miniature museum where they depict various incidents of Ramayana using dolls. Similarly, if you have a chance to visit Varanasi around Hanuman Jayanti, you will witness a five day cultural event where you can experience indian classical music and dances.

Ramnagar fort:

Although I haven't personally being there yet, this is on my list. The fort is located on the eastern side of the river Ganga. It is a typical Mughal style structure and was home to Kashi Naresh. It also houses an eccentric museum.

Sarnath:

While Varanasi is a cultural spot for Hindus, it is just as important a place for Buddhism. They say, Gautam Buddha taught 'Dharma' the very first time in Sarnath. Also, a birthplace of Shreyansanath (the eleventh Tirthankara) – Varanasi becomes significant for Jainism as well. So, this becomes one of the most important places to visit in Varanasi.You should visit Chaukhandi stupa, Dhammek Stupa and Mulagandha Kuti Vihar (which houses beautiful frescoes made a Japanese painter). To know more about the remnants of that century, you can also visit the archaeological museum.

Shopping:

There are certain things you have to (have to) buy from Varanasi. The city is famous worldwide for banarasi silk sarees and bhadohi carpets. The main shopping areas are thateri Bazaar, Vishwanath Lane and Godowlia.
You can see more pictures of the city in my previous post on Varanasi right here.
So, if you decide to visit India, these are must places to visit in Varanasi. If you liked this post, you will most certainly love the infographic I created just to help you guys travel like a pro in Varanasi. It lists out places to visit in Varanasi, things to eat, where to eat and much more. Why don't you let me know what you think about the city?
And, one bonus for my reader! Use my link, sign up for Air B&B and get Rs. 1200 travel credit right away.