Bangkok wasn't really ever on my wish-list so I did not know what things to do in Bangkok. But, my husband had an official trip to Bangkok for a few days so I decided to go along. I started to quickly google places to see, things to do in Bangkok and made a detailed itinerary for the trip. I am happy to have returned from that city, mesmerised by all the city had to offer.
While I could have covered my trip to Bangkok in one post, I really felt I would be doing injustice to the city. After all, it has something to offer for everyone. It is a destination you can visit with your friends, boyfriend, girlfriend, wife, kids, family and yet you will never feel that the city lacks places to cater to your need. If you are the kind of a person who likes visiting all sorts of places (like I am), you must add Bangkok to your travel list!
[bctt tweet="Bangkok give you that variety which adds spice to your travel stories" username="mrs_daaku"]
So, I am going to write a series which will detail all the things to do in Bangkok along with my personal experiences. So, lets begin.
I. Flights to Bangkok, Thailand from Varanasi, India
We took a flight from Varanasi to Delhi, halted for a day and then proceeded to Bangkok. There are direct flights from Varanasi to Bangkok if you do not mind paying more than half the price as premium. For example, if the entire trip of Varanasi – Delhi – Bangkok costs me around Rs. 25000 then the direct flights from Varanasi to Bangkok would have costed me Rs. 50,000 in total. The three hour Thai airways flight costs around Rs 50,000 one way! (I use www.makemytrip.com which is the most reliable of all) Hence, we decided to fly from the Delhi airport. It provides you with a lot of options (budget and luxury) to fly.
We flew from Varanasi to Delhi on the 5th of March and had the next flight to Bangkok the next day early morning. So, we booked an Ola cab as soon as we landed in Delhi. While I do book Ola most of the time, I am just never happy with them. This time around, we booked a mini to the airport and we got a car which had no space in the back to put any luggage. Moreover, the driver told us that it is a car pool so he has to pick a few more people before he could drop us to the airport. We haggled and tried to convince him to drop us first, but eventually he just asked us to book another cab and refused to go.
We quickly booked another Ola but had to wait around 10 minutes before we could actually start the ride! I was almost sure we will miss our flight because of the excess delay (almost 30 minutes). I called up Ola customer care and registered my complaint but nothing really happened with it. So, while I would love to ask you not to use Ola, you really do not have many choices and you will have to end up using ola or uber.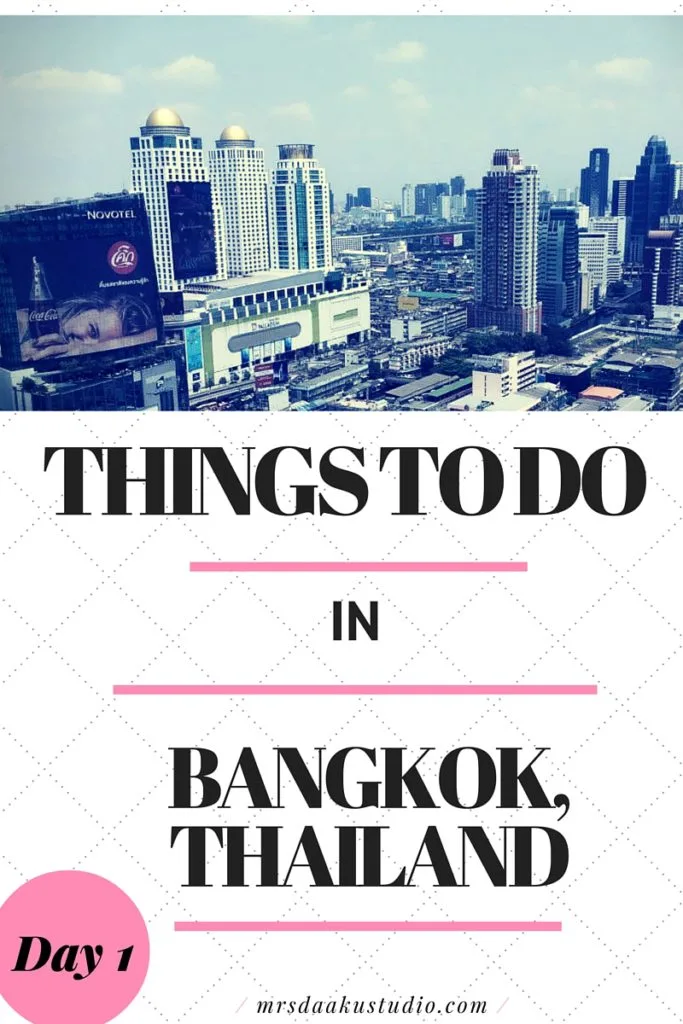 II. Visa Process
Guess, what? Bangkok is visa on arrival. Once we arrived at the Bangkok airport, we quickly filled up our visa forms. The visa charge is 1000 TBH and the process of obtaining it is real fast. Do not forget to carry a pen, your passport size photos and Thai Baht. While there is an exchange counter right in front of the Visa counter, the exchange rate is not pretty. I had to pay Rs. 5000 for 2000 THB while Mr. Daaku used Citibank ATMs with an exchange ratio of 2:1. So, if he withdrew Rs. 10000 he gets 5000 THB. Isn't that better?
Once you have filled the form, they will direct you to another counter where a token will be provided to you. You can chillax till the time the officers do not call out your token number, post which, you can proceed to the last step. You will be asked to stand at a certain place and look into the camera for a while, after which the visa officer will stamp on your passport. Mind you, they are really cruel! This lady just refused to repeat when I told her that I couldn't understand what she wanted me to do. Oops! *Tiny miny step away, I was, from pissing her off*
While you finish off the vis, your luggage would have already arrived at the belt, so you don't have worry for having to wait more to grab your bags.
The day we reached Bangkok wasn't nearly as exciting as I thought it would be. I almost missed the fight, I almost had an argument with the Thai visa lady and now the icing was waiting for me at the baggage belt. We got our visas (yay) and proceeded to the baggage belt only to realise that Malaysian airlines (whose baggage was handled by Thai airways) had misplaced our luggage and they were yet to figure where it was. It was a painstaking experience to be standing there waiting for them to just figure out where our luggage went. They took our hotel address and asked us to enjoy the city while they send the luggage to our room! We left the airport in a hope that they will eventually figure out the luggage and will send it by the end of the day.
III. Convyenace to the city
Instead of taking any pre paid cabs from inside the airport (I saw only Limos as an option for hiring!) we booked an Uber to our hotel. It costed us around 800 TBH. The ride to the city was rather enthralling as it gave us an extensive view of the city's upmarket areas to not-so-delightful areas. It felt like there are a lot of things to do in Bangkok than I thought.
IV. Grand Centara, Bangkok
Grand Centara is one of the best hotels to stay in Bangkok. It is sitautecd on Rama 1, Central World. There were people right outside of the entrance to help with the luggage. They tagged my luggage and told me that it will reach right in my room and it did! haha. We checked in the at the reception and proceeded to our room. I fell in love with the room and especially the bath tub, ha! Both of us couldn't really catch up on our sleep and hence, crashed onto our beds as soon as we reached only to wake up late that evening. While Centara Grand is a pricey accommodation, there are a lot of hotels near by this area which will fit your budget. I strongly recommend to stay in Siam if possible.
The location of Centara Grand was perfect, as it is equidistant from almost all the places. The metro is situated at walking distance from Centara Grand. The entrance of the metro is from the inside of the Central World mall.
We asked the concierge if they received any luggage and there wasn't a positive response. They told us they would call the airport on regular intervals for an update and will inform us at the earliest. Centara is indeed pleasing with its hospitality. We needed a few clothes to wear the next day and hence, we had to go shopping.
V: Things to do in Bangkok: Siam
I don't quiet remember the name of that night market, but it was right opposite Central World and right below Palladium. The variety which the market had to offer was appreciable and its inexpensive as well. We picked up a couple of clothes and walked towards Central World.
The area (Siam) is famous for the malls and the luxurious shoppig experience it can provide you. You can visit Central World, Siam Square, & Paragon which are home to many thousand international brands and fantastic Thai designers. If you are a shopaholic, take an entire day out to explore these malls. There are not only those big and expensive malls, but also small malls and shops where you can grab nicely designed stuff.
Roaming around this area thoroughly tired me out and we headed to eat at one of the restaurants based in Central World, at Nara Thai which offers authentic Thai cuisine. Slightly on the expensive side, it is a must go for experiencing mouth watering Thai food. Bangkok not only has a range of places to visit, but also to eat. It is intact a food paradise. What other city offers such a wide variety of food both for vegans and non vegetarians? Whether it is salads, fruits, noodles or crabs, fish, octopus – it is all equally delicious and equally available.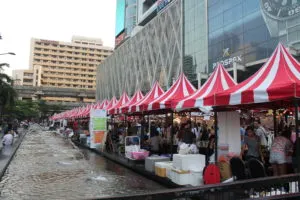 VI – Some bit of culture
While walking the streets of Siam, you will notice numerous shrines which depicts the culturally & historically rich society of Thailand. Some of them depict Buddhism while some are a symbol of Hinduism. You will see a lot of locals worshipping Ganesha in Bangkok because Thailand is highly influenced by Hinduism. So, don't be surprised! There devotion to Hinduism isn't any less than what you see in India. They offer garlands, flowers (especially marigold). coconuts, banana amongst other things. They also light incense sticks and put oil in the lamps. Most kneel down before the idols, fold their hands and close their eyes while offering their prayers. So, for people who are religious and spiritual – don't worry! There are still things to do in Bangkok for you.
You can also check out the pictures from my first day and read about my unexpected encounter with ping pong show.
Bankok is indeed a city of contrasts! A city which provides all of you – interesting things to do, great places to visit. and delicious food to hog on.