Indian street food or chaat (the local name) or Indian fast food (that's what I love to call it!) is a must try for any foodie. As a kid (well, I still do it) I used to ask my parents to take me out for some chaat or Indian street food every weekend. While a majority of kids would love to have pizzas and burgers today, Indian street food or chaat is still the favourite answer to "I feel like eating something good today" or "I want to eat something different today" or "I want something spicy" or even "lets go out and eat today", for a lot of kids and adults (including me).
It is so darn popular that you will almost never see a chaat stall (a good one, not all) without a bunch of people around it. On weekends, you won't find your food in your plate unless you have waited it out for at least 15-20 minutes. I swear, no kidding!
If you are not aware of Indian street food or the famous chaats in India, take a note that it generally spicier than the food served in the restaurants here. If you are skeptical on dealing with spicy food, my recent post on how to deal with it effectively can help you out. And, if you are already comfortable with spices in India then *drumroll* please. It is now the time tooooo taste the yummy indian street food. Tan tadaaan!
The best part about indian street food is that it is readily available *hip hop for lazy people out there* (at every corner perhaps and at odd hours), has a variety to select from (savour the sweetness or spiciness or both together!), is delicious and is cheap (ahan moment for budget travellers and foodies). However, as I mentioned in my post on 30 days itinerary for travelling around India, the best Indian street food or chaat is available on the streets and small stalls (not in the restaurants).
Oooouch! I know what you are thinking? Sounds yummy. But, hygiene on streets in India – aah not sure. Well, I totally understand your inhibition on this one. I love eating it off these stalls and my personal experience hasn't been bad with street food in terms of health. However, there are always exceptions so you need to take note of a few things before you decide to eat somewhere. And, here I am to help you with it – the things to consider before you go – thats where I want to try indian street food or chaat.
Okay, I really wanted to tell you this piece of random info. Indian street food does not mean foods available on the street. They are certain types of food (I will list the best ones below). Almost every city has a street dedicated to these sort of eateries. Some cities and some streets are just more known. If I have to name a few from the top of my head, it would be Chadini Chowk in Delhi, Genda Circle in Vadodara, Chowpathy (and mostly all beaches) in Mumbai, Charminar in Hyderabad and VV Puram in Bangalore. If you are visiting Varanasi anytime soon, I have created an infographic to help you eat at the right places yo!
Oh that reminds me of another yummy event. Visit Frazer Town in Bangalore during Ramadan and you will be amazed at the variety of non vegetarian food they offer at the stalls. You will want to taste everything! It is a part of ramadan celebration and now, I have another topic to write a blog post on. haha! I am already sort of hungry, are you? Wait, let me grab a bite and hop back into my bed to complete this post.
You can have pani puri (it is a deep fried puri in served with flavored water), aloo tikki (potato patties with a mix of chutneys and curd), bhel puri (puri filled with potatoes and peas granished with noodle type crispy snack made of gram flour), Dahi puri (pretty much like bhel puri but with lots of curd), tamatar chaat (made of tomatoes) and vada pao. These are some of my favourites but you will see a lot more variety in there.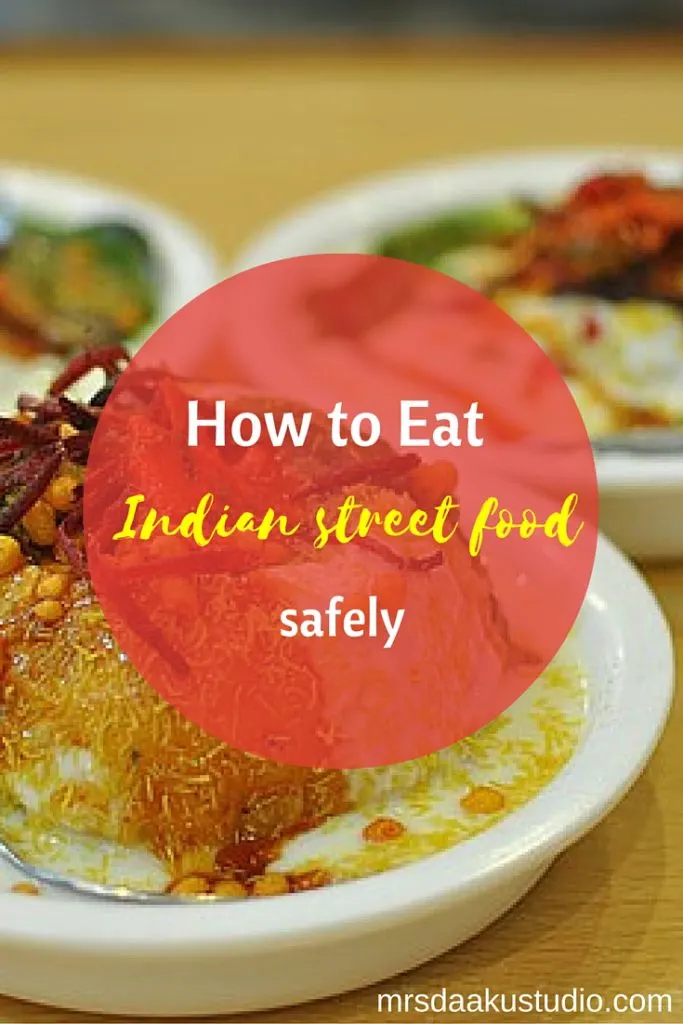 Judge the hygiene standards:

While a lot of people will give you tips around judging the hygiene standards, I think you are the best judge of situations your tummy can handle. So, just look around and notice if the food is covered, the utensils are clean, the place where utensils are washed is clean, the people who are serving are wearing gloves or atleast have a place to wash their hands with soap, are their flies etc and you will have your answer.

If you are confused and unable to judge hygiene standards, the other tips might help you decide.

Follow locals and especially the families for the best Indian street food

No, I am not asking you to stalk them. The places where locals gather are generally assumed hygienic. This is your thumb rule so you totally want to tattoo it somewhere on your body. But, I wont ask you to follow an unknown bunch of people (I will never advice that in India!) so look who is in the line. I know that my tummy cannot handle the food as well as a pauper eating off that stall everyday. So, look out for women, children and families. A variety of people would mean that the stall is tried and tested. Hence, is likey safe. Would you take your family or kids to eat at a stall you know is not clean? Works the same way here!

So, if you see a stall with a lot of food but none around and a few flies around – it is telling you to fly away from there. Don't get trapped in the signals from your stomach. "I am hungry, this stall has no one and I will get my food quickly". A complete NO if you cant handle it (and you wont be able to, I am sure!).

Avoid fruit juices, cut fruits or anything which can have contaminated water in it –

This is literally no brainer. Having contaminated water is dangerous and the easiest way of having it is through ice. You tend to forget that the ice could be made of any sort of water. So, it is just better to avoid it completely.

If you want to have fresh juice, have them juice it out in front of you. If you want to eat fruits, buy them off any stall. Wash them with clean water first and then eat it. If you want to have fruits on the go, stick to the peel-able ones like the banana and oranges.

Do not have un-cooked or half-cooked food:

I try anything and everything when it comes to street food in India. But, thats me and I know my tummy can handle it. I am a risk taker when it comes to street food and now, I have built up my immunity. But, you don't have to try this!

You should stick to fully cooked, hot (preferably cooked in front of you) and freshly made food (for this stick to the time of when locals eat).

If you get anything grilled, boiled or even deep fried – graaaaab it! I love the corn cooked on coal and served with salt and lemon. It is my favourite monsoon snack and is completely safe. Similarly, you can totally have a cup of chai from a not-so-good-looking stall. The chai is served to you only after it is brought to a boil. So, you have just ensured it is safe.

Half fry and then full fry:

Don't be shocked or yucked out if you order something and the stall owner throws it back in the wok full of hot oil. It is an accepted norm that the food is cooked to a certain level and kept for display. Once you order it and then they cook it completely.

May be stay veg:

I prefer to stay veg when I am eating street food. Exception being this one guy on the main tilaknagar road in Bangalore, I could have the chops all day long. I also do not mind eating shawarma from the stalls outside of restaurants like Empires and Chicken County (Banaghata road) in Bangalore. They are great places to have food.

I am talking of a smaller stall where the meat might just lying in open for a long time before they gathered the energy to cook up what you are eating. Did you just cringe? You know, the really small and most likely unclean ones. Avoid them!
And, you should not worry much if you do end up getting an upset stomach. It lasts a few days and you will be hitting the roads in no time. In any case, it is advisable to see a doctor immediately and eat light for sometime. Medical help is readily available in India for a smaller issue like stomach upset.
May be you should try some khidchi and curd if you do fall sick. It is the famous (note, famous) Indian food served to everybody and anybody who is suffering from stomach upset or is likely to suffer from one.
[bctt tweet="Learn how to eat Indian street food safely?" username="mrs_daaku"]
Did you enjoy the post? Let me know in the comments or by sharing it on social media. I'd love to share travel hacks & tips, planners & checklists with you so feel free to subscribe for my free resource library.