A friend of mine recently visited Vivanta by Taj Madikeri (Coorg) and he was all praises for it. He showed me a few pictures and talked and talked about it for hours. I was bound to spend sometime surfing on it after he left. So, I went to their website and figured what Taj had to offer. There was no thinking afterwards! Not even for a second. I had to book it, I had to experience it and share my experience with you guys.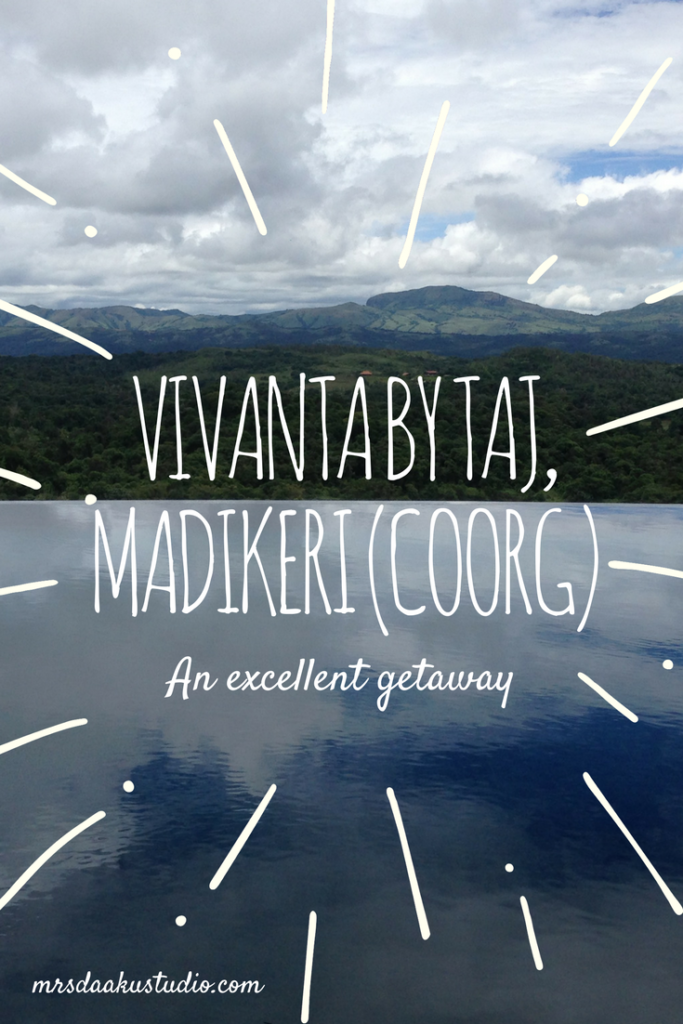 If you know anything about the luxury hotel segment in India, you would have definitely heard of the chain of Taj hotels. They are known for their grandeur, luxury, services, food and of course the overall experience. Vivanta By Taj Madikeri (Coorg) is little more than all of this. A near perfect destination to totally loose yourself in the serenity of nature.
Before I go onto to talk about my experience with Vivanta by Taj Madikeri, let me tell you something about Coorg. It would be a great injustice to the city if I skip talking about it. Coorg is definitely much more than just experiencing Vivanta by Taj Madikeri. It is a city nestled in the western ghats of Karnataka, known for its coffee plantations. The city is in the cradle of nature with views, surroundings and weather to die for.
Frankly, if you are the sort of person who wants to "explore" Coorg in true terms – you may want to avoid staying here. No no, do not get me wrong. I am not saying there is a problem with the property and yes, I am saying this out of personal experience. Just trust me on what I am going to tell you next! You won't step out of the property, you wouldn't want to, you wouldn't feel like. Now, considering you are looking for a relaxed and rejuvenating holiday, it is a bang on spot. Don't even think twice if it fits your budget (It roughly costed us around INR 20,000 a night), book tickets and book from the range of rooms (I will talk about this in a while!). But, if you want to explore Coorg find someplace else to stay
i. Not so random stuff about Vivanta by Taj Madikeri
The most striking feature of Vivanta By Taj Madikeri is its location. Built in the valley of western ghats (naturally capturing the breathtaking views) and spreading across more than 180 acres of rainforest (yes, you read it correctly!), the property is definitely a "must-visit-once". You can choose between superior charm, deluxe delight, premium indulgence (comes with a fireplace) and luxury bliss villa with plunge pool and balcony.
All the villas come with excellent views taking you to the lap of nature. Besides the luxuries like indoor heated pool, skylights, area, interiors – the bonus is the sitting areas with fireplaces which comes along the villas. Imagine warming yourself in front of a fireplace, looking over valleys and surrounded by relaxing dark wooden work interiors with earthy colours (like, white) for decors. With windows running across the room, the feel is literally heavenly!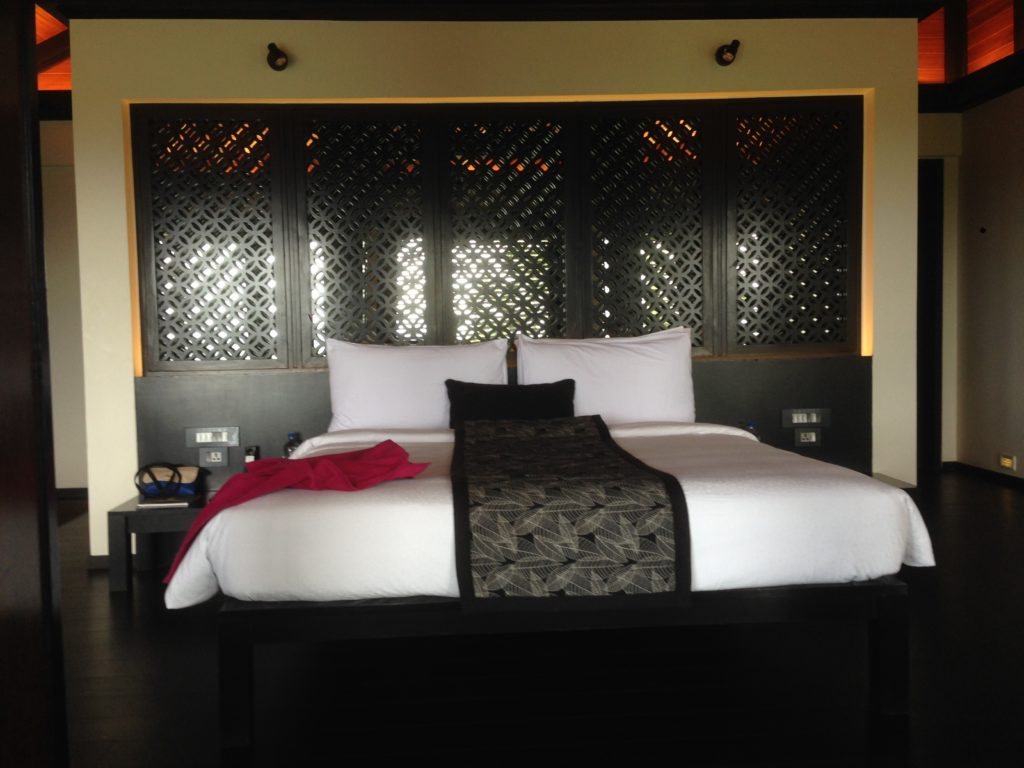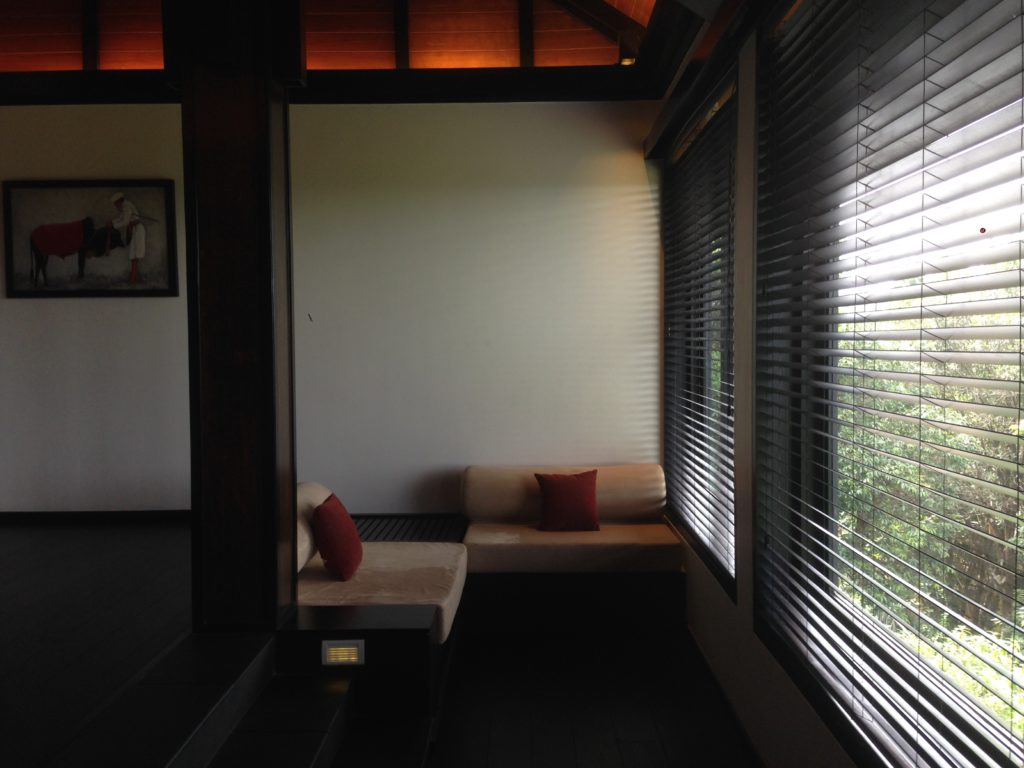 Yes, please make a trip to Vivanta any time of the year to enjoy all of it to the core. That is indeed the best part about the location.
And one more thing which I absolutely forgot. Remembered when I was inserting pictures. Taj has their own version of tuktuk to carry you around in the valley so don't get worked up looking at the pictures. Here is the picture which reminded me of this very important fact (for the lazy bum I am!)…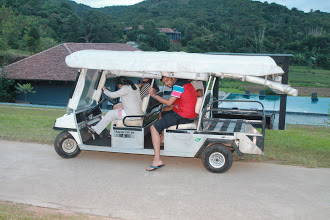 ii. For Foodies
There are a couple of restaurants to choose from. While there is one named Dew (which is a wellness restaurant) the other one is Nellaki.
Nellaki serves traditional Coorgi cuisine and hence, topping my to-do list. I simply loved it. One suggestion – you should definitely indulge yourself in delicious pork curry (locally called, Pandi curry). It is cooked in traditional Coorgi style and is slightly on the spicer side. For vegetarians, mushrooms are must try.
Other than this, you can try Fern Tree which is the all day dining restaurant and the lounge named Hive Bar. I personally did not have the time to try both but well, its an excuse to go back there someday. *I hope Mr. Daaku is reading this, ahem*
Sorry, no pictures for this section. I ate all of the food I got, din't remember that I have to share it with you guys. Hehe!
[bctt tweet="Vivanta by Taj Madikeri, an excellent getaway" username="mrs_daaku"]
iii. Other activities
Apart from yummy food and relaxing surroundings, if you are still adventurous enough – there are various activities you can indulge in. Yes, you guessed it! I was about to say nature walk. You can walk across their strawberry fields, vegetable gardens, coffee plantations etc and know about the variety of flora. Remember, you are in a rainforest! You can pluck a few fruits and eat it too. I enjoyed eating a lot of strawberries. But, thats not it.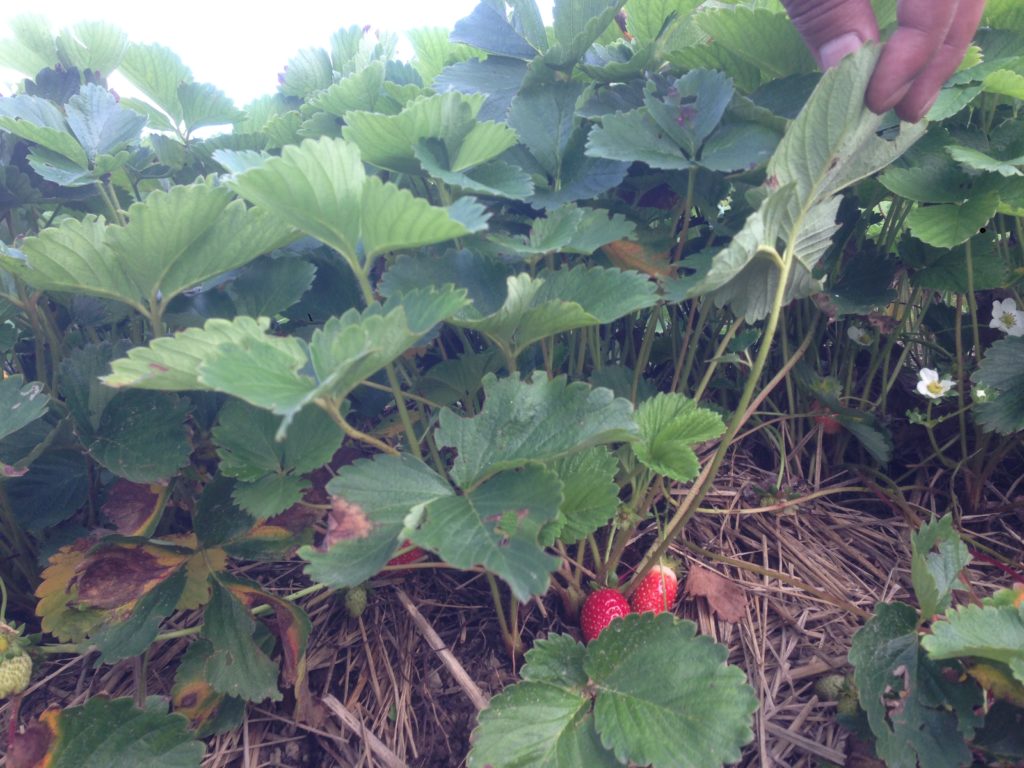 You have zipline through a section of the rainforests for some adventure, pottery for some creative time, Jiva spa for relaxing yourself even more, infinity pool looking over a mountain range and a fitness centre so you don't miss your regular fitness regimes. Cycling or trekking is also organised early morning or early evenings (post 5 PM).
I did try my hand at pottery but realised it isn't so simple. Definitely, a lot of fun. We made a few small pots but couldn't take it back home with us. There wasn't sufficient time for it to dry and then glaze.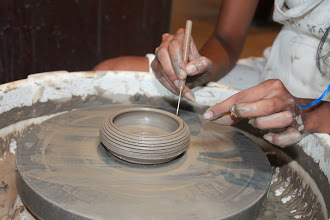 I ended up spending an entire evening in the infinity pool and the jacuzzi besides it looking over the valley. Thank to this, I couldn't get time to try other activities.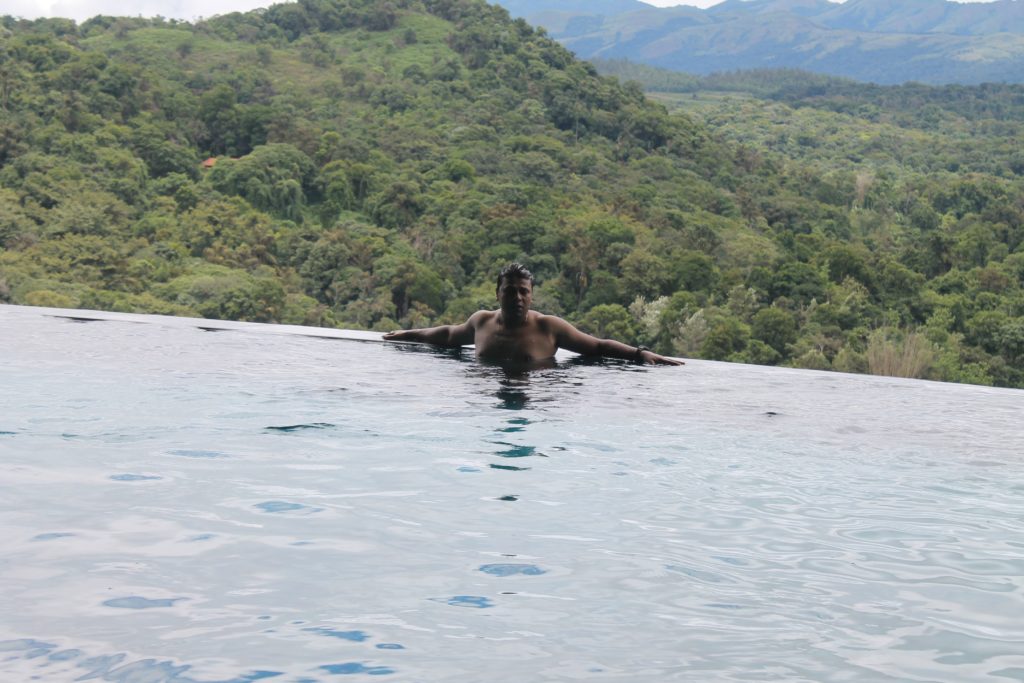 There is nothing like a holiday in the valley and surrounded by rainforest to breathe some fresh air and get rid of your blues. Indeed, Vivanta by Taj Madikeri (Coorg) provides the perfect escape.
Oh, one more thing! Better get good shoes to walk with ease and the best of the camera you own.
Did you enjoy the post? Let me know in the comments or by sharing it on social media. I'd love to share travel hacks & tips, planners & checklists with you so feel free to subscribe for my free resource library.