There are numerous places to visit in Lucknow, just know that before you begin with this post. The number "three", does not even cover one fourth of what the city offers you in terms of "places to visit in Lucknow" but the good news is, these three are more than definitely worth a visit. Rather, if you aren't taking out time for these, then you are missing out on a life time opportunity. So, before we proceed further, I want to share some insights on Lucknow.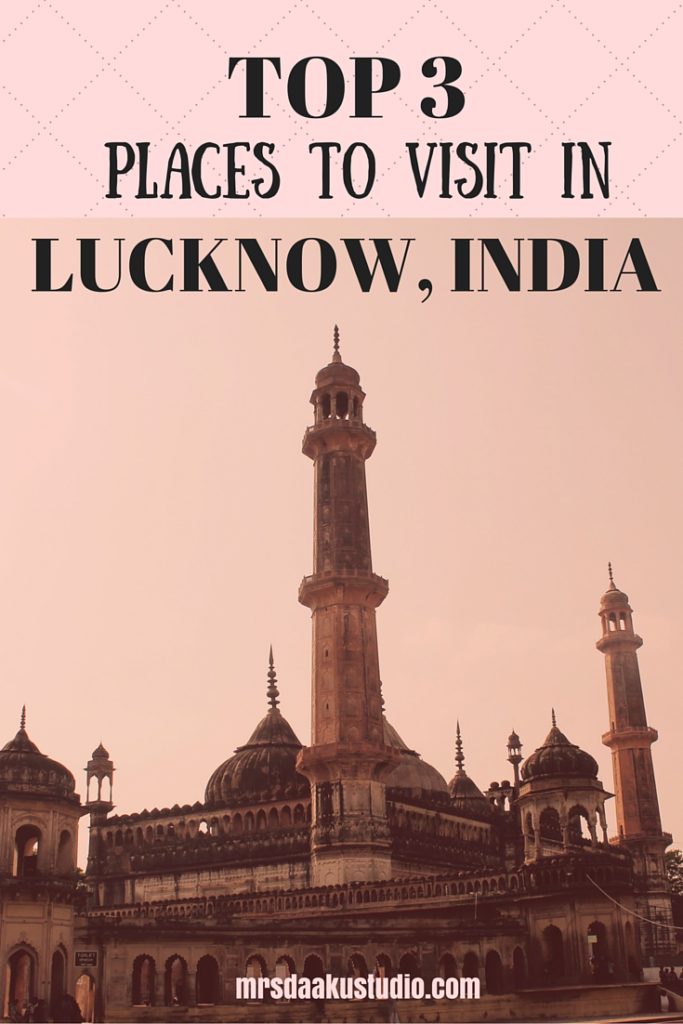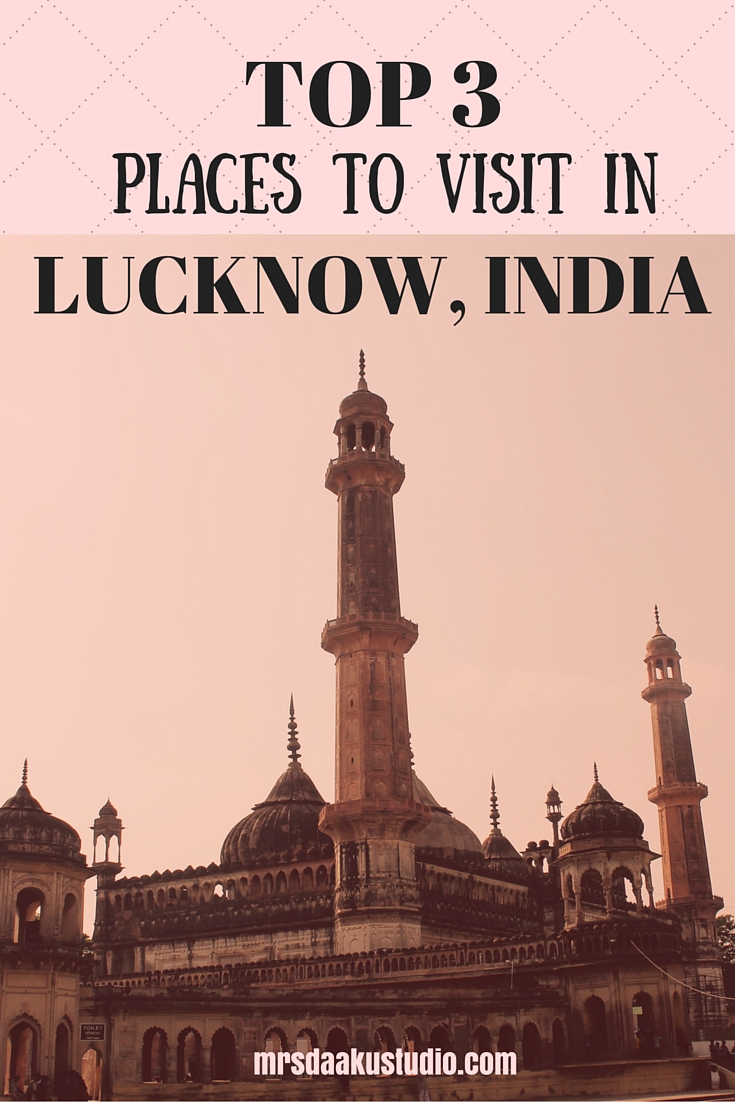 Lucknow is one of the largest cities of Uttar Pradesh and also, forms the capital city of the state. Oh god, so? Yes, thats not the reason you should visit the city. That was just a random start. I am going to tell you the reason now onwards. It is historically a rich city! Actually, even if I say "extremely rich" it would still be an understatement. Trust me, the moment you will step into lucknow you will feel the history, the city has witnessed. Formerly known as Awadh, ruled by the mughal emperors for the longest time, Lucknow is jam-packed with historical monuments and history lessons. Ycukkk? Interesting history lessons, not the boring ones. Read on, I will give you a sneak peak into the interesting side of history.
I stated before that Lucknow was ruled by mughal emperors. Hence, you will see the mughal influence still alive in the architecture (forms the best places to visit in Lucknow), lifestyle and attitude of the city. The city gives you amazing historical places which can place you back in that time, provide you scrumptious nawabi food and the best of all – people her are very respectful and helping. After all, it is named as the city of Nawabs.
Just another quick fact, it was one of the most important centres of 1957 independence struggle. Brushing up my history, you see!
This post is simply dedicated to the top 3 historical places which is a "must" place to visit in Lucknow. So if you ever go to lucknow (even just for a day) do not miss these. Before I go on to tell you the reason behind visiting these 3 places specifically, there is another good news. There is approximately a distance of 500 mts (approx.) between all of them. Isn't that greuuuut?
So, I know what have you been waiting for – the list of top 3 places to visit in Lucknow.
[bctt tweet="Top 3 places to visit in Lucknow" username="mrs_daaku"]
1. Jama Masjid –
No, I am not referring to the wonderful Masjid-i-Jahan-Numa of New Delhi. In fact, let me tell you this – Jama masjid basically refers to the main mosque of the city, also popularly referred to as "congregational mosque". You will find a Jama Masjid almost in any part of the world where there is a significant muslim population. So, I am just talking about the main mosque of Lucknow.
Quick fact: Muslims consider Fridays (also know as Jummah) special because they believe that Allah created them of that particular day. This the reason behind fridays being a holiday in a lot of muslim dominated countries.
Of all the places to visit in Lucknow, Jama Masjid is one of the most beautiful and important places in Lucknow and deserves a mention for its brilliant architecture. This appealing yellow sandstone mosque is supported by 260 stone pillars and 15 arched domes. Oh my god, what a wonder! Aaaa, you will find me say this for the other 2 places as well so I will skip this for the next two. You will amazed to see the magnificent sight and splendid architecture of the building. Yo, this is true for the other two as well.
Btw, the tomb of Sultan Ahmed Shah (the Nawab who built this mosque) lies on the eastern side entrance.
Opening Hours and few other details: Jama Masjid is open all the days but if you like sightseeing with lesser crowd, then it's better to avoid during fridays, festivals and religion events. If it was for me, I would rather go during a festival to get the feel of the local festivities and food (ofcourse). But, thats me!
You cannot enter the masjid unless you are appropriately dressed. So, avoid skirts and shorts. In short, dress decently.
You are not allowed to take photos inside of the building. I understand this restriction because the people who pray deserve privacy. So, I was not able to click any pictures. However, I have one, right beloooow. Read on to know how I clicked this.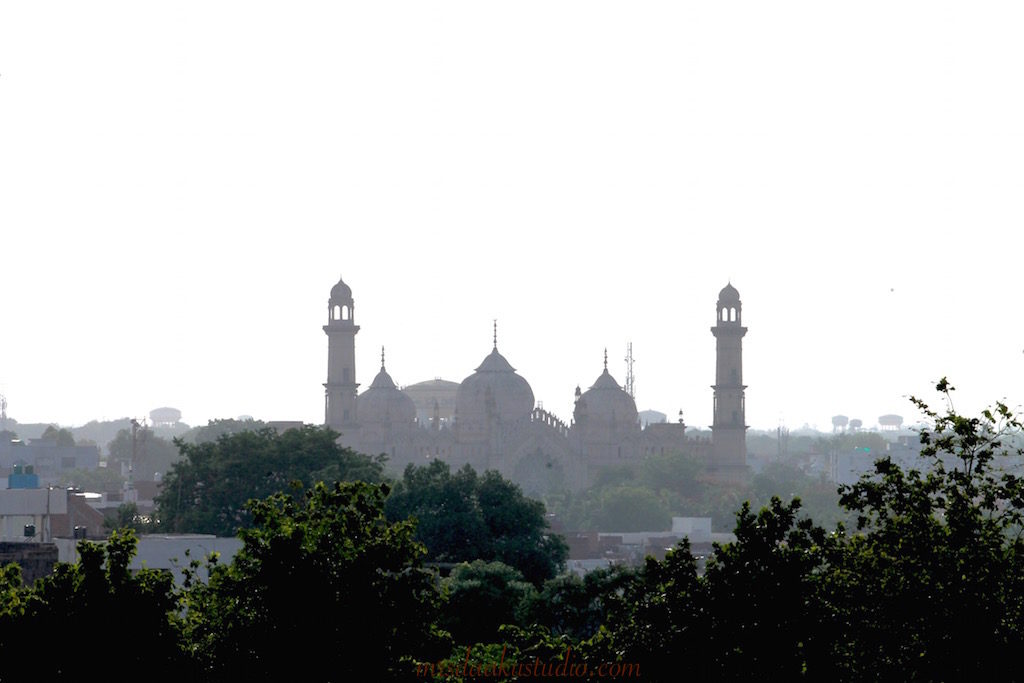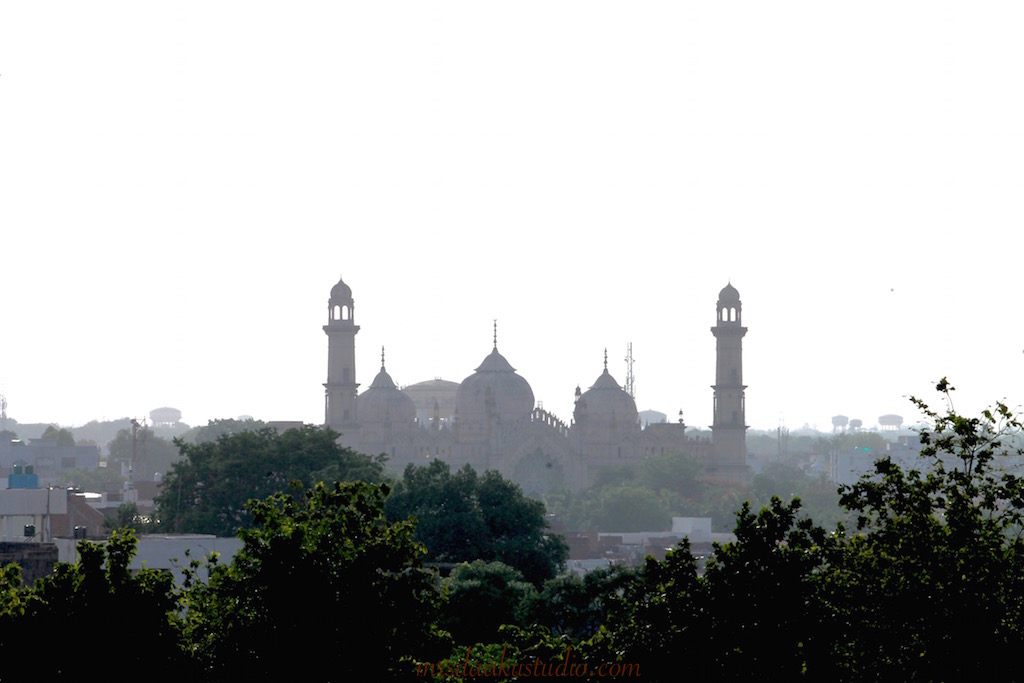 2. Chhota Imambada:
Wait, what? How do we even pronounce it?
Chhota is small or tiny. Imam (e-ma'am) and baa-da, I am guessing you can now pronounce is almost correctly. Cleary I am not good with writing phonetics so I am working on the assumption that this is understandable by all of you. So, made it extremely simple.
Imam means the person who leads prayers in a mosque and baada means place or home. But, an Imambada is a shrine built for the purpose of azadari (like Muharram). If you are really interested in learning the culture and heritage of a city, Chhota Imambara serves it you on the plate. It is embellished with handmade stuff over the marble and stone, gold plated, jaw dropping interiors with gold edged mirrors, silver throne and striking chandeliers. It also has numerous minarets and turrets along with a garden.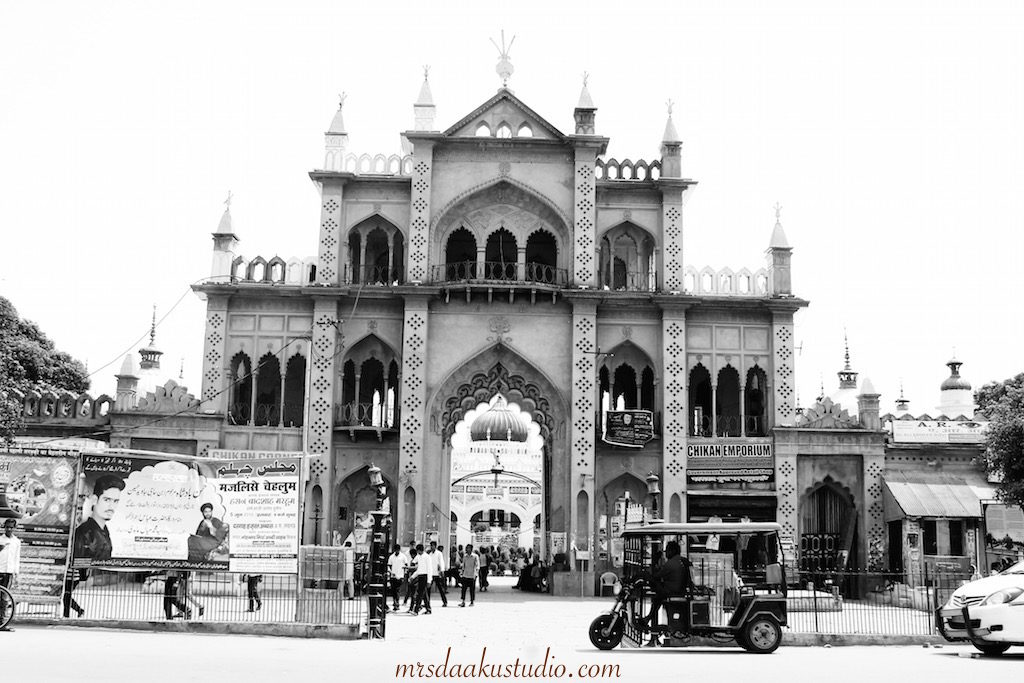 It was built by, aah! Why don't you go find it out yourself?
Opening Hours and few other details: Chota Imambara opens all days of the week between 6 A.M. to 17 P.M. The entry fee is as meagre as INR 10 to 20 per person. However, overseas travellers will have to pay extra.
3. Bada Imambada (topmost place to visit in Lucknow, personally recommended)

Surrounded by lush gardens, built by Nawab Asaf-ud-Daula, Bada Imambada is one of my favorite historical places to visit in Lucknow. Truly, a unique structure of Mughals. It offers an amazing view of the entire nakhas (old city) from the terrace.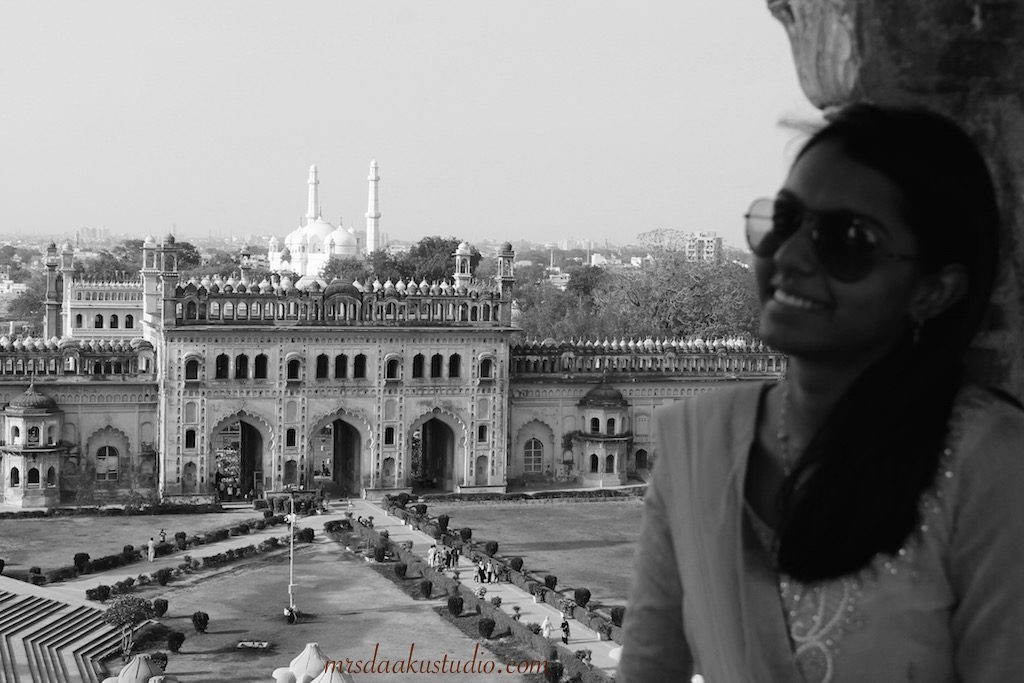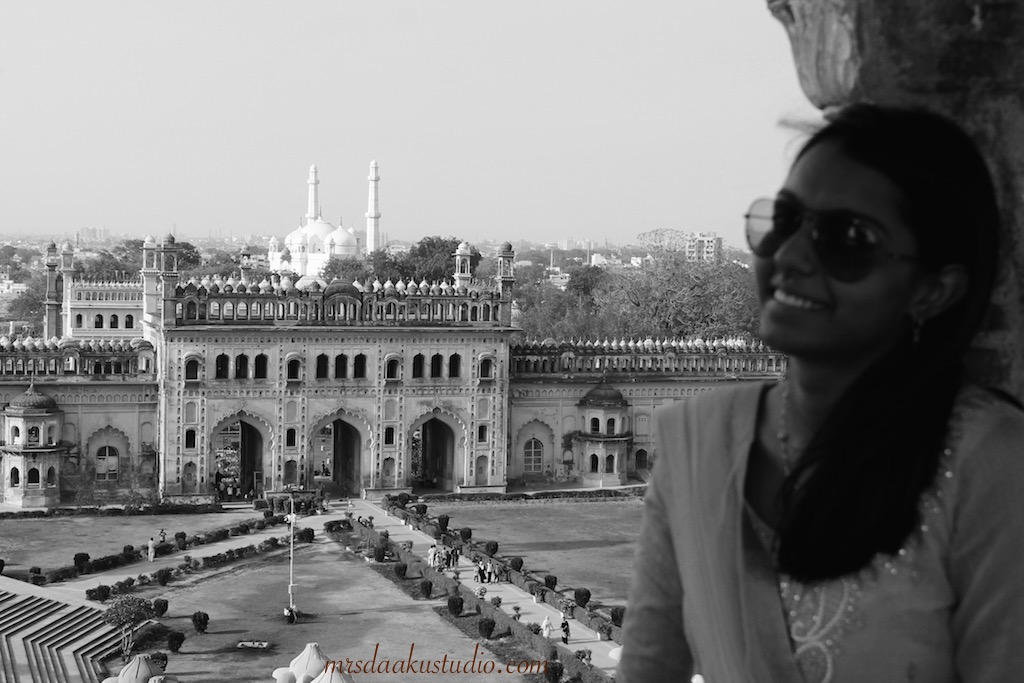 Inside of the bada imambada, there are 3 monuments. Voila! I am sure, you are already excited. So, you can see a masjid, a labyrinth or bhoool bhulaiya (my favourite) and a Bawli (a step well with running water). I cannot comment a lot on the masjid because I did not have enough time to explore it.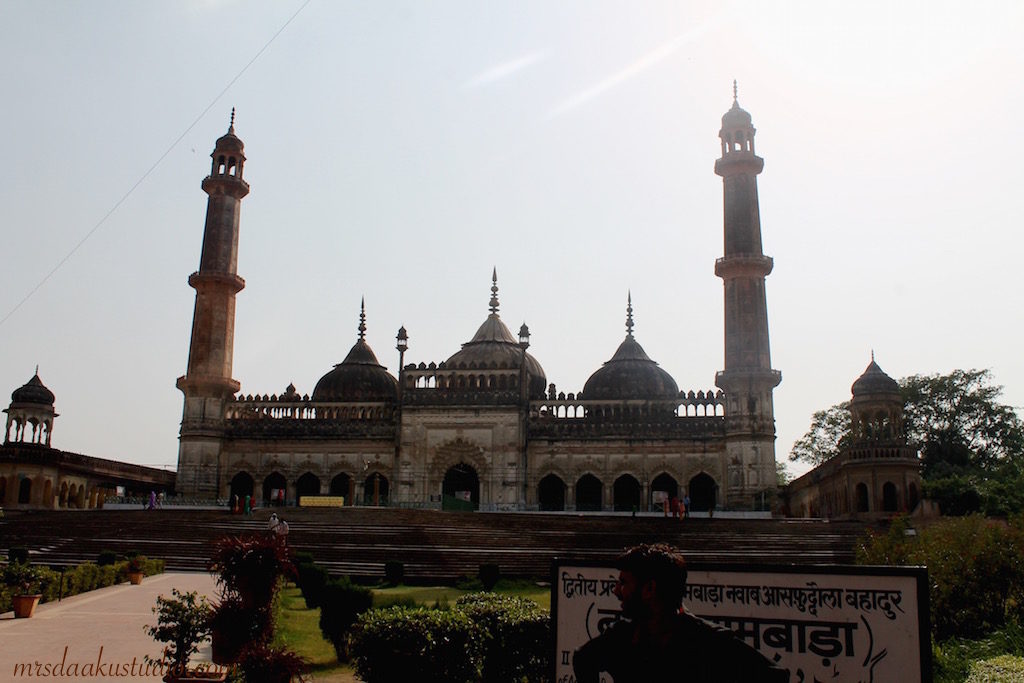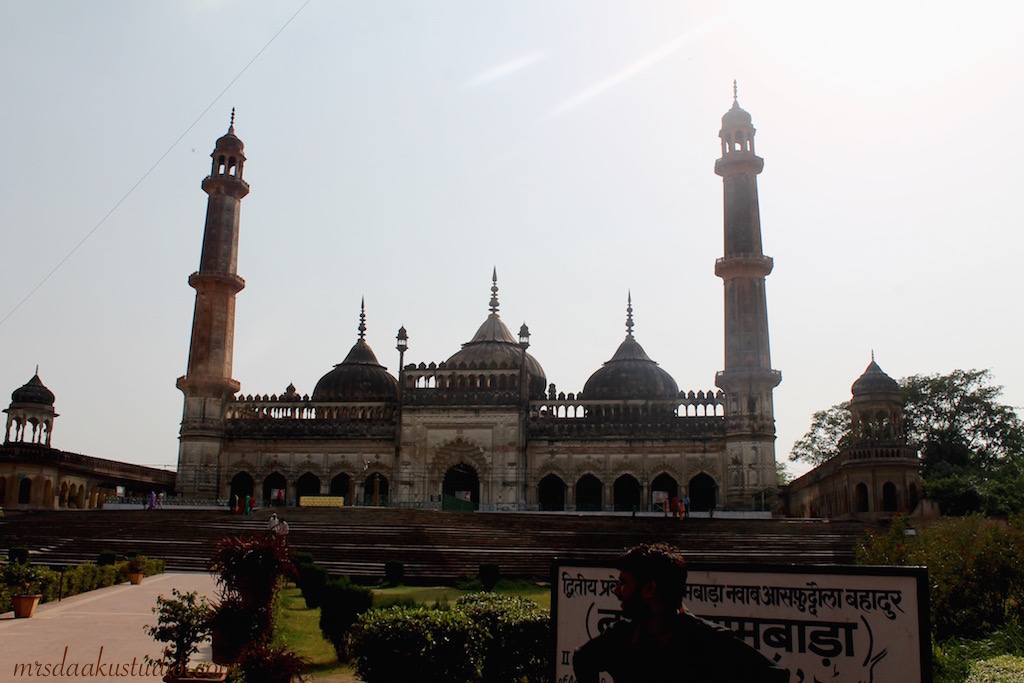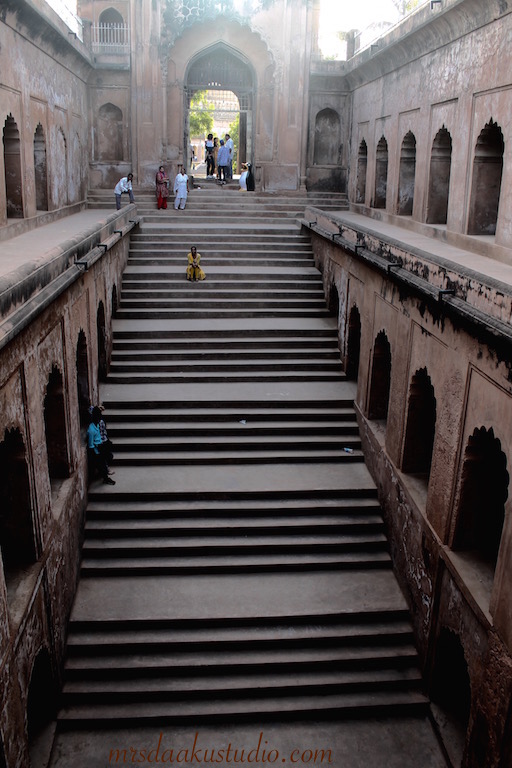 There are 8 chambers built with different roof heights so as to create a three dimensional maze with passages (and almost 489 identical doorways) interconnecting with each other. At every passage, there are 4 doors out which only 1 leads to the exit. Get set and go. get lost! haha. I am planning to dedicate an entire post to my experience in the labyrinth. Do take the guide to know more about the place. The guide will show you a lot of interesting places inside of the imambada.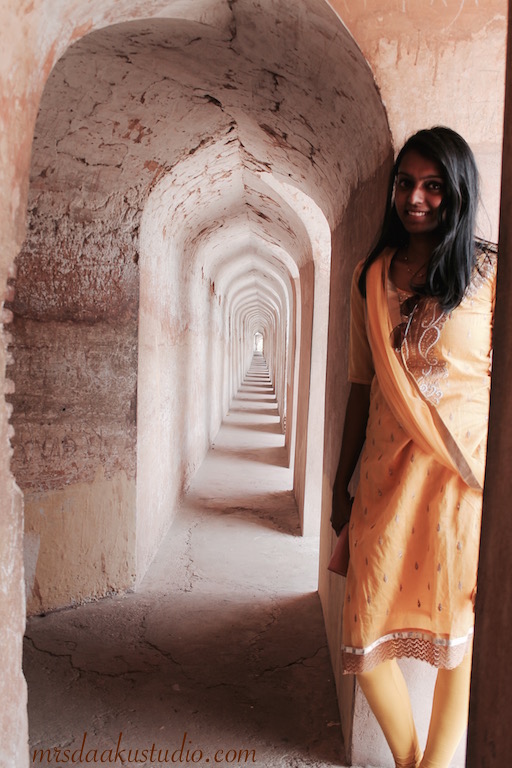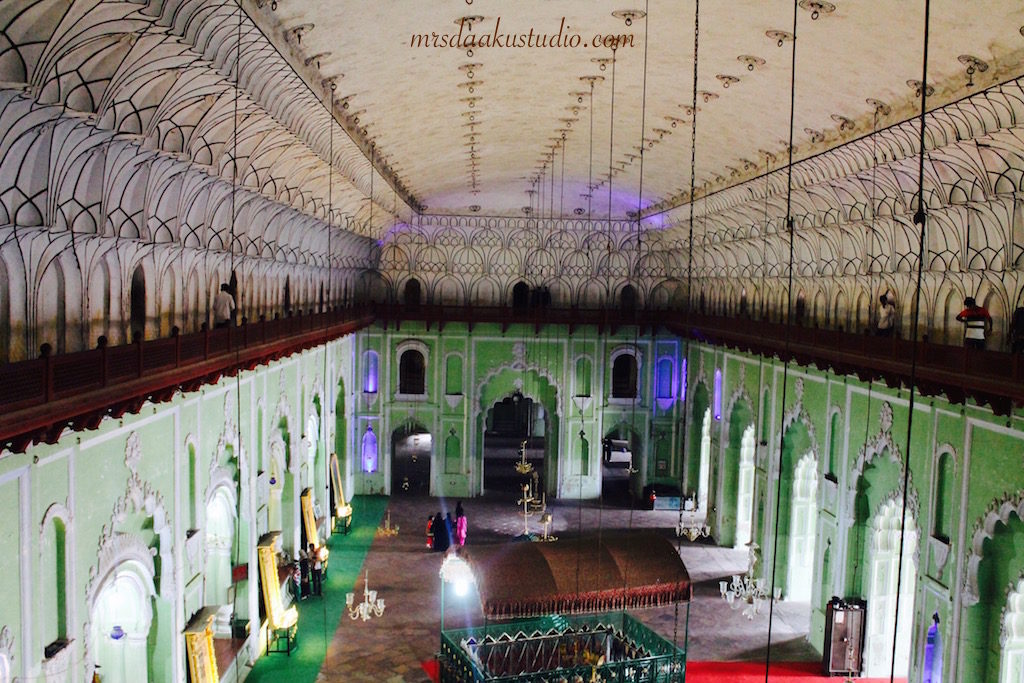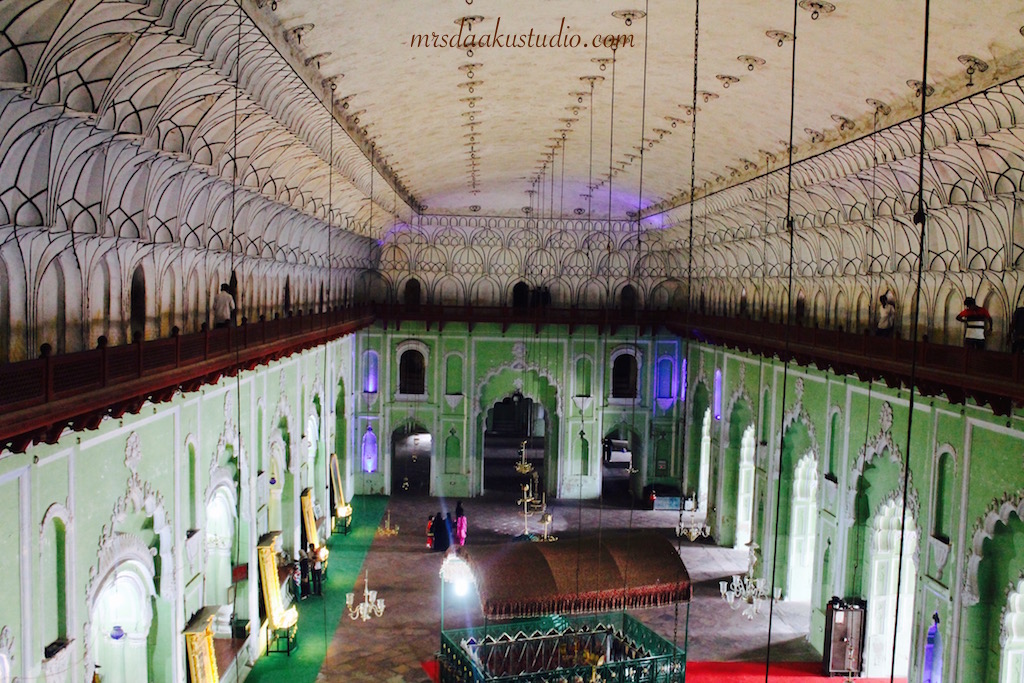 This is the most fascinating of all the places to visit in Lucknow and I personally recommend it. Do not forget to let me know of your experience by commenting below or tweeting me at mrs_daaku.
Opening Hours and few other details: Generally it opens all days except Monday between 6 A.M. to 18 P.M. So, I strongly recommend you to visit Bara Imambara at least once. It is a masterpiece.
Ticket cost is around INR 30 per person for Indians. Foreign tourists will have to pay extra (around 3-4 USD). You have to pay extra if you want to carry your cameras (which you should!).
Also, the fee for the guide is different. You can take the guide for the entire place or just one of the three. There are several boards outside of each building which displays the rates for hiring a guide. So, don't worry about the bargain. But yes, if you want a guide just for yourself then you may want to bargain depending on how many of you are there. He charged 300 INR for the 6 of us. Pretty cheap!
You will find boards like this: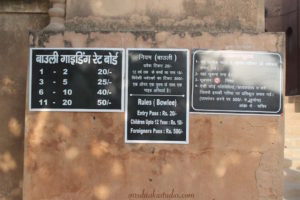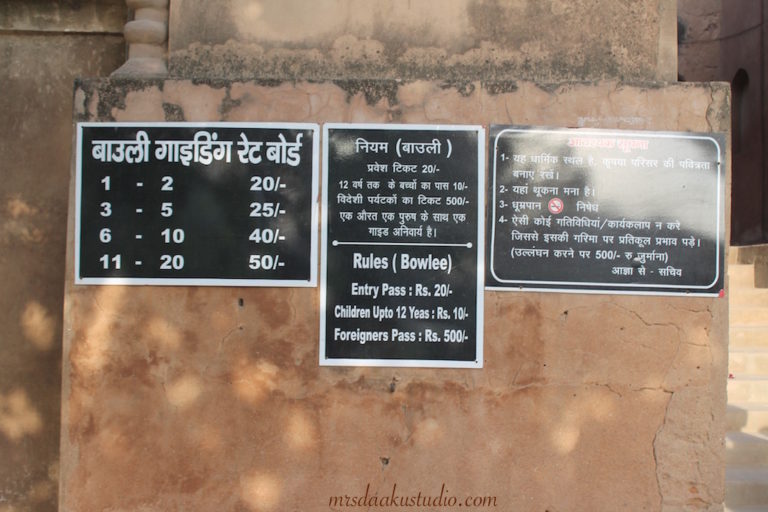 Btw, you can see Jama Masjid from the terrace of the building with the laybrinth. Now, you know how I got that picture! I can bet you haven't seen such a spectacular historical site during entire India trip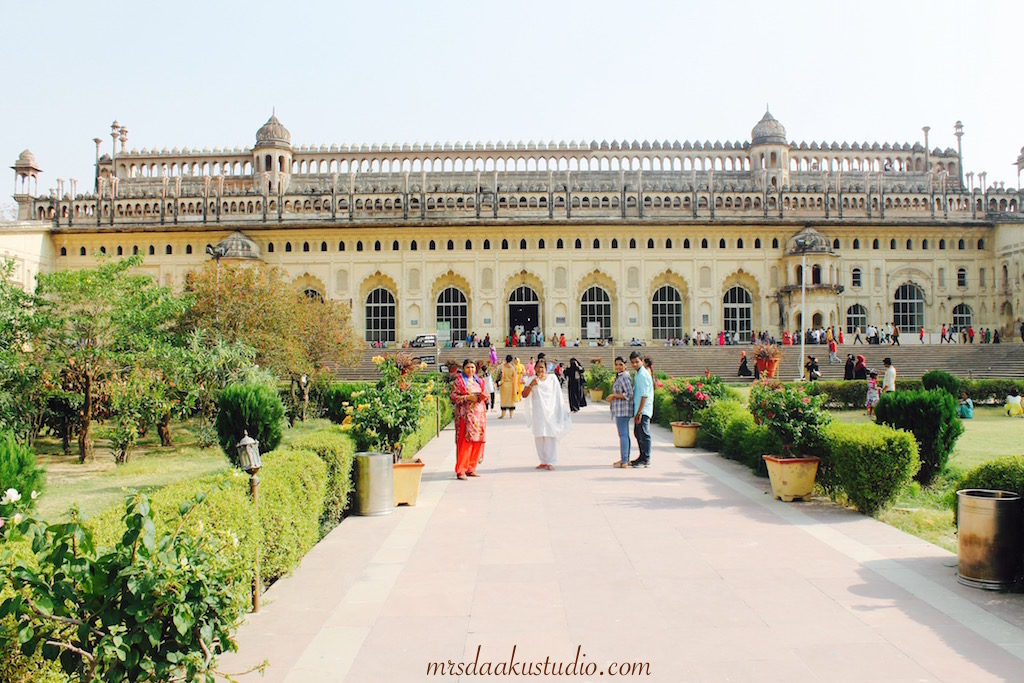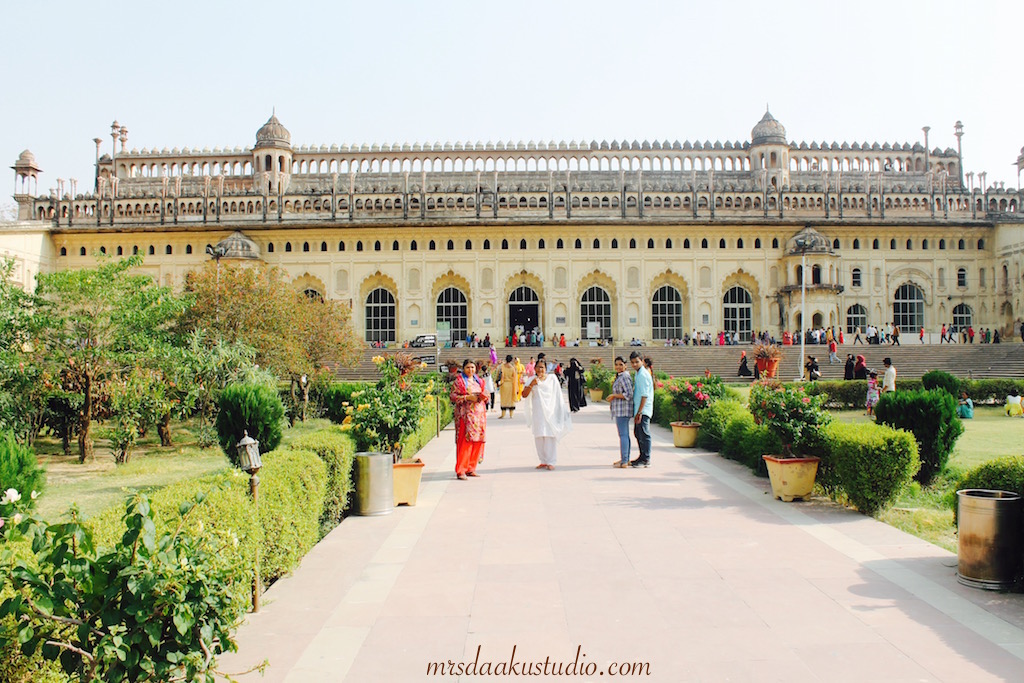 4. Besides the top 3 places to visit in Lucknow, there is Rumi Gate

But, I said 3 must visit places in Lucknow. How did 4th come in? You are most likely to pass through Rumi Darwaza to go till the entrance of Bada Imambara (Rumi Darwaza). Rumi Darwaza, is an extremely beautiful sixty feet tall gate. If you are lucky enough, you could climb up the stairs and see the sight of the entire city from the terrace of the Rumi Darwaza. However, the travel guides and authorities do not allow it.
No, I am not yet done. You will also see the clock tower (constructed by Britishers) and Saptkunda (seven kund, out of which only 4 were finished) on your way to bada imambada from Jama Masjid. Here is the view.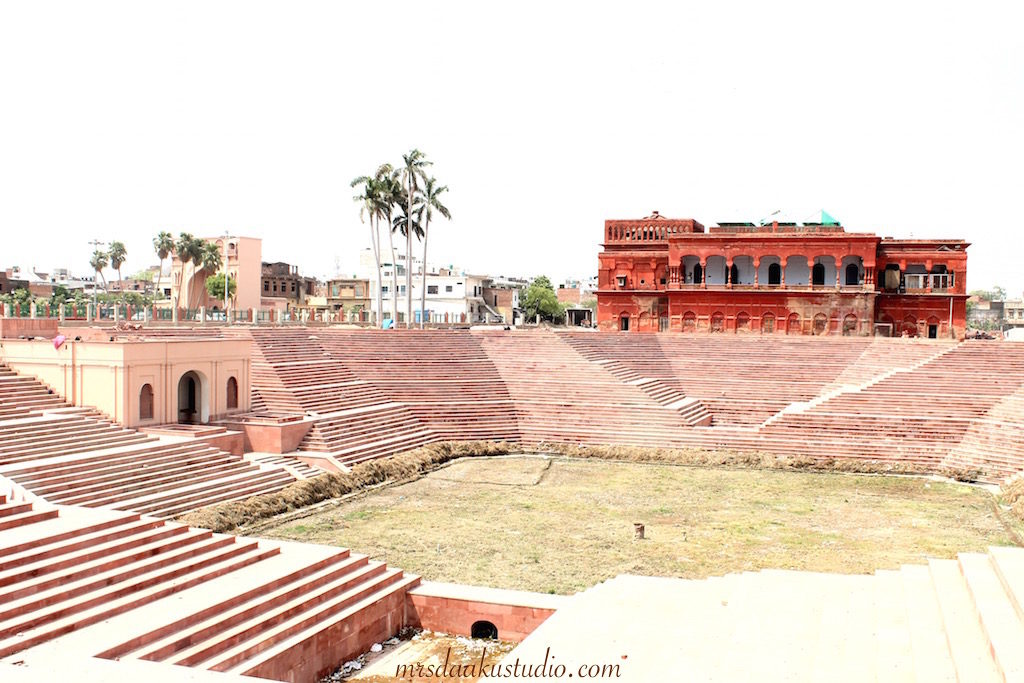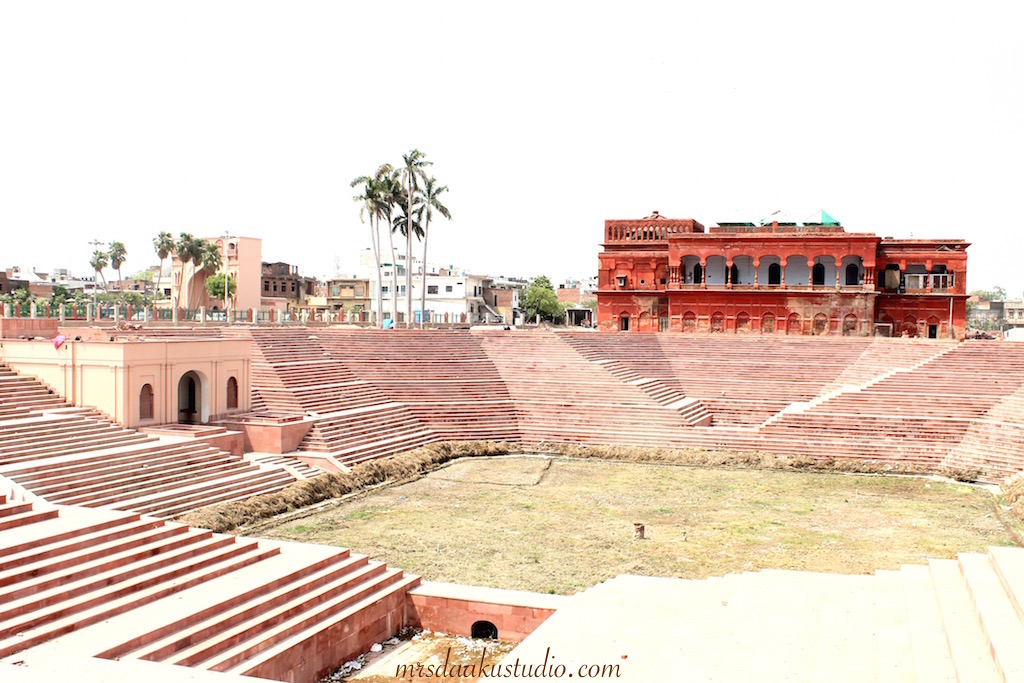 Now, its over. I have enlisted the top 3 places to visit in Lucknow. *dancing* While I already told you this in the beginning, this post is not a complete guide to places to visit in Lucknow. but, it is an effective guide to best utilise your time in Lucknow if you are there for a short period of time.
Last but not the least, we went on a horse cart ride too. It costed us around INR 100 and he showed us (from outside) rumi darwaza, clock tower, saptkund and chhota imambada. He also told us the history he knew of along with dropping us off at the chikan factory. For those of you who do not know, chikan is one of the famous embroideries of India.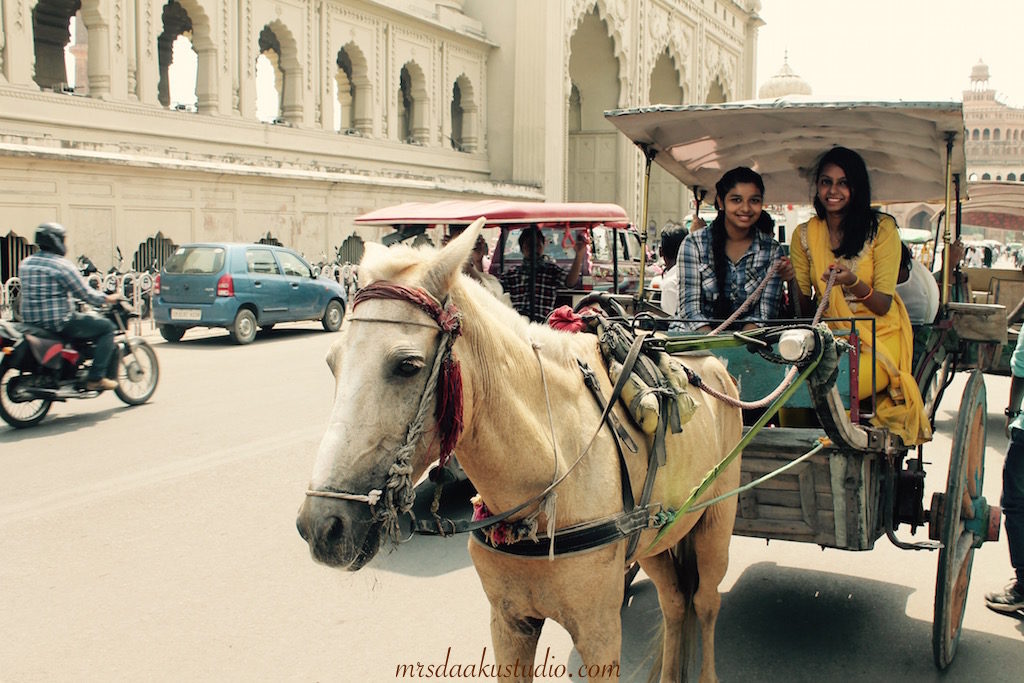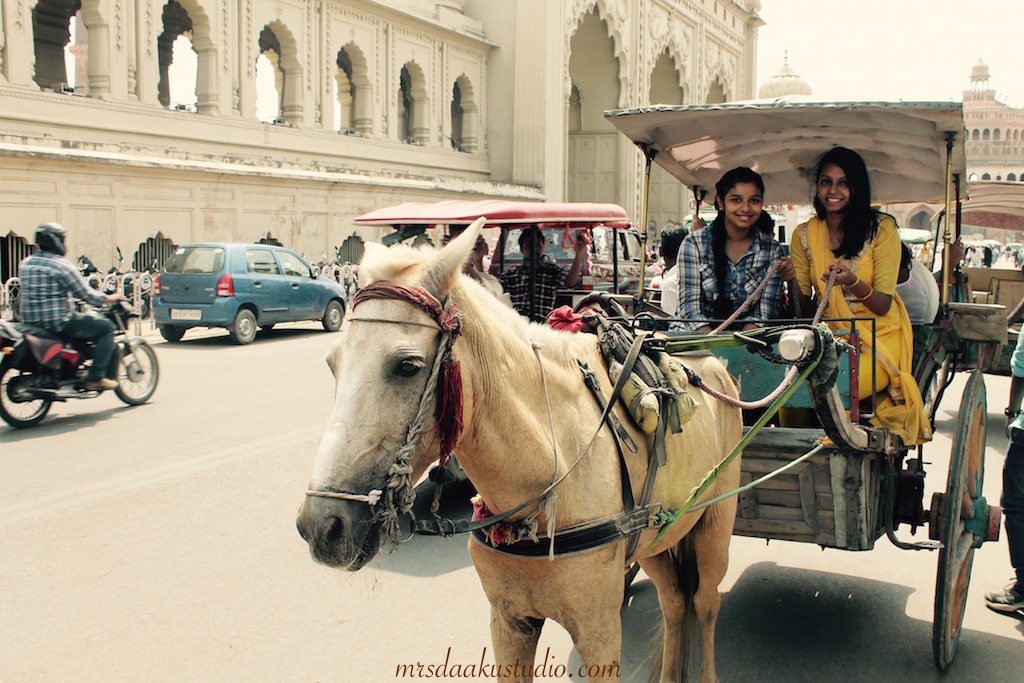 If you find this travel blog informative, don't forget to pin it for future reference and share this blog with your friends and family. Thanks for reading, keep visiting my studio and travel like a pro