Ok, so you have decided or you are thinking of planning a visit to India during summer and have no idea (or little idea) of things to carry while travelling. I must say, it definitely demands some prep before you begin your travel adventure here during that time of the year.
Summer in India is characterised by unbearable heat and dry weather with hot winds, popularly known as loo. While summers in western countries is time to be outdoors sunbathing, it is time to shut door and lock yourself up in India. You do not get sun tanned, you get sun burnt! Hence, things to carry while travelling becomes important topic!
Now, that summer has dawned upon us – I thought it is the best time to write about this. It can get really sunny and hot if you are travelling to some parts of India. The temperatures of places sore upto even 40 degree celsius (like, Delhi and Rajasthan). While it is something no-one likes, it is something everybody has to bear. So, you need to be vary of things you should carry with you.
I shifted to Delhi a few month back, almost the onset of summer. So, I had to devise my own tricks and hacks to beat the heat. There are certain things to carry while travelling, no matter where I go. It helps!
I am going to list it all below and hope that it helps you too. In case, you have any additional suggestion feel free to drop a comment and let us all know.
If you're looking for other destinations, check out these 25 best summer destinations in Asia as well.
I. Sunscreen:
Carry your own or buy in India. I prefer using the boutique 50 SPF + sunscreen. It is very smooth, smells good, and comes with sandalwood to give you a cooling effect. You should buy a sunscreen with adequate SPF, at least a 35-40.
The sun in India is very strong and you definitely do not want to fall sick. Apply sunblock in adequate quantities before going out anywhere. If possible, keep it with you. I do
https://www.instagram.com/p/BStS93UBBeH/?taken-by=mrs_daaku
II. Water (if possible, lime juice).
Keep sipping on water. The sun is so strong that it sucks the water out of you leading to dehydration. You do not want that. Keep sipping on water. If possible, carry lime juice (or buy a bottled one!) and fruits filled with water (example, water melon, orange etc).
Avoid sugarcane juice, totally not the time to have it.
III. Sunglasses:
Goes without saying. Your eyes need protection as much as any other part of your body. Carry a pair of high quality sun glasses
IV. Scarf :
You can use an umbrella or a cap instead as well. I prefer a scarf because it can be multi purpose. If I am at a religious place, I can cover my head and if it's too hot, I can use it as a shield and cover myself. You cannot wear a cap or take an umbrella inside a temple.
Also, you can buy beautiful scarves in India everywhere and for cheap. One such place is Sarojini market, check it here.
Of course, if you are a guy – you may want to keep a scarf as well as a cap.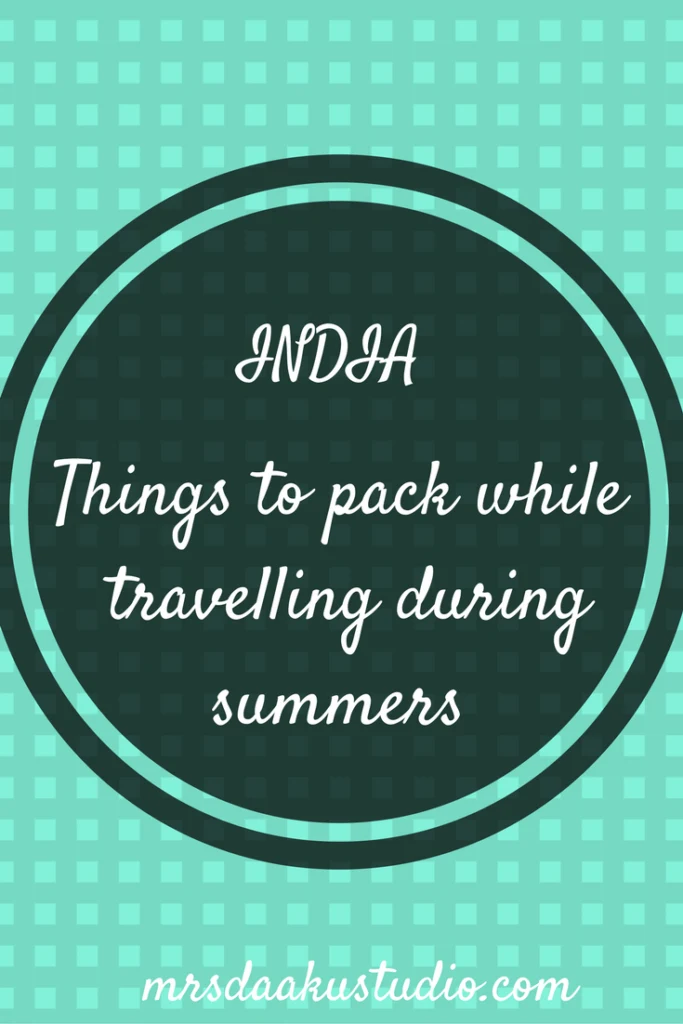 V. Wet wipes:
You are sweaty! No, I am not accusing you of it. You will be sweaty if you travel in India during summers. Wet Wipes not only help you clean yourself but also adds an element of freshness and fragrance. (now, that you have wiped off sunblock with it, it's better you carry one with you).
I prefer this over kerchiefs and towel. However, you can keep one of them with you if want. Again, guys may find carrying a towel or a kerchief much easier. See, what work for you.
VI. Rubber bands or clutches:
Guys, skip the point. Women, carry on.
While I know women love to let their hair be free and flow-ly, you will sweat to death sometime. Carry a band or clutter to tie up your hair whenever needed.
VII. Wear cotton:
Follow it in absolute! Golden rule. You get cotton shirts, shorts, tees, tops and everything! You can read about this amazing market in Delhi which gives it all to you at one place!
VIII. Deodorant:
Goes without saying, again! We do not want to die in the smell of our own sweat. Also, you can spray this around if someone else is smelling. *winks*
IX. Mosquito repellent:
Last but not the least, repellant! India has night-time mosquitoes that can cause malaria; and day-time mosquitoes that can cause dengue fever. I do not feel embarrassed to use them when I see mosquito. They are hardly solo travellers.
If you don't know of any, you can ask the chemist in India to give you one. You get sprays, oils, patches and cream. Pick one. I prefer Himalayas Herbal Mosquito Guard or FabIndia mosquito repellant spray with natural oils.
Now, that you have learnt how to tackle the heat and things to carry while travelling, why not save this list and share it with your friends who love to travel?
Did you find the post useful? If yes, go ahead and share it with your friends who would love this. Remember you can also follow me on twitter, instagram and Facebook. You can also follow my boards on Pinterest and get all the relevant info other bloggers give out.