Scuba Diving is one of the adventures which has found a place in mine and Mr. Daaku's bucket list. So, during my trip to Thailand recently, we planned out to dedicate an entire day to scuba diving. After all, it was one activity I was desperately looking forward to. It was going to be my first dive ever, almost 20 feet into water. There were several thoughts whirling around in my mind – for all of you who do not know me, I don't know how to swim and the thought of going 10-20 feet inside water gave me shivers.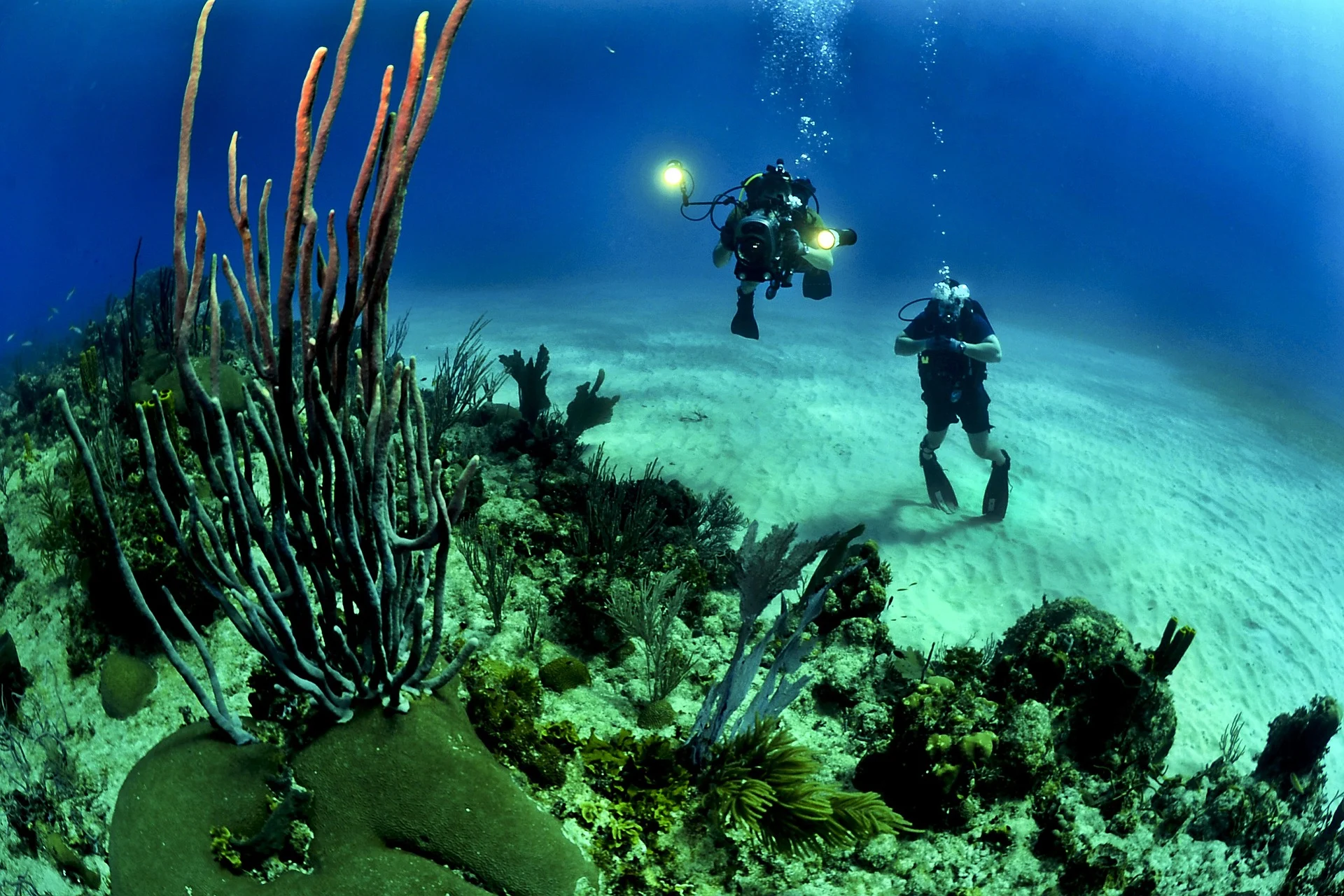 After spending a week in Bangkok, we headed off to Pattaya (read here about my unexpected encounter with pop-pop show and the experience on the roads of Siam). We researched a lot of places to stay in Pattaya but we weren't very happy with the choices. It was either very far away from the places we wanted to visit or it was very expensive. Both Mr. Daaku and I are not very keen on luxury for our stay because most of the times we are exploring the city, far away from the vicinity of the room. We preferred a place close to the beach and while we were searching AirB&B we stumbled upon View Talay and booked it instantly. We received a e-mail from Tueinchai (our host, of course) and she was extremely kind and helpful with all our queries in relation to travelling to and in Pattaya. The apartment was almost pool facing (you will know what I mean soon, haha), spotless and equipped with all the necessary amenities (like towels, food, microwave, toiletries etc). I will talk about the places to visit Pattaya later, for now let's focus on scuba diving.
Just to deviate a bit, Mr. Daaku introduced me to AirB&B very recently. It is a heaven for travellers on budget. If you love travelling, you should totally have a AirB&B account

Getting back, Mr. Daaku and I had researched a lot on diving centres and we knew the most reliable and recommended of all was the Mermaids. So, I quickly googled up the location and it was 5 minutes walk from where we were staying. *time to dance* My hubby and I started to walk excitedly towards it, reached, met this really helpful woman at the desk, asked all our doubts and registered ourselves for the next day. It takes an entire day so if you are interested in doing scuba diving, reserve an entire day for it. It costed us around 8500 TBH (along with an underwater camera). They told us that the bus will pick us up from the residence at around 8 AM so we woke up early the next morning and hopped on the bus.
On the day we visited Mermaids, one of my husbands acquaintance had also gone for his first dive. He suffered sea sickness and could not dive at all. This put me under a lot of anxiety considering I am scared of water – will I feel claustrophobic, will I get sea sick, will I be able to bear the ear pressure, will I get bitten by a fish or crab etc etc, but I wouldn't know until I tried it. So, I gathered all of my thoughts and convinced myself to go ahead. I just could not think about Mr. Daaku experiencing the sand, fish and corals while I sit on the ship scared to dive! (Ah ha, no no.) I would have regretted it forever!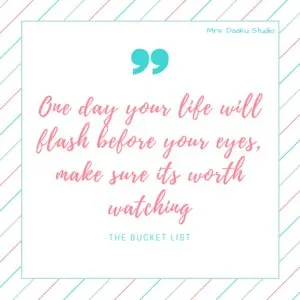 All of us hopped on to the boat and chilled on the deck for almost 1 hour 30 mins until we reached the island where the boat was to be anchored. We were the only first time divers and hence, we were assigned to Mike (along with Claire) and it was such a relief to know that it is going to be just the 4 of us to dive. (I won't drown, yay!) During this "build up" period, Mike briefed us on certain dos and don'ts of scuba diving. He explained the concept of equalising ear pressure, clearing the water which have entered into your mask or tackling situations where regulator comes out of your mouth. I am not sure if I was happy to know the tactics which will save me under water or scared of the fact that I might experience such situations when I am 10 – 20 feet inside of water. He also gave us a quick tour of the diving equipments. Time to suit up and jump! *Jump*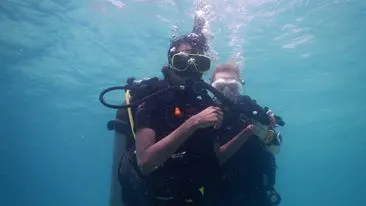 We were the only odd ones out. Rest everyone on the boat, suited up quickly and jumped in like a pro. Mr. Daaku and I were suiting up slowly but steadily under the wing of our superrrr instructor. Jumping with such a heavy gear is freaky at first. You have really heavy weights tied across your waist. While it is really difficult to balance and walk in those weight, you will hardly feel any of it once you have jumped. So, just jump!
I kept reminding myself to keep breathing. After all, its against the natural course to breathe freely underwater. Mike took us to shallow waters 6 – 10 feet deep to practice the basics of scuba diving. Our instructors (Mike and Claire) were extremely patient and calm with us as we tested our scuba equipments and got used to the feeling of breathing under water. Once we got a hang of our masks, neutralising ear pressure, replacing regulators and continuously breathing underwater, we decided to go deeper to explore.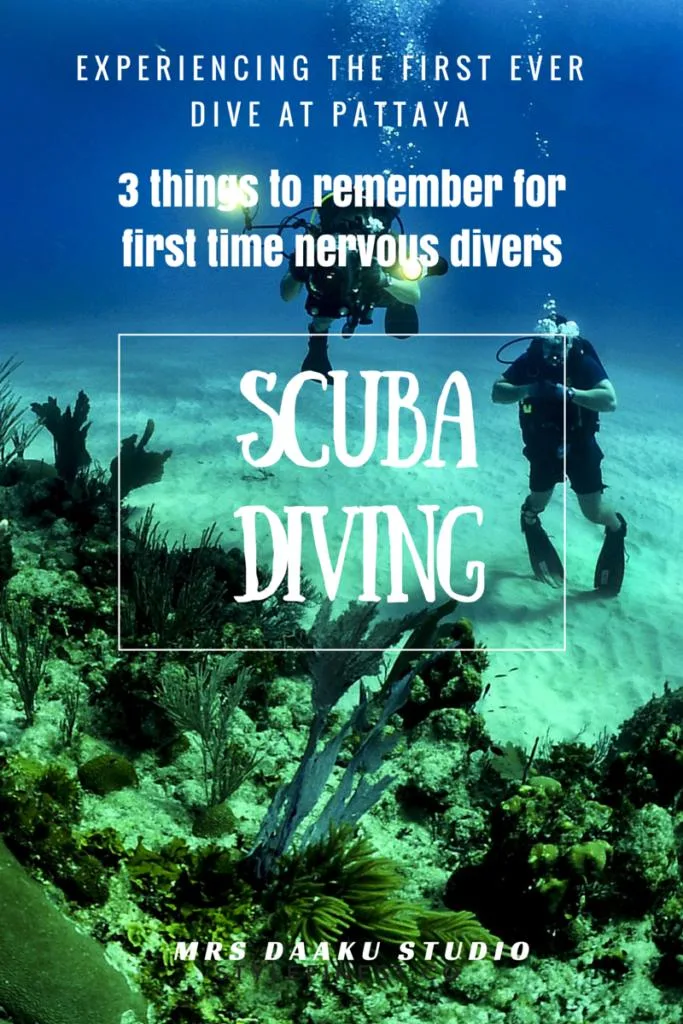 After a while, I became comfortable inside the water. Popping the ears, clearing the mask and breathing constantly came naturally to me. It wasn't as easy as it sounded in the line before, in the struggle to breathe with my nose instead, because my throat felt dry (due to mouth breathing and pure oxygen!). I tasted quite a bit of salt – after which, breathing from mouth seemed like a survival instinct. For someone like me, who is overexcited, impulsive and hyper – it is a herculean task to keep calm. We kept swimming, deeper and deeper and Mike kept on communicating through hand gestures to make sure we were alright with the water pressure.
The calmness associated with listening the voice of your own breathing is incredible. I loved exploring the reefs, fish and the wildlife there. Its truly surreal. We dived for around 60 minutes and came back up. Guys, I forgot I had such heavy weights on me. So when I tried to climb up what ladder to the deck with the flaps and weight, I almost fell into water. Mike helped me removed my flaps and carried my bouyancy weight until I reached on the ship. *Phew* We had lunch, loitered on the ship for a while, played with our newly bought drone and suited up to dive again. This time around, the entire process was much faster. Also, I could keep my movements under control this time and I was surprised at the ease of navigating in water.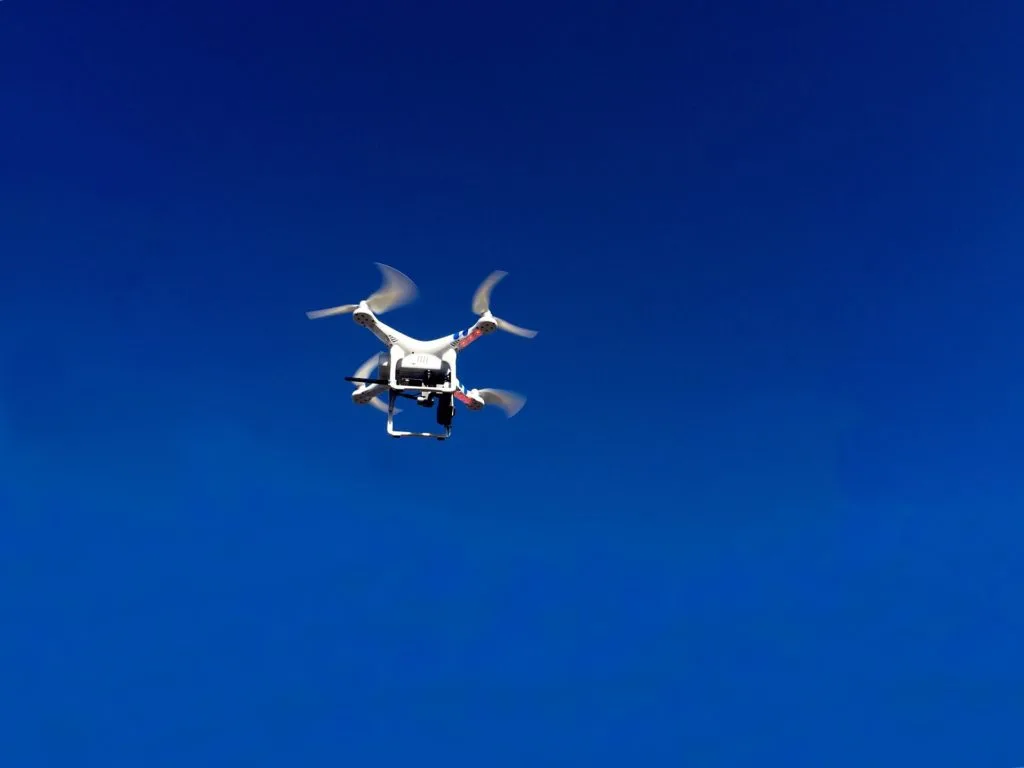 We dived for another 1 hours before Mr. Daaku's oxygen clyclinder indicated 50 on the meter and we had to rush back up. Mike is truly a seasoned veteran and the best instructor you can have for your first dive.
A thumbs up for Mermaids. The crew was top notch (they cooked really tasty lunch as well) and we felt at home diving with them. We sincerely thanks Mermaids and especially Mike for being so awesome! Thank you for marking off one of our Bucket List items. You can check out the video to see the location we dived at:
For all those who are going for your first ever dive,
Choose your scuba diving location and instructor wisely –

It is very important that the location of your dive has unbroken corals and fish. These are the least you can see in scuba diving. But, choosing a reputed PADI centre and instructor is the more important. Do a lot of research before you decide on one because you are entrusting them with your life.

Do not hesitate to ask –

If you have a question, ask! The more you talk, the better it is. When we were going to dive, I heard a sound coming out of my oxygen cyclinder which resonated "fissssssssss" which was similar to when air escapes from a pipe. I wasn't sure if I should ask Mike about it but I did and turned out the knob wasn't tightened properly. So, you get my point. You should ask talk about whatever is going on in your mind. This helps your instructor to know that you might not be as cool as a fish inside water. its always good to know, someone is taking care of your comfort.

Do not haste while diving –

Scuba diving is all about baby steps. The better you learn, the better diver you will become. It is very important that you keep your calm and try to fix the situation under water instead of wanting to run to the surface. DO NOT PANIC. Mike told me to be lazy and to be as lazy as you can get, and after I dived, i realised what he meant. You have to be lazy and calm to deal with situations under water. Bottle up your emotions – your urge to cry, shout, flap your hands and legs and open this bottle when you have reached the surface.
Follow all of the above golden tips and you have absolutely have a wonderful time. Just focus on the enlarged fish, other organisms, corals and weeds. While diving once, me and Claire was swimming very close to the surface and I thought I will get hurt by the black sea creatures (see, below) creature and I started to panic. But, I remembered, things appear much much laaaaarger and closer than they are underwater.