Jagdalpur is one of the most beautiful offbeat destination in India. It is a city located in the Bastar district of Chhattisgarh. And, Bastar is the tribal region of the state and a paradise for nature lovers, photographers and culture explorers. You will know why I say that. It offers you forests, waterfalls, wildlife, temples, handicraft and tribal dance and music. The local life of the tribals is untouched, which makes it an interesting destination to learn about (and experience) tribal India closely. I spent one of my weekends there and I loved every single moment of it.
PIN IT!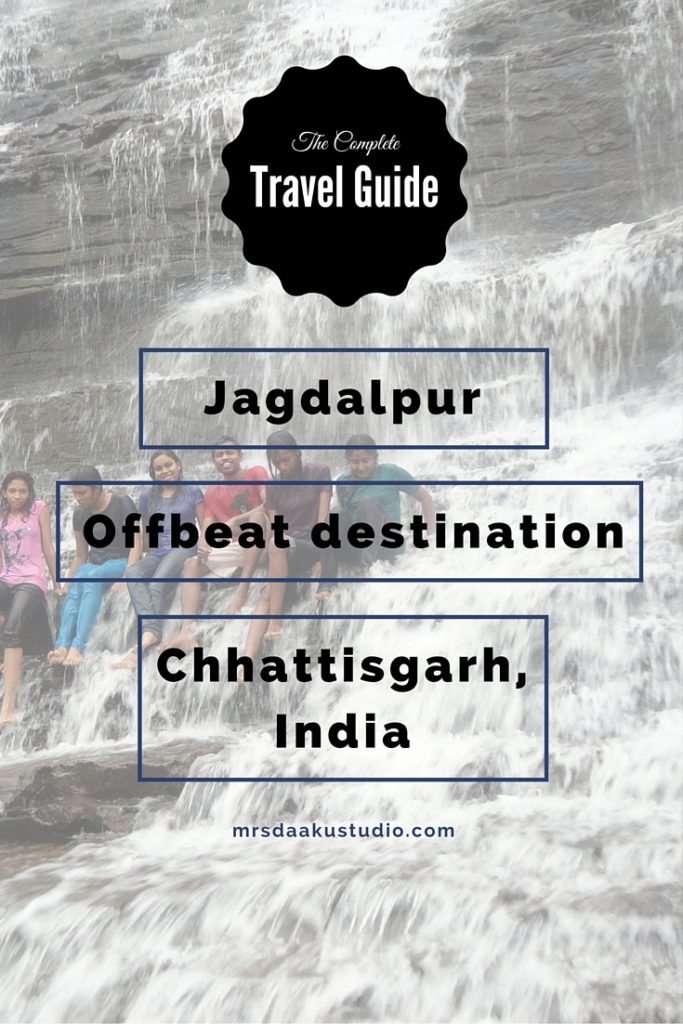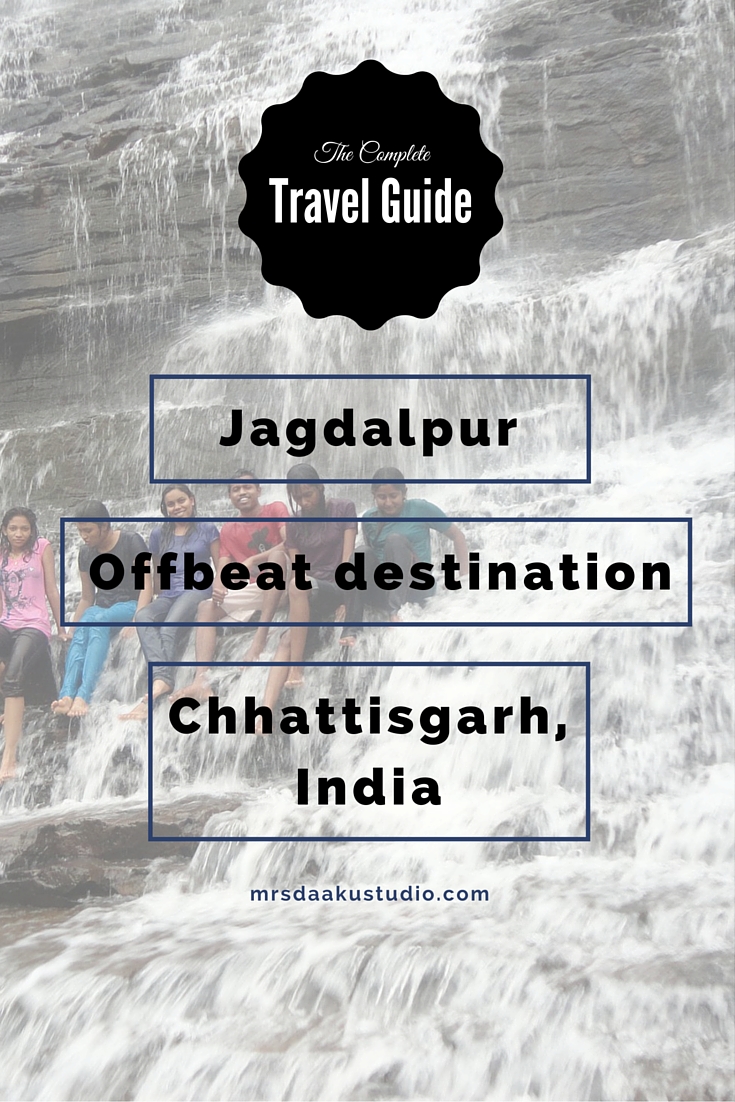 However, it is naxalite area so everything will not be accessible for sightseeing. You do not need to worry much, it is definitely safe to travel there. All the sites and places which are unsafe are not open to general public.
Bastar is also famous for tribal art. It can be in form of a decorative piece or on a cloth. You can check out some of their work here. Apart from the handicrafts, you will see the art on random walls (no kidding). It is a beautiful piece of work and I was never tired of looking at Bastar art on the walls of civil lines, Raipur. If you have been living in India for sometime, you will know civil lines is basically the place where you will major Government offices.
By the way, Raipur is the capital city of Chhatisgarh and I know about these walls because I studied there for 5 years. That brings me to something excitinggg! I travelled to Jagdalpur when I was studying in college soooo – it is an extremely budget friendly destination.
As you would have already guessed, one weekend (may be add one more day and make it a 3 day trip) is just enough to look around but I definitely recommend staying longer to experience the local culture. So, without further a do, let me tell you what you have been waiting for.
I: How to get to Jagdalpur?
Air: Swami Vivekananda airport in Raipur is the nearest airport. It is well connected from most other airports of India.
Railways: While there is a railway station in Jagdalpur (JDB), it isn't well connected to every other railway station in India. However, you can take a train to Raipur instead.
From Raipur, you can either take another train, bus or a taxi. Jagdalpur is around 300 kms from Raipur. You can book your tickets using IRCTC and use my guide on booking train tickets in India.
Bus: Bus services are available from Raipur and are extremely cheap. I always travelled by a bus and it is completely safe. It costed me around INR 300 (approx $4). You can book buses using Redbus. It is the most reliable platform to book buses in India and provides you with all the options.
And, I have an amazing news. Sign up with Redbus using my link and get Rs. 100 worth of travel credit. So, do not forget to sign up.
Driving: Driving (or hiring a taxi) is the earliest way to get to Jagdalpur and explore.
II. What to wear?
It is advisable to wear full length pants with tees for man and preferablly kurtas and dupattas (or scarves) for woman. I am sure you already understand you are going to a tribal area, so dress conservatively (but of course comfortably).
Rural Indians aren't comfortable showing off female body (especially legs, cleavage and shoulders) so cover them up. Just buy a couple of kurtis (along with scarves like these) and you are set to travel. Something like these would be perfect for travelling anywhere in India. (This is an affiliate link, meaning, if you buy something using this link I will be provided with a commission at no cost to you. It will help me travel more and provide you with useful guides)
III: Where to stay?
I stayed with a friend of mine who hails from Jagdalpur. However, you can book Dandami luxury resort. It is the best accommodation you can get here.
I also AirB&B-ed (I love to create words!) Jagdalpur and found this place which had good reviews. If you aren't already a member of AirB&B, you can use my link to signup and avail INR 1200 worth of travel credit.
IV. Places to visit in Jagdalpur
Kanger Valley National Park

It is one of the densest national park and well known for its bio diversity, picturesque landscape, breathtaking waterfalls, famous limestone caves and Bastar hill myna (the state bird of Chhattisgarh). In addition to all these amazing things, a sizeable tribal populatoin stay here which makes it a perfect destination for culture enthusiasts.

As of the national park, it encompasses over 300 varieties of fauna. I spotted two majestic tigers, a leopard and a sloth bear here! So, its worth checking it out if you like wildlife. The entry fee is Rs. 25 for Indians and Rs. 200 for Non-Indians. You have to pay extra for the camera.

Chitrakoot:

During monsoon, the stretch of the waterfalls is around 300 meters making them the the widest waterfalls in India. You have to take a boat ride in the morning (sunrise) or in the evening (sunset). They will take you from behind the waterfalls and its lovely to see the landscape in a reddish or bluish hue (depending which time you select to take the ride). It is also worth a photo if you can manage one without letting water on your camera. I wasnt able!

I will let the pictures do rest of the talking!

Tirathgarh falls:

The water which falls from over 100 ft is soooper white (as you can see) and hence, it is popularly known as the milky waterfall. You must visit this place because (unlike Chitrakoot) you can get into the water, climb up the waterfalls and go behind it. However, be very careful of slippery rocks and gaps between rocks. We managed to get into the water, play for while, climb up but we weren't able to go behind the waterfall. It was too slippery and I ended up hurting myself with one rock.

Either ways, I will let the pictures do rest of the talking (again!)

Kailash and Kotumsar caves:

As they are underground (approx 35-40 mts below), it is pitch-dark inside. The entry to the caves is extremely narrow and you have to pass through tall and narrow lanes to reach the maim chamber. You need to grab a torch (your phone torch will work well), a guide (which is mandatory anyway), trekking shoes and preferably cotton clothes to thoroughly enjoy the caves. The guide will show you blind cavefish found only in these caves.

They say, more than half of the caves are not open to public due to decreased oxygen levels and highly dangerous routes. However, the parts which are accessible are extremely beautiful, especially the formations due to the stalactite and stalagmite formations.

The caves are closed during monsoon.

Dhanteshwari temple:

All the locals are devoted to worshipping the Goddess here. They say, Goddess Sati entered the fire pit of the yagna (an elaborate form of worship with a fire pit) because her father insulted Lord Shiva. Enraged by this occurrence, Lord Shiva destroyed the entire yagna and started to do "Taandav" (angry dance). Lord Vishnu liberated Lord Shiva of the grief by separating her body using his chakra. The parts of her body fell on to 52 places (now called Shatki Peethas) and Dhantestwari temple is one of such a place.

If you do get a chance, visit the temple during Dusherra. All the tribals come together and celebrate the event with breathtaking grandeur.
You can check out more photos of Jagdalpur, here.
V. North Indian food vs. local tribal food: What to eat?
This offbeat destination in India also provides you with offbeat cuisine experience.
You can either go with the local food or the normal north Indian meal. While the latter consists of pulses, cereals, vegetables and fruits, the former one is not as straightforward.The tribals have a very distinct diet which consist of delicacies made out of crushed red ants, flying ants, squirrels, crabs and wild mushroom. But, they are lovers of fish and pork too. So, you can definitely give that a try.The chutney or sauce made out of red ants is known as Chapra. It is considered customary dish in a feast. If you do taste it, please let me know of your experience.
You are not going to find a Tuborg, Corona or a KF even. So, you can either try the drink made by fermenting a small and creamy fruit called "mahuwa" or the drink made up of Sulfi (also known as the local beer). The latter one is pretty tasty! Slightly, lemonish. The drink made up of mahuwa is very strong and I personally do not recommend trying it.
If you think you cannot deal with the food here, carry dry fruits, cookies etc along with you. You can always buy fruits from the streets, wash it and eat them.
Last but not the least, avoid going in monsoons (July – October) because you might find a lot of things closed for public view.
Did you enjoy the post? Let me know in the comments or by sharing it on social media. I'd love to share travel hacks & tips, planners & checklists with you so feel free to subscribe for my free resource library.
[bctt tweet="Jagdalpur is one of the most beautiful offbeat travel destination in India. Click here to know why!" username="mrs_daaku"]