If you want to ace on Instagram, you need to know how to conduct an Instagram hashtag search in and out.
You won't be surprised when I tell you that Instagram posts with at least one hashtag have 12.6% more engagement than those without.
You know hashtags (especially, trending hashtags) are super important to gain exposure and followers BUT at the same time, you need to know which ones NOT to use.
The right hashtags provide you visibility on a platform that has over 1 billion users posting photos every single minute. You want to aim for those instead of getting lost in the crowd with #instafashion or #photooftheday etc.
And, if you do not use optimized hashtags, you are losing out on engagement (along with getting frustrated with the platform!). That also means lower visibility according to the new Instagram update.
Personally, Instagram has always been a struggle when it comes to searching for hashtags. I use a couple of Instagram hashtag generators and have a list of hashtags saved.
But, again, the repetitive process of adding hashtags, ensuring they are the best ones (these are not always the trending hashtags!) and scheduling it for different timings is too much work (in the little time that I have in a day).
Result – I don't post regularly nowadays (couldn't keep up with one post a day challenge).
So, why should you use hashtags on Instagram?
To begin with, as I pointed out earlier, it increases your reach and boosts your visibility. In the last year, Instagram has made major changes, hashtags are now at the forefront and Instagram hashtag search has become more than just necessary.
Track your Instagram hashtag success with post insights
Instagram now allows you to see how many impressions you are able to create with the choice of the hashtags on a particular photo. If you are want to view these insights, click on view insights on the photo and scroll down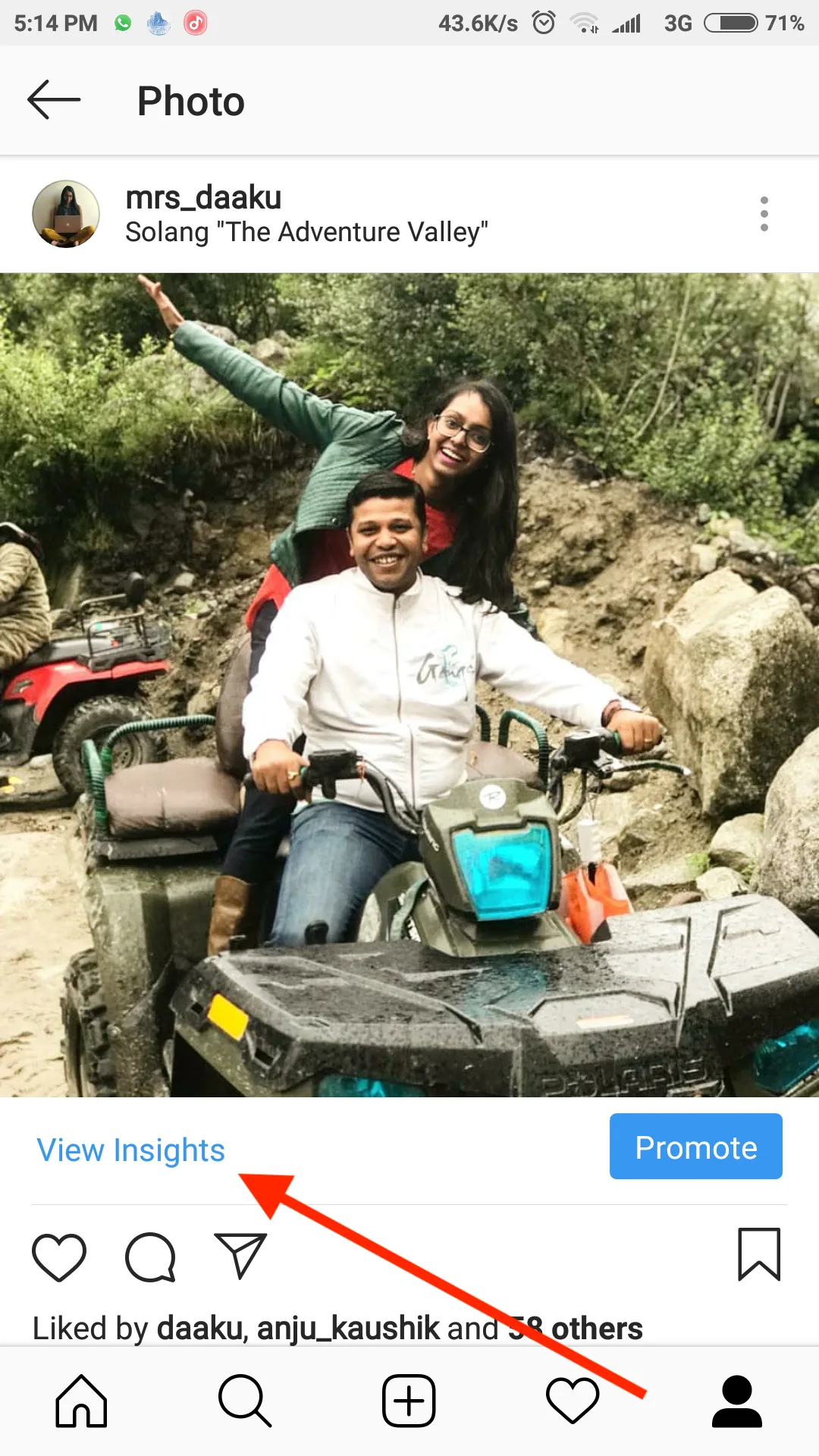 When you click on "Insights", you can see the statistics along with the impressions your hashtags have created for a particular post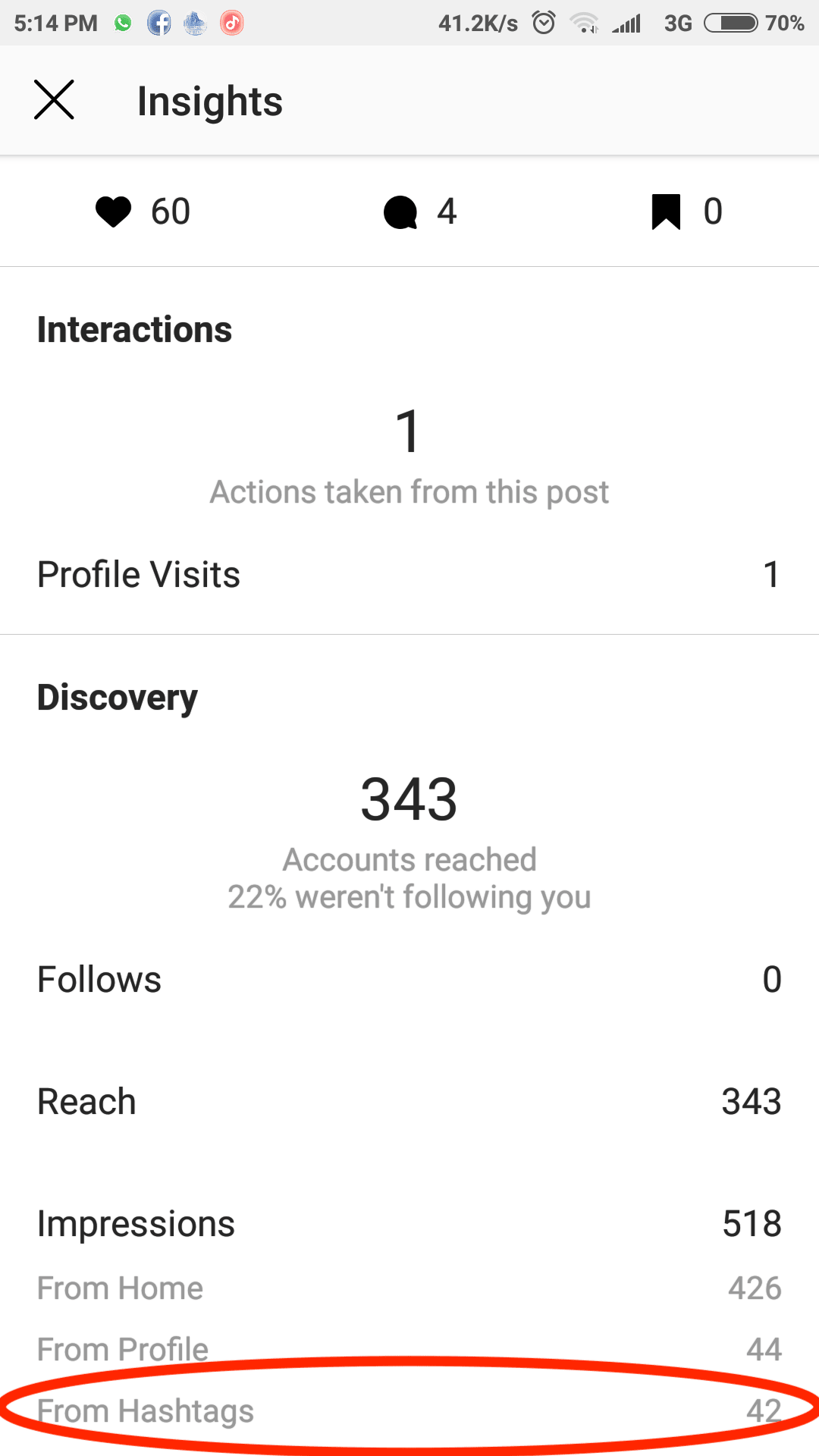 You can follow Instagram hashtags
This has been there for a while. It is possible for users to stay abreast of topics by following a hashtag.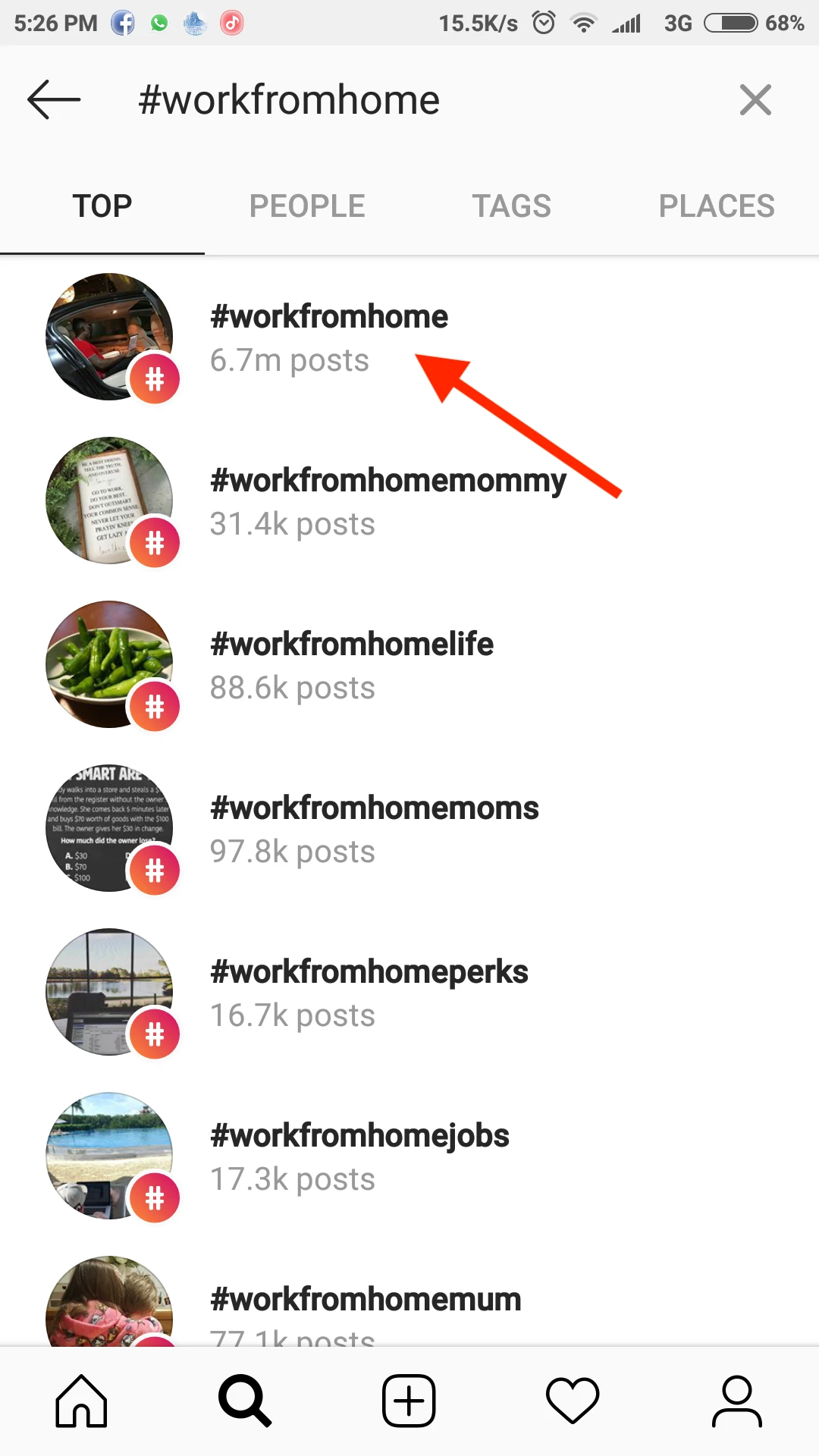 All you have to do click on the hashtag and hit follow.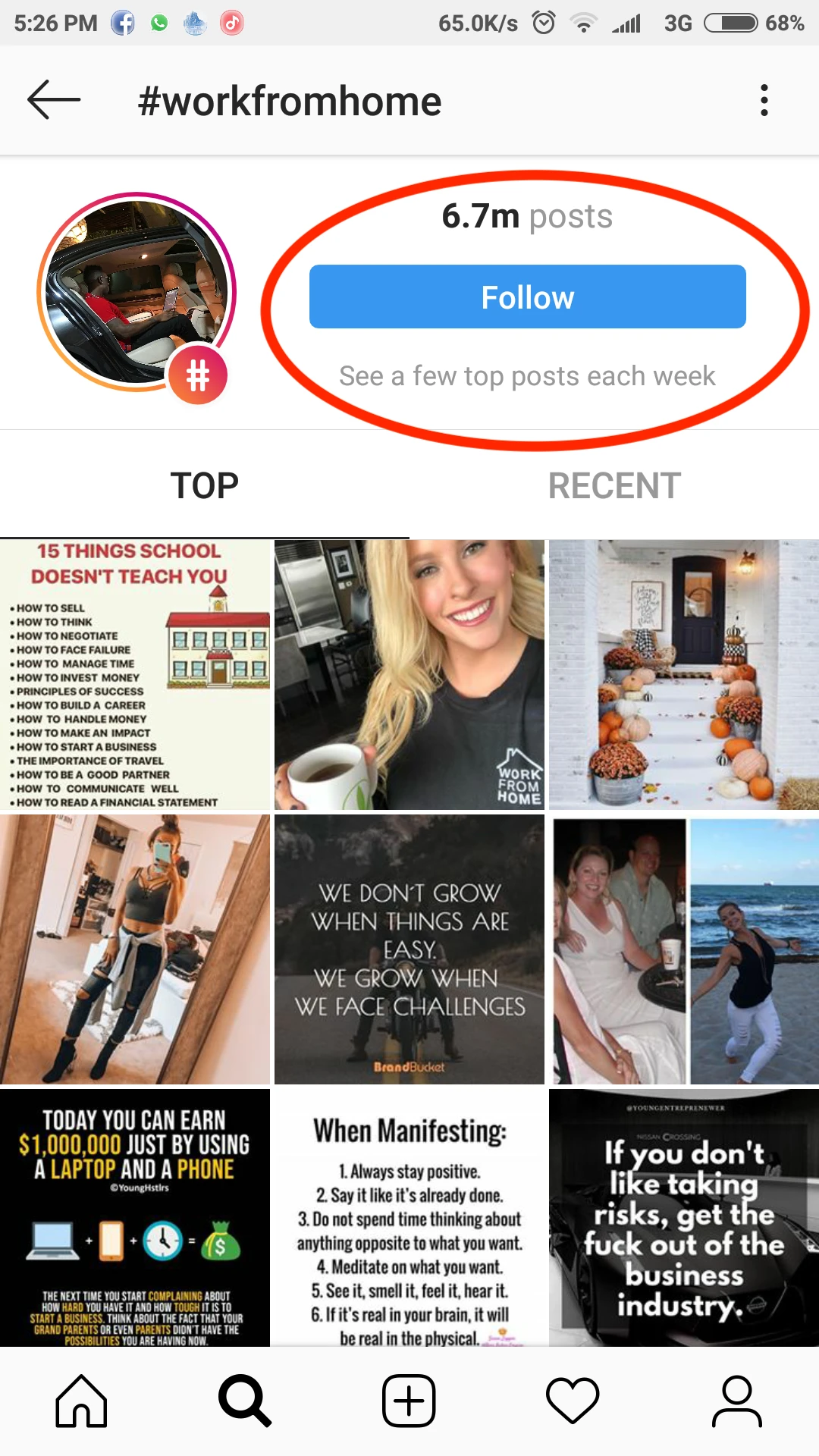 This means, if you create a trending hashtag for your business, people might end up following the hashtag and increase your reach and impressions
Add a hashtag to your profile
By inserting clickable hashtags in your bio, you can easily and effectively build a strong Instagram profile. You can use this hashtag to brand your content (discussed later) as well as make your profile searchable. When the users search for that hashtag, your profile will pop up.

Add a hashtag to Instagram stories
Instagram stories are a major hit and guess what? It allows you to add hashtags there as well which gives users yet another way to discover your content. When a user searches for that hashtag, they might land on your story.
What are the kinds of hashtags?
When you are searching for trending hashtags or the most relevant hashtags for your post, it is important that you distinguish between the types there are.
Branded hashtag
If you are a business, blogger or an influencer, it is important that your content is discoverable. For this purpose, getting your followers to use your brand hashtag in their posts and stories is the key step. It shows how much people love your products and want others to know about it too
Remember, you can inspire your followers to use branded hashtags only if you use it as well. For example, UrbanOutfitters use #UOonYou which has over 600k photos.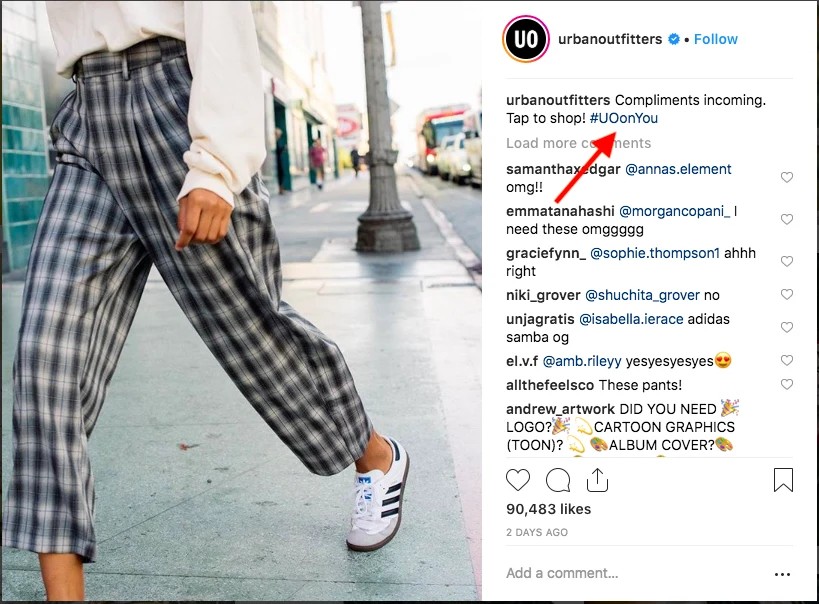 And, users actually use that hashtag. For example, Amelia Edmondson uses #OUonYou on her latest post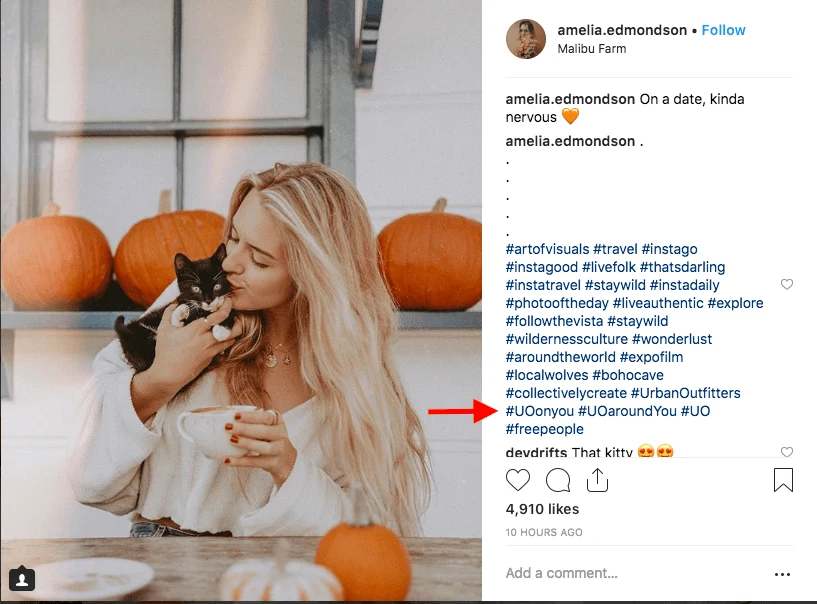 Community hashtags
The only difference between community hashtag and the branded hashtag is that the former does not relate to products but aims at connecting like-minded users on the platform.
@herschelsupply's #welltravelled hashtag is an extremely well known and common example. This wasn't created with an aim to promote their travel products, but with an aim to create a community of like-minded travelers. This hashtag has over 4 million posts which is the secret recipe behind an ever-growing Herschel's community
Campaign Hashtags
As the name suggests, if you're running a campaign, you can use a specific hashtag to promote it during that time.
HOW TO CONDUCT INSTAGRAM HASHTAG SEARCH
The best ways to find hashtags are –
Research your audience
If you want to entice your target audience, you cannot throw around hashtags like #girl #sunset #likeforlike etc. This will only harm your growth.
Instead, find out what exactly your audience has been searching for on the platform and make a list of everything that resonates with your content.
Again, don't just add a hashtag because your target audience is searching for it. Not cool! Your hashtag should always be relevant, so streamline your Instagram hashtag search towards it.
Research your competitors
This is one of my favorite – not just for Instagram, everywhere online. It is smart to find out what your "comparable" competitors are using as well as what your customers are most likely searching. You can also discover new hashtags that you can add to your list
Another way is to research Instagram influencers that have a similar target audience or niche as yours. These are the people who have done exceptionally well on social media platform so why not learn a bit from them and use it to your advantage?
Find related hashtags
Type in one hashtag that best describes your niche on the search bar, and then select the relevant hashtags from the drop-down menu. You can now see a list of top related hashtags that you can add to your list and engage more of your audience.
Click on the top few and analyze the posts. Check out the hashtags they have used on the photo and if you see a trend (or a commonly used term), write them down.
*Phew*
That is a lot of work and it is also ongoing. The most important thing you need to remember while using the hashtag is relevance. You can gain exposure, increase your followers and boost engagement only if your target audience is actually searching for that hashtag and following.
If you use the right hashtags and gain engagement (lots of like, comments and follow), it sends a signal to Instagram and your post will appear in the 'top posts' – which is the best way to get discovered by new users.
This post may contain affiliate links to products I trust. This means if you make a purchase using the links I may receive a small commission at no extra cost to you. Thank you for the support!
So how do you actually get on the Top Posts for a hashtag?
Pick the right hashtags
I have already said this, and I am going to repeat it until it annoys you SO much that you remember it.
The first step to getting your post in the "top posts" of Instagram is to use the right hashtag. So, you need to devise an Instagram hashtag search strategy. If you are a smaller account (for example, less than 10-20k followers), you should aim for smaller and more niche hashtags (for example, #foodgod or #foodgoals instead of #foodgasm) instead of ones that have millions of photo (like, #instafood or #instafashion)
Take time to search the right hashtag in your niche. Not only does it help you in increasing your following and engagement, but it also helps you meet other Instagrammers in your niche and build relationships
Also, use ALL the 30 hashtags that Instagram allows. According to Alex Tooby, I recommend using ALL of them. Each hashtag exposes your account to a variety of potential followers (and clients!). The more exposure you get, the better, right? Don't limit yourself by using too few tags. (And don't listen to the haters who say using 30 tags is desperate! Let them struggle to gain traction on Instagram while you take off!)
I highly recommend you to check this out if you are looking to boost your engagement and shorten your journey to becoming an influencer.
Generate a ton of engagement
So, you have picked up the hashtag. Now, you need to focus on getting engagement.
The best ways, as with other platforms, is to automate Instagram post for when your audience is actually most active. You are more likely to drive engagement if you post when your audience is on the platform (as compare to when they are not).
It all boils down to – hashtags and time.
Right hashtag + right time = more engagement, Instagram bumping up your post higher up on users feed, more visibility which means (again) more engagement and following.
Get it? This is your Instagram hashtag cheat sheet to blast your impressions!
If you want to own hashtag and create a winning strategy, I highly recommend you to check this out.
But, how do all of this (like an extensive Instagram hashtag search) without selling your soul? What are the options for Instagram hashtag generator?
You can automate Instagram posts using the right tools and Tailwind recent upgrades provide exactly what you need. You can sign up here.
Find hashtags with Tailwind Hashtag finder – the new Instagram hashtag generator
Tailwind recently launched their own Instagram Hashtag Finder which suggests the best hashtags for your posts.
All you have to do is simply start typing the caption of a draft post and the hashtag finder will automatically suggest other related and recommended hashtags to choose from. With one click, you can add as many as you want and the hashtag finder will immediately update with more.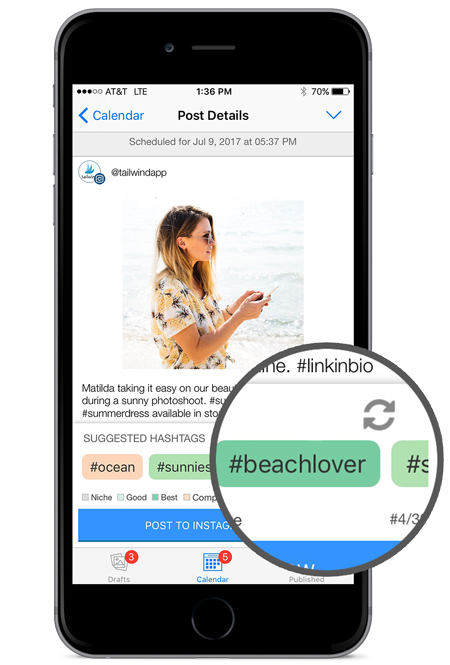 Create an Instagram hashtag search strategy and choose them wisely
The Tailwind Hashtag Finder color codes the hashtags for you. It not only makes it easy to select the most relevant ones but also makes it quick. The colors guide divides the hashtags into 4 categories –
Good

Best

Niche (ones that are not used abundantly); and

Competitive (meaning, your post will be lost in millions for that hashtag if you are a small account). These may also include trending hashtags.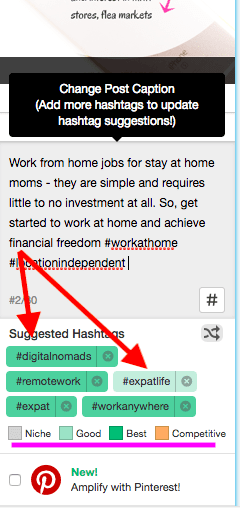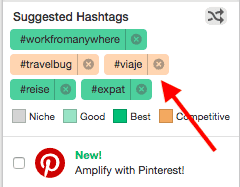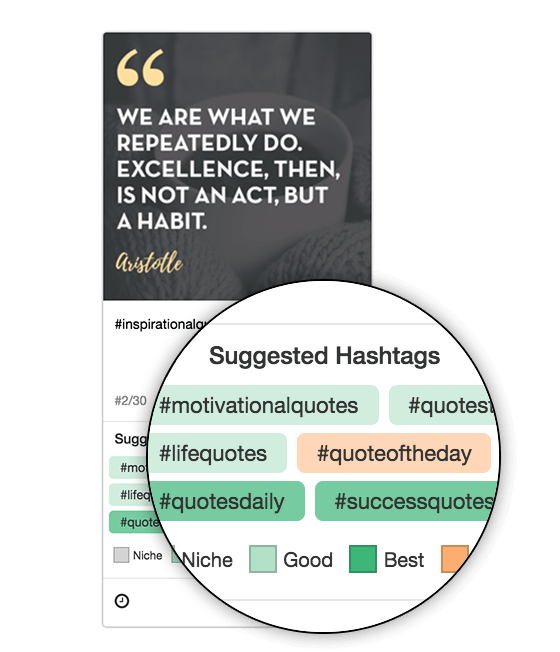 If you think this is cool for an Instagram hashtag generator, I am so excited to share my favorite part –
You can hover over the hashtag to see exactly how many times it is used on Instagram.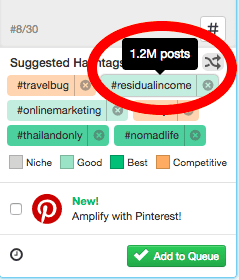 So, when you are scheduling a post, have a decent mix of all – good, best, competitive and niche BUT keep it relevant to your post.
Tailwind Instagram scheduler also lets you know how many hashtags have you already selected and whether you have reached the limit of 30 tags (in the above image, top left). You can check out this Instagram hashtag strategy that works for anyone and this if you are looking to create an authoritative Instagram profile.
Besides this, Tailwind Instagram also allows you to create a smart schedule. It auto suggest time-based on your followers and when they are most engaged. If you are using tailwind, you will increase your reach much sooner because you will know exactly when your followers are active and schedule Instagram posts automatically for those times.
You can sign up here and try out the 30-day free trial before upgrading yourself to Tailwind Plus.
Intelligent hashtags are the next logical step.
Shuffle Hashtags for Even Fresher Tags
If you don't find relevant hashtags, there is a shuffle feature which gives you access to "recently used" and "suggested hashtags". As you click on shuffle and keep adding more hashtags, it will keep generating more on the same lines.
I have gone through this in the video at the very end.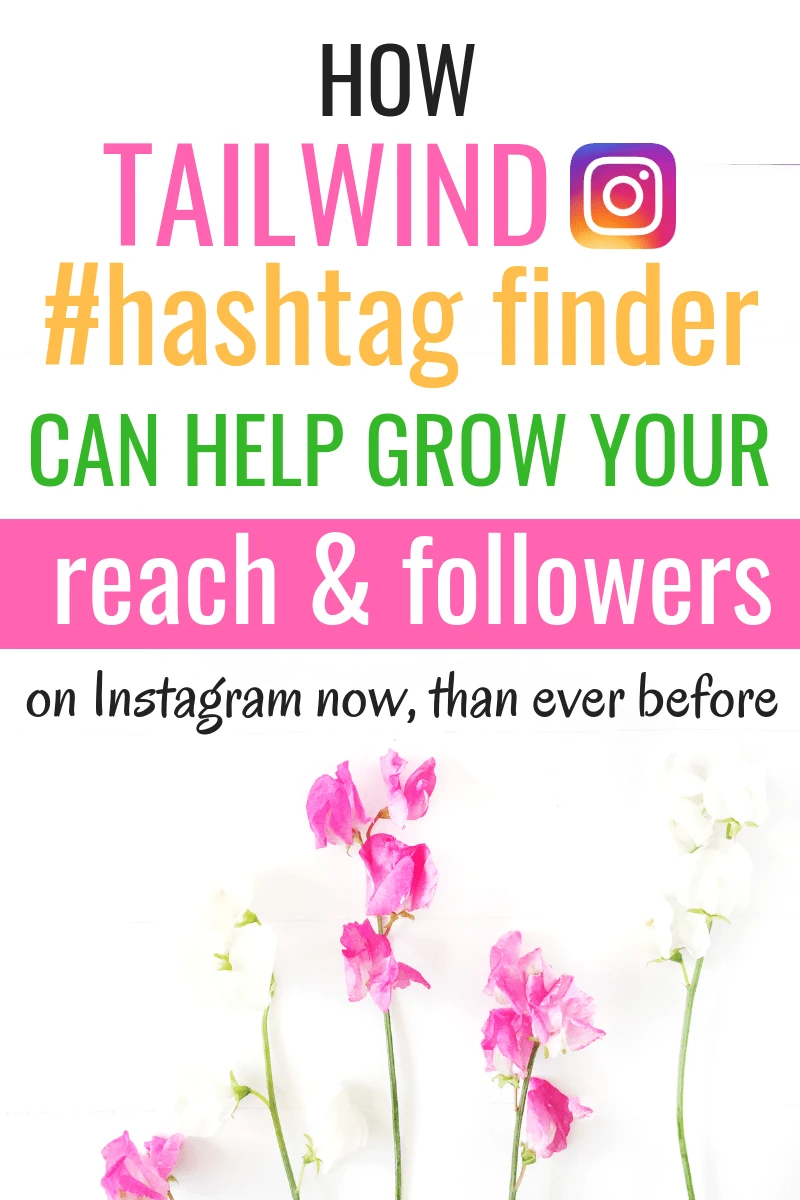 Hashtag list
If you are a Tailwind user for Pinterest, you know about how life-saving board lists are. You don't have to constantly keep adding the boards you want to pin to. Instead, you can group them into one list and select a list.
Similarly, Tailwind now has a feature to make a list of hashtags.
Once you have found the right blend of tags, its time to create a hashtag list, save it with a name (which tells you for what type of posts you can use them), and add any more tags with just a few clicks. You can also create a trending hashtag list!
It will save you tonnes of time (I am telling you this because I know how much time board lists saves me and how much time it takes to manually add relevant tags)
In the end, hit "add to queue" and schedule Instagram posts automatically.
Here is a video that walks you through all these features of Tailwind Instagram Hashtag Finder and shows exactly how to carry Instagram hashtag search and automate Instagram posts. If you have any questions, leave a comment below and I will answer them for you.
Also – I LOVE to hear from you guys so over to you –
Instagram Hashtag search using Tailwind Instagram hashtag finder
You can sign up for 30-day free Tailwind trial, here