Get paid to be a virtual friend online
It pays to be a good friend.
…We've heard this phrase numerous times in our lives and believe in it as well.
But, not literally, of course!
Well, what if I told you that you could actually make money by being someone's friend for a few hours?
It's true, you can get paid to be an online friend.
In today's modern world, when the majority of us spend the better half of the day staring at screens (phone or computer), we feel a lack of connection on a personal level.
Humans are social beings; we still crave a social connection.
Tapping into this very opportunity, several companies have come on the scene, where you can become a friend online and get paid in return.
We will talk about this side hustle in this post so let's get started and talk about how to get paid to talk to lonely people..
Check out these other online opportunities to make quick money or work from home jobs to replace your full time income.
Note – This post may contain affiliate links and sponsored listings. Please read disclosure policy.
Want to make money quickly? Here are a few platforms to earn up to $25 – $50 in a few minutes!
What does it mean to be a virtual friend?
As a virtual friend online, you offer your friendship for a price.
People looking for companionship find and rent you to be their friend.
This whole process is done online, after which you can arrange to meet the person.
You can even choose not to meet the people who hire you and only chat with them online.
There is nothing creepy or illegal about being an online friend. Typically, this friendship is platonic.
These individuals are usually nice people who are looking for companionship, or they simply lack to confidence to meet someone and make friends in the real world.
If you're comfortable, you can also get paid to text and flirt online.
Relevant Read: Best weekend jobs 2021
Who on earth rents a friend online or pay for friends?
There can be lots of reasons why people want to rent online friends and pay for friends virtually.
It gives you the opportunity to talk to other people who share something common with you.
If you are new to a neighbourhood and lack companionship, it also gives you a chance to share your views and chat with someone.
Here are a few of the examples of why people may rent a friend or pay for friends –
1. If you travel to a new place, you can rent a friend to guide you around town. The local can give you first-hand information about which places to visit, where you can eat the best local delicacies, and so on.
2. In today's world, finding someone who shares your passion for reading or poetry is pretty rare. You can find a friend online who shares these interests and can discuss your favorite author or poet.
3. People are often surrounded by people their own age and are looking for advice from an older and wiser person. Finding an older, more qualified friend online can help in such cases.
4. People trying to lose weight often find it challenging to stay motivated. A fitness buddy can help you stayon track with your fitness goal. You may also find someone who can give you tips on yoga, tai chi, or weight training.
5. If you are keen to learn a new language, practicing that language with a native speaker can be the best. Find an online friend that speaks the language, and you can practice as much as you want.
Finally, there are people who are lonely and these sites help them out by providing paid companionship. In short, you can get paid to talk to lonely people and make them feel good.
How does renting a friend online work?
If the idea of being a virtual friend sounds interesting, you may be wondering how to get paid to be a friend online.
There are several sites that you can join as a virtual friend.
People who are looking for friends browse through these sites till they find someone they like.
Relevant read: Text Chat Operator jobs from home.
Here's how you can get paid to be an online friend –
1. Sign up on websites that pay you to be a friend online.
The very first thing you must do to get paid to be a virtual friend is sign up and create your profile on these sites.
Make sure your profile is as honest and thorough as possible.
This way, you will be able to connect with more like-minded personalities.
2. Test your personality
Some of these sites ask you to take quizzes to test your personality so that you can be matched with the right kind of people.
You may also have a conversation with someone from the site as they want to judge what kind of person you are, whether you will be able to do this sort of work.
3. Write a short description
Add a short description of yourself on your profile.
Write a bit about your nature, which makes you more likable as a friend.
If you are particularly good or knowledgeable about something, you must mention that as well.
Make sure you add something about your personality that makes you stand apart from the crowd.
Though it is not necessary, you can mention where you live or so that the people who connect with you are in the same timezone.
4. Add payment details to get paid to be an online friend.
After your profile is complete, you should add your payment details so that you can be paid.
Some of these sites give you the option of getting the payment in your PayPal account or your bank account.
5. Wait for people to connect
Your profile will be visible to anyone who visits the site.
If they like your description, they will connect with you to talk about the subject of their choice.
Is it safe to be a virtual friend?
While nothing is foolproof, you are relatively safe on these paid companionship websites as they give you a lot of control over whom you want to interact with.
You can also take some simple precautions to ensure your safety.
1. Sign up with secure sites
Sign up with secure sites to protect yourself from scams and illegal sites.
Secure sites have a lock symbol at the start of their URL address, while scam sites do not have this feature.
This lock symbol means that this data is encrypted, and your private information (real name, phone number, address) is not visible to everyone.
2. Research reviews on all virtual friend sites
Before you register with any virtual friend website, do a thorough research online, and read all the reviews and testimonials of people who have worked there.
Even the people who are looking to find a friend online should follow this step.
Not all people or reviews will be truthful. Sometimes when people are kicked out of the job for breach of contract, they may put up a negative review.
It can be most helpful if you find someone who has previously worked with a virtual friend company and gather all the information from that person.
3. Avoid if there is any advance payment
As a paid friend, you will have to pay a specific percentage of the money you make to the website.
However, if the company asks you to pay money upfront for registering you or an administrative fee, it is best to stay away.
This is a red flag that this site is not legitimate, and there is a good chance that you will never see your money again.
Legitimate paid companionship sites will never ask you to pay an upfront fee.
4. Only paying clients can contact you
When you register with a good online friend site, you can only be contacted by paying members.
These clients are also vetted to ensure your safety.
5. You can choose who you want to talk to
You are not obliged to accept friendship requests from all clients.
If you are not comfortable talking to someone, you have a right to not be their virtual friend.
If you are harassed or bullied, you can complain to the website.
A good company will take these complaints seriously and can also ban the client from the network.
6. Keep a safe distance
When you are working with a get paid to be a friend website, you may get a few repeat clients.
They may get attached to you and start expecting a real friendship from you.
You must keep a safe distance while ensuring that you do not hurt their feelings.
Never give your address or phone number to anyone who becomes your virtual friend.
You can also choose to use a fake name while chatting with your online friends.
Some websites also offer you the option of using text messages or phone calls while chatting to clients.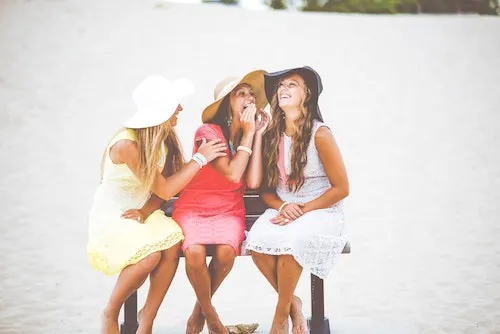 How much can you get paid to be an online friend?
The amount you get paid to be a friend online depends on several different factors.
With most of these sites, you can set your own hourly rates. You are allowed to charge anywhere between $10 and $50 per hour.
Most people settle for $20 or $25 per hour. The rest depends on how many hours your work and how many people approach you.
So, if you charge $20 an hour and work five hours a day with weekends off, you can make $500 per week.
According to an article written by Jean-Luc Bouchard for Vox, he paid $20 per hour to a 'friend' at RentAFriend to join him for a movie, a walk, and a meal in New York.
According to a news report on rent a friend online sites by ABC 15 Arizona, a young man named Joe claims to have earned thousands as an online friend.
You can make more money if you are –
Friendly
Interesting and interested
A good listener
Kind
Non-judgmental
Knowledgeable about your city and the fun things to do there
Passionate about sports
These are all the traits that you would wish in your own friends.
Sites that help you get paid to be a friend online
1. Rent a Friend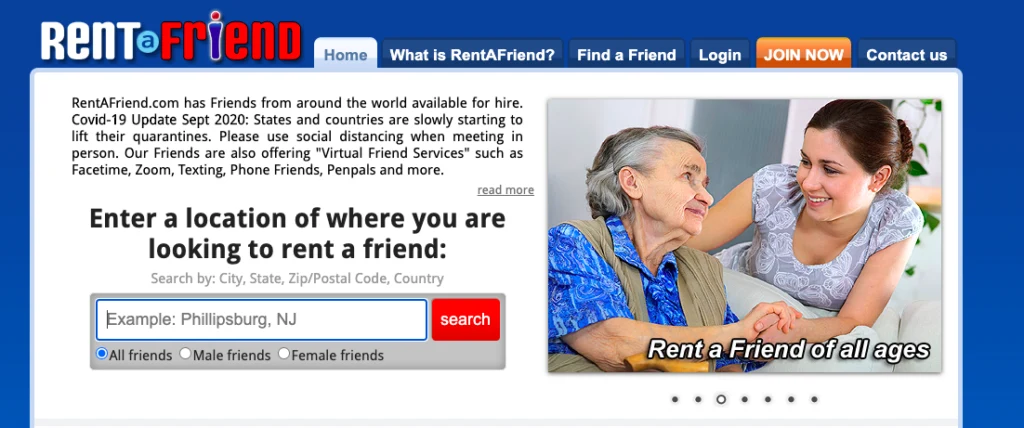 Rent a Friend has a broad base of members who are looking to make online friends. There are no charges to join this site as a paid friend.
You are also at liberty to choose who you want to chat with as a friend.
What does it take to join RentAFriend?
To sign up as a paid virtual friend, you must first fill out an application form.
You need to fill in details like your full name, address, and gender.
You must market yourself as best as you can while filling the application. Your profile is usually accepted within a few days of the application.
What is expected of you at rentafriend.com?
Once you join, you may have to accompany your new friend to an amusement park, a sporting event, or similar activities.
The person paying to be your friend will let you know his plans in advance so that you can be prepared.
If you have a skill like painting, baking, or speaking a foreign language, let that be known in the profile as many people use this site to learn something new.
How much can you make?
As per the website, you can make anything between $20 and $50 per hour, when you work as a 'friend' on this website.
What about safety?
Rent a friend has a paid membership, so that helps deter weirdoes with ulterior motives.
The website also makes it clear that it is purely for platonic relationships.
2. Rent a local friend

Rent a local friend connects travellers with local people of an area. You can be a virtual friend from any part of the world.
This website also gives you the opportunity to be a virtual text friend.
What does it take to join RentaLocalFriend?
To sign up as a local friend, you have to enter your details such as your name, the city you reside in, age, and some other basic information about yourself.
You can also register on this website as a travel agent if you live in a popular tourist destination. This website is also recommended by Trip Advisor.
You need to pay an annual fee of $100 to get registered on this site as a friend.
What is expected of you at Rentalocalfriend.com?
As a local friend, you can be a tour guide, chef, or a photographer for your client.
As a local, you can guide the visitor in the city and give them the best tourist experience in the area.
How much can you make with rentalocalfriend.com?
You can set your own rate and can earn as much as $120 per day on this website.
What about safety
You are free to decide who you accept as a client.
Even if you accept someone's request and you find things are not going well, you are free to end the meeting.
3. Rent a Cyber Friend
Rent a Cyber Friend is a platform for people who want to get paid to be a virtual companion.
It is similar to the concept of pen pals and offers services that are posted in the form of gigs.
What does it take to join the website?
To sign up as a Cyber Friend, you have to enter your profile, describe yourself, your hobbies and mention up to 10 interests.
You also need to upload a photo and select a payment plan.
You should also mention how you want to chat – Facebook Messenger, Skype, WhatsApp, or more.
What is expected of you?
Once your profile is created on Rent a Cyber Friend, you can make yourself available for the service you offer.
If you are an expert about everything in your city, you can give information to your online friend about the places to visit and sites to see, you can teach how to cook or bake, and give them advice about life.
You may also offer companionship and get paid to talk to lonely people. Viewers can then avail of the service at the hourly rate specified.
How much can you make?
As a cyber friend, you earn when you do Gigs posted by Cyber Friend Buyer.
The money that you earn is paid to your Wallet, and 10% is deducted as commission.
You can withdraw the money you earn once it reaches $75. You can get paid either through PayPal or via check by mail.
What about safety
You are free to decide who you accept as a client.
The site recommends that you should chat with the person through a medium that cannot be easily connected with you on a physical level.
You are advised to show extreme caution while sharing personal information.
If anyone solicits sexual favors or sends images or texts to you that you find offensive, you can report the person, and his contract will be suspended.
4. Fiverr
Fiverr is an online marketplace for freelancing services, which may also include 'make money friend services.'
At Fiverr, you can offer your services as an online friend and get paid on your own terms.
What does it take to join the website?
On this website, you will first have to create a seller profile.
Since your profile represents how you present yourself to the community, you are encouraged to be professional.
What is expected of you?
Fiverr lets freelancers set up gigs based on their preferences.
If you want to get paid being an online friend on Fiverr, you can set up a gig here.
Check out the other similar listings on this site to get an idea about how others have set up their gigs.
Mention what services you are offering clearly in your gig.
Relevant: Odd jobs apps to earn money
How much can you make?
The average fee here is a bit lower than some of the other similar sites. You can earn $5 to $25 per hour as a virtual friend on Fiverr.
Fiverr ensures that safe and secure payments are made, though they cut 20% of your earnings as commission.
5. Freelancer
Freelancer is a well-known platform for freelancers where they can offer any gig, including rent a friend jobs.
What does it take to join the website?
You are required to fill your details and build up a portfolio when you sign up here.
After you sign up here, you get eight bids for free.
These bids allow you to place a bid on any interesting task that you think you can handle. You can identify the job you want and place a bid on it.
Is it safe?
Freelancer has a secure and fast payment process. It also saves you from wasting your precious time on scammers.
Freelancer pays through debit cards, PayPal, Skrill, wire transfer, or bank deposits.
6. Family Romance
Family Romance is a successful Japan-based company that rents out members of its 800-strong staff to act as its client's friends.
Their services could include companionship over dinner, dates for a wedding, or dressing up and posing for photographs.
You can also hire actors to play the role of your family members here.
The CEO, Ishii Yuichi, is a middle-aged Japanese man who started the company after a friend of his, who was a single mother, found that the stigma of being a single mother was beginning to affect her child.
People are known to pay $200 for four hours, plus expenses for the services of the actors in this site.
7. Lip service
This platform is more like a marketplace that links chatters to chat agencies. You need to be at least 18 years to work here.
Some agencies require the minimum age to be 21 years.
To work with Lip Service, you need to fill out a pre-application form and submit it through the online portal.
Once the application is approved, a person from Lip Service will call you to assess your phone speaking voice.
Lip service accepts applications within the US and Canada.
The company offers flexibility when it comes to availability and location. The pay rates depend on the projects handled as well as the clients.
8. Friends PC
If you're looking to make money as a friend, Friends PC is another good option. FriendPC claims to help people make friends, find someone to accompany you somewhere, or help you reach a goal.
Here you can find someone to build a friendship with, hire as a life coach, or give you a tour around the city.
You can choose to connect via text, chat room, phone call, or online call. The users have to pay a small fee to talk to you.
Find someone to build companionship with Life Coach services, or give you a tour around a city you're visiting.
According to the various listing on the site, people are offering their friends services ranging from $5 to $50.
9. College pirates
Another way to make money as a friend online is to become a college mentor.
When students join a college in the first year, they are looking for new friends.
They are also looking for someone to guide them through various activities and dealing with problems that they may be facing in the new place.
As a college mentor, you should be able to offer the students information about academics, college events, clubs, and sports groups, campus safety, and infrastructure.
You should be able to guide them and help them conquer their college life.
You can earn up to $80 per consultation on this platform.
The final verdict
The idea of getting paid to be a friend may come across as uncomfortable and weird to you initially, but it is actually quite good.
It is an excellent way to supplement your income and have some fun in the process.
When you register on these 'rent a friend' sites, you have the right to choose who you want to be friends with and how much you can charge.
If you are not comfortable with meeting these people in person, you can also choose to be an online friend and talk to them on the phone or chat with them.
So, what are you waiting for? Try your luck at renting your services as a friend.
Get paid to be a friend online. Virtual Friend.