Novel Coronavirus (COVID 19) and work from home
To contain and mitigate the effects of the notorious COVID 19 or novel coronavirus, Government and companies are making implementation of work from home mandatory.
Businesses and companies all over the globe are implementing work from home for their employees.
Be it Google, Apple, Amazon, Salesforce, or any country including UK, US, Japan etc – they are all rolling out mandatory work from home policy amidst the pandemic.
and, because we know it is a pandemic now, home office or working from home may be the new normal for a while
So…
If you are a newbie, we will discuss a few best work from home tips you need to know to stay productive.
Note – This post may contain affiliate links. Please read disclosure policy
Want to make money quickly? Here are a few platforms to earn up to $25 – $50 in a few minutes!
PineCone Research: Earn $3 – $5 per each survey guaranteed .Sign up now
Before we start…
Not everyone has experienced working from home and it can be new, isolating and depressing for many (especially for the ones who are not used to or like social distancing – basically – the extroverts).
As a work from home blogger, we are going to publish a series of posts on working from home (remote working) that can help you lead a normal life and get accustomed to this concept.
Let's begin with our basic but most important work from home tips for 2020.
Related posts – Should I work from home
Do not feel isolated
The first and foremost major change in your life will be shifting from a formal office setting to an information setting of a home.
This could be leave you struggling and feeling isolated. Not only you are deprived of a proper work environment but you will have no colleagues to interact with (or even humans to see!).
In fact, according to Government advisory, you need to practice social distancing till Coronavirus is contained.
That means, you have no idea till when you are going to work from home full-time.
And, as a result, people are faced with several problems. For example, couples with children (or working single moms) will find it harder considering schools, creches etc are closed down too.
Related post – how to start working at home
In this scenario, managers and yourself, need to suggest and take steps to sustain normalcy. For example, you can
have an active chatting window where the team can interact
have virtual lunches everyday
celebrate birthdays or achievements on calls
set up a video call for tea breaks with your buddies
have an end-of-the day video conference to chill for a while etc.
Get creative. Come up with ideas.
Remember, you do not NEED to feel isolated. There are so many ways to be in touch with your friends, families and colleagues.
It may be weird at first but we are all in it together and it may be just as weird for the other person – but – it is an attempt to make life normal and stay productive.
Isn't it?
Remember, you still have a job
A complete shift from office to a home set up can confuse you.
Just because you can sleep an hour extra or lounge in your pyjamas, does not mean, you should.
Follow the same routine as you would if you were going to an office. Follow everything else that you did, normally.
Take a bath, have breakfast, get dressed and work like you would normally.
Create a workspace
If you haven't worked from home for longer periods, you wouldn't have a home office.
But, if you are forced to stay at home and work from home due to coronavirus, it is time you designate a dedicated workspace for yourself.
It may seem non-vital to you, but having a set up and a dedicated workplace gives a sense of "a formal workplace environment" and increases productivity.
Besides this, it also helps others in the family understand that you are working at home, need privacy and some quiet.
You can do the following –
Setting up your workplace on the dining table where you get to sit upright

Move any table to a quiet corner, set up your laptop and get a chair for yourself
In a survey by FlexJobs, 65% said they're more productive working from home. According to them, it is because there are no colleagues to interrupt, they stay away from office politics and save themselves from stress of commuting.
5 EASY productivity hacks for work at home moms
7 simple ways to increase productivity as a freelancer
7 Challenges of working from home — and How to Beat Them!
9 easy time management tips for stay at home moms
Know when to unplug (and, how)
One of the most common complain with people working from home is not knowing how to unplug (or differentiate between work and lesiure).
My advice is for you to work the exact time you did normally.
Once you have completed the 8 hour (or how much ever you do), shut down all work related things and relax. You can workout at home, watch TV or have a cup of coffee.
If you do not set boundaries, you will be stressed out and will never know how much you are taking on.
Communicate, Communicate and Communicate
The key to working from home is to communicate.
Considering you have started working from home without a clear policy or guideline, it can get tricky quickly.
To avoid this, you need to be in communication with your team and manager to understand what is expected out of you.
You can –
Propose use of team management apps like Slack
Have a kick-off call to discuss workflow and responsibilities each day
Have a video call to discuss everyones progress in the middle of the day
Sending emails with updates before you shut down for the day
Taking these steps can help set boundaries and expectations in the right place.
Keep your attitude in check
It is a difficult time for everyone – there is panic and fear – and we all have rushed to the grocery stores (or worse – have witnessed a store with empty shelves).
It is scary…
and, on top of that, you feel isolated working at home.
However, you have to understand that there is only so much you can do. The earlier you understand this, the better it will be for your mental peace.
Think positive and look for ways to live a life of normalcy. Don't try to find the difficult things in this situation but find opportunities – for example – use technology to be in touch with people.
Take time to finish off projects you have been stalling for a while – like cleaning your basement or attic.
Comment below and let us know what difficulties are you facing while working at home? We can help!
Work from home amidst coronavirus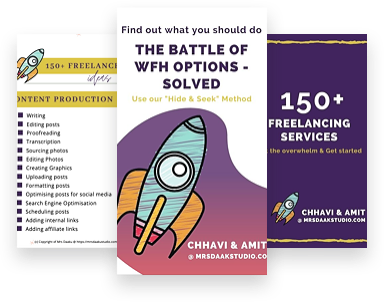 Resources that can help you with land work from home jobs
How to find and pitch clients your freelance services– You can find my strategies to find high-paying freelance writing clients.
Become a work at home mom– A FREE training session that comes along with a workbook and guides you through the entire freelancing journey.
FlexJobs You can find 100% legitimate work from home jobs and freelancing gigs on this platform